Denis Cotterell Back In China Fold As Sun Lurks Below the Paris 2024 Horizon

Denis Cotterell, the Australian coach who guided Sun Yang* in the last decade, has been spotted wearing a China team shirt on the deck at the World Aquatics Championships.
The sighting has sparked speculation that he may have been brought back to the China National Team to oversee Sun's return from an anti-doping ban in time for an Olympic comeback in Paris next year.
Cotterell was snapped on deck at the Marine Messe Hall pool in Fukuoka on day 1 of swimming heats. Dressed in the Chinese team's red uniform and pacing up and down the side of the same pool where his Aussie charge Grant Hackett broke the 1500 metre freestyle world record 22 years ago, Cotterell was observed coaching Chinese swimmers and consulting with the other Chinese team coaches.
Approached by by the Australian Telegraph's Julian Linden, Cotterell would not comment on his reasons for rejoining the Chinese team but sources, speaking on condition of anonymity, confirmed that he has returned in an assistant coaching role. His presence today confirms the snap: Cotterell appears on the China team photo for Fukuoka 2023, front row, centre: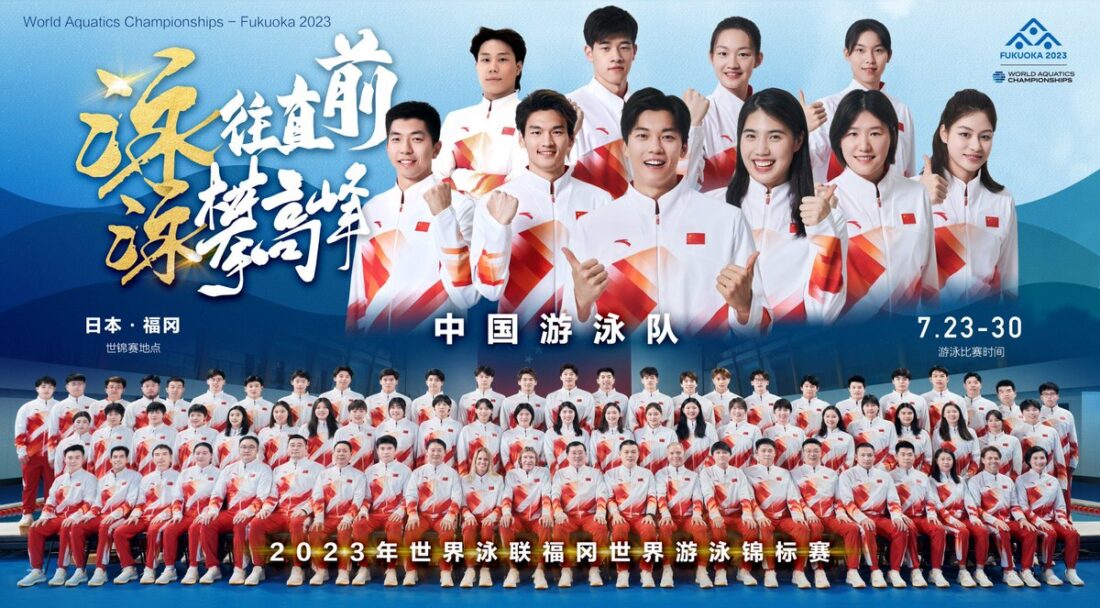 After his days preparing generations of Australian teamsters, Cotterell, noting the gap between pay in one place and recompense in another, switched camps and took over as personal coach to Sun, who tested positive for a banned substance in 2014.
Cotterell terminated his lucrative contract with the Chinese Swimming Association in 2020 after his star pupil was banned for eight years, later reduced to four years and three months, for manipulation. Sun removed a blood sample from the chain of command after already having signed it over to anti-doping testers at an out-of-competition control in 2018.
Now in his 70s, Cotterill travelled with his wife to Switzerland to show his support for Sun when his anti-doping case was heard before the Court of Arbitration for Sport for the first time. The case marked the first to be held in open session with media present since the last time a report in The Times by this author exposed an anti-doping scandal involving an Olympic swimming champion: back in 1998, the athlete in focus Ireland's Michelle Smith de Bruin.
In 2018, Sun was persuaded by three senior Chinese officials, including two doctors, one of those working in an official anti-doping capacity in China, that he could removed the blood sample even though he had failed to follow the proper procedure of submitting a sample with any complaints he had recorded at the time of submission.
China has yet to punish any of the three officials involved, while the World Anti-Doping Agency did not pursue cases against them despite admissions from the men in a Court of Arbitration for Sport hearing that they had encouraged Sun to break anti-doping rules and protocols.
Despite all of that, it appears that western coaches are still prepared to work with the Chinese sports authorities.
The Paris Olympics are a year away and Sun reportedly training hard closed doors to take on the current crew of best 200 and 400m free swimmers in the world, it is assumed. Reports from China suggest that Sun has been training regularly throughout most of his suspension.
It is not known if the Australian coach is working with Sun but it must be assumed he is not because the swimmer is still banned from training with the Chinese national team or working with anyone associated with it until next year on the way to permission to return to racing from May, should Sun wish to do so.
Sun – "Not Retired"
It remains to be seen if Sun will return to top flight competition even though the swimmer has confirmed that he continues to train daily.
Sun, recently married to Zhang Doudou, a retired rhythmic gymnast from Shanxi, will be 32 in Paris. He recently told media in Asia: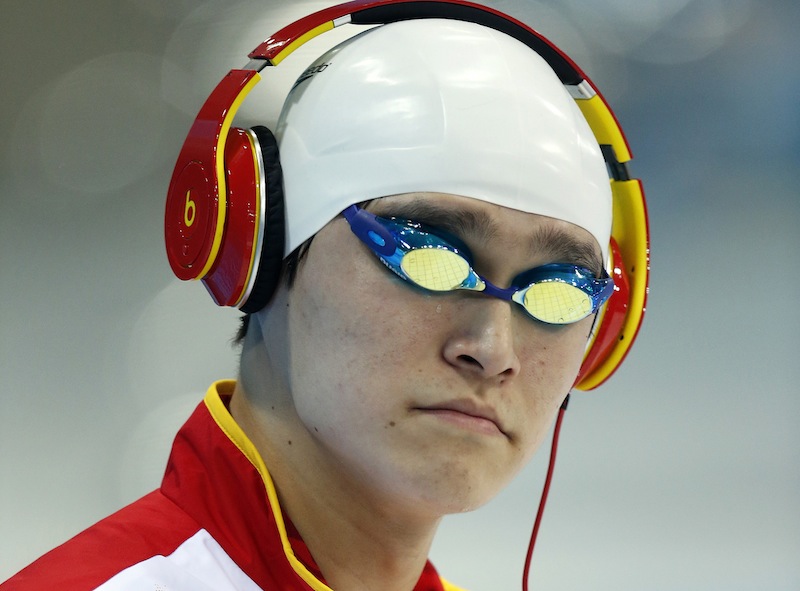 "I have not retired and still insist on swimming training every day. I have never said to the outside world that I am retired or not swimming. I have always believed that using my body and ability to do what I have to do and always be ready is my current state of mind. The most important thing about a person's talent is to play well and make good use of it. When I learned the result that day, I was with the team, and I said that I wanted everyone to continue to support me, four years is not long, I want to stick with it.

"If a person can't even do self-discipline, then he can't succeed, which is the hardest thing in life, and it's the same in life." I was able to do it. In the long run, I am not old, and I still have the physical ability, and I can last a few more years. A lot of athletes are role models for me, tennis players and NBA players, like (LeBron) James is 38 years old, right, and he can still play very well."

Sun Yang – photo by Patrick B. Kraemer
Should Sun make it back to the ranks of Olympic 400m free finalists, his presence would be explosive, not least of all among Australians in an era of 2016 Olympic champion ahead of Sun, Mack Horton, has passed the baton to Elijah Winnington, 2022 World champion, and Sam Short, fastest through to the 2023 World title fight today.
* – swimmer tested positive for a banned substance during career and has served two WADA-Code penalties, the second of which is active until May 2024