Dean Vs Scott – When British Mates Split By 0.04 For Olympic Gold & Silver Race In Rival Camps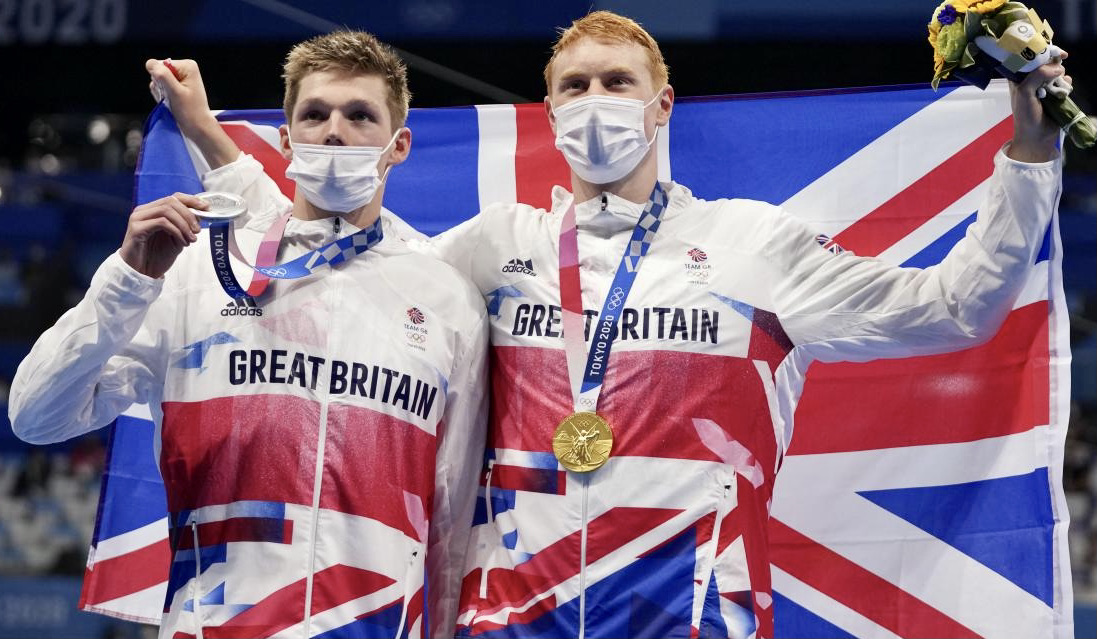 Swimming will pack a pugilistic punch in Birmingham from today as racing starts at the Commonwealth Games and Tom Dean and Duncan Scott get set to rejoin battle as Britain teammates in "rival camps" over 200m freestyle.
A year ago they were split by just 0.04sec as Tokyo teammates in the first Olympic final to produce gold and silver in the pool for TeamGB since London 1908. They then shared gold with another first since 1908 as Olympic 4x200m champions alongside James Guy, Matt Richards and the man who helped get them to the final, Calum Jarvis.
Now, it's England Vs Scotland. In the red corner, Dean, in the blue corner, Scott – and all but Guy from that 4x200m relay will be in the mix too at the new Sandwell Aquatics Centre. More Commonwealth experience for Scott, Guy and Jarvis, England debuts for Dean and Richards.
The man with the keener "killer instinct" that day will win, Dean tells The Times and SOS. Four lengths freestyle featuring six, with Cameron Kurle and Joe Litchfield also up for England, of those who, with Guy last year, made the 200m freestyle final at Britain's Olympic trials the fastest four-lap line-up from a single country in swimming history.
Energy from the British pressure cooker that helped put Olympic gold and silver on the table in Tokyo may be split into home-nation camps in Birmingham but it won't be diffused. Says Dean: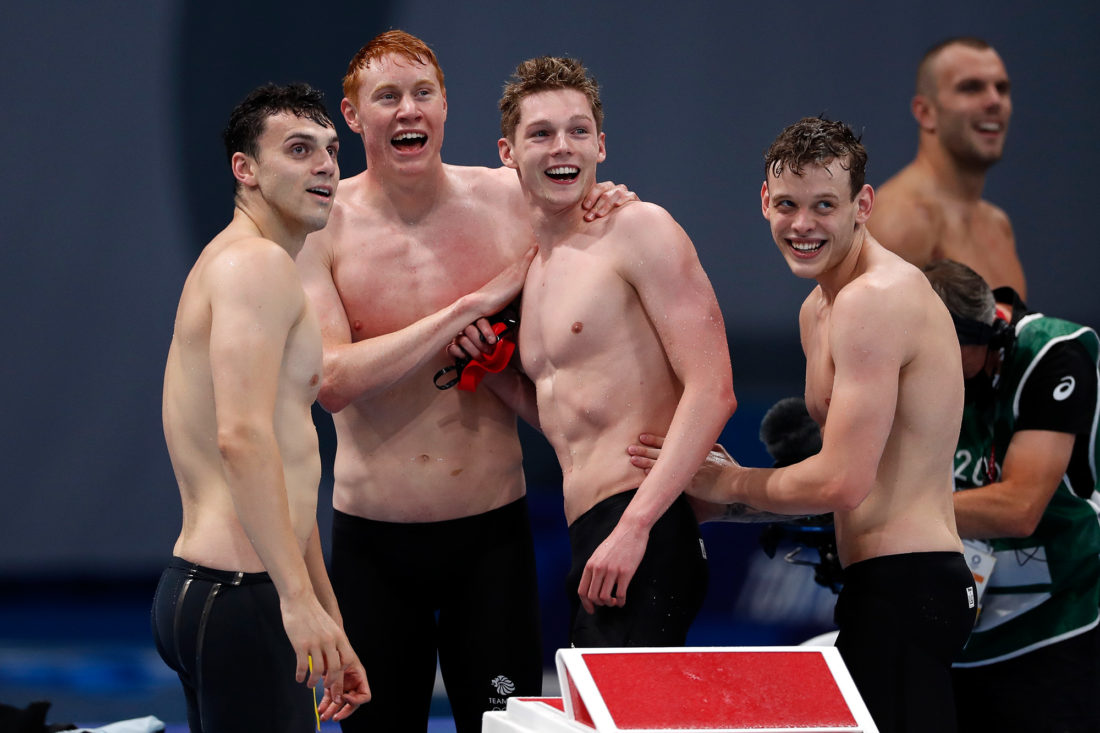 "Essentially, all your closest friends are there but they're now your rivals and there's an extra edge to that. We'll be in rival camps. This will be the first time we're competing for different teams, England vs Scotland, gold vs silver from the Olympics: there'll be a real rivalry there, at a Commonwealth Games in England: it doesn't really get more competitive than that."

Tom Dean – image – Great Britain – (l-r) James Guy, Tom Dean, Duncan Scott, Matt Richards – the nation's first 4x200m freestyle Olympic champions since the only other time it happened, at the very beginning, in 1908 – by Simone Castrovillari, courtesy of Speedo
The race, not the clock, will decide the gold and silver sides of a split hair, says Dean, coached at Bath by Dave McNulty. "Racing. That's what it's all about. And that's what we do it for. People can get too distracted with the times and are too focused on how the splits have got to be. Yes, you have to go through the process to achieve the outcome but you need to have that Killer Instinct on race day to race with the seven other men or women in your final because one of you is going to come out as Commonwealth Champion or Olympic champion or World champion.
"It's all about how you beat these seven other human beings that are trying to grapple for that same title," he adds. "And that's something that I like to think I've been able to fine-tune over my last few years on the world stage and every time I step up next to the likes of a Duncan, be it at trials or a major meet, it's something I'd like to think I get better at."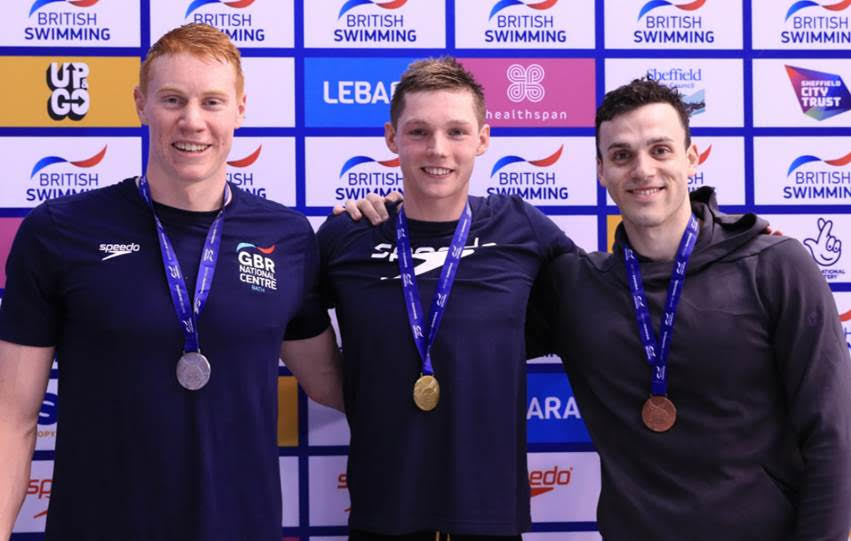 Friends who have grown up in the sport together and share a feel for water and a similar sense of humour (they specify a love of The Office UK and say they have "no time for the US Office", as Scott puts it) – the metaphoric gloves come off only between starting block and end wall, the two insist. Even so, there's a double-edged sword in the Dean Vs Scott clashes in Birmingham: Scott missed World Championships last month while recovering from Covid and has opted out of European Championships next month in Rome, making the Games the only major head-to-head of the Olympic top two this year.  
Dean, bronze medallist in the 200m free and 4x200m free at World titles last month, is racing at all three majors and while the other feature the growing Paris 2024 Olympic golden hope from Romania, David Popovici, St George Vs St Andrew is the fun fight of the year. Says Dean: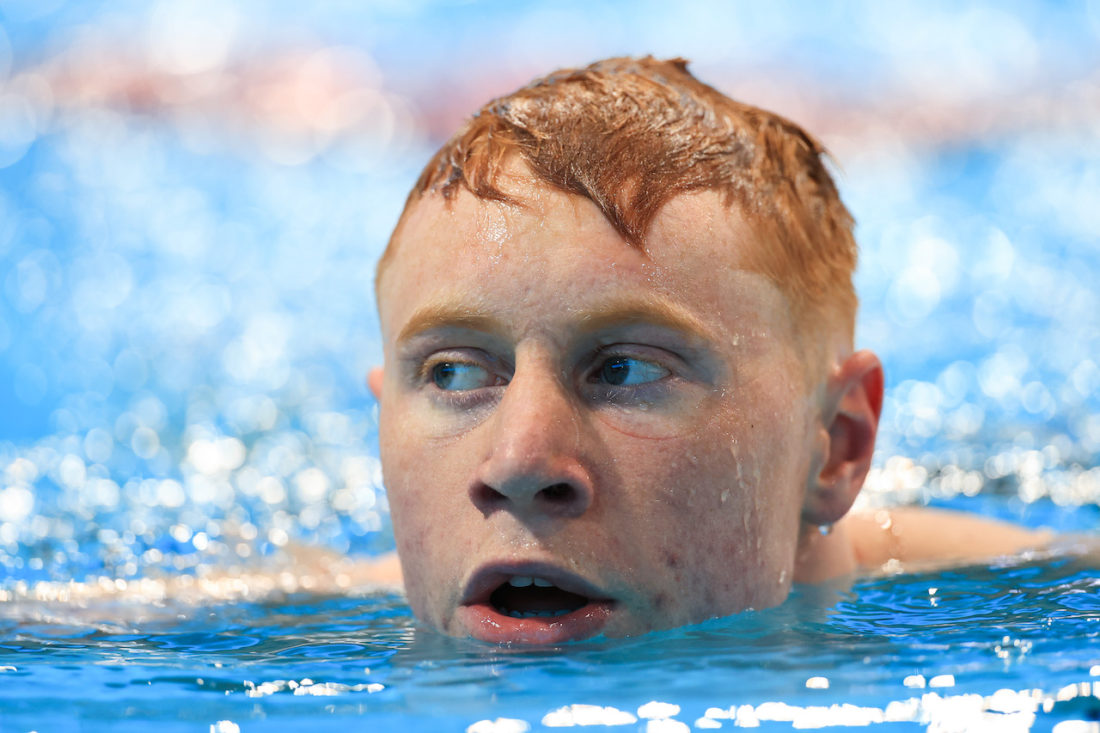 "I know Duncan's going to be going at full force and wanting to put on a real show and and kind of regain the title in England and take it from me in my back garden but you know, I'll be doing all I can to defend my Olympic-title status and just execute another great race."

Tom Dean – image by Georgie Kerr, courtesy of British Swimming
Heading into his third Commonwealths as a defending champion over 100m freestyle who claimed six medals at the Gold Coast Games in 2018, Scott plays down talk of 'rivalry: "We're just good mates – there's nothing else to it. It's a question we get asked a lot and we're both just like: 'Yeah we're just mates – should we be more than that?"
Make no mistake: Scott and Dean are highly competitive animals and both have expressed their passion for flying home-nation flags on the one chance they get every four years. Scott knows what a home Games can stir in a man: at 17 he claimed silver with Scotland mates in the 4x200m freestyle at Glasgow 2014, his international senior debut.
Dean, who will race in the 100 and 200m freestyle and 200m medley as well as four relays, can't wait for his own first home international to begin. "Athletes get one of these in their career if they're lucky," he says. "It's really special and, you know what, it happens just as the crowds are back. I can't wait to walk out with the flag on my back and to be part of and represent Team England for the first time, and do that in front of the home crowd. Hopefully, I'll bring home a number of medals."
Dean Vs Scott & Relay Power Built On The Shoulders Of Battling Brits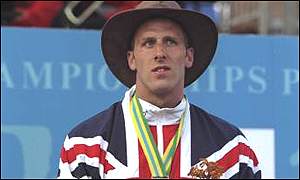 Commonwealth history tells a tale of the seismic shift in 200m freestyle power courtesy of Dean, Scott and 2015 World champion Guy, with Richards, Jarvis, Kurle and others riding a wave that had been gathering momentum since the days of Paul Palmer, Olympic and World-Championships medallist in the latter part of the 1990s and the man whose post-Olympic-400m-silver speech at the Atlanta 1996 Games triggered the creation of ring-fenced National Lottery funding in Britain.
There was Olympic bronze for Britain in the 4x200m in 1984, courtesy of Neil Cochran, coached by this author's dad in Aberdeen, Paul Easter, Paul Howe and Andy Astbury, Commonwealth 200m free champion for England in 1982. After that, there was no final in 1988 for GBR, and in 1992 recovery started with 7th for Howe and a new wave with a young Palmer, Steven Mellor and Stephen Akers.
Count them in: Jamie Salter, Andrew Clayton, Marc Spackman, Ed Sinclair, Simon Burnett, Ross Davenport, Gavin Meadows, David Carry, David O'Brien, Robbie Renwick, Andrew Hunter Ieuan Lloyd and Rob Bale. All Olympic finalists in the 4x200m for Britain 1996 to 2012: 5th, 5th, 4th, 6th, 6th: most of those places averaging around a second shy of bronze, Palmer's coach Ian Turner a driving force in many of those efforts to build team dynamic and the likes of Mark Stevens among those helping England and Britain to 4x200m podiums at Commonwealths, World s/c and other championships along the way.
Then, in 2015, Dan Wallace, Renwick, Jarvis and Guy, with Nicholas Grainger and
Scott in heats, changed the game: gold ahead of the USA at the World Championships.
The Americans hit back for Olympic gold a year later, but silver in a national record for Stephen Milne, Wallace, Guy and Scott underpinned a new era for British Swimming.
Gold at 2017 World titles, fourth at 2019 World titles when preparation for Tokyo 2020 was the key focus. The Covid pandemic caused delay and last year, the Brits finally cracked it: Olympic gold. And that in the fastest times ever by a quartet in textile suits in a final fast enough to deliver another first since it all began: the last and only previous time the Americans were locked out of the medals was not even official, their fourth place in 1906 at the intercalated Games written off by Olympic bosses long ago.
Olympic 4x200m gold in Tokyo made it two golds for Dean and four medals in total for Scott, whose haul set a record as the biggest by a British athlete at a single Games across all sports.
The Tectonics Of Commonwealth 200 Free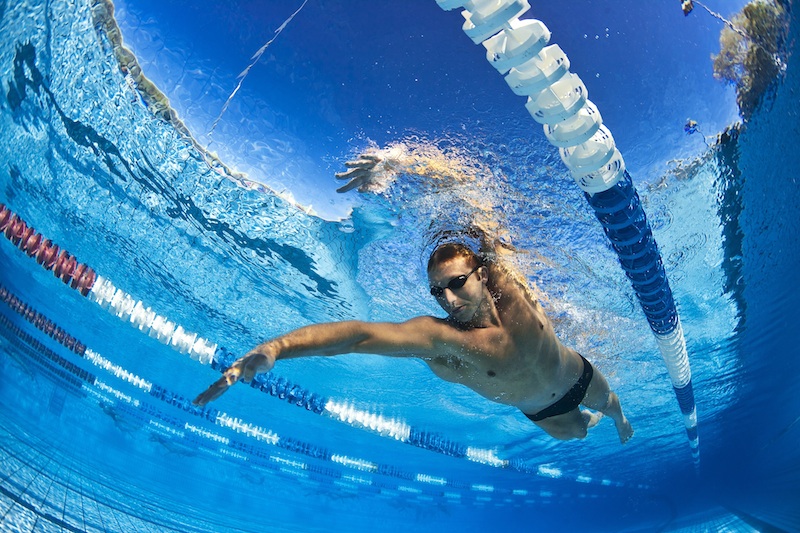 Australia has been the traditional Commonwealth power in the 200m freestyle, Ian Thorpe, Kieren Perkins, Mike Wenden and Kyle Chalmers, the 2018 reigning champion not defending tomorrow, all Olympic sprint freestyle champions. In 13 times of asking since 1970, the Dolphins have claimed 10 golds in the 200m, among them Ron McKeon, father of Emma McKeon, the queen of the Tokyo pool with a record seven medals last year, and David McKeon, Commonwealth gold and solver medallist at Glasgow 2014.
In the Birmingham men's 200, Australia will field Elijah Winnington, World 400m champion with a sensational swim in Budapest last month, Olympic 400m free champion of 2016 Mack Horton and Zac Incerti. They are among nine men who are favourites to take the eight lanes in the final, with Dean, Scott, Jarvis, Kurle, Richards and South African Matt Sates.
Assuming Scott and Horton make it through, the final will feature the two men who made headlines around the world when they staged peaceful podium protests against the presence of Sun Yang* at 2019 World titles as the Chinese controversy headed into an anti-doping hearing at the Court of Arbitration for Sport that would lead to an eight-year suspension, later reduced to four years and three months at a second process triggered by objections to one of the judging panel.
The damage done by the presence of Sun, who fell foul of anti-doping rules in 2014 and 2018 but in both cases was allowed to race on and kept the prizes claimed while under a cloud, is to be found in the depth of 200m free outcomes, South Africa's Chad Le Clos and Britain's James Guy among those keenly affected.
Water under the bridge but the chill still felt.
In 2022, it's all eyes on the Brits in rival camps at the helm of favourites for the crown on Saturday night. With Winnington et al in the water, nothing is taken for granted but Dean revels in the new status of the British contenders: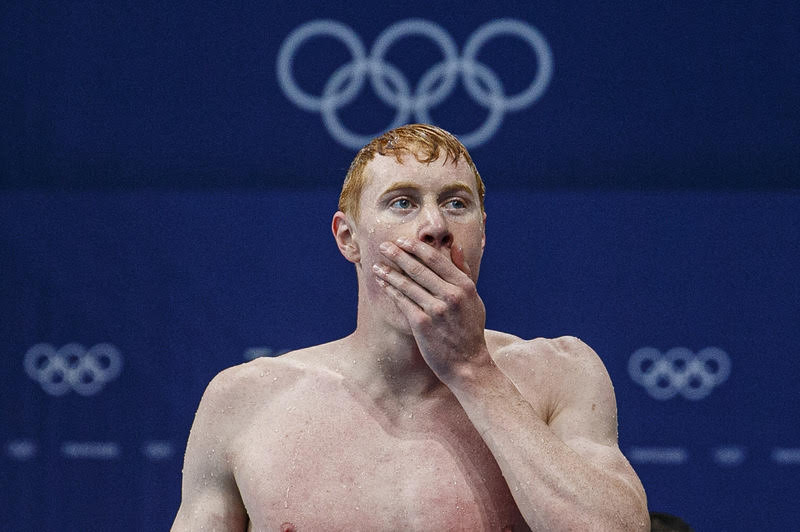 "It just makes me laugh, how we've got the two fastest 200 freestylers, the gold and silver Olympic medalists; he happens to be my teammate. I can't get away from him. He's up the road from me. Every meet I do throughout the year, he's there, and we're always pushing each other on … to faster swims."

Tom Dean – image – The alchemy of goal to gold is a life's game-changer – photo by Patrick B. Kraemer
Essential, that drive to go faster, he adds, in a world with Popovici, the 17-year-old who claimed the World 200m title ahead of bronze for Dean in Budapest last month in the second-fastest time ever in a textile suit.
Taking 200m Fight To Medley & Inspiring The Next wave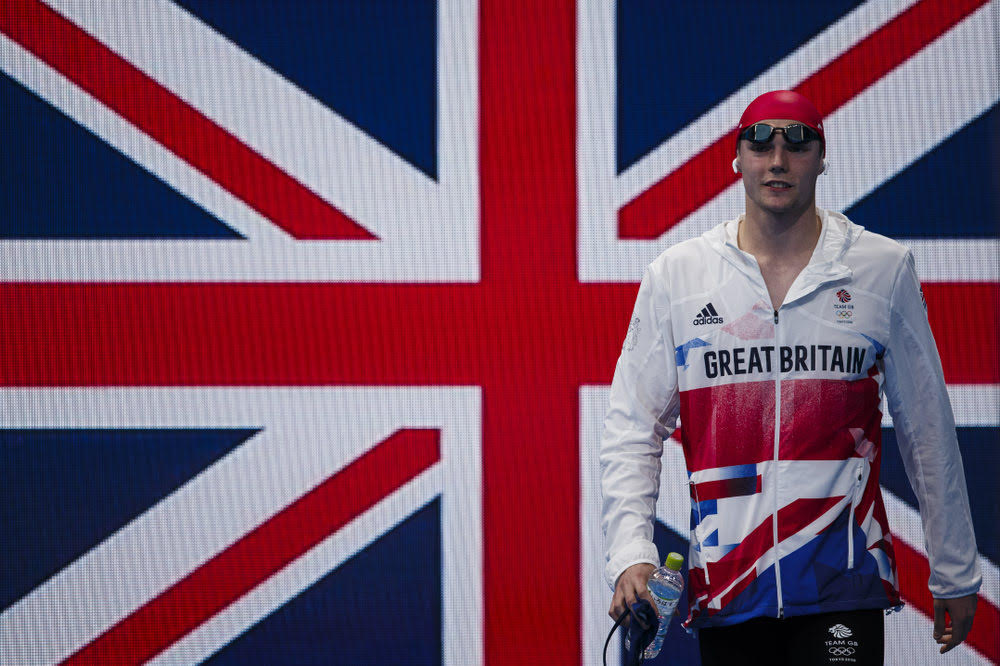 The domestic fight will not rest at freestyle in Birmingham. Scott and Dean will also clash for the first time over 200m medley in Birmingham next Wednesday. Both were ace all-rounders in their youth but set the medley aside to focus on freestyle events offering access to Britain relay berths. Scott made a serious return to medley last year when he claimed Olympic silver in the 200m in Tokyo. 
Last month in Budapest, Dean joined the fast fray with a 5th place in the event at World Championships a stroke away from the medals (had it not been for backstroke, he would have been in the hunt for gold, but that's medley for you). Dean knows it and foresees much more to come: "In the 200 freestyle, I can gauge it to within half a second of every single split. On medley there's huge gains to be made for me on the backstroke. Look at Duncan's progression. Over the last three years he's really mastered and fine-tuned his skills. I feel like I'm capable of following in those footsteps."
Scott and his coach at Stirling, Steven Tigg, have plans of their own:
Dean became a household name with gold that sparked jubilant scenes among family and friends at an outdoor bash in the middle of the night back home in England organised by his mum. The video went viral and is now embedded in the national sporting conscience.
Inspired by Scott, Guy and others, Dean sees Birmingham as his chance to inspire many others. He says: "The first time I got a real taste of that was the Olympics. Despite it being the other side of the world and all of it at stupid o'clock in the morning/middle of the night, back home, a real Olympic fever gripped the nation.
"That'll be showcased in front of a home crowd in England in a top notch, brand new facility at Sandwell that delivers a brilliant opportunity for local people to get stuck in and do some swimming themselves once it's all wrapped up. So get some tickets and come and support us. This is where dreams are made, where the ripple starts, when a child in the crowd thinks 'I'd like to be the next wave'."
On the eve of battle, Dean said that while he was looking forward to racing racing in a "top notch, brand new facility", the gold was in the legacy to come: "The Games are a brilliant opportunity for local people to get kind of stuck in and do some swimming themselves once it's all wrapped up".
Britain, he notes, "needs more pools and support for a sport and skills that save lives and deliver lifelong health benefits", adding: "We need more public leisure centres. We need more opportunities for people of all ages. Get involved in swimming is the message this has to send."
You can buy tickets for the Commonwealth Games here