David Popovici – 2 Months, 2 Weeks, 2 Days Of Pioneering In The Pool From The Swimmer Of 2022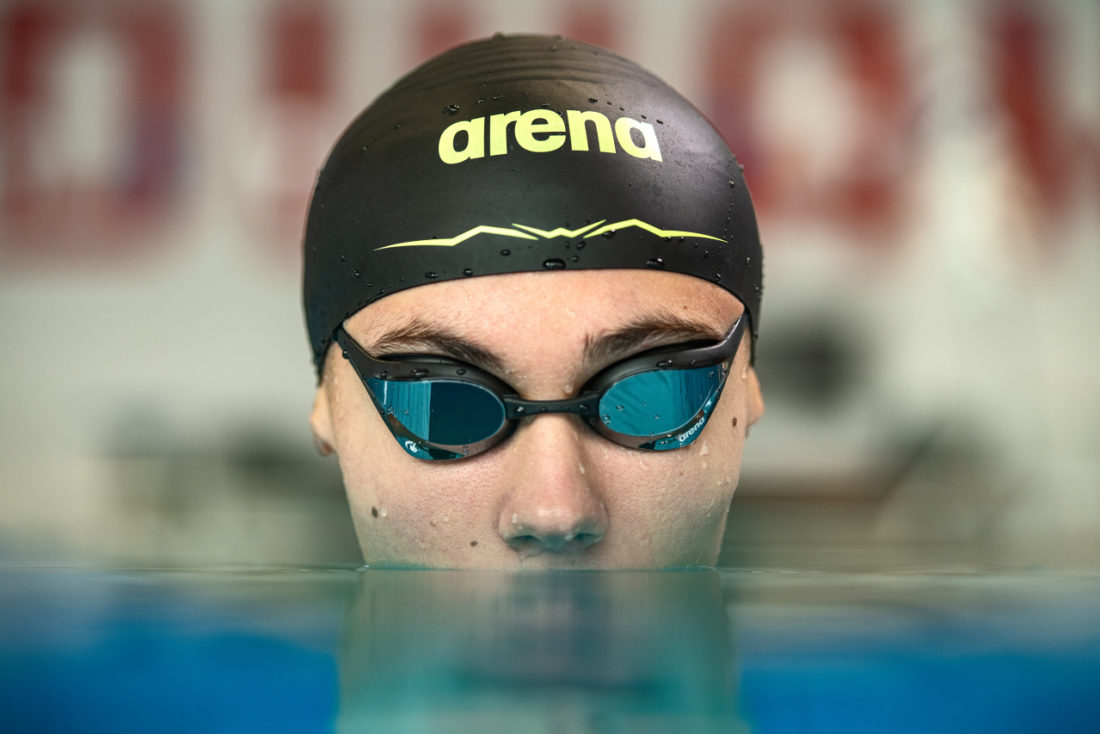 David Popovici has surely earned a rest – two global, two European championships in two months, two weeks and two days, each one delivering confirmation that the Romanian teenager who celebrates his 18th birthday next week is the 2022 Swimmer of the Year.
Forget any claims to World junior and European junior of the year: Popovici already had those in the bag back in June when he started his four-championships campaign with the World senior 100 and 200m freestyle titles. The 2022 season has included no fewer than 13 sub-48sec swims, for a career tally of 16, including two sub-47sec blasts, his 46.86 World record the swim of the year.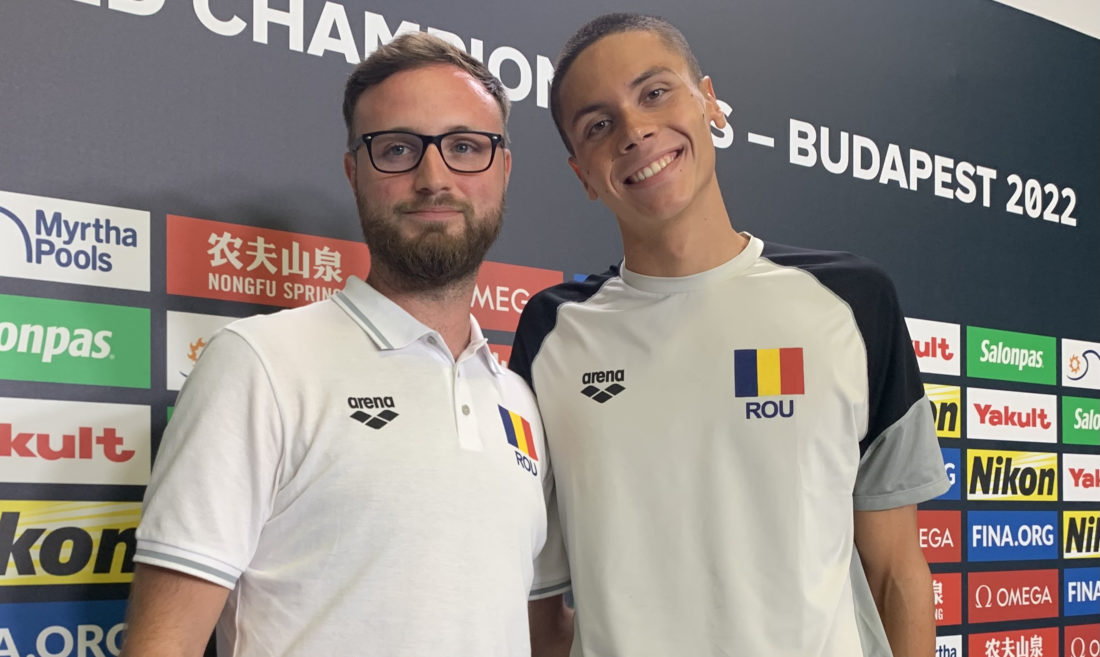 When it comes to plaudits for Popovici, count in his coach, Adrian Radulescu, his entourage, including his parents, and there's also a case for declaring them all "Team of the Year", not because they match the might of the United States, Australia and the like, for Popovici will never be able to wrack up the muliei-medal tallies of the top scorers from those nations because he is unlikely ever to have a relay about him capable of delivering the ultimate prizes.
Rather, because of the lessons and truths about performance sport that the Popovici story reminds us of: the components that go into excellence-plus, that thin sphere of outstanding folk who make it to the outer orbit of sporting success, are many, complex and never the same in any two cases.
SOS Coverage Of The David Popovici Pathway To Paris 2024:
There were two divided junior events in the past couple of weeks: the best of USA, AUS and CAN attended the Pan Pacific Championships, most of the rest the World Juniors. Calendar chaos and the choices therein continue to water down the impact of swimming, a sport whose governors have made the asterisk the symbol of swimming.
Juniors of the year? That was already decided at Work Championships in June when Popovici and Summer MacIntosh (400IM: 200 'fly), of Canada, confirmed their ambitions and potential in Paris come the 2024 Olympic Games.
Below are the lists of all swims that contributed to Popovici punching beyond his weight over 100 and 200m freestyle this year. It's an impressive score that includes the 100m World record, the 200m World textile best and myriad other pace-setting standards in the mix.
Not all four championships produced Popovici's best ever, neither within the season or career-wise, a 47.30 European Junior Championship record over 100m from July 2021 at 16 years of age still in place. Two major senior targets, two junior targets, World and European level both, all between June 18 and September 4: two months, two weeks and two days.
The Titles & Swiftest Swims
World Championships – Budapest – June 18 – 25
100m (semis): 22.81; 47.13 (24.32)
100m (final): 22.72; 47.58 (24.86) Gold
200m: (semis): 23.93; 50.24 (26.31) 1:17.25 (27.01) 1:44.40 (27.15) WJR
200m: (final): 23.77; 49.96 (26.19) 1:16.27 (26.31) 1:43.21 (26.94) WJR Gold
European Juniors – Bucharest – July 5-10
100m: 23.06; 47.69 (24.63) Gold
200m: 24.25; 50.74 (26.49) 1:18.32 (27.58) 1:45.45 (27.13) Gold
European Champs Rome August 11-18
100m: 22.74; 46.86 (24.12) WR-WJR-ER-EJR-CR Gold
200m 24.10; 50.35 (26.25) 1:16.96 (26.61) 1:42.97 (26.01) WJR-WTB-ETB-EJR Gold
World Junior Championships – Lima, August 30 – September 4
100m: 22.86; 47.13 (24.27)
100m: 22.72; 47.07 (24.35) CR
200m: 24.60; 52.00 (27.40) 1:19.35 (27.35) 1:46.18 (26.83) CR
Popovici – Top Times Of 2022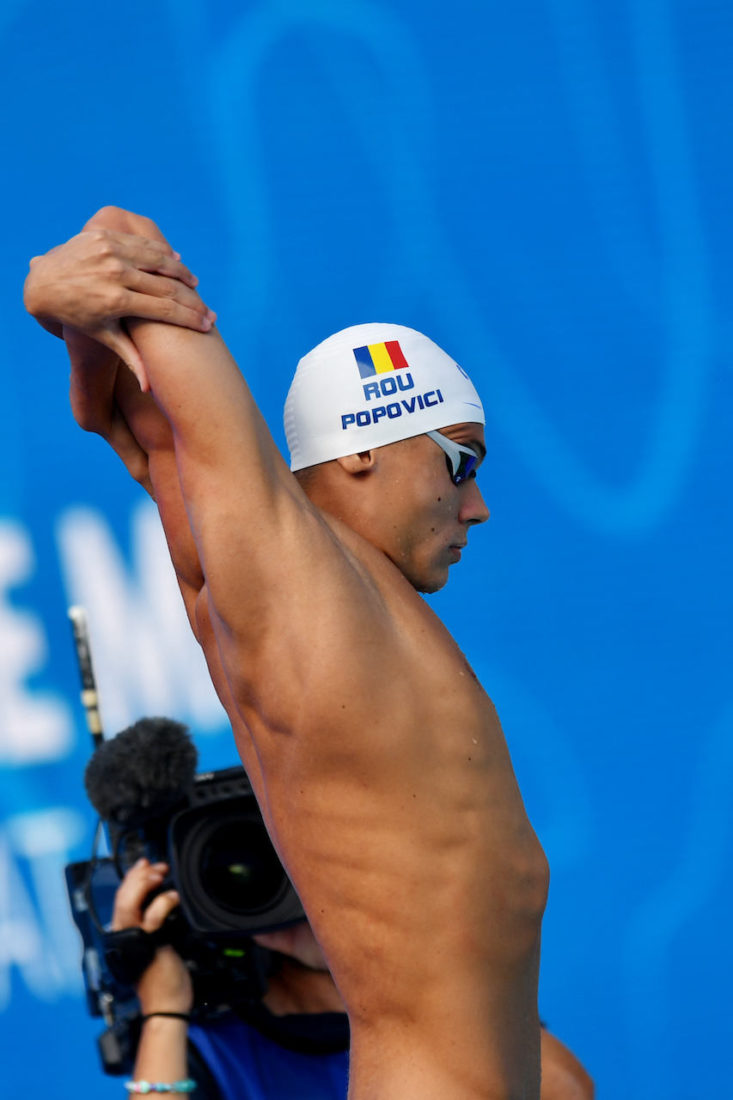 100 METRES FREESTYLE
46.86 EUROS22 F
46.98 EUROS22 S
47.07 WJUNS22 R
47.13 WORLDS22 S
47.13 WJUNS22 F
47.20 EUROS22 H
47.37 WJUNS22 R
47.54 EURJUN22 R
47.58 WORLDS22 F
47.60 WORLDS22 H
47.69 EURJUN22 F
47.76 EURJUN22 R
47.85 EUROS22 R
48.17 WJUN22 S
48.31 EURJUN22 S
49.14 WJUN22 H
49.61 EURJUN22 H
200 METRES FREESTYLE
1:43.21 WORLDS22 F
1:43.21 EUROS22 F
1:44.40 WORLDS22 S
1:44.40 EUROS22 S
1:45.18 EUROS22 H
1:45.45 EURJUN22 F
1:46.18 WJUNS22 F
1:47.93 EURJUN22 S
1:48.75 EURJUN22 H
1:49.40 WJUNS22 H
400M FREESTYLE
The 2022 Season In Full
including all split times (S, split, RS, relay split; WR = world record; WTB = World textile-suit best; WJR = World junior record; ER = European record)
100m:
46.86 WR, ER
46.98
47.07 RS
47.13
47.13
47.20
47.37 RS
47.54 RS
47.58
47.60
47.69
47.76 RS
47.85 RS
48.17
48.31
49.14
49.61
49.96 S
50.24 S
50.35 S
50.50 S
50.74 S
50.95 S
51.54 S
51.90 S
52.00 S
52.61 S
53.29 S
53.72 S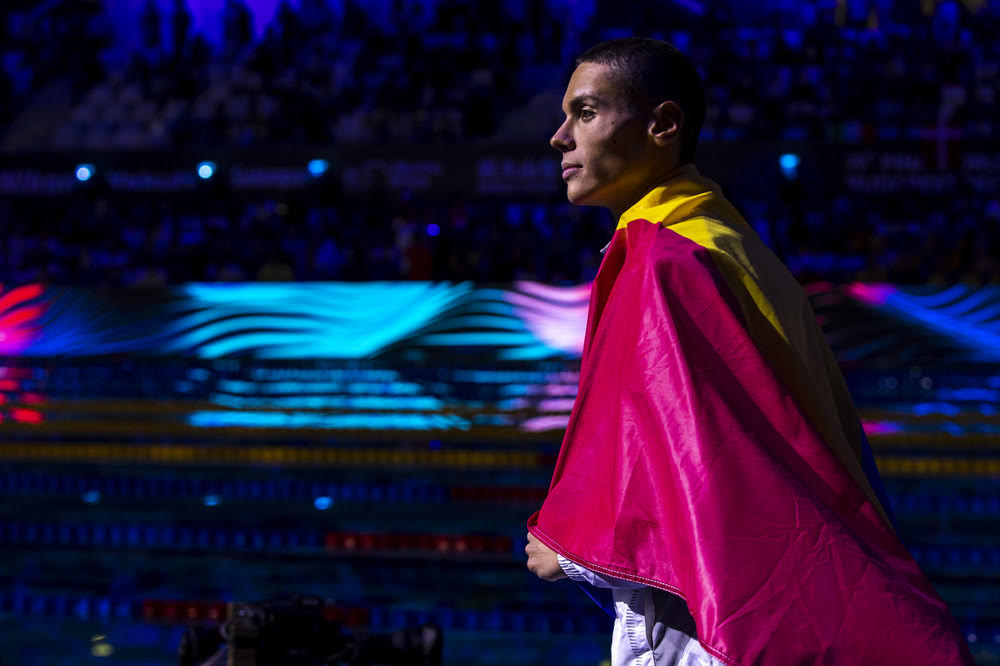 200m
1:42.97 WJR, WTB
1:43.21
1:44.40
1:44.91
1:45.18
1:45.45
1:46.18
1:46.87
1:47.93
1:48.75
1:49.40
1:51.59 S
400m
Where He Left His Best and, over 100 and 200m, The best:
| Event | Time | | Meet | Location | Date | Age | Record |
| --- | --- | --- | --- | --- | --- | --- | --- |
| 50 m freestyle | 22.16 | | 2022 European Junior Swimming Championships | Otopeni, Romania | 8 July 2022 | 17 | |
| 100 m freestyle | 46.86 | | 2022 European Championships | Rome, Italy | 13 August 2022 | 17 | WR, ER, WJR, EJR, NR |
| 200 m freestyle | 1:42.97 | | 2022 European Championships | Rome, Italy | 15 August 2022 | 17 | WTB, ETB, WJR, NR |
| 400 m freestyle | 3:47.99 | h | 2022 European Championships | Rome, Italy | 17 August 2022 | 17 | |