David Popovici Pops 46.98 European Record In Rome 100 Free Semis; At 17 The First Teenage Member Of Sub-47 Club
David Popovici, 17, is staring greatness in the face, a 46.98sec European record in the semi-finals of the 100m freestyle here in Rome makes him the fourth man to race inside 47sec, the second to do so unassisted by a suit – and the youngest ever to do so, by a chunk.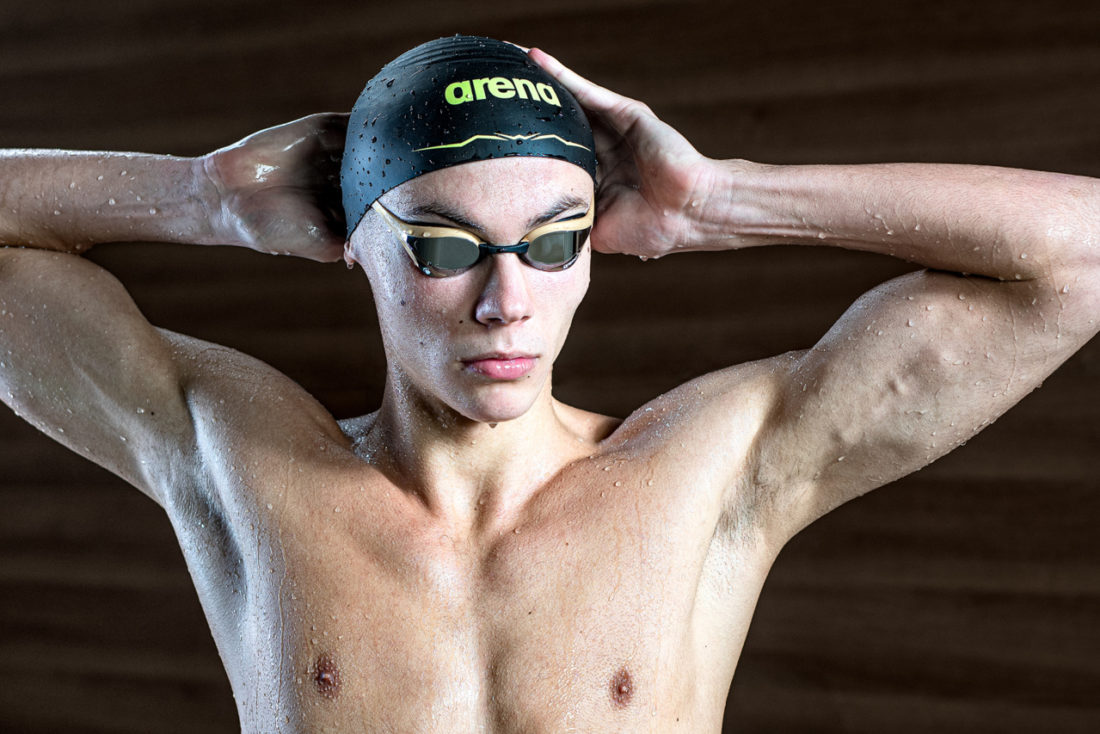 The schoolboy's new high bar was a World Junior record, too. But, to be honest, who cares? As Popovici steps up to his blocks in Peru for his fourth international this summer, the World juniors later this season, he will doubtless enjoy his last dance of youth but his mind, body and soul are already well beyond all of that, as in, something like: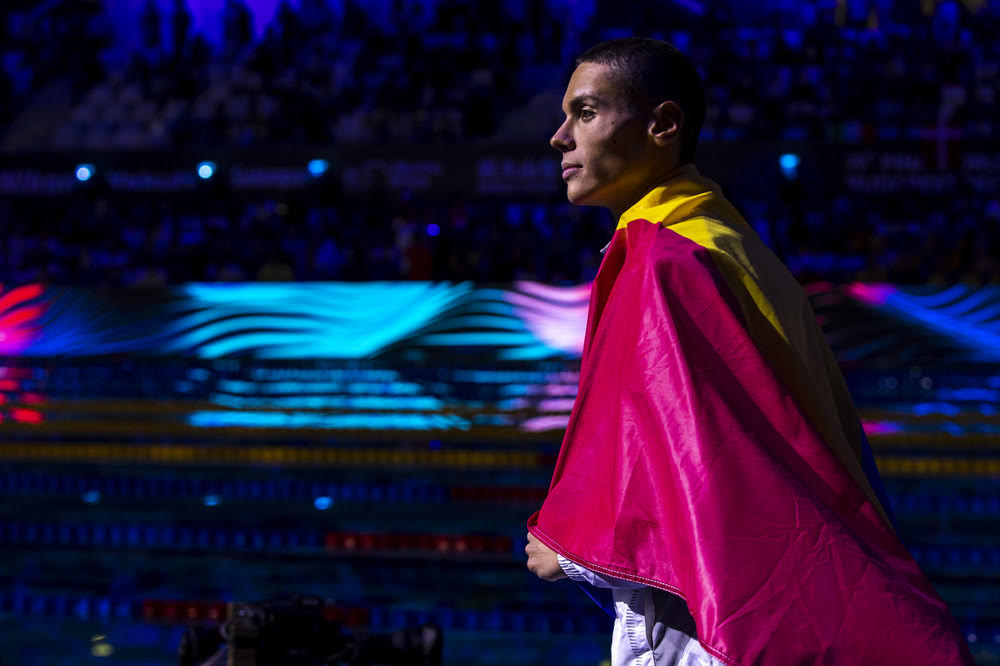 "When I was a child, I spake as a child, I understood as a child, I thought as a child: but when I became a man, I put away childish things."

Corinthians 13:11 – image: David Popovici , the gold, the flag, the 100-200 sprint double, the prospects lighting this way to Paris 2024 (Photo by Patrick B. Kraemer / MAGICPBK)
The 46.91 shiny suit standard of Cesar Cielo from 2009 in this same pool and the 46.96 world best by Caeleb Dressel in 2019 remain the flag-bearers of there-and-back speed on freestyle.
Popovici, who clocked 47.20 for the fastest heats time in history in prelims this morning, is grinding them down with every passing stroke towards what feels like destiny as one of the great pioneers of his sport. The youngest ever holder of the 100m world record is Frenchman Alex Jany, who was 18 years and 9 months old when he set the global 100m mark in 1947.
David Popovici has a little time on his hands yet – and, should he take down the records at any age would also be the first Romanian to hold the World record (but not the first born in a place now a part of Romania and from Romanian-Hungarian roots – see note on Johnny Weissmuller below).
Out in 22.93, home in 24.05, Popovici was in a league of his own, second through to the showdown Kristof Milak, the Hungarian Olympic and World 200 'fly champion, on 47,76 at the helm of the first line-up.
Coached by "Mr. Adi", as he still calls Adrian Rădulescu, a former swimmer with a PhD in athletic performance, David Popovici had a blistering answer and will enter the final as a defending champion who was 16 when he claimed the crown a year ago in Budapest as a warm-up for the 100-200m free double in the same pool in Hungary this past June.
Popovici described his stunning effort today as "okay", adding: "It's a fine route to the final and a step towards the right direction. It feels normal for me to go step by step and keep improving my time."
On the eve of the championships,. He was asked ion the 200 free world record of 1:42.00 set by German's Paul Biedermann here in Rome at the height of the shiny suits circus a year after he was denied the booster poly suits of Beijing 2008, was vulnerable. Popovici said: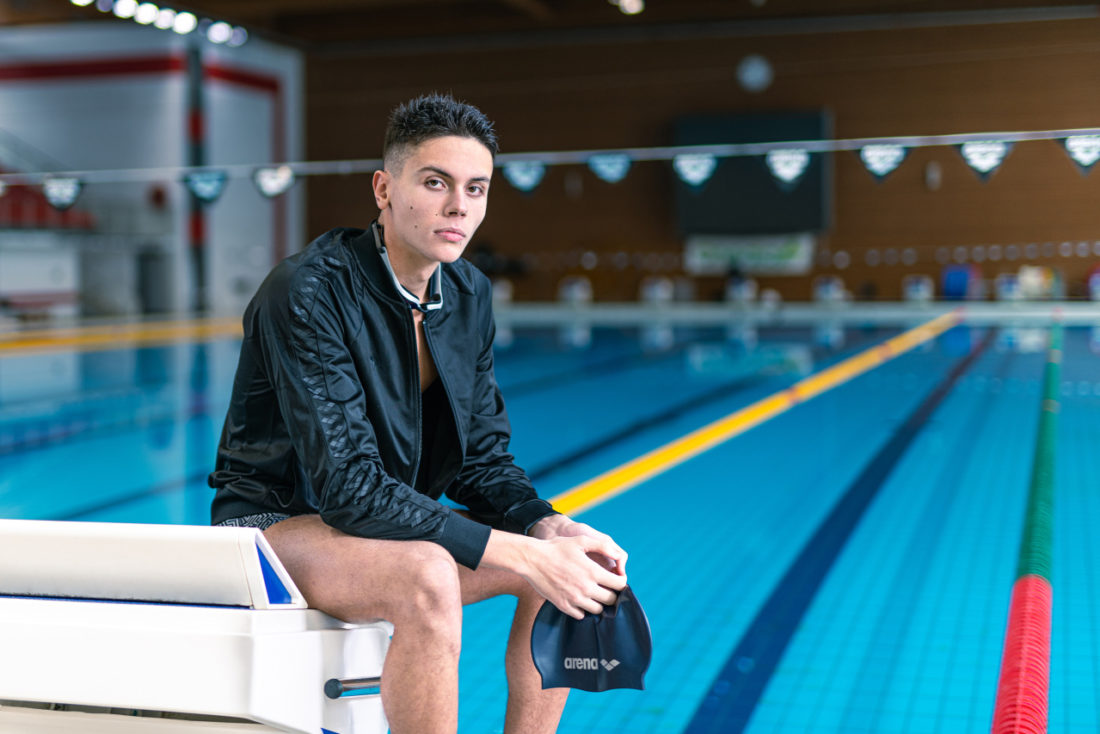 "I think it's a little bit harder than the one in the 100, for sure. What Paul Biedermann did in Rome 2009 was an absolutely amazing race, a very weird race from the technical point of view. In terms of the splits: they were almost even splits, if not equal splits. It's a hard record but I don't think it's impossible."

David Popovici – by Matei Buta, courtesy of arena
After the 100m, Popovici will contest the 200 – and the 400 – here in Rome: 100-200-400, Ian Thorpe territory.
The 400: expectations? "I truly don't know. It will be nice defending my titles in the 100 and the 200 but for the 400 I really don't know because it's a new challenge. We wanted to try it and what better place to try it than here, where I have some competition and the pool, has this much history."
Did he take an interest in how rivals raced? "Sometimes, especially when doing a new race, it's important to know what to expect from the others but at the end of the day, and I think this is what swimming is about: it's about racing yourself and the clock. When trying something new, it's important to know what the strategies of the others more or less are." He added: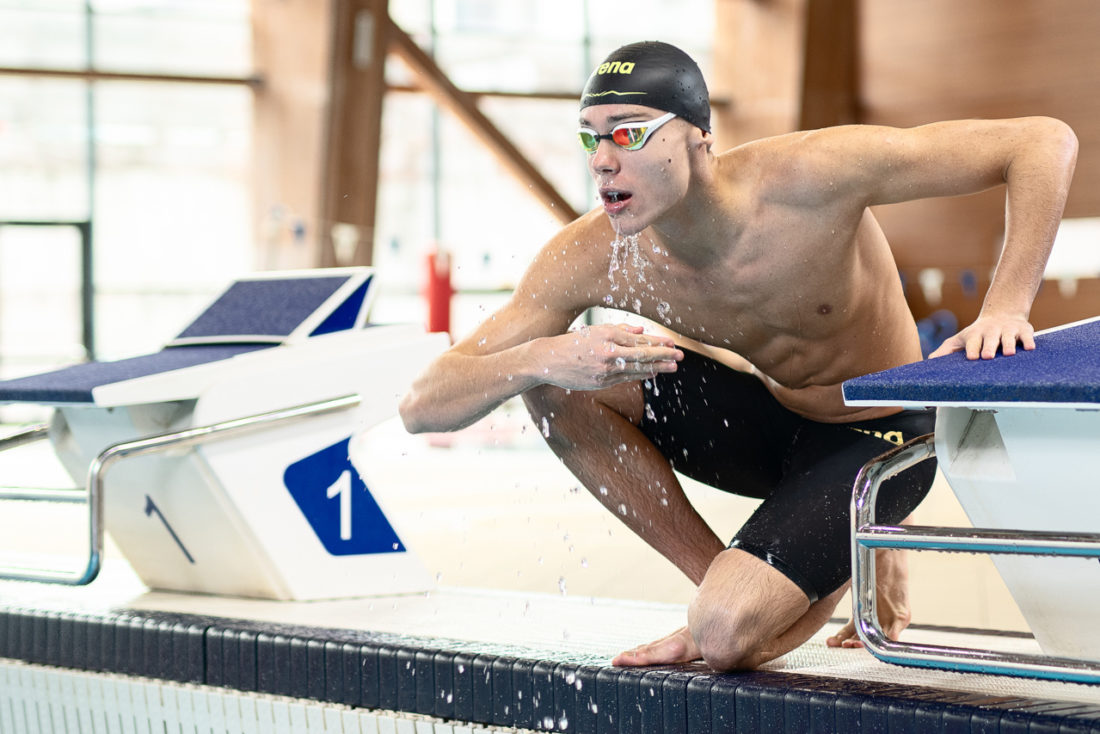 "In general, at almost every meet, I just do me. Everyone can do themselves. If I manage to do me correctly, I'm probably going to win."

David Popovici – by Matei Buta, courtesy of arena
Popovici Shadows Shiny Suits Pace Where the 2009 Circus Unfolded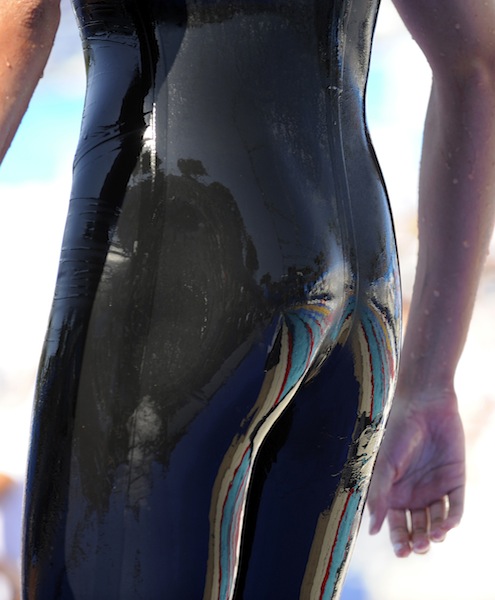 It was here at the same, magnificent, Foro Italico pool in Rome on a similar sunny evening on July 30 back in 2009 that Cielo crashed through the 47sec barrier with a 46.91 World record that stands to this day.
The Brazilian Olympic 50m champion of Beijing 2008 went through the rounds in 47.98 (8th) and 47.48 (2nd) before he held hands with the cutting edge of shiny suits and the 'surfdom' they delivered to the sport courtesy of poor oversight by governors.
Cielo's time was inside the 46.94 that Alain Bernard, Olympic 100m champion from Beijing, clocked at French nationals that year. Bernard's blast was never ratified as a world record because he had the wrong type of shiny suit on, his 100% non-textile garment available to those who could get one in Rome just weeks later but not yet approved by FINA at the time of French nationals.
Bernard's time remains the swiftest by a European swimmer but not the European record. In other circumstances, it might be argued that the French swimmer is the Alpha male of European speed. But then that c Ould only be said in the context of the suits of the time.
As such, Cielo became the first official breaker of the 47sec mark and holder of a sub-47sec World record: the record he broke was the 47.05 clocked by Australian Eamon Sullivan in semi-finals at the Beijing Olympic Games on his way to silver (in 47.32) behind Bernard (47.21) and ahead of a snap for bronze, Cielo and American Jason Lezak (47.67).
All of that is part of the World record progression and history of the 100m freestyle – and our list below starts with the first sub-minute world record, set by an American with Romanian connections: Johnny Weissmuller.
A touch of Tarzan family history: Johann Peter Weißmüller was born on June 2, 1904, in Freidorf, in the Hungarian part of Austria-Hungary (now in Romania) into an ethnically Banat Swabian family. Three days later he was baptized into the Catholic faith by the Hungarian version of his German name, as János. Early the next year on January 26, 1905, he embarked on a twelve-day trip on the S.S. Rotterdam to Ellis Island alongside his father, Peter Weißmüller, and mother, Elisabeth Weißmüller (née Kersch). Soon they arrived in Windber, Pennsylvania, to live with family. Johnny's brother Peter was born the following September.
Somewhere down the line, a swimmer emerged … and the rest if swimming history.
The 100m Freestyle World Record Club Popovici Wants To Be A Member Of
| Time | Name | Nationality | DateoftheSwim | Meet | City/Country |
| --- | --- | --- | --- | --- | --- |
| 58.6 | Johnny Weissmuller | USA | 9 Jul 1922 | – | Alameda, California, United States |
| 57.4 | Johnny Weissmuller | USA | 17 Feb 1924 | – | Miami, United States |
| 56.8 | Peter Fick | USA | 2 Mar 1934 | Yale University Swimming Carnival | New Haven, United States |
| 56.6 | Peter Fick | USA | 5 Mar 1935 | Yale University Swimming Carnival | New Haven, United States |
| 56.4 | Peter Fick | USA | 11 Feb 1936 | Yale Benefit Event for the United States Olympic team | New Haven, United States |
| 55.9 | Alan Ford | USA | 13 Apr 1944 | Special record attempt | New Haven, United States |
| 55.8 | Alex Jany | FRA | 15 Sep 1947 | – | Menton, France |
| 55.4 | Alan Ford | USA | 29 Jun 1948 | New Haven Swim Club team time trial | New Haven, United States |
| 54.8 | Dick Cleveland | USA | 1 Apr 1954 | AAU Championships | New Haven, United States |
| 55.4 | Jon Henricks | AUS | 30 Nov 1956 | Olympic Games | Melbourne, Australia |
| 55.2 | John Devitt | AUS | 19 Jan 1957 | New South Wales State Championships | Sydney, Australia |
| 54.6 | John Devitt | AUS | 28 Jan 1957 | Queensland State Championships | Brisbane, Australia |
| 54.4 | Steve Clark | USA | 18 Aug 1961 | Men's NAAA Championships | Los Angeles, United States |
| 53.6 | Manuel dos Santos | BRA | 20 Sep 1961 | WR record attempt by the CR Guanabara | Rio de Janeiro, Brazil |
| 52.9 | Alain Gottvallès | FRA | 13 Sep 1964 | – | Budapest, Hungary |
| 52.9 | Steve Clark | USA | 14 Oct 1964 | Olympic Games | Tokyo, Japan |
| 52.6 | Ken Walsh | USA | 27 Jul 1967 | Pan American Games | Winnipeg, Canada |
| 52.6 | Zac Zorn | USA | 2 Sep 1968 | USA Olympic Trials (unoff' elec. 52.58) | Los Angeles, United States |
| 52.2 | Michael Wenden | AUS | 19 Oct 1968 | Olympic Games | Mexico City, Mexico |
| 51.94 | Mark Spitz | USA | 23 Aug 1970 | AAU Championships | Los Angeles, United States |
| 51.47 | Mark Spitz | USA | 5 Aug 1972 | USA Olympic Trials | Chicago, United States |
| 51.22 | Mark Spitz | USA | 3 Sep 1972 | Olympic Games | Munich, West Germany |
| 51.12 | Jim Montgomery | USA | 21 Jun 1975 | AAU World Championship Trials | Long Beach, United States |
| 51.11 | Andy Coan | USA | 3 Aug 1975 | An Amateur Athletic Union Region Four meet | Fort Lauderdale, United States |
| 50.59 | Jim Montgomery | USA | 23 Aug 1975 | AAU Championships | Kansas City, United States |
| 50.39 | Jim Montgomery | USA | 24 Jul 1976 | Olympic Games | Montreal, Canada |
| 49.99 | Jim Montgomery | USA | 25 Jul 1976 | Olympic Games | Montreal, Canada |
| 49.44 | Jonty Skinner | RSA | 14 Aug 1976 | AAU Championships | Philadelphia, United States |
| 49.36 | Rowdy Gaines | USA | 3 Apr 1981 | Longhorn Invitational | Austin, United States |
| 49.24 | Matt Biondi | USA | 6 Aug 1985 | USA Summer Nationals | Mission Viejo, United States |
| 48.95 | Matt Biondi | USA | 6 Aug 1985 | USA Summer Nationals | Mission Viejo, United States |
| 48.74 | Matt Biondi | USA | 24 Jun 1986 | USA World Championships Trials | Orlando, United States |
| 48.42 | Matt Biondi | USA | 10 Aug 1988 | USA Olympic Trials | Austin, United States |
| 48.21 | Alexander Popov | RUS | 18 Jun 1994 | International Swimming Meeting of Monte Carlo | Monte-Carlo, Monaco |
| 48.18 | Michael Klim | AUS | 16 Sep 2000 | Olympic Games | Sydney, Australia |
| 47.84 | Pieter van den Hoogenband | NED | 19 Sep 2000 | Olympic Games | Sydney, Australia |
| 47.60 | Alain Bernard | FRA | 21 Mar 2008 | European Championships | Eindhoven, Netherlands |
| 47.50 | Alain Bernard | FRA | 22 Mar 2008 | European Championships | Eindhoven, Netherlands |
| 47.24 | Eamon Sullivan | AUS | 11 Aug 2008 | Olympic Games | Beijing, China |
| 47.20 | Alain Bernard | FRA | 13 Aug 2008 | Olympic Games | Beijing, China |
| 47.05 | Eamon Sullivan | AUS | 13 Aug 2008 | Olympic Games | Beijing, China |
| 46.94& | Alain Bernard | FRA | 23 Apr 2009 | French National Championships | Montpellier, France |
| 46.91 | César Cielo | BRA | 30 Jul 2009 | World Championships | Rome, Italy |