David Popovici Paris Bound With A Touch Of Thorpey, A Hint Of Hoogie, A Pinch Of Phelps In His Preparation & Process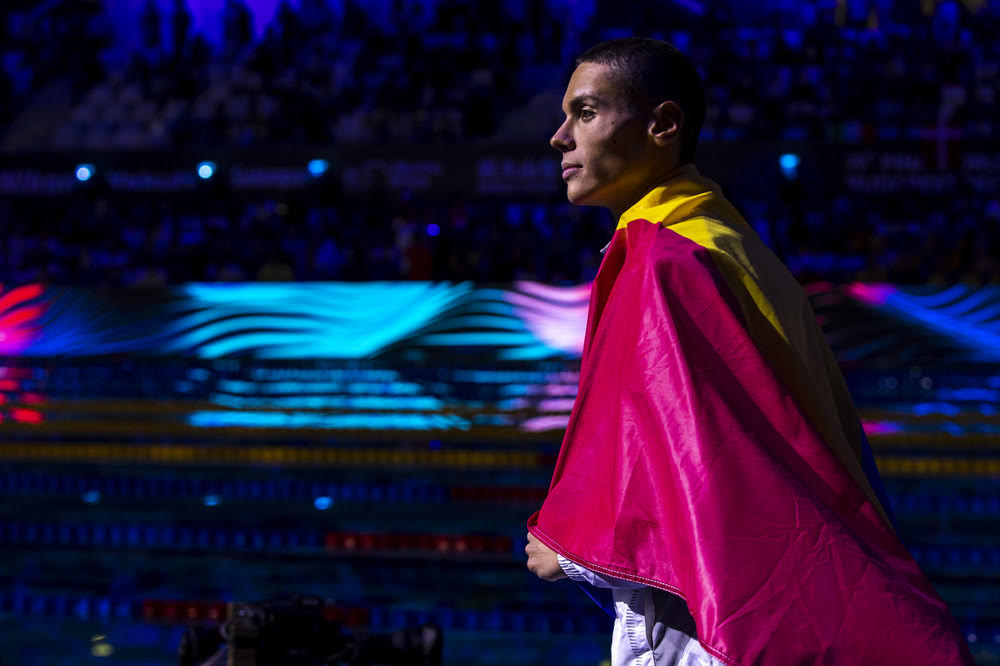 When Ian Thorpe, the Pope of 200m freestyle swimming, honoured a promise to 17-year-old David Popovici to show up and hand him the gold medal should he win the World title at 17 here in Budapest this week, it felt like nothing short of an anointment.
Hail the next Thorpedo, perhaps the next Eindhoven Express, AKA Pieter Van Den Hoogenband, and all that with a touch of Michael Phelps in the mix when it comes to 200m free potential and, after he became the first to lift the 100-200 double at World titles tonight at the Duna Arena, what that might mean for the Team Popovici Plan to upset the 'pure-sprinter' apple cart and the art of rocketing out and hanging as opposed to clinging on and rocketing home (more that theme soon).
Each one of the Race of the Century Trio from Athens 2004 would end their careers an Olympic 200m freestyle champion. Only Hoogie made the 100-200 double. Where will Popovici's path take him? Could we ever imagine a new Race of the Century featuring Popovici, Kristof Milak and Leon Marchand (or A. Another)?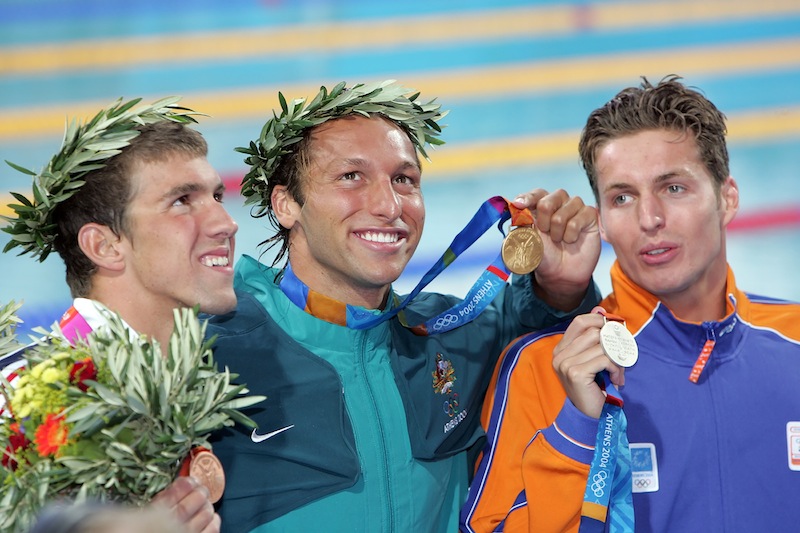 Whatever the answers, some things are clear: in Popovici, swimming and Romanian have a teenage talent who is not only outpacing his older, more experienced peers and possesses similar towering skills, physical and tactical, to those that made the Australian freestyler and youngest World champion ever among men an all-time great but the parallels with the past also stretch to similarities with the other two legends in the 200m freestyle 'Race of the Century' that unfolded at the Athens 2004 Olympic Games precisely a month before Popovici was born.
The 1min 43.21sec in which the Romanian claimed his first senior World title ahead of Britain's Olympic champion Tom Dean (1:44.22 in Tokyo last year) would have knocked into a cocked hat the pace of the blistering battle between Thorpe, Van Den Hoogenband, who had defeated the 17-year-old Australian over 200m at Sydney 2000, and Phelps, the new kid on the blocks vying to be "the greatest": they finished in 1:44.71, and Olympic record, 1:45.23 and 1:45.32.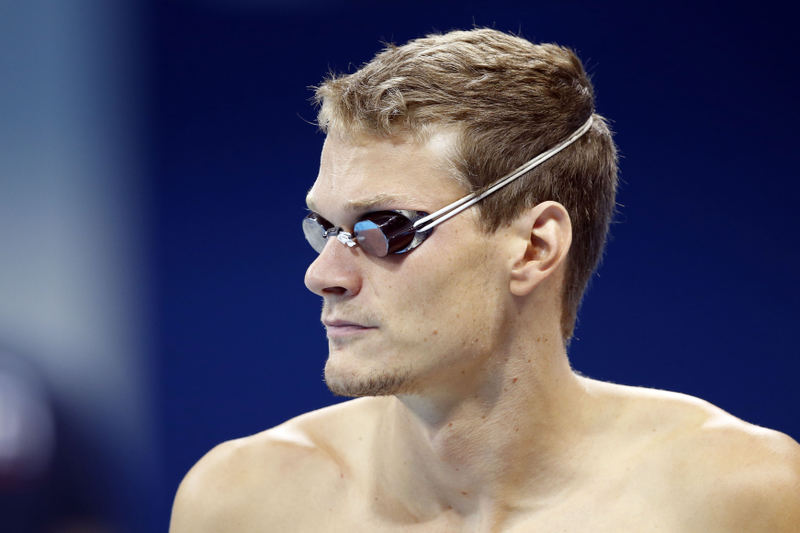 In Budapest, Popovici became only the third man in over two decades to race faster in a textile suit than Thorpe's World record of 1:44.06 at the 2001 World Championships. Only Phelps (2007) and Yannick Agnel, the London 2012 Olympic champion, had outpaced the retired Australian on the clock, the Frenchman's 1:43.14 the only effort faster then Popovici's this week, discounting times set in one of the booster body suits used in 2008-09 but banned from 2010.
In the 100m, a 47.13 World Junior record in semis gave way to a more nervy swim for gold in 47.58, precisely the time Aussie Kyle Chalmers clocked for Olympic gold in Rio at the same age, 17.
Back home in Bucharest, they were referring to Popovici as a "once-every 100 years supertalent" long before a 2021 season in which he claimed three golds at the European Junior Championships in times that made him an Olympic-medal contender over 50, 100 and 200m freestyle two years after he showed promise with two gold and two silvers at the European Youth Olympic Festival as a 14-year-old in 2019.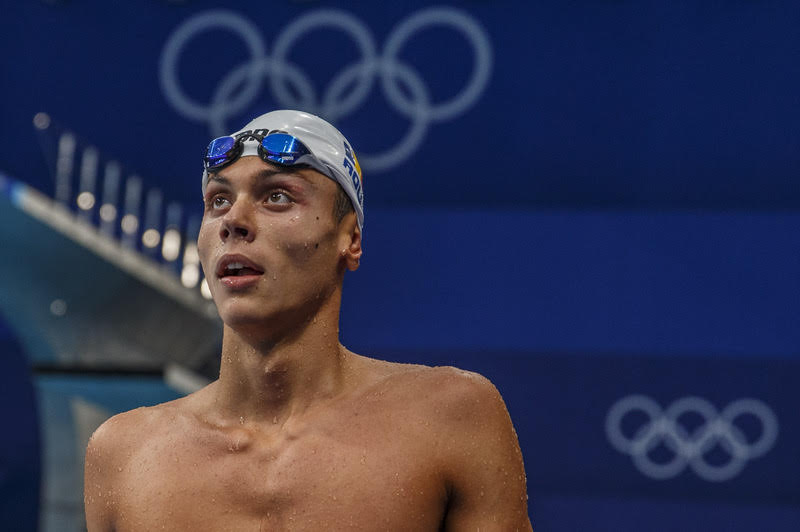 A fourth place for Popovici in Tokyo last year just 0.02sec shy of the medals in the 200m freestyle that saw Dean and Duncan Scott punch the first British 1-2 in the Olympic pool since 1908 kept Popovici off the senior radar.
He's most definitely on it now: faster than Thorpe, Phelps and Hoogie ever went; just 0.07sec outside Agnel's effective World record; and a second swifter than Dean and Scott have ever swum.
By the time he races in the last days of his teenage years at the Paris Olympic Games in 2024, Popovici is expected to have taken the pace of freestyle to a new dimension, even the enduring 100 and 200m World records of 46.91sec and 1:42.00 set in banned "shiny suits" in 2009 no longer considered to be safe.
Where It All Began
David started swimming at Lia Manoliu pool in Bucharest at the age of 4. His parents Mihai and Georgeta were keen to find an outlet for their son's endless energy but swimming was also chose on a doctor's recommendation to correct early stage scoliosis, a condition in which the spine twists and curves a touch out of line.
The young Popovici was in his element, water, he would later say, helping him to grow confident. At 8 he wrote down in a notebook that he would like to swim at the Olympics and at 9 when he joined the Aqua Team București (now called Navi) he told his father "I want to win medals too".
The same year, he met "Mr. Adi", as he still calls his coach Adrian Rădulescu, a former swimmer with a PhD in athletic performance. Here in Budapest this week, Radulescu told The Times: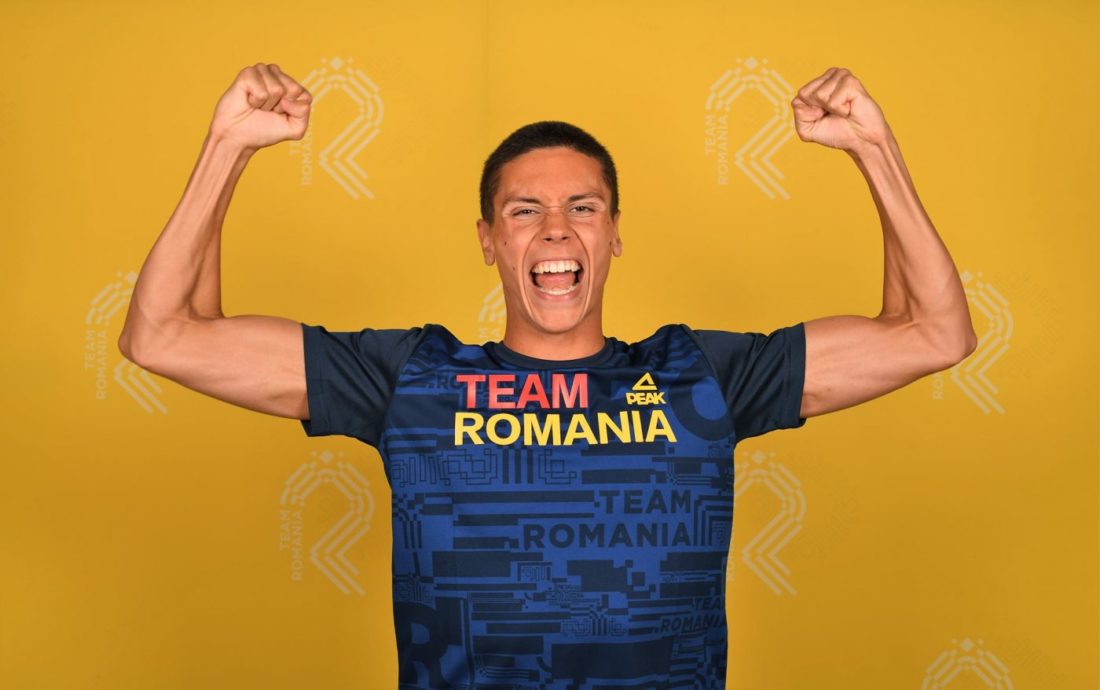 "He is self-motivated, so easy to work with. He's obviously very talented and he's he's really dedicated to his work and his dreams to be better every day. He always trains for his goals and he know where he is during a race and afterwards he assess whether he's done well, a good job, or not."

Adrian Rădulescu – photo, David Popovici, courtesy of Romanian Olympic Committee
It wasn't always so. Rădulescu recalls a restless and mischievous child who was easily bored, especially over long distances. David would find excuses to have a rest: play with his goggles, ask to go to the bathroom, say he had a headache, a stomach ache, a pain in his shoulder. But when he felt like it there would be burst of "incredible speed". From an early age, David was the king of "minimum effort, maximum impact".
Rădulescu once told Romanian journalist Andreea Giuclea, in Budapest on Popovici Watch: "You could tell it wasn't just because he was taller. OK, he was tall, but so were others. He wasn't the strongest. He couldn't do a push-up, others could do 100. There was clearly something else at play there."
It is with the help of Andreea Giuclea and her knowledge that we are coming to know much more about Romania's super-swimmer and the highly significant role played by parents, coach, entourage and the nature of the boy in the bubbles and training towards what's now unfolding since he was 9.
When reading some of Popovici's narrative so far, it's not long before you notice parallels with the stories of the Race-of-the-Century trio. There's a dream, there's a culture in which work is expected not rewarded, a process is to be followed, const antsy and consistently and there are moments when the grown ups in the room have to work out a way of triggering best response in preparation for the athlete being prepared to move round d obstacles water-like, in general and on race day come the hour.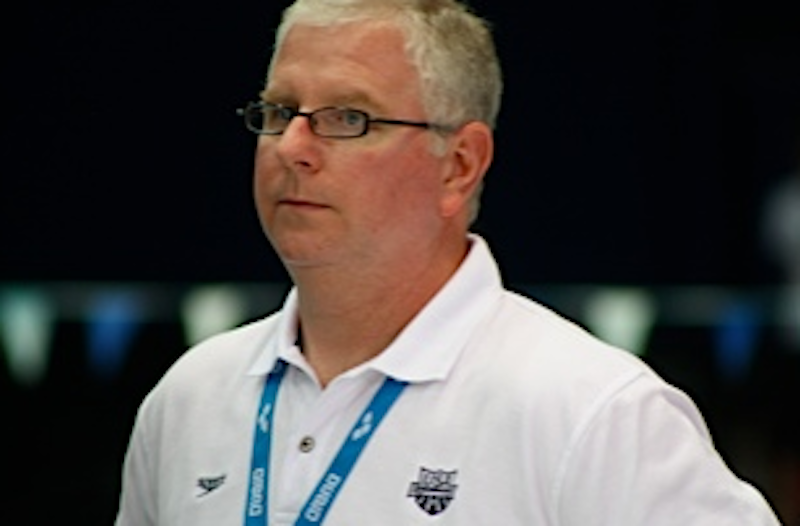 Take Bob Bowman, who asked a bus driver to arrive back at the hotel from a competition so that a young Michael Phelps would learn that going hungry was no impediment to performance.
Goggles were stepped on so that young Michael had to get in and race without them yet still stick to that goal in his head and heart. Such things played out well when timetables were shifted and goggles leaked during an Olympic final years later.
Nice headlines. Bowman's The Golden Rules takes you much closer to how, why and what happened as a result
Radulescu has also sought ways to get David Popovici to dig deep.
The swimmer's mother, Georgeta, a psychologist, summed up the environment in which her son grew up at the pool: "He [the coach] never reprimanded him". Instead, Radulescu patiently waited to understand how he could bring out the boy's competitive streak in training and concluded that David needed everything explained: once he understood why hard training hurt and what he would get out of it, the corner was turned and there was no looking back.
In the process, Radulescu concluded that David was a boy who needed every part of the plan explained: once he understood why hard training hurt and what he would get out of it, the corner was turned and there was no looking back.
Trust was paramount. "If I didn't trust him, I couldn't push myself so hard at every practice until I feel terribly sick," says Popovici. "But knowing that something good comes after it, I can go through almost anything."
He also found it fun to win and break records, the first of which fell to him at 10, a national age-group 50m backstroke record that had stood to Dragoș Coman, a 2003 world-championship bronze medalist, for 24 years.
Rădulescu's descriptions of Popovici's development years in an interview with Giuclea also remind us of stories related to the Race of the Century trio. The coach cites the swimmer's parents as the foundation of a success story unfolding.
"Parents want certainty. And sport – as in David's case, at least until July 2021 – is uncertain. People can't wait," Radulescu told Giuclea. Popovici's parents waited, adhered too the process patiently and stuck to the same consistent messages throughout the swimmer's early years.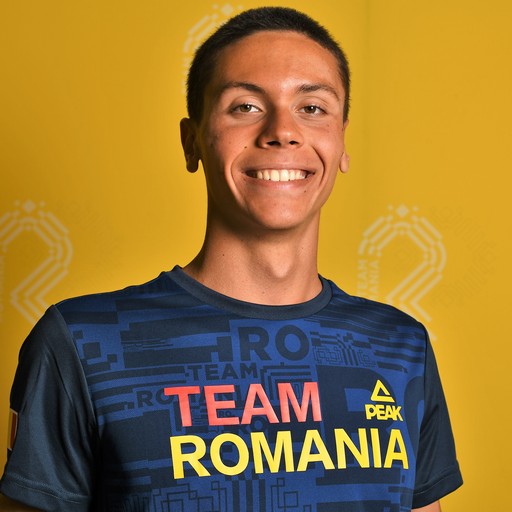 They never rewarded their son for any performance at the many competitions down the years, a fair number of them more memorable to the swimmer because he likes to play cards in between races and his mates nicknamed him "The Magician". Most competition weekends ended with a trip to the Ikea canteen on the way home: David liked the cake there but he got a slice whether he'd done well or not.
If his physical attributes are a key component of what makes Popovici a swimmer fit to maker a porpoise blush – he has size 14 feet, hands like shovels, no hips and curves to speak of and resist the water, stands 1m 90 tall and boasts another Phelpsian dimension, a wingspan, fingertip to stretched-out fingertip, of 2min 05 – it is Popovici's attitude that Radulescu points to in listing the things that count towards great expectations of Popovici becoming the swimmer of the ~Paris 2024 Olympics before he leaves his teenage years behind.
"He's more consistent than we could ever be," his father Mihai, who trained to become an expert in nutrition, unprocessed foods and additives to help his son out. When they learned David should eat two hours before training, his parents started to wan him at 4:30AM to serve him breakfast in bed as a "treat" each day.
"I very much want him to have a good deal of normalcy in his life," said Georgeta Popovici told Giuclea, "and so I don't like to speak about potential around him or even praise him. I'm so detached that the poor kid, when he sets a new record, looks at me and says: 'Are you even aware of what I've achieved?'." She prefers to be the one asking about his homework from the George Coșbuc School's bilingual English program.
Two weeks before travelling to Budapest for World Championships, David had a Cambridge English exam. He thought it might be a distraction but his mother insisted that lessons and the tests that come with them are just a part of the process. Popovici confirmed the reason why his English language skills are as excellent as they clearly are: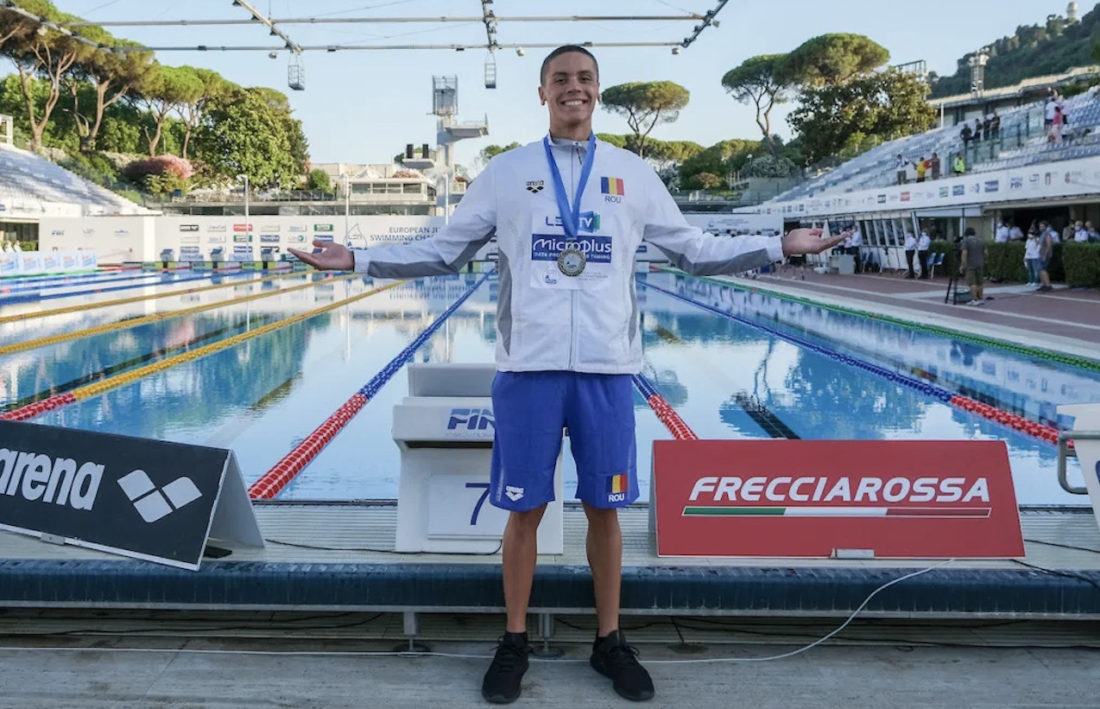 "My parents were inspired enough to put me through an English school. My teachers at school, they're great. They're great teachers. I go to a bilingual high school. I still haven't finished high school. I don't even drive yet, but that's where I got it from. I got to give it to my parents because they knew it would be such an important skill in moments like this I get to practise it, I get to travel a lot, and thankfully I get to connect with a lot of people and experience a lot of cultures."

David Popovici – Photo: David at the Foro Italico Olympic pool – courtesy of LEN
At the Tokyo Olympics, Popovici became famous back home in Romania as the 16-year-old talent who had nothing negative to say about fourth place and a medal missed by 0.02sec. There were jokes about him being told to stop biting his nails: longer he would have made the medals. And so on and so forth.
He gave interviews, attended events, received international awards and was a social-media sensation. David enjoyed the attention and being referred to as "the shark", "a freak of nature", "out of this world". Requests galore. Too many. David felt the drain of time and energy and came to it himself: the superlatives didn't define him, talent was the first step and there was much work to do.
Last autumn he cut out all social media, deleted all apps on his phone, changed his number and took a break from giving interviews. In the first one he gave this year, Giuclea notes: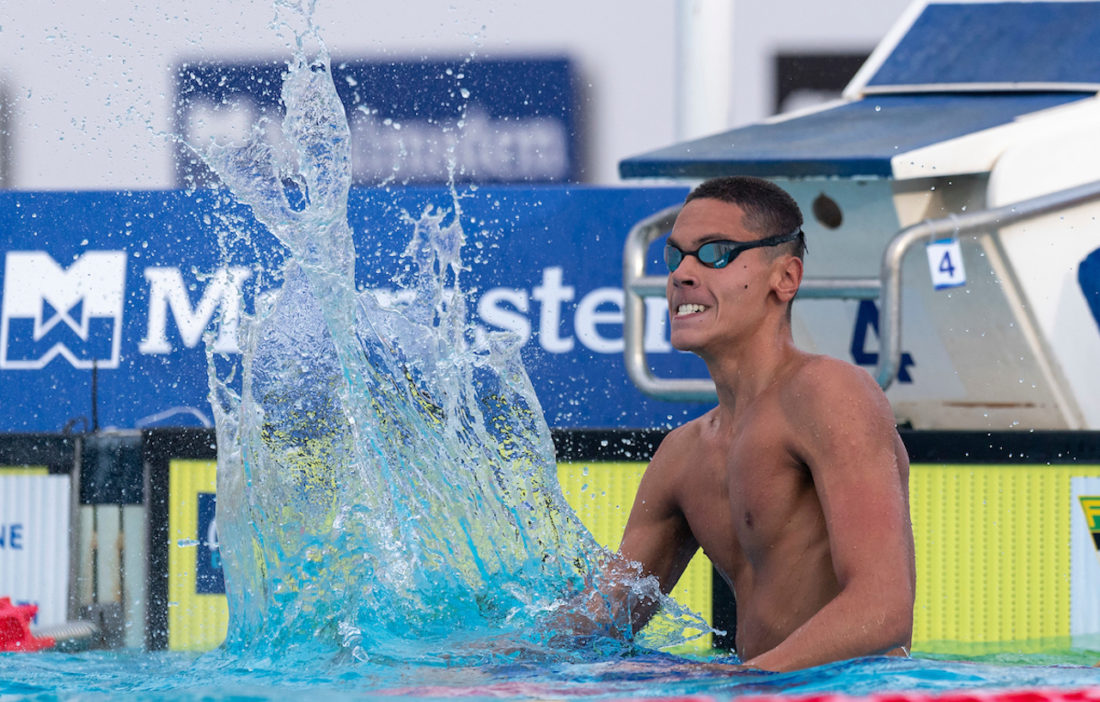 "What is it that I really want?" he asked himself. "Do I want to be more famous or do I want to be a better swimmer? I think it's important for people to hear what I have to say, but that time will come and it comes after I've done all I can do here, in the pool."

Andreea Giuclea on Popovici. Photo: David Popovici in Rome – Photo Andrea Masini / Deepbluemedia / Insidefoto courtesy of LEN
After Tokyo, there were also offers of athletic scholarships from US universities. Popovici opted to stay home with the coach and the situation that's clearly been working so well for him. His decision puts pressure on the home team, which includes strength coach Dragoș Luscan, kinesiotherapist Valentin Grigoraș, Belgian video analyst Stijn Corten and American nutritionist Bob Seebohar.
"A lot of people will be putting on pressure from now on," physical trainer Luscan told Giuclea. "But we are all aware that we're doing this step by step, we're building, we're doing the groundwork, we're learning. Even at the upcoming Olympics, why put so much pressure on him, he'll be 20. It's true that he's set the standards, but he'll be just 20! Other swimmers win their first Olympic medal at 34."
September born, a week ahead of Bilbo Baggins, Popovici will still be 19 in Paris.
Age is no impediment to high goals, of course. We're talking the kind of outer orbit stuff we've previously associated wit the 'race of the Century' trio and the like. Popovici's team has a computer mock-up of his potential future achievements, Giuclea notes. It's based on his best results so far and how he can improve them. And it's "absolutely ridiculous", his coach said.
Shiny suited 46.91 and 1:42.00 – not quite yet. By Paris? The pathway looks more than. possible.
Caeleb Dressel, out of action in Budapest because of "a medical condition", has raced with 0.05sec of Cesar Cielo's 2009 World record in the 100m. It won't be long. At 47.1 in semis yesterday as Dressel bowed out, Popovici reinforced that message.
Crystal-ball gazing is not for the swimmer's mother. She tells Giuclea: "I'm afraid to think about it in a way. (…) I'm afraid it might overwhelm him. I don't think it's going to change who he is."
She's also sure that David is "not at all" scared of what lies ahead. For himself, David simple says: "I just take every day as it comes."
Giuclea notes what every day looks like: "He wakes up early, eats his yogurt with oats, chia seeds, honey, banana and blueberry, goes back to sleep for an hour, then heads to the outdoor pool at Lia Manoliu. He warms up, takes off his clothes, puts on his goggles and swim cap. He steps up on the blocks, looks up towards the sky, then down at the black line on the bottom of the pool, a swimmer's best friend, and dives head first towards this future. It's nothing but imagination but you still have to swim towards it."
Popovici Looking For A Chat With Thorpe
Happy to have had his medal presented by Thorpe, Popovici was not star struck and like the young Thorpe, the Romanian seems to have a wisdom beyond his year. He says: "He's been an idol for me and just like Michael Phelps, they're just like any other kids; that's the same for me."
"I actually met him two days ago," Popoovici told The Times.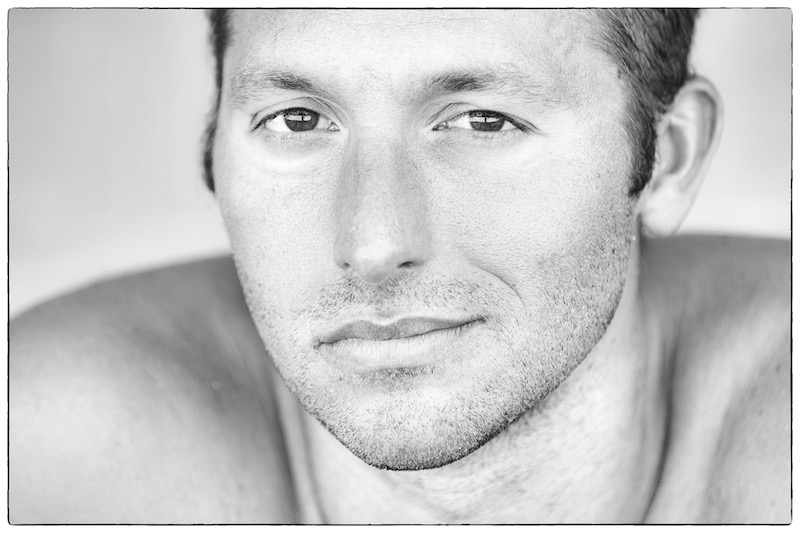 "I had the honour to meet him and we talked for a while and he said to me that if I win, he's going to try and present the medal at the ceremony … he kept his promise and it was an honour to shake his hand being on top of the podium hearing my national anthem.

"I'd love to talk to him some more and get some more insight. He's been in my place, or a bigger place than me breaking world records at a young age so I know I have a lot to learn from him."

David Popovici . Photo: Ian Thorpe by Patrick B. Kraemer
At 17, he has much to learn but he intends to take his time and have fun along the way. Asked if he was taking his driving licence, he said: "I could have gotten it from 16, but with with a small car that gets very loud. So I wouldn't want that. I prefer biking or walking, but from 18 I can get a normal car. I just I don't have time for it and I don't think I'll even have time for it in my vacation. I would but I guess when I'm going to have my actual holiday, I'm just going to enjoy. I don't want to do driving school or get my driving licence. So that's that's not a priority at all. I have a bike."
His job in Budapest is done. His job of promoting a home Euro Junior Championships taking off where then speedy racing ended. Would there be crowds waiting for him at Bucharest Airport?
He said: "We'll see when we get to the airport and we'll see the reaction at home. I wouldn't mind a big reaction. I usually do mind them but this time I guess we've kind of earned our celebration for a little."