David Popovici 1:45.26 Not World Junior Record 200m Free But Inside Yannick Agnel's Euro Youth Champs Mark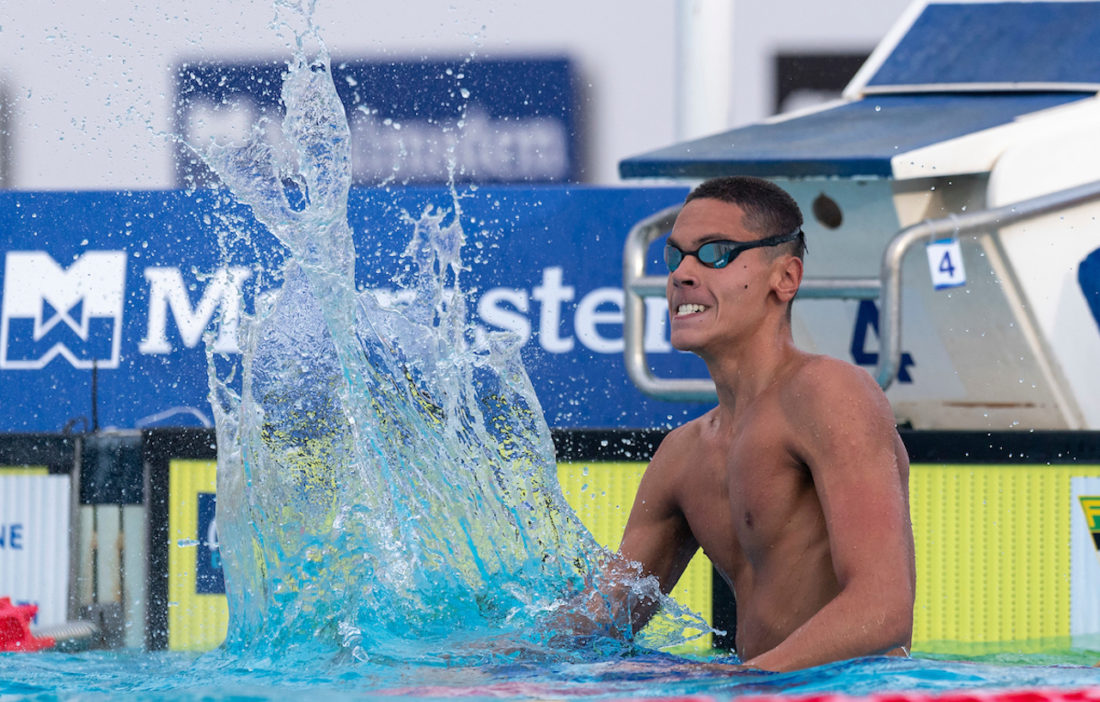 A day after sending smoke off the water at the Stadio Del Nuoto in Rome, with a 47.30 World Junior record in the 100m free, Romanian 16-year-old sensation David Popovici promised more thrills at the European Junior Championships with a 1:45.26 meet record over 200m freestyle, inside the best of Yannick Agnel in youth waters.
The World Junior Record was announced for Popovici but the psyche and result sheets in Rome are missing a monumental effort from May.
The Romanian's time landed Popovici a ticket to lane 4 for what can hardly be described as a showdown: the final is his, the question simply about the time. Today, the clock confirmed the new threat to Olympic podiums had raced inside the stated World junior record set at 1:45.92 by Hwang Sun-woo, of South Korea in November last year, and more than a second under the 1:46.58 at which 2012 Olympic champion Yannick Agnel, of France, had held the Championship record since 2010.
Hwang may yet ensure that Popovici must race faster if he wants the World Junior record:  Hwang clocked 1:44.96 in May but the time has not yet been ratified, therefore his previous mark appears on the results sheets in Rome. Time waits for no man nor meet in a world of Hwang and Popovicis.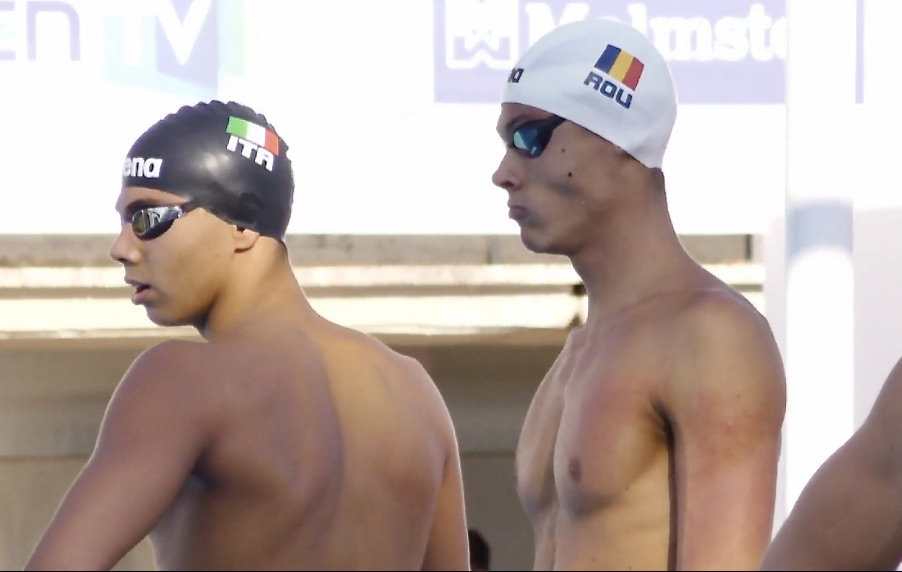 Popovici splits: 23.94; 50.70; 1:18.34; 1:45.26.
The new Romanian national record was good for seventh in the world this year on a list topped by Britain's Duncan Scott, on 1:44.47, at the helm of five men inside 1:45. A 16-year-old now is now within reach on the clock. Where Popovici finds himself on the 2021 Ranks:
1:44.47 GBROLY21 Scott, Duncan, 1997, GBR
1:44.58 GBROLY21 Dean, Tom, 2000, GBR
1:44.65 JPNOLY21 Matsumoto, Katsuhiro, 1997, JPN
1:44.79 EUROPE21 Malyutin, Martin, 1999, RUS
1:44.96 KOROLY21 Hwang, Sunwoo, 2003, KOR
1:45.22 AUSOLY21 Graham, Alexander, 1995, AUS
1:45.26 EURJUN21 Popovici, David, 2004, ROU
1:45.29 USAOLY21 Smith, Kieran, 2000, USA
1:45.48 AUSOLY21 Chalmers, Kyle, 1998, AUS
The fastest teen in history, Popovici doubtless sends shivers down the spines of four-rappers when he says he prefers the 200m to the 100m in the sense that the longer event "more tactical", with a little more room for working out how you might get to the wall ahead of the Goliaths David is set to face at the Tokyo 202One Olympic Games at the end of the month.
His 200m progress has been just as impressive as his 100m leaping and bounding. In February 2019, at 14 and a half, Popovici set a career best of 1:57.63. By the time he raced in Gyor, in Hungary, in December that year, now a 15-year-old on the move, he had shifted gears: 1:50.14.
His work and gain in 2020 was modest and three months beyond his 16th birthday, Popovici was back in Gyor racing a 1:49.70 on the cusp of Christmas last.
What happened next?
April: 1:49.58 and two weeks later 1:48.62 at meets in Belgium and Ukraine when travel was surely a little tricky. In May at European Championships, he clocked 1:48.38 and hardly a soul noticed, barring those who spotted the lanky teen purring up the pool like the Popov who comes with an "itch" in the tail (Romanian name pronounced Popovitch). Then: June 20 at home in Bucharest – 1:46.15.
Now 1:45.2. What will it be tomorrow, what in Tokyo. And what might unfold by Paris 2024, by which time the technical and aesthetic thrill of a lanky threat with the 2m 05cm wingspan will have put muscle on bone…
Day 4 Finals In Rome See Five Solo Golds For Five Nations
Nicolo' Martinenghi's European Junior Championship and continental records withstood a rattling from fellow Italian Simone Cerasuolo when he claimed the 50m breaststroke crown in a dominant 27.29.
Martinenghi holds the European youth standards at 26.97, and, for the championship, 27.23, both times from 2017.
Four years on and Italy celebrated Cerasuolo's win over Ukraine teammates Rostyslav Kryzhanivsky, 27.75, and the 100m champion this week in Rome, Volodymyr Lisovets, 27.94.
Josif Miladinov, of Bulgaria, took the 100m butterfly in 52.00 ahead of Portugal's Diogo Ribeiro, on 52.54, and Britain's Ed Mildred, on 52.72, having claimed silver behind Popovici in the 100m free final yesterday.
France celebrated gold in the 200m breaststroke when Justine Delmas dominated with a 2:25.54 victory ahead of Estonian 14-year-old Eneli Jefimova, on 2:28.01, the bronze to Russian Elena Bogomolova in 2:28.24. Born at the end of December, Jefimova will still be 14 when she races at Tokyo, making her the youngest contender for a place in a final (the 100m the stronger bet) in the pool.
Russian Aleksei Tkachev took the 50m back title in 25.14 ahead of 100m winner Ksawery Masiuk, on 25.28, and Greek challenger Anastasios Kougkoulos, on 25.63.
The last solo final of the day delivered gold to 15-year-old Hungarian Nikoletta Padar in 1:59.38 in the 200m freestyle. Fourth at the last turn, Padar got past all other podium contenders, including race leader going into the last length, Britain's Tamryn Van Selm, who held on for silver in 1:59.50.
The last 50m difference that decided the medals was 29.67 for Padar, 30.27 for Van Selm, while the bronze was close, Beril Boecekler, of Turkey, on 1:59.73.