Cornel Marculescu Steps Down After 35 Years As FINA Director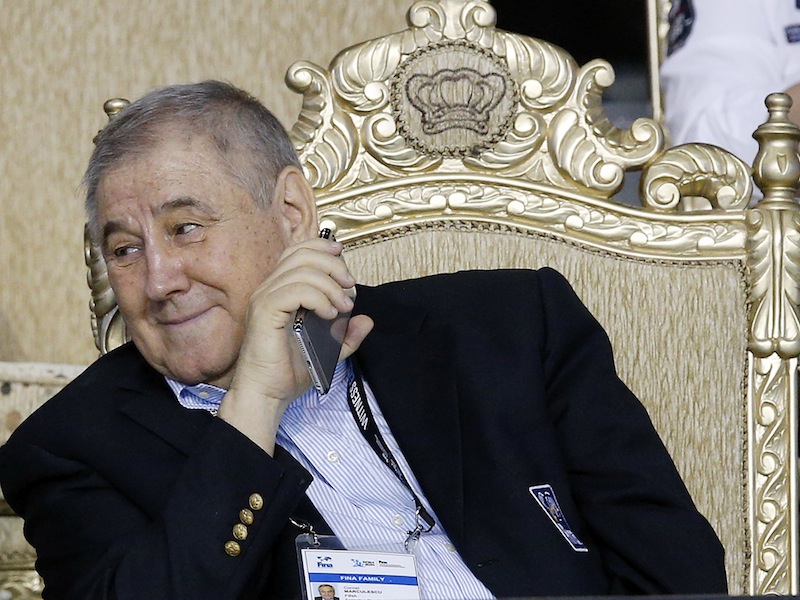 Exclusive: Cornel Marculescu, the executive director of FINA who turns 80 this year, has stepped down from his role as the boss of the international swimming federation after 35 years with a hope that the the keys will be handed over to his assistant of the past three decades.
SOS has had it confirmed that Marculescu, a Romanian and polyglot who has navigated the politics of Olympic sport and drawn financial benefits and controversy to FINA, recommended in a resignation letter sent on March 1 to the federation's leadership that his deputy director, Marcela Saxlund Medvedev, takes on the top job. He also states that he would leave in May (events after we broke this news decelerated his departure).
The ruling Bureau discussed the matter when it met in online session today and after that gathering confirmed the story broken by SOS this morning.
FINA Accepts Resignation & Makes Saxlund Temporary Boss, Communications Man Pedro Adrega No2
Update: FINA has confirmed the SOS story broken this morning and has accepted the resignation of Cornel Marculescu and issued the following statement shortly before 6pm Central European time:
The FINA Bureau met today online for its first 2021 gathering, and accepted the resignation of Mr Cornel Marculescu, FINA Executive Director for the past 35 years.
The FINA Bureau members recognised the outstanding devotion and role of Mr Marculescu in the development of Aquatics in the five continents, contributing to make our Sport a pillar of the Olympic Movement.
It was also decided that an interim solution will be implemented from March 4, 2021 with Mrs Marcela Saxlund Medvedev, until now FINA Deputy Executive Director, being nominated as FINA Interim Executive Director. Moreover, Mr Pedro Adrega, presently Head of FINA Communications Department, assumes the role of FINA Interim Deputy Executive Director. Both are part of the FINA staff for over 20 years.
The FINA Bureau also approved the FINA Financial Statements for 2019 and 2020, to be further discussed by the FINA Congress on June 5, 2021. This major gathering will elect the new FINA Bureau, FINA Audit Committee and FINA Ethics Panel for the period 2021-2025. Proposals for changes in the FINA Constitution, FINA General Rules, FINA Doping Rules and FINA Facilities Rules will also be submitted to the delegates taking part in the Congress
The legacy of Cornel Marculescu will, in part, be one of a man who oversaw a federation steeped in controversies, including systematic failures that contributed to the preventable death of Fran Crippen and what is largely regarded as a lack of commitment to clean sport, the GDR, the China Crisis of the 1990s, the Russian doping scandal and the Sun Yang saga, including one of the least appropriate hugs in Olympic history (see the foot of this article), all unfolding down the long years of Marculescu's watch.
In 2020, FINA found itself at the bottom of a league of 27 Olympic sports in a governance review that measured transparency, integrity and other factors that reflect management performance.
The legacy of Cornel Marculescu will also be that of a man who rolled up his sleeves, travelled and negotiated more than any other official did in world-swimming history while overseeing growth focussed on three things: the money, the grace-and-favour structure designed to maintain the status quo; and the growth of the circus, the activity, competitions, series, cups and championships of today (pandemic apart) a world apart from the FINA of the 1980s.
Marculescu's closing wish is for Saxlund to move into the top seat. Her elevation from "temporary solution" to the top job is far from guaranteed in a highly political organisation that remains largely a man's world: the FINA executive remains all-male (and has been since its foundation in 1908), men account for almost 70% of the 300 positions from board to basic committees and a third of all decision-making groups in aquatic sports are women-free zones.
Add to that the ten-fold increase in FINA committee roles of in male representatives from Middle East countries with no world-class performance provision and pathway to excellence for women athletes, and Marculescu's request for the organisation to make what will be only its second director in history a woman hangs in the balance of a vote at the helm of a patriarchal federation.
Marculescu's departure will come a month before FINA holds a Covid-delayed Congress in Qatar, progress out of a pandemic allowing. The man likely to be elected president at that Congress if Husain Al-Musallam, a Kuwaiti at the heart of controversy when he was cited by the U.S. Department of Justice as a co-conspirator to a fraud of almost $1m in the guilty plea case of Guam soccer official Richard Lai. Al-Musallam denied wrongdoing, FINA accepted his word but the case has yet to be tested in a court of law and the DoJ file remains open, according to sources.
As Congress looms, so too does the prospect of even less democracy at FINA, with a proposal to place power of decision-making in the hands of just one man, the president. In recommendations seen by SOS, delegates will be asked in June to agree to this:
C 18 Rights and Duties (add new Article to the duty of FINA President)
C 18.2.7 The President may take any action or decision on behalf of FINA when circumstances prevent it from being taken by the Congress, Bureau or Executive. Such action or decision must be submitted promptly for ratification by the competent organ.
Just what a 'competent organ' is remains to be seen.
Meanwhile, on Saxlund's side is a high level of efficiency, deep knowledge and inner workings at FINA HQ at a time when the international federation faces further challenges from athletes and competition from the International Swimming League that FINA is still locked in a legal fight with over issues of monopoly and the relationship between swimmers, event organisers and a regulator that until now – and according to its Constitution and rules – has determined that only it can organise global competition, while others must seek its permission.
The decision of FINA leaders to make her the stand-in director as a "temporary solution" speaks to the need for continuity but also the political manoeuvring for the top job now expected.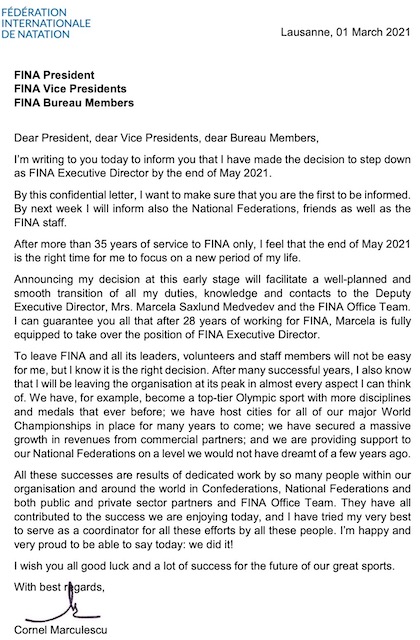 Marculescu has sent a note to the executive and ordinary members of the FINA Bureau to say that after "35 years of service to FINA only, I feel that the end of May 2021 is the right time for me to focus on a new period of my life."
Marculescu's departure will mark the end of an era in which FINA has evolved from the small office he took up in Madrid back in 1986 to a regulator built in the image of its master, the International Olympic Committee, heavy on 'voluntary' but often well-compensated bureaucracy and judged to be among the worst federations at the bottom of a league of sports in a review of performance of Olympic international sports federations in June 2020.
In the review, FINA fell down on one of the key aims of the Association of Summer Olympic International Federations: integrity. While World Athletics facilitated the establishment of an independent Athletics Integrity Unit, FINA relies yet on an in-house Ethics Panel well known to the FINA leadership, lacking in independence, and not allowed to hear any case it chooses, under rules that give the FINA executive control over the complaints process.
Marcuslescu can and does lay claim to having taken FINA from a relatively amateur status in the 1980s to an organisation that hosts constant global events in all its aquatics disciplines and stands next to track and field and gymnastics in the group of sports that receive the highest level of Olympic broadcast revenues from the IOC. FINA hands out millions in prize money to athletes each year, while spending equivalent and often greater amounts on its own Bureaucracy and the property investment and development of new headquarters in Lausanne, Switzerland.
Athletes and coaches have noted that swimmers receive less than 5% of FINA's budget even though they generate the show that brings in the millions. In response to the competition brought by the ISL, FINA almost doubled the amount of prize money available for swimmers in 2019, prompting League leader Konstantin Grigorishin to note "that just goes to show that the money was there all along – so why were they not handing it out".
Marculescu tells FINA leaders in his letter of resignation that he will leave the organisation "at its peak in almost every aspect I can think of".
There are many reasons to challenge that view but Cornel Marculescu points to FINA becoming "a top-tier Olympic sport with more disciplines and medals that ever before" and notes in his letter that "we have host cities for all of our major World Championships in place for many years to come; we have secured a massive growth in revenues from commercial partners; and we are providing support to our National Federations on a level we would not have dreamt of a few years ago".
In his letter, Marculescu gives plaudits to "Confederations, National Federations and both public and private sector partners and FINA Office Team", including a communications team led by Pedro Adrega who have ignored more than 650 questions from this author alone since 2014. Marculescu concludes:
"I'm happy and very proud to be able to say today: we did it!"
His legacy will be all about what "we did it!" actually means on reflection down the decades.
Editorial: What The Aquatics Life & Legacy Of Cornel Marculescu Also Includes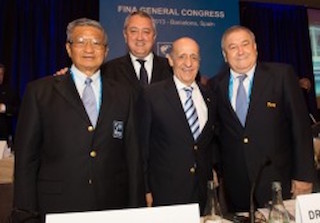 Along the way, Marculescu, a polyglot who worked smarter and understood aquatic sports far better than many of the volunteer executives he has worked with down the years, befriended those he felt were wedded to his own idea of what the "FINA Family" should be about and alienated those who disagreed.
One of the key downsides of his era is a fault that applies to all decision-makers who failed to spot the rot that led to the alienation of a large shoal of the best swimmers in the world and the creation of the ISL.
FINA had changed too little in key aspects at the core of its raison d'être: competition. Formats that needed refreshing and rethinking 20 years ago simply got treated to the bolt-on diet of adding more and more events to a chaotic calendar unrecognisable and inaccessible to the wider audience aquatic sports would need to claim meaningful growth while dragging a bloated World-Championship program with it wherever it went, even into a swimming World Cup stacked with potential but ultimately sunk by a bulk of world-class athletes voting with their feet and bypassing the series year after year after year.
That event included heats sessions that ran to four and even almost six hours: a small insight into how FINA and Marculescu have interpreted 'growth' one way, when the evidence points in another in an era when esports look set to join the Olympic family and swimming will need to evolve rapidly to keep up on the popularity stakes.
Take a simple snapshot of Twitter:
FINA has simply failed to reach beyond the ripple of its own realm – and that, combined with other factors, has had consequences for athletes on many key levels.
Marculescu has also overseen a management that has ignored critics, only once resulting in a big loss for the leadership of FINA, when a campaign against shiny suits started by this author resulted in an overwhelming voted at 2009 Congress for a return to textile suits and an end to the body suit cut. On occasion, the FINA leadership has been actively caught out in its attempts to "discredit" the work of critics or punish those it can, obfuscating along the way when asked why the leadership had broken its own rules. Examples include:
a letter sent to the Swedish swimming federation from FINA HQ asking the member organisation to discipline Olympic champion Sarah Sjostrom after she criticised the International federation during a broadcast when she was serving as a commentator (the answer was short and sweet: all Swedish citizens have the right to freedom of expression);
In 2014, when a world-record was set in a pool in Wellington, New Zealand, that did not comply with FINA Minimum Pool rules designed with athlete and swimmer safety in mind, FINA's official response to this journalist – among the last I received from the FINA press office – was that Facilities Rules were not applicable when Work records were set. Facilities rules include the length and depth of pools, lane widths, block heights and much else essential to integrity of the measurement of world records and the standardisation required.
Australian swim leader, coach and coach mentor Bill Sweetenham calling for FINA leaders to submit the federation to indecent review and reform process in 2015. While waiting for a reply in 2020, he repeated the reasons why he feels FINA should be overthrown.
In 2015, FINA engaged with a PR firm in a plan to "discredit" the work of the coaches backing Sweetenham, John Leonard, director of the American Swimming Coaches Association (ASCA) cited by name; to "discredit" the work of SwimVortex (this author); and to make Michael Phelps a poster boy for FINA president Julio Maglione (the greatest Olympian of all time was never asked and through his coach Bob Bowman let it be known that he was not available). The price tag for that four-month exercise at FINA: $150,000.
In 2017, Maglione was asked in a press conference by this author if the Bureau had approved the granting of FINA's top honour to Vladimir Putin. He shrugged and then nodded, saying he thought that must be the case. I pointed out to him that seven Bureau members confirmed to me that they had never been asked about the award to Putin, four of them revealing that they learned about it in the media. I noted that the whole Bureau had to be asked to approve such awards at the time and asked whether he thought the seven Bureau members were lying. He was about to explode in anger when Marculescu reached out, held his arm before another answer was given that avoided answering the question put.
Such issues form part a catalogue of events that continue to haunt FINA and have contributed to schism between management and stakeholders in the sport of swimming. Cornel Marculescu will step down at a time when the sport is in crisis for a number of reasons.
FINA approaches its June Congress at a time when:
FINA is locked yet in a courtroom facing a class action led by three world-class swimmers representing a shoal that includes more than 30 Olympic and World-Championship gold medallists and podium placers;
the Sun Yang saga is live yet and not because of any of the reasons why three Court of Arbitration judges sided with the World Anti-Doping Agency in a judgement of and an eight-year ban
FINA looks set to be led by a man from Kuwait with a Chinese woman as his running mate for president and first vice-president, from June at the tail end of a period in which the Middle East and China have been the biggest investors in the international federation in terms of dollars, event hosting and partnership/sponsorship. That period has coincided with a dramatic rise in Middle East representation on expert committees, including political appointees who have admitted to having absolutely no experience in the realm of work of the committee they are placed on. The period also coincides with a fall in the number of top 10 and top 20 swim nations represented at the top table of FINA and a 20% rise in the number of representatives on the FINA Bureau from nations with no world-class swimming programs (including the apparent heir to the FINA throne, who hails from a nation with nothing resembling a clear commitment to elite training and competition for women (not pre-teen girls of the kind paraded as tokens at FINA World Championships they ought not have been competing at) across all aquatic sports, swimming included). The national records of Kuwait lag modern standards so badly that they fall shy of the world records that prevailed among men in 1972 and in some cases the gulf to excellence is much bigger still (the 400m medley standard would not have made the Olympic podium at any time since the event was introduced in 1964). Among women, the image to the right tells the woeful reality of women's swimming in Kuwait (among the three names Faye Sultan who in racing 50m freestyle at the London 2012 Olympics became the first female swimmer to represent Kuwait at the Games). The lack of development of a basic women's program capable of posting decent times in all World-Championship events almost a decade after Sultan's one length in London coincides with Husain Al-Musallam's elevation to the FINA Bureau. His progress through the ranks to what is likely to be the presidency come June has been somewhat more rapid than the progress of athletes from his country who have yet to step off the participation pathway and on to the road of Olympic excellence. That whole picture adds up to this clear canvas: money – not excellence, world-class success, expertise and lived experience – is the currency of FINA power at the helm of a governance systems heavily loaded to preserve the status quo.
federations – some with 'international relations' committees there to help navigate 'FINA World' without ever pressing the "urgent need for independent review and reform button" (not in-house PR exercises that point to the good work of some but will never help clean house and change the course of the unacceptable culture at the very helm of swimming governance) – are falling down on their job as governors with responsibility for providing checks and balances to an executive taking decisions that fall foul of the Constitution and Rules of the International Federation, decision made without reference to independent representatives of all major stakeholders and a time when the sport has no Independent Integrity Unit to turn to, no counter-weight to the excesses of leaders leading beyond their remit as regulators accountable to the organisation's membership.
the Manhattan U.S. Attorney's Office and the Federal Bureau of Investigation (FBI) have been investigating the national federation for the No 1 swim nation in the world, USA Swimming, and its related USA Swimming Foundation, over handling of sex-abuse claims and business practices, the focus of prosecutors described by the Wall Street Journal as an exercising in following the "money trail between the national swimming organization, its insurance firm and affiliated foundation". The story was broken by the WSJ and picked up by mainstream and niche media the world over, examples including The Guardian, Sports Illustrated and CBS.
when sexual abuse cases pile up in many nations, Germany in the midst of its own crisis, Ireland, Britain and Australia among nations that have held inquiries on the issue, and all that against the huge shadow hanging over the sport in the United States, where a list of the banned for life, suspended or "quit membership under a shadow" only came to light just ahead of Safe Sport measures almost 20 years after an abuses committee recommended many of them to prevent abuses that had been reported to swimming authorities as far back as the 1970s without action. Survivors and their advocates continue to report not only their abuse but lack of reasonable response and action from sports authorities. (And all off that is just a part of what we know at the tip of the iceberg that may well be out there among the 200-plus nations that form the membership of FINA).
Four members of the FINA executive are among parties under scrutiny of investigators into a number of serious allegations; and nine is now the number of FINA Bureau members, present and former, at the top table in the past 10 years who have faced or currently face allegations of wrongdoing reported to legal and law-enforcement authorities at national level and in the realm of watchdogs in sport, such as the World Anti-Doping Agency. That counts includes two who went to jail for corruption but have never faced judgment of the in-house Ethics Panel and retain yet the honours FINA bestowed upon them, just as Dr Lothar Kipke, former FINA Medical Commission man from then GDR and criminally convicted of abuse of minors 20 years ago, retains his FINA honour along with many others who in other realms would have been stripped of honour long ago. One of those jailed, Coaracy Nunes, has since passed away, his FINA obituary failing to mention his misdemeanours; the other who was jailed, Kenya's Ben Ekumbo, facing investigations yet into allegations of sexual abuse of minors under his guardianship.
A Mid-way Status Report on the 2018-2021 Strategic Plan, released in June 2020 and heavy on declaration, lighter on evidence of progress, fails to mention, let alone commit to the establishment of an Independent Integrity Unit to catch up with the Athletics Integrity Unit that World Athletics now defers to on many issues, including those where it would otherwise be policing itself, old-style, with all the problems of lack of transparency and grace-and-favour governance culture that comes with them. While issues that affect athletes, such as anti-doping, have moved to a more independent footing via contracts signed with the International Testing Agency (ITA), all processes through which the FINA executive and Bureau members might be scrutinised remain entirely and firmly in-house under the control of those who would be scrutinised.
From the Archive
The Most Inappropriate Hug On The Burning Deck Of Olympic Controversy
Editorial – When Sun Yang emerged from the Rio 2016 Olympic 200m freestyle with gold around his neck he was greeted with two responses: the booing and jeering that rained down from the stands; and the hug he got from FINA executive director Cornel Marculescu.
Victory for the controversial Chinese swimmer cam two years after he was banned for three months because he'd been caught using an illegal heart stimulant. The 2014 case lay hidden for many months and when, eventually, FINA told the Chinese Swimming Association that Sun would have to face a penalty, a backdated, belated three-month suspension was set – but it was never actually served, the simmer having trained and competed through a time when he might otherwise have gave inquiry and time in the sin bin.
Sun explained the drug was medication for a heart problem dating back to his youth and the early days of his life as a member of the Chinese swimming team. Few bought the line. Australian freestyler Mack Horton called him a "drugs cheat", French backstroker Camille Lacourt said Sun "pisses purple", the Rio stands showered him with boos and hisses.
There were no kisses but a hug, however, for Sun, that day in Rio. It came from Cornel Marculescu, a director at the helm of FINA, signatory to the WADA Code and an organisation walking the tight rope of promoter and policeman all in one.
At the post-race press conference, Sun explained that Marculescu had been "like a grandfather" to him, adding:
"He is a very good friend of the Chinese swim team. So I was very happy to see him see me win the gold. I hope this friendship will last."
It did – and one of the most inappropriate hugs in Olympic history became one of the most inappropriate relative hugs in Olympic history.
A year after Rio, FINA made a special point of celebrating its fatherly "friendship" with Sun and China at the federation's World Aquatics Gala in Sanya, on China's Hainan Island. The prize for Sun was a bespoke award for "Outstanding Contribution to Swimming Popularity in China".
Bespoke. When did FINA start making bespoke awards? Well, when FINA was asked a spokesman ignored my question but answered that from a colleague on The Guardian, reporter Andy Bull relaying the explanation that the award had been made at "the request of the China Swimming Association".
Federations of the world are doubtless lining up with their own requests to honour athletes galore, including generations of folk ignored and overlooked by FINA, the International Hall of Fames and many others down the years.
What might be at the root of a relationship between China and FINA not much beyond a decade of a decade in which the Chinese swimming team was something of a pariah in world swimming, courtesy of more than 100 positive doping tests, the bulk of which were returned by teenage victims of abuse?
Julio Maglione, the president of FINA, provided the answer at the Gala Dinner in Sanya:
"China is surely a very valuable partner for Fina. The Chinese market is a very vibrant one. This represents countless business opportunities for Western brands."
$ – eureka!
Commercial benefits trump all, it so often seems, in Olympic Rings. And that would also appear to blind people to the trail of tears that China's relationship with world swimming has travelled. The blindness is tangible when Maglione says:
China is "one of the most committed countries in the promotion of aquatics. And the results are quite fruitful: Chinese athletes are shining at the highest level at FINA competitions."
No mention of the positive test of Sun, no mention of the biggest doping crisis in swimming since the days of the GDR, no mention of the death of a national junior champion on training camp in Beijing, the cremation of her body conducted within 36 hours without autopsy. Tricky.
The question is: does the "friendship" that Cornel Marculescu, Julio Maglione and the FINA leadership (where silence and a failure to object are tantamount to agreement) influence how the international federation deals with doping cases and other controversies involving China?
End of archive.
In 2019, that question remained an open one.
Snap for 2020. In February 2020, Sun Yang was handed an eight-year suspension for manipulation of an anti-doping sample, a ruling that represented defeat for FINA, the Doping Panel of which had sought to let Sun off and keep secret the details of an acrimonious row between the Chinese freestyle swimmer and three Chinese members of an anti-doping team that visited his home in September 2018.
That incident ended with Sun shining his smartphone lamp on the scene of a security guard, told by the swimmers' mother to fetch a hammer. The guard smashed a blood-test vial on the pavement outside the control room long after Sun had signed the sample over to testers and the sporting-sacrosanct chain of command.
When this author broke the story in January 2019, the World Anti-Doping Agency (WADA) wanted more details and by spring had lodged an appeal with the Court of Arbitration for Sport (CAS). There was a chance that Sun would go down before the dawn of Gwangju, or so swimmers thought. The CAS hearing did not take place until November 2019. And then, after the verdict went against Sun, the man British swimmer Lizzie Simmonds once described as "the Houdini of swimming", found himself with one more life.
To cut a long story short, Sun and lawyers will face WADA and lawyers once more – precisely when is not yet known – after a Swiss Tribunal ruling that cancelled an eight-year suspension not on the merits of legal argument in the case but because one of the panel judging was deemed to have shown sufficient animosity to all Chinese people when he referred to the colour of their skin in a tweet noting the cruelty and torture inherent in the slaughter of dogs in China.
Sun lives to fight another day – and so does a sport tired of that fight but happier now than ever to bring it on if athletes feel they're being taken for clowns. In 2019, peaceful podium protests were staged by Mack Horton, the Australian Olympic 400m freestyle champion and and Duncan Scott, the British sprinter who claimed 100m freestyle gold for Scotland at the 2018 Commonwealth Games. They refused to stand for group photos with Sun after their respective 400m and 200m freestyle finals, their intention to object to the presence of rival with one penalty in his pocket and yet another hearing still to unfold.
In Gwangju, Sun won two more World titles. Horton and Scott stepped aside – and when the Brit did that Sun exploded: "You're a loser; I'm a winner." Walking away from the podium in full TV focus under a giant championship mantra that read: "Dive Into Peace".
In private, FINA warned all three about their conduct, but in public at the Gwangju closing press conference Marculescu singled out Horton and Scott. "It's unfortunate," he said, of two men who were protesting their right to compete in a clean sport. "We regret they put the sport in disrepute."
Had he said that of Sun in 2014? No. Had he said that of Dr Lothar Kipke, the GDR former FINA Medical Commission man who was criminally convicted for abusing minors with steroids in the German doping trials of 1998-2000? No. Other similar questions with a 'No' answer are too many to list.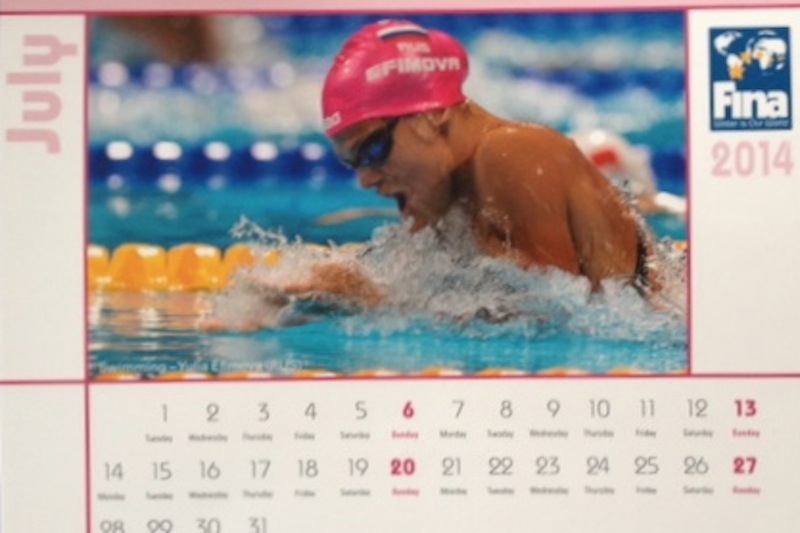 Soon after the podium protests, FINA rushed through new rules compelling all medal winners to stand on the podium and banning them from making "political statements". And this the organisation that in 2014 on the eve of the Russian doping scandal gave its highest honour to … Vladimir Putin. In the same year, it also made Yuliya Efimova its July calendar girl, smack bang in the middle of her suspension for a positive steroid test.
At the World Championships that year, Marculescu told German TV station ZDF:
"You can't condemn the stars for a minor doping offence".
The Sun Saga of Gwangju came to pass because it took until November 2019 to get the lawyers together in the public forum Sun and team had requested, just as Michelle Smith* had in her case all those years ago in 1998 after this author broke that story, too, and we all travelled to Lausanne for the first CAS hearing for a swimmer held in public. Sun's was the second.
As Sun awaits his next hearing, remaining questions for FINA, on Marculescu's watch, include:
how did FINA's doping panel and CAS manage to draw two such divergent verdicts from one set of facts?
Why did FINA involve itself in Sun's defence when its role as regulator rests somewhere between neutrality and police officer?
As Marculescu prepares to leave the aquatics stage, two things are as clear as chlorinated pool water: he made a huge impact on the sport of swimming; he leaves a legacy of myriad unanswered questions on substantive and serious matters.