Claim That Coaches "Targeted Maliciously" In Move That Causes Titans Boss Alan Bircher To Lose Olympic Team Role, As Parents & Swimmers Weigh In With Support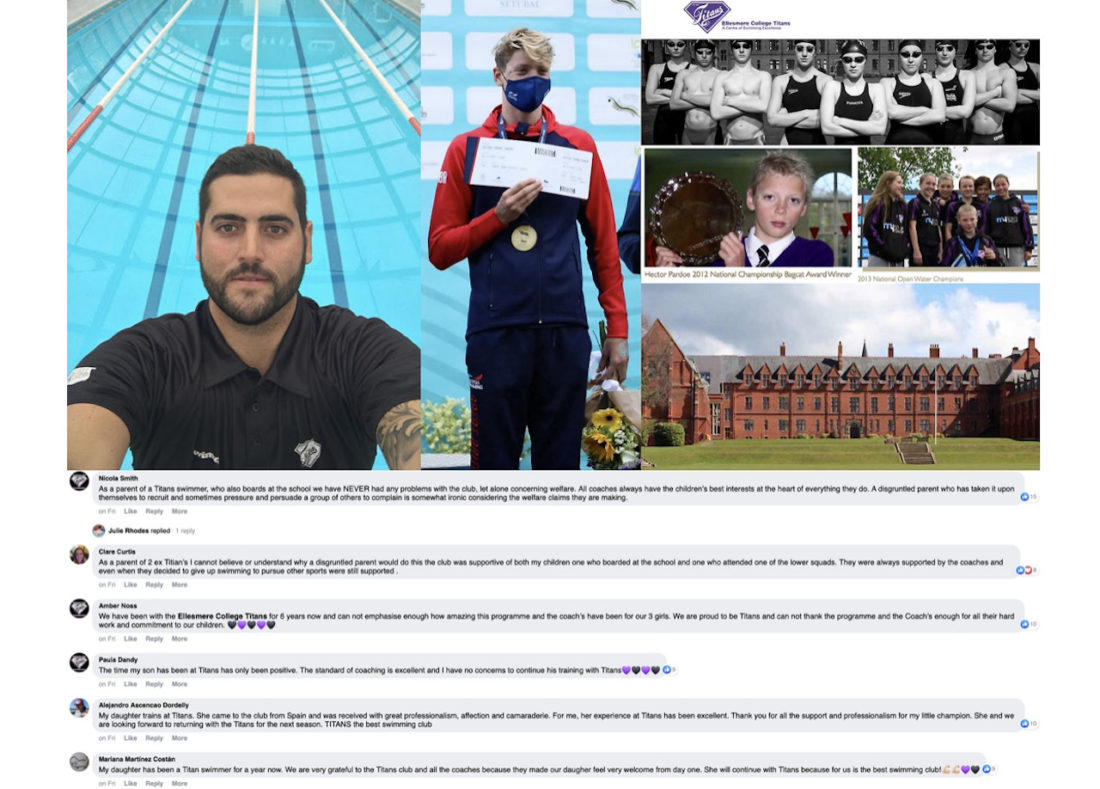 Former pupils, athletes and parents of swimmers at Ellesmere College Titans, one of Britain's top talent developers in swimming, have backed Alan Bircher and his coaching staff after Swim England launched a review into "welfare concerns" that led to the former international losing his place on the Great Britain coaching staff for the Tokyo Olympic Games.
Swim England launched a review of the Titans that backed parents who had complained of practices that are far from uncommon in elite, performance sport. Now, the England body is forcing a change to the club's governance structure after those who conducted the review, the details of which remain unpublished, recommended that Bircher be dropped from his role as Open water head coach to Great Britain in Tokyo.
Bircher heads a program cited by other sports authorities in Britain as a shining example of excellence and loved by a wave of non-complaining parents who left copious comments at local media outlets covering the story sun England to show their support for Bircher and his team.
The questions Swim England must now answer include: did you ask the majority of parents backing the Titans staff and structure before you cost a former International his just reward of selection to a Britain team as a coach?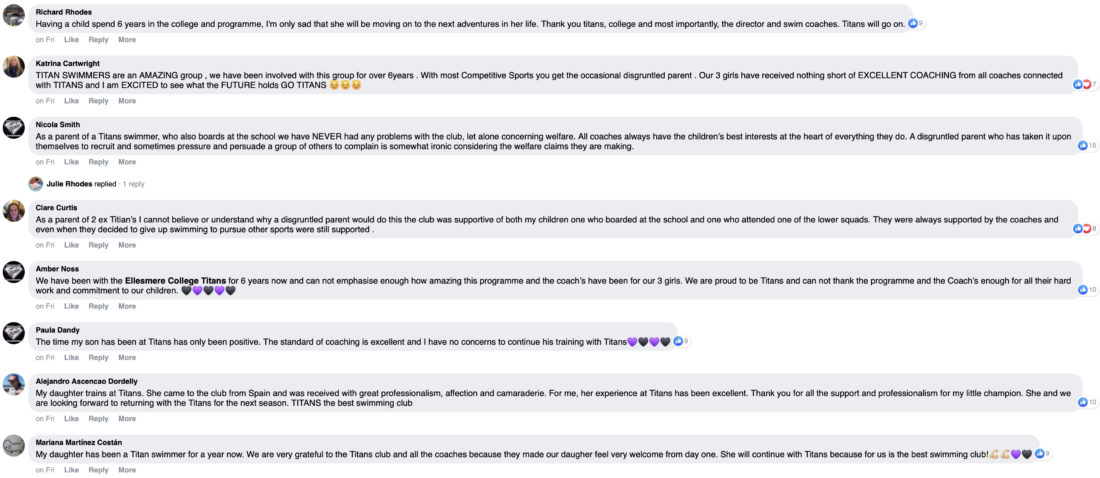 The timing of events may also have an impact on the Titans in Tokyo, in particular Pardoe, who singled Bircher out for praise when he won the Olympic qualifier race off the coast of Portugal of late. It is not clear whether that performance factor and the views of supportive parents and former pupils and swimmers were taken into consideration. Yesterday, current and former swimmers issued an open statement in support of Alan Bircher, in which they express their shock at what's unfolded.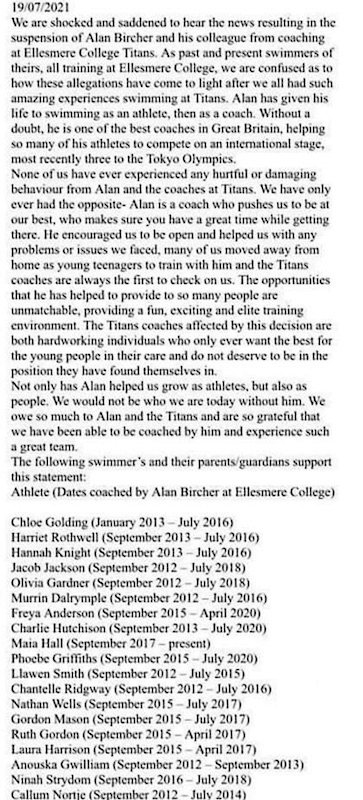 Whether it is all about coaches being "targeted maliciously" and the curse of disgruntled parents of swimmers whose offspring are not up to making it in performance sport or about genuine welfare issues of a serious nature remains to be seen.
In the absence of a process in which the nature of the "issues of serious concern" are revealed and discussed openly, complete with right of reply, many in swimming, including a large body of parents who say their children had a fabulous and enriching time at the Titans, are left scratching their heads.
What is clear is that the Titans are one of Britain's leading feeder programs of talent to the Great Britain junior and senior teams, including Freya Anderson, heading into action at the Tokyo Aquatics Centre at the weekend, and Hector Pardoe, bound for the open-water marathon the week after, among examples of the fine job that has been carried out at Ellesmere College.
It is also clear, from the record, that the likes of Anderson, pardon and many others, have long praised Bircher and his team – and prospered.
A minority of parents, whose children are not among the success stories at the Titans, says Bircher, had made complaints that extend to "fat-shaming", "weighing in" and other issues that ticks boxes on Swim England's welfare check list but, if administered properly, are standard procedures at the elite end of performance sport.
Down Under, "Lethal" Leisel Jones, one of the greats of breaststroke swimming, revealed in her autobiography how she had been referred to as number "6. 1. 20" (some of her body measurements ) rather than her name by coaches in a bid to body shame her in front of other members of the squad she trained in, including boys and men on her way from girl to woman.
Bircher has kept a low profile but sources close to the Titans suggest that the complaints were spearheaded by "disgruntled parents of ex members who just were not quite cut out to be elite athletes"
The coaches were "targeted maliciously, and it is unfortunate", said the source … the complainants are intent on trying to close the club all together, having even tried to take on the college."

Bircher Birched In Swim England Review
A spokesman for Swim England told media: "Swim England was extremely concerned to receive notification of welfare issues from parents of swimmers in Ellesmere College Titans Swimming Club and on receipt of these notifications instigated a thorough independent review, which was conducted in partnership with the relevant Statutory Agency and the Local Authority Designated Officer.
"The report identified welfare and governance issues and immediately the review was concluded, Swim England implemented all the recommendations in the report to ensure a safe, supportive and positive environment for everyone in the club.
"This involved a complete change of the governance structure of the club and Swim England Officers working alongside members to put in place a revised structure and procedures.
"An independent welfare officer is supporting the club and as some of the programme coaches are currently suspended, coaching support has been secured for the programme, overseen by an experienced Swim England Talent Coach."
Swim England thanked parents for raising their concerns and added that coaching staff who have been suspended would not return until conditions had been met.
The spokesman added: "Swim England will remain working with the club until such time as we are content our robust safeguarding and welfare procedures and policies are embedded within the governance of the club. The suspended coaching staff will not return to the programme until such time as all conditions set out in the report have been met to the satisfaction of Swim England.
"The welfare and safety of all of Swim England's members and British Swimming's athletes is of paramount importance and we continue to prioritise our duty of care to all within our sport."