Clareburt Quits Wellington In Heartbreak Split From Coach Hollywood After Council Fails On 50m Provision & Bans Cameras In Training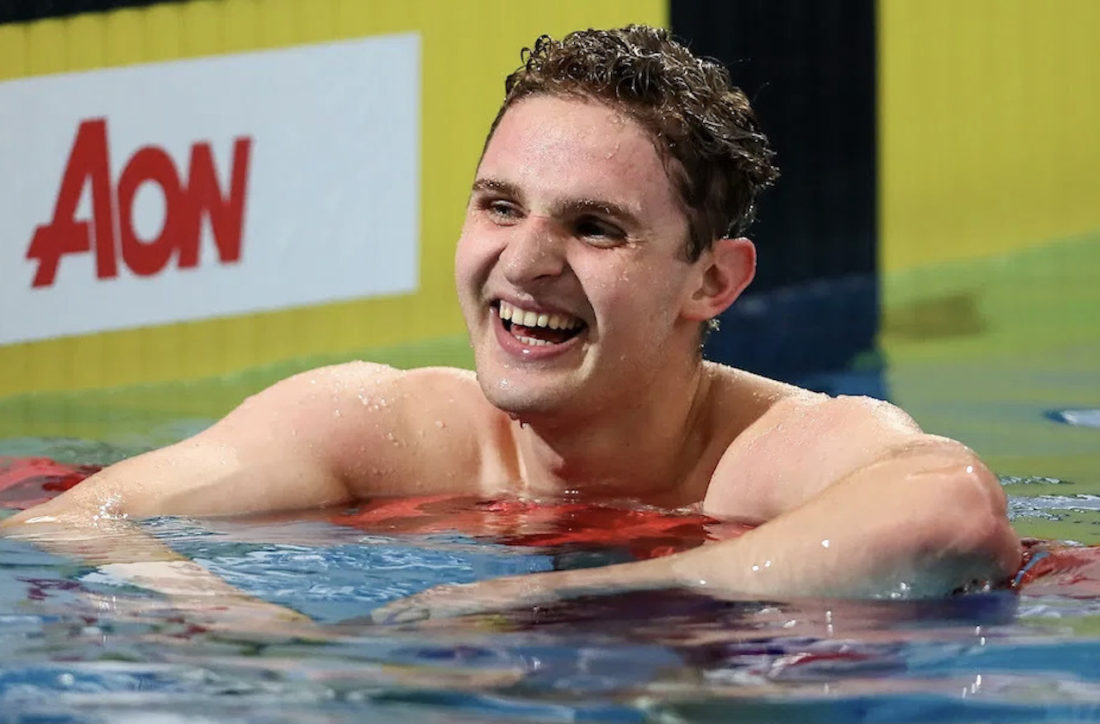 Lewis Clareburt, New Zealand's top swimmer, has been let down by authorities in Wellington in a saga from the ark of amateurism that has forced the all-round ace to quit his nation's capital city in search of suitable facilities to train in on the way to a shot at the podium at the Paris 2024 Olympic Games.
Just nine months out from the biggest moment of his career, the 24-year-old double Commonwealth champion on butterfly and medley, has been forced to leave home and his long-standing coach Gary Hollywood, Garaidh Ó Cuileannáin in his native Ireland, as a result of their reliance on lane availability at Wellington City Council-operated public pools.
In an era when many of the best swimmers in the world training in programs where the water is owned or controlled by the performance program, New Zealand's capital and the land of the All Blacks appears clueless when it comes to the talent on their doorstep, let alone how that talent gets to be as good as they are in pursuit of doing their country proud.
Clareburt's departure follows several years of enduring challenges since Hollywood took on the coaching of a promising 16-year-old who by 19 took bronze in the World-title 400m medley fight in Gwangju.
That success appears to have shifted little in the cold hearts and numb heads of those in charge of Wellington pools, Clareburt and Hollywood in thrall to the throwback of authorities who don't rate sports achievement enough to make sure the city's top swimmers get the pool time and other facilities required.
And what's required is what Clareburt will be up against come Paris: it's a world in which Léon Marchand, the French world champion who took down Michael Phelps' 400m medley record for the global crown back in July, is heading to a home Games with his nation's back and the consistency and quality of the program run by Phelp's former mentor Bob Bowman at Arizona State University.
That's the home of the Sun Devils and their motto "Fear the Fork". For Clareburt it's a case of fear the council, fear the state of support for swimming in his country, fear the fact that efforts by the national federation to ensure Clareburt and Hollywood had what they needed came to nothing in the nation's capital city.
All of that may well chime with many a bygone generation of swimmers and coaches the world over. But it's 2023, it's New Zealand and Clareburt is making his way over to Auckland just to be able to train consistency in a 50m Olympic pool.
Clareburt said he appreciated the tough situation the council faced in running facilities that must be available to the community. Matters came to a head in a clash of community versus world-class competitive sport in which he and Hollywood were told they could not use cameras during training because community rules did not allow that.
He told the New Zealand Herald "They're trying to run a high-performance unit in a community facility with community constraints, and that's really tough. I've got so much empathy for them trying to achieve that but, at the end of the day, it was just too tough to be able to do that all in the one facility."
He said the council's rules around camera use restricted him as a professional athlete and he just "didn't agree". He was even told not to use social media at the pool, though that, said Clareburt, was "a huge part of being an athlete these day … you're trying to sell the sport to the younger generation and, if you can't share that journey and experience, then what's the point of even doing it?"
He met council management and they "were super supportive and understood that maybe some of their rules were outdated."
All too late. Clareburt told the Herald: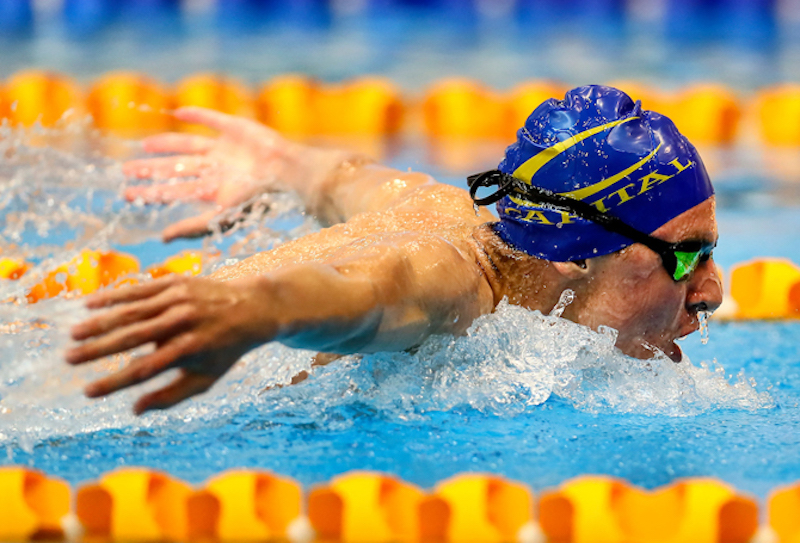 "I decided in the last couple of weeks that, if I would like to keep that dream alive, I need to be in an environment that is really supportive of high-performance athletes and they understand the process of what it takes to get there. I've decided to head up to Auckland to finish that journey to Paris".

Lewis Clareburt back in 2017. Photo: Simon Watts/www.bwmedia.co.nz
Clareburt said the hardest part of his decision to head north was leaving behind his support network, in particular coach Hollywood, who has guided him to seven Commonwealth Youth Games medals, two gold and two bronzes at the Commonwealth Games and World Championships bronze.
"Gaz has made my dreams come true, we've been together since 2016, and yeah, it's been an awesome journey." said Clareburt, adding in an interview with Adam Cooper: "We've been through everything together so we're obviously going to stay in touch and he's excited for me to move on to whatever's next all the way to Paris."
When Hollywood was interviewed after one of Clareburt's gold medals at Birmingham 2022 Commonwealths, he graciously thanked the likes of Doug Frost, former mentor to Ian Thorpe, leading psychologist Dr. Bruce Lawrie and others who had helped guide him to guide Lewis.
Today, he posted the following note on Facebook, in which he says that Wellington has left swimmers no choice but to seek scholarships in the USA and train overseas: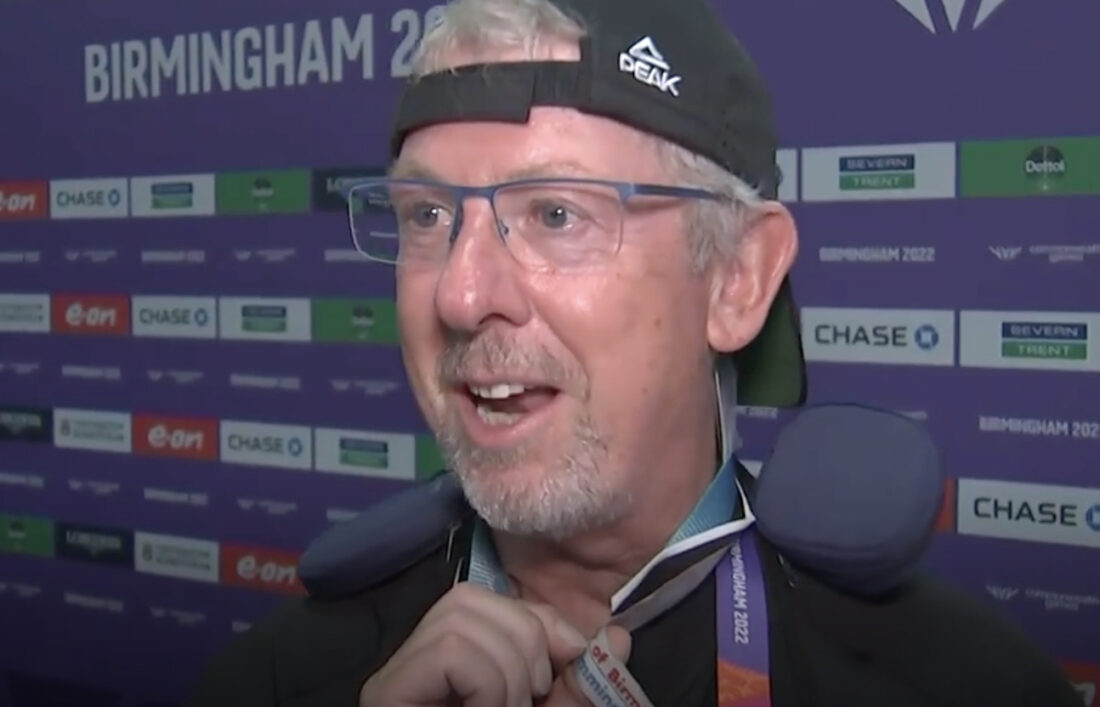 Words cannot fully express how sad I feel about Lewis feeling he has to leave Wellington now just nine months out from the Olympics knowing things could have been so different if we'd had access to a more positive training environment. We've been through a lot together but sadly am unable to relocate to Auckland.

I've had to put family first and can only hope it all works out for the lad. Lewis is a great talent and deserves every opportunity for success in Paris. Our household is feeling quite sad right now, James was three when I started coaching Lewis and is already feeling the loss of his idle as I'm sure many others will. I think moving forwards future swimmers in the Wellington region need to look for scholarships in the USA.

I thought we could create a model to retain our best and brightest Wellingtonians in Wellington, sadly I don't believe that is now possible with the current environment. It's telling when Lewis is the Wellington regions only Olympian across all codes, making myself it's only Olympic Coach. Time to reassess after 38 years of coaching and aspiring to coach a swimmer onto the Olympic podium. It's been a tough life lesson. "So close, yet so far away".

Who would have thought. Thanks to all the support staff who helped to get us this far. We shall miss you Lewis. God Bless and Good Luck. We all love you son.

Gary Hollwood – screenshot, 1NZ
It is not the first time that authorities in New Zealand have failed to provide the right training facilities and environment for world-class swimmers, distance ace Lauren Boyle a prime example of the nation's No1 aquatics star, forced as she was to move to Australia to find the right environment so that New Zealand could celebrate her big podium successes.
Clareburt burst onto the world stage with a bronze medal at the 2018 Gold Coast Commonwealth Games at 18. At the time, the benefits of home life and the support of family and friends, the Hollywood family a part of that network, made the pool challenges worth the struggle at the Wellington Regional Aquatic Centre (WRAC) in Kilbirnie.
Paris will be Clareburt's second Olympic campaign. Second into the final in a national record of 4:09.49, he finished seventh in a showdown won by American Chase Kalisz in 4:09.42 as the only man to swim faster in the morning final than they had in the evening heats in a topsy turvy scheduled determined by American broadcaster NBC and the IOC at the height of the Covid pandemic in Tokyo in summer 2021.
Now with the experience required nine months out from his second Games, Clareburt should be at the peak of his powers but finds himself telling the New Zealand Herald that he needs to leave everything behind and head over to Auckland to give himself the best chance of a medal.
Final plans are not in place but Clareburt notes that the AUT Millennium 50-metre pool on Auckland's North Shore, boasts 10 lanes and would "give his training programme profound freedom compared with what he's had in the capital," the Herald's Adam Cooper reports.
"You can have the lane space you want, you can work around your own schedule, and right next door is High-Performance Sport NZ [HPSNZ] where you can work around some of the best physios and all that right on your doorstep," says Clareburt.
Despite Clareburt's success he continued to be treated like a second-rate athlete by Wellington authorities and staff at the WRAC pool who cancelled long-course lane bookings or altered arrangements at the last minute, according to Cooper.
Petty local politics appear to be at play in a saga that has seen Clareburt have access to 50m lanes for just three of his nine water training sessions a week in recent times despite the rising dawn of Olympic year.
The Herald reports: "Clarerburt had already been close to ditching Wellington at the start of the year when tensions boiled over with WRAC staff over lane access, forcing HPSNZ, Swimming New Zealand and Wellington City Council to meet urgently to draw up a new booking agreement by which Swimming NZ would hire dedicated high-performance lanes for Clareburt, Hollywood and their training group, rather than it being managed through Clareburt's former club, the Capital Swim Club. However, the Herald has learned of several cases where WRAC staff breached the city council's signed contract with Swimming NZ by not giving Clareburt and Hollywood a month's notice for cancellations or alterations of lane bookings."
Read the report in full – and the details of a story that belongs in the last Millennium.
In a statement, Wellington City Council chief operating officer James Roberts described the incidents as "unfortunate".
Editorial comment: Unfortunate? That's a great word for all citizens of Wellington if they have to put up with what Roberts described as "communication breakdowns, which we're keen to address and eliminate."
Too late, mate! Your star turn is quitting the city, his long-term coach is among those with their hearts torn out, apparently all because of council and community rules and staff wearing gold-peaked caps with "more than my job's worth" emblazoned across them.
Such rules may make sense in certain circumstances but none whatsoever for elite swimming training programs and the likes of Clareburt. Arrangements come down to the council that is now calling "unfortunate" a situation in which staff reinforce rules they don't set.
Twenty three years into the new Millennium, Wellington has washed up in the headlines as a city stuck in the 1900s when it comes to providing a home for elite athletes.