China Rules The Home Waves In Hangzhou With 28 Asian Games Titles & Record Six Swim Crowns For Zhang Yufei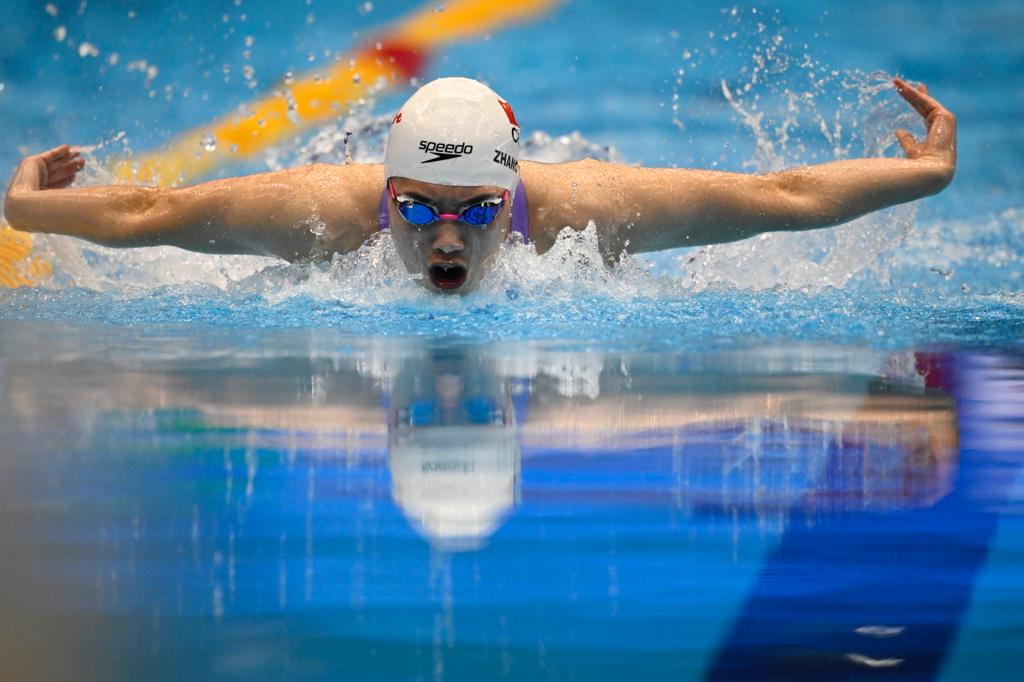 China completed six days of dominance at the Asian Games in Hangzhou with four more golds and two more 1-2 finishes in seven finals, its 28-title triumph including a record six-gold-medal haul by Zhang Yufei, the butterfly triple in the mix.
It might have been seven golds for Zhang but for the disqualification of the China women's 4x100m medley relay in morning heats. Not even that could rain on the Chinese parade, however: the hosts celebrated a dragon's feast of a victory tally with four last triumphs tallying the gold count to 28, Korea nearest with a distant six golds, Japan third with five golds.
No fewer than 32 Asian Games records were set in finals, seven of those also Asian records, including all three men's relays and the Mixed medley relay. China accounted for 22 of those 32 standards, including six of the seven Asian records:
Women:
Siobhán Haughey HKG 52.17 100m freestyle
Men:
Pan Zhanle CHN 46.97 100m freestyle
Wang Shun CHN 1:54.62 200m medley
4×100m free – China – 3:10.88 – Pan Zhanle (47.06) Chen Juner (48.00) Hong Jinquan (48.27) Wang Haoyu (47.55)
4×200m free – South Korea – 7:01.73 – Yang Jae-hoon (1:46.83) Lee Ho-joon (1:45.36) Kim Woomin (1:44.50) Hwang Sun-woo (1:45.04)
4×100m medley – China — 3:27.01 – Xu Jiayu (52.05) Qin Haiyang (57.63) Wang Changhao (50.68) Pan Zhanle (46.65)
Mixed
4x100m Medley – China – 3:37.73 – Xu Jiayu (51.91 – in other events this time would be a Games record inside the 52.05 standard Xu clocked leading off the men's medley relay but the rule states that no lead-off records can be set in the mixed relay because men and women compete at the same time, including in direct competition on backstroke depending on how teams compose their quartets of two men and two women) Qin Haiyang (57.25) Zhang Yufei (56.05) Yang Junxuan (52.52)
Zhang was the most dominant swimmer at the dominance Games. She left the World Championships in Fukuoka in July with two gold, a silver and two bronzes and this week amassed fell a relay cloud shy of a seventh-heaven tally, with nine Games records and one Asian standard in the mix after gold in the 50m butterfly in a meet-mark 25.10 at the start of the session. Her campaign: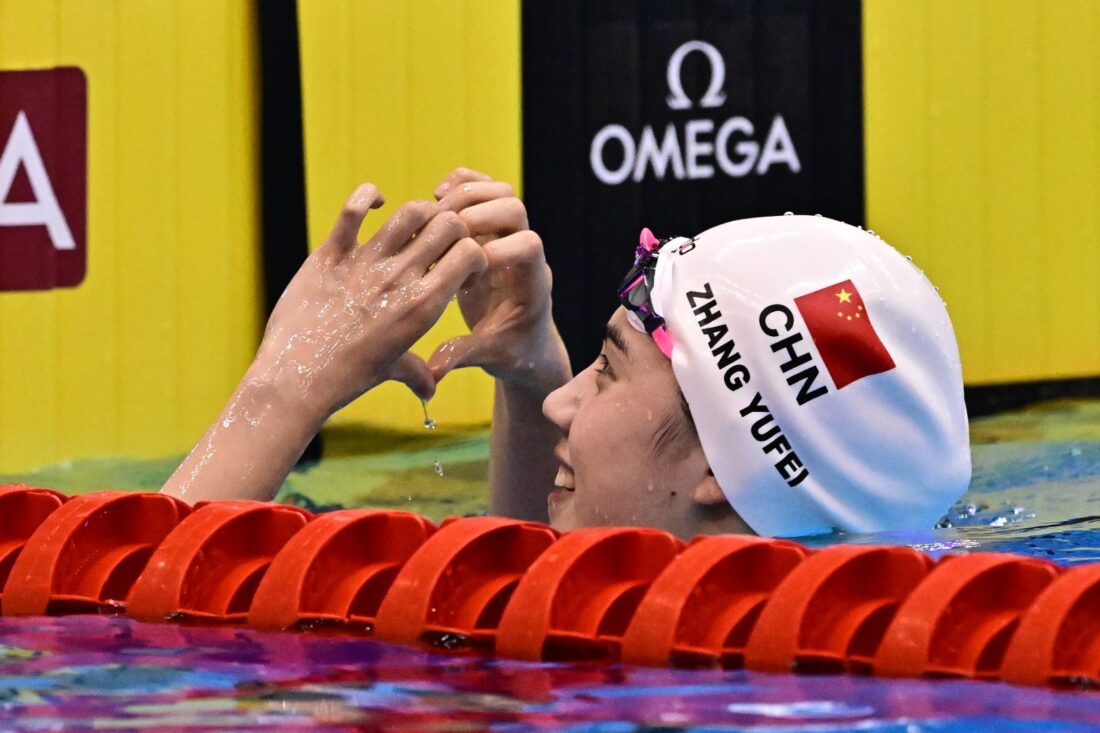 50m Free – H 25.50 GR; F 24.26 GR
50m 'Fly – 25.10 GR
100m Fly – H 56.20 GR; F 55.86 GR
200m Fly – 2:05.57 GR
4×100 Free – 53.19; 3:33.36 GR
4x100m Mixed Medley – 56.05; 3:37.73 AR GR
Highlights of the last day in the Hangzhou pool included a 1:53.15 Games-record victory for Japan's Tomoru Honda in the 200m butterfly, an effort that took down the 13-year-old standard that had stood to 2008 and 2012 Olympic bronze medallist Takeshi Matsuda a 3:44 victory, and a 3:44.36 triumph in the 400m freestyle that delivered a distance double for Korea's Kim Woomin.
China Takes First Four Titles In Last-Day Rush In Hangzhou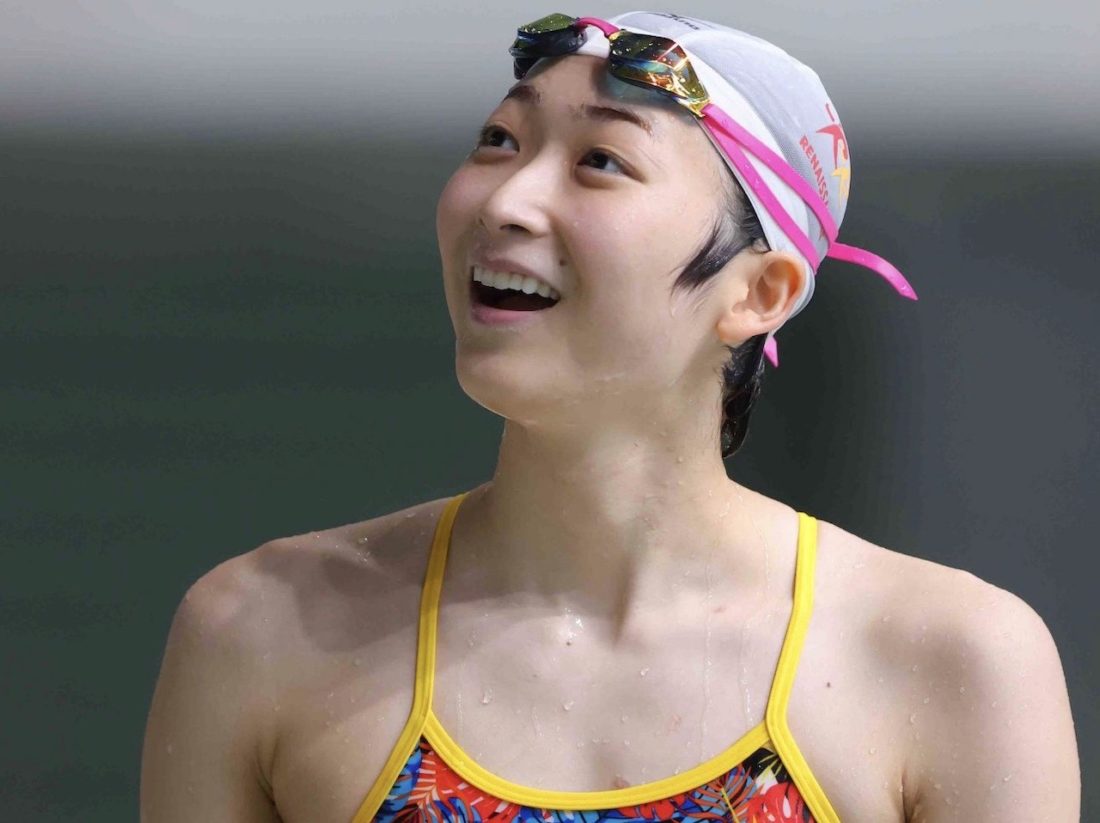 Zhang got the last bull run rolling for China with a class-apart 25.10 Games-record victory in the 50m butterfly ahead of teammate Yu Yiting, 25.71, and defending champion and until Chang's 26.20 in heats the Games record holder Rikako Ikee, of Japan, on 26.02. That marked the moment Ikee returned to the international podium for the first time since her comeback after recovery and rehabilitation from leukemia.
China's second gold of the final session was delivered by Qin Haiyang, on a Games record of 26.25 this morning but unable to repeat that this evening, a 26.35 still good for the title ahead of a 26.92 from teammate Sun Jianyun. The bronze went to Korea's Choi Dongyeol in 26.93.
Unlike buses, you don't have to wait long for the next gold from China in the pool but three came in quick succession at the start of last-day showdowns, with Li Bingjie on 8:20.01 at the helm of the 800m freestyle. She was followed on to the podium by Japan's Waka Kobori, in 8:28.78, and the sixth possible medal of six in three finals, courtesy of Yang Peiqi's 8:35.47.
Make that four in quick succession: in taking the 200m in 1:55.37, Xu Jiayu completed the backstroke treble after victories in the 100m and then the 50m earlier in the week. The podium was completed by Korea's Lee Juho in 1:56.54, and Japan's Hidekazu Takehara in 1:57.63. His teammate Ryosuke Irie, concentrating on the shorter distances these days, was in the stands to see his Games record of 1:53.26 from 2014 survive to fight another day.
Kim Woomin, the 800m free champion yesterday, completed the distance double with a cracking 3:44.36 triumph ahead of China's Pan Zhanle, on 3:48.81 and celebrating medals in the 50, 100 (champion), 200 and 400m. The podium was completed by by Vietnam's Huy Hoang Nguyen in 3:49.16.
Kim sped to gold at the helm from go through splits of 52.75; 1:49.60; 2:46.95 and 3:44.36. There was no getting to the Asian mark and Asian Games standard held respectively 3:40.14 by Sun Yang* and 3:41.53 by Park Tae-Hwan*.
Honda Tops Matsuda's 2010 Games Record With 1:53.16 200 'Fly Victory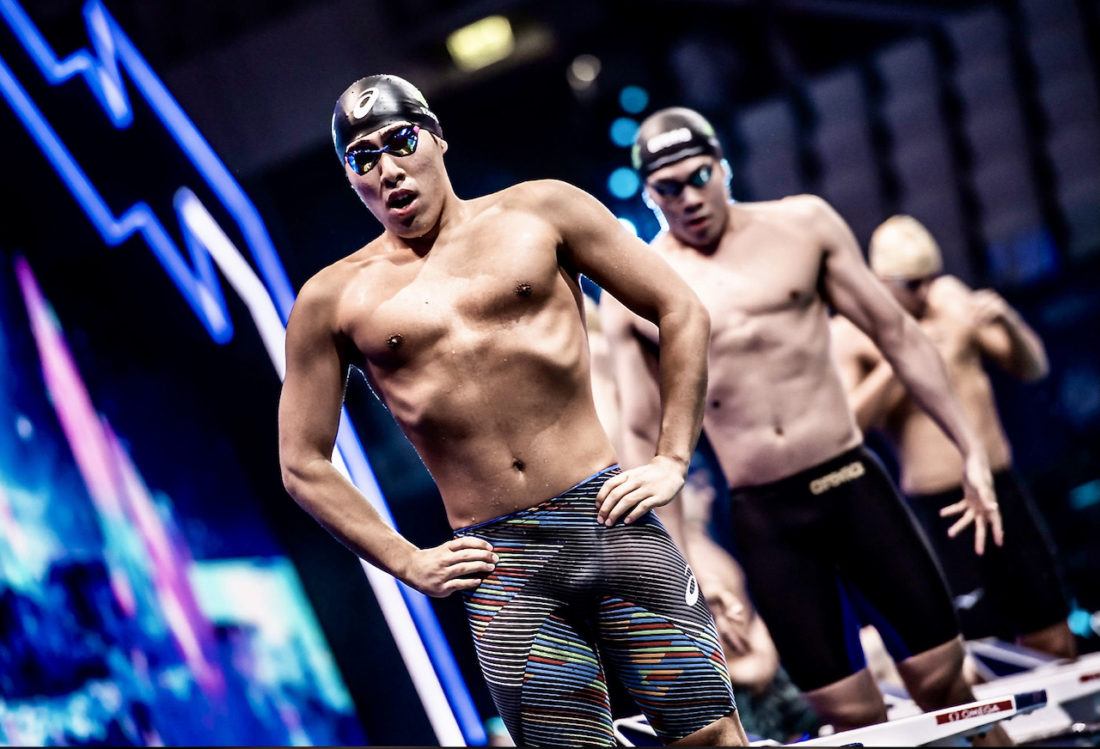 Next to interrupt the China express was Japan's Tomoru Honda, who set a Games record of 1:53.15 for victory in the 200m butterfly. Taipei's Wang Kuan-Hung took silver in 1:54.53, the bronze a host-nation battle won by Chen Juner 0.08sec ahead of teammate Niu Guangsheng, 1:56.04 to 1:56.12.
Honda led from go to gold through splits of 24.98; 53.56; 1:22.60 and 1:53.15, which took down the 1:53.30 meet mark he set in heats this morning. The previous standard had been held by Japan's Takeshi Matsuda at 1:54.02 since 2010. Matsuda was the bronze medallist in both the 2008 and 2012 Olympic 200m butterfly finals won respectively by Michael Phelps (USA) and his nemesis in London, Chad Le Clos (RSA). The Asian record is also in Japanese hands, Daiya Seto's 2020 effort of 1:52.53 alive to box another day.
Last Gold To Japan
The climax of the meet was supposed to have delivered a last China gold and surely would have but for a heat disqualification for the national 4x100m medley quartet. No seventh gold for Zhang Yufei and the last gold to Japan, courtesy of Miki Takahashi (1:00.80) Reona Aoki (1:06.21) Ai Soma (57.28) and Nagisa Ikemoto (53.38), their combined time 3:57.67. Korea took silver in 4:00.13, the bronze to Singapore in
4:00.85.
China & Three Decades Of Dominance Interrupted Only By Japan in 2018
It was not China's top Asian Games in the pool: nothing may ever top 1990, when Beijing hosted and, at the source of the 1990s China doping crisis, the Chinese claimed every women's gold medal, scored a 1-2 finish in all but two solo finals, and took the bronze in both of those. Basically, every swimmer who entered a final emerged with a medal.
On the men's side, Chinese men, extraordinarily at that time, claimed eight of the 16 golds, including the 4×100 freestyle and medley relays, placed two men on three solo podiums and took silver in the 4x200m free just 0.1sec behind Japan.
The outcome of all of that was this medals table [G, S, B, Total, Nation]:
| Country | Gold | Silver | Bronze | Total |
| --- | --- | --- | --- | --- |
| CHN | 23 | 12 | 6 | 41 |
| JPN | 7 | 16 | 16 | 39 |
| KOR | 1 | 1 | 5 | 7 |
| All Medals | 31 | 31 | 31 | 93 |
There were similar dominant moments for a period of more than a decade in which Chinese swimming was shamed by the systematic abuse inherent in more than 100 positive tests, mostly for anabolic steroids, erythropoetin and human growth hormone, with teenagers and girls accounting for the vast majority of the known cases.
In 1994 at the heat of the cheat, Chinese women took all but two golds again with 'only' five 1-2 finishes on that occasion, while the men slipped to a struggling three gold, for 15 for China in all and top spot on the medals table once more. The 1998 Games were similar and then in 2002, China was back to winning all but two golds among women and seven golds for men, with 9 1-2 finishes in the mix and 20 golds at the top of the table.
Then in 2006, China was matched on gold by Japan, which won on overall medals total but not on the count of colours that define medals tables the world over, barring the United States (as Australians pointed out recently): with 22 silvers to Japan's 14, China topped the table once more, its women dominating. Snap, with even more gold four years later in 2010 and in 2014, the year Sun Yang tested positive for a banned substance and was handed the first of his two anti-doping penalties four years before a second incident that led to a ban of more than four years, which the swimmer is still serving.
It was in 2018 that China lost its supremacy, Japan, on the way to a home Olympic Games, matching it on gold count with 19 apiece, but losing to its old rival on silver and overall counts.
So, here we are in Hangzhou and as hosts China was never likely to succumb to Japan or anyone else in the overall battle for king and queen of the podium. Dominance doesn't quite describe the China campaign of the past six days: no nation has ever claimed 28 gold medals in the pool at the Asian Games, though the sport has developed in a way that makes historic comparisons of many kinds all but meaningless: the medal tallies are not directly comparable with the past because of the addition of 10 events since 1990.
Even so, look at the gulf in gold count between China and its two closest rivals for the past three decades:
| Country | Gold | Silver | Bronze | Total |
| --- | --- | --- | --- | --- |
| CHN | 28 | 21 | 9 | 58 |
| KOR | 6 | 6 | 10 | 22 |
| JPN | 5 | 10 | 15 | 30 |
| HKG | 2 | 2 | 2 | 6 |
| All Medals | 41 | 41 | 41 | 123 |
The next time the full strength of nations will come together in global long-course competition in peak form in the pool, we'll be in Paris for the Olympic Games – over nine days.
SOS Coverage Of Games Finals:
Day 5: Kim Woomin Downs Sun* Standard With 7:46 Victory in Hangzhou 800
Day 4: Korea's Hwang Sunwoo Takes Down One Asterisk, Misses The Other By 0.01sec For 1:44.40 Asian-Games-Record 200 Free Victory
Day 3: China 4×100 Medley Men Rattle USA's WR With 3:27.01 Asian Standard After Hong Kong's Siobhan Haughey Blasts 52.17 Mark For 100Fr Gold
Day 2: Haughey (1:54.12 200Fr) & Qin (57.76 100Br) Dominate With Asian Games Record Wins As Korea's Men Stun Rivals With 7:01 Asian 4x200m Mark
Day 1: Wang Shun (1:54.62 200IM) & Pan Zhanle (46.97, 100 Free) Crack Asian Records In China Bull Run As Home Games Begin