Chalmers Takes Back Commonwealth Control Of 100 Free in 47.5 Ahead Of Dean & Defender Scott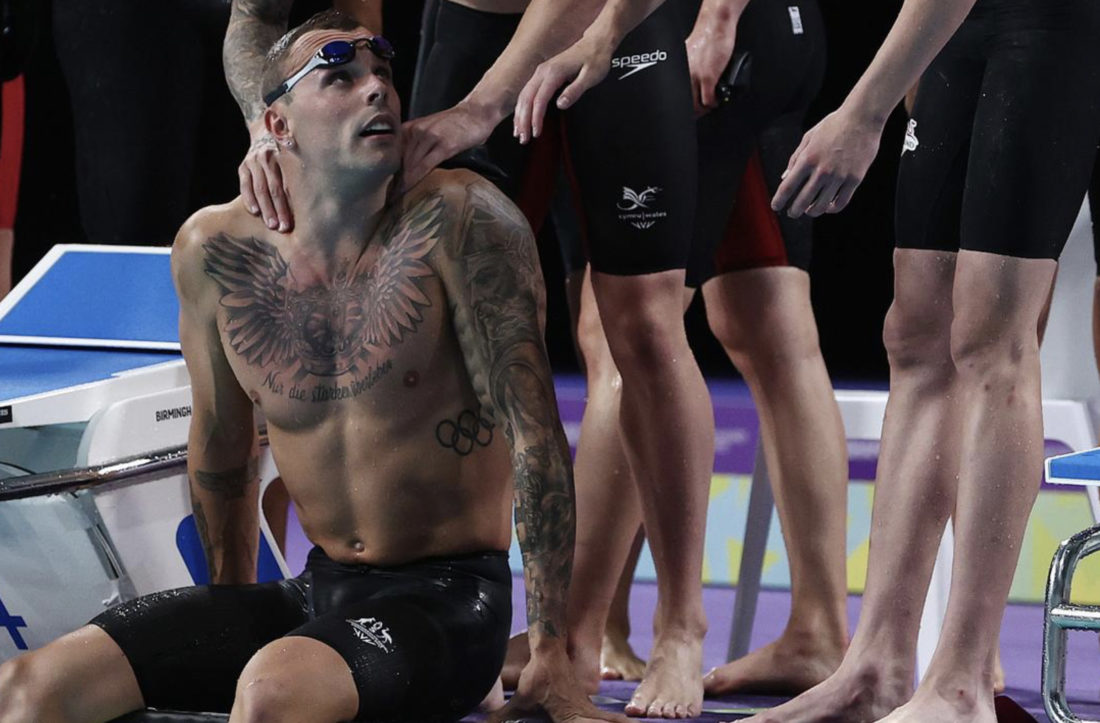 Kyle Chalmers turned tables on the defending champion with a 47.51 win in the 100m freestyle to get day 4 Commonwealth-Games finals off to a blast this evening in Birmingham, though the Australian did not quite get to do to Duncan Scott what Scott did to Chalmers four years ago.
Back then, Scott parked his saltire and sporron on the lawn at the Australian's Gold Coast pool where the water turned Tartan as the then Olympic champion was forced to settle for silver by the versatile Scot.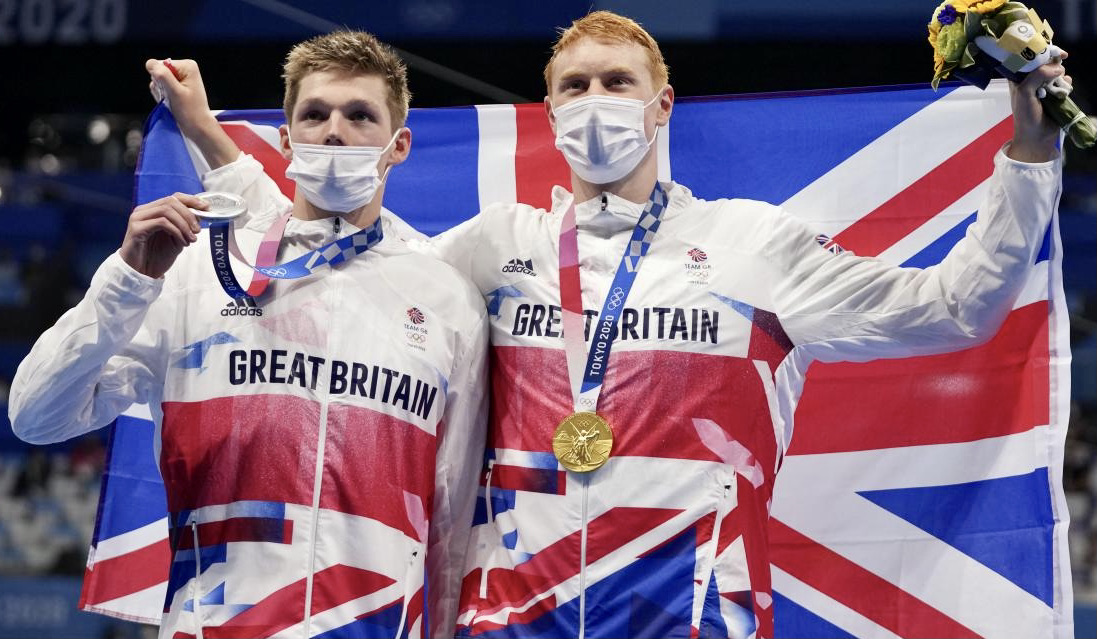 Today in Birmingham, Chalmers regained the crown ahead of England's Tom Dean, on 47. 89 and Scott, 48.27, a bronze that drew him level with the biggest haul of Commonwealth medals – 10 – by any Scot across all sports in the history of the Games, Alister Allan, a shooter, having held the standard alone since 1994, 20 years after his first podium at the first of his five Games.
It would not be long before Scott had surpassed Alan: a bronze in the 4x200m freestyle that brought the session to a close took his haul to 11 medals in three Games – and in impressive style too: the 200m champion produced the fastest split of any in the final: 1:44.48.
Australia took the 4x200m freestyle gold in a Games record of 7:04.96, followed by the parts of the Britain home-nation sums, England on 7:07.50, Scotland on 7:09.33 4.37 and Wales locked out of the medals in 7:10.64. Result in full.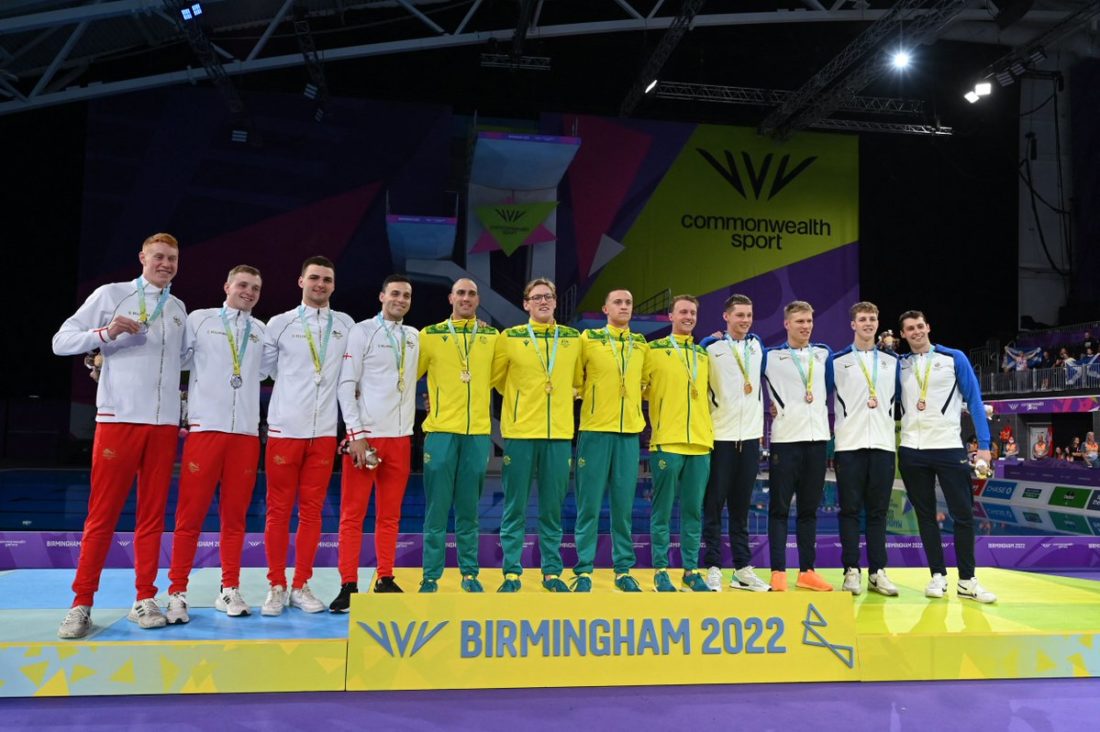 Allan's tally includes three golds: Scott's has two, after victory in the 200m freestyle, while the 200m medley on Wednesday offering him a good shot the triple. the medal-haul record all to himself in just three Games since 2014.
Other Finals: McKeown Takes 200 Back Gold Then Silver Lining Adrift McIntosh In 200IM, Both At The Double In Record Times
Chalmers Takes His Commonwealth Haul To 7 Gold and a Silver
Gold for Chalmers took his Commonwealth medals tally to seven golds and a silver, three of the wins claimed in Birmingham so far. Victory also meant that he took back full control of the Commonwealth there and back on freestyle as winner of Olympic gold (2016), silver (2020ne) and now the 13th Australian to claim the Empire, later and now Commonwealth, crown in 22 times of asking since 1930.
It's an impressive list of champions, one that includes Jon Henricks, John Devitt, Mike Wenden, Neil Brooks, Greg Fasala, Andrew Baildon, Michael Klim, Ian Thorpe, and James Magnussen, the 2014 champion. Of them all, Jon Henricks, John Devitt and Mike Wenden were the three who also claimed the Olympic 100m title.
Chalmers now joins them in the club of that particular double. He turned in 22.87, Dean on 23.16 in third, adrift Canadian Josh Liendo, on level with Chalmers on 22.91. Scott, a 4:09 400Imer, 1:56 200 'flyer, 1:55 200IMer and 1:44 200 freestyler who claimed a British all-sports record haul of four Olympic medals at one games in Tokyo last year, turned seventh on 23.54.
On the way home, Chalmers and Dean stayed in synch with their relative positions at the turn, while Scott produced the swiftest split on his way to his third podium in three days, two of them on the same evening (200m free. followed by bronze in the 400IM). No others stopped the clock inside 48.50.
Kyle's Place In History – Including Troubles In The Aussie Sprint Ranks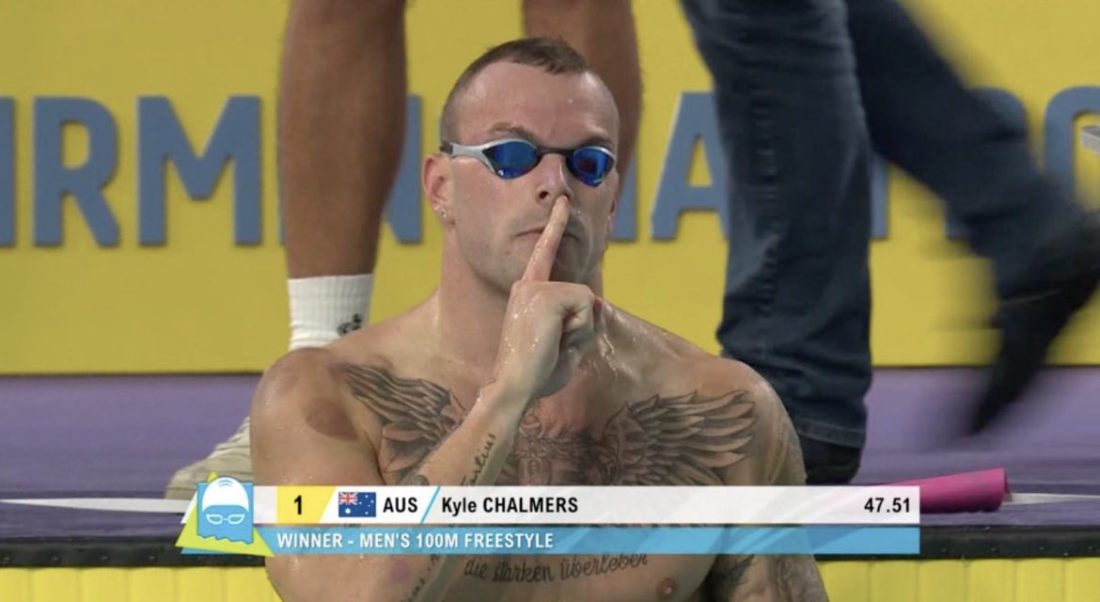 After acknowledging the win, Chalmers put his finger to his lip, aimed at his home media not Scott but likely to spark more questions about behaviour called in question, unreasonably so, says the swimmer (see his note in full below).
After a 47.31 Games record (which took down Canadian Brent Haydn's 47.98 standard from Delhi 2010) in semis, the usual predictions of the end of days for Cesar Cielo's 46.91 2009 shiny suit world record did the rounds but finals have an edge and that makes for a great race but not necessarily faster times.
The day belonged not to McEvoy but Chalmers and when the sprinters left the water either celebrating or towing the questions that swimmers can end up dragging around in their heads for years, the record still belonged to McEvoy, as a World textile best in the bargain too, and the world got to see the gold in McEvoy as well as Chalmers: the image of McEvoy, at a moment the sting must have felt very real indeed, met his teenage teammate on the pool deck, raised his arm aloft and invited Aussies and all others to celebrate a soaring achievement and the achiever of the hour of hours.
The Oceania and Australian record of 47.05 survive to fight another day, too: it was set by Cameron McEvoy in April 2016. In Rio, McEvoy was enough away from his best pace to find himself at the wrong point in the cycle of the tumble-dryer that a turn of big blokes at full throttle can generate in the water in the battle of the there and back there and back battle.
The day belonged not to McEvoy but Chalmers and when the sprinters left the water either celebrating or towing the questions that swimmers can end up dragging around in their heads for years, the record still belonged to McEvoy, as a World textile best in the bargain too, and the world got to see the gold in McEvoy as well as Chalmers: the image of McEvoy, at a moment the sting must have felt very real indeed, met his teenage teammate on the pool deck, raised his arm aloft and invited Aussies and all others to celebrate a soaring achievement and the achiever of the hour of hours.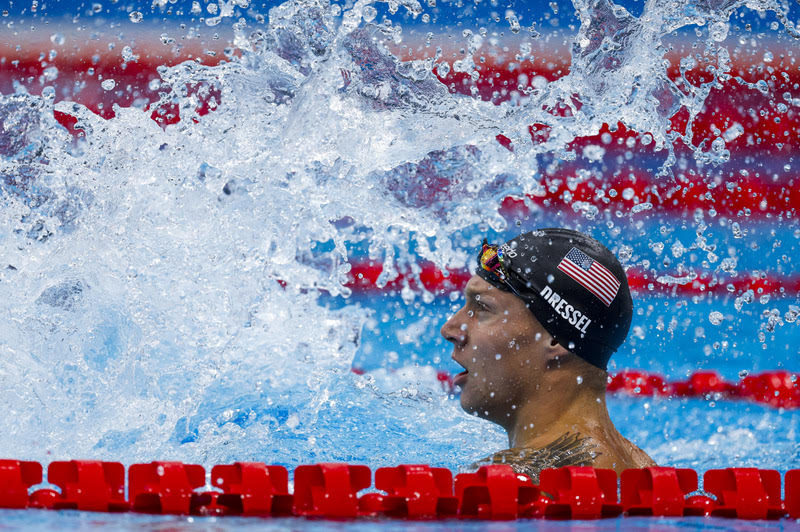 Fast-forward to Tokyo 2020ne as a five-year Olympic cycle came to a close in Covid-pandemic conditions in Tokyo last year: Caeleb Dressel vs. Kyle Chalmers. Show stopper.
It needed a crowd but even so, at 47.02 to 47.08 Dressel and Chalmers delivered the anticipated thriller, promises were lived up to. There was gold and silver a winner but no loser, more a passing of a crown from one soaring ace to another. The human eye needed to flick from hands to wall in wash up to scoreboard to know which of the giants had felled the other. By 0.06sec, Dressel had it, two years after the rivals were split 46.96 to 47.08 at the World Championships in Gwangju 2019.
Back in 2016 where Chalmers, 18, got all the glory, Dressel was back in 6th. Then in 2017, Dressel had it all his own way for a debut World title at a time when Chalmers was out of action in recovery from injury. In 2018, the Australian was back for a win over Dressel ate Pan Pacs – and then came Gwangju 2019 and a 0.12 gap, advantage to the American.
The big two will next meet in top championship waters in Fukuoka at the next World titles, the second in a berserk series of four long-course showcases in four years, a situation athletes and coaches have called on FINA to change.
Meanwhile, Mike Wenden, after his 1968 triumphs over 100 and 200m freestyle, had this tip for all future winners: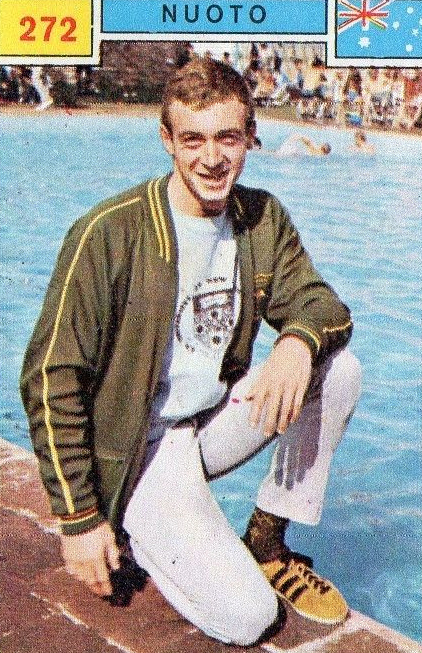 "Seek advice about an appropriate business manager and maintain close contact with a psychologist."

Mike Wenden, 1968 Olympic 100m and 200m free champion
Chalmers – 'Only The Strong Survive'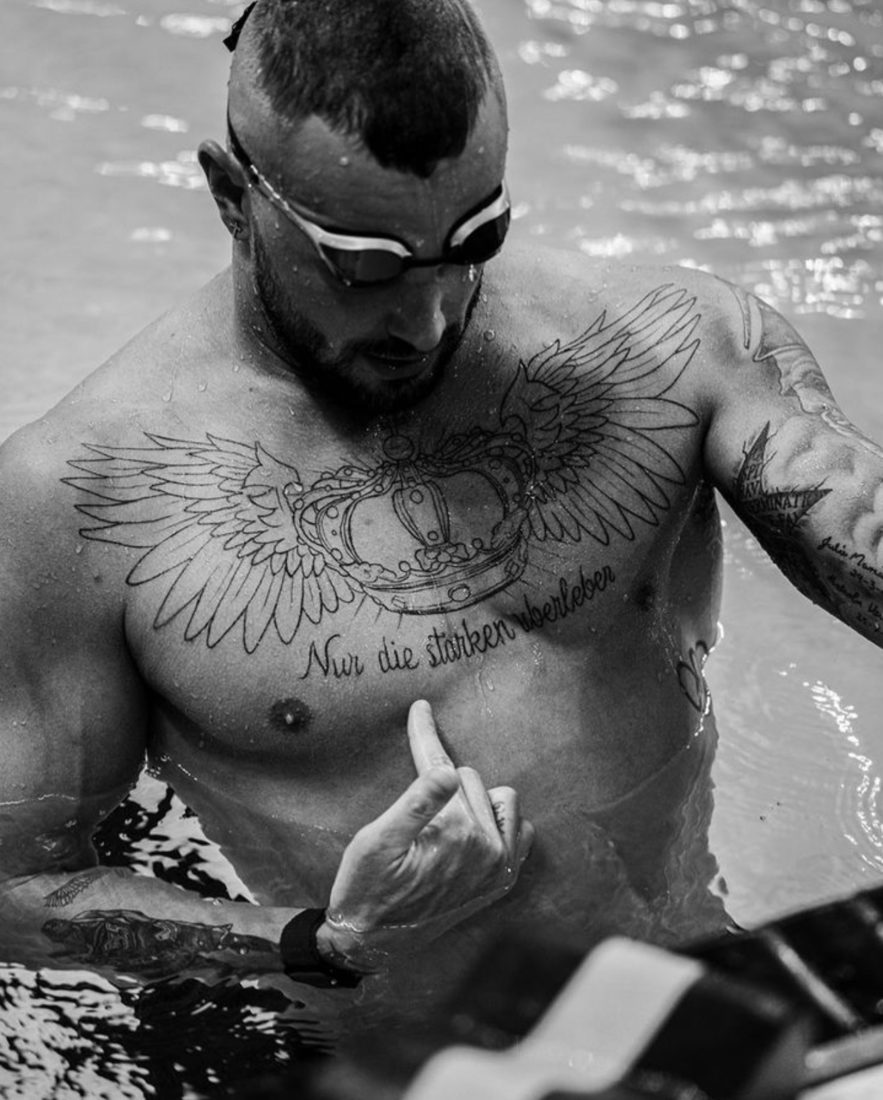 "Only the strong survive", say the German words splashed across Chalmers' chest underneath a confusing mixture of wings either side of crown topped by a cross looking not unlike an iron cross. I've never asked him and as such it's important not to leap to conclusions about what all of that and images of warrior helmets, bull horns and the like might mean to him. Chances are, it's a medley and mash of cultural symbolism that adds up to strength and survival.
Certainly, that's turned into the theme of the season for Chalmers since a series of events that led to unedifying headlines that did or did not reflect unedifying behaviour depending on what you saw and what and who you believe.
It came down to what one newspaper described as "love triangle", his relationship with Emma McKeon and then her subsequent relationship with Cody Simpson, the singer who set his cap at being a Dolphin and succeeded this norther summer with selection to the Commonwealth Games squad in the 50 and 100m butterfly. That did not trigger the stories that flowed, at least not on the sports pages. The fuel for the flame came from Chalmers' decision to declare himself interested in being a big-time contender in the 100m butterfly, despite a best time 2sec off the pace of what it may take to get on the podium at Paris over 100m in 2024.
Before trials, Chalmers had declared himself unavailable for World titles in Budapest but when he finished second and Cody Simpson third in the 100m butterfly, all top three inside the cut, Chalmers changed his mind. He would, after all be going to Budapest – and Simpson was off the Worlds team but still bound for Birmingham and his first international cap for Australia and Dolphin status.
All hell let loose in the Aussie media and Chalmers did not show up at the team selection announcement back home (there would have been some serious words and even consequences for that back in the days of Don Talbot), citing "mental health" pressures because of the coverage.
Fast-forward to Birmingham and the whole saga surfaced again when snappers and many other witnesses, including video footage, appeared to suggest that after the mixed 4x100m freestyle relay claimed gold for Australia, Chalmers did not congratulate Emma McKeon, teammate, star of Tokyo 2022, and former girlfriend.
Not so, says Chalmers: he had congratulated McKeon. This is the note he posted on Instagram:
'My mental health is at rock bottom'
Tonight in Birmingham we should've been celebrating as a team for all the medals that were won in the pool. We capped off the night with a gold in both freestyle relay teams.
Instead, the line of questioning by the media decided to pick up where they started back in May after trials.
I don't know how many more times it needs to be said by not only me but my fellow team mates, but these fake storyline's are doing more harm than good.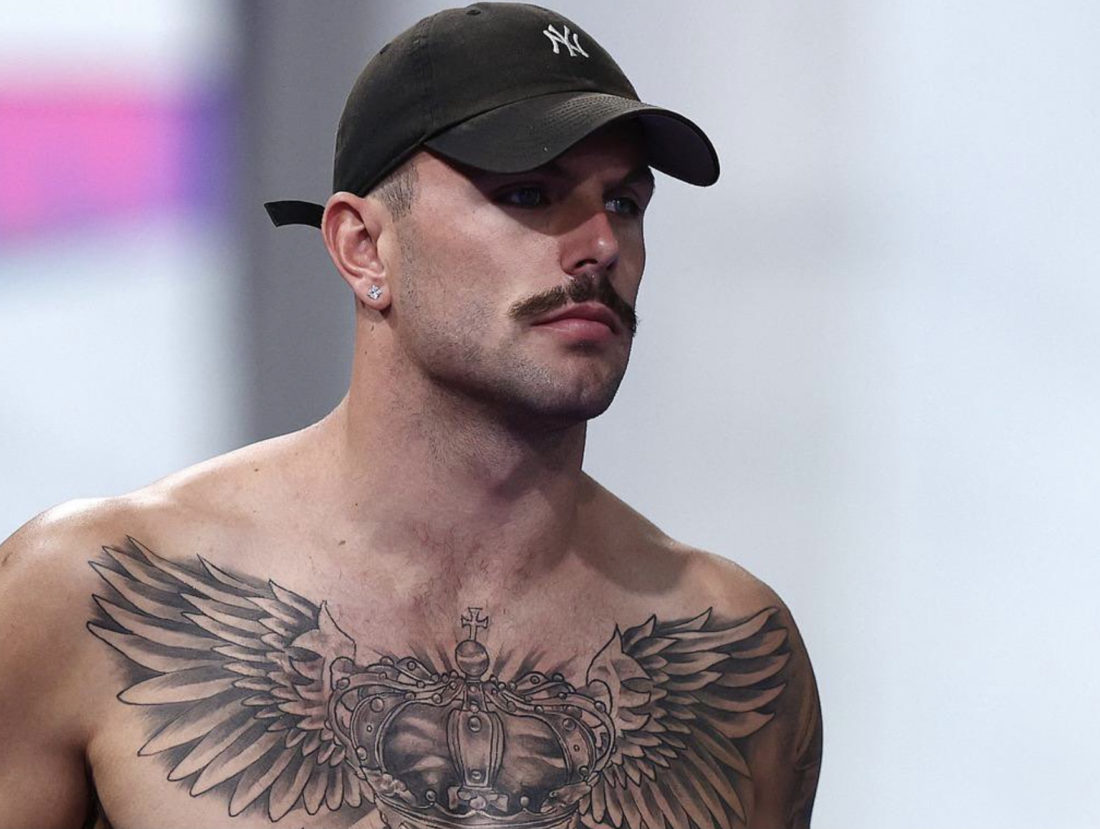 I have dedicated my life to this sport and representing my country. I am your poster boy from 2016 and I'm your villain in 2022. And for no reason other than some people in the media needing to justify their pay cheques and knowing that false headlines create clicks and earn them money. 
But do you know what it does to the humans you write about? It breaks them down little by little, and tonight is the breaking point. Up until this point I've tried to just keep on moving forward but tonight I ask that you please stop writing these false headlines otherwise my time in the sport will be finished. I don't swim for this, I didn't get into the sport to have to deal with this. I swim to inspire and I swim because I love my sport and it gives me purpose. This could end my time in swimming, I hope you are all aware.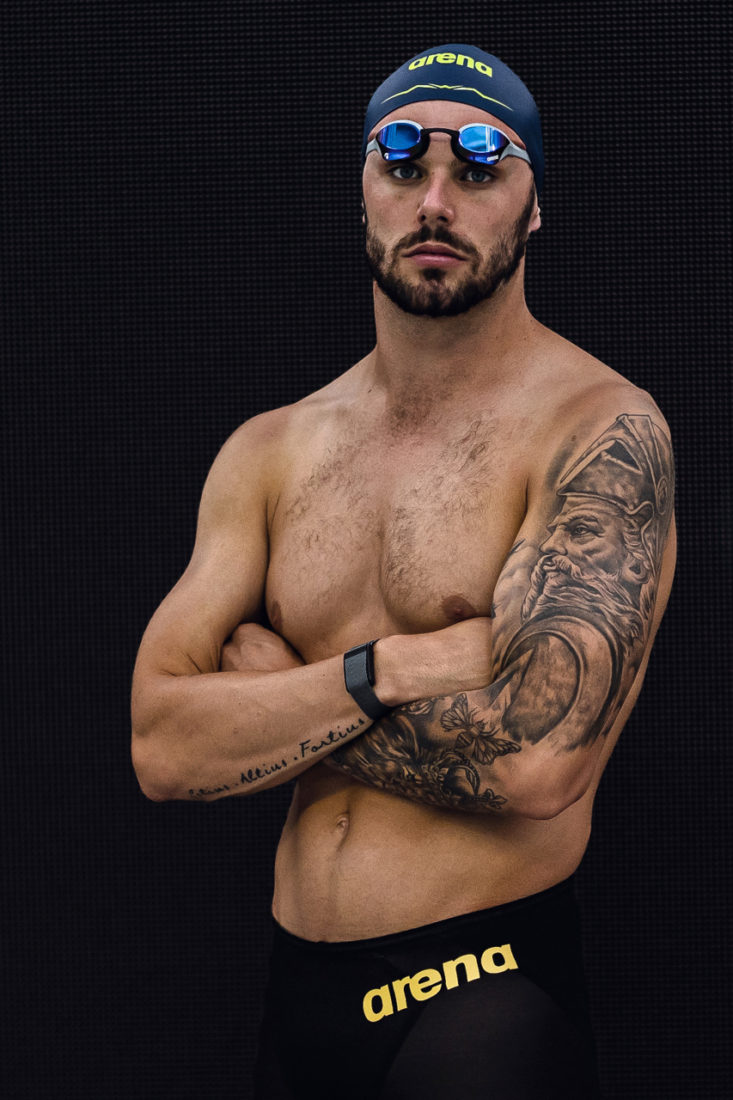 My mental health right now from all of this over the months is at rock bottom, I really hope that pleases the key board warriors that continue to write false news. Thank you again for the people who love, care and support me. You've been there for me everyday through this journey.. and without you I would not have been standing here racing. I would have been retired, but you motivated me, inspired me and helped me get through this battle. For that I am forever grateful.

Kyle Chalmers – Photo by Joel Spear, courtesy of arena
End of note
The 'Toxic Culture' In A Time Before Chalmers
It is ten years since a 'toxic culture' was said to have set in to The Australian swim team at the London 2012 Olympic Games, the sprint crew blamed for much of it.
In 2022, Chalmers is clearly not as at ease with the Simpson and McKeon situation as the official line goes and when that came out in the mixed zone in media questions, Chalmers was not best pleased, as you might expect.
However, what followed was talk of a ban of a specific journalist from a news group that has spent this summer, and last in Tokyo, providing the most comprehensive and positive coverage of Australian swimming success seen in mainstream news outlets anywhere in the world.
Queue arbitration.
Editorial note: Taking sides and banning journalists won't work, particularly when those journalists include media organisations that provide vast amounts of celebratory coverage of the achievements of athletes, and reporters who have a long record of raising issues of mental health, athlete welfare, poor governance and in so doing triggering a change in decisions and culture.
Such things have often happened while athletes, at the heart of cultures and governance structures that encourage an omertà-like hush of a kind that finger-on-lip image of Chalmers at the end of the 100m sums up well (whatever he had in mind in that moment), have been silent on many of the biggest issues in their sport, including sex abuse, willful harm done to athletes, coaches, members of the media and others who are seen to be "off message".
Swimming is in a new and choppy infancy of professionalism: world-class attitudes in preparation, among coaches and athletes, is not just a side of a coin but one side of a Rubik's Cube of complexities, including situations where one athlete says 'all well, media fuss' but other athletes who could speak out and make that clear remain silent, adding to a sense in the media that there is actually something to a story when there may be nothing in it. Clarity and Talbot-like bluntness in communication is sometimes required to draw a line.
There's a journey ahead when it comes to athletes understanding that their athletic careers are not public-relations exercises and that the media is not just there to cheer at every passing medal and record. The current generation has grown up in a digital world, cheers-leading niche media that treats a work day in February like an Olympic final with training times treated to a 'blast' here and a 'storm' and rocket' there.
It is not that niche media that will grow the sport, however: it's the audience they don't reach that swimming needs to appeal to – and that relies on mainstream media. Yes, mistakes are made and heels can sometimes be dug in (both sides) but what the FINA reform committee and the late Francois Carrard, who chaired it, were spot on when they noted: "the … no communication communication approach with its members, partners, Athletes and the media must immediately cease".
That is proving a hard challenge for many in swimming, including members of the FINA Bureau, heads of continental federations such as LEN and their media outfits, who don't appear to have understood what the reform committee's message on communication and why it is critical.
Patience, understanding and communication are two-way streets and in swimming part of a process that will take some years to arrive at a place where the sport is truly in a better place. As Carrard, the late Swiss lawyer who was long steeped in the Olympic Movement and all its victories and vanities, put it in words that do not only apply to FINA and those struggling to embrace his message, but all parties: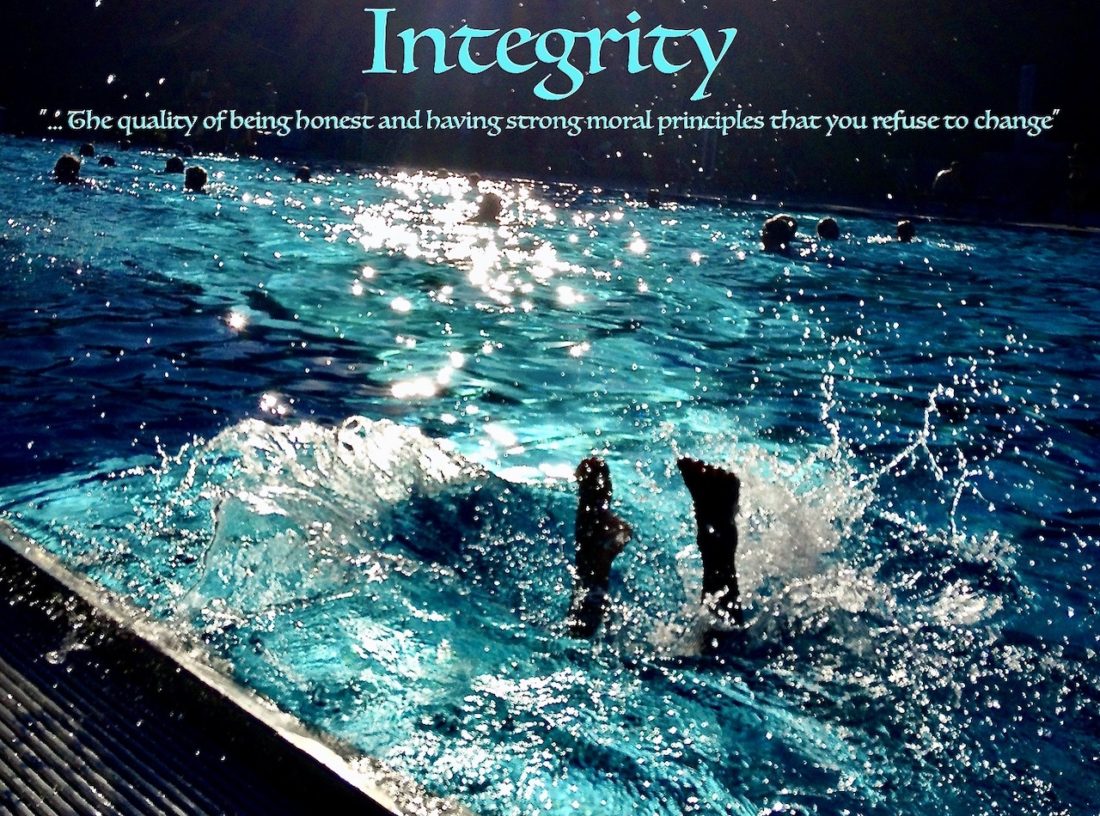 "[FINA] shall not leave a single stone unturned in the way in which it looks to the future. After all, reform is not a single event. It is a process that will test out patience."

Francois Carrard – image: Integrity – time for swimming to take the plunge and harness independent scrutiny to the governance of the sport, safeguarding a key component