Chad Le Clos 2.0 – South African Set To Resurface In The Lange Lane Back To "Best Shape Ever" By Paris 2024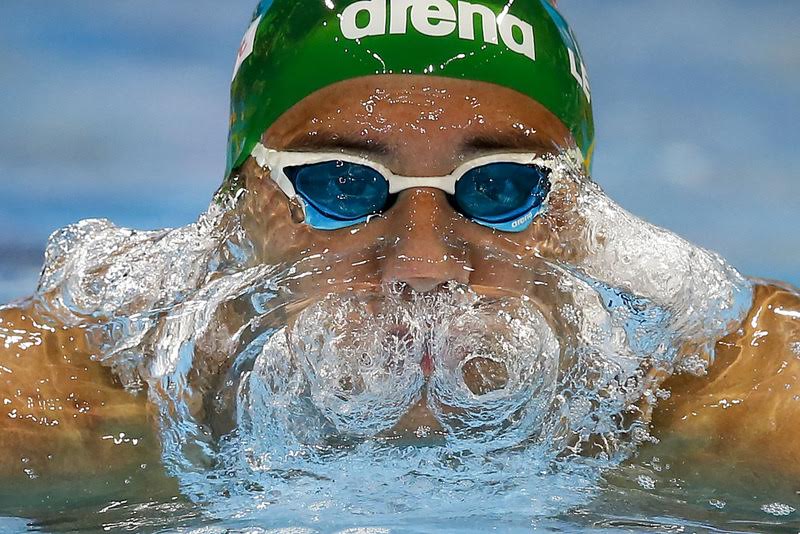 Chad Le Clos pauses to contemplate the question from me that coach Dirk Lange had started their first conversation with when the South African ace called to speak about working together on a Paris 2024 campaign: "What do you want to achieve?"
"Craig, unfortunately, I'm very ambitious," says Le Clos, a racer who's made 61 international podiums for South Africa, 32 of them golden, since his last year as a junior back in 2010. "When I get to Frankfurt and see Dirk and we start with the plan, when we start working backwards and mapping out where we're going to be, when I have some consistent training, when I'm actually in the one spot training every day with the same coach and the same team, I can promise you that I will be in the best shape I've ever been in at Paris."
Precise goals are best left unspoken but Le Clos, now 30, leaves no doubt about the scale of his aims and ambitions. It's why Dirk Lange said "ok, let's do it" when asked if he might welcome working on a fresh start with the 2012 Olympic 200m butterfly champion whose defeat of Michael Phelps, in the American's signature event, sparked a sensational comeback and fifth Olympic Games for the most decorated Olympian in history who aged 31 at Rio 2016 claimed five golds and a silver to take his career tally to 23 golds atop 28 podiums in Olympic waters.
Nothing comes close but Le Clos is among the few who can say they not only came close but got their hand to the wall ahead of the "G.O.A.T", in his case by 0.05sec in the biggest upset in men's racing at London 2012.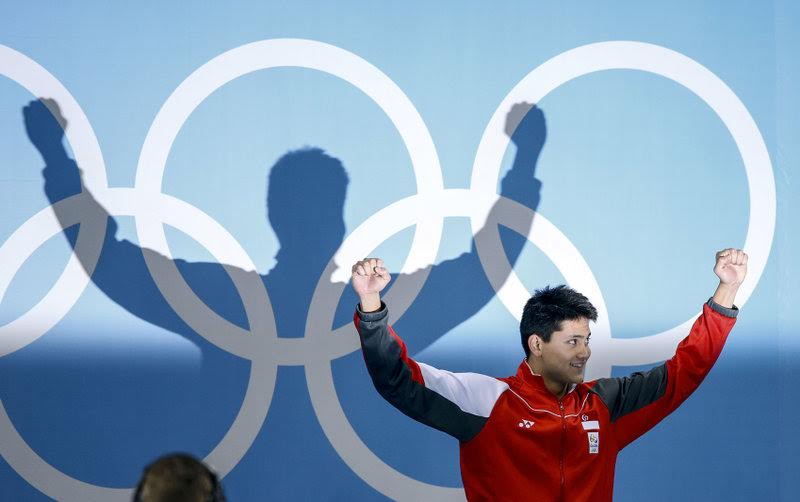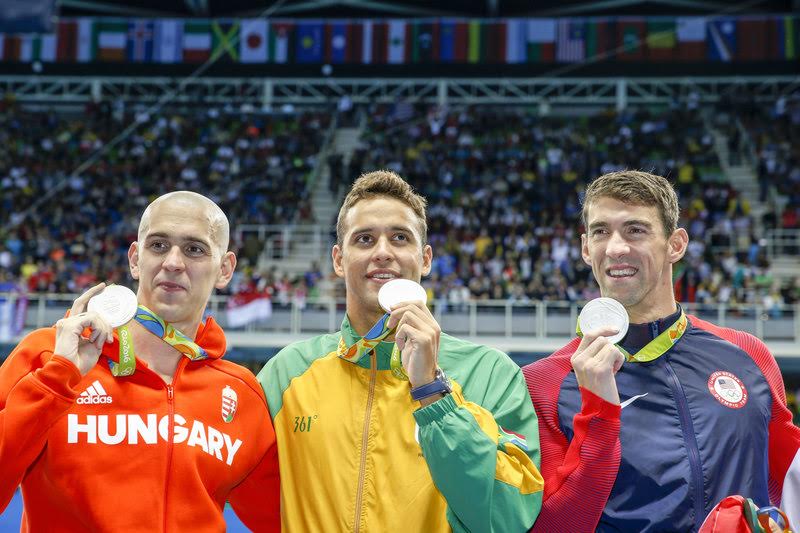 Le Clos, Phelps and Hungarian ace Laszlo Cseh completed an iconic podium when they claimed a matched, unique and historic silver each in the 100m butterfly at Rio 2016 behind gold for Singapore's Joe Schooling. For Le Clos, his second silver in the 100 'fly in Rio, after second place behind Phelps in London four years earlier, was the last of his four Olympic medals.
Officially, it's 1 gold and 3 silver. In the realm of Fair Play, it's two gold and two silver, his second place in the 200m freestyle behind China's Sun Yang in Rio, reflecting the price athletes have too often had to pay so that the wheels of FINA and IOC politics, self-interest and cash flow might be oiled without interruption.
However you count his medals, Le Clos wants more. On being in best shape at Paris 2024, he says: "I don't know what result that's going to turn into. I can't speak for how it's going to go in the 200 'fly, what [Caeleb] Dressel's gonna go in the 100 'fly, [Kristof] Milak in the 200 'fly or, dare I say it, the 100 free [in which David Popovici is likely to be waiting alongside reigning champion Dressel and 2016 champion Kyle Chalmers].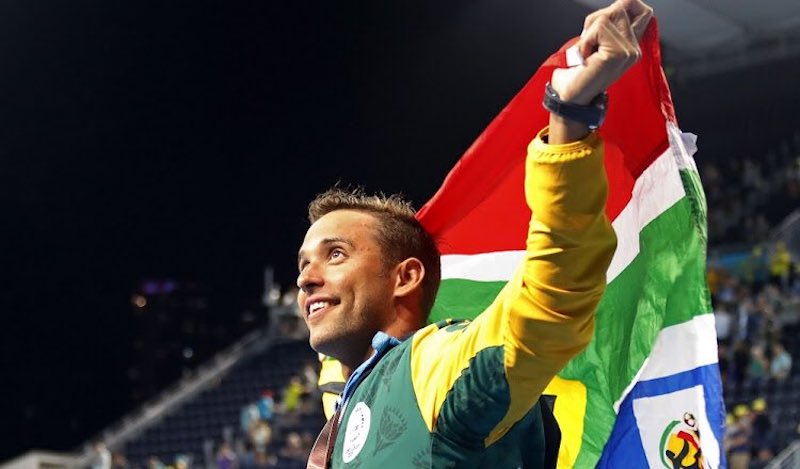 "I can't speak for any of the other people. I just know that I am absolutely aiming for at least a medal. I'm looking to be a World champion again; I'm looking to get the crown back. Look, I'll be 32 years old [at Paris].

"I'm not saying it's gonna happen today or tomorrow even at the end of the year, but I want to hear the national anthem again somewhere along the line. It's going to happen. You know what I mean? It's going to happen. I don't know when it's gonna happen, but, you know, I had a good training block this year and with all the sickness I had and everything that happened, well, it was still a horrible result but I feel it coming. I feel the old Chad coming back or, as I like to say, Chad 2.0 arriving.

"With Dirk, we have a plan. We know what we want to achieve, we're not here just to make up the numbers in the final; that I can promise. We are going to be competitive and, again, we're not speaking for anybody else. We're just going to be the best version that we can be."

Chad Le Clos – photo by Ian MacNicol
Le Clos – An Ace In Search Of A Swim Home
For Le Clos, reaching out to Lange in his search for a swimming home was a no-brainer after a couple of years as a relative vagabond in a pandemic that blew the Energy Standard swim squad back to the four corners from where its members came.
Le Clos' connection with Lange, performance head to South Africa between 2005 and 2008 before he returned home to lead the German program, dates back more than a decade to a time when the Dirk Lange Project 2016 had just got underway with the likes of Olympic and World champion Cameron van der Burgh (RSA) and World short-course champion Marco Koch (GER) at the helm of an international squad. Le Clos recalls:
"I've known Dirk for a long time. I did a little training with him before 2012, about six weeks out from the Olympics I'd join his group every Thursday – I'd join Marco and Cameron. I was training with Graham Hill at the time; they were on camp and we'd join them for the breaststroke sets. I really enjoyed the way Dirk worked back then and we've kept in touch. I've always respected his craft, his mannerisms, the way he is. I think it was quite an easy fit for me, to be honest."

Chad Le Clos – photo: Dirk Lange
Le Clos paid plaudits to the team at the ADN Project and then Energy, his training homes since 2017, when working with coaches Andrea di Nino and Bobby Hurley, and then after the International Swimming League was born, head coach at Energy James Gibson. As was the case with many programs far and wide, the Covid-19 pandemic delivered steep challenges. In the case of Energy's international elite squad, it meant dispersal and a return to home countries in many cases.
During that time, Le Clos was something of a swimming nomad, he recalls, adding Sonny Tigg to the list of coaches who helped him through challenging times and provided good guidance in the pool.
Says Le Clos: "After Covid, we were trying to keep the team together. The team was already all over the show, which was very, very hard. The Olympics were coming and I was stuck in South Africa for six months. After that, I was like 'it's not fair that it just ends up like that because I didn't really give it a fair crack and then, basically, everyone kind of went their separate ways, we tried to keep some of the team together but we were like gypsies; we never really had a home, we were looking for one and travelling from place to place. It wasn't ideal. At the end of the day, though I love the guys that I worked with, they were fantastic and we had an amazing couple of years together, I had to make a decision for my future.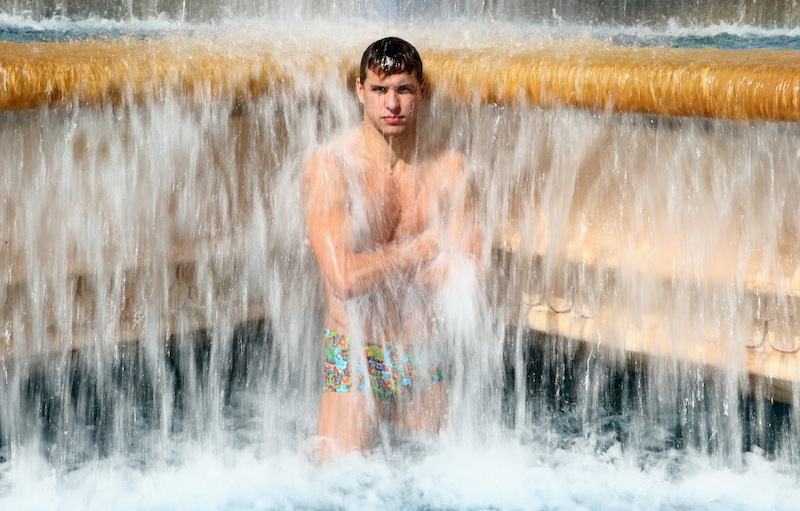 "I knew that if I was going to go anywhere, it was going to be to Dirk. We'd spoken from time to time before, just checking in, but not with a view to me training with him. I knew he had the set-up there in Frankfurt and when the circumstances were right, well, it seemed like an obvious move. I called a couple of weeks back and said 'Hey, Dirk, I'm ready to go'. We chatted over a couple of Skype calls and it kicked off from there. I'm over the moon … the conversations we had on the Zoom calls really blew me away.

"We have the same mindset. It's going to be great. I'm very excited for this challenge. For me, the most important thing is that I work with people who believe in me. Dirk knows what he wants and straight from go he was like 'Hey, Chad, what is it that you want to achieve?" I laid it out and he said 'Good – Ok, then we can work together. That sounds good."

"It's going to be a tough challenge. I've been out of the water; I've had surgeries (on his sinuses), and been sick for a whole six months. I know I have to get back into the swing of things," says Le Clos as he prepares to head off to one of the post-surgery sessions in which he will still have to keep his head out of the water. I can't exactly do too much right now. A bit of kicking, can't put my head under the water just yet. Hopefully next week. I'm cycling and doing what I can, so that when I get there [to Frankfurt], I hit the ground running … I want to be competitive with the squad."

"I'm very excited for this because Dirk knows what I want. I know what Dirk expects of me. And, listen, I'm going to give my everything, you know, like I have with all my coaches, or anyone that I've worked with, but that'll be especially so this next round because I have a clear plan: knowing where I'm going to be based, knowing the competitions that I'm gonna be swimming, knowing 'the program ' well in advanced is just great.

"It's not that I never had that before but, unfortunately, due to circumstances I wasn't able to have that: we didn't know what was happening in two weeks time, you know. We went to Dubai, then we were in Spain and moving around. Me and the coaches I've had have had an amazing run and we did it; we did a great job. It's just that we weren't able to execute the plan because we were constantly moving, things were constantly changing and we were never home.

So, I think this time in particular, this fresh start, is unbelievably exciting for me because I have a home, I have a new club. I'm very very excited to swim for Frankfurt. I'll have new teammates. I'm walking into the unknown but I'm excited. I'm ready to start working hard again, be the main guy there and I'm looking forward to meeting everybody."

Chad Le Clos – Photo: Chad Le Clos in a 2014 arena photo shoot – courtesy of arena
While Le Clos awaits his Visa at home in Durban, he's out cycling, finding ways to build fitness on dryland in between swim sessions that on the day we speak are about to spill from kick-only, head out of water, to full stroke with submersion for the first time since his sinus surgery in the wake of the Commonwealth Games in Birmingham in early August.
He'd travelled to England on a quest to become the most decorated Commonwealth Games athlete of all time. His hopes were dashed, though not entirely. He arrived in Birmingham needing just one medal to join shooters Phillip Adams, of Australia, and Mick Gault, of England, as joint top hauler all-time at the Games on 18 medals.
Le Clos achieved that ambition with silver in the 200m butterfly 200m butterfly 0.29sec adrift in-form Kiwi Lewis Clareburt, with one of the South African's best mates in the international pool, England's James Guy, third.
Rewind.
The Damage Done When Cheats Prosper
Guy and Le Clos had made a pact back in 2015 after the Brit had claimed the World 200m freestyle title at 19 years of age: they would stand on the Olympic podium together in Rio a year later. In that aforementioned realm of Fair Play, they did. In the official world of compromised results, Sun* took gold, Le Clos took silver, American Conor Dwyer* bronze and Guy was locked out by 0.26sec in fourth.
Consider the frustration of Le Clos, Guy and Dwyer's U.S. teammate Townley Haas: if Sun tested positive for a heart booster in 2014 and (on grounds subsequently called into question by Chinada-stamped evidence anti-doping authorities have not investigated to this day, despite an second offence in 2018) was given a lenient, back-dated three-month suspension that was never actually served, then October 11, 2018, within a few weeks of Sun shining a smart-phone torch light on a blood sample about to have its outer casing be cracked with a hammer in the midst of a clash with anti-doping testers that would be his downfall, USADA announced that Dwyer had failed a series of anti-doping tests.
It had been found that he had banned anabolic steroids, namely testosterone in the form of pellets, surgically inserted into his body. Dwyer helped the USA claim Olympic 4x200m freestyle gold in 2012 and 2016 alongside Phelps, who said in Rio that he believed he had not raced in a single event in his career without the suspicion that someone in the water alongside him was doped. Dwyer was banned for 20 months and announced his retirement from competitive swimming soon after the suspension was announced. Despite the taint, he was inducted in the University of Florida Athletic Hall of Fame in April this year, the shame of a doping infraction apparently no impediment to celebration of a career in one of the top swimming centres in the United States.
The rules are clear on back-dating suspensions and allowing careers and prizes to stand from a time before an athlete is caught cheating. Many believe that the system needs changing and that the deterrent needs tightening so that the higher-category offences result in all results achieved in the relevant Olympic cycle to be forfeited.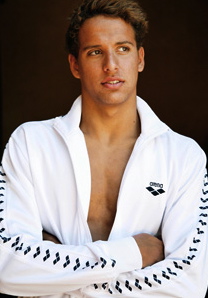 Asked about doping, Le Clos echoed Phelps' sentiments from Rio, saying: "It's a lot more prevalent, a lot worse of a problem in swimming, than many people think."
Le Clos points to Guy as an example of the damage that cheating does, not just on one race day but throughout a career. Says the South African:
"Jimmy has achieved a great deal. He's had a fantastic career but you can't help thinking it could have been even better with some spectacular results in the 200m freestyle had he made the podium that day in Rio and had he not had to dwell on what might have been because of cheating. That he was fourth on that day is not the point. It is that it threw him off where he might have got to. You have to process that. It's hard. It took me a long time to get over it, get my head round it – and I got a medal."

Chad Le Clos – Photo: in 2014, a stellar season – courtesy of arena
He called on Sun and others to do the right thing and give their medals back but noted: "I am proud of my performance that day because in my mind I executed what I thought was the best game plan and I did the best I could. I don't really care what the medal is in that context. What lasts is that I lost the moment. I lost the moment to celebrate, to capitalize on the hard work, through sponsorships, and, in South Africa, asserting myself as a real legend in sport. If you go gold back to back … it was a great moment missed in bad circumstances. I feel for my boy Jimmy. I mean, damn, he was, what… point two (0.2) off in those circumstances. Craig, you've known me for a long time and you understand that it comes down to what we work for – to win.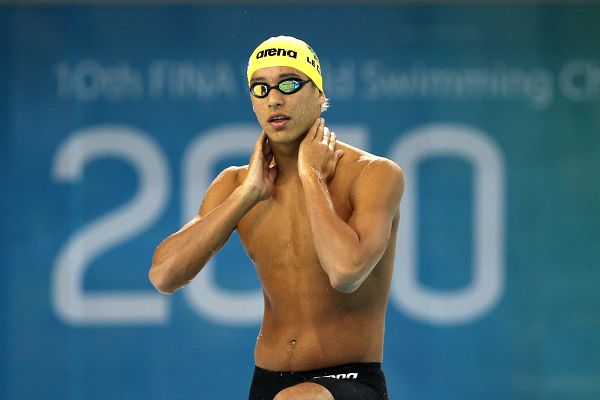 "I don't really care about the fame, or the money, I just really want to win. I want to win for myself, for my family, my team, coaches, my fans. That's what lasts, the knowledge and feeling that you put yourself on the line, faced the battle and emerged a winner on the day: it's just like the coolest thing in the whole world … it's just sad and unfortunate that moments like that are taken away by cheats."

Chad Le Clos – Photo: Back to the beginning – Chad Le Clos at the first senior senior, Dubai 2010 World short-course titles, to deliver medals – Photo by Daniele Badolato / Lapresse, courtesy of arena
Birmingham 2022 – 18th Commonwealth Medal Leaves Le Clos Hungry
Back to Birmingham and Le Clos had a higher bar to clear to become the 'biggest-hauler' crown: in helping Australia to win the mixed 4x100m medley, Tokyo Queen of gems Emma McKeon took her tally of Commonwealth Games medals to 19, South Africa and Le Clos fourth – and the Australian with one shot in hand yet: the women's medley relay. She and teammates duly delivered for McKeon's 20th Commonwealth medal, an all-time record.
There was still the biggest haul by a man available to Le Clos come the last morning but one of his teammates who had been due to have swum in the heats of the 4x100m medley failed to show. "Transport issues" were cited alongside the suggestion that the swimmer had slept through his alarm.
Whatever the truth of the matter, it put South Africa out of the race and Le Clos' career Commonwealth tally was parked at seven gold, four silver and seven bronze medals 2010, 2014, 2018 and 2022. Paris 2024 is now on the cards: whether Le Clos will race on until the Commonwealth Games in Geelong, Australia, in 2026 remains to be seen. He will be 34 by then, McKeon 32. All to play for if the players wish.
For the next two years, all preparation and racing will have Paris in method and mind's eye. Le Clos is keen to get cracking. He says: "It's a new start. The past few seasons are not what I wanted, right? It's been a hard road, especially in the last couple of months." He is referring not only to events in the pool but the life that spills well beyond it.
"A Gun Held To My Head"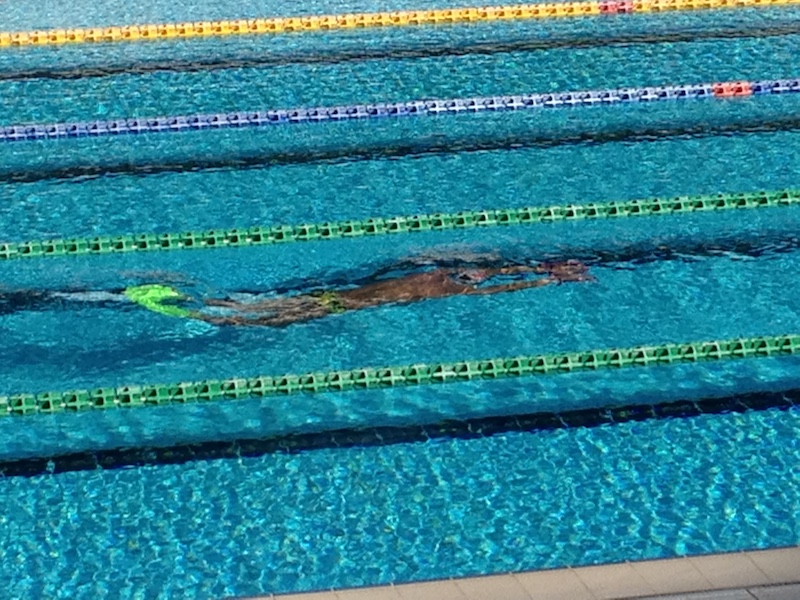 Earlier this year, Le Clos referred to the mental-health pressures he'd felt over events in his life that were "even worse" than handling the news in 2016 that his mother Geraldine (and later his father, Bert) had been diagnosed with cancer. Their battle was their son's constant worry. What was it that could be described as being worse?
It was a private matter, said the African speedster but while the specifics and details are not something he is prepared to talk about, he is happy to describe how the events in question left him feeling: "It was like having a gun to your head. It was something unexpected and it threw me into a really bad place. Honestly, looking back, I wish I'd have taken professional advice earlier than I did. I can't describe it … it was just hard, man. Like 2016 was hard because of my parents and their battles with cancer. My mum came close to dying. In May that year, she didn't know if she was even going to make it as far as the Olympics. The reason I said that this latest thing was worse is because in 2016, we'd had time to work with it, talk about it, prepare for it. I'd actually said goodbye to her at one stage. It was heartbreaking but in some sense it was something you could brace yourself for, prepare for."
The latest bombshell came from the blue, however. "When the car crash comes and it hits you and it takes someone or something away from you, you're [devastated]. We couldn't prepare for what happened to me and that's all I can say right now."
The move to Germany and a fresh start with new goals and a return of steely ambition is, in a sense, therapeutic for Le Clos.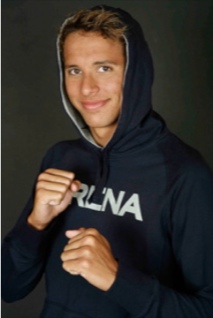 "Yeah … all these new beginnings are fresh starts but this one in particular has an edge to it because of the last three years that I've had: I'm pretty much starting off from, well … It's the lowest I've been in my career, right? I've been winning for 10 years but these last two years, I haven't won anything. It was unfortunate the way it turned out: we were going so well before the Olympics, you know. It was January 2021 and we're coming off a groin injury, going into surgery, and then we were in such a phenomenal place … we were smashing it up and ready to go. Maybe we were not going to beat the likes of Dressel but we were medaling, on my worst day. With all due respect to anybody else, we were getting silver or bronze on my worst day [in the 100m butterfly]."

Chad Le Clos – Photo: A young aquatic pugilist boxes clever – courtesy of arena
All of which was a miracle in itself. As Le Clos noted, in lockdown in 2020, the Olympics postponed, he was not allowed to train with others for a period of time and had no coaches. There were times when "we didn't have access to anybody … then one of the boys was allowed to come and train with me, thankfully," he added.
Frankfurt In Time For Autumn & Winter Prep
For that reason and many more, Frankfurt will be a different world and prospect altogether. Le Clos aims to be in Germany by the end of the month but the timing of travel depends on the processing of his Visa and travel arrangements.
Within a month of arriving, there may be some early race tests on World Cup tour (tbd) before Lange's group heads down to Australia for southern summer training and competition at the World short-course Championships. January marks the start of a full long-course focus. With Fukuoka World titles in July in mind? Le Clos passes the test: "January is when we start making the climb back to the top. Yeah, Fukuoka but Paris; Paris is the ultimate goal."
Le Clos has myriad reasons for wanting to write his next chapter away from home but the Karen Blixen question cannot be avoided for anyone who has ever witnessed the waking of the world on an African morning. Blixen wrote in Out of Africa when dreaming of her home from home in Kenya while lying ill back in her native Denmark: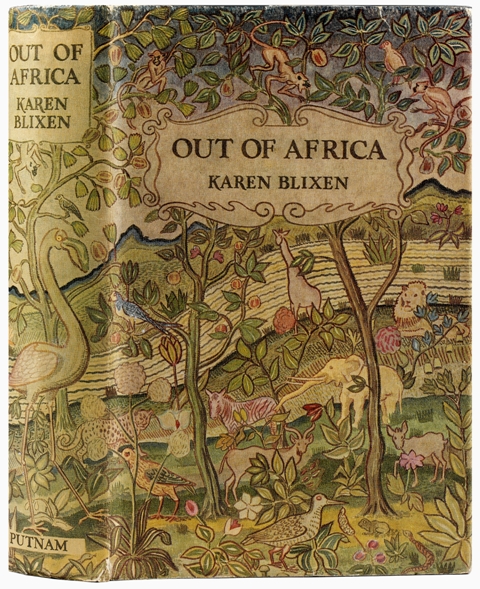 "If I know a song of Africa, of the giraffe and the African new moon lying on her back, of the ploughs in the fields and the sweaty faces of the coffee pickers, does Africa know a song of me? Will the air over the plain quiver with a colour that I have had on, or the children invent a game in which my name is, or the full moon throw a shadow over the gravel of the drive that was like me, or will the eagles of the Ngong Hills look out for me?"

Karen Blixen – Out of Africa – Photo: a rare edition, courtesy of Camille Sourget Librarie
What will Le Clos miss of Africa? "Good Question, I miss a lot of things. When I've been away for a long time, and I come back and land in Tambo Airport in Jo'burg … I just soak up the fresh air; you can taste you're in Africa, you know. You just feel it. It's weird. You're coming down [in flight], you see the green bushes across the rolling landscape, and when you're landing, especially in Durban, you feel your roots … the last seven, eight minutes of the descent are very special, you just feel and see all of it. And I think just the accent when I land: I hear my people and it's great. There's often been a lot of people at the airport to greet the peoples' champion back home."
There has to be a departure before a return and this one will be particularly special. On September 24, Le Clos will lead the Springboks out on to the field at Kings Park Stadium in Durban. He's been given the honour of performing the traditional handing out of team jerseys in front of a home crowd of around 60,000. The air will come alive to the sound of "Nkosi Sikelel'iAfrika" [God Bless Africa].
It's no secret that South Africa has not been good at keeping its best at home and criticism of a system that asks parents and athletes to pay their way to most major competitions when selected to represent their country while an army of blazers travel the world for free. Wade beyond all of that and the anthem is fuel for Chad Le Clos. Repeat to understand the goal: "I want to hear the national anthem again somewhere along the line". The closing (translation):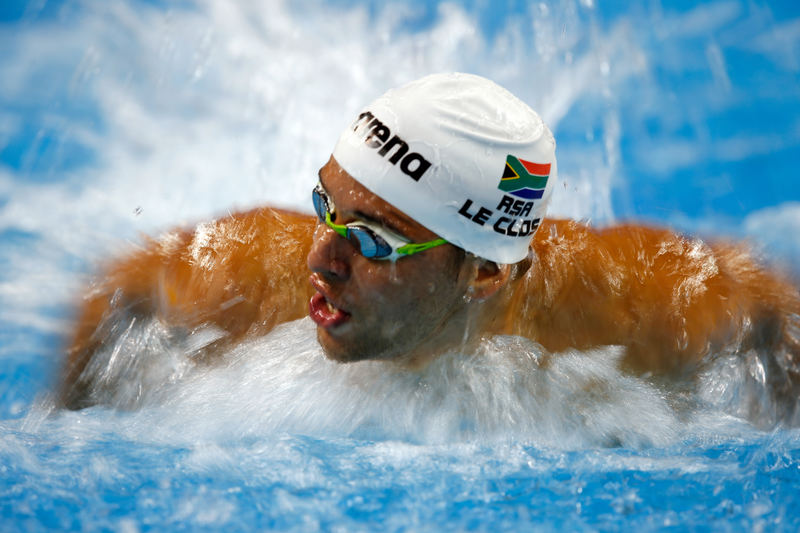 From the blue of our skies,
From the depths of our seas,
Over our everlasting mountains,
Where the echoing crags resound,
Sounds the call to come together,
And united we shall stand,
Let us live and strive for freedom,
In South Africa our land.
Stirring stuff to depart on … and a useful refrain to hum all the way to living the Olympic dream in Paris on the way back home.
– * – denotes at least one doping infraction in the swimmer's career