Ceccon, Martinenghi, Rivolta & Miressi Wrap Up Italian Party With The Last Gold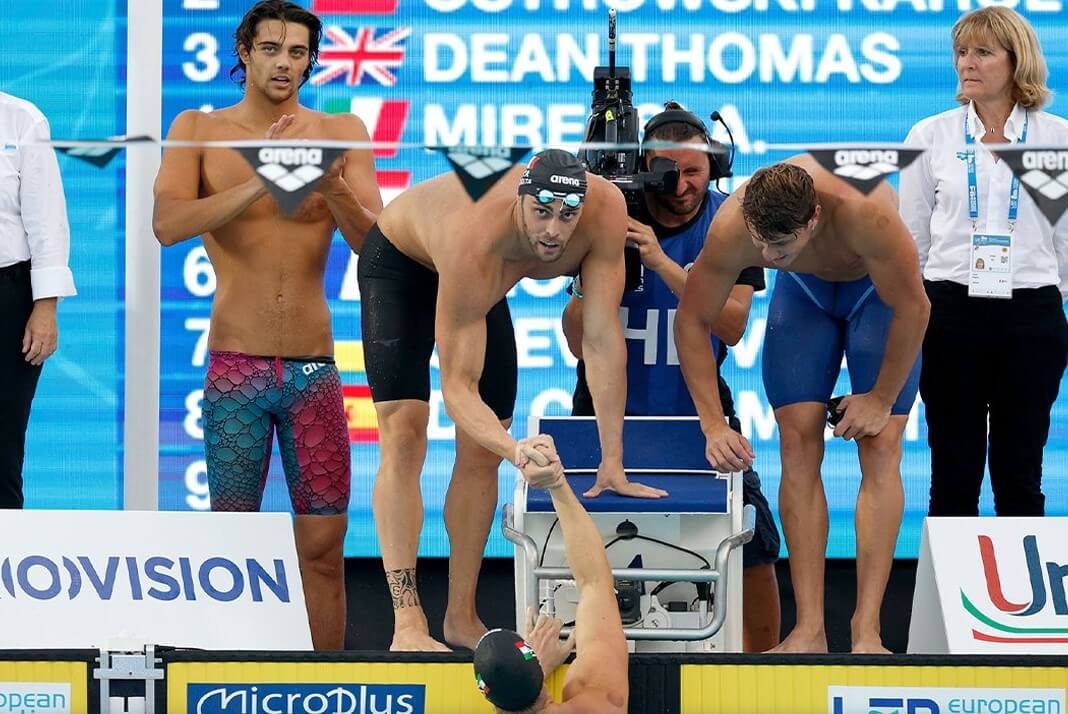 The Italian hosts dominated the closing medley relay with a championship record of 3:28.46 that topped a home European showcase that deserved a lap of honour for the Roman hosts.
They took it, all of them together, parading round the Stadio del Nuoto on a balmy August night, the Roman crowd roaring and baying for more.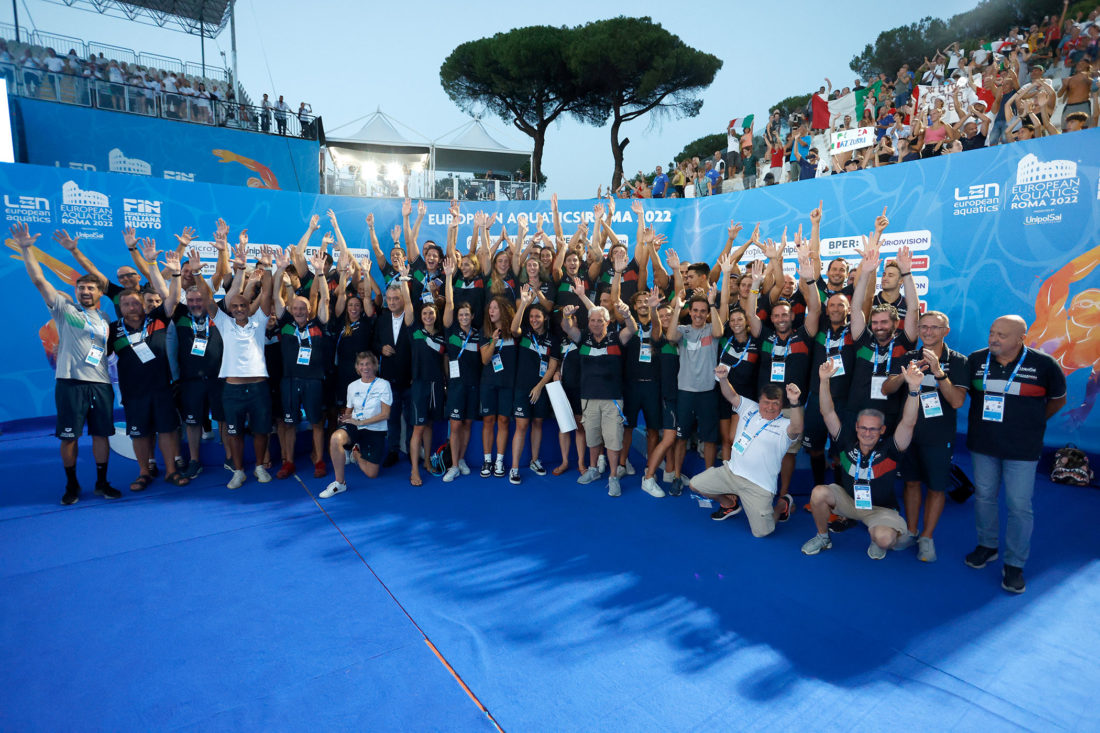 The Italian quartet of Thomas Ceccon, Nicolo Martinenghi, Matteo Rivolta and Alessandro Miressi were not as swift this evening as they had been in Budapest for the World title in June ahead of the USA and Great Britain when matching the European record of 3:27.51 set by the Brits for Olympic silver a swing behind the U.S. in Tokyo last year.
The Budapest fight was tight. Rome was a rout: calling it three body lengths might be an underestimation as Miressi bolts into the wall to shave 0.13 off the championship mark of 3:28.46 set by Britain in Budapest, Ione more, for the 2021 championships that were shunted forward a year by the pandemic.
The Italian meet mark splits:
52.82: Thomas Ceccon
57.72: Nicolo Martinenghi
50.75: Matteo Rivolta
47.17: Alessandro Miressi
France clocked 3:32.50 for silver, Austria 3:33.28 for bronze.
It was the second time Italy have won the medley relay curtain-closer and brought to an end four successive victories for Britain. Team GB, at its third meet of the summer, showed signs of strain among those who made it to the meet, while three quarters of its medley relay, Adam Peaty, James Guy and Duncan Scott taking time out from racing as they gather their energies for the coming two years of full steam ahead to Paris for the 2024 Olympic Games. Even so, the Brits finished third on the medals table with 15 podium prizes, a tied with Hungary, which with 5 golds had one more than Britain.
Tom Dean, double Olympic champion (200, free; 4x200m free), summed up his summer well at then end of medley relay:
No denying the the Italian hosts, of course: 13g, 13s, 9b = 35 podiums.
The medley relay granted Ceccon a sixth medal: four golds (100 back, 50 'fly, 4x100m medley and 4×100 free) and two silvers (50 back, mixed 4×100 medley). Summing up the mood in the Italian team that topped the medals and points at their home championships, Ceccon said: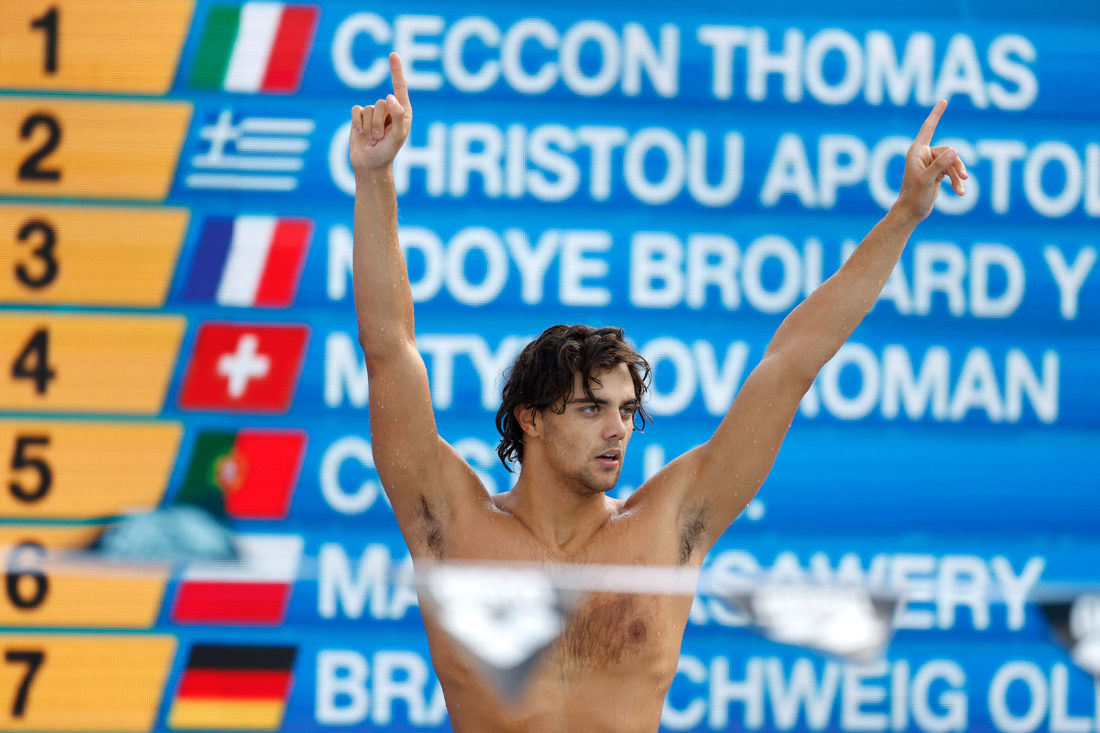 "It feels beautiful. Someone told me that even TV cameras were shaking a bit during our race which never happened before. The experience of these championships are memories to be cherished forever.

"I also had medals from the 50m and 100m back so I've achieved everything I wanted to. This a very young relay except for Rivolta who replaced (Federico) Burdisso. Having two golds in one afternoon is more than I can ask for. What a beautiful way to end these championships.

"In 2009 (when the Foro Italico staged the World Championships) I was already training swimming but I wasn't here but for me this is the perfect setting. Finally I take a break from swimming but that won't be long, just two weeks and soon I'll be back for training. I'm young so this is the time to work as much as I can."

Thomas Ceccon – courtesy of LEN
Medals: The Top 10 Teams – Italian Squad On Top
1
ITA
13
13
9
35
2
HUN
5
7
3
15
3
GBR
4
5
6
15
4
NED
4
1
6
11
5
SWE
4
1
1
6
6
FRA
3
7
3
13
7
GER
2
2
4
8
8
ROU
2
0
0
2
9
SUI
1
3
0
4
10
GRE
1
1
1
3
Martinenghi, who split an eye-watering 57.72, ended the meet with the 50-100 breaststroke double as well as the medley relay and silver in the mixed medley. He said: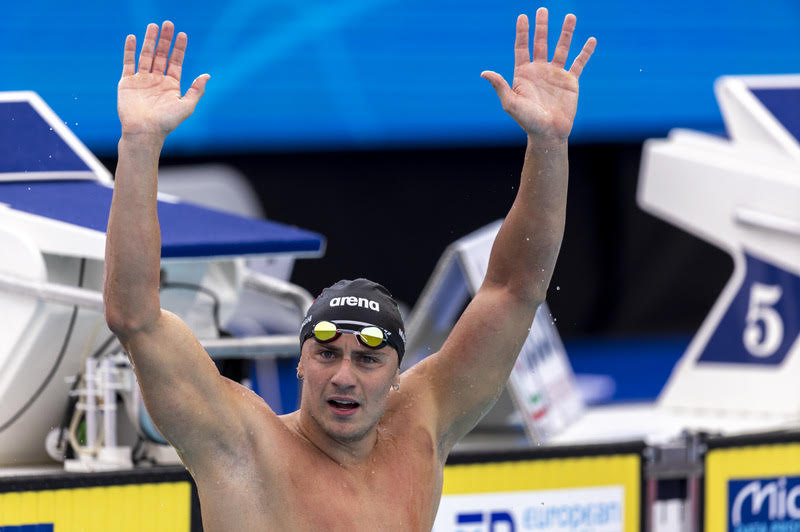 "To be honest, today I gave everything I had in me. Right now I have no energy left at all but swimming this relay was super emotional for me. It feels great to have the fans back to the stands it makes such a huge difference, especially for us Italians.

"But I think the others teams can also feel that here in Italy fans understand and support swimming. What a perfect ending to these championships!"

Niccolo Martinenghi – Photo by Patrick B. Kraemer / MAGICPBK