Cate Campbell Feels Tokyo 2020 "Off" Headlines In The Pit Of Her Stomach As Olympic Bosses Stay "On Message"
Cate Campbell is among many elite athletes feeling Tokyo 2020 "off" headlines in the pit of her stomach. All she can do is work on, pray and hope and believe that the delayed Tokyo 2020 Olympic Games will open on July 23 as scheduled.
The 28-year-old sprinter sums up the feelings of many swimmers around the world when she tells the Australian Daily Telegraph today:
"Like everyone you keep a close eye on the news and when you see those headlines you do feel it in the pit of your stomach But we have really good correspondence to all athletes from (Australia's) Chef de Mission Ian Chesterman over the past two days. We actually had an email from him on Wednesday saying there had been a little bit of stuff on the rumour mill but the fact is the Japanese Prime Minister and the IOC president have committed to the Games going ahead."
Cate Campbell adds: "This morning an email landed in our inbox reaffirming Japan's commitment to an Olympics going ahead. They are doing everything in their power to ensure an Olympics in some form will go ahead. I think it will look different but that's not my job to figure out what it looks like. I am preparing for it to go ahead. I am very confident.''
The Times's Asia Editor Richard Lloyd Parry sparked headlines around the world yesterday when he cited a senior government source as saying: that there is "agreement that the Games, already postponed a year, are doomed".
His report noted that "the aim now is to find a face-saving way of announcing the cancellation that leaves open the possibility of Tokyo playing host at a later date" and quotes the source as saying:
"No one wants to be the first to say so but the consensus is that it's too difficult. Personally, I don't think it's going to happen."
That line is the first that brings a serious sense of deja vu to discussion about whether the Games can or cannot go ahead: almost a year ago, the International Olympic Committee and all its domestic branches were adamant that Tokyo 2020 would go ahead as planned. They kept that line up for months on end at a time when others, including scientists, virologists, some politicians, strategists and, ultimately, athletes themselves, were saying "highly unlikely".
This morning, Lloyd Parry pens a follow-up under the headline "Japan's dilemma: how to call off Games while saving face". The paper sums up the piece with these words: The Tokyo Games is losing support in all quarters, not least the Japanese public and athletes — but the official line remains that the event will go ahead. Richard Lloyd Parry looks at why calling it off is proving hard"
At the heart of reasoning beyond the view of a senior political source are these realities that Cate Campbell and many other athletes understand, while placing faith in Olympic bosses to find solutions:
"A study by Oxford University concluded last year that Tokyo's would be the most expensive Olympic Games ever staged — even government audits, which are likely to be conservative, put the cost at £18 billion or more, three quarters of it public money. In normal times the government could have counted on public opinion coming round and surging with enthusiasm and excitement when the Olympics got under way. But this is different. The principal concern now is not about cost overruns, but about the potential for the summer Games to become a massive superspreader event that would disseminate Covid-19 throughout Japan and then, as athletes and spectators returned to their home countries, across the world. People, perhaps many people, could sicken and die because of the Olympics."
The response from the IOC, Tokyo organisers and others to the first article citing the "it's all but over" mood of the senior political source was instant: not so, we're ploughing ahead. fully intend to host the Games and make it work. At the same time, organisers are also insisting that "we can go ahead without vaccines" and "we can't have the Games without spectators".
Put all such views in a pot and the cocktail does not add up to anything remotely appetising. Tough choices ahead.
Cate Campbell cites confidence as the only game in town under the circumstances caused by a coronavirus pandemic that has a stranglehold on the world yet. The sprinter notes:"Right back from when they picked a new date for the Games they were preparing for a worst case scenario in case there was no vaccine. I do trust what they are telling us. I trust Ian Chesterman implicitly and with John Coates [IOC board member] sitting so high in the IOC if anything were to change Australia would be one of the first to hear about it.
"Australia withdrew from the 2020 Olympics two days before they were cancelled because John knew what was happening. The AOC is doing its best to put out the spot-fires which are appearing in media reports. It's great they are sending out correspondence to all. They are being proactive. They are not letting the rumour mill get out of hand.''
Meanwhile, Australia's Olympic athletes have been warned that their family and closest friends are likely to be among the first casualties if the Tokyo Olympics goes ahead later this year.
The bigger issue is whether anyone can go.
Tokyo 2020 – "No Reason Whatsoever" To Believe Games Won't Go Ahead – Really?
"We have at this moment, no reason whatsoever to believe that the Olympic Games in Tokyo will not open on the 23rd of July in the Olympic stadium in Tokyo This is why there is no Plan B and this is why we are fully committed to make these Games safe and successful."

International Olympic Committee president Thomas Bach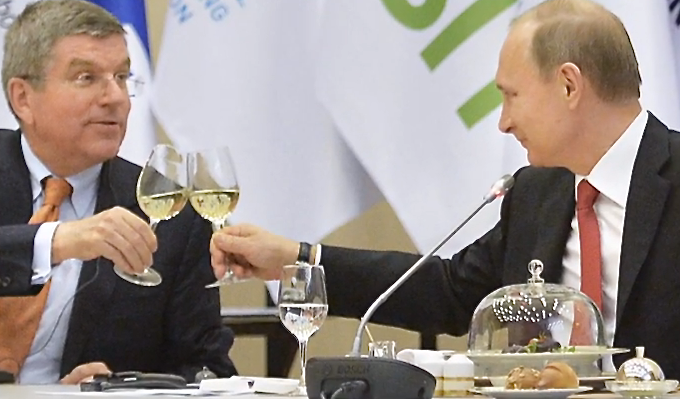 That line from Bach is as expected as cherry blossom in its season in Japan. However, set against events on the eve of the Australian Open tennis tournament, the spread of news strains of COVID-19, vaccine rollouts that are very far from being even around the world and northern-hemisphere autumn is being cited as the earliest the world might expect any general return to normal life, "no reason whatsoever" may sound extreme even to the most positive an confident of observers.
Snap for this from Coates: "There's no substance to what's been said. That's the message. They are preparing with everything as normal, Including worst case scenarios and counter measures to deliver the Games. It's been noted that a lot of these reports have been coming from overseas. None of them are coming from Japan."
It takes the action time of a Cate Campbell off a starting block to work out what looks wrong with Coates' confident message: the "message" is less useful than the truth; the "worst case scenario" would almost certainly see the Games cancelled (think about it for just a second); the notion that the reports are not from Japan but overseas is complete nonsense, Lloyd Parry being the Asia Editor and a senior writer working out of and filing from … Tokyo.
The International Swimming League proved last year that you can have about 500 people, including more than 300 swimmers, in a bubble for six weeks with minimum problems and going about their jobs as elite athletes. The Olympic Games is a scale apart.
Lloyd Parry cites Sebastian Coe, Lord Coe, has of World Athletics, who says he would prefer to see the Games go ahead behind closed doors than not at all. Talking to the BBC, Lord Coe states: "I would love to have fans, noisy and passionate.But if the only way we're able to deliver it is behind closed doors, everybody is accepting of that."
Coe also told The Times that the success of vaccination programs would be key to Japan's decision on the Games, which hangs in the balance for unpalatable but understandable reasons:
"I would still say that the objective remains to stage the Games. But maybe sport has to provide reassurance and say that we will be rigorous in adhering to Covid protocols; that we are not cavalier about this."