Canadians & Brits @Tokyo2020: Maple Squad Secure Silver Lining To Aussie World Record By Toppling U.S. Quartet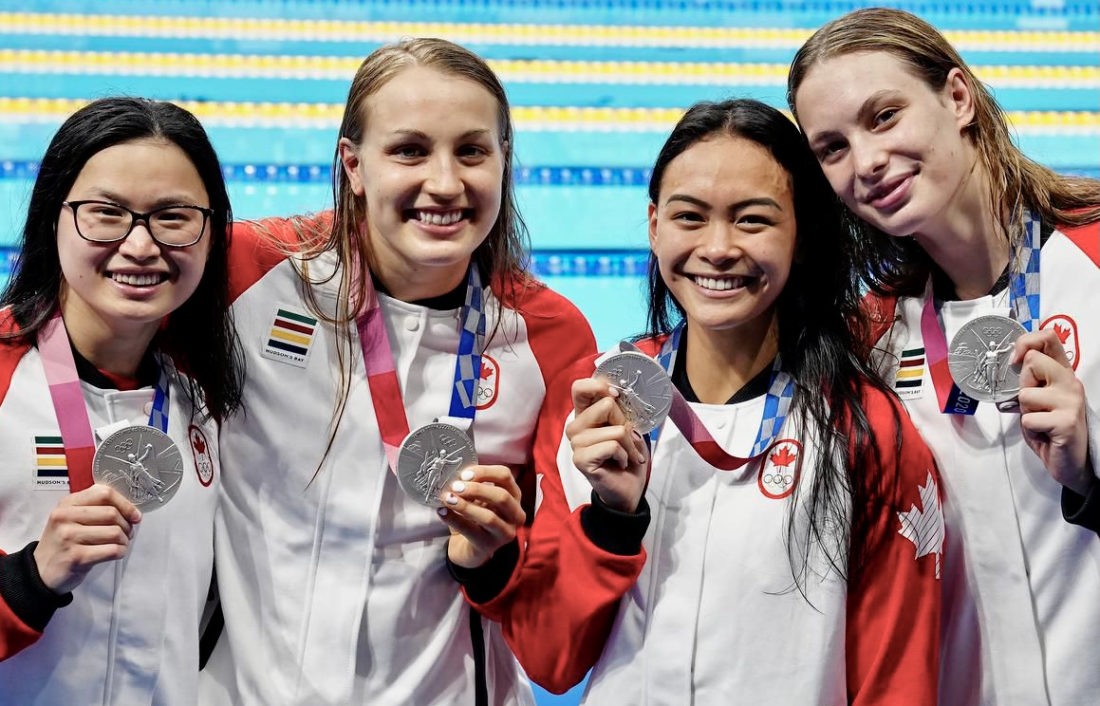 Tokyo, Japan – Penny Oleksiak decided what she wanted for her teammates then went out and got it. Oleksiak outbattled American Simone Manuel down the stretch to win silver in the women's 4×100-metre freestyle relay and give Canada its first medal of the Tokyo Olympic Games Sunday morning (Saturday evening in Canada) at the Tokyo Aquatics Centre.
Canada was fourth when Oleksiak (HPC-Ontario/Toronto, ON) entered the water but she swam a blazing 52.26 seconds as Canada finished second in three minutes, 32.78 seconds.
"I knew I wasn't going to touch third," said Oleksiak, 21, who now has five medals in just two Olympics, leaving her tied for the most for a Canadian as Summer Games.
"When I make a decision in a race, I have to execute it. I wanted a silver medal for these girls and wouldn't accept anything else."
Australia won gold in a world record time of 3:29.69 while the U.S. took bronze in 3:32.81.
Olympic rookie Maggie Mac Neil (HPC-Ontario/London, ON) did double duty on the first day swimming medals were awarded at the Games, which were delayed a year due to COVID-19. She swam the second leg of the relay in 53.47 seconds and also put herself in position for a podium by qualifying for the final of the 100-m butterfly.
Kayla Sanchez (HPC-Ontario/Scarborough, Ont) and Rebecca Smith (HPC-Ontario/Red Deer, AB) both won medals in their first events in their first Olympics. Taylor Ruck (HPC-Ontario/Kelowna, BC) was part of the team that finished third in the preliminaries in a time of 3:33.72.
Sanchez swam two personal best times leading off the team. She was clocked in 53.45 in the preliminaries then lowered that to 53.42 in the final.
"It's a lot of pressure," Sanchez said about swimming leadoff. "I could choose to let it affect me or I can choose to step up and do what I needed to do for these girls. It's a really emotional moment. I can't believe it. I'm super happy for everyone." Smith swam 53.63 in the final.
Ruck and Oleksiak were part of the 4×100-m relay team that finished third at the 2016 Rio Olympics. Smith had a front-row seat to watch Oleksiak battle Manuel.
"I was screaming so loud," she said. "She finished so great. I'm just so proud to be part of this team. It's day one. We have so much more to give."
Ben Titley, who coaches the relay swimmers at the Ontario centre, said winning a medal on the opening night of the Tokyo Games comes in much different circumstances than Rio. The swimmers have seen their training disrupted and personal lives impacted while dealing with COVID.
"Getting that result wasn't easy," Titley said. "That was hard. I knew what went into it. For them staying in the moment each day and working together as a group . . . that's something special. Building something with your friends and doing it when the pressure is on and the lights are the brightest, that's the things that differentiate champions."
John Atkinson, Swimming Canada's high performance director and national coach, said the medal was a product of support from Own the Podium, Sport Canada and the Canadian Olympic Committee.
"This meet is nine days," said Atkinson. "We've got seven more final sessions to go. Everybody (has) to keep doing the right things, focus on what they need to do to be ready to swim as fast on day nine as you were on day one."
Earlier Mac Neil swam 56.56 seconds to finish third in her heat in the butterfly semifinal. The reigning world champion heads into Monday morning's final (Sunday evening in Canada) with the sixth fastest time.
Mac Neil managed to keep enough in the tank to help put the relay team on the podium.
"I know from experience my second swim is usually better because I kind of been warned up," she said. "I was really looking forward just having these girls with me and it definitely gave me the extra boost of energy."
Katerine Savard (Club Aquatique Montreal/Pont-Rouge, QC), also advanced to the butterfly semifinal. She swam 58.10 seconds to finish eighth and placed 16th overall.
Savard had reached the semifinal by swimming 57.51, her fastest time since 2015, in the quarter-final heats.
"I don't know yet what mistakes I made," said Savard. "I didn't expect to get into the semifinal so I wanted to enjoy the moment as much as possible, but I would have liked to do a bit better."
Savard's next even tis the 4×200-m freestyle relay.
In other results, Tessa Cieplucha (Markham Aquatic Club/Georgetown, ON) finished 14th in the 400-m individual medley in 4:44.54 while Gabe Mastromatteo (Kenora Swimming Sharks/Kenora, ON) placed 38th in the 100-m breaststroke in 1:01.56.
Oleksiak won four medals in Rio, including tying Manuel for the gold medal in the 100-m freestyle. She admitted to being fired up to face her rival again.
"There was a lot of swearing before the race from me, yelling at the girls, on the (starting) block, yelling at myself," she said.
"You saw us both on the ropes the last 25 metres."
Sanchez said besides the swimmers, the entire Canadian Olympic team can feed off the energy of the first medal.
"The girls in Rio set the culture," she said. "It gets everyone on a high for the rest of the meet. Hopefully it gets everyone in the right mindset."
Oleksiak's five medals leaves her tied with Phil Edwards, who won five bronze in running over three Games beginning in 1928 and rower Lesley Thompson-Willie, who won a gold, three silver and a bronze in five Games started in 1984.
Brits Brace Themselves For Peaty Tilt At History As Max Litchfield Feels The Frustration Of Fourth For A Second Time In An Extended Olympic Cycle
British fans were preparing to sit up through the night as we in Japan prepare to sleep in readiness for the same show: Adam Peaty and whoever can get close, match him or pass him. It looks like a tall order after the 26-year-old ace all but matched his heats time in semis, with a difference (see semis report at the foot of coverage of the Aussie women's relay world record and day 1 finals gold). James Wilby also went through to the 100m breaststroke showdown. Game on, with Dutchman Arno Kamminga the one in the field saying its going to be close. Not long to wait now.
All of the other TeamGB swimmers were in finals on the first morning off action in Tokyo, the women's 4x100m freestyle relay breaking the British record for a second time in less than 24 hours.
A lifetime best for Anna Hopkin got the ball rolling, Abbie Wood was in next, followed by Lucy Hope, who handed over to Freya Anderson for combined 3:33.96 nationals standard in a race that featured a 3:39 World record from Australia, with Canadas toppling the USA for silver. Next home was the quartet from The Netherlands, Britain fifth in a faster time than that in which they claimed the European title ahead of The Netherlands in May.
On the result, Wood said: "To come away with the best time as a relay team, we couldn't have done much more. It's a good start to the meet and it's very exciting to see what is to come. With this being only the third or fourth time we've raced together as this four, it'll be interesting to see how far we can go if we get more experience.
"Being together, it's all of our first Olympics, so I feel like we all stepped up for our first Olympic final and I think we did ourselves proud by coming away with a British record.
"I feel we now have a taste, we know what we're dealing with in the finals, especially after seeing all the other finals. Just seeing there was a winner from lane eight, it really is the case that if you've got a lane, you've got a chance. The morning finals just make it so much more unpredictable and interesting."
Hope added: "That was pretty special. It's so good to be able to race with these three girls, there's so much talent in one team. This is just the start for the relay. We didn't even know we were going to be doing it until after Europeans, so in the next three years, we can progress so much."
Frustrating Fourth – Not Once But Twice In An Extended Olympic Cycle
Max Litchfield came agonisingly close to opening Team GB's medal count in the first final at the Tokyo Aquatics Centre when he finished a snap for fourth with Hungarian David Verraszto just 0.21sec shy of the podium in a tight finish in the 400m medley.
With less than a second separating all eight qualifiers after the heats, Litchfield, coached by David Hemmings at the Loughborough National Centre, knew it would be tight in the hunt for better than his fourth place at Rio 2016. The margin back then was almost 2 seconds. Today, it was two tenths. The closer it gets the deeper the frustration top some extent. Litchfield, 26 and on a season best in heats among a majority off others who clocked faster evening heats times that morning finals efforts, said: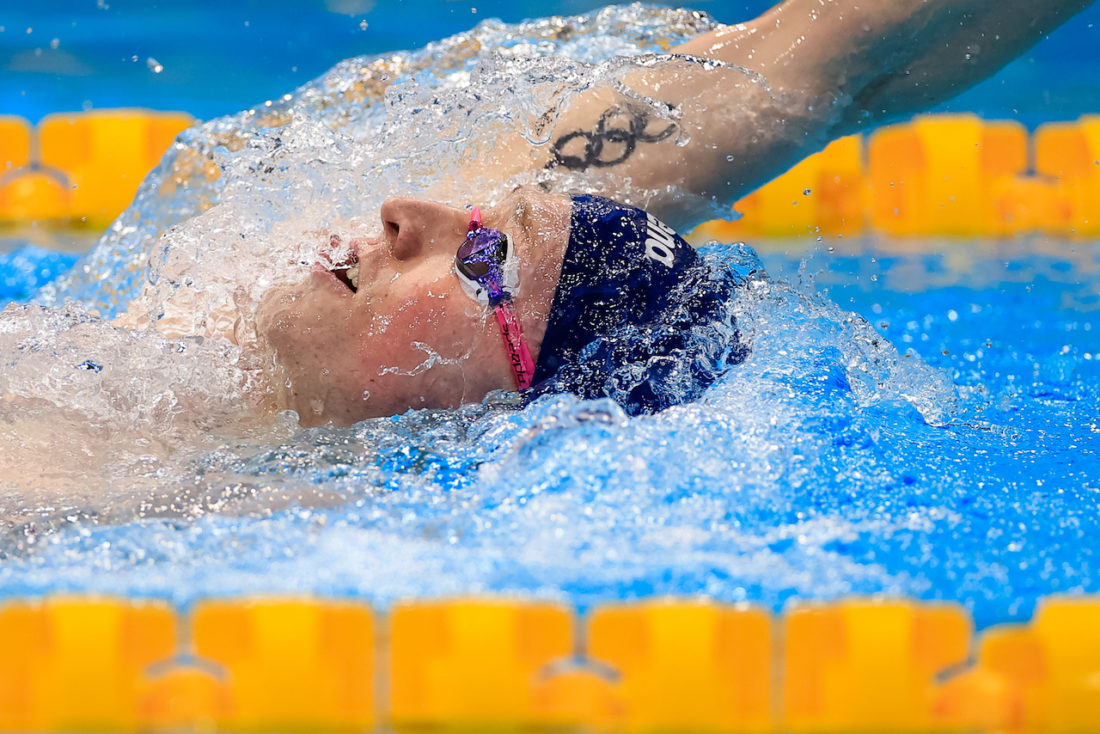 "It's tough, so close yet so far. It is what it is and we'll go back and look at what we can do better. I don't think there was too much wrong with it, just small things. We'll see with the relays – I've got to go back now and focus as if I am doing that."
Asked if this result would drive him on further, an emotional Max added: "That was the same case in Rio, it's even more the case this time. I've done everything I can these last five years, it just wasn't quite enough."
Litchfield's second half of the medley event is his stronger section, and a well-paced 100m of breaststroke then allowed him to stage a real assault on the podium down the final freestyle length. He was in the mix right to the touch, with Australia's Brendon Smith just nudging him out at the death.
In the women's 400m Individual Medley, Aimee Willmott headed second fastest into the final after a strong heats swim, eventually touching seventh at the end of a hard-fought race.
Three-time Olympian Willmott stayed in touch with her medal-chasing rivals after 300m, but she was unable to claw back the gap over the final freestyle lengths, replicating her result from Rio.
"It wasn't quite the time I wanted and it was difficult to back up last night's performance from the heats – but to come to a Games I didn't think I'd even be at, I'm just really thankful," she said in another post-race interview full of feeling.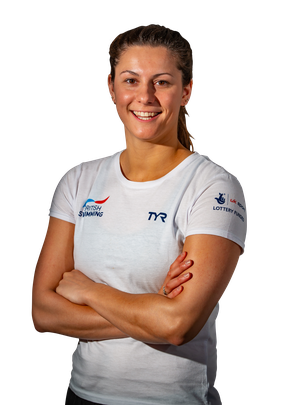 "These aren't sad tears, I'm just overcome with emotion. I just wanted to get out there and enjoy myself. It was so much fun, the race was as hard as I knew it was going to be. I guess the time was slightly off, but at this level, after everything that has gone on in the world, you would never have thought that time would win Olympic gold. It's just one of those things that we've all had to deal with and get on with. I'm really fortunate to be able to come and do three Olympics. I finished seventh last time and I've finished seventh again, so I can't really grumble too much. The big thing for me is I did make it back."

Aimee Willmott, by Georgie Kerr, courtesy of British Swimming
In evening heats, Tom Dean and Duncan Scott in the 200m freestyle, Sarah Vasey in the 100m breaststroke and Kathleen Dawson in the 100m backstroke all cruised through to semis, while the men's 4x100m freestyle quartet fell one place shy of the final in 9th on 3:13.17. A team with a mixture of experience and youth, with two teenagers in the heats today, the Britain 4×100 is worth investing in.
Matt Richards went in first from a standing start and clocked a fine 48.23, James Guy next in on 48.03, before Joe Litchfield, 49.41, handed over to 16-year-old Jacob Whittle: 47.50. More to come from the individuals and the relay.