Calendar Chaos & Reforms Gasping For Air As Italy Rules In Rome Overlay On Munich 2022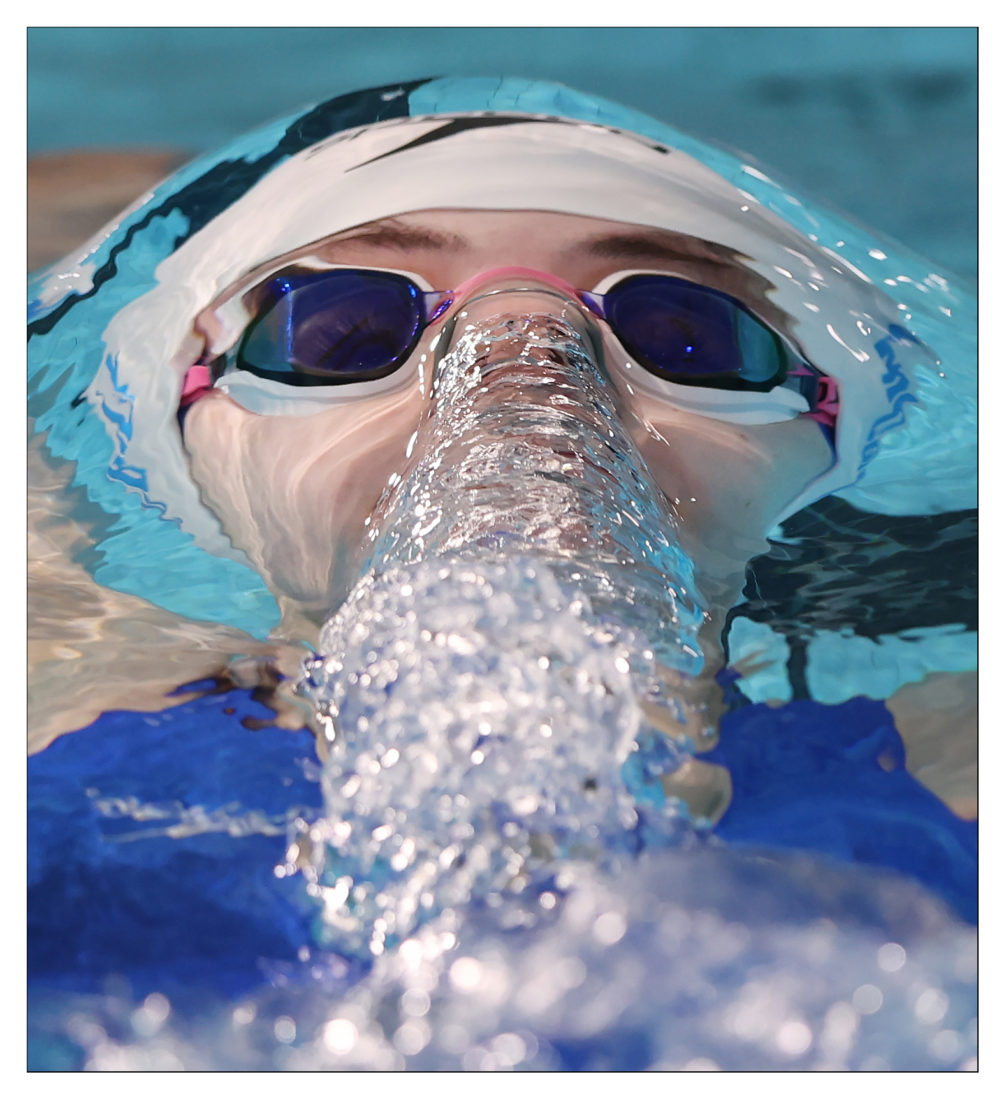 Editorial. Italy would have topped the medals table ahead of Britain and Germany, 38 to 34 and 32 gold medals respectively, on the basis of the Rome 2022 medals table had aquatics been included in the Munich multi-sports European Championships – on paper, at least.
Things rarely work like that, of course: the hosts of both events, Germany and Italy, topped the medals table at home and the dynamics of an event change with location and specific 'market'-home-audience drive.
In Rome, the Italians Germany, by two golds over Britain, topped the medals table at the European Championships, the multi-sport events that aquatics bypassed in favour of sticking with its own aquatics show in Rome over the past two weeks.
Italy claimed more than half the number of golds and medals won in swimming and then overall by any other single nations. In swimming, that added up to 13 gold, 13 silver and 9 bronze, for 35 podiums overall, Hungary and Britain closest with 5 gold and 15 medals and 4 gold and 15 medals respectively.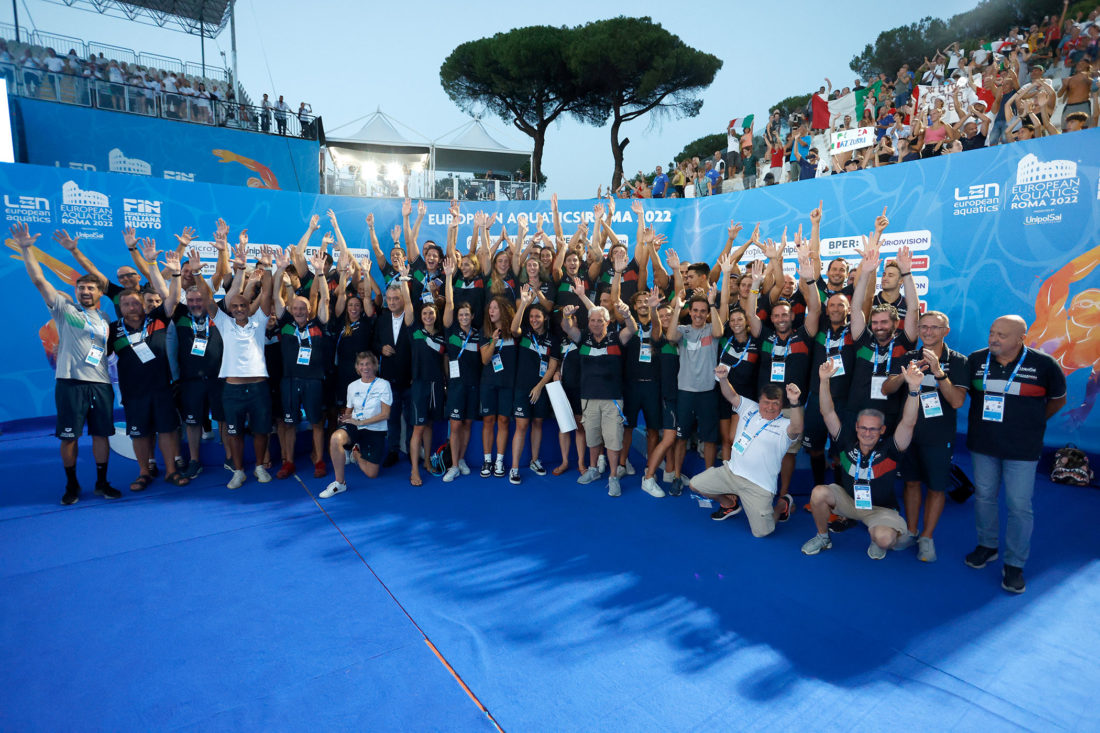 Add in the other disciplines and Italy, with 24 gold atop 67 medals looks over its shoulder at Britain as nearest nation, despite a swimming force much weakened by the absence of several of its Olympic champions. With 10 gold atop 27 medals, Britain looks to Ukraine as its nearest challenger, with 10 gold and 17 medals, most of its success in synchronised swimming (8 gold) and diving (1 gold, 7 medals).
Swimming opted to bypass the multi-sports festival in Munich in favour of running its own event. Some key points:
The Rome organisers did a fine job, a point picked up at Nuoto.com: the venues, the facilities at the Foro Italico's Studio del Nuoto and associated provisions (catering, toilets, ease of access, etc) for fans, families, media and others contributed to an excellent showcase for aquatic sports.
With my media hat on, by and large, Rome knows sport – and loves it: great crowds (yes, they cheered loudest for their own but knew a Popovici, a Milak, a Sjostrom and a Meilutyte when they saw one, for example) … hold sport in such places and sport becomes the fabulous festival and competitive arena we know it can be.
We don't know the details of various contracts, domestic and continental, broadcast and partnership/sponsorship, share of broadcast rights, and so forth, in Rome and then in Munich and therefore it is impossible to comment positively or negatively on LEN's decision, under Paolo Barelli as president at the time, to go to Rome not Munich.
Both Rome (commenting on personal experience and the views of media colleagues, athletes, coaches, sponsors and others) and Munich (based on media reports of colleagues and others in Munich) were well organised.
Munich had the edge, of course, in terms of the wider culture experience associated with a multi-sports events: economies of scale and deep interest of the host city to maximise revenue through visitor traffic, not just through the pure sport but associated street entertainment, street food, the cultural-festival side of the coin.
Will LEN rejoin (it was part of the championships for Glasgow 2018) the multi-sports event in 2026, the multi-event held every four years in between Olympic Games? Time and contracts will tell, while LEN also stages a showcase long-course championships in late spring of Olympic year.
Rome, Munich Or Anywhere Else: Swimming Is All At Sea When It Comes To Structure, Season, Format & Wider Appeal
Whatever European aquatics leaders decide, they would be wise to stop, take a breath and consider carefully the chaos and catastrophe that is the current schedule and competition map of the sport.
In the space of seven weeks: Worlds, Commonwealths, Europeans, as well as European juniors, and hot on the tail of all that, here come the Pan Pac Juniors all but overlapping with World juniors. Add in three World Cups on the way to a World short-course Championships and what do you have? Saturation.
"More opportunities for athletes…", is the selling point. Caveat emptor: saturation and loss of opportunity, dilution of the duels and showdowns that might and should have been, a watering down just in those places on the calendar where concentration of all energies and selling points is most needed if swimming wants to be taken seriously by the audiences it has yet to reach.
Somewhere in the mix there is a sense that it will not have had nothing to do with further attempts to block the ISL out of existence. Consequence follows.
Swimming's ability not only to grow but to keep pace with new sports and growing trends in sport is being seriously compromised.
Too many events, overkill and the further blurring of any lines left that tell the wider audience what a swimming season looks like, what they might expect and when they might expect it are factors that contribute to swimming (let alone the other aquatic disciplines) finding itself having to tread water instead of catching the wave to the next level.
That hurts athletes, coaches, the growth of their sport in general.
Time for the process that took place on transgender behind closed doors (wise and understandable given the prevailing tone of some of the debate) until a policy designed to make sure inclusion was not at the expense of women's sport could be revealed, is now required. The think tank must, as was true in some key fields in the case of the transgender issue, include experts from specific and relevant fields and roles within aquatic sport – and the whole process needs to be as open and transparent as possible from inception and selection of experts through to delivery of recommendations and the decisions taken in their wake.
The Duel in the Pool, latest version, AUS Vs USA, has just ended, an American team topping an Australian team, neither squads at anywhere near full force, most of the action and point scoring to be found in off-beat relays, broken swims, a mystery medley and other fun things capable of entertaining the fan but unlikely to grow a sport lost when it comes to what to do next in the competitive market of sporting vogue and the power of popularity.
The International Swimming League led by Ukraine's Konstantin Grigorishin had its challenges, it was targeted by a Putin-friendly FINA for destruction pre-pandemic and legal action is still an open book. The ISL had some great ideas and a sound general concept for helping the sport to grow into a new professional era a stroke or several removed from the constant control of federations that have had decades to press the evolution button but have stuck rigidly to version one +, the + a bolt-on diet of dashes and moves that extended the freestyle spectrum to six Olympic events and, as we've just been reminded at Rome2022, a mixed relay for every men's and women's relay: 4×100, 4×200 free, 4×100 medley.
The ISL also got some fundamental things wrong and appeared, for whatever reason, to have stopped listening to the sound advice of its stakeholders. Recovery will take time, especially in the prevailing circumstances of global politics and the energy market.
Swimming is a sport awash with the deep asterisk of clarifications, the thread of history all but severed in irreparable ways. Michael Phelps' eight Olympic golds? How to get past the impossible? Well, if we make the Olympic program 14 days long and add another 6 events, with a couple of rest days in between, wait for a David Popovici, a Leon Marchand, a Kristof Milak to come along … job done within our lifetime. Caveat emptor: as it was with the 43 shiny records of Rome 2009, trust will be lost and the wider world will tune out in big numbers, farce not really what they're after when they want to be entertained by sport fit to tune into season after season, generations come and go.
No disrespect to any of those phenomenal athletes but … it wouldn't be the same; it would not be comparable. Historic medal counts, formats, seasons, the timing of events, the location of events: almost nothing can be said to be constant in the sport of swimming, a realm in which money and contracts hold sway yet over the best interests of athletes and athlete welfare – and where leaders find it a mission impossible to tell a host like Doha 'sorry but we cannot hold a World Championships 6 weeks out from Olympic trials in Olympic year for the first time in history'.
If Doha does not understand why, if FINA does not understand why and neither act accordingly, then neither are fit for business, the core of which is…. ? Athletes, first and foremost; every time. Core business.
Adding insult to injury, an Olympic relay selection process has been turned into a coercive exercise in which leaders realising that what they have decided has been rejected by almost all of its key stakeholders (the United States and Australia both key beneficiaries but all too silent) see fit to force teams to travel to Doha in February 2024 to ensure they have relays at Paris 2024. And that includes the hosts, France.
In the mix is a climate-change moment for swimming. The parachuting of a World championships into February of Olympic year threatens the swimming economy way down the food chain of the sport – and that at a time when the Covid pandemic has brought many swim programs to their knees, caused pools to close and stay closed.
Consider what it means for all those warm-up winter meets in Europe and elsewhere to have the stars who lend a commercial edge to their events no longer able to attend. How does the decline and eventual death of such events help swimming?
Wrong on every level.
The Creep Of Compromise
If it all goes ahead as planned in Doha (not to mention Kazan 2025), the outcome is obvious. Every event will be compromised; many of the best in the world will stay away. The World Cup series is a case in point: it limps on yet, even though the event is dead on its feet: not a single event attracts the best of the best in any race, let alone across the board; not a single event attracts any substantial media coverage, live streaming services watched by fans in global numbers smaller than the count of locals at a village fare on a summer's day in Cornwall.
The World short-course Championships will unfold in Melbourne at the end of this year. We are now two decades past a decision by a couple of leading international news agencies to drop short-course swimming from their coverage of the sport. Why? Because it was all far too much for far too little gain.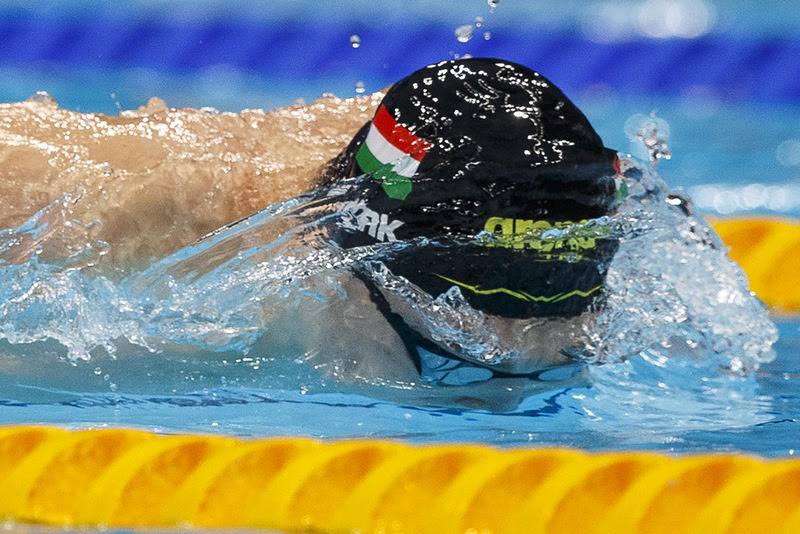 Hungary has already announced that it will send just one swimmer to Melbourne, and it won't be Milak, who intends to tailor his competitive pathway to Paris according to his Olympic ambitions. He won't be alone.
In Budapest at World titles in June, new FINA director Brent Nowicki, reasonably, said that not much change to the calendar could be made before Paris 2024. After that, there would be an overhaul.
That cannot come soon enough for a sport sinking in the malaise and the self-serving governance that domestic federations have tolerated and even encouraged for decades within a grace-and-favour system of universal governance far too long out of equilibrium with its stakeholders on many levels. One end of the plank has been steeped in politics, the other end forbidden from even contemplating wearing a t-shirt asking "Why are you courting Putin the politician and honouring the Qatari regime if politics is banned?"
A FINA reform process is underway. Some fine moves have been made but the flippers promising to propel swimming to a brighter future are yet made of clay.
At the end of a busy northern summer 2022, FINA leaders, if genuinely wedded to reform, should remind themselves of the words of the late Francois Carrard, the Swiss lawyer long steeped in the Olympic Movement and all its victories and vanities, when he stated in the recommendations of the FINA Reform Committee he chaired:
"[FINA] shall not leave a single stone unturned in the way in which it looks to the future. After all, reform is not a single event. It is a process that will test out patience."

Francois Carrard – chair of the FINA Reform Committee
Perhaps they already have done or intend to do so but if leaders and the reform committee have not set a date for urgent review of what's unfolded (and not) so far, what pledges are already being broken, they should get to it and set a date.
High on the agenda:
Tell Kazan 2025 that circumstances (Russia is using Orwellian style loudspeakers in every city and town across its nation to recruit more young men as cannon fodder for its illegal war on Ukraine, having wasted the lives of 80,000 largely young Russians in a gross act of criminality and folly) mean that no sports events will be able to return to Russia for the foreseeable future.
Doha: move it to 2025 and if Doha says it cannot and fails to understand why, then Doha must be told that it is not a suitable host for aquatic athletes. It's as simple as that. As the death of Fran Crippen off the coast of the UAE in 2010 showed in catastrophic fashion, no amount of money is worth the life of an athlete. That thought extends to health and welfare.
Communication: FINA leaders need to remind all Bureau members who are also the heads of regional federations that they and their PR people have signed up to a reform policy of clear communication with media and an end to "no-communication communication" when the questions may be tricky.
It was 2021 when Antonio Silva, the Portuguese head of LEN who had questions to answer at the heart of investigative processes before coming to power because those who voted him in believed his predecessor, Paolo Barelli, had questions to answer at the heart of investigative processes, received a series of questions entirely pertinent to some of the biggest reform themes. The questions, sent to Nick Davies, now the head of communications at LEN nine years after controversy at the IAAF and five years after an unedifying departure from the federation now called World Athletics, are not based on speculation but official documents that raise serious issues. Transparency is a reform commitment yet to be honoured where it really matters.
Ignoring such questions has nothing to do with reform and good governance. It's old-style, autocratic rule tolerated by a group of chums who prefer not to answer nor even ask questions, who accept a form of omertá and work within a culture of going along to get along. It is the culture that led to Putin being honoured in 2014 when, quite clearly, that should never have happened.
FINA has yet to make clear what it means by reform. Here's the SOS trawl on that theme at the time recommendations were approved:
Every decision FINA makes should be taken with the athlete and the long-term planning of coaches and federations in mind and with respect for the biggest contributors to subsidy of Olympic sport – the Bank of Mum and Dad. There are also partners, sponsors, media, fans and others in the mix.
Will any of them invest in going to Doha in February 2024? In large part: No! It will be Olympic year and, guess what? Budgets will be spent for and in Paris.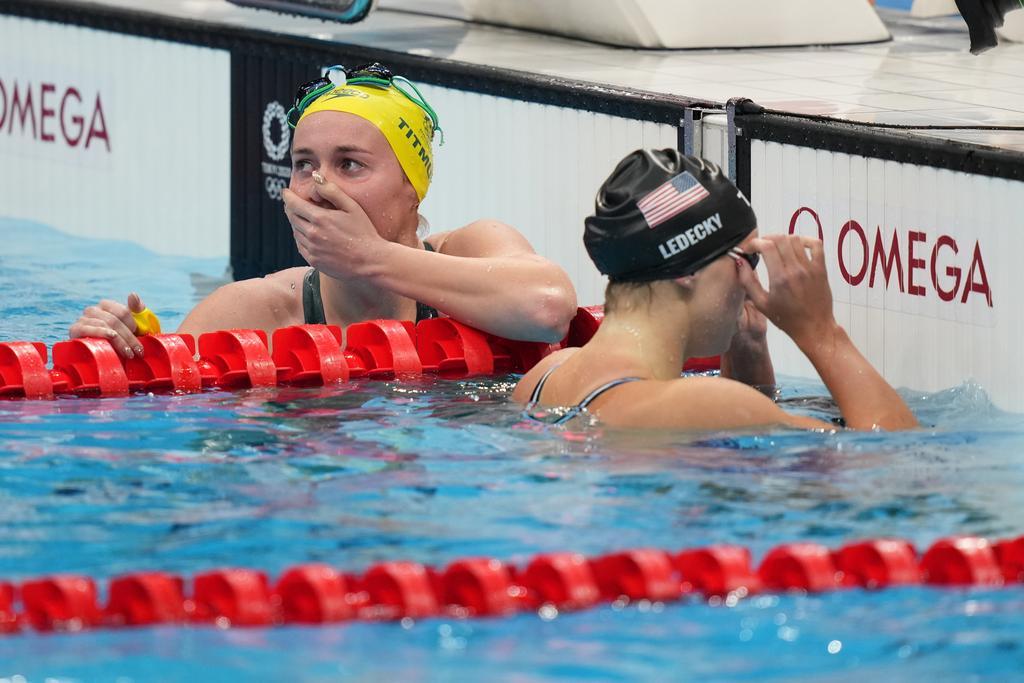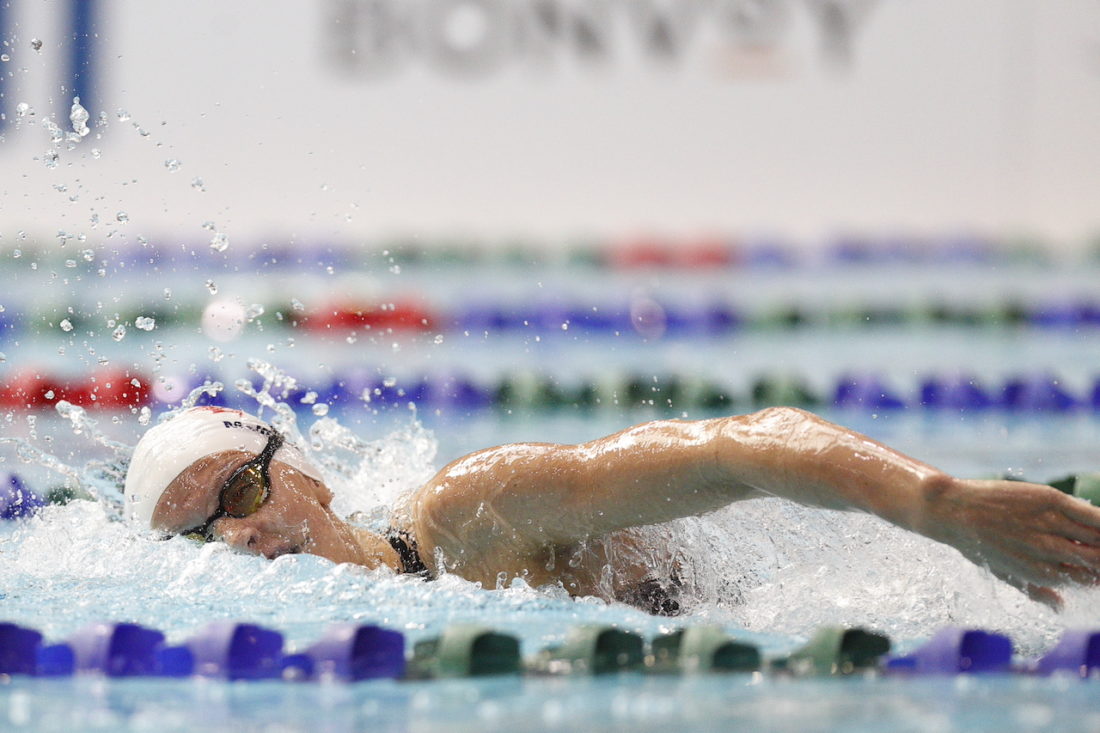 FINA makes its show a side show at its peril. No-one is suggesting any of this is easy. That's leadership for you – and the best leadership steps up when the going gets tough and the challenge is as steely as Popovici Vs Dressel; Titmus Vs Ledecky Vs McIntosh and other "Races of the Century" in the making (perhaps even Popovici Vs Milak Vs Marchand in a 200 free one day).
Time for FINA leaders to learn from the showstoppers and stop at nothing to do their best for the best interests of athletes and aquatic sports. The red line is easy to see: any host or potential host, regardless of wealth and clout, who cannot write athlete interest into any contract as the overriding clause and commitment is not fit to host athletes.
Meanwhile, the Rome On Munich Overlay:
Munich Overlaid With Rome – The Top 7 Nations On Combined Medals Table
| | | | | | | |
| --- | --- | --- | --- | --- | --- | --- |
| 1 | | Italy | 38 | 42 | 38 | 118 |
| 2 | | Great Britain | 34 | 27 | 26 | 87 |
| 3 | | Germany | 32 | 22 | 21 | 75 |
| 4 | | Hungary | 16 | 15 | 8 | 39 |
| 5 | | Ukraine | 15 | 14 | 10 | 39 |
| 6 | | France | 14 | 25 | 32 | 71 |
| 7 | | Netherlands | 14 | 8 | 18 | 40 |
Rome 2022 Medals Table – Aquatics
All Sports: Swimming, Open Water, Diving, High Diving; Synchro
| | | | | | | |
| --- | --- | --- | --- | --- | --- | --- |
| 1 | | Italy | 24 | 24 | 19 | 67 |
| 2 | | Great Britain | 10 | 8 | 9 | 27 |
| 3 | | Ukraine | 10 | 6 | 1 | 17 |
| 4 | | Germany | 6 | 2 | 7 | 15 |
| 5 | | Hungary | 5 | 8 | 3 | 16 |
| 6 | | Netherlands | 5 | 1 | 6 | 12 |
| 7 | | Sweden | 4 | 2 | 2 | 8 |
| 8 | | France | 3 | 8 | 10 | 21 |
| 9 | | Romania | 3 | 1 | | 4 |
| 10 | | Switzerland | 1 | 4 | | 5 |
Munich Medals Table – Top 10
All sports: Athletics; Beach Volleyball; Canoe Sprint; Cycling BMX Freestyle; Cycling Mountain; Cycling Road; Cycling Track; Artistic Gymnastics; Rowing; Sport Climbing; Table Tennis; Triathlon
| Rank | Nation | G | S | B | Total |
| --- | --- | --- | --- | --- | --- |
| 1 | Germany | 26 | 20 | 14 | 60 |
| 2 | Great Britain | 24 | 19 | 17 | 60 |
| 3 | Italy | 14 | 18 | 19 | 51 |
| 4 | France | 11 | 17 | 22 | 50 |
| 5 | Hungary | 11 | 7 | 5 | 23 |
| 6 | Spain | 9 | 11 | 12 | 32 |
| 7 | Netherlands | 9 | 7 | 12 | 28 |
| 8 | Poland | 8 | 16 | 15 | 39 |
| 9 | Romania | 8 | 2 | 5 | 15 |
| 10 | Greece | 6 | 4 | 0 | 10 |