Caeleb Dressel To Don A Shiny Suit To See If He Can Convert 20.16 To Short-Course Sub-20Sec Blast As Half-Man, Half-Boat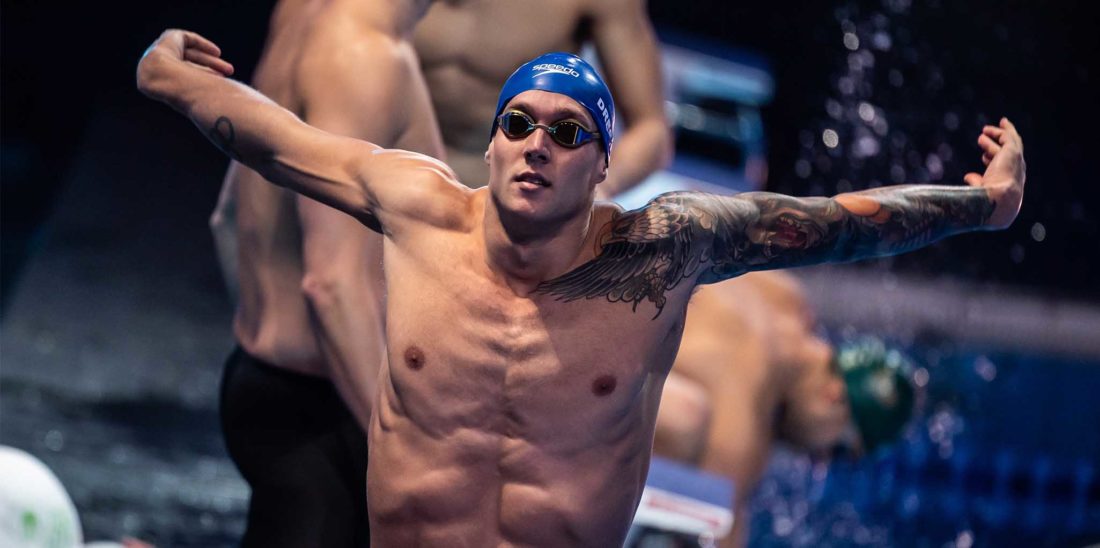 Not often you get a swim suit maker referring to its "fastest-ever" suit as "infamous" but then it's not every day that Caeleb Dressel dons a shiny suit to see if he can find the alchemy of converting to sub-20sec speed the World short-course 50m free record of 20.16sec he set at the final of the 2020 International Swimming League last weekend.
Spoiler: no matter what time Caeleb Dressel clocks in a race to be video-ed for posting on public platforms on December 10, it will not count as a record, neither World, nor American nor any other record. In keeping with descriptions from other eras down the years, the time might be described as a 'world best' or fastest-ever but only then with the rider "in shiny suit".
Dressel says of the impending speed test:
"I'm looking forward to racing in this historic suit and really excited that Speedo has put this event together. I'm not sure what to expect time wise but I am confident I can put together a well-executed race and we'll see what happens. I was too young to experience the hype of the LZR Racer, but I feel I am part of it now …

Caeleb Dressel 2020
It was June 2009 before Britta Steffen, the 2008 double Olympic sprint freestyle champion for Germany in the WaterCube at the Beijing Games, got to wear a 100% non-textile suit in peak-form racing.
The suit was the adidas Hydrofoil and it helped to skim her to a world record of 52.85sec over 100m freestyle in heats at German nationals in Berlin. The standard had stood at 52.88 to Libby Trickett (AUS) since 2008, while Steffen's European record had stood at 53.05 (the second-best ever after Trickett's five sub-53 efforts) since July 2008 in a season that was all about the 50% polyurethane-panelled Speedo LZR Racer and who had one and what advantage it delivered.
Before Steffen took a further axe to the World mark a day later, on June 27, with the 52.56sec that booked her ticket to Rome 2009 World titles and the shiny suits circus that would ensue, she said:
"I'm feeling in good shape but this suit is of a different world. This is a really weird piece of equipment, one that I've never worn before. You don't die in the last metres and you feel no pain. Under normal circumstances, this suit should be forbidden, and I expect that by 2010 it will be. I felt like a speedboat in water and never in my life would I have believed that a human could glide like that."

Britta Steffen, June 2009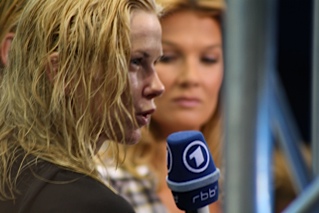 How right she was. Banned it would be, along with all other shiny suits that used non-textile materials to enhance speed in water in a way not unlike the hull of a boat works for a boat. New rules came into force with a suit-approval process. The human tends to be bendier, more flexible in nature – and subject to the laws of buoyancy and angles of buoyancy when it comes to swimming speed of man/woman in water, unassisted by materials that made a swim a surf and the swimmer a serf to all of that.
The shiny suits have been banned since 2010, courtesy of a campaign, a vote and then a stance, as FINA dithered with setting a date, in which Bob Bowman said his boy (AKA Michael Phelps) would not be appearing in FINA competition again until the shiny suits were gone.
The date was set, Phelps appeared at a FINA World Cup event in Berlin – in briefs … and he lost at every turn and in every swim among those hanging on to the falseness of shiny suit speed for as long as they could, like the drowning cling to a lifebuoy. No matter. He kept his end of the bargain and the suits have been gone ever since.
Now, Caeleb Dressel, who has yet to crack the shiny suit world-record pace of 44.94 held by Amaury Leveaux, of France, in the 100m free since December 2008, is set to see how fast he would travel over 50m in a Speedo 2008 Fastskin LZR Racer.
At 20.16 in Budapest last weekend, he is beyond the pace of anyone in a shiny suit and the gap between him and next best is substantial. What that doesn't show is how much shiny-suit progress might have been made by half-man, half-boat over the past decade.
Here's how Speedo put it: Caeleb Dressel – the fastest swimmer in the world – will wear the infamous Speedo 2008 Fastskin LZR Racer "super suit" next month as part of an exhibition event designed to see how fast a man can go in water with no restrictions."
"No restrictions"? Well, that depends how you define swimming. The restriction to swimming and the human speed of swimming was the shiny suit, which told us only how fast a man or woman can travel if assisted by materials manufactured from non-textiles that enable a very different interaction with water and change the angle of buoyancy of each individual.
It was a world in which the concept of "level playing field" was chucked into a track can well beyond the borders of those things that have long ensured that "level" is always relative (resources, diet, facilities, genes, wool suit in one lane, lycra in the next, three wave-breakers for lane lines, level-deck pool vs walls, googles/no goggles and on and on…).
A month after hydro-foiling to new-found speed in Berlin back in 2009, Steffen took Rome by storm: World 50 and 100m records of 23.73 (still the second fastest ever behind the 23.67sec of Sarah Sjostrom in 2017) and 52.07 (still 4th best ever – Sjostrom, 51.71; Cate Campbell, 52.03; Simone Manuel, 52.04 and every major title in her pantheon since lifting the Olympic crown as joint winner with Penny Oleksiak on 52.70 in 2016 … no, good as it is, it was not the ISL that invented the art and importance of racing…).
Steffen's then boyfriend and teammate Paul Biedermann took down Ian Thorpe's 200 and 400m freestyle marks in Rome that week, too, his leap from previous best to new high as follows:
200: 2008 – 1:46.00 – 2009 – 1:44.71 career best in June; 1:42.00 in Rome, inside Thorpe's 1:42.06 from 2001
400: 20087: 3:47.69 – 2009 – 3:46.67 career best in June; 3:40.07 in Rome, inside Thorpe's 3:40.08 from 2002
I was present on all those occasions – how different they were.
Speedo now notes that since Caeleb Dressel is subject to speculation among fans: can he crack 20 in a shiny suit now that it looks like he might well do that one day in his textile jammers?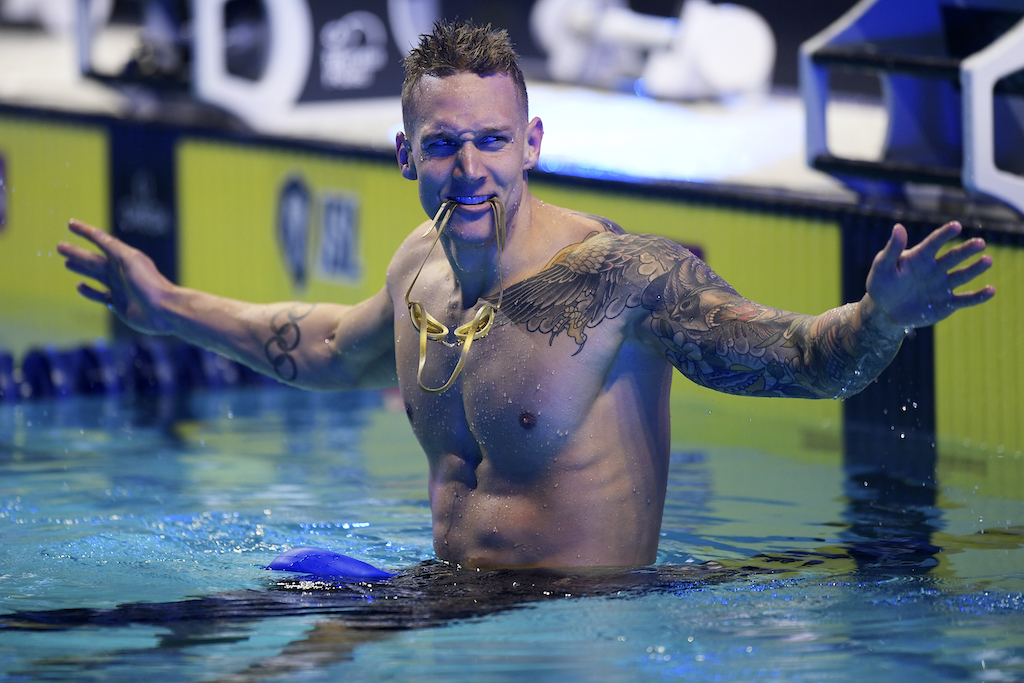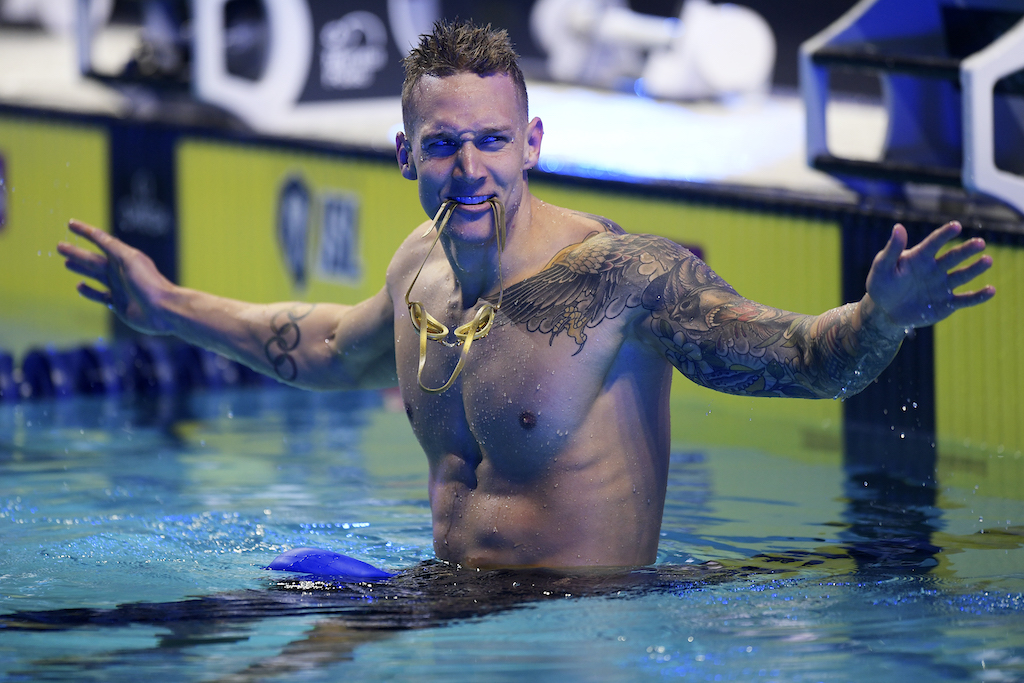 Speedo notes: Suits that were not completely made from textiles were outlawed in 2010 after 94% of swimming gold medals in the Beijing Olympic Games were won by athletes wearing the Speedo Fastskin LZR Racer, which hugged the body up to 70 times tighter than other suits."
Where Speedo does not say what happened next, we will, at least in terms of the summary of my medals table from Rome 2009, which reflected the escalation in Shiny Suit Wars 2008 to 2009…
Craig Lord – Contemporary Note, Rome 2009:
At the Rome 2009 world championships, the 13th of their kind organised by FINA, the international swimming federation, since Belgrade in 1973, most swimmers were given freedom of choice as to which suit to wear. Their choices had little to do with brand loyalty in many cases, though some swimmers prize loyalty.
The winner of Suit Wars was arena, its X-Glide having sped swimmers to 14 gold, 12 silver and 10 bronze and 13 world records. Rome 2009 was about doing whatever it takes before the sport of swimming is revived in 2010.
The Rome 2009 Suit Wars medals table and the world-record count among the suit makers:
SHINY MEDALS TABLE (no relays)
X: 14 12 10 (36)
J: 9 12 16 (37)
L: 6 2 7 (15)
H: 4 6 1 (11)
D: 1 2 1 (5)
One extra bronze, joint 3rd 200m breaststroke, men
WORLD-RECORD BONUS – solo swims only (quartets too mixed up)
KEY: X = arena X-Glide; J = Jaked01;; H = adidas Hydrofoil; L = Speedo LZR; D = Descente Aquaforce)
End of contemporary note.
Speedo is not the only suit maker to stick to its marketing message of the suit being a part of the performance edge. It points out: "Since their launch in 2019, Speedo's latest Fastskin suits – Pure Valor and Pure Intent – have been worn for 63% of all world records broken, with Dressel himself smashing the world record for the 100m individual medley at the International Swimming League earlier this month when he became the first person to break the 50-second barrier in that event."
Coach Gregg Troy, Dressel's mentor, notes some of the things the short-lived shiny suits era taught the sport in pursuit of swimming speed:
"The Speedo LZR Racer suit was not only an aid to competition but allowed athletes to expand what they thought was possible in the pool. It helped athletes know more about body position, controlling speed and the importance of a strong core. It broke through the glass ceilings over the sport. Whenever possible now, we have used opportunities to use these suits in practice sessions so that we can continue to teach the swimmers these same skills. We're all really excited to see how fast Caeleb can go in this suit and it is another opportunity for him to leave a mark on the sport."

Gregg Troy, 2020
Troy's note on the continued use of shiny suits as a training/teaching aid comes as no surprise. Back in Rome 2009, he, Bowman and Jonty Skinner, now head coach to the victorious Dressel-boosted Cali Condors in ISL Season 2, were among those who said that is precisely the use they would be putting any leftover suits to down the years.
Speedo will release footage of Dressel's attempts in a specially commissioned video which will be published across its social media channels at 9am PST/5pm GMT on December 10th.
What You'll Be Watching When Caeleb Dressel Blasts
At German national in June 2009, Steffen told former six-times Olympic champion for the GDR, Kristin Otto, now a TV presenter and poolside reporter and a swimmer who understood performance enhancement from a different angle courtesy of State Plan 14:25 and Oral Turinabol, that the suit helped her to "cut through the water like butter … I felt like I was on a wave."
And so she was.