Caeleb Dressel & The "Never Easy" Swim Yoda Guiding The Gators' Condor To Snap & Soar Success At Tokyo Olympics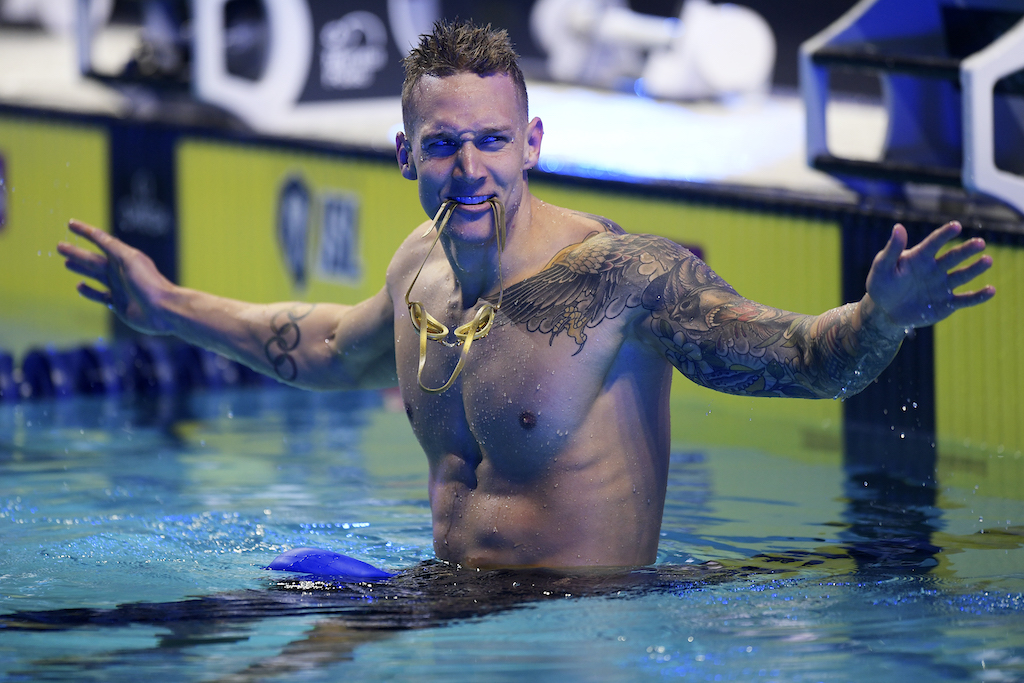 Caeleb Dressel has many a weapon in his aquatic armoury, among them a swimming Yoda whose role cannot be overstated when it comes to explaining the young American's steady but steep rise to the stratosphere of 37 International Championship podiums in Stars and Stripes on a trajectory to the outer-orbit potential of multiple Olympic honours come Tokyo 202One.
This weekend in the Bubble of Budapest, Dressel will provide the wings on which the Cali Condors aim to soar in the Grand Final of the International Swimming League (ISL) as they join battle with Energy Standard, London Roar and LA Current. Showdown after five weeks of show time for a sport that has thirsted for the innovation the ISL has delivered.
New pools and fresh concepts need old masters. Enter coach Gregg Troy, in tow his college experience with the Florida Gators in Gainesville one of the many boxes of tricks he ticks.
"He doesn't let you cheat yourself of what you are capable of. He's old-fashioned but at the same time never fails to plan for the future. He's like an old man who's mind lives in the future for the sake of his swimmers, always thinking, always learning, and always sharing."

Caeleb Dressel on his coach in "Gregg Troy – It's Never Easy" by Jackson Leonard
Gregg Troy. This article won't touch the sides of a spectacular coaching career studded with success on a deck alongside coaches Larry Shoaf, Martyn Wilby, Anthony Nesty and others: 250 All-Americans at NCAAs; 47 Olympic picks for 27 countries, including the USA's Elizabeth Beisel, Ryan Lochte and Caeleb Dressel; World champions galore, including Dressel, Lochte, Beisel, Britain's Gemma Spofforth; 14 Bolles school kids who made it to three Games from eight nations on Troy's watch, among them Olympic gold medallists Anthony Nesty, of Surinam, Martin Lopez Zubero, of Spain, American Trina Jackson and Ashley Whitney and others big podium placers such as Gustavo Borges, of Brazil.
That's a part of the balance summed up at the end of "Gregg Troy – It's Never Easy", a 2020 book in which Jackson Leonard, mentored at the Gators in Gainesville, trawls through the best bites of one of the predators at the top of the NCAA pool down the years.
When he gets to Caeleb Dressel, Leonard describes him as "arguably one of the greatest swimmers the world has ever seen".
The width of arguably has been narrowing stroke for stroke with almost every passing season since he was 17. Now 24 but shy of the Olympic zenith of his career in this first five-year cycle in Games history, Dressel boasts two Olympic relay golds, 13 World crowns long-course and six global titles short-course atop 24 gold, 9 silver and 4 bronze medals in USA colours.
His World record count includes the 100m butterfly (first sub-50 in textile), three mixed relay marks with USA mates in a long-course pool, the 50m free standard and four relay records in the short-course tank – and as of last night in the Bubble of Budapest soaring for the Cali Condors in the semi-finals of the International Swimming League (ISL) the 100m medley:
Caeleb Dressel's latest World Record:
So, 49.88, the first sub-50sec short-course 100IM. That it took down a mark held by another freestyle sprinter – Vlad Morozov – capable of mashing medley egos over 100m tells us something about the nature of the little pool and big beasts.
Dressel getting inside Morozov's 50.26 of 2018 didn't actually tell us anything we didn't know about Captain Condor: like Florent Manaudou and others, he's capable of winning a big title on any of the four strokes in almost all company in short-course sprinting.
The World record gatecrashed Morozov's rankings bull run: he'd had the best 10 ever and 14 of the top 25 all-time, too. The US-based Russian has now slipped almost half a second off the best pace of a man whose efforts confirmed something else we know about him: Dressel's a young Gator-for-life long in tooth when it comes to Troy's team tactics, temperament and culture.
The Winning Swim Culture Caeleb Dressel Grew Up In
In his book, Leonard notes the tone and standard set by Troy at the Gators and why the program did not suit all drawn to it: "If someone was spending too much time partying on the weekends, and it was affecting their performance in practice come Monday, Coach Troy would address it."
That much I already knew from many a conversation with swimmers down the years, Lochte and Gemma Spofforth, the 2009 100m backstroke World champion who I helped put together "Dealing With It", among those who appreciated the regimen set by Troy, Wilby and Co.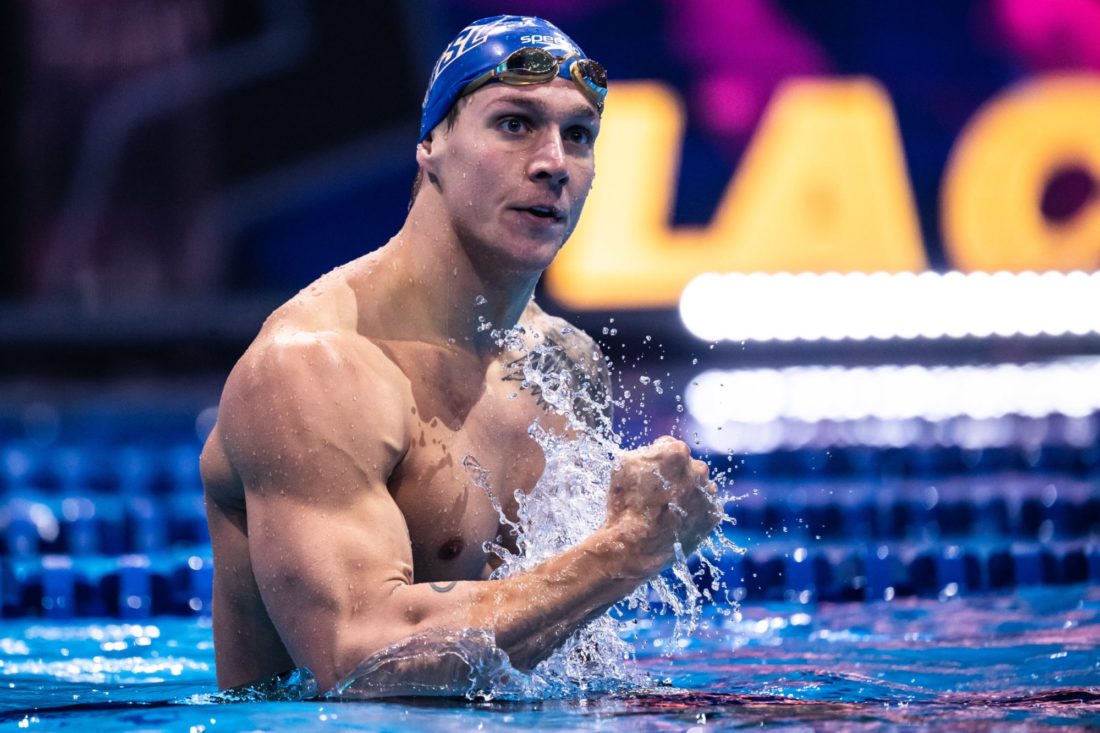 "Swimmers were occasionally given second chances when mistakes were made, as a one-time blunder can be expected of a young adult freshly separated from parental supervision," writes Leonard.
"In Troy's eyes though, second chances were often final chances… Coach Troy was tough on misbehaviour when required. Athletes who dragged their bags behind them as they left practice were reminded to walk with pride, acting as if they were proud of their workouts, rather than leaving with poor body language as proof of defeat."
There's many more such gems in "It's Never Easy" and well worth the read just for those moments alone. Leonard captures a central theme relevant to the careers of Dressel and many others when he writes:
"As collaboration grew central to the team's culture, each individual's sense of purpose and role on the team solidified, and soon the Gators were on top."
Several pages on we read Dressel's mind on that as he cites what Leonard describes as "the collective suffering and tough lifestyle that came with enduring rigorous workouts, demanding academic schedules, and completing supplementary work as unifying factors in the development of the men's team."
If it can be said that Dressel's Olympic score is in its infancy, with much to be revealed after two relay golds at Rio 2016, the League is also something of a sequel to his big bite as a Gator in NCAA waters.
In March 2018, Texas topped California and Indiana for its fourth consecutive NCAA title and 14th in program history as the NCAA men's championships came to a close at Minnesota's University Aquatic Center.
Without disrespect for any of those who made that happen and no slight to a team culture that writes a heavy chapter in the book of why the USA is world No 1, there was only one man who merited mention above all: Caeleb Dressel.
A world junior champion who came through a time of doubt on his way to seven golds at 2017 World titles, Dressel ended his college racing days in style and at historic pace: the third of his 'first-ever' swims was a dominant 39.90 over 100 short-course yards free, 0.1sec inside the NCAA and American records he set on a frustrating 40 flat the year before.
Add that to the 17.63 50 free yardstick – making him, as I wrote on SwimVortex at the time, "The Fastest Un-shiny Human In Water" – (his 17.88 relay lead-off the first sub-18) and 42.80 100 'fly, a first sub-43).
Leonard recalls that 50 blast in his book when he writes: "Wins on the 50 freestyle are considered "enormous" our "commanding" when several hundredths of a few tenths of a second separate competitors. Caeleb was more than a full second ahead of the 2nd place finisher. That kind of speed was unheard of, unseen, and unexpected – even from the fastest swimmer alive."
Just a few years ago, armchair coaches had decried Dressel's commitment to the yardage-based workhorse-orientated Gators program a "mistake" and huge "misstep". That night, no-one could doubt the abilities and training of Caeleb Dressel and the Florida Gators."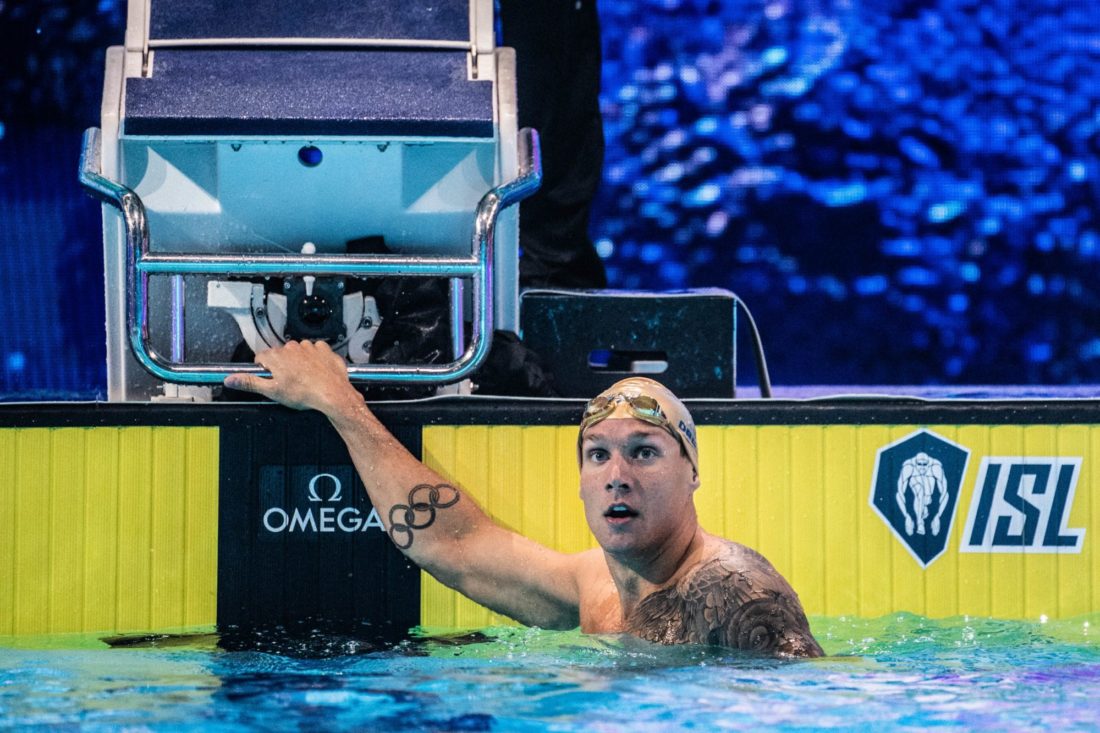 As the book title suggests: It's never easy – and it wasn't so with Troy and Dressel from the start. The swimmer dropped the Gators from his list of potential sports-academic homes after hearing "bad-mouthing" from other coaches during recruiting season. Caeleb Dressel's father called Troy and urged him to "… stay on him. I know my son, and he just needs time to think things through," writes Leonard.
Troy confirms:
"Caeleb really does use time to think things through. That's apparent in practice … I was pretty straightforward [on recruitment]. I told him he was on par with Lochte in terms of ability and talent. But, I also told him I thought he was more than a sprinter. He was more than a one-trick pony. I knew he could be pretty dynamic in several events, so I just asked him 'How good do you want to be?'. I didn't ask 'How good a collegiate athlete do you want to be?' I knew he was like Lochte and Seb (Rousseau, RSA) and a few others before him who wanted more and wanted to be pushed."
Caeleb Dressel replies in Leonard's book:
"I came to Florida to work with Troy. I understood why I was coming to school there. I wanted Troy to make me into something great. I told him 'I don't want to be just a 50 freestyler'. I want you to squeeze out every bit of talent that I have to make me a great athlete."

Caeleb Dressel
Leonard does a fine job explaining the individual nature of swimmers and the importance of NOT comparing a Lochte to a Dressel and so forth. Some things, however, apply universally where Troy is concerned. As Caeleb Dressel puts it: "You know, Troy regularly tells me 'If you find a shorter, easier way to swim fast … let me know, I probably still won't take that route!' That's just the mindset he has. That's where the communication comes in handy."
Troy describes Caeleb Dressel in these terms with no quarter given on what it means for a coach to "listen" to an athlete:
"I think he's one of the most honest and mature athletes I've ever coached. I listened to previous national champions I listened to previous Olympic medalists, but I always took their information back and formed my next step around the parameters of their age and were they being honest and where were they fudging it a bit to get by easier."

Gregg Troy on Caeleb Dressel
In turn, Dressel says of Troy: "I think the main thing is he helps me see the joy in the sport because I could easily get caught up in this being a serious motive for me. He gets it, he knows how I work, and he knows my personality. He knows how far I want to take it. But I hope, on the other end, that he can lean on me for some stuff and see the joy in the sport as well. I've seen that man sing and dance on the deck with the post-grad group…"
"It's crazy because some days we have those practices where he's hungrier to get better than we are. Some days we're slap dicking around, and he gets on us for it. And he has that passion for the sport to not allow us to cheat ourselves out of our best efforts. I don't want to be coached by a big, old softie because sometimes I need the fire and passion he has to keep us in line."

Caeleb Dressel on Gregg Troy
Little wonder we find much feet-on-ground gratitude from Caeleb Dressel, who back in 2018 when his Gator days snapped shut with this tweeted reply to his aquatic alma mater:
@GatorsSwimDv: @caelebdressel thank you for all you have given to this program over the past four years. Your leadership, your ability, your humbleness & most of all your kindness will be greatly missed!
@caelebdressel: Thank you @FloridaGators for giving me the opportunity to represent the best University the past 4 years. #alwaysagator.
In Gainesville each day, he had a Wall of Fame draped in a Who's Who of swimming achievers to look up to: Theresa Andrews, Duncan Armstrong (AUS), Catie Ball, Elizabeth Beisel, Tracy Caulkins, Matt Cetlinski, Conor Dwyer, Sandy Goss (CAN), Nicole Haislett, Mike Heath, Whitney Hedgepeth, Ryan Lochte, Lea Loveless, Tim McKee, Anthony Nesty (SUR), Mark Stockwell (AUS), Dana Vollmer, Allison Wagner, Mary Wayte and Martin Lopez Zubero (ESP), to mention but a few. Each of the above boast Olympic and/or silver in their pantheons.
Dressel has two ultimate golden orbs of his own: as a member of the winning 4×100m free and 4x100m medley relays at Rio 2016, the thread of USA swim history including the golden swan song of Michael Phelps, who made it 23 wins in 28 medals on 'fly in the last race of his career, Dressel the last man home.
In the 100y free at his college swansong, Dressel was out in 18.96, back in 20.94 for the pioneering 39.90. Predictions aplenty have swirled ever since Dressel's international breakthrough season as a junior in 2013. His fellow Gator Ryan Lochte once said that he starts each season at "zero … it doesn't matter what you did last time out, you have to do it all again and each time is different". Dressel takes the same approach, the direction of Gregg Troy part off the measure of that mindset.
After that 39.90 there was a last swim, a closing relay. It hurt like hell, said Dressel with a smile before he noted:
"There are no short cuts in the sport, so anyone looking for a short cut, you might just wanna change sports: it's going to hurt … you gotta embrace it and rise up."
Embrace this, too: asked what this week had meant to him, did he reach for the 17.6, the 42.8, the 39.9, a relay …? No. It was all about this: "… the Gators have been absolutely wonderful to me, all my teammates". Like water that finds its way, he then eased round the boulder of self-reflection he'd been invited to leap on to and got to the point he wanted to make, handing motivation over to the next wave with a large carrot and a little stick of Troy's Truth:
"I think we came up a little short this year. We had some guys rise up big time, you know. Mark (Szaranek) and Jan (Switkowski). Mark fell a little short in some of his events, he knows that but Mark's a fighter and he's gonna be back long-course I know it.
He then mentioned Switkowski and his 'breakthrough meet' and noted that he had mentioned the Brit and the Pole in several interviews because he thought them to be men to watch out for in the big pool (long-course metres).
There was much there for policy makers of national teams, 'media coaches' and pundits to chew on, such as:
Dressel did not stick to speaking "only about my own performance" – and when he spoke about others he did not treat them to the sickly sweetness of 'only positives allowed': honesty and respect is what we got – commanding huge respect and… leadership starts with honesty at all times.
Dressel made several mentions of long-course metres that week – he knew and knows yet what matters and is not shy in speaking it:
"Long-course is where the big boys come out to play … we had a long-course focus all year [in training, mainly with the medley group, all-round fitness and skills a key part of Troy's Truth]. I'm happy with the short-course results but we're still on track for some good long-course swimming."

Caeleb Dressel
None of which undermines the importance of college programs in the United States that are under serious threat in Covid-19 season; nor does talk of the Olympics and long-course undermine the spectacle of the ISL, which is breathing new life into a sport that has never truly got past the perception and, indeed, the reality, of it being a once-every-four-years show when it comes to attracting a wider global audience beyond its fan base.
Here is a taste of the precursor to Dressel and Troy's League days:
The interview with Dressel in full from the mixed zone and the camera of Swimming World back on the day:
Caeleb Dressel – The Best Is Yet To Come
When the League is done for 2020 next weekend, focus will turn to the Olympic Games, scheduled for July 2021, by which time, vaccines and treatments willing, Tokyo will be welcoming the world for a delayed and much anticipated Games.
In Budapest last night, the first sub-50 mini-medley put 30 jackpot-boosted points on the board – the biggest full-house, one that produced a sweep of all but the second-place points claimed by his teammate Marcin Cieslak.
Dressel has contributed much to Cali Condors soaring into the ISL Final, to be staged this coming weekend, with a full-flush high five of match victories: much was made of the 605.5 points earned in the semi ahead of the LA Current, Team Iron and the Toronto Titans. It's all relative to the strengths of others – and in the final, there will be those capable of clipping Condor wings.
Dressel, who set three American records in the semi – his 50 butterfly and 100 freestyle efforts stacking up behind his mega medley – will play a crucial role in the ISL Final. Where the League goes next is up to organisers and athletes.
At 10 teams in a flow of matches during 5-6 weeks of often captivating action (with undoubted improvements to make when it comes to simplifying things, attracting mainstream media and making the show more accessible to a wider audience), the ISL looks to be getting close to what it will eventually be, beyond the confines and oddities of COVID season. Talk of a season of 27 weeks and all the watering down that might entail sounds extreme and raises many questions.
There is more settling down and innovation to be had in the most interesting departure for the sport for decades, FINA having let the potential of the World Cup slip and slide into "more of the same" championships fodder squashed into two days of intense, lengthy and largely uninteresting morning heats before finals. The League matches are two hours of fast-moving entertainment and team rivalry void of national flags and the pomp and medals ceremonies that are too geared to showcase suits few recognise than athletes in suits the audience does recognise for the show they provide.
Solidarity Camp and direct access to fans via social media snd the web provided a few insights – but there are two sides to that. On the one hand there are some lessons from the United States and college and team motivation are yet to be embraced by the League. Take Caeleb Dressel in his sophomore Gator season. He asked Gregg Troy: "How fast would I have to go on the 50 freestyle for you to shave your [signature] moustache?" No hesitation, Troy plumped for "Short Course 18.39, Long Course 20.89."
When Dressel surpassed those targets, Troy obliged:
On the other hand there is the all-too-quiet Swimmers' Alliance and the fact that swimmers remain largely silent on many matters that athletes raise far and wide through Global Athlete and similar athlete-representative bodies.
What do swimmers think on a whole range of rights, Safe Sport, the lack of a swimming voice loud enough to be heard in the lobby of sports when it comes to getting and keeping pools open in a health crisis, and Fair Play issues affecting peer athletes beyond their Budapest bubble? It would be good to know. It would be good for swimming to let the wider world know that swimmers have a view and are no longer teenagers still getting through their school days.
Roll on the challenges of the League final this weekend – in and out of the water, for those and the engagement they demand outside the lane lines are what build the lore and draw of a sport that's long punched below its weight but has begun to understand how to change that.