Caeleb Dressel A Condor Faster On 'Fly Than Popov Was On Freestyle 1994 As He Swoops On Two World Records – 47.78 100 'Fly & 20.16 50 Free – In Swim League Final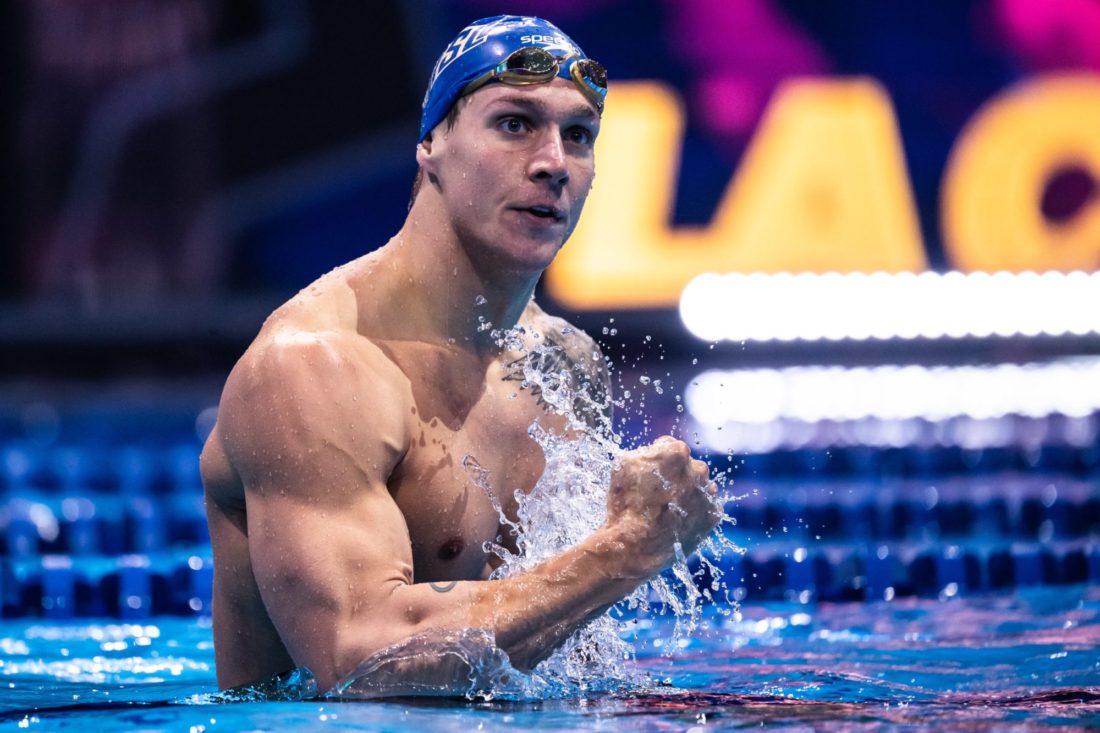 Caeleb Dressel scorched two world records at sizzling, smoke-off-water pace – 47.78sec in the 100m butterfly then 20.16sec over 50m freestyle – inside the hour on the first day of battle in the International Swimming League final in the Bubble of Budapest today.
His were sensational efforts, backed by cracking relay efforts that contributed to Cali Condors soaring into the lead half-way in the match of matches at the end of six weeks of often-thrilling League action in what has been the Sahara of swim seasons, courtesy of COVID-19.
Time. Pour no pressure on but that which the racer pours into a race himself. Like water on a thirsting plant, see how it grows and gains in stature. The clock may not be king in league action and swimming racing is all the better for it at times like these – but time matters in the fast pool. And how.
Imagine: 47.78 over 100m butterfly, Dressel the first man inside 48, inside the 48.08 clocked by Chad Le Clos for the 2016 World short-course title.
Imagine: faster than Michael "The Albatross" Gross on freestyle; faster than Gustavo Borges in 1993 when he became the first inside 48sec over 100m freestyle; faster than the first two of Alex Popov's four world s/c standards over 100m freestyle in 1994. That's Caeleb Dressel on butterfly.
Le Clos, back in 2016, was first to get inside Gross's freestyle standard racing butterfly. It was February 11, 1988 when the German, one of the greats of swimming history and an Olympic freestyle and butterfly champion of 1984 and 1988, clocked the then swiftest ever 100m freestyle in a short-course pool: 48.20. March 1991 and FINA brought back world records in a 25m pool, and Gustavo Borges, of Brazil, established the first freestyle standard at 47.94 in 1993.
Then we get to Russia's Alex Popov, the double-double Olympic sprint Tsar of 1992 and 1996. Bang in the middle of that cycle were efforts of 47.94 and 47.83, new global standards over 100m freestyle.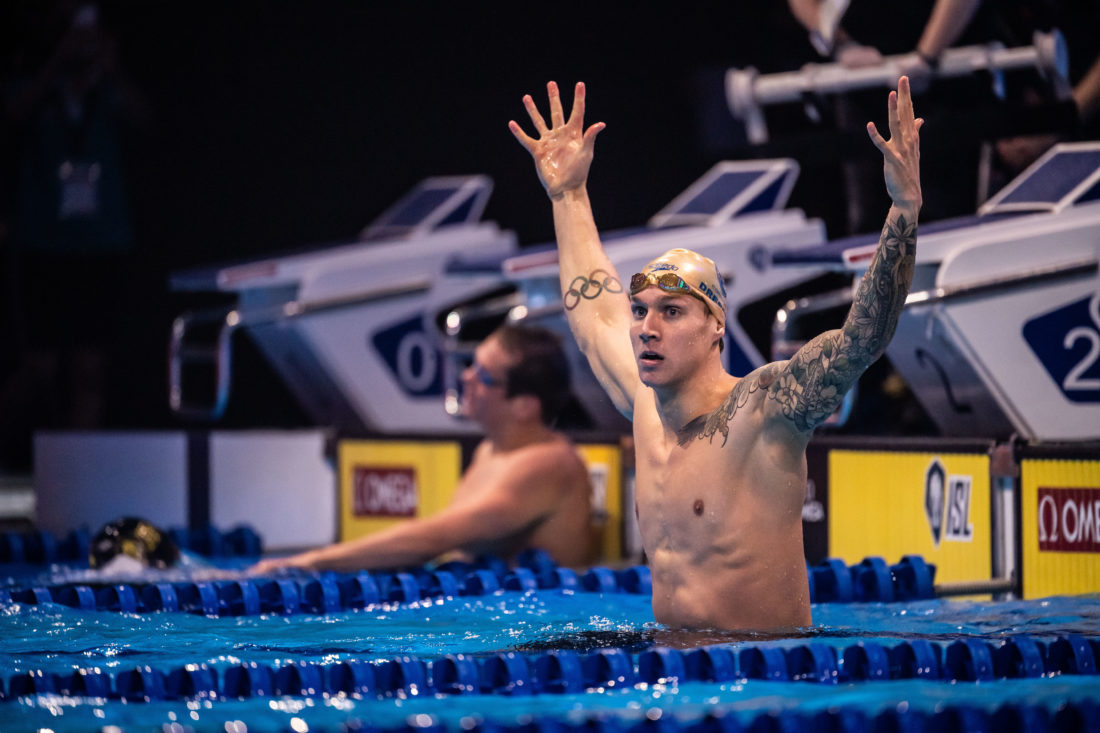 Half the distance. Stick with freestyle. Caeleb Dressel: 20.16! That's the new global high for two lengths freestyle. We're only 16 years beyond a 21.10 from Fred Bousquet, the Frenchman's world mark heralding talking of the first sub-21. Shiny suits took a hammer to all of that but here we are, November 2020 and Dressel places the world of sprint freestyle on the precipice of possibility a second ahead of Bousquet.
The American, the first to crack 18sec over 50 yards freestyle, turned on 22.44 at the half-way mark in the 100m butterfly today. Imagine that: swifter than Joe Bottom's world 50 free best back in 1979. That's shifting it.
After his 20.16 blast in the 50m free, Dressel clocked 45.18 leading the Condors in the 4x100m free relay, Energy Standard the eventual winners, with Florent Manaudou, the previous owner of the 50m global mark – on 20.26 from 2014 – on 46.00 bringing home the bacon for last year's League-title winners. There were three others faster than Manaudou's 46.04 split, all of them off a flying start but none close to Dressel's speed from a standing start.
By the time the 4x100m medley quartet of Olivia Smoliga, Lilly King – for her third win on the day after 200m and 50m breaststroke triumphs – Kelsi Dahlia and Erika Brown had granted Cali Condors 18 points ahead of London. Roar and Energy Standard, Dressel was set for his fourth blast of day one to bring the thriller to a close.
Just what Dressel clocked had to wait a moment: the traffic on Omega Live Timing appears to have stopped the clock on the watch-makers servers. The clock back up, Dressel times in at 48.18 on 'fly in the relay, Cali Condors third, LA Current second, Energy Standard up front
What we can say is … Kliment Kolesnikov, the Russian who has been down on best in much League racing this year, clocked a World record of 48.58 on backstroke leading Energy Standard's 4x100m medley quartet.
After Kolesnikov's blast, which took down the 48.88 world mark set by China's Xu Xiayu in 2018, Ilya Shymanovich clocked 55.38 on breaststroke (Adam Peaty on 55.36 for Roar, in fourth overall). Chad Le Clos on 48.53 'flying and Florent Manaudou on 45.79 to keep the lead position that Energy had held throughout.
That meant that Energy gets to choose the stroke for the men's skins tomorrow… it could be backstroke but may also be breaststroke, in an effort to avoid Caeleb Dressel.
On the rest of the action from the ISL…
Cali Condors maintain rhythm throughout
 
After Dressel's first world record of the day, Beata Nelson kept up the Condors early momentum when she won the women's 200m backstroke with a personal best of 2:00.27. She led from the front to hold off Energy Standard's Emily Seebohm and teammate Hali Flickinger.
 
"It's what we've been waiting for," Nelson said. "We were super-excited for this match and were really ready to go. We saw Caeleb's world record before and that gave some extra energy for the win."
 
King continued her dominance of the women's 200m breaststroke when she set a new US record of 2:15.56.
 
She had won four races before the final but was pushed hard by London Roar's Annie Lazor over the final 25m. However, she held her form to secure a jackpot win for the early pace setters.
 
King added her second win of the day when she held off the fast finishing Benedetta Pilato, who finished with a new Italian and World Junior Record of 28.81, to win the 50m breaststroke with 28.77.
 
Smoliga capitalized on the absence of world record holder Kira Toussaint to win the women's 50m backstroke.
 
She finished ahead of Energy Standard's Mary-Sophie Harvey in 25.83 and rack up her fifth victory over the distance during Season 2020.
 
Hali Flickinger gave Cali Condors a big boost when she reeled in Energy Standard's Siobhan Haughey in the closing stages of the women's 400m freestyle when winning in a time of 3:58.77.
 
It was her fourth victory over the distance in Season 2020 and her victory had extra significance when teammate Haley Anderson finished third.
 
"I like to control my own race. I try not to go out superfast because I know I have a good back end," Flickinger said. "The way I train is showing in the pool and I'm getting the points."
 
Energy Standard building momentum
 
Evgeny Rylov set a new Russian record of 1:46.37 to win the men's 200m backstroke. He needed to be at his best to defeat LA Current's Ryan Murphy who had won all five of his races over the distance in the preliminary matches and semifinals.
 
Rylov caught the strong-starting Murphy by the halfway stage and then held his form to the wall to secure his fourth win over the distance in Season 2020.
 
James Gibson's team kept up their run of success in relays when Siobhan Haughey, Pernille Blume, Femke Heemskerk and Sarah Sjostrom maintained their teams unbeaten run in the women's 4x100m freestyle.
 
Sjostrom was soon back in the pool for the 50m freestyle which she won in 23.55, her fifth victory of the season over the distance, before Ilya Shymanovich beat London captain Adam Peaty in the 50m breaststroke with 25.48.
 
The men's 4x100m freestyle team of Rylov, Kolesnikov, le Clos and Manaudou added another relay victory. The quartet dominated and finished in 3:02.78 with Cali second and LA third.
 
London Roar fighting to stay in contention
 
Kirill Prigoda secured London's first victory with a strong showing in the men's 200m breaststroke. The Russian won in 2:01.71 after leading from the front, with Cali Condors' Nic Fink following him home in second.
 
Sydney Pickrem added London's second victory when she won the 200m individual medley. The Canadian finished in 2:04.00 to hold off Cali's Meghan Small.
 
Tom Dean won the men's 400m freestyle, just as he did in the semifinals. The British swimmer took the lead by the halfway stage and while Energy Standard's Danas Rapsys closed in quickly over the final 25m, Dean held to touch home by a few strokes in 3:36.56. 
 
"Each team is able to go close to the tile," women's 400m freestyle swimmer Aimee Wilmott said. "The atmosphere has picked up and everyone wants to put in their best performance of the season."
 
Gastaldello shows class for LA Current
 
Beryl Gastaldello ensured that the Grand Final opened in dramatic fashion when she fought back over the final 25m to win the women's 100m butterfly in 55.34.
 
The French swimmer was in the lead at the first turn, but by the final turn Cali Condors' Dahlia was in front. Gastadello clawed her way back to secure her third win over the distance in Season 2020.
 
Andrew Seliskar gave LA their second win of the match when he fought off London's Andreas Vazaios and Duncan Scott to finish the men's 200m individual medley in 1:51.53.
 
Ryan Murphy showed his class in the men's 50m backstroke, winning with a new US record in a time of 22.54.
 
He was the fastest starter and sped away from the chasing pack that was led by Cali's Coleman Stewart who held on for second place.
 
"Everyone is focused on doing their individual job," Seliskar said. "I watched Beryl and the others and to see everyone come together with their best results of the season meant I wanted to do my job."
 
"I'm happy with my race and we need to keep the dynamic going tomorrow."
 
Day 1 Results
 
Women
100 Butterfly – Beryl Gastadello, LA Current – 55.34
200 Backstroke – Beata Nelson, Cali Condors – 2:00.27
200m Breaststroke – Lilly King, Cali Condors – 2:15.56
4 x 100m Freestyle – Energy Standard (Haughey, Blume, Heemskerk, Sjostrom), 3:25.70
50m Freestyle – Sarah Sjostrom, Energy Standard – 23.55
200m Individual Medley – Sydney Pickrem, London Roar – 2:04.00
50m Breaststroke – Lilly King, Cali Condors – 28.77
50m Backstroke – Olivia Smoliga, Cali Condors – 25.83
400m Freestyle – Hali Flickinger, Cali Condors – 3:58.77
4 x 100m Medley – Cali Condors (Smoliga, King, Dahlia, Brown) – 3:44.52 (WR)
 
Men
100 Butterfly – Caeleb Dressel, Cali Condors – 47.78 (WR)
200 Backstroke – Evgeny Rylov, Energy Standard – 1:46.37
200m Breaststroke – Kirill Prigoda, London Roar – 2:01.71
50m Freestyle – Caeleb Dressel, Cali Condors – 20.16 (WR)
200m Individual Medley – Andrew Seliskar, LA Current – 1:51.53
50m Breaststroke – Ilya Shymanovich, Energy Standard – 25.48
4 x 100m Freestyle – Energy Standard (Rylov, Kolesnikov, le Clos, Manaudou) – 3:02.78
50m Backstroke – Ryan Murphy, LA Current – 22.54
400m Freestyle – Tom Dean, London Roar – 3:36.56 
4 x 100m Medley – Energy Standard (Kolesnikov, Shymanovich, le Clos, Manaudou) – 3:18.28
 
Standings after Day 1 of the Season 2020 Final
1 Cali Condors – 267.0
2 Energy Standard – 239.5
3 London Roar – 199.5
4 LA Current – 177.0
 
MVP Standings
1 Caeleb Dressel, Cali Condors – 40.5
2 Lilly King, Cali Condors – 38.5
3 Sarah Sjostrom – 26.0