British Swimming To Boycott 2022 World S/C Titles & 2024 Euro Champs If They Stay In Kazan, Russia As FINA Says 'No Legal Basis' To Ban Athletes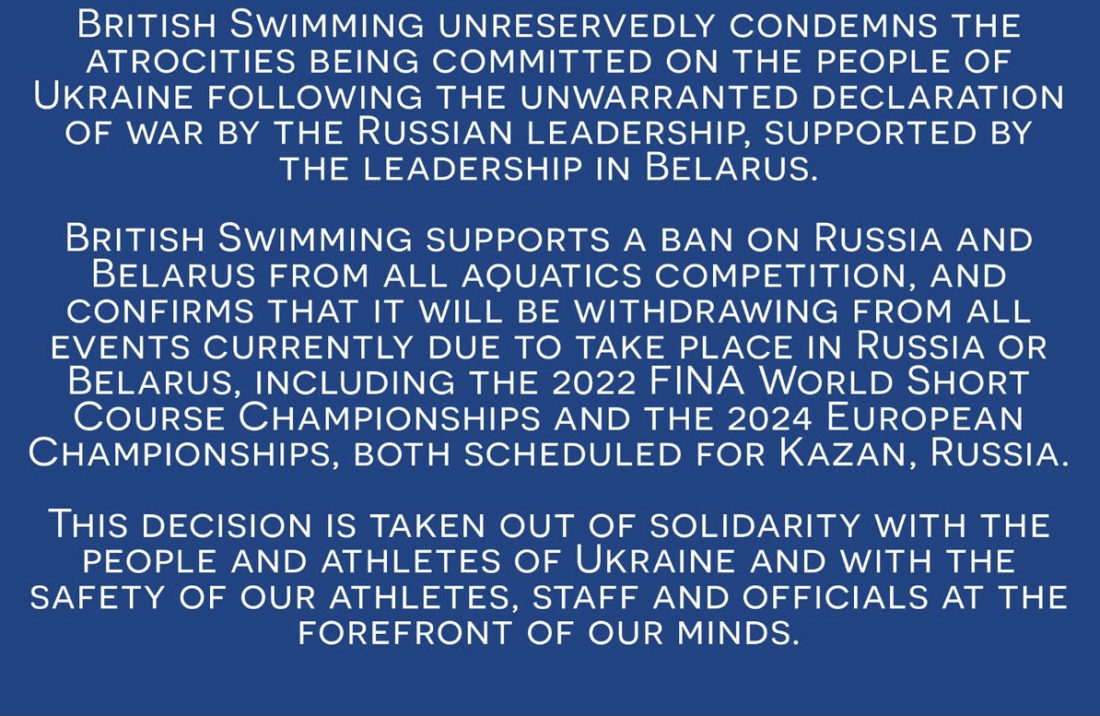 British Swimming will boycott the World Short-Course Swimming Championships in December this year and the European Championships in 2024 if FINA does not relocate them outside Russia.
The move, in response to what British Swimming describe as Russia's "unwarranted declaration of war" on Ukraine, comes on a day when FINA, the global regulator, stripped Russian president Vladimir Putin of the FINA Order and after a meeting of all international federations with the IOC, sent a letter to national federations to explain that there was "no legal basis" for barring Russian and Belarussian athletes from competing and officials from attending its international events (see the letter in full below).
While FINA concluded that the IOC agreed that there was "no legal basis" for complete bans on athletes from a suspended country, such as Russia, World Athletics, World Rowing and the International Cycling Union were among federations that imposed precisely such a ban today.
In a statement on the Russian invasion of Ukraine, meanwhile, British Swimming goes further than any swimming federation has gone so far by revealing that it is unwilling to travel to Russia for at least three years to come, including the year of the Paris Olympic Games, 2024.
In a direct challenge to FINA's current position, British Swimming also wants a ban on all athletes and officials from Russia and Belarus and the relocation of all events out of Russia. That is broadly in line with British Olympic Committee reasoning. The global regular has cancelled four events in Russia but has left the World s/c titles in the hands of Kazan, Russia, "pending developments" in the war launched by Putin.
In a statement earlier today, FINA stripped Putin of the FINA Order it gave him in 2014 and announced that Russian and Belarussian athletes could only compete as "neutral" athletes, with no country flag, anthem, colours and code.
That, say several leading federations, some privately, some, like the Nordic nations calling for an outright ban, but no official statement had gone as far as that posted by British Swimming this evening: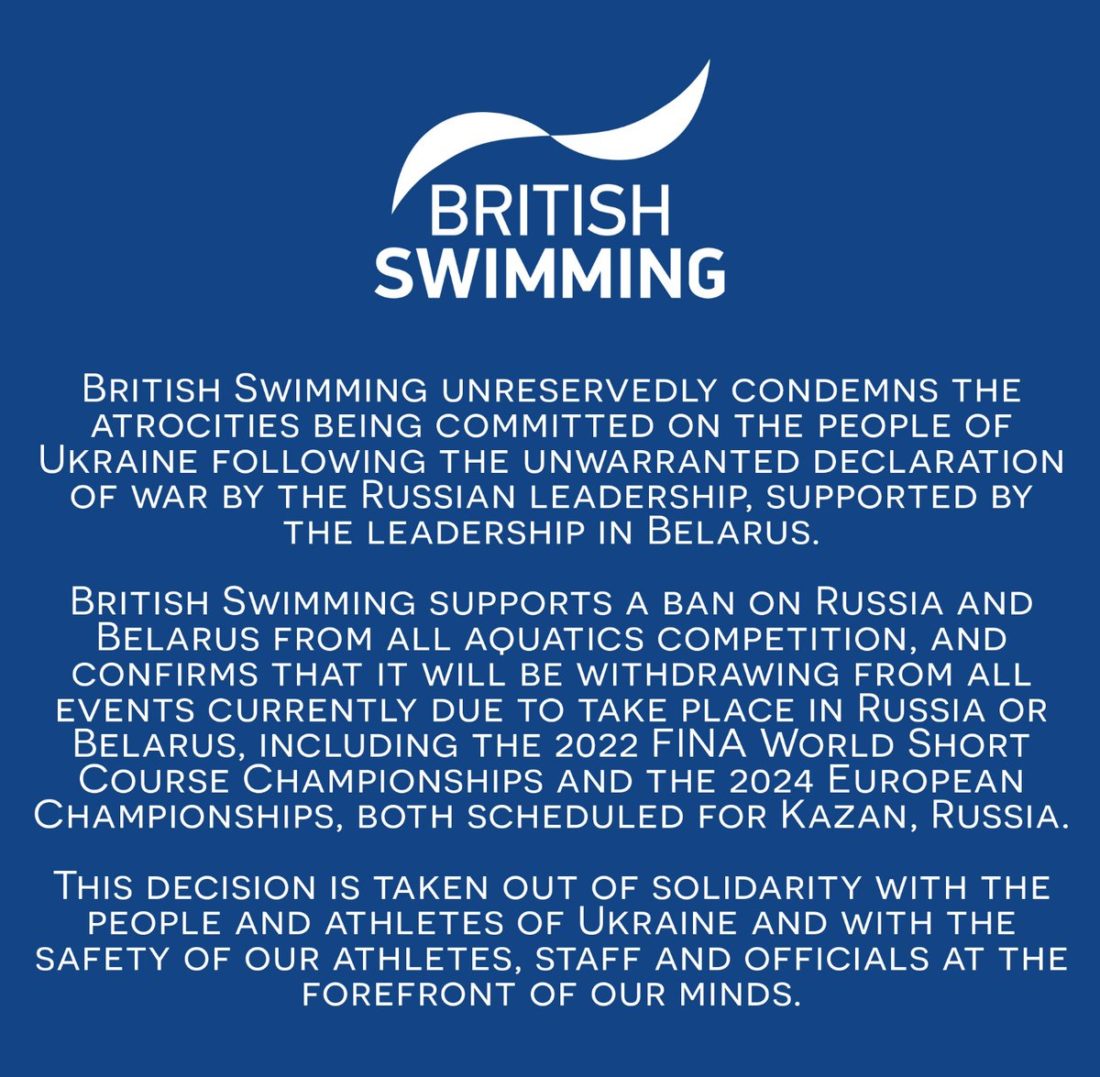 In a similar statement, the Czech Swimming Federation, noting its nation's history of Russian invasion in 1968, mirrored much of the British Swimming statement but also called on FINA to suspend the Russian and Belarussian swimming federations.
No Russian and Belarussian aquatic athletes would be welcome in the Czech Republic nor would Czech athletes be racing in the aggressor countries until the cessation of war.
The Czech federation's letter also extends an offer of accommodation, food and support for Ukraine federation Athletes in the Czech Republic in their hour of need, while asking Czech citizens "not to behave inappropriately" to Russians and Belarussians living in their country.
The Gap Between Swim, Run, Row & Cycle
In response to reaction from federations and others who wanted FINA to go beyond its statement today, Brent Nowicki, the FINA executive director and former counsel for the World Ant-Doping Agency (WADA), and FINA president Husain Al-Musallam sent a letter to federations explaining that the regulator had gone to the edge of what it felt was legally possible.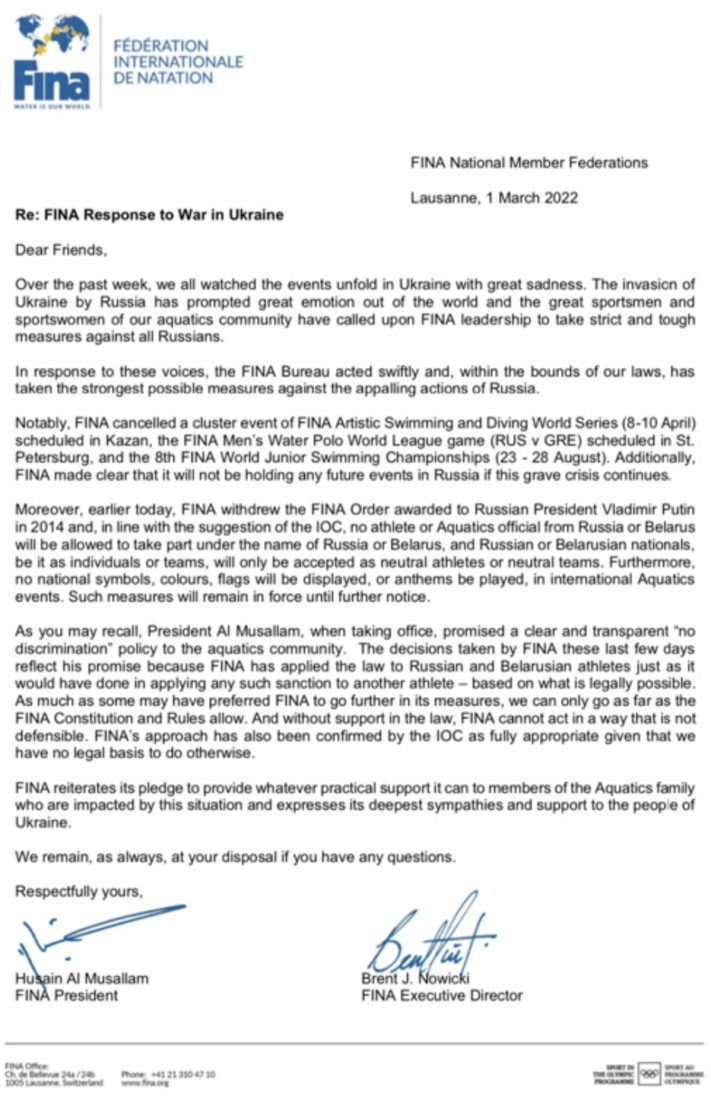 Stripping Putin of a FINA honours was in the federation's gift but Nowicki noted that "we can only go as far as the FINA Constitution and Rules allow," adding, "And without support in the law, FINA cannot act in a way that is not defensible. FINA's approach has also been confirmed by the IOC as fully appropriate given that we have no legal basis to do otherwise."
The mention of the IOC is fascinating in the context of a Cycling federation announcement that went further than FINA and was more in line with complete bans on athletes from Russian and Belarus from World Athletics and World Rowing, among others.
The UCI (Cycling Federation) statement noted: "As pointed out this morning during an emergency meeting of International Federations organised by the IOC and presided over by the President Thomas Bach – with the participation of David Lappartient and UCI Director General Amina Lanaya -, it is a question of taking preventive measures with the objective of ensuring the integrity and security of sporting competitions and the respect of the Olympic values."
But what followed departed from the view that there is no legal basis for banning athletes. Instead, the UCI continued: "In light of the situation, the UCI Management Committee has unanimously taken the following decisions:
1. Russian and Belarusian national teams and / or national selections are not authorised to take part in any events on the UCI International Calendar, with immediate effect.
2. UCI Team status is withdrawn from all teams under Russian or Belarusian nationality and the UCI shall not consider any further applications for UCI status from teams from these two countries. The withdrawal of UCI Team status concerns the following teams …(statement in full).
That raised serious questions, such as:
did some federations believe their rules were strong enough to sustain legal challenge, and if so, why? and,
are all international federation rules adapted to/in line with the IOC constitution, which is a prerequisite to membership of the Olympic Family?
Whatever the answers, Nowicki's words may now be taken as an invitation for federations to submit proposals for news rules. FINA is the global regulator for Aquatics and therefore has it in its hands to update the rules and Constitution in accordance with changed and/or prevailing circumstances and challenges. Such proposals are then voted on by delegates from FINA member countries at Congress or, in an emergency, a specially convened Extraordinary Congress.
FINA members also have another way of handling what they may find unacceptable, such as having to accept the presence of Russian teams, including attached sports politicians, at major events: they can simply decide not to send their own teams to FINA events until the rules have been changed to suit prevailing challenges such as war and acts of war and case files being opened at the International Criminal Court in The Hague.
Related SOS Coverage
Vladimir Putin Stripped Of FINA Order But Russia / Belarus Athletes Only Barred From Flying Flag
No More Bubbly – Putin Stripped Of Olympic Order As IOC Bosses Tell Feds To 'Ban All Russian Athletes & Officials'
Ukraine Athletes Call On IOC To Ban All Athletes & Olympic/Paralympic Committees Of Russia/Belarus
Kazan Stripped Of World Championships As FINA Responds To Ukraine Invasion & Pressure From Swim Feds
Ukraine Swimming Federation Calls On FINA To Suspend Russia / Belarus & Cancel All Events
Nordic Swimming Feds Call On FINA To 'Immediately Suspend Russia & Belarus' Pending Peace In Ukraine
Red Card For Russia Is The Only Moral & Ethical Response From Sport To Putin Power
IOC Urges FINA & Other International Federations To Cancel All Events In Russia Or Belarus; LEN Scraps Russian Competitions
FINA Cancels Two Events But Leaves World Championships, Junior & Senior, "Under Close Review" As Putin's Murderous Attack On Ukraine & Its Sovereignty Continues
Blood In The Water & Why Sports Leaders Cannot Allow Warmongers To Use Sport As A Bargaining Chip In Their Olympic Power Games
Putin Putsch: FINA Must Cancel All Events In Russia To Guarantee Athlete Safety As No1 On 4-Point Priority Plan To Honour Olympic Charter "Neutrality" Key To Autonomy
The Red Lines Between Beijing 2008, 2022, Olympic Governance, Games Investors & Athletes Demanding Cultural Revolution