Britannia Rules The Waves At Budapest Europeans As Medley Relays Triumph & Four-Peat Peaty Makes It 16 Out Of 16 Golds Since 2014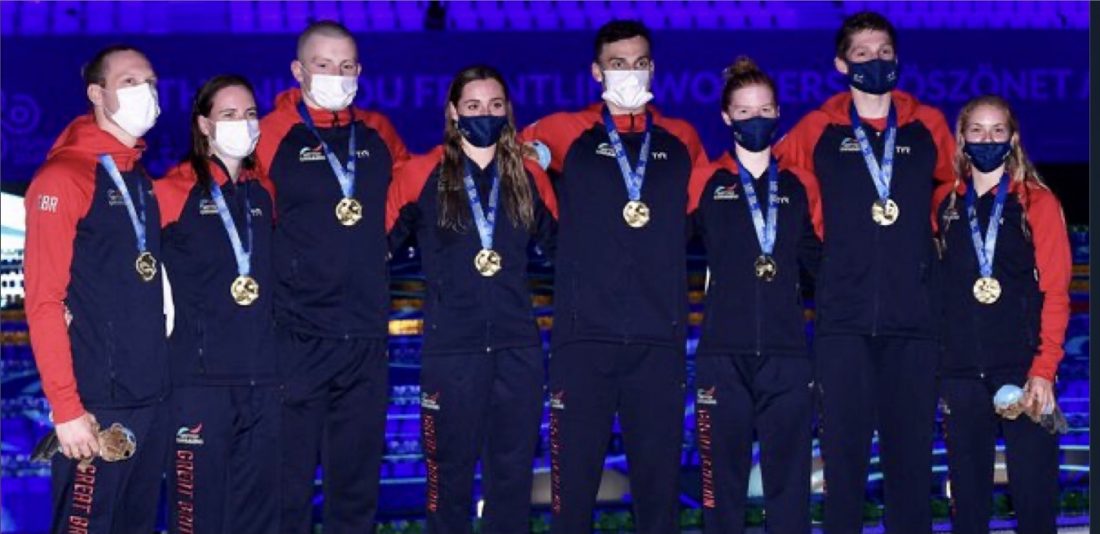 Britannia ruled the waves in Budapest when the Great Britain swim team grabbed the curtain-closing medley relays for men and women ahead of Russia to top the European Championships medals table with 11 golds atop 26 medals after seven days of racing at the Duna Arena.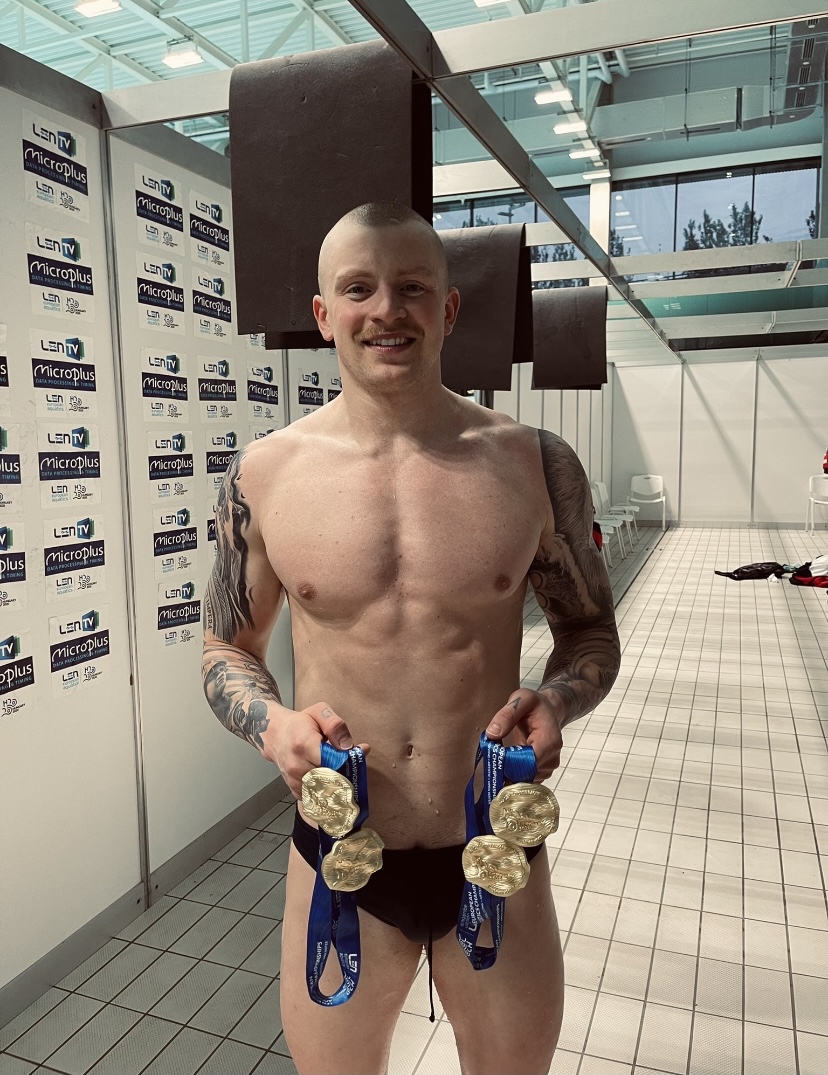 In the mix of that result were three firsts:
Gold in the men's medley relay created the biggest perfect account ever in European-Championship history: undefeated in the same four events for the past four showcases, Adam Peaty has 16 golds medals in European waters covering the four editions of the showcase event, 2014-2021, in the 50 and 100m breaststroke, the men's and mixed 4x100m medley relays.
Duncan Scott became the first swimmer in European-Championship history to race a different stroke in heats and final of the 4x100m medley – he swam 'fly in prelims and freestyle in the showdown, on his way to gold with the team.
in part because of the growth in the European-Championship programme in Budapest, but also due to Britain stepping up in relays like never before, Britain now boasts the biggest relay haul in the history ion the continental event: GBR claimed a medal in all nine relays, including a total of seven golds and two silver for women, men and mixed quartets and the heats swimmer who qualified their nation for the final.
The British relay bonanza in Budapest
Women: gold, 4x100m and 4x200m freestyle and 4x100m medley (3 gold)
Men: gold, 4x100m medley; silver 4x100m and 4x200m freestyle (1 gold, 2 silver)
Mixed: gold, 4x100m and 4x200m freestyle and 4x100m medley (3 gold)
The Covid-19 Olympic Games will, inevitably, be much tougher, but Budapest will surely buoy Britain on its way to Tokyo.
The medals-fest spilled into solo events. On the last day, after silver for Ben Proud in the 50m freestyle, third place for Sarah Vasey among swimmers with a clean record in the 50m breaststroke and bronze medals for James Guy in the 100m 'fly and Max Litchfield in the 400m medley, it came down to the medley quartets to break a gold-medal deadlock with Russia for top of the medals table.
The following report is a day later, sad circumstances having meant a rest from reporting on swimming on the seventh day in Budapest. As my father would always say "get the work done" 🙂 – and so here, a day late, it is:
Women's 4x100m medley – 58.08 ER For Kathleen Dawson, CR and GBR Records for The Team In Budapest Curtain-Closer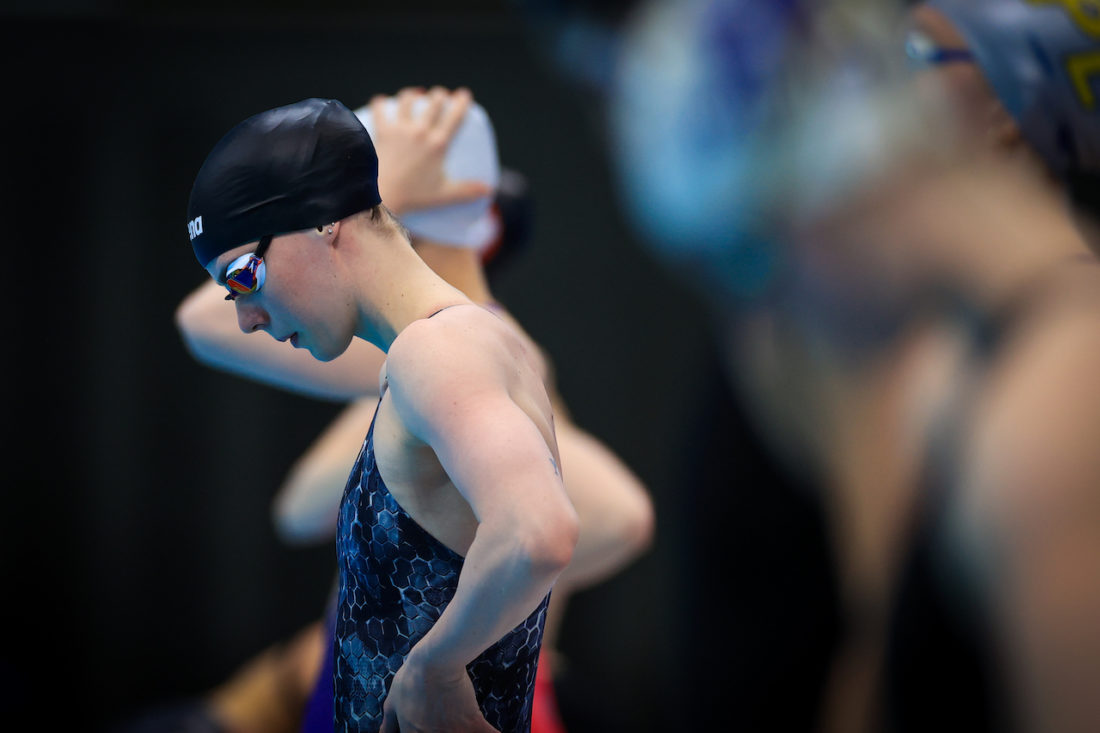 Kathleen Dawson, a soaring European campaign in the bag, save her best until last: in 58.08 leading the Brits off on backstroke, she took down the continental and British record over 100m that had stood to Gemma Spofforth, the Britain, England and Gators ace, since she claimed the World title in 2009.
The advantage of about 1.5sec on the rest was not conclusive but surely decisive. Next in was Molly Renshaw, 200m champion, and flying to a 1:05.72 on breaststroke that maintained Britain's dominant lead over the four teams battling for the moonier spoils, Russia, Italy, Sweden and The Netherlands.
Comment: Mention of the Dutch should not go by without reference to Kira Toussaint and the poor decision in the 100m backstroke final won (twice) by Dawson after the signal did not sound in lane 8 of the first final. Despite that not having affected the race of the seven others beyond Louise Hansson, nor the podium outcome, the final was rerun, the Italian who would claim the 200m title on the final day of action, stepped up from fourth to silver as an endurance athlete in a race with a pure sprinter, 50m champion Toussaint, who could not recover in time to match her first – and legitimate – effort – and fell to fourth.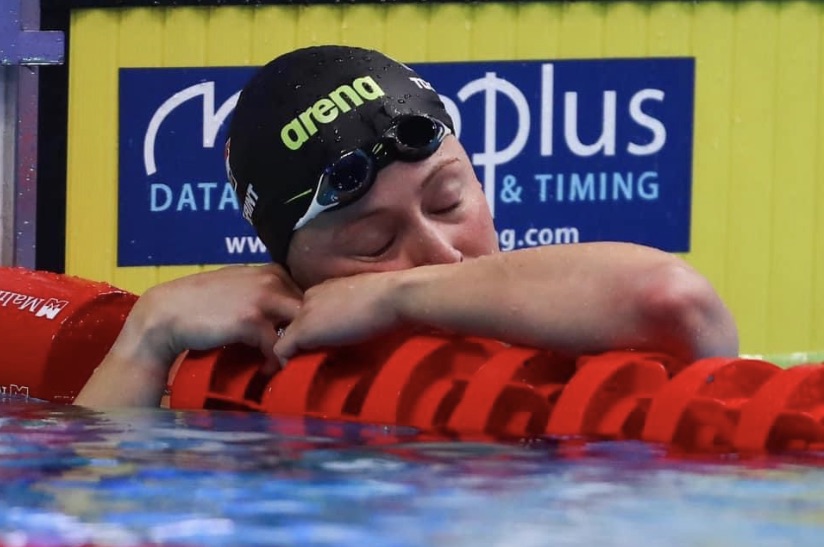 There was much talk of LEN observing the rules. What the sport of swimming is not so good at is recalling those moments in history when precedent was set. At the Fukuoka 2001 World Championships, for example, the timing system failed on several occasions. That was compounded in the women's 4x200m free when Australia, first home, was disqualified because Petria Thomas, in her excitement, leapt into the water to celebrate a touch too early before the last swimmer in an outer lane had reach the wall and battle was officially over. The USA, then, looked like getting gold, but the timing pad failed and so GBR ended up with gold and the USA handed a time that looked unlikely to be the time its quartet actually swam. What did FINA do? It applied the rule and then, via protests from Australia, the USA and others involved, came to the view that the GBR gold and declared podium would stand but those affected by system failure would also be aware the medals they are likely to have merited: the USA was handed gold medals for its quartet in recognition of the fact that the athletes were blameless and had been dealt an unfair blow.
Toussaint was blameless, was death an unfair blow; Panziera was blameless and was dealt a joker. That was just as much a reality of Budapest as any rule book. Their best times were 0.01sec apart in the two finals. Take 2001 precedent and hand out joint silver to both women, leaving the rest of the podium untouched, Dawson at the helm, Maria Kameneva in bronze: that would have been the right thing to do. We await news from the LEN leadership.
As they reflect on the athlete outcome they engineered, they might want to consider not only Toussaint's pain of fourth in the second final in Budapest but the lasting psychological damage to her and The Netherlands: had Toussaint swum to her capability on the clock at the start of the medley relay, the Dutch would have claimed silver. As it stood, she appears to have entered the fray a touch defeated, decidedly down on best and the Dutch finished fifth 1.16sec back from Russia's silver. End comment.
Back to the medley battle and in went Laura Stephens with a huge task on her hands, surrounded as she was by fasters solo 100 'fly swimmers. In 57.55, she ensured that less than a second was clawed back on Britain as she handed over to Anna Hopkin with a 0.67sec advantage over Russia. Hopkin had had a fabulous week in Budapest, her bronze in the solo 100 in the vault with gold medals earned in the mixed 4x100m free and medley and the women's 4x100m free. In 52.66, she added a fourth gold in the medley relay.
European rules allow for complete replacement of quartets heats to finals and Britain made best use of that by fielding Cassie Wild, who then went on to claim silver in the 200m backstroke later in the day, Sarah Vasey, who but for an asterisk would be taking home 50m breaststroke bronze, Harriet Jones and Freya Anderson in prelims.
Dawson, with silver in the 50m back, gold in the 100m back and golds in the 4x100m medley relays mixed and women's, was delighted with taking down the 12-year-old record: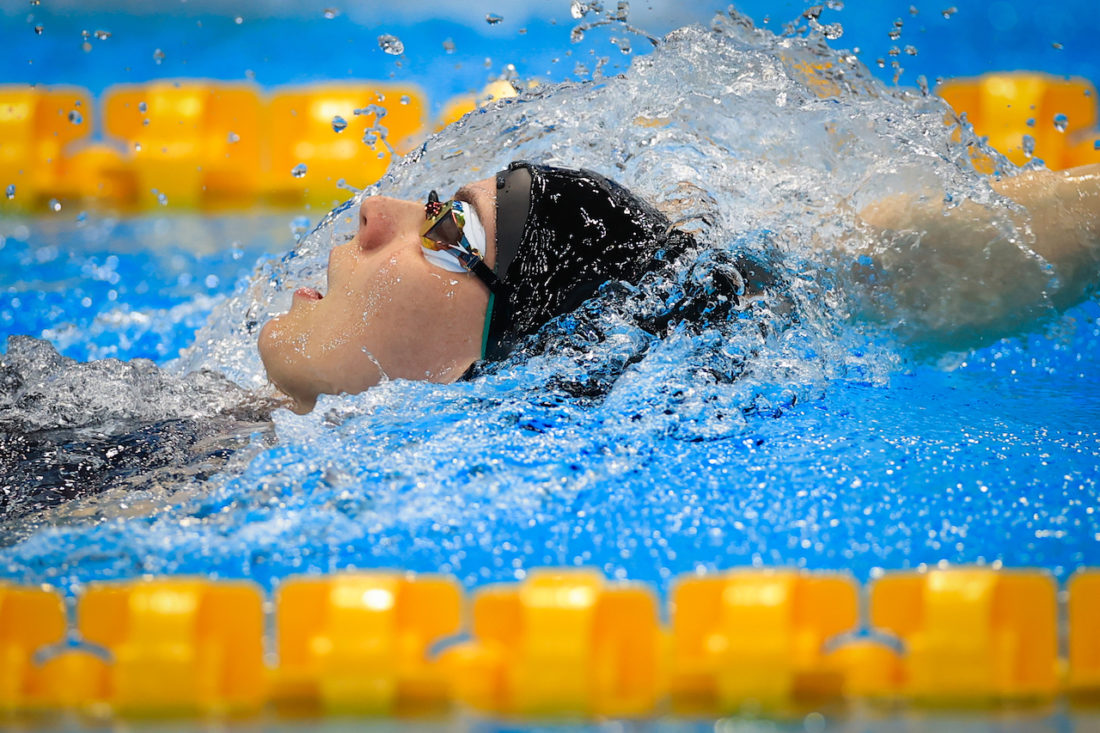 "It's great to finally get it, especially here. It's amazing seeing the British team doing so well – it was amazing seeing Cassie and then the boys win tonight, that really lit a fire under me so I think I knew I was going to make it."

Kathleen Dawson – image by Georgie Kerr, courtesy of British Swimming
Renshaw added: "In general, the whole week, GB have just been smashing it. The relays especially have done so well and won so many golds. Coming into this and watching the boys in the call room win gold, we were just so pumped behind the scenes. We knew that if we were all swimming best times, we could be up there on top of the podium. It's nice that we all delivered and Kat got a European record, so it's amazing, we're really happy."
The women's 4x100m medley, top 5:
P
L
TEAM
100m splits
Time/rolling splits
GAP
1
2
GREAT BRITAIN
DAWSON Kathleen – 03 OCT 1997
RENSHAW Molly – 06 MAY 1996
STEPHENS Laura Kathleen – 02 JUN 1999
HOPKIN Anna – 24 APR 1996
Heats:
WILD Cassie – 12 JUN 2000
VASEY Sarah – 29 AUG 1996
JONES Harriet – 27 MAY 1997
ANDERSON Freya – 04 MAR 2001

58.08 Euro Record
1:05.72
57.55
52.66
3:54.01 CR & British record
58.08
2:03.80
3:01.35
3:54.01
2
5
RUSSIA KAMENEVA Maria – 27 MAY 1999 EFIMOVA* Yuliya – 03 APR 1992 CHIMROVA Svetlana – 15 APR 1996 SURKOVA Arina – 17 JUL 1998
59.47
1:05.77
56.78
54.23
3:56.25
59.47
2:05.24
3:02.02
3:56.25
2.24
3
6
ITALY PANZIERA Margherita – 12 AUG 1995 CASTIGLIONI Arianna – 15 AUG 1997 DI LIDDO Elena – 08 SEP 1993 PELLEGRINI Federica – 05 AUG 1988
59.71
1:05.66
57.27
53.66
3:56.30
59.71
2:05.37
3:02.64
3:56.30
2.29
4
3
SWEDEN COLEMAN Michelle – 31 OCT 1993 HANSSON Sophie – 02 AUG 1998 HANSSON Louise – 24 NOV 1996 JUNEVIK Sara – 14 FEB 2000
1:00.00
1:05.45
56.79
54.30
3:56.54
1:00.00
2:05.45
3:02.24
3:56.54
2.53
5
4
NETHERLANDS TOUSSAINT Kira – 22 MAY 1994 SCHOUTEN Tes – 31 DEC 2000 DE WAARD Maaike – 11 OCT 1996 HEEMSKERK Femke – 21 SEP 1987
59.76
1:07.93
57.53
52.19
3:57.41
59.76
2:07.69
3:05.22
3:57.41
3.40
Men's 4x100m Medley – Gold For Britain & Perfect 16 For Adam Peaty
Duncan Scott raced on butterfly in heats – 51.43 split – and then became the first swimmer in European Championship to race a different stroke in the final on his way to delivered gold in the medley relay and Meet victory for Britain on the gold standard by extending a lead over Andrei Minakov on freestyle with a 46.92 blast compared to the Russian's 47.41.
Russia enjoyed a big pace-setting advantage after backstroke courtesy of a 52.13 from Kliment Kolesnikov, who in the 50m scorched a 23.80, after a 23.98 heat, World record to become the first man ever inside 24 on his way to the title. Luke Greenbank, who gave Russia's World champion Evgeny Rylov a rattling in the 200m as the rivals finished first and second one 1:54s last week, handed over to Adam Peaty in fourth place among the teams that would finish in the top five.
Peaty got past the lot, barring Kirill Prigoda, whose 59.02 split kept him 0.13sec ahead of four-Peat Peaty , on 57.38, as the Olympic champion muscled his team into second. Next in was James Guy, after bronze in the 100m butterfly. The 2015 World 200m freestyle champion and stalwart of British relays ever since, Guy on 'fly has been a force to reckon with in the British quartet since Britain challenged the USA for gold and came out with a more-than honourable silver in the last race of Michael Phelps' career back at Rio 2016. In 2019, Guy and the same quartet as that racing in the Budapest final, upset the Americans for the World title in 3:28.10, the European record. It was an astonishing game-changing moment.
The Brits in Budapest were a reach shy of that continental standard on 3:28.59, a Championship record, after Guy got the better of Mikhail Vekovishchev, 50.65 to 50.94. Minakov is faster on paper over 100m free than his British rival but then the danger in Scott the Scot is one fit to strike fear into the hearts of any Braveheart: 46.14, the swiftest suit-unaided 100m relay swim in history, at Gwangju 2019 worlds for gold in the medley relay.
Scott didn't need that for gold in Budapest on a day in which he raced butterfly in heats alongside mates Joe Litchfield, James Wilby and Tom Dean, also took home a gold-medal memory of Budapest 2021 Europeans.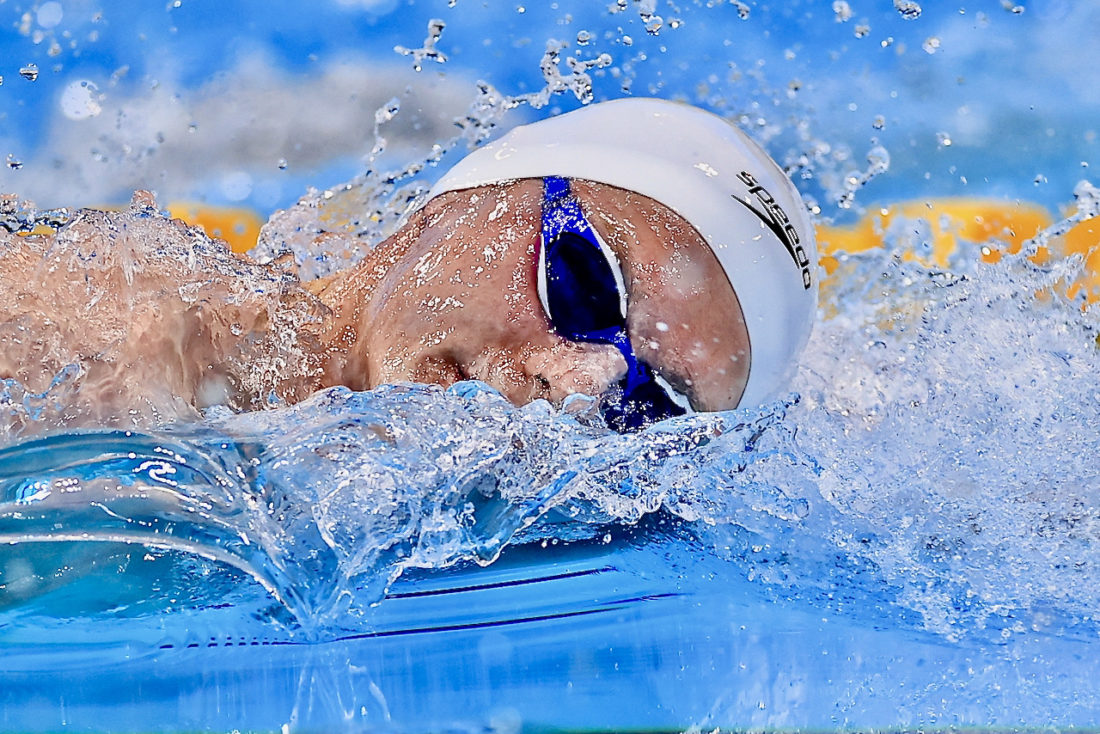 Scott emerged to say:
"For us, that's just quite exciting – for us to be able to do that on the last night, it really is exciting for what is to come in the summer. You can look at so many different areas of that that we can improve on individually but then also as a team as well – we can't wait for Tokyo."

Duncan Scott – photo by Georgie Kerr, courtesy of British Swimming
Peaty added: "It's some great swimming, I've never really been this fast in relays, never mind doing it without a proper taper or rest – it's looking very strong. We couldn't have done that without the guys swimming the heats this morning, so it's a great team effort all round."
The top 5:
P
L
TEAM
100m
TIME
Gap
1
4
GREAT BRITAIN
GREENBANK Luke – 17 SEP 1997
PEATY Adam – 28 DEC 1994
GUY James – 26 NOV 1995
SCOTT Duncan W – 06 MAY 1997
Heats
LITCHFIELD Joe – 08 JUL 1998
WILBY James – 12 NOV 1993
SCOTT Duncan W – 06 MAY 1997
DEAN Thomas – 02 MAY 2000
53.64
57.38
50.65
46.92
3:28.59CR
53.64
1:51.02
2:41.67
3:28.59
2
7
RUSSIA KOLESNIKOV Kliment – 09 JUL 2000PRIGODA Kirill – 29 DEC 1995VEKOVISHCHEV Mikhail – 05 AUG 1998MINAKOV Andrei – 17 MAR 2002
52.13
59.02
50.94
47.41
3:29.50
52.13
1:51.15
2:42.09
3:29.50
0.91
3
3
ITALY CECCON Thomas – 27 JAN 2001MARTINENGHI Nicolo' – 01 AUG 1999BURDISSO Federico – 20 SEP 2001MIRESSI Alessandro – 02 OCT 1998
53.59
57.84
51.29
47.21
3:29.93
53.59
1:51.43
2:42.72
3:29.93
1.34
4
6
POLAND STOKOWSKI Kacper – 06 JAN 1999KOZAKIEWICZ Jan – 24 FEB 1996MAJERSKI Jakub – 18 AUG 2000KRASKA Jakub – 19 APR 2000
54.18
59.34
51.11
48.19
3:32.82
54.18
1:53.52
2:44.63
3:32.82
4.23
5
5
FRANCE NDOYE BROUARD Yohann – 29 NOV 2000BUSSIERE Theo – 18 JAN 1995METELLA Mehdy – 17 JUL 1992GROUSSET Maxime – 24 APR 1999
53.22
1:00.60
51.46
47.82
3:33.10
53.22
1:53.82
2:45.28
3:33.10
4.51
In other finals…
The Magyar Momentum In Kristof Milak
Men's 100m butterfly: Victory for Hungary's Kristof Milak secured the 200m World champion's first 100-200m 'fly double at the Europeans. The winning time sent a signal to the rest off the world, even American World-record holder Caeleb Dressel that Milak, who in 2019 took down Michael Phelps' 2009 World record for the global crown, intends to be much more than a 200m man after his sprint form lost its sparkly edge after a silver in the same Duna Arena pool in the 100m at 2017 World title.
Serious intent was followed by a battle for the minor spoils, the silver to Josif Miladinov in 50.93, just 0.06sec ahead of James Guy on his way to gold in the medley relay.
After a fine week of racing and contributing to Britain's relay bonanza, Guy said: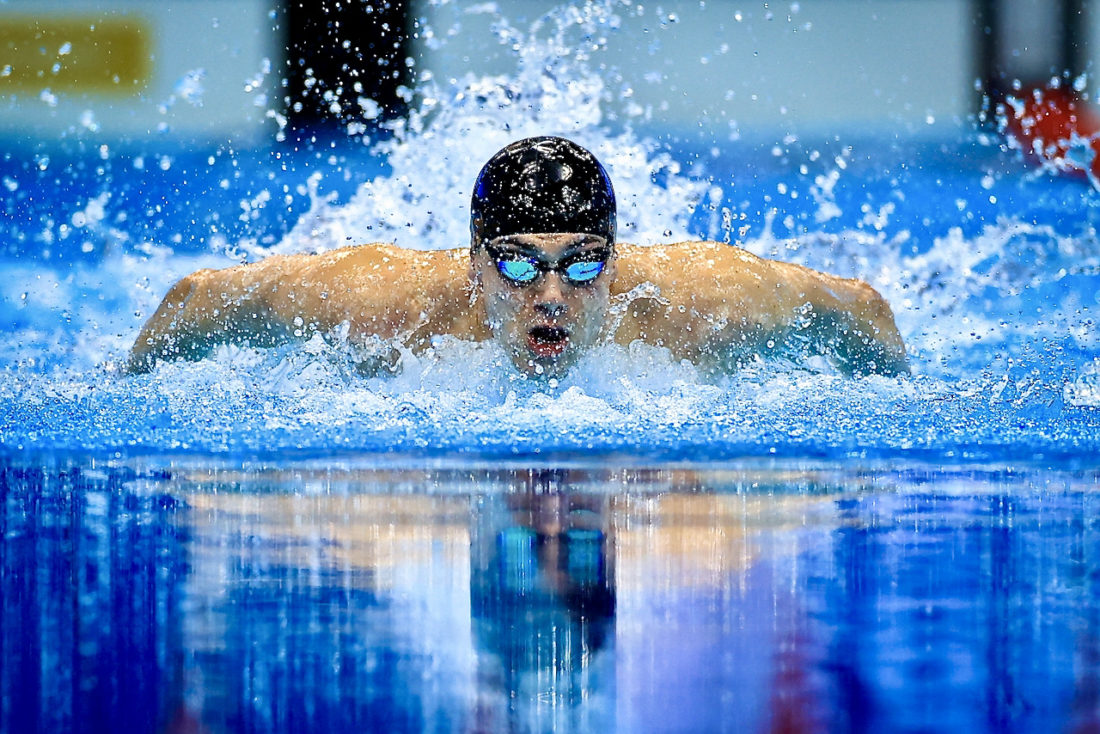 "It's been a long, long week, five days' worth of racing and your main event is the sixth day, so I've started my campaign in the fly quite late in the week. To get under 51 again after last night is amazing, it shows I'm in a good place what I'm doing with Dave [McNulty] at the Bath National Centre is working. There's an old saying, 'form is temporary, class is permanent'. I've always believed that and I've always believed that what's meant to be won't pass me by. It just shows to keep the mentality, keep going and don't give up. It's been four years since I last went 51 and I've done it twice this week. I can't wait for Tokyo now. Training with Tom Dean has helped massively, and my girlfriend, everything is coming together in and out of the pool."

James Guy – image courtesy of Georgie Kerr, British Swimming
P
L
Nation
Swimmer / DoB
R.T.
50m
Time /
last 50
Gap
1
4
HUN
MILAK Kristof
(20 FEB 2000)
0.67
23.58
50.18 CR
26.60
2
3
BUL
MILADINOV Josif
(23 JUN 2003)
0.66
23.88
50.93
27.05
0.75
3
5
GBR
GUY James
(26 NOV 1995)
0.64
23.80
50.99
27.19
0.81
4
6
POL
MAJERSKI Jakub
(18 AUG 2000)
0.66
24.23
51.11
26.88
0.93
5
8
ITA
BURDISSO Federico
(20 SEP 2001)
0.67
24.10
51.39
27.29
1.21
6
1
RUS
VEKOVISHCHEV Mikhail
(05 AUG 1998)
0.64
23.65
51.43
27.78
1.25
7
2
SUI
PONTI Noe
(01 JUN 2001)
0.69
24.21
51.45
27.24
1.27
8
7
HUN
SZABO Szebasztian
(11 MAR 1996)
0.65
23.64
51.86
28.22
1.68
Three More Golds Take Italy To Budapest Team Trophy
Women's 400m freestyle: Italy took the Team Trophy on points secured on the numbers and placings of qualifiers past heats and with 27 medals had one more than Britain overall.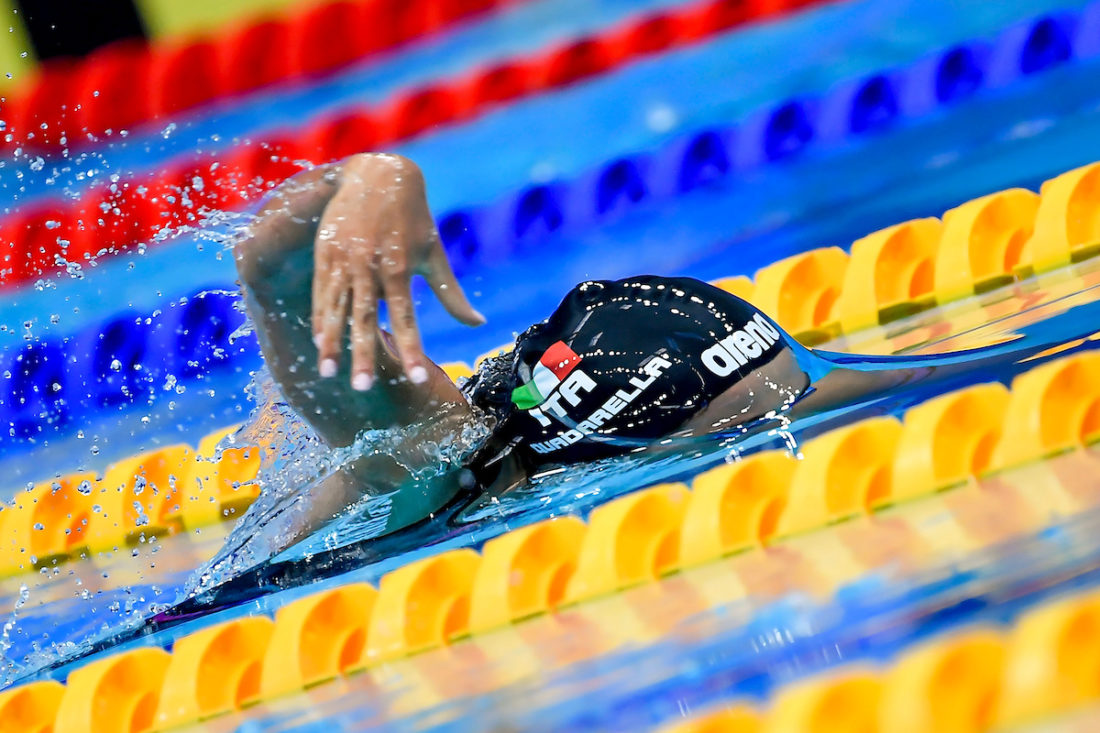 Simona Quadarella's win in the 400m free completed a distance treble to match her Glasgow 2018 success. The three-gold free success had been done before her: Hungarian Boglarka Kapas was the first to achieve it, at London 2016. Gold was Quadarella's in 4:04.66, the podium completed by Russia's Anna Egorova, 4:06.05, and Kapas, on 4:06.90.
Women's 200m backstroke: Italy's Margherita Panziera may have relied on good fortune for silver in the 100m but in the 200m she left no doubt and retained her title in a championship record of 2:06.08. Cassie Wild, British training partner of Kathleen Dawson at the University of Stirling, took silver in 2:07.74, the bronze to Katalin Burian, of Hungary, in 2:07.87 an armswing ahead of Austria's Lena Grabowski.
Women's 50m breaststroke: In the breaststroke Benedetta Pilato follows her 29.30 World record in semis with a 29.35 win that gave her two sims inside the top pace of Lilly King and the American's 2017 World record. Three swimmers then hit the wall within 0.04sec, Finland's Ida Hulkko got silver in 30.19, ahead of title- holder Yuliya Efimova* (30.22), of Russia, with Sarah Vasey (30.23) the third swimmer home with a clean record. Vasey saw past the negative of a positive to focus on her own performance, saying: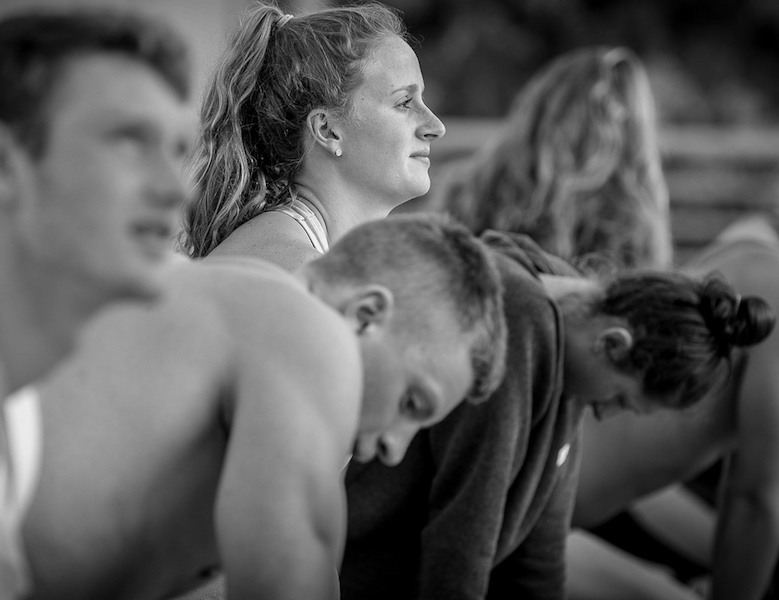 "Obviously its bitter sweet! That's the fastest I've been in four years with my PB from 2017 trials, and I've not really been near that since. I'm trying to think positively, but obviously it's so frustrating being 0.01 off a medal. My focus is the 100m, that's what I'm going to the Olympics for, so this is just a bonus event. My strength has felt really good, so that's another positive and my start, which has always been my weakness is getting better every time I swim, so I'm taking the positives from it."

Sarah Vasey – photo by Gary McCaffery, Gmcphotography.org
Men's 50m freestyle: Flying Finn Ari-Pekka Liukkonen took gold by 0.08sec ahead of title-holder Ben Proud, of Great Britain, 21.60 to 2.68. That marked the first European title for Finland since Jere Hard won the 50m 'fly back at Berlin 2002. Greek challenger Kristian Gkolomeev took bronze in 21.73, with Florent Manaudou, the Olympic 2021 champion and 2016 silver medallist, on 21.81 in fifth, 0.01sec adrift Tom de Boer, of The Netherlands.
Men's 400m medley: Russia's Ilya Borodin, 18, became the first non-Hungarian winner of the title since Berlin 2002 when he stopped the clock at 4:10.02, a World junior record that isn't the fastest time ever swum by a junior (cue FINA fandango). Laszlo Cseh (2004-2012) and David Verraszto (2014-18) had built the longest winning streak in a men's event at Europeans. Only GDR women had achieved that national run before them. In Budapest, the Hungarian run came to an end.
After Borodin came Alberto Razzetti, of Italy, on 4:11.17, then Britain's Max Litchfield, on 4:11.57, leaving the Hungarians without a medal in this event for the first time since 1999.
Although sixth after the opening butterfly leg, Litchfield, coached by Dave Hemmings at Loughborough, was never out of contention but he left the rocket response to the last length, dipped below 28sec and got past Verraszto. Said Litchfield: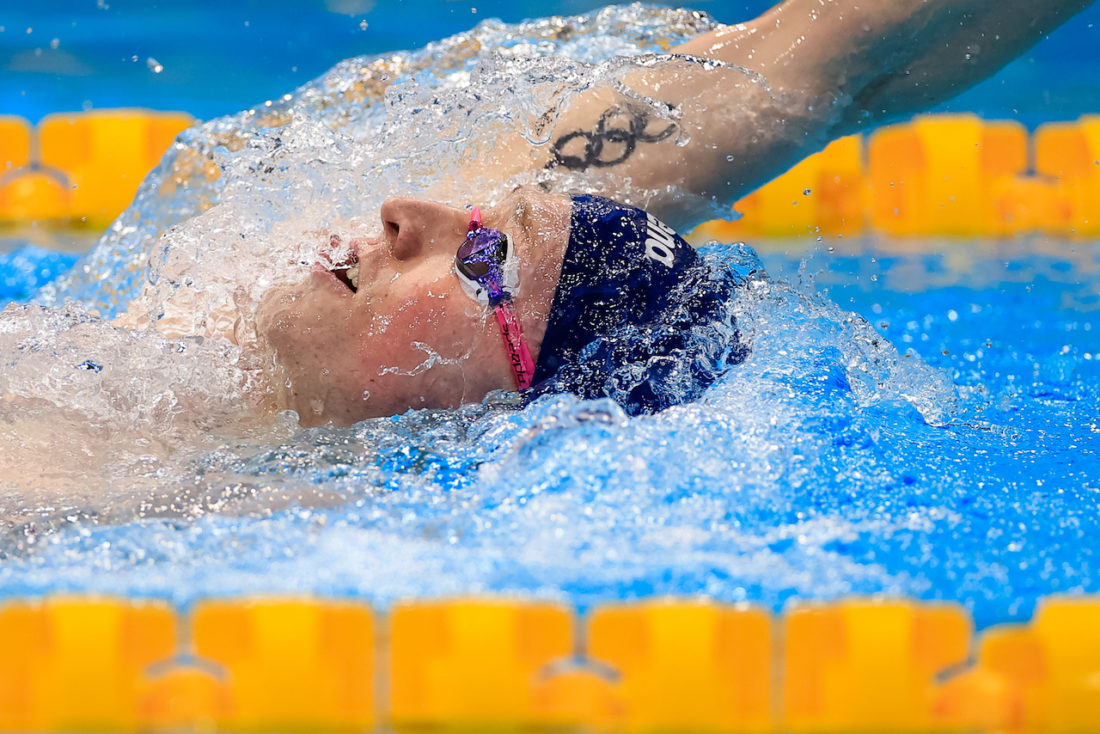 "I'm really happy with that. I would've liked to have been higher up the medals, I always would, but to come away with a medal from a meet where we're not fully rested is great. It's a good drop from trials and I swam better, tactically and technically, than trials – its positives all round and it looks good going forward. You can't help what other people do, I've just got to get in there and do my best. The way I'm swimming and the way I feel when I'm swimming, it feels like I did in 2016 and 2017, and that's the way I swim it best, coming back fast."

Max Litchfield – image by Georgie Kerr, courtesy of British Swimming
Women's 50m butterfly: In 25.30, Dutch sprint ace Ranomi Kromowidjojo achieved the 50m free- 50m fly dash double. The race went without Sarah Sjostrom, the World record holder recovering from a fractured elbow. That meant the race marked only the third occasion in 12 editions of the championships (since 1999, when the 'fly dash made its debut) when the title did not go to a Swedish winner (Therese Alshammar the other mega winner). In the last session in Budapest, the silver went to Melanie Henique, of France, in 25.46, the bronze to Denmark's Emilie Beckmann, in 25.59.