Britain's Mike Peyrebrune Sets Sail For Singapore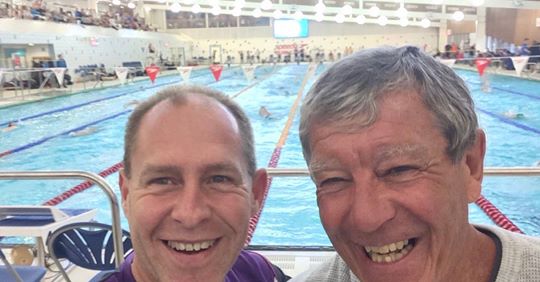 Dr Michael Peyrebrune, whose work as a sports scientist with the Great Britain swim team played a part in the success stories of double Olympic distance freestyle champion Rebecca Adlington and many others, has been appointed Head Coach and Director of Swimming to the Chinese Swimming Club Lin Singapore.
A former Britain and Scotland international, Peyrebrune will be heading back to the future in some regards: his move back to coaching will see him work closely with Technical Director of Swimming for Singapore Swimming Club Ian Turner, mentor to Olympic and World titles medallist Paul Palmer and the man who steered Britain's efforts to get its men's 4x200m free quartets on to big international podiums.
Part of Peyrebrune's role will be to improve performance in swimming at the CRC by raising standards and knowledge among home coaches.
That mission is one that Turner knows well. After returning home to Britain in 2014 after being diagnosed with cancer of the tonsils during his two-year stint as Singapore's national coach, Turner returned to his roots at City of Lincoln Pentaqua but returned to Singapore a year ago to take up a consultancy role at the Chinese Swimming Club.
"Upskill the coaches" was his mantra along with a reminder to Singapore that the Singapore Swimming Association, under the leadership of its head coach Stephan Widmer, had been trying to raise coaching standards but that the effort "hasn't been embraced as it should be".
With Turner in one corner and Peyrebrune in the other, the knowledge is clearly there to be had for Singapore.
Peyrebrune, who takes up his post next month, has had a fine start to the year, the new job coinciding with his engagement to Hilda Mears, his long-time partner.
A consultant coach and sports scientist at British Swimming, Peyrebrune has also long worked with international swimmers at NOVA Centurion and Loughborough University and brings 30 years of coaching experience to the deck.
Until recently, he was the National Technical Lead for British Swimming, working closely with Head Coach Bill Furniss on all National Team matters.
In the build up to the Rio Olympics, he worked closely with coaches Mel Marshall and Dave McNulty testing and monitoring the programmes of Adam Peaty, Jazz Carlin and Siobhan O'Connor. Previously he was the Sports Scientist for Rebecca Adlington and Jo Jackson and has coached or advised over 100 International Swimmers at Loughborough University and NOVA Centurion since 1990.
During a three-year period as ASA Director of Swimming, he lead the restructuring of Age Group swimming that resulted in the BagCat programme and contributed significantly to the successful bids for World Class Performance, Start and Potential funding.
Peyrebrune has published widely in academic journals and has written many coaching articles on planning, testing and monitoring in Swimming. He was the lead-author of several British Swimming manuals covering many aspects of sports science, coach education and Long Term Athlete Development (LTAD).
His day-to-day work includes the successful integration of Sports Science into the training practices of top coaches. He has been part of the British Swimming support team for the past 14 years and has played a key role in successful World Championships and the Olympic Games in Rio 2016.
A connoisseur of fine wines and – as he tells fellow coaches who have begged to differ on occasion – rock music, Peyrebrune, a former British 50 metre backstroke record holder, was once a teammate of this author decades back when we covered 16 and more k a day ourselves.
Furniss once said that Peyrebrune had:
… a wealth of knowledge and technical expertise in performance swimming [that had helped Britain to develop] the connectivity between our coaches, sport scientist and swimmers