Boycott Threats Force Paralympic U-Turn – Russia & Belarus Athletes Out Of Paralympics Day After 'No Legal Basis' Decision Kept Them In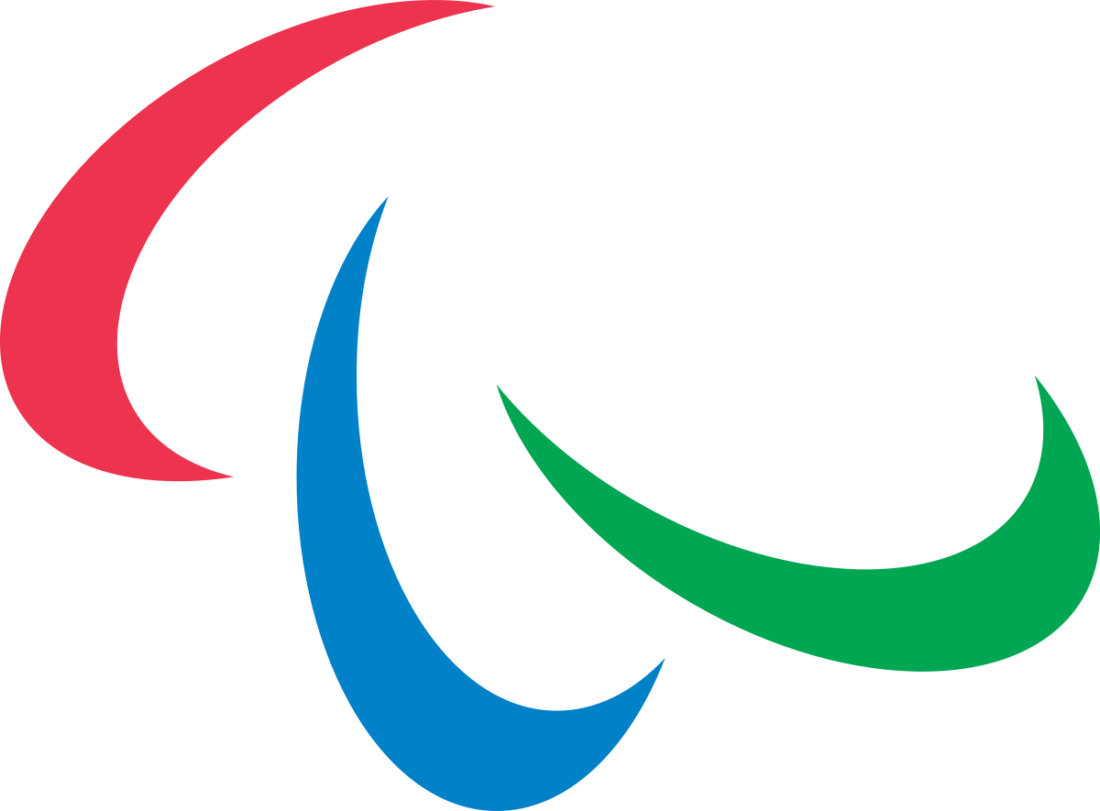 In a dramatic u-turn by the International Paralympic Committee (IPC), Russian and Belarusian athletes and officials have been told to leave the Beijing 2022 Paralympic Winter Games after other nations threatened a mass boycott.
Less than 24 hours ago, the IPC said Russians and Belarussians could compete under a neutral flag because there was "no legal basis" to block them from the Games, following consultation with the International Olympic Committee and International Federations such as FINA.
In response, Global Athlete (full statement below) noted "the power athletes yield as a collective" but lamented that "the Ukrainian nation continues to experience a raging war from Russia and Belarus and sport administrators only acted after a global outcry."
Citing athlete safety in an "escalating situation" and noting the threat of boycott, the IPC overruled the legal opinion cited yesterday when faced with a wipeout.
FINA, too, has cited "no legal basis" for keeping Russian and Belarussian delegations out of the World Championships in June. While that is disputed by the Ukraine Swimming Federation, FINA may also face the same dilemma as the IPC: if any of the leading swim nations threaten to boycott the showcase event in Budapest in June, FINA would have to chose between going ahead with a half-baked event that loses its edge and the scope of its title (World) or ask Russia and Belarussian to sit this one (at least) out.
The latest twist in the agonising in sport over Vladimir Putin's invasion of Ukraine follows the decisions of the International Olympic Committee (IOC) and FINA to strip Russia's pariah president of the honours bestowed on him.
Talks at a high level in Olympic and Paralympic sport are now taking place to consider revisiting constitutions and rules far and wide because the war brought to Ukraine by Russia has highlighted a woful omission: much of the autonomous realm of Olympic sport does not take account of international laws and human rights agreements, among reasons cited "we are neutral" and "no politics", even when those positions are unsustainable.
While there could be no IPC ban on Russians yesterday even as cluster bombs were used on civilians in an act of war likely to end up, along with other atrocities, at the International Criminal Court in an investigation already launched by the ICC Prosecutor, threats of boycott from other countries at the Games in Beijing has today shifted opinion among decision makers.
The IPC said in its statement that it was forced to reconsider after a number of countries threatened to boycott the Games of the committee did not bar Russian and Belarusian athletes. IPC President Andrew Parsons said in a statement: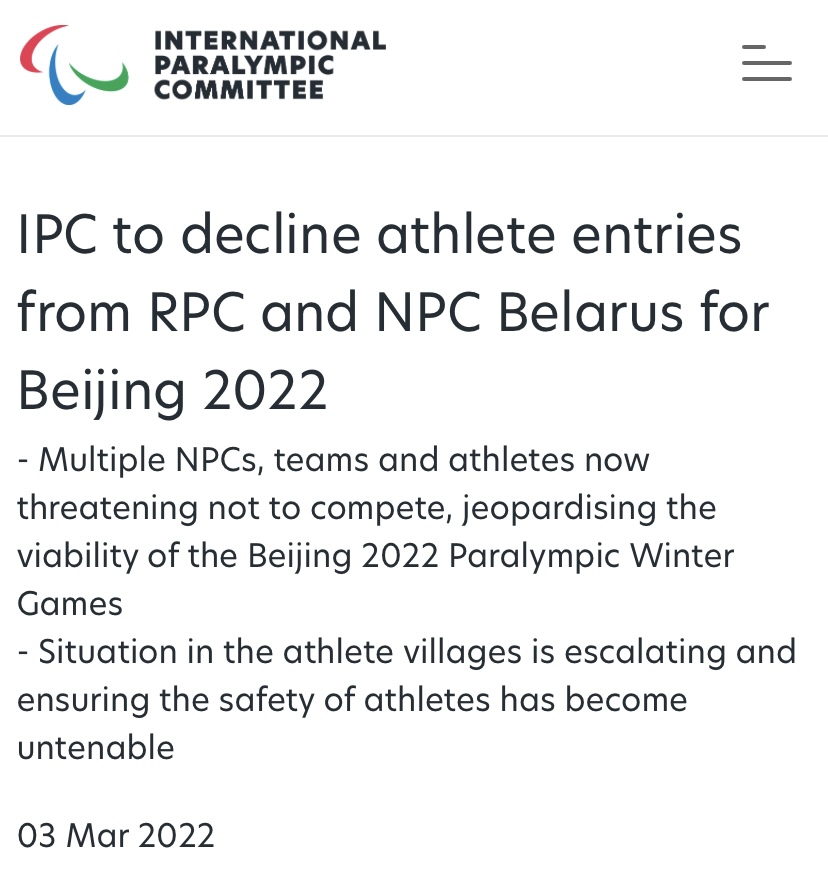 "The IPC is a membership-based organisation, and we are receptive to the views of our member organisations. When our members elected the Board in December 2021 it was to maintain and uphold the principles, values, and rules of the Paralympic Movement.  As Board members that is a responsibility and duty we take extremely seriously,"

"In taking our decision yesterday we were looking at the long-term health and survival of the Paralympic Movement. We are fiercely proud of the principles and values that have made the Movement what it is today. However, what is clear is that the rapidly escalating situation has now put us in a unique and impossible position so close to the start of the Games. Yesterday we said we would continue to listen, and that is what we are doing.

"In the last 12 hours, an overwhelming number of members have been in touch with us and been very open, for which I am grateful. They have told us that if we do not reconsider our decision, it is now likely to have grave consequences for the Beijing 2022 Paralympic Winter Games. Multiple NPCs, some of which have been contacted by their governments, teams and athletes, are threatening not to compete."

Red warning – image by Patrick B. Kraemer
Global Athlete Response
In a response to the IPC move, Global Athlete issued the following statement:
3 March 2022: Today is a bittersweet victory for Ukrainian athletes. On the one hand, we have seen the power athletes yield as a collective. On the other hand, the Ukrainian nation continues to experience a raging war from Russia and Belarus and sport administrators only acted after a global outcry. As athletes have stood together for change, the Ukrainians are also standing together for their sovereignty and for peace.
Ukrainian Skeleton athlete Vladyslav Heraskevych says, "On behalf of the Ukrainian athletes I want to thank the hundreds of Paralympians and Olympians for your unwavering support to our country. It is because of the athletes, the International Paralympic Committee had to reverse their decision that has now resulted in the ban of Russia and Belarus from the 2022 Beijing Paralympic Games. Today's decision sends an important message to both Russian and Belarus leaders that their actions have sadly dire consequences to all Russians and Belarusians including their athletes. We are forever grateful to the international athlete community."
Rob Koehler, the Global Athlete Director General says, "We have been humbled to help elevate the Ukrainian athletes' voices and hundreds of Paralympic and Olympic athlete supporters. Today, principle prevailed over politics. To avoid history from repeating itself, any challenge by Russia and Belarus to the IPC's decision must be met with swift opposition as time and time again the Court of Arbitration for Sport has favoured Russian interests over athletes' interests."
Ali Jawad, British 4 x Paralympian and Global Athlete Board Member says, "It is abundantly clear that athletes forced this decision, not sport leaders."
On the eve of the 2022 Paralympic Games, we wish all Paralympians success and safe and fair competition. May you inspire nations and future Paralympians.
Related SOS Coverage
Ukrainian Swimming Says Athletes/Coaches Injured & Insists FINA Does Have Legal Basis For Full Russia/Belarus Ban: Discrimination
British Swimming To Boycott 2022 World S/C Titles & 2024 Euro Champs If They Stay In Kazan, Russia As FINA Says 'No Legal Basis' To Ban Athletes
Vladimir Putin Stripped Of FINA Order But Russia / Belarus Athletes Only Barred From Flying Flag
No More Bubbly – Putin Stripped Of Olympic Order As IOC Bosses Tell Feds To 'Ban All Russian Athletes & Officials'
Ukraine Athletes Call On IOC To Ban All Athletes & Olympic/Paralympic Committees Of Russia/Belarus
Kazan Stripped Of World Championships As FINA Responds To Ukraine Invasion & Pressure From Swim Feds
Ukraine Swimming Federation Calls On FINA To Suspend Russia / Belarus & Cancel All Events
Nordic Swimming Feds Call On FINA To 'Immediately Suspend Russia & Belarus' Pending Peace In Ukraine
Red Card For Russia Is The Only Moral & Ethical Response From Sport To Putin Power
IOC Urges FINA & Other International Federations To Cancel All Events In Russia Or Belarus; LEN Scraps Russian Competitions
FINA Cancels Two Events But Leaves World Championships, Junior & Senior, "Under Close Review" As Putin's Murderous Attack On Ukraine & Its Sovereignty Continues
Blood In The Water & Why Sports Leaders Cannot Allow Warmongers To Use Sport As A Bargaining Chip In Their Olympic Power Games
Putin Putsch: FINA Must Cancel All Events In Russia To Guarantee Athlete Safety As No1 On 4-Point Priority Plan To Honour Olympic Charter "Neutrality" Key To Autonomy
The Red Lines Between Beijing 2008, 2022, Olympic Governance, Games Investors & Athletes Demanding Cultural Revolution