Boxall Takes Record 4th Top Coach Award As SCTA Honours Nugent For Outstanding Contribution To Aussie Success Story

Dean Boxall landed a record – and no-brainer – fourth Swimming Coaches And Teachers Australia (SCTA) Coach of the Year Award on the Gold Coast at the weekend, while former Dolphins head coach Leigh Nugent was honoured for his outstanding contribution to Australia's story of high achievement in the water.
The annual award ceremonies were part of the SwimCon 2023, the SCTA's annual gathering and Australia's premiere Swim Industry Conference.  
Head coach at St Peters Western, Boxall guided Ariarne Titmus and Mollie O'Callaghan to three individual gold medals at the World Aquatics Championships in Fukuoka in July. Both returned home with a new World record in tow, Titmus on 3:55.38 in the 400m freestyle and O'Callaghan on 1:52.85 in the 200m freestyle and that as the first women in history to claim the 100-200m double at the global long-course showcase all the way back to 1973.
Nugent was a popular recipient of the 2023 Outstanding Contribution in Swimming Coaching in Australia award at the Gold Coast event. As SCTA noted in its citation: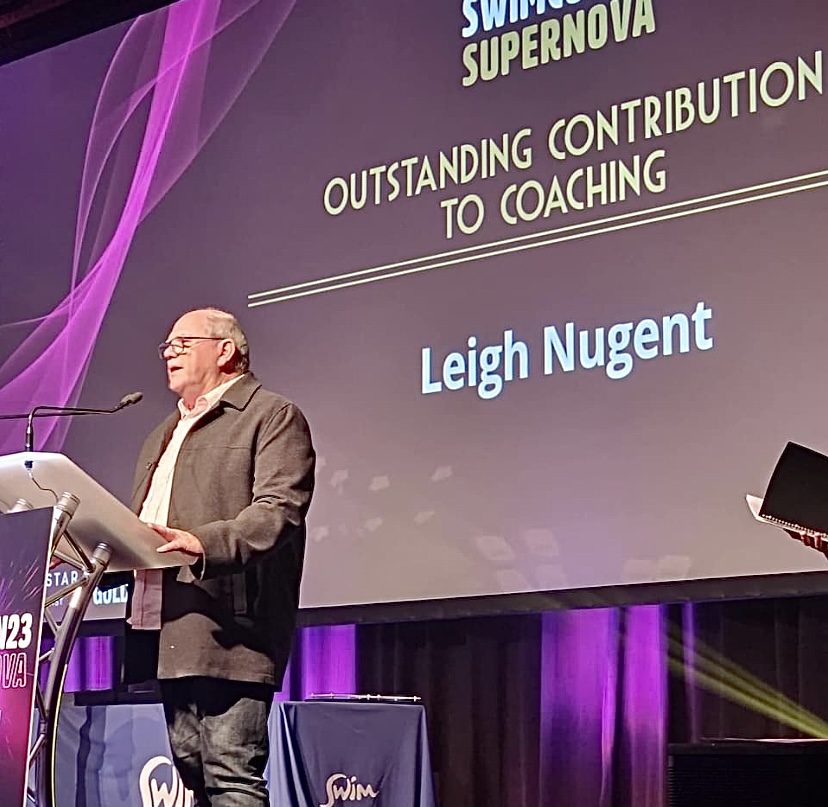 "Nugent was recognised for his contribution to swimming's organisation, to Swimming Australia, the athletes, and coaches, who was head coach of the Nunawading Swim Team from 1980 to 2000 before taking on the role of National Youth Coach.

"Leigh was the National Youth Coach 2000 to 2003, then again 2005 to 2009 only interrupted by being named the Head Coach of Australia 2003-2004 and 2009 -2012. And named as head coach of Australian Swim Team at the 2004 and 2012 Olympics in Athens and London. He has worked for Swimming Australia as the Technical lead for WA, SA, Victoria, Tasmania, and NSW over the years. Leigh is key member of Swimming Australia's performance unit and mentor coach to many.

"Leigh is now regarded as one of the world's greatest technical coaches and will play a continued role alongside Head Coach Rohan Taylor in the campaign to Paris next year. He is a life member of ASCTA and continually contributes to coach education, SWIMCON, webinars and through his partnership with Gold Class Swimming.

SCTA on Leigh Nugent – image courtesy of Sam Purvis, GB Olympian and now teacher and coach in Australia
More images of the ceremony and award winners at SCTA Facebook page
Back to Boxall and a sorority swim score that stretches beyond Titmus and O'Callaghan: in Fukuoka, St Peters Western clubmates Shayna Jack* and Brianna Throssell helped the Dolphins claim the 4x200m freestyle title in Worlds-record time.
That helped Australia to the top of the medals table as lead nation at the championships, upsetting the USA for the first time since Don Talbot led the Dolphins to the crest of a wave in the same Japanese city back in 2001.
In that context,. Boxall had strong competition for the coach award, the nominations list capable of picking up honours anywhere in the world: Michael Bohl – Kaylee McKeown (Gold 50, 100 and 200 backstroke); Tim Lane – Cameron McEvoy (Gold 50 Freestyle); Peter Bishop – Kyle Chalmers (Gold 100 Freestyle) and Damien Jones – Sam Short (Gold 400 Freestyle).
Other Winners – As Reported by SCTA media man Ian Hanson in the official statement:
Other major winners presented with their awards at The Star Casino ballroom were Kate Sparks (Yeronga Park, QLD) who was named the Open Water Coach of the Year and the Multi Class Coach of the Year while Richard Sleight (St Peters Western) was named Age Group Coach of the Year.
Sparks steered Rio Olympian Chelsea Gubecka, who was in the room tonight, onto her second Olympic team after her silver medal in the 10k at the Fukuoka World Championships.
As well as coaching Paralympic gold medallists Rowan Crothers to two gold and Katja Dedekind to one gold at the Para World Championships in Manchester. Sleight led the St Peters Western team to another coveted and much sought after National Age Pointscore and he has just returned from the World Junior Championship in Israel where he coached Jamie Perkins to gold in the women's 400 freestyle and Jacyln Barclay to gold in the 100 backstroke.
A record number of nominations were received for the Swim Australia teaching awards with Canberra's Rhiannon Kocmar of Aquatots ACT winning the much sought after 2023 Teacher of the Year. Rhiannon has been a swimming instructor for over 21 years, dedicating and nurturing the next generation of swim instructors. She goes beyond her role by providing comprehensive qualifying courses, where she imparts not only technical skills but also instils her infectious enthusiasm for swimming.
Her students are empowered to become effective and empathetic instructors who prioritize safety and enjoyment in the water. Rhiannon's commitment to her craft is exemplified by her impactful work as a swim instructor in Thailand through Rotary. Her selfless efforts have not only enriched the lives of countless individuals but have also contributed significantly to the mission of water safety awareness. Her ability to connect with diverse audiences and tailor her teaching methods to various learning styles is truly commendable.
There was also a Highly Commended Award for Teacher of the Year which went to Henry Taylor from Alpha Learn to Swim in Queensland Henry has been teaching/coaching in regional Queensland for the past 27 years and is a pillar of the Central Queensland community teaching children how to swim and making them safer around water.
The 2023 SWIM Australia Teacher of the Year for Learners with Disability went to Kelli-Jane Smith, from Little Snappers Swim School, Queensland. Kelli-Jane has been teaching for 28 years and is currently developing an alternative needs program for Little Snappers. Kellie, who holds a Diploma and Degree in Sports Psychology, has adopted the "To, For, With, Alone" teaching methodology to maximise engagement and learning outcomes for her students, her peers and in providing education and advice to the parents and professionals within the wider swim community.
While the 2023 SWIM Australia Teacher of the Year for Babies & Toddlers award went to Alena Sarri from Aquatots, ACT Alena has been teaching babies classes for the past 21 years and is the director of Aquatots Swim School. Alena is also a Diamond status teacher. Her ability to create engaging and enjoyable lessons captivates both babies and parents alike, fostering a love for water activities that extends well beyond the pool. Alena's knowledge and experience has been tapped into on the world circuit with Alena presenting at the Austrian Baby conference and the Nordic Swim Conference
– * – swimmer served a contested suspension after testing positive for a banned substance