Bobby Finke Gold Ahead Of Wellbrock & Romanchuk With Last-Lap Trademark Turning Distance-Free Events Into The Kierin Of The Pool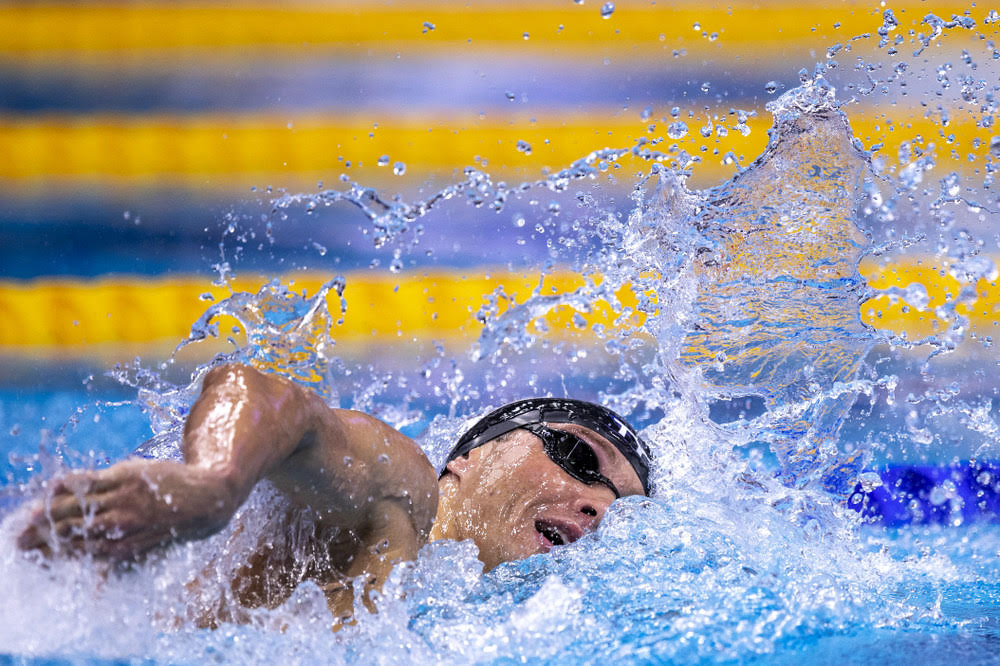 Men's 800m freestyle – Bobby Finke became the first American winner of the 800m title since the event was introduced to World titles in 2001.
The American won it with the same tactic that granted him Olympic 800 and 1500m gold in Tokyo last year: last lap sprinting at a pace that out-sprints almost all of the very best 200m free last laps in history, the last lap of Zhang Lin's bombastic 800m World record in a shiny suit and leaves the best of the rest distance swimmers floundering to find an answer.
Perhaps they will in the 1500m after an 800m led for much of the race by Ukraine's Mykhailo Romanchuk, with Florian Wellbrock, the German ace who gave him shelter from the war in his country being waged by Russia, pacing close by throughout.
Gold for Romanchuk, whose father is back home as a soldier in the home defence of his country, would have been the fairytale almost all wanted not to be but that's not sport even sport star kid with politics, as Romanchuk noted in an interview (to follow).
Finke took gold in an American record of 7:39.36, Wellbrock silver in 7:39.63 and Romanchuk, who led Finke 1.11sec at the last turn, an emotional bronze in 7:40.05 and an effort that sent waves of courage and encouragement to his countrymen and women back home.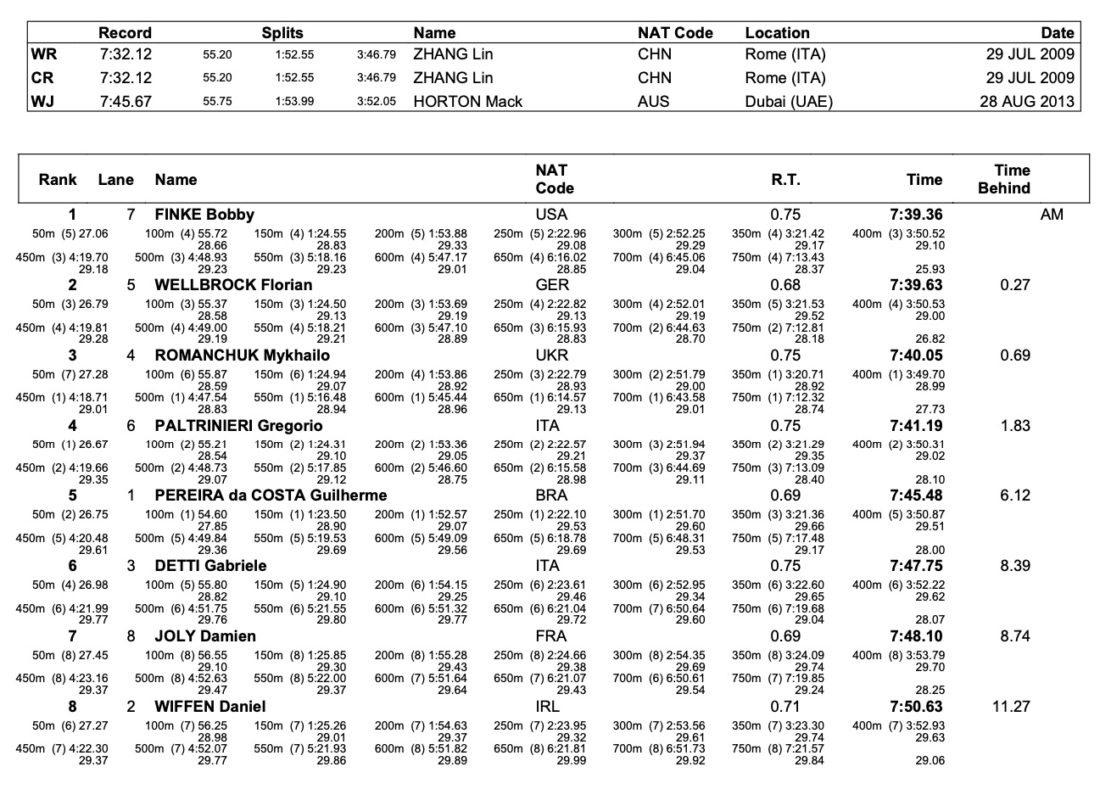 Sport is not war but it is also a realm where, in the depth of the fight, no quarter is given – and that regardless of the circumstances. Even so, many wished this day that the 750m mark had marked the end of the race.
It did not. Indeed, Finke made it feel like the start of the race.
At 25.93, the American was faster than his last lap at Tokyo, and just outside his last-length speed in the 1500 in Tokyo.
At 25.78 heading home to 30-length gold in Japan, Finke left the 26.46 in which Duncan Scott produced the fastest homecoming split on the way to the 200m podium in Tokyo on the cutting-room floor in splits, along with the shredded remains of the 26.12 at which Michael Phelps raced in polyurethane to the Olympic record over 200m at Beijing 2008. Even the 25.70 last length of Paul Biedermann speeding towards what survives yet as the World record of 1:42.00 was rattled by Finke's fury.
Take a dip into the history book and we find him travelling faster than Jill Sterkel ever did in the dash and then there's this: when Zhang Lin set the 800m freestyle record at an other worldly 7:32.12 at the Rome shiny suits circus, compression squeezing the very fatigue out of his loins, he came home in 25.99, ripping 2.69sec off Oussama Mellouli, – he of `Olympic 1500 and marathon gold – just down the one lap home.
Imagine that.
We never thought we'd see the likes again. Yet there it was. No shiny suit to soothe the pain in his legs but Finke talks of the drive in him that simply won't allow him to leave anything in the tank, in the pool. It's his way, he says, of coming out of races knowing he could not have given any more.
What Finke Had To Say On His Last Lap, Strategy, Expectations …
What seemed odd was that there was no gesture or mention of Romanchuk's circumstances in the American corner. Too much politics? But then, as Romanchuk noted to many a nod from the media assembled to hear him talk, sport is stacked with politics, and how. Here's what the official view from the USA cited from their champion:
Finke on his last lap: "I was just thinking in my head it is just a 50 left. It is only like 26 seconds of pain and if I can pull off a win it is worth it. I'll settle through the pain."
Finke on his strategy: "My strategy going into the race was just to try and actually be in front for the last 50 and then just really pound the last 50 but things changed when Romanchuk started pulling away."
Finke on comparing this win to his gold in Tokyo: "This one means a lot. This whole past year has been pretty stressful. Just coming off of Tokyo and high expectations for myself, this one means a little bit more."
Meanwhile, back in Rome 2009, Zhang faced a heap of questions back in Rome 2009, the shiny suit surely not the only explanation for a time that remains almost 1sec per 100m faster that the best speed of the best blokes 13 years on. The questions for Finke were much milder in Japan when Romanchuk took the silver in 14:40.66, and Wellbrock the bronze in 14:40.91.
Finke was asked about his last lap again here in Budapest and indicated that it is a deliberate tactic in that he said he saw Romanchuk and knew that he had to keep him within reach, within his sights and fight-back distance, so to speak, if he had a chance of making that last lap count.
It did. The winning margin of 0.27sec was the tightest in the history of the 800m freestyle at the World Championships.
Budapest 2022: Schedule; Prize Money; Start Lists & Results; Where To Watch; FINA Pay-Per-View; Tickets; Covid Regs
In other finals, all of them marked by the absence of a wave of big hitters, whether by choice because they are bypassing Budapest, through lines or injury:
Women's 200m Freestyle
The final was marked by the absence of the top two from the Tokyo Olympic Games – Ariarne Titmus and Siobhan Haughey – and several others who would have been contenders;
Men's 50m Breaststroke
The final was marked by the absence of Adam Peaty, World champion in w2015, 2017, 2019: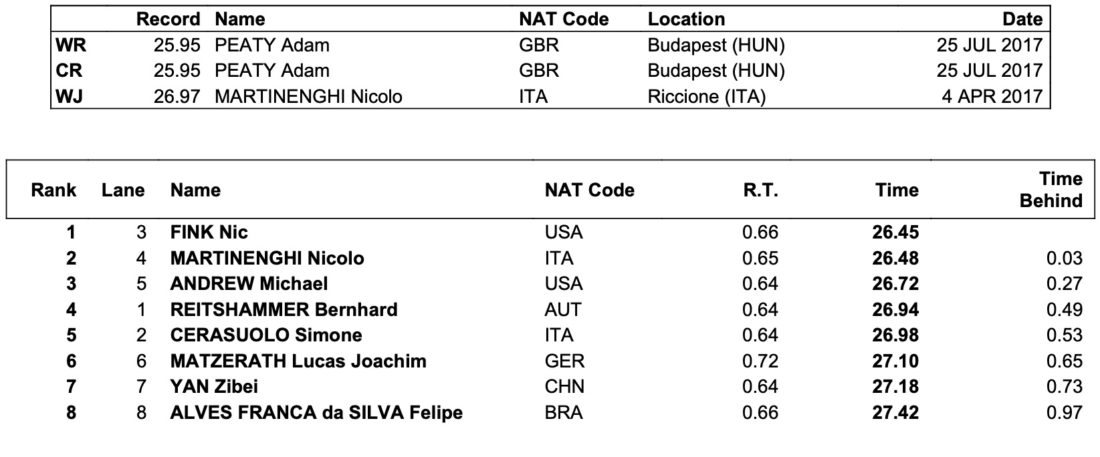 Mixed 4x100m Medley Relay