Bill Yorzyk, First Olympic Butterfly Champion, Passes At 87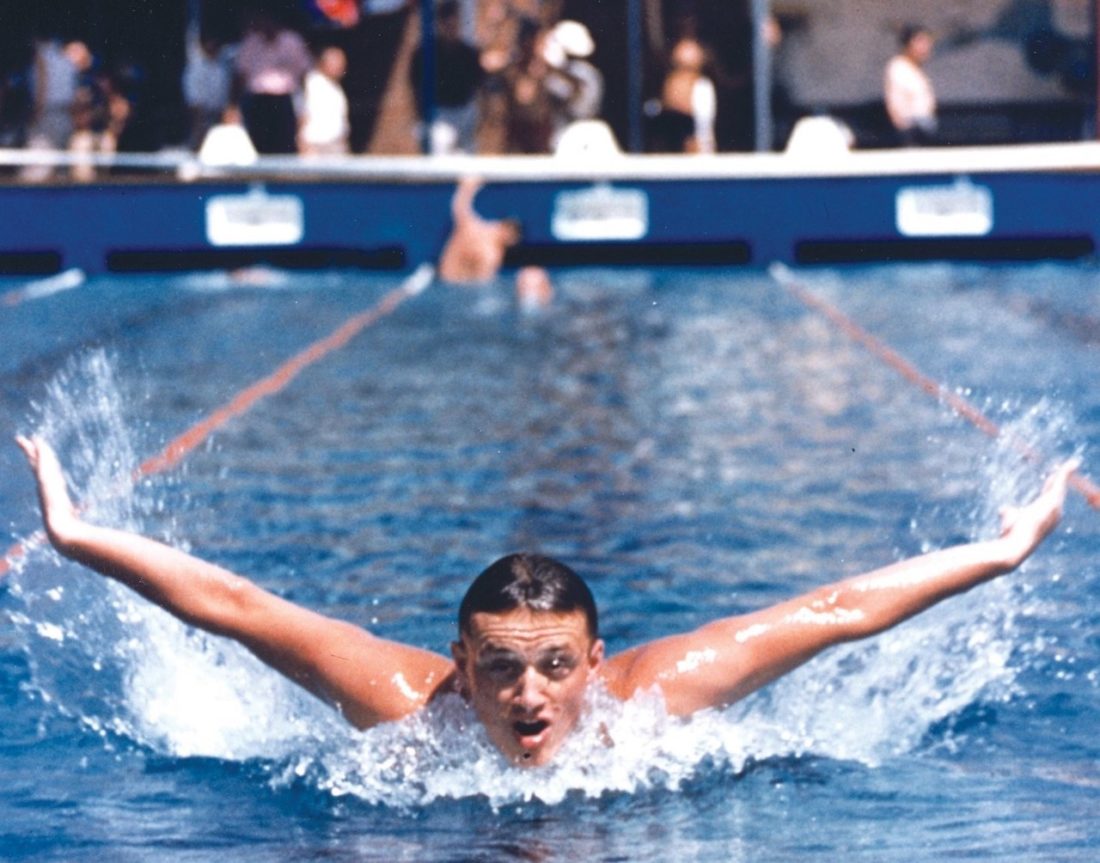 Obituary – Bill Yorzyk, the first man to claim Olympic gold on butterfly when he won the 200m title by more than 6 metres at Melbourne 1956, has passed away at the age of 87.
William Albert Yorzyk was born on May 29, 1933, Northampton, Massachusetts, the United States. He would grow into the 5ft 10-163lb athlete who at 23 years of age would claim the inaugural Olympic men's butterfly title by a huge margin to secure swimming immortality.
Yorzyk swam at the New Haven Swim Club and later at Springfield College, Massachusetts. At Melbourne 1956, he reaped the rewards of long learning and gestation of knowledge in the cocoon that would crack for the birth of butterfly as an official stroke with a 52 to 22 vote in favour of splitting breaststroke and the fourth stroke, whose arm action gave it it's name: the dolphin kick that came with it is a key driver of speed on all four strokes today.
The 1956 Olympic Games were held late in the year to coincide with the Australian summer. With victory over 200m on December 5, 1956, Yorzyk went down in history as the first Olympic butterfly champion. Four days later, his USA teammate Shelley Mann became the first woman Olympic butterfly champion. They were the only two Americans to claim titles in the pool at the 1956 Games, the last at which Australia dominated the Americans – and the rest of the world.
At 17, Yorzyk was just getting going in swimming, his arrival at Springfield College marking his transition to regular, daily training. Never too late – six years on, his victory over 200m (2:19.3) produced what remains the biggest winning margin, of 4.5sec, ever in that event.
Just 19 men from 14 nations made it to their blocks for the 200m 'fly in Melbourne. One shone beyond all others.
By the time he arrived in Melbourne, was already the holder of a world record holder, at 2:16.7 in a 25-yard pool, that placed him a relative league ahead of rivals. His best time in a 50m pool was also the best the world had seen, world best, at 2:19.9. In the first heat, Yorzyk showed that he meant business with a 2:18.6, the first Olympic record in the event but not one that FINA counted as its first world record under retrospective measures which it did apply to Australian David Theile, champion in the 100m backstroke in Melbourne (and then again at Rome 1960). Such vagaries and inconsistencies have been present throughout swimming history and remain a part of the sport to this day, new challenges in the mix.
From May 1, 1957, FINA declared that only swims in a 50-metre pool would count for world-record status. Theile's 1:02.2 in the 100m backstroke on December 12 was counted, retrospectively, as the first world record of the new era but Yorzyk's standard was not, on the basis that he already held the record, albeit in a 25m pool.
In the 200m final in Melbourne, Takashi Ishimoto, of Japan, turned first at the halfway mark, in 1:05.6. By 125m, however, it was clear that the American had paced himself more wisely and as the Japanese challenger started to feel the weight of early enthusiasm, Yorzyk sensed a date with destiny and the sporting immortality it would deliver. He became the pioneer champion in 2:19.3.
His winning margin, of 4.5sec over Ishimoto, who kept European champion Gyorgy Tumpek, of Hungary, at bay by 0.1sec, remains the biggest ever in the event. In fourth place was USA teammate Jack Nelson, a future head women's coach to the USA and a swimmer who had learned butterfly in the year leading up to Melbourne, 1956. Nelson would later say: "I guess you could say that butterfly, coming along as it did, changed my life."
It changed Yorzyk's too – and now transcends it. Beyond his swimming days, Yorzyk served as doctor to the US Embassy in Tokyo and to the USA swimming team. He put his success in water and medicine down to his coach, mentor and "second father", Charles E. Silvia. In 1984, Yorzyk, aged 57, swam 2:11.0 over 200yd butterfly, which is not far off his 1956 speed.
Under Silvia's tutelage at Springfield College, Yorzyk was the first to use two kicks to one arm cycle on butterfly, the first to use the every other stroke breathing cycle and the first to bend his arm during the propulsive and recovery phases of the stroke. He and his coach also issued the first film dedicated to teaching butterfly.
The Melbourne 1956 200m butterfly final
1 2:19.3or William Yorzyk USA
2 2:23.8 Takashi Ishimoto JPN
3 2:23.9 Gyorgy Tumpek HUN
4 2:26.6 Jack Nelson USA
5 2:27.2 John Marshall AUS
6 2:27.3 Eulalio Rio Aleman MEX
7 2:29.7 Brian Wilkinson AUS
8 2:31.0 Alexandru Popescu ROM
Tributes for Bill Yorzyk
Among many tributes for Yorzyk, that of coach Bill Ruth, who studied at Springfield College during his own swimming days, stood out for the following note of perspective along the thread of history in a Facebook post on the Swim Coaches Idea Exchange Group:
"I know alot of you are younger and possibly new to the sport, but there is a great history to the sport of swimming. Unfortunately this morning we lost one of those great men that had a huge impact on the sport. Dr. Bill Yorzyk passed away this morning. Doc Yorzyk was the 1956 Olympic Champion and set a new World Record in the 200m Butterfly with a 2:19.2. His coach Charles E. Silvia at Springfield College was the first to implement the 2 dolphin kicks for each arm action.
"Have you ever felt sorry for yourself because you think you started too late to become a great swimmer, or because you didn't have a 50-meter pool, or because you didn't have any money like those rich kids who could afford the best? When you do, think of Bill Yorzyk – shortened from Yorzyk. Bill was a beginning swimmer when he went to college at age 16. He trained most of his career in the Springfield College 20-yard pool and he financed his entire undergraduate and graduate school education except for his freshman year."
At Swimming World, John Lohn writes: The sport of swimming lost a giant on Wednesday when William "Bill" Yorzyk, the first Olympic champion in the dolphin-kick version of the butterfly, died at 87. A 1971 inductee into the International Swimming Hall of Fame, Yorzyk was born on May 29, 1933, but he did not travel the typical path of an internationally acclaimed swimmer, as he was a late entry to the sport.
Bill Yorzyk Recalls His 1956 Victory – in 2012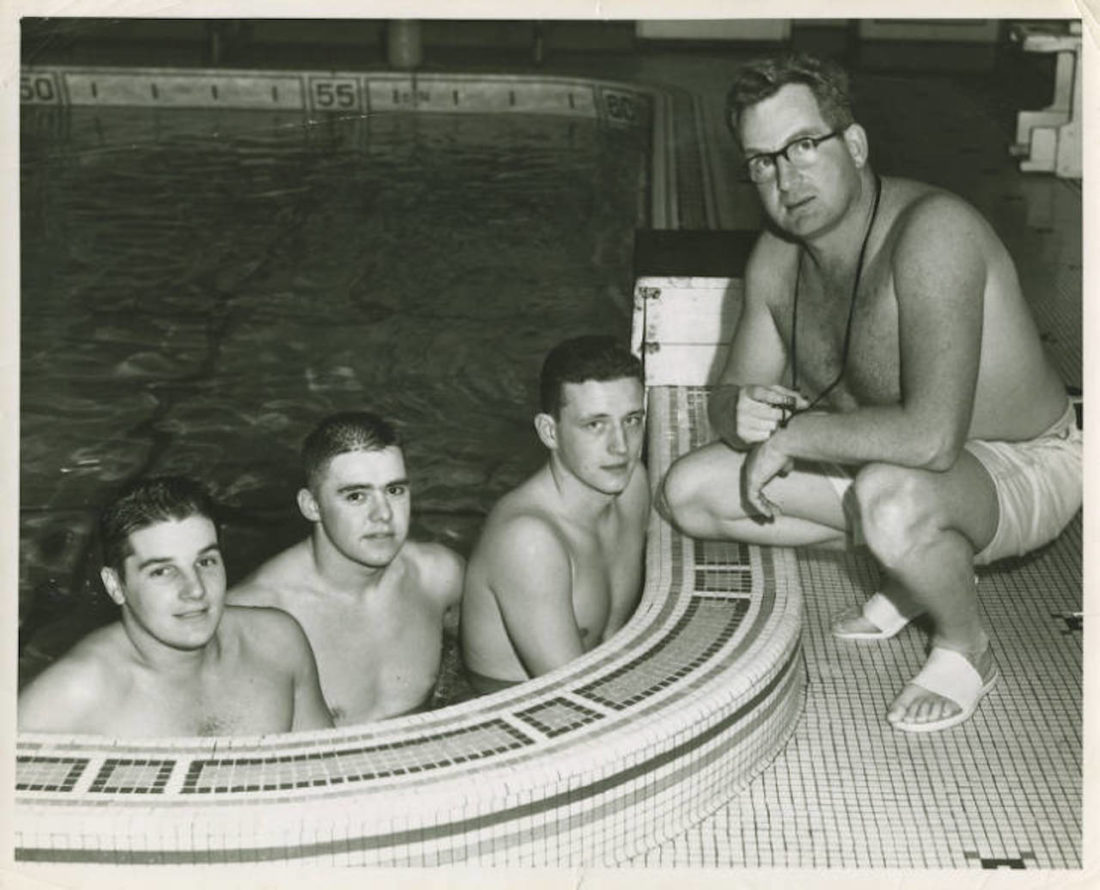 Reporter Garry Brown interviewed Bill Yorzyk for the Mass Live Media News in 2012, a year before the swimmer's 80th birthday.
The article notes that Yorzyk tried several sports as a teenager "but just couldn't make the high school varsity team in any of them".  His exploits in scouting, however, hinted at the nature of a trier who would try, try and try again until he could be the best of himself.

As coach Ruth notes, imagine this in modern context: Northampton High School had neither a pool nor a swim team in Yorzyk's time. The 1956 champion recalled in 2012:
"… [when I] got to Springfield, I didn't know how to swim. But, I soon found out that I'd better learn, because you couldn't get out of freshman year without passing tests for swimming, diving and life-saving."
Yorzyk shared find memories of his time at the Melbourne 1956 Olympic Games, where the USA team was led by Bob Muir, of Williams College, coach Silvia his assistant. Yorzyk recalled: "We had a terrific team, but I was the only one to win a gold." 
Not quite. Among men. There was, of course, Shelley Mann – on 'fly, too.
Where's The Medal? Nailed To The Natatorium Wall… 
Asked by Brown where his medal was, Yorzyk said:
"You'll find it nailed to the wall (at Linkletter Natatorium). I gave it to the college out of gratitude because Springfield and Red Silvia did so much for me. Besides, I feel that seeing the medal might inspire some of the young athletes on campus." 
From the Craig Lord Archive …
When Butterfly Took Flight
When the first two Olympic butterfly titles were contested in 1956, but the chrysalis from which the stroke emerged was formed as far back as the late 1920s.
Early references to a dolphin action were related by David Armbruster, coaching mentor to the legendary James "Doc" Counsilman, in homage to the ubiquitous aquatic pioneer George Corsan.
In 1911, Armbruster later recalled, Corsan, a Canadian who was chief instructor and pool designer for the YMCA and was second to none in the drive to spread swimming teaching techniques across North America, introduced him to the fishtail action that ultimately led to its utilization in modern butterfly.
Armed with what Corson had shown him and pictures of Johnny Weissmuller eeling through the water out of his dive at Silver Springs in the mid 1920s, Armbruster, coach at the University of Iowa for 30 years, watched Walter Spence, the Canadian swimmer who finished sixth over 200m breaststroke at the 1928 Olympic Games in Amsterdam, use the butterfly armstroke into his turns, and then analysed film of Japanese swimmers dominating the 1932 Olympic Games in Los Angeles, including a one-two finish over 200m breaststroke.
As the slowest and oldest stroke (stone age images suggest the humans waded through water in frog-like fashion with head high), breaststroke had attracted attention from coaches and others bent on finding a smoother way through the water. Armbruster filmed underwater to analyse "stroke mechanics" and to identify moments of greatest drag and resistance. The recovery phase of the stroke, when the swimmer brings the arms over and forward, was deemed to be a "dead zone".
After the 1932 Olympic Games, Armbruster devising a technique whereby the arms were brought forward together over the surface of the water before digging down into the water with a breaststroke pull. It was up to six seconds quicker than breaststroke over 100 metres, and would become much faster still when the forward glide and pause was eliminated from the front of the stroke. In 1933, Jack Sieg, one of Armbruster's swimmers, developed a type of sideways kick, beating his legs together like a fish tail. Armbruster called it the "dolphin fishtail kick" and in 1934 overhead arm and dolphin kick were placed together for the first time.
From that moment, Armbruster campaigned for the adoption of a fourth stroke. It would be 18 years before he could celebrate: at its 1952 Congress in Helsinki, FINA debated separate proposals on the split of breaststroke and butterfly, from no less than seven nations, namely Britain, Hungary, Iceland, Japan, Spain, Sweden and the United States, before deciding on two distinct strokes: "Orthodox Breaststroke" and "Butterfly Breaststroke". The decisive moment came on July 23, on the eve of racing at the 1952 Helsinki Olympic Games: the division of two of breaststroke and butterfly into separate strokes was agreed by 52 votes to 22.
The timing of the decision favoured Europe: it would be four more years before butterfly would make its official Olympic debut but the first major international to see both breaststroke and butterfly events on the programme was the European Championships in Turin, Italy, an event dominated by a squad from Hungary that included Gyorgy Tumpek. He claimed the 200m butterfly crown in 2:32.2 and was the holder of the first four official world records over 100m, taking the time down from 1:04.3 to 1:02.1 before FINA introduced a rule in 1956 that recognised world records only for performances in a 50m pool. Tumpek was the first to set the 100m world record in a long-course pool, in 1:03.4, at home in Budapest on May 26, 1957, six months after winning the bronze medal over 200m in the inaugural Olympic butterfly final dominated by Yorzyk.
The Melbourne Games saw six disqualifications in the 200m breaststroke as judges struggled to come to terms with new rules formed to take account of the breaststroke/butterfly split. The ousting of Germany's Herbert Klein caused German-born US delegate Max Ritter to boycott Congress, a move that delayed his election as President of FINA for four years.
At the Melbourne 1956 Olympic Games, FINA Congress had agreed, before racing began, that "no competitor is allowed to use or wear any device to help his speed or buoyancy during a race", while "swimming under the water is prohibited except for one initial arm stroke and one leg kick after start and turn" on breaststroke.
That new rule would only take hold on May 1, 1957. That came too late to stop Masaru Furukawa, of Japan, becoming the most invisible champion in Melbourne, having swum underwater for some 150m of the 200m breaststroke final, surfacing only for breathing, for turns and the final approach to an Olympic record of 2mins 34.7sec ahead of teammate Masahiro Yoshimura and the first Soviet swimmer to win an Olympic medal, Kharis Yunichev.
However, it was the interpretation of existing rules that caused even greater controversy: among six swimmers disqualified in the 200m was Germany's Herbert Klein, the 1952 bronze medallist and former world record holder. His misdemeanour: a scissor kick and dipping his right shoulder. The judging decision caused schism in FINA: Ritter boycotted the post-Games Congress at which he would have been elevated to President. FINA members felt that Furukawa's victory was achieved "against the spirit of the sport" but stuck with the judge's decision on Klein.
While 1956 marked the official birth of Olympic butterfly, the stroke had, at least in part, already made its Olympic debut: in the London 1948 Olympic 200m breaststroke final won by American Joseph Verdeur, known as "the Rubber Man" because of double-jointed shoulders that lent him formidable flexibility, seven men used an over-arm stroke with breaststroke kick.
FINA's 1952 decision had other implications: recognising that the four strokes could now be brought together for a relay, Congress formed a sub-committee of the seven nations that had driven proposals to split breaststroke-butterfly and called on its members to report back with firm proposals by August 3, the day after the Games in Helsinki had closed.
That group's recommendations were accepted, and new world records for breaststroke, butterfly and medley, both individual and for relays, were recognized as of January 1, 1953, with a dolphin action now permissible on butterfly but not breaststroke, and no over-arm recovery permissible on breaststroke. The International Olympic Committee (IOC) approved of a medley relay in time for the 1960 Games in Rome and added individual medley events at Tokyo 1964.
Among men, the first stars of the newly divided strokes were Japanese, a reflection of the pioneering efforts made in their country in competition with the USA from the late 1920s onwards. Masaru Furukawa broke the 200m world record on breaststroke four times in 1954 and 1955 and won the Olympic title in Melbourne 1956 but his submarinery caused another change to the swimming rulebook.
Among women, the pioneers were Dutch trio Atie Voorbij, Tineke Lagerberg (both butterfly) and Ada den Haan (breaststroke), who in the year they broke world records were deprived of challenging for the 1956 Olympic titles over 100m butterfly and 200m breaststroke by their nation's boycott of the Games in protest at the Soviet invasion of Hungary.
The first official world record for a woman on butterfly was set by East Germany's Jutta Langenau in 1:16.6 over 100m on August 31, 1954, that time inside the 1:16.9 in which Hungarian Eva Skzekely, 1952 Olympic 200m breaststroke champion, had set the world breaststroke record while swimming butterfly on May 9, 1951, before the split of strokes.
Over 200m, Lagerberg opened the record book at 2:42.3 on December 12, 1956. Among men, the butterfly record book starts with Tumpek on 1:04.3, set on May 31, 1953, and inside the 1:05.8 clocked by Klein with a butterfly action in a breaststroke race on February 17. 1952. Klein's 200m breaststroke standard (again, using butterfly) of 2:27.3, on June 9, 1951, was surpassed to establish the first official 200m butterfly record on September 17, 1954, the Japanese pioneer Jiro Nagasawa, in 2:21.6.
Bill Yorzyk's defining moment in sport at Melbourne 1956 had a long history and a deep future to it. Part of that was this: a decade after the first Olympic butterfly titles had been won, Corson, the man who might be credited as the father of the dolphin action, demonstrated in person, with his arms and legs tied together, the essence of his early innovation when he fishtailed down the length of the 55-yard Casino Pool at the Fort Lauderdale Swim Forum. He was 90 years old. Corsan, whose motto was "Paddle your own canoe, but first learn to swim", penned The Diving and Swimming Book in 1924, the precursor to James "Doc" Councilman's defining The Science of Swimming".
Related reading:
Celebrating the 80th birthday of butterfly pioneer Lance Larson
Rikako Ikee: lessons in courage and perseverance from a 'fly ace