Bill Sweetenham & The Knowledge-Based Experience Enriching Australian Coaches On Their Mission To Be Top Dolphins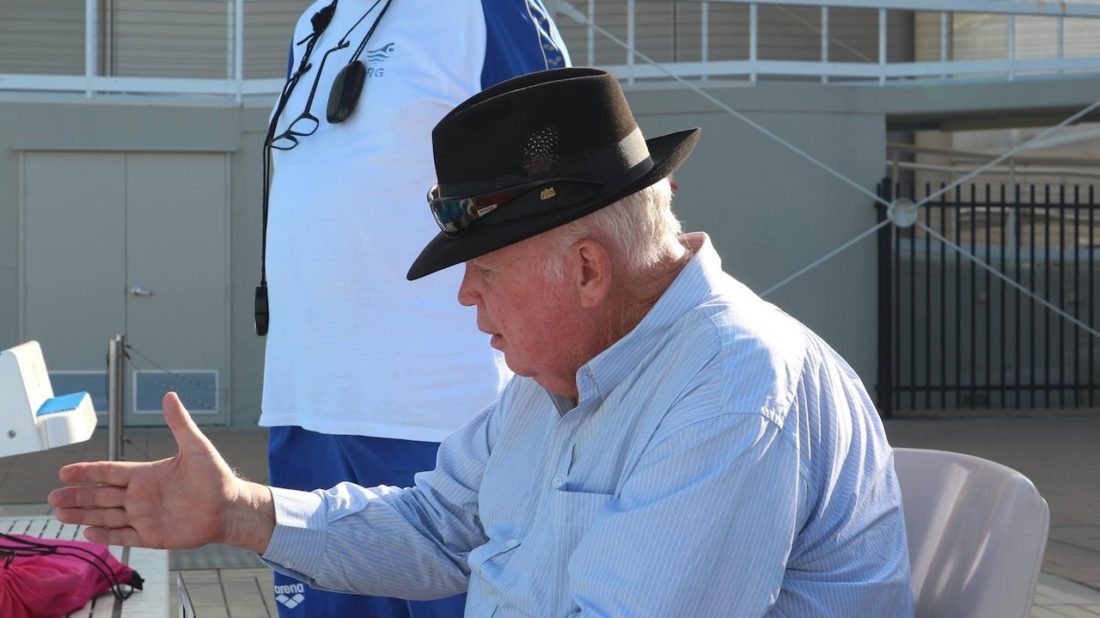 In the relatively hidden depths of Australian swimming's 2021 Olympic tour de force is a rich, long-term thread and transfer of knowledge-based experience, the role played by Bill Sweetenham highlighted in an exchange between mentor and those he mentors, a small part of which State of Swimming (SOS) has been granted permission to publish.
We do so on a day when we honour Sweetenham with our Carlile Cup.
One of Sweetenham's latest exchanges with those he provides guidance to started with a question from Janelle Pallister, the coach who as Janelle Ellford claimed Commonwealth gold in the pool and represented Australia at the Olympic Games. She asked what Sweetenham thought that she hadn't yet understood and how she might then use the information contained in his answer. She asked how and why would she need to change or improve.
Before we get to that reply, it might be useful to know that Sweeternham coached Ellford, who now coaches her daughter Lani Pallister, one of Australia's top distance swimmers. Sweetenham also coached Michael Bohl, who has long since become one of the world's leading swim coaches and is among our SOS coaches of the year, not least for his work with Emma McKeon, our swimmer of 2021.The thread of knowledge and its transfer along with constant questions and updates on the trail of experience is a part of the narrative and lore of what was, what is and what may and will be.
When I asked Sweetenham about those relationships and others in swimming, he replied: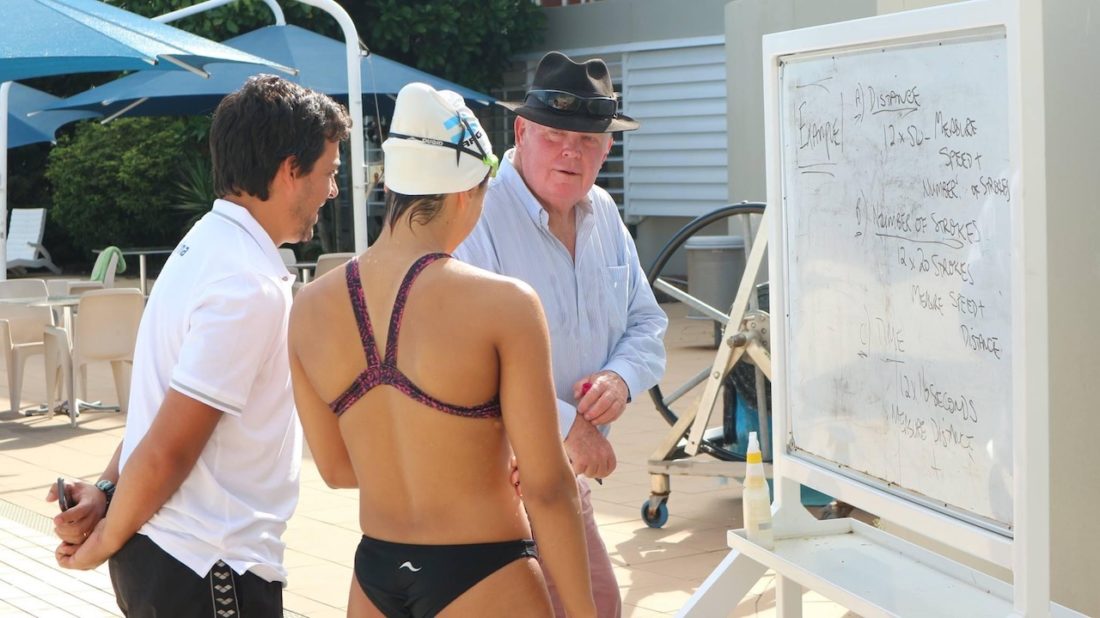 "Formula 1 cars do not come off an assembly line; they are individually modified and built without any copying aspect and this concept applies more so to the individual driver. Fifty years of international success has taught me these lessons. "

Bill Sweetenham – image courtesy of Wayne Goldsmith
I asked Janelle Pallister if she wouldn't mind explaining the nature and context of her questions to Sweetenham. This is her reply, one that may offer insight to other coaches and those who spend their lives seeking ways to get the best out of athletes and peers:
"I sit with Bill every week and we just talk. Often I arrive with a Latte for Bill and of late for me a juice. I often get "where do you see yourself in 10 years?" Or "What is the best designed session you have done this week?" And many more.
"This always leads us in many, many directions. My biggest questions to Bill is What, Why, How and what can I do better. I listen with both ears and speak with 1 mouth. Meaning I listen more than I speak. Sometimes I may speak then I get "I haven't finished yet" which I like because it brings my mind back inline with what Bill is saying rather than thinking of another question.
"As an athlete I wanted two know how to get better and I was able to push myself bloody hard. Now I'm a coach, I want to know what I can do better, how I can be better to help make the athletes better.
"Lani and I moved from Sunshine Coast to Gold Coast as Michael asked if I would be interested to co coach with him and an opportunity for Lani to be exposed to an elite program. My husband and son still live on the Sunshine Coast so I travel back each weekend. This was supported and encouraged by my husband, so I'm extremely fortunate. But as per my question, I wanted an opportunity to be better.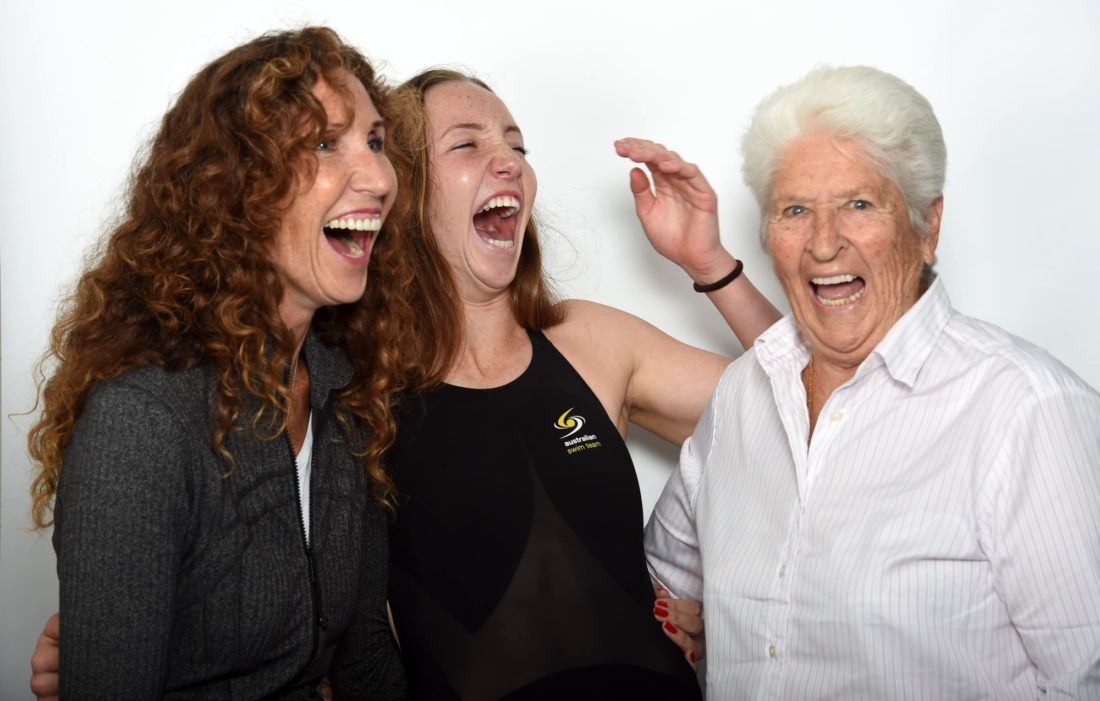 "Michael, in my mind is one of the best coaches in the World. I love listening to him, how he explains things, the interaction between Coach athlete and so much more. He is calm, professional, extremely knowledgeable, passionate and just loves swimming.

"So my questions are always What, Why, How and what can I do better? I often get the light bulb moment when we, Bill and I, talk things through. I also like it when I get the little smile and nod of the head from Bill, when I get it.

Janelle Pallister – image – Janelle, her daughter Lani Pallister and Olympic legend Dawn Fraser, by Delly Carr, courtesy of Swimming Australia
"I will never stop being a student. I believe we can learn from so many walks of life and many different sports. I've had the opportunity of late to talk with Sharon Hannon Coach of Sally Pearson Olympic Gold Medalist. [I was] also asking her the Why and How and What about this? One question of late was "why do your athletes hold their breath whilst sprinting in the water". We spoke about it and it came out that her athletes hold their breath until after the first hurdle (athletics) and the why was "more explosive power".
You can guarantee she will ask 'how, in water'.
Janelle concluded: "I sat with Michael [Bohl] four years ago asking many questions, I sit with Bill asking questions, I sat many times with Paulus Wildeboer asking many questions. I will always ask questions, never to be rude, just to learn. The great coaches are always willing to share."
She shares a note she sent to Sweetenham. It recalls how she has listened to Bohl speaking to "a great physiotherapist Simon Poole" and asking for his "thoughts on shoulder issues?" At every level, she notes, the learning never stops, nor should the questions, therefore. She says:
"Even if you think you know you still ask the questions. You may get the answers you already know or you may get something that sparks you're thinking. Win, win."
How Sweetenham replied To Coach Pallister
Janelle, as usual you ask the right questions! Few do. …
Mental health, mental strength, attitude etc., call it what you will [but] know that you have the power to own this vital aspect of performance in life and in every area operation in your field of endeavour.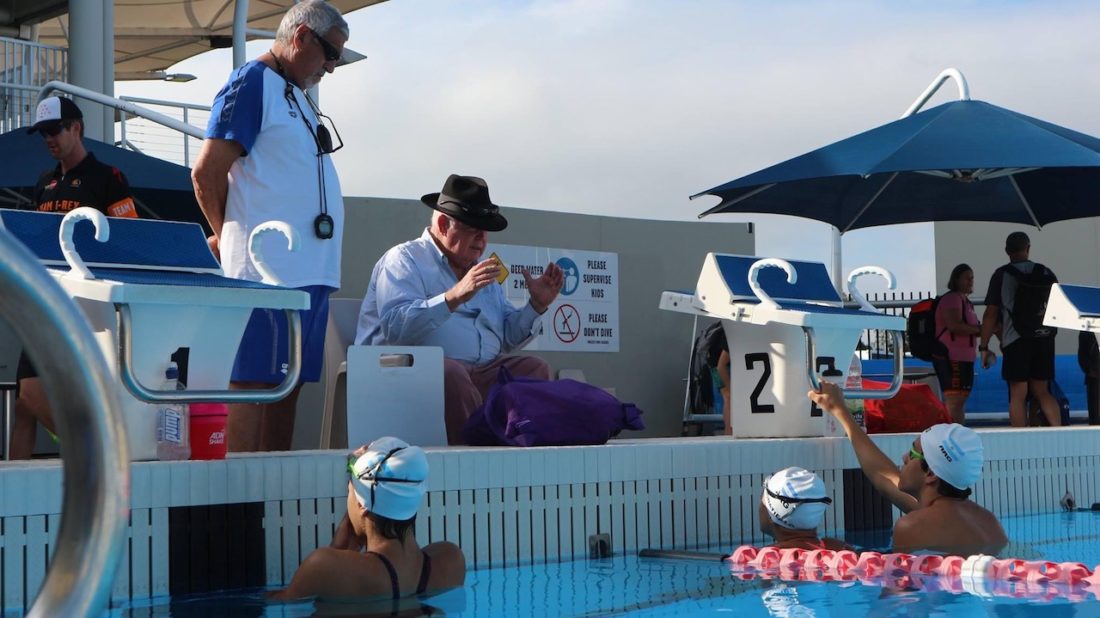 I have chosen to include [other athletes] and Janelle to document their personal experience of training and preparing with male athletes. Ladies you were exceptional and extraordinary as you trained with stronger and faster males! You were fitter both mentally and physically without exception! You were persistent and displayed the very best of resilient attitude. You learnt how to wear your male training partners down. However, observations indicate quite clearly that the stronger the male training partners were, your coping strategies, adaptability, capabilities, capacities, resilience and persistence triumphed over adversity under the spotlight of ultimate challenge. It is never easy as this triumph over adversity and the inevitable associated conflict both within you personally and that of the known and unknowns of competition is only for the strong and well prepared. The ultimate challenge of achieving outcomes in advance of potential belongs only to the strong mentally. This statement resonates so deeply when I think of you and your "courage under fire".

Bill Sweetenham
This significant factor in the understanding that in battle and ultimate achievement through trained and rehearsed performances outcomes is that in any conflict or battle whether it be against yourself or any and all opposition which is inevitable…
In war there exists a distinct and easily identifiable , persistent absence of normal and there exists the constant pressure and presence of all things abnormal! You and the coach must be better prepared than your opponents!
I sincerely hope that I achieved this with our winning partnership. I coached every day like it was my first day on deck as if it was my first and trained each athlete (you) with knowledge-based experience.
The collective of training and coaching is the art of coaching an athlete in the all-important athlete-coach winning partnership. It will always be individualised and specialised to the athletes needs.
You, as an athlete, were trusted, respected and valued by myself on your journey with me to the top of your mountain! I hope this was evident to you in your conflict of talent versus outcomes.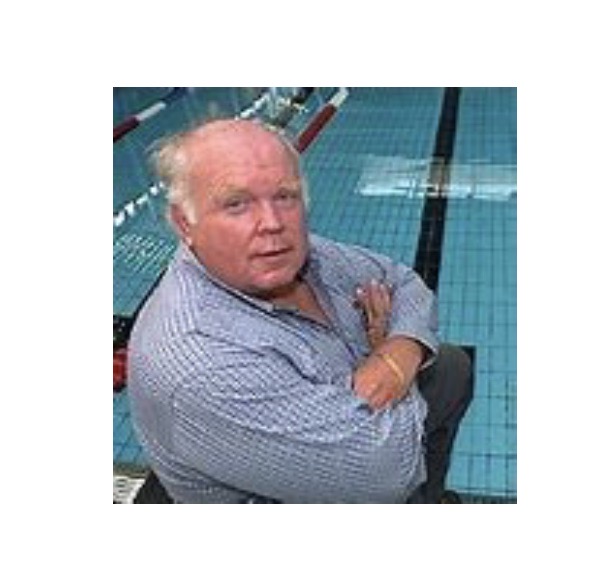 For over 50 years of international coaching and training I felt it was vitally important to arrive on deck being the best that I could be to work with you and all other athletes in the program. Everyone earned their place in the team … I always judged my coaching and training performance: not on you but on the considered and perceived least-talented athlete in the team! This is what I considered to be my worth as a coach! I felt that I had to do this whist understanding that many opposition coaches and teams based their self-worth on the achievements of the most talented athletes on the team. The expression in the medical community is "the operation was a wonderful and complete success, however, the patient died".

Bill Sweetenham
In my 50 years at the international coal face of preparation, learning and delivery I attended some 25,000 practice sessions trusting that I was the best educated, knowledgeable and experienced coach on deck for each and every athlete, staff member and parent!
To not have achieved this I would consider that I failed every athlete that came under my influence. It is because of athletes like yourselves that these 25,000 X 3-hour practice periods have been valued so much by myself.
Whist coaching was not the only thing in my life, it was certainly extremely important. Many times my family and friends took second place to my devotion and commitment to athletes.
I learned to live without any sense of entitlement! I have learned something new every single day due to the athletes and staff I have worked with. No one more than you ladies.
Sweetenham then signs off.
In another exchange, Sweetenham starts with a question to Pallister and others as they prepare for a competition: "Will the athletes in your care be better prepared for the Olympics regardless of any perceived talent and / or commitment differentials ? If NO, then why are you competing with these athletes representing "the team" at this meet?
You are as good as the least talented and least committed athlete that represents "the team" at this competition. No compromise: a reason is an excuse and no excuse is a reason. This competition is a rehearsal for the next level.
What do you expect to learn from the team athletes at this meet? Will you be a better coach because of what you did or didn't accurately execute at this competitive exposure? What will you STOP doing? What will you START doing? And what will you IMPROVE doing?
Will the athletes measure improvement by passing more opposition in the final 25 metres / 25 percent of the race? Will you measure lack of preparation by the athletes getting passed in the last 25 metres / 25 percent in the race? Will all of these factors measure improved fitness (including dry land) and / or technique and or skill?
Could the team in your care be identified because of excellence and improvement in all of these areas or which of these protocols. As the teams coach YOU are accountable and responsible for these measured and accurately recorded improvements or otherwise. This is what wins the big ones.
Did the athletes have trained skill excellence in ADVANCE of both trained speed? Or trained fitness and trained and repeated practise of superior perfection in every possible way? Were the individuals and team "superior in skill and invincible in attitude?
Did you as a trainer of talent prepare above the opposition due to your extra time at task and knowledge of product? Did you coach above the facility standard, the opposition and the perceived talent of the individual and collective performance of the team?
Two protocols to keep teenage athletes in any activity are affiliation and recognition with peers (mainly coaches) and improvement … and improvement and improvement.
The team should be improving in advance of the opposition and that must be recognised. The team and every individual including ALL staff must be improving at the same rate as the most talented and committed athlete – always, always, always measure RATE OF IMPROVEMENT ( R O I ). Ie., is the least-committed and / or talented athlete improving in advance of the team's ROI?
Are you as a coach measuring accurately your personal ROI and how have you measured this? Absolutely avoid the Kruger – Dunning principle.
I hope this can help you and "the team" not only at this low-key competitive exposure but in preparing yourselves for the Olympics.
As a head coach at Olympic level, this is how I select ALL international coaching and team staff. If a coach cannot deliver as outlined above, my knowledge-based experience tells me that they will massively struggle under pressure at the highest international level when they are coaching athletes unfamiliar to them from "the team ".
BE A WINNER. These are minimum standards and expectations.
THIS IS WHY THE AUSTRALIAN SWIM COACH IS THE BEST IN THE WORLD. Your friend, Bill.