Benedetta Pilato Power On Show In Rome In Dominant Dash Gold As Merve Tuncel Takes Down 800 Euro Junior Record In Rome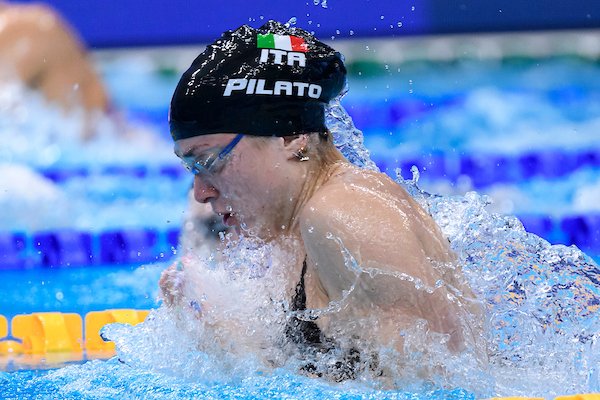 In 30.13, well back from her World record of 29.30, Italy's Benedetta Pilato added the European Junior title to the continental senior crown she claimed in Budapest in May with a dominant display of speed in Rome this evening.
At a time when she is preparing for the Olympic Games in Tokyo later this month, Pilato was shy of many of her best sub-30 efforts in the past year but was easily good enough for gold. She clocked 29.98 in semis yesterday.
Adrift PIlato, the podium was completed by Russian Elena Bogomolova, of Russia, in 30.68, and Eneli Jefimova, the 14-year-old Estonian also heading to Tokyo, on 30.91. The dash is not an Olympic event, the 100m where its at come the bigger occasion.
The second day of finals in Rome also witnessed a European Junior record from 16-year-old Merve Tuncel, of Turkey, on 8:21.91, a national record that is good for ninth fastest in the world this year heading into the Tokyo Olympic Games. The standard had stood at 8:22.01 to Hungary's Anja Kesely since 2018.
Turkey, with several medals already in the vault in the first two days of racing, celebrated a 1-2 finish when Beril Boecekler stopped the clock in 8:33.52 ahead of Italy's Giulia Vetrano, on 8:35.84.
The session witnessed a 48.08 from David Popovici, of Romania, in the semi-finals of the 100m freestyle, a day after the 16-year old set a World Junior Record of 47.56 leading the Romanian 4x100m free quartet to silver behind Russia on the opening day of action in Rome.
The 100m backstroke title went to Poland's Ksawery Masiuk, 16, in 53.91 (26.13; 27.78), ahead of Oleksandr Zheltyakov, of Ukraine and only 15, in 53.98 (26.45; 27.53), the podium completed by Russian Aleksei Tkachev, on 54.34.
Russian punched a 1-2 finish in the 100m freestyle final when Daria Klepikova took the title in 54.75 ahead of teammate Daria Tatarinova, on 55.12, the bronze going to Britain's Evelyn Davis in 55.25.
Bulgaria's Josif Miladnikov took the 50 'fly final in 23.59 ahead of Germany's Tobias Schulrath, 23.72, and Daniel Gracik, of the Czech Republic, on 23.79.
In the closing 4x100m mixed freestyle relay, Russian took gold in 3:29.71, Italy silver in 3:31.70, the battle for the bronze to Hungary in 3:31.85 ahead of Britain's 3:32.13.