Ben Proud The Pride Of Britain As First GBR Winner Of 50 Free World Crown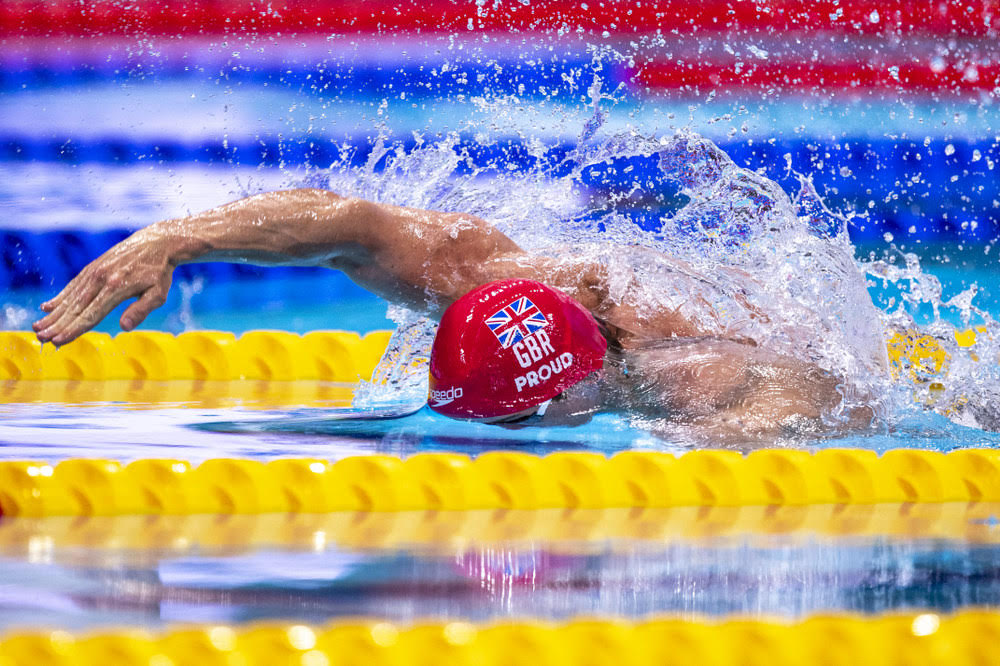 Ben Proud became the first British swimmer ever to claim the 50m freestyle World title with a 21.32 sec blast in Budapest's Duna Arena pool this evening.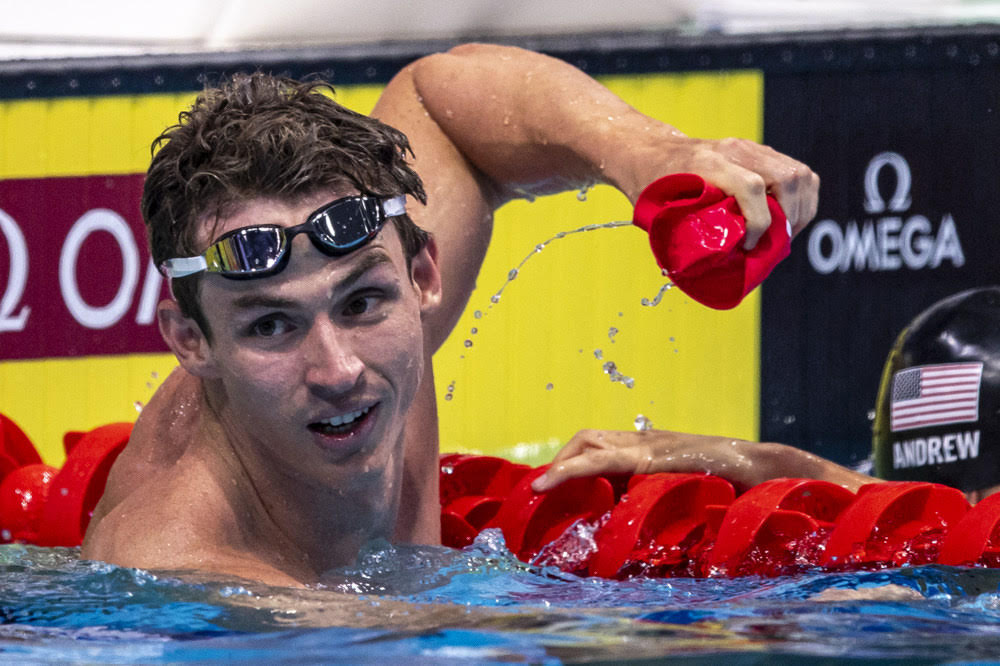 The 27-year-old emerged from a battle with American Michael Andrew, second in 21.41, and France's Maxime Grousset, third in 21.57, to dedicate his historic gold to his parents, coaches and friends who had been there for him when a fourth place at the Olympic Games in Tokyo last year had sent him on "a roller-coaster of mental health issues".
There was no sign of that last night as Proud led from go to gold, his start and finish straight from the book of how to win one-length sprint titles. His start was magnificent, a stunning reaction time of 0.57sec off his blocks granting him a 0.09sec advantage over Andrew's 0.66sec, the gap precisely matching that between gold and silver by the end of battle.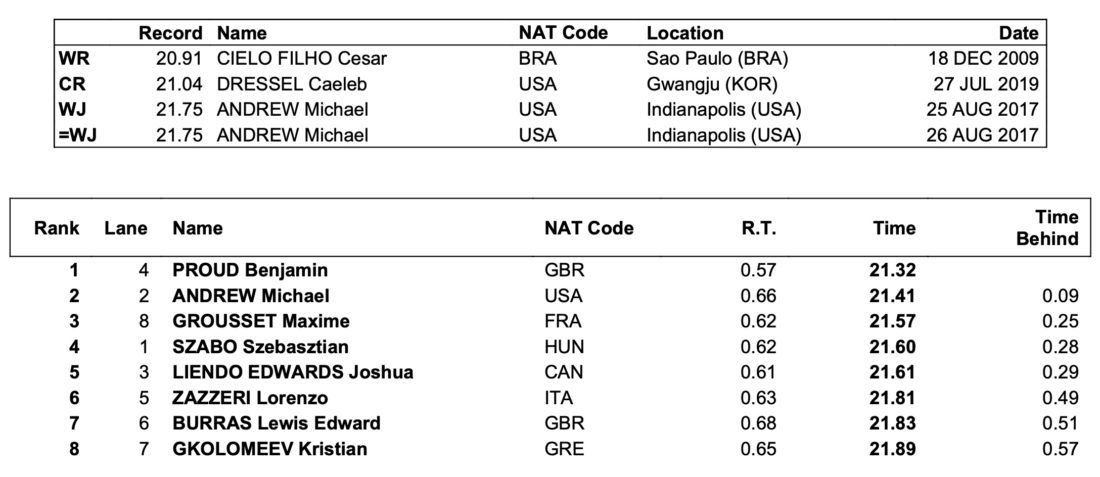 "I've Done It Again… How Do I Back It Up?" – Proud Calling Gibson
In Tokyo last year, Proud had broken down in tears after a great semi-final converted to a fifth place well down on a best time that would have taken silver. Andrew finished ahead of him in fourth.
Proud was not about to let that happen, even in a race that produced a lifetime best from the American.
After qualifying fastest for the Budapest showdown, Proud called his mentor and coach since the Rio 2016 Olympics, James Gibson, the 2003 50m breaststroke champion for Britain. A sprinter who has long understood the truth in words he's often spoken and did so again this evening – "small margins can make a world of difference…" – Proud asked Gibson: "I've done it again, done. Really good semi-final… how the hell do I back this up?"
The answer down the line reminded Proud of the pathway headlong prepared for, the answer in the pool was a 0.57sec reaction and thunderous start that put his name on the title. It is a start that many admire and even try to emulate, his training partner Sarah Sjostrom noted here in Budapest this evening.
The coach told his charge to "just focus on the details, nail the start and get into the wall at the finish". A simple instruction that paid a golden dividend for Proud, who has Commonwealth and European titles and in the same Duna Arena pool in 2017 claimed the World 50m butterfly title.
When gold was in the pantheon, Gibson, 19 years after he had achieved the same accolade with glory in Barcelona, took to social media to write: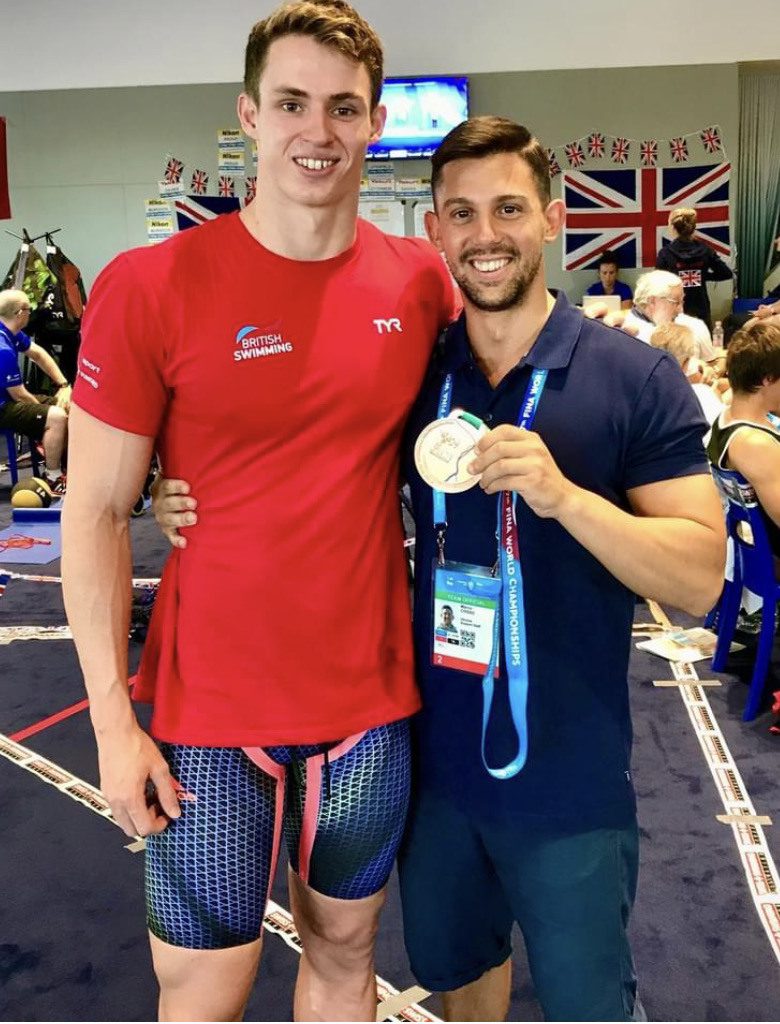 This photo (right) is from 2017 with Marco Cosso. This guy is one of the most brilliant people I have ever worked with and he has been guiding Ben since April [this year]. Ben is one of the nicest people in world Swimming and there is no better person to be called the fastest man on the planet. Those special words are coming, "Winner of the Gold Medal & World Champion, Representing Great Britain! Benjamin Proud" – Team Gloria

James Gibson on Ben Proud and Marco Cosso – Photo – 2017 snap courtesy of James Gibson
Team Gloria is the Energy Standard International squad founded and funded by Konstantin Grigorishin, the Ukrainian energy-sector magnate whose creation of the International Swimming League was one of the key challenges that led to the FINA reform process.
Much more life in that story yet. Snap for Proud, who is already preparing for Paris stroke for stroke, step by step, his work with Cosso and those connected with Gibson and his team, coaches, athletes and others, took a heartening turn here in Budapest.
Two things could not be clearer: Proud has long had the potential to rattle the 21 mark and he's working on making race day a festival of the best of him; when Gibson writes "Ben is one of the nicest people in world Swimming…", he's spot on.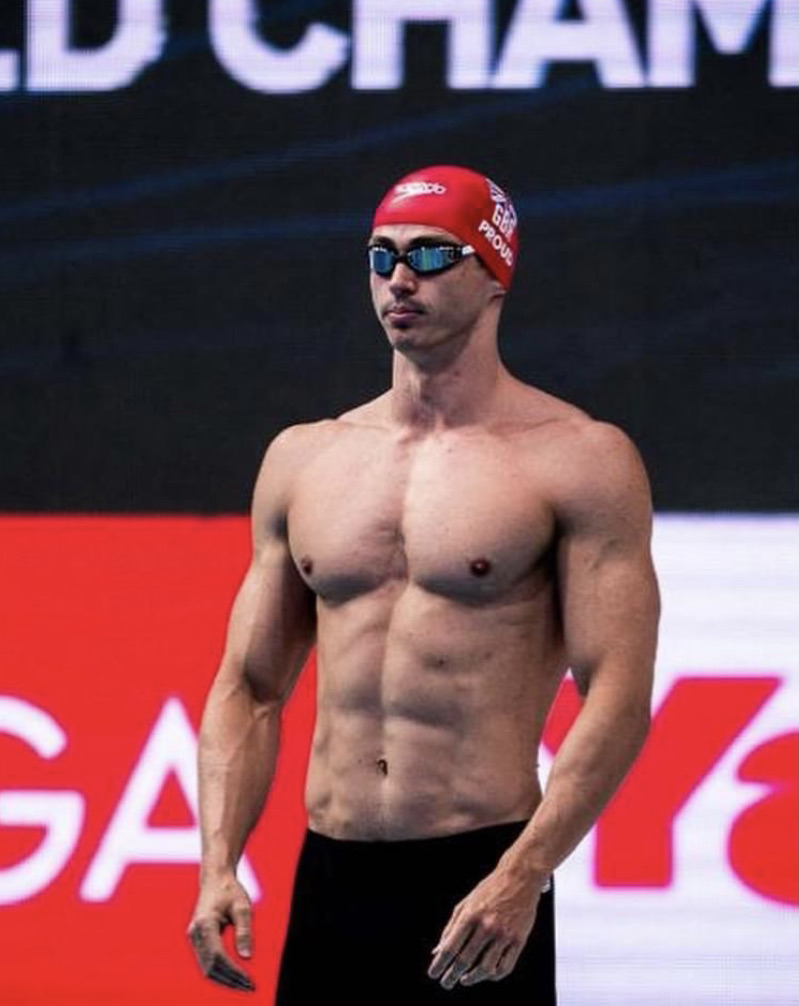 Since the days when he returned to Britain from Singapore as a young man and took up training at Plymouth Leander and College with coach Jon Rudd, now head of the much-improved Irish program and also head of the World Swimming Coaches Association doing fine work in helping to guide governance in the right direction, Proud has been a delight to deal with: in journalistic terms he has never shied away from showing up and speaking to the media come rain or shine.
"If you can meet with Triumph and Disaster,  And treat those two impostors just the same" and much of the rest of "If", by Rudyard Kipling, gets close to how one might describe Ben Proud.
Proud's dream had long been to claim a global title on freestyle and though the box is ticked Proud noted that "the whole podium from Tokyo wasn't in the race". Tokyo Champion Caeleb Dressel, of the USA, withdrew from the championships on Tuesday with an unspecified "medical condition", while French London 2012 Olympic champion and Rio 2016 silver medallist Florent Manaudou, winner of the 2015 World crown, and Brazilian Bruno Fratus didn't make it past the rounds.
Had Dressel's absence actually put more pressure on in that expectation of victory grew the moment the alpha male headed off in search of healing? Paying plaudits to the American, Proud said: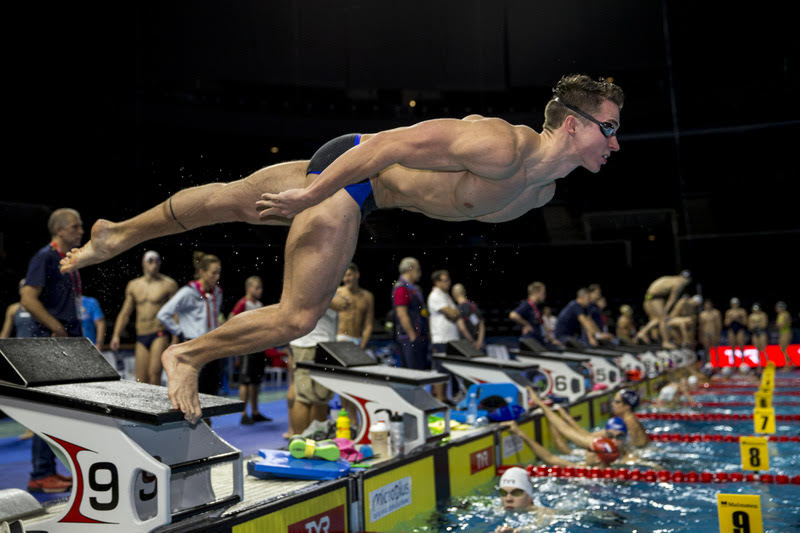 "To be honest, when Dressel is around you know he's a phenomenal swimmer and you know he's the one who will be better day ion and day out. So that [the American's withdrawal] was quite a change to the dynamic of the competition. I think people had a lot of different pressures coming in but at the same time when you come to a World Championships, it's all about getting to the meet, getting through the rounds, getting your hand to the wall. Having said that, no-one wants to be sick and we hope he's doing well because its not the same without him."

Ben Proud – photo by Patrick. B. Kraemer
He added: "I had to take my chance and Michael Andrews did his career best time so to share a podium with him will be brilliant," said Proud, who finishing 18th at his World-Championships debut in 2013, eighth in 2015 before claiming bronze two years later in the same pool in Budapest for what until today was the second best finish for a Brit in the event, Mark Foster having claimed silver behind Alex Popov back in 2003. In 2019, it was fifth for Proud.
Today, Proud took Britain's 50m free all-time tally at World long-course title to a gold, a silver and a bronze around a decade into his reign as his nation's dominant foe and 'fly sprint force.
In tears after "messing up and letting everyone down" in Tokyo he had "paid a price with my mental health … because the Olympics had been such a big thing and with Covid happening, it had been such a emotional roller coaster".
After victory Proud said: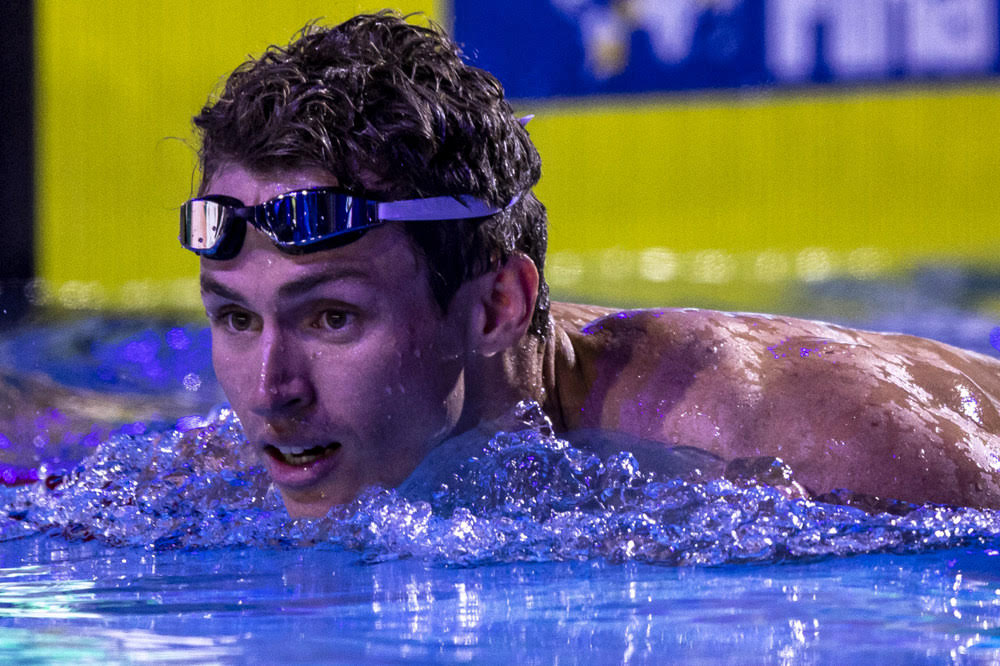 "This medal today was always going to be for all of them [family, coaches and supportive friends] who stuck by me and supported me throughout. I'm really chuffed to be able to bring this home."

Ben Proud – Photo by Patrick B. Kraemer
Getting over the Tokyo trauma had been all the easier for having "a brilliant team around me this year", said Proud. Coach Mark Skimming at Bath University had done a fine job and "kept me ticking over" all the way to spring this year, when the sprinter headed back to his former base in Turkey, where strength coach Marco Cosso was waiting.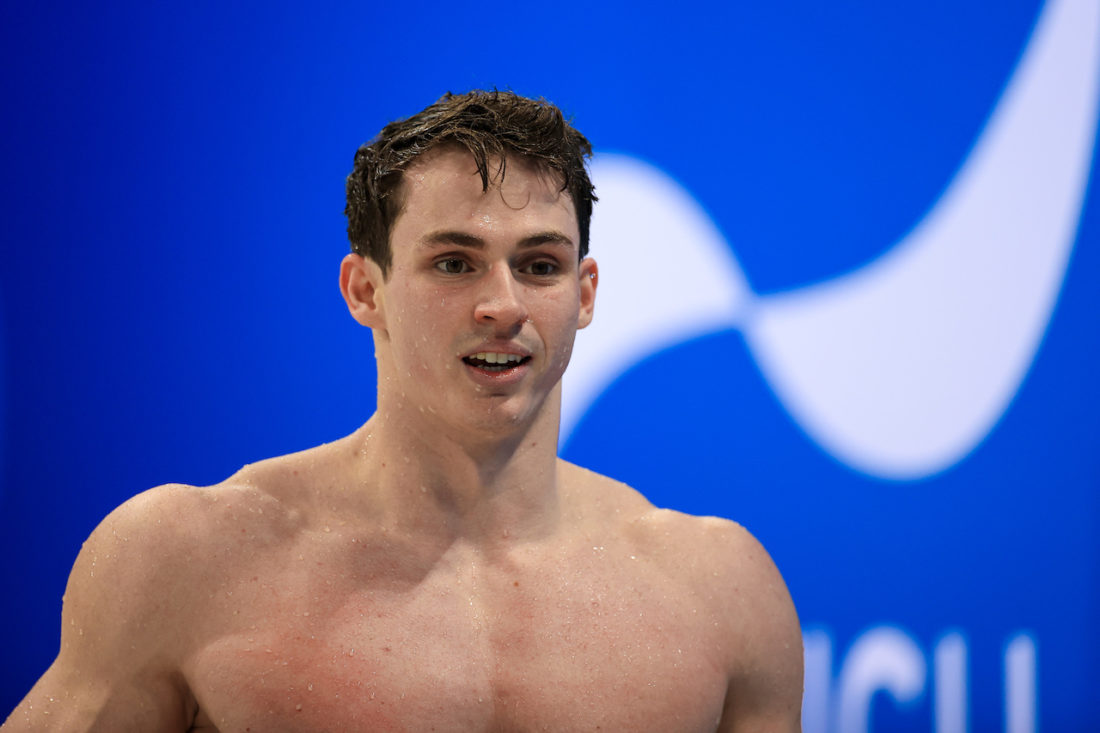 "He's been a legend. He's really got me to a great place both physically and mentally. Its only been the last couple of months, so let's see … in the next two years…".

Ben Proud – Photo by Georgie Kerr, courtesy of British Swimming
Proud did not finish the sentence but the Paris 2024 Games are clearly pencilled into the diary of a sprinter who started hurtling towards Olympic podium potential as a boy.