Ben Proud Punches An England 1-2 With Lewis Burras In Dashing 21.36 For Commonwealth Double Double & Triple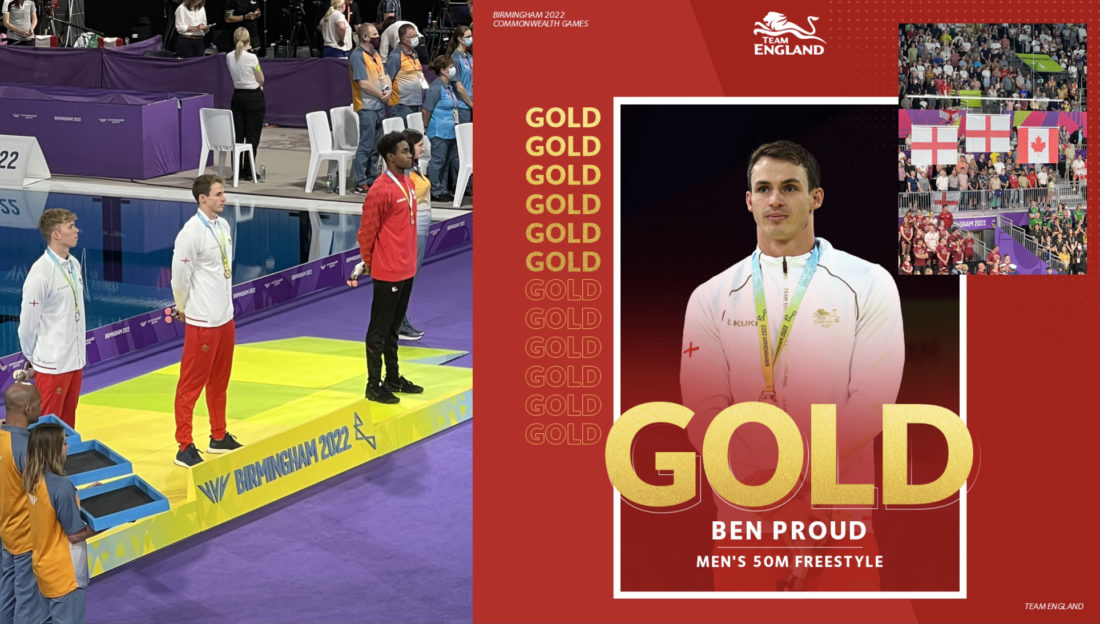 Ben Proud is having the swim Summer of his life, an historic World title last month propped up by a second Commonwealth gold in Birmingham and three 50m freestyle titles in a row 2014 to 2022 this evening with a 21.36sec storm at the helm of an England 1-2 with teammate Lewis Burras.
In victory, Proud becomes the first man to claim the 50m freestyle at three Games, and successive at that. At the Gold Coast games four years ago, he retained the title to match the two titles of England's Mark Foster in 1994 and 1998. Now, Proud has the record of crowns to himself and England has more than half the gold medals up for grabs since the dash was introduced to the program in 1990: golds in 9 times of asking.
The 50m butterfly crown in the bag at the weekend eight years after he claimed the title as a teenager in Glasgow, Proud leaves Birmingham with one World title, as the first Brit ever to win the dash crown at the FINA showcase, and two Commonwealth titles, his freestyle triumph secured in the seventh fastest effort of his career on a list topped by a towering 21.11 from the 2018 European Championships.
After the butterfly win, Proud noted: "On paper it's just another gold medal but to me this is an eight-year legacy that I've just completed."
Now he has an eight-year legacy of gold all the way and worth noting: at 21.36 proud was travelling at a pace capable of making any major dash podium in history at any level. And closest to him was Burras, on a lifetime best 0.09 sec inside the 21.77 he clocked at British Trials in spring.
Their England 1-2 marked the second time that gold and silver have gone to the same nation, the first back in 1990 when Australians Andrew Baildon and Angus Waddell led the way ahead of Foster, who also ended his Games career with a bronze, in 2002.
The bronze in Birmingham went to Canadian Josh Liendo, champion over 100m butterfly yesterday, in 22.02, 0.08sec ahead of Dylan Carter of Trinidad and Tobago. The result in full.
Proud The Pride of Birmingham After Budapest Blast
In Budapest last month, Proud became the first British swimmer ever to claim the 50m freestyle World title with a 21.32 sec blast in Budapest's Duna Arena pool, where in 2017 he lifted the World 50m 'fly title.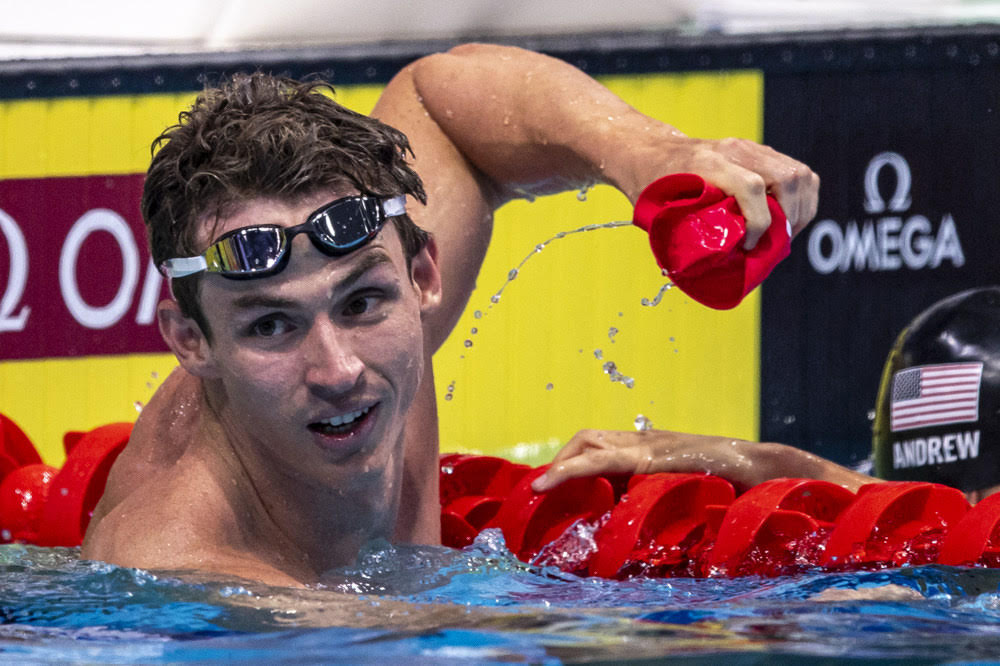 In Budapest, 27-year-old Proud emerged from a battle with American Michael Andrew, second in 21.41, and France's Maxime Grousset, third in 21.57, to dedicate his historic gold to his parents, coaches and friends who had been there for him when a fourth place at the Olympic Games in Tokyo last year had sent him on "a roller-coaster of mental health issues".
There was no sign of that in Budapest nor Birmingham as Proud executed what he has long proved himself capable of, all the way back to his youth and a time he was preparing for double gold at Glasgow 2014 with coach Jon Rudd at Plymouth Leander and Plymouth College.
Rollercoaster the ride has been but some simple approaches to an event in which a gap the naked eye can't fathom can split gold and go home with nothing to show for it.
As coach James Gibson, the 2003 50m breaststroke champion for Britain and 2002 Commonwealth champion for England, reminded his charge heading into the Budapest final "just focus on the details, nail the start and get into the wall at the finish". A simple instruction that paid a golden dividend for Proud then and again today.
Gibson, head coach at Energy Standard, and Bath coach Mark Skimming at Bath have done a tremendous job of helping Proud through a challenging time at the Tokyo Olympics last year and the Covid pandemic, when the sprinter had to shift base from the Gloria centre in Turkey to back home in Britain.
Proud and Gibson have also noted the contribution of the sprint ace's strength and conditioning coach, Gibson posting on social media: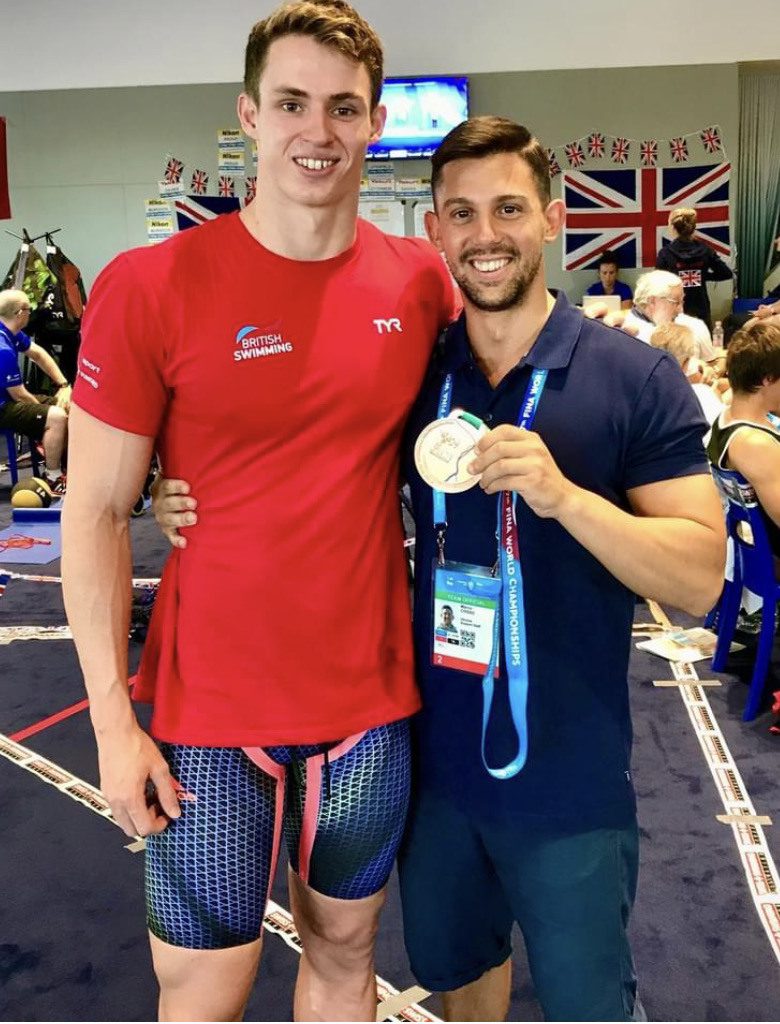 "This photo (right) is from 2017 with Marco Cosso. This guy is one of the most brilliant people I have ever worked with and he has been guiding Ben since April [this year]. Ben is one of the nicest people in world Swimming and there is no better person to be called the fastest man on the planet."

James Gibson on Ben Proud and Marco Cosso – Photo courtesy of James Gibson