Battle Of Barelli Vs Silva & The E4AA Reformers: Questions Of Integrity & Transparency Facing European Swimming Leaders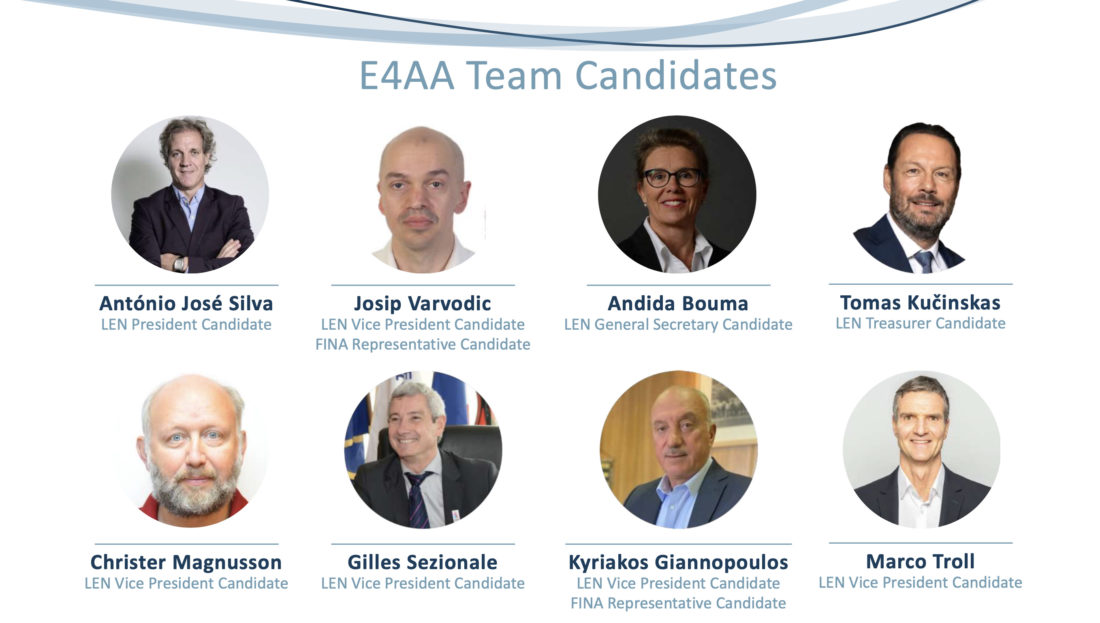 The E4AA reform group bidding to take over the European Swimming League heads into a vote on Saturday with a presidential candidate facing similar questions on transparency, integrity and communication as the leader they want to get rid of because of allegations of financial irregularities
"… reform is not a single event. It is a process that will test our patience." = Francois Carrard (RIP), head of the FINA Reform Committee
The European Swimming League (LEN), its president Paolo Barelli and those opposing him through an E4AA – Europe For All Aquatics – group campaigning for reform, will enter the eye of a storm this Saturday when representatives from the 52 nations that make up the continent's aquatics regulator vote to elect a new leadership.
In sharp focus is a presidential race that pits two men against each other at a time when both face questions over investigations into financial irregularities. Our headline suggests a battle but many in swimming believe it's all over and that the E4AA Group has won the argument for change. There are, however, issues outstanding.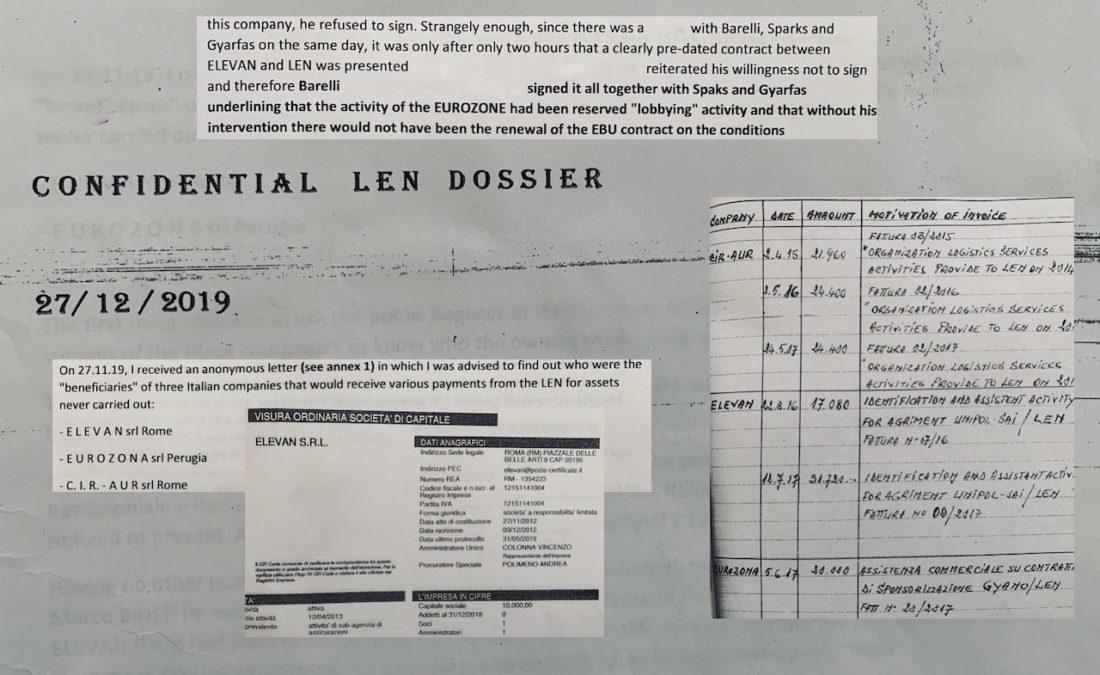 The storm began when the current leadership of LEN was challenged from within to explain allegations of financial irregularity in the federation's accounts and related documents, including signed consultancy deals that members of the board of the regulator says they were never aware of nor told about. A dossier unearthed by State of Swimming (SOS) and investigated by journalists from four countries after it was compiled by former LEN president and current head of Swiss Swimming, Bartolo Consolo, a retired lawyer and judge, was presented to the LEN Bureau in December 2019.
When no action was taken, Consolo reported the matter to the Swiss Prosecutor's office, which has jurisdiction over LEN, headquartered in Nyon, and the Ethics Panels of the Italian Olympic Committee (CONI) and FINA, the global regulator for aquatics. Investigations and related legal processes are underway. Barelli denied any wrongdoing in an explanation to LEN members in 2019 and early 2020. His explanations were accepted at the time by a number of those who have recently changed their minds and will stand for office in election this Saturday, this time in opposition to Barelli.
After what looks set to be a calm vote this Saturday, when the challengers from the E4AA – Europe for All Aquatics – reform-campaign group look set to sail into office, the next storm will gather: investigators and prosecutors have yet to rule on the allegations against 'old LEN', while the man heading to the throne of the 'new LEN' on a ticket of "integrity and transparency" is facing questions overs his links to separate and ongoing investigations into financial irregularities linked to his role as a sports professor at a Portuguese University.
An investigation by SOS has unearthed documents stating that António Silva, the E4AA group's LEN presidential candidate in the race against Paolo Barelli, the Italian incumbent, this Saturday, was suspended for 120 days in 2019 by the Universidade de Trás-os-Montes e Alto Douro (UTAD) in a dispute described in an official "disciplinary sanction" notice issued by the Dean's Office of UTAD of July 3, 2019, as "related to Luso-Brazilian agreements".
That year also marked his replacement by another representative from academia on the Portuguese National Council of Sports, though Silva's E4AA biography states that he remains a member of that council.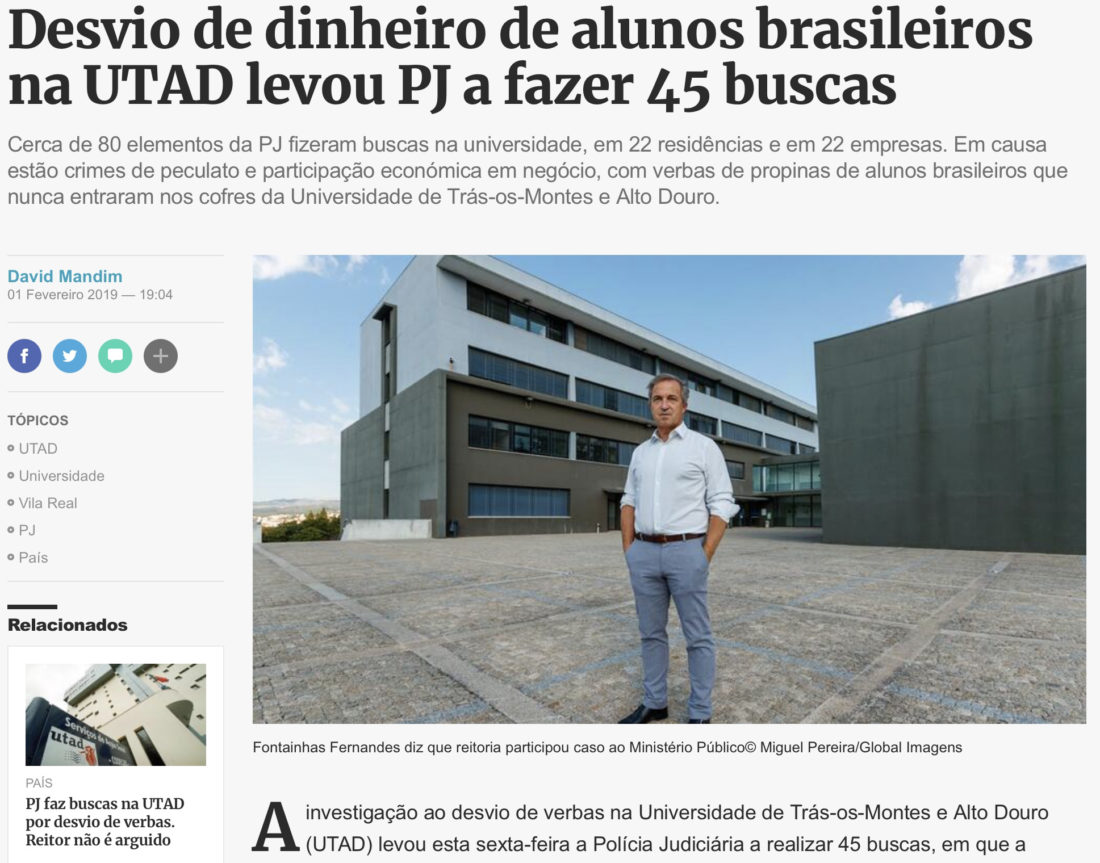 Three years ago this week, forces from the Polícia Judiciária, staged a dawn raid on the offices of UTAD as part of an investigation into suspected embezzlement of student funds. The national criminal investigation police agency whose brief stretches from "organized crime, terrorism, illegal drug trade" through to "corruption, cybercrime and financial crime", were looking for anything that might help them explain why fees paid by Brazilian students studying there never made it to the college.
The coverage of the raid followed an investigation by RTP in Portugal into the "financial scandal engulfing UTAD". In that 2016 coverage, it was claimed that students had paid fees for "course that did not exist". For those who can follow Portuguese:
Silva, one of five professors to receive suspensions in matters related to the police investigations still underway, according to authorities in Portugal and exchanges SOS has seen between parties linked to current court processes, categorically denies any wrongdoing in a statement "clarifying rumours" that was sent to the E4AA group last Friday, on the morning of which SOS put a series of questions to Silva and his representatives.
Although Silva issued an internal statement, he has yet to answer the questions sent to him by SOS last Friday with a generous request for answers to be given by lunchtime on Tuesday this week. In light of no response, those questions were repeated in an email to Silva and members of the E4AA Group yesterday, with a note reminding them of the FINA Reform proposals approved last December after they unanimous backing by the ruling FINA Bureau, of which both Silva and Barelli are members.
Addressing communication and media matters, the FINA Reform plan now being rolled out notes: "Finally, the Reform Committee is mindful to note that FINA's historical 'no communication communication' approach with its members, partners, Athletes and the media must immediately cease."
SOS will be happy to publish any answers it receives from the E4AA presidential candidate should he choose to follow the FINA media policy he voted for.
In his statement to the E4AA Group, Silva tells fellow candidates for high office at LEN: "It is not true that I was sentenced to 4 months of suspension".
That would appear to contradict the official Disciplinary Sanction notice issued by the Office of the Dean of UTAD in 2019 and confirmed in a note to the university's Human Resources department. SOS has seen that document and can confirm that Silva is one of five professors issued with sanctions and one of two professors to be handed the highest penalty in the group, of 120 days.
SOS has asked Silva if there is an explanation for the discrepancy in his statement and the official record of the Dean's office at UTAD. We will publish his response should we receive one.
In his statement to the E4AA, Silva notes that there have been no criminal charges in the UTAD processes underway and asserts that there have not been "even any accusations made to support the allegations". Overlooking the possible tautology in that sentence, documents seen by SOS and statements made by the police to Portuguese media appear to suggest otherwise.
SOS has seen evidence that some of Brazilian students who claim to have paid fees have provided documents to lawyers, the police and UTAD that appear to show receipts signed by parties at the university, even though the university claims that it has never seen the money they say they have paid. Stuck in the middle of the dispute, the Brazilian visitors have been told by UTAD that because the university has seen none of their money, they cannot be issued with their doctorate and degree certificates until they have cleared what to the university remains a debt owed.
A part of the police investigation is to ascertain whether the students did hand over large sums in fees, and if so to whom.
In his statement to members of the E4AA Group, Silva says: "The matter stems from the procedures that UTAD used in 2008-2010, and which were related to me because, at the time, I was pro-rector for international relations and later was vice-rector for science, technology, and innovation. I deny, emphatically, that I made any financial gain from this matter, and this was confirmed by the inspector in his conclusion."
Which inspector he is referring to is not specified, while the only conclusion that will, ultimately, be of significance is that which closes the cases still being heard in Portuguese courts, police investigations related to UTAD and the disciplinary sanctions issued by the Dean of Utad in 2019. Exchanges in the past month between parties linked to all of that and seen by SOS confirm that there has yet to be a conclusion to the matters in question.
None of that is linked to activities at LEN but members of the E4AA Group have expressed "a lot of concern" over the explanations so far provided to them by their presidential candidate and note that they will press on with the goal and mission of the group to ensure ethical governance, integrity and transparency at the European Swimming League they look set to take charge of on Saturday.
In Portugal, Silva's candidacy has attracted media coverage but not all in the Portuguese swimming community are supportive. Olympian, national record holder and champion Pedro Oliveira, retired and now working in the United States, told SOS that, based on his experience as a member of the Portugal team: "I don't think he is even marginally qualified to be president of a little league baseball team let alone LEN. It's ridiculous to not serve your own country and then use this position as a stepping stone to self gain."
SOS put that to Silva last Friday but he is yet to respond.
Meanwhile, the statement to the E4AA Group from Silva also refers to a dispute in Portugal that is linked to European swimming. At the 2018 European Championships, Portugal team swimmers and staff were alarmed to see a picture apparently showing a man masturbating in the middle of a group of photos of the team and a message of congratulations for good performances when they picked up a message sent to the group by Silva, the president of the Portuguese Swimming Federation (FPN).
Silva instructed the recipients to delete the offending image and refrain from saving or sharing it, some of those who received the image have confirmed to SOS. Silva says that a "hacker with a malicious intent loaded a photograph of a sexual nature into a set of 38 photographs which were intended to promote the achievements of the Portuguese team which appeared on my personal Facebook page."
A complaint was sent to the Portuguese Olympic Committee, while Silva tells the E4AA Group that he provided his explanation to several high offices. In his note, Silva states that he "immediately made the matter known to the offices of the President and Prime Minister of the Portuguese Republic, as well as to the Portuguese Minister of Education, Secretary of State for Sport and Youth, Board of Directors of the Portuguese Institute for Sport and Youth and the Olympic and Paralympic Committee of Portugal."
The Glasgow event ended in mid-August, while Silva wrote a note to the Departamento Central de Investigação e Ação Penal (Portugal's Central Investigations office) on October 19, 2018, noting that it had come to his attention that a complaint about him had been filed by an anonymous source. No charges have been filed against any who may have been responsible for the offending image.
The Campaign For Integrity & Transparency At LEN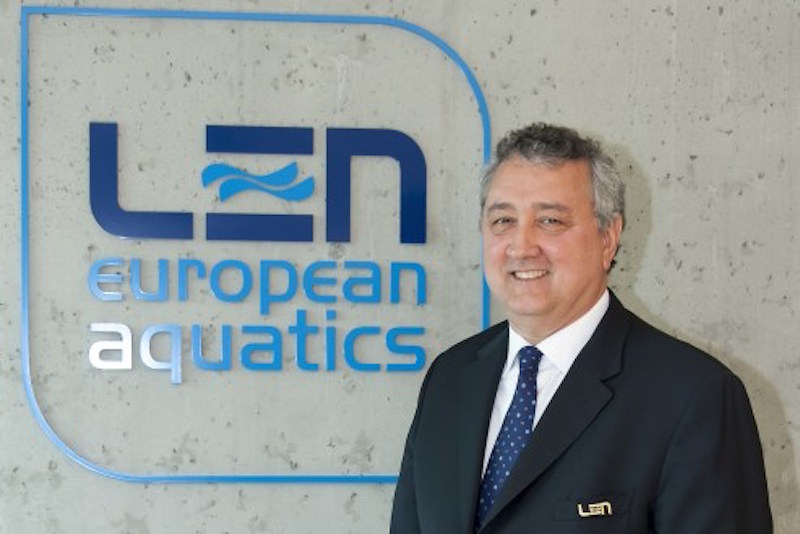 Neither the incumbent president, Paolo Barelli, of Italy, nor the challenger, António Silva, of Portugal – both members of the FINA Bureau at the top table of global aquatics governance – have been charged with any crime, while the investigations they are linked to are worlds apart and unconnected.
The key difference in their status heading into the election is that the investigations into Barelli's time as president, an era in which the Italian drove a significant improvement in the finances of European swimming, are specifically related to allegations of financial irregularities at LEN. Those caused many in aquatics to feel that he should go and that it was time for change, particularly at a time of agreed reform at global level, through FINA.
The rivals for the LEN throne have one crucial thing that connects them, however: the questions they face at the heart of the separate investigations they are linked to centre on the very reasons why the Europe 4 All Aquatics – E4AA – group campaigning for reform staged a vote of no confidence in Barelli and team last September, won it by 1 vote and then forced the current leadership to stage a LEN Extraordinary Congress at the Sheraton in Frankfurt this Saturday.
In their campaigning, the E4AA and its Bureau candidates have listed the following among reasons for reform: Integrity, honesty, democracy and transparency, most keenly in finance and decision-making, and factual argument to underpin the path to progress.
The challenge to Barelli follows an investigation by this website, Frankfurter Allgemeine in Germany, The Sunday Telegraph in Australia, and The Times in May 2020, into allegations contained in a dossier compiled by former LEN president and honorary member Bartolo Consolo, the head of Swiss Swimming.
SOS Coverage Of The Allegations and Processes Underway That Led To The E4AA Challenge:
Silva, is a newcomer to the top tables of FINA and LEN. The former coach to Portuguese national junior team swimmers enters the presidential race describing himself as the captain of a team and as a leader. His experience at the helm of Portuguese swimming includes a bid gone wrong: Portuguese government support was lost after Lisbon 2021 staged a successful bid to host the 2021 European short-course championships. Silva had to give the event back to LEN, however: It is understood that euros 3 million in support was pledged by the FPN before state funds got cut back to less than a million. It was the only time in the past decade that a successful bidder for a LEN event was forced to step away.
In the E4AA Group candidacy ticket, Silva sets out his stall by saying: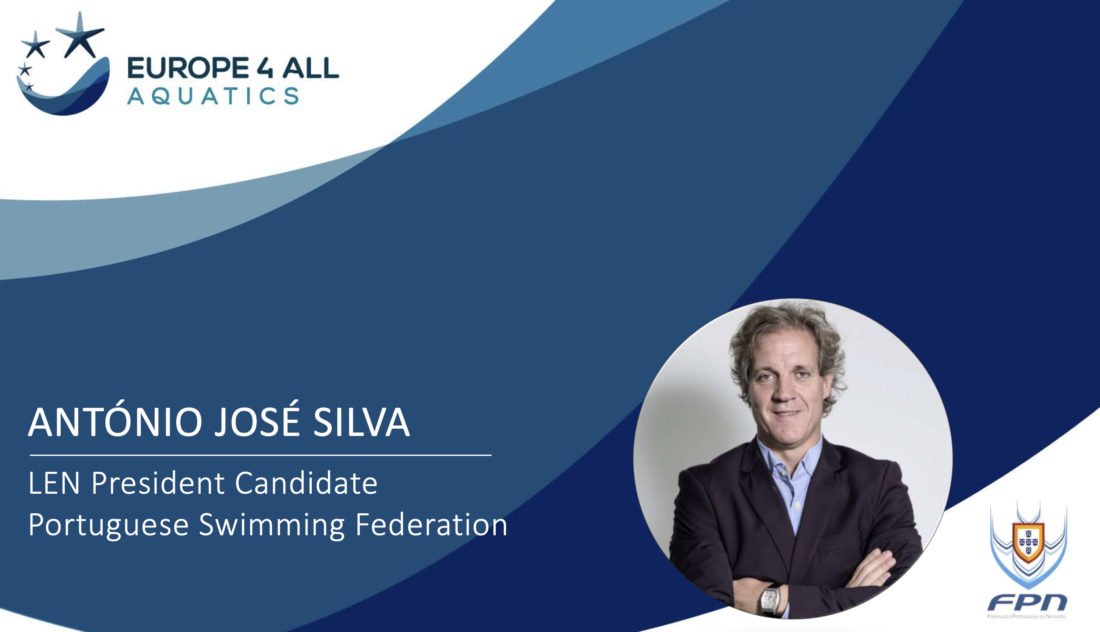 If I am elected President, I vow to serve LEN as captain of a team. I want LEN to stand for Unity in Vision and I will represent every type of Member Federation, large and small. We stand for:

I will be a leader who stands for democracy, integrity, transparency and the development of our sport. My vision is for LEN to be an innovative, inclusive and diverse Continental Organisation, underpinned by the highest standards of integrity, working tirelessly to develop aquatics and serve its Member Federations and other stakeholders.

António Silva – image – screenshot of the E4AA manifesto and team ticket
Here is what he pledges, heading into elections, for the first 100 days of his tenure should he win the votes of fellow national-federation representatives within LEN: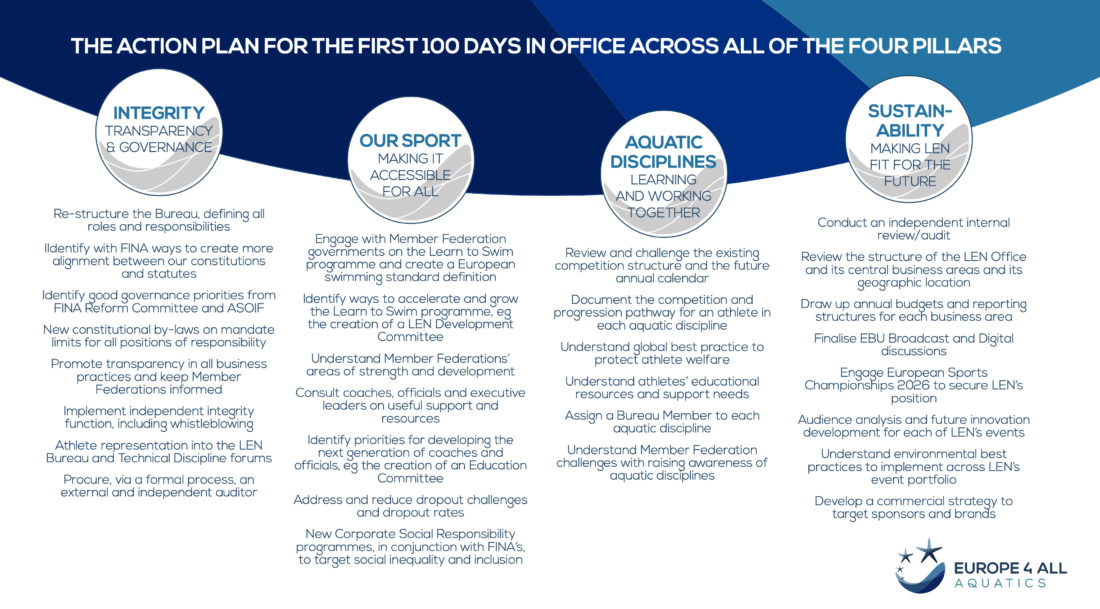 Whoever wins will be at the top table of European aquatics until 2024, when a new vote will be held. Many in the E4AA group see the interim period, in the words of one member, as "a chance to take on reforms and change the culture". That culture has often been one, at many levels in swimming down the decades, global to domestic, that included a touch of 'cult of the leader'.
While several key players in the E4AA group see their campaign as a collective of like minds with a clear mission to bring about good governance, LEN rules dictate that there must be a president. Silva put himself forward and has since had the backing of the rest of the group.
Congress may be a hybrid affair; it could be that only those sporting a stamp for a vaccine approved by the European Medicine Agency (EMA) are allowed in. Others, including any representative vaccinated with Sputnik V, currently under review and awaiting EMA approval, could join and vote as online guests at the party but a final decision on arrangements is yet to be made.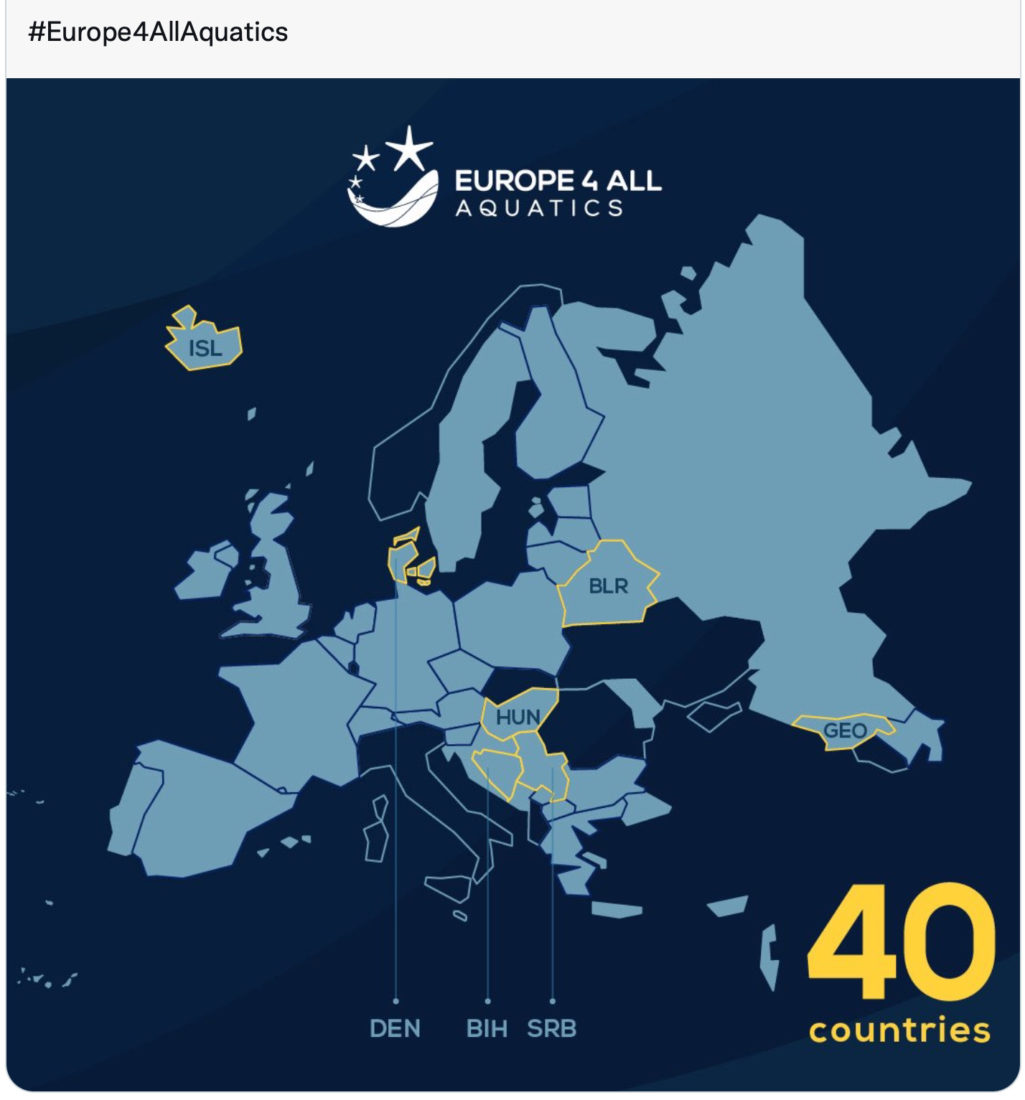 Regime change looks almost certain, close observers say as they suggest that Barelli has taken a step away from LEN activities of late as support for him has waned at a time when the E4AA Group says that it has received informal notification of support from at least 40 countries.
The E4AA Group campaigned on a collective reform ticket but the rules of LEN require elections to result in specific roles being filled, including that of president.
What E4AA Group supporters have noted, however, is that they wish the next two years until the next LEN Congress stages elections to be an interim stage in a process that results in all reformers being able to stay at the top table because they will have delivered on their mission statement.
In his Mission Statement, under "My Vision and Goals", Silva states:
Working in the interests of the sport, in support of FINA, I plan to action changes in the following four areas:
Integrity: Transparency and Good Governance
Our Sport: Making it Accessible for All
Aquatic Disciplines: Learning and Working Together 4. Sustainability: Making LEN Fit for the Future
If elected, I will ensure that our leadership team works immediately on an action plan for the first 100 days in office, and beyond, so we can build a sustainable future for the sport of aquatics in Europe.
The 40 nations to have expressed support for the E4AA include all but one (Norway remains neutral going into the vote) of the Nordic nations that have put forward candidates for the new Bureau.
Below are the latest messages from two of those Nordic representatives, Pia Johansen, president of the Danish Swimming Union, and Sami Wahlman, president of the Finnish Swimming Federation and member of the current Bureau under the presidency of Barelli.
Both Johansen, one of just 3 woman alongside 16 men standing for office on a ticket of equality this Saturday, and Wahlman emphasise the need for transparency and factual arguments in the reform process underway in global and continental governance of swimming:
It is against that backdrop that State of Swimming posed questions to António Silva last Friday and asked for a response by lunchtime on Tuesday. A lack of response prompted SOS to send the questions to Silva once ore, copied into a sizeable group of E4AA candidates and supporters. Just two of those confirmed receipt of the email. The questions remain unanswered at the time of publication today.
In the interests of the transparency on which the E4AA Group has campaigned and will seek election this Saturday, here is the statement sent by António Silva to the E4AA Group last Friday, on E4AA headed paper even though the note is a personal explanation to, not from, the group, and therefore does not represent the group: