Australians Mourn Wayne Smith, A Wordsmith Who Put Swimming Passion On The Page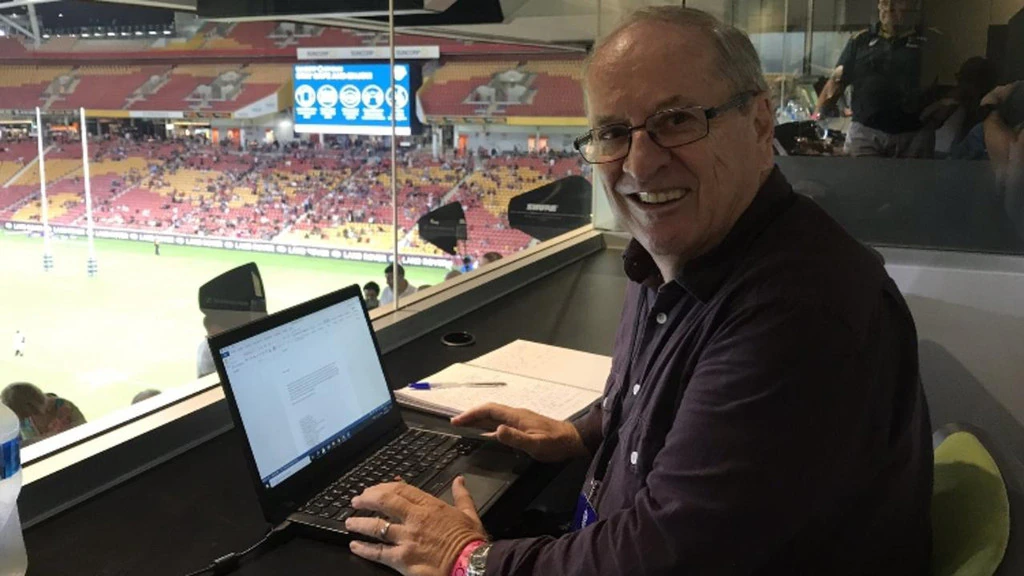 Obituary – Wayne Smith, one of Australia's top sports journalists of the past half a century and a man who's knowledgeable and prosaic prose stretched from swimming to rugby and cricket, has passed away.
His impact spilled well beyond his native Australia but it's Down Under where we find a community mourning the man and his dedication. Smithy was a master of his art and the craft of converting the passion, blood, sweat and tears of excellence to the kind of written word that lights up the page.
Only a couple of years into retirement, Wayne had attended a Queensland Reds rugby lunch in Brisbane recently but on Tuesday afternoon on the Sunshine Coast he suffered a suspected heart attack and was taken all too soon at 69 years of age.
"Smithy'', as he was known to many colleagues and friends, worked at the Courier-Mail, the Brisbane Telegraph and The Australian before joining the Sydney Morning Herald as a columnist after retiring from News Corp.
Tributes to Smithy note correctly that he was "small in stature … but a giant of the Australian sports writing scene".
"Rugby union and swimming were blessed to have Wayne Smith's relentless and brilliant writing to chronicle their highest moments, analyse every issue and call out their failings for 50 years," long-time colleague Jim Tucker said at News Corp.
The days when mainstream media newsrooms included wordsmiths with swimming knowledge are all but gone and it's not hard to count the number of leading publications that have a swimming writer on the staff (you just need the one hand). All the more poignant, then, is Wayne's passing.
On a personal level, Smithy, as many of his friends and colleagues called him, was great company, open, savvy, entertaining, awash with memories of some of the greatest moments he'd witnessed on the trail of sport and life. He rarely had anything but a genuine 'great-to-see-you' smile on his face, which takes us to the moments he didn't.
On a professional level, Wayne did not suffer fools lightly nor did he appreciate anyone trying to get one over on him in pursuit of a great yarn. A fine craftsman, Wayne was at his very best when converting to the page the passion of the play, the swim, the Game, the athlete-coach relationship, the colour and taste of ambition, what underpinned it, what undermined it.
In the pool, he knew his stuff. Never did a great swimming correspondent like Nicole Jeffery on The Australian have such a giant of an assistant to work with on the biggest of occasions – and he'd only bristle for a second up in the heavenly media bar were he to read that take. Wayne appreciated hard-working colleagues who did their homework, knew their job and battled every stroke of the way to deadline, whatever the time of day – or night.
He didn't suffer fools lightly. He was shrewd and highly competitive. His presence kept colleagues and competitors on their toes. He was always trustworthy but not a man to share your scoop with until the moment your work was on the cusp of take-off and even then, you always knew he could turn a yarn around faster than it takes a couple of hacks to get back in their seats between Olympic finals.
At the Athens 2004 Olympic Games, he and Nicole agreed to time themselves to see how fast they could get from mixed zone (where media interview athletes) up and along a labyrinth of stairways and corridors back to their seats in the press stand. On your marks … Wayne was not only off with a blast but when his hustle and bustle sent a chair crashing out of the way, few thought it was pure coincidence that the flying furniture blocked Jeffery's path just long enough to make sure gold was either shared or his by a whisker!
Here's where you can read the tributes of his colleagues in various News Corp Australia sports newsrooms and folk far more knowledgeable than this author on rugby and cricket, with some memories from the pool, too:
Australian sports journalism has lost one of its finest craftsmen with the death of Wayne Smith, a man whose rare vision gave Brisbane their 2032 Olympic Games – by Robert Craddock
Wayne Smith was a giant of sports journalism who was a force to be reckoned with – By Peter Lalor
'Sharp witted, brave, insightful': Rugby pays tribute after veteran writer Wayne Smith dies – The Roar
Rugby Australia mourns the passing of journalist Wayne Smith – The Wallabies
Why The Spirit Of Wayne Smith Will Be At Brisbane 2032
One of Smithy's finest hours unfolded on a sleepy Wednesday afternoon in 2015 when, as The Australian puts it, "he had no idea for his weekly column and thought it might be an idea to suggest that Brisbane should bid for the Olympic Games."
Wayne rang up Brisbane Lord Mayor Graham Quirk who baulked at the idea before saying "you know, we have a council of Mayor's meeting this week so I might just raise it."
The flame of an idea was lit. The torch is yet to come but when Brisbane hosts the 2032 Games, many will recall that Wayne Smith and the journalistic spirit and instinct at his core had a hand on the match.
Some might say that this is no time to raise the thing one finds uncomfortable but Wayne was among those who would have understood and appreciated the challenge that that Olympic realm presents to journalists.
Australian media reports this sad day IOC Vice-President John Coates saying how "tragic" it was that Wayne would not witness the 2032 home Games, nor the Rugby World Cup to be held in Australia in 2027.
Said Coates: "Not only did he reside in the pantheon of the great sports writers this country has produced, his lobbying for the Brisbane Games with the Council of Mayors Southeast Queensland was a catalyst for those Games that are now coming to our shores. It fills me with sadness that he won't be there to proudly witness the reality he envisioned. I first met Wayne in 1985 when he covered the tour by an IOC delegation exploring Brisbane's candidature for the Olympic Games of 1992. We missed out to Barcelona on that occasion, but Wayne had the fire in his belly. I extend my condolences to his family and many friends and colleagues from over the years."
Fine words, though they come from one of the men in an Olympic leadership that ought to have come (and ought still to come) under far more media scrutiny than governors of a self-declared autonomous "Movement" have faced down the decades despite athlete welfare having all too often been handed the wooden spoon while the gold has gone to the self-preservation and interests of blazers happy to see generations of athletes thrown under the bus as long as they get to stay on the Games Gravy Train Express. Any who find that too harsh, tell it to the women athletes of the 1970s and 1980s, many Australians among them, who await reconciliation and justice yet (more on that theme to come in our newsletter this northern summer).
Meanwhile, we recall Wayne Smith and the years of dedication that stretch back to the days of GDR doping and other sports controversies. He covered dozens of Olympics and Commonwealth Games, loved his cricket and rugby tours ons which he filled pages of colour-laden, well-crafted features for News Corp publications.
As assistant editor of the Courier-Mail in the 1990s, his beat was public affairs and issues critical to Queensland. It gave him insight at the interface of sports and the communities that live and breathe them. Our paths crossed in pools around the world for more than three decades.
Wayne was there when Duncan Armstrong caused one of the great upsets of Seoul 1988 by winning the 200m freestyle and coach Laurie Lawrence smacked another reporter round the chops up in the stands after the hack had asked the coach how he was feeling. "We just beat three World record holders … How dya think I feel? … Stuff the silver, we came for the gold!" Here's passion:
In January 1991, the media huddled around a young man called Glen Housman on the eve of the World Championships in Perth, Western Australia. He'd recently set a world record in the 1500m but the electronic timing had failed and the standard could not be recognised. I couldn't get near the title favourite for the throng, so I went up the other end of the room and had a chat with the young Aussie who was home-hope No 2 for the coming battle. His name was Kieren Perkins.
A few days later, the teenage Perkins claimed silver behind Germany's Jorg Hoffmann. The rest is great swimming and sports history. Wayne was a part of that. That same season, he spoke to Mr. Carew's latest pupil (Mr. is how Perkins always addressed coach John Carew). As related in Mike Colman's fine book "1500 – The Story Of Australia's Race", Perkins told Smith that he would win the Olympic 1500m crown three times and retire at 27.
It almost all came to pass as Perkins had envisaged it as a teenager. The 1992 and 1992 golds in the pantheon, Perkins took a break but was back in fine fettle for a home Games at Sydney 2000. He had a young gun of a teammate to beat in Grant Hackett.
Related: A Tribute To 'Heart-Rate' Bob Treffene The Brain Behind Waves Of Speedy Swims & Smart Coaching
The buzz was big. "Australia's Race" indeed. It was the first Games at which The Times went online with coverage before the newspaper (opportunity, time difference, etc).
I was there as the swimming writer and one of those who put together the first Olympic website for The Thunderer. We were on the other side of the world yet "live" as though we were in home time, so our then Sports Editor David Chappell was there with us. So was Bill Bryson, a great colour writer with a wide brief to scribble on whatever happened to catch his eye.
There was plenty to do just that. It was a thrilling Games, the 1500 in the pool set to the sound of the Thorpedo, the Eindhoven Express, relays of smashing guitars and the advent of a boy called Phelps…
Our Sports Ed mentioned that he was taking his wife out for dinner on the night of the 1500m. I warned him to reserve or get to the restaurant very early. It would be all about Perkins Vs Hackett that night. Swimming being swimming, he thought I was joking. By the time we caught up the next day, he'd understood that certain Olympic swimming epics – not least those of two Aussies battling over 1500m – meant 'premiership', a sort of 'Swimbledon' final. Standing room only; folk stripped down to their Speedos hanging out of windows, craning their necks to see the nearest big screen, every stroke, splash and split of the way.
Wayne was there that night, with Nicole, Jacquelin Magnay and other great colleagues. Hackett took gold, Perkins the silver as a man who came so close to becoming the first to join fellow Aussie Dawn Fraser and Hungarian Krisztina Egerszegi in the Triple-Crown club founded by Fraser when she took the Olympic 100m freestyle title for a third time in 1964. Hackett almost made it, too, in 2008, but the first man to get a ticket was Phelps at London 2012.
'Thanks To The Good People Who Work Hard At Their Craft'
Among instructive tomes on swimming is the autobiography of the late Don Talbot, the coach who was there in 1956 when Australian's topped Americans at Melbourne 1956 and led the Dolphins to victory over the mighty U.S. swim team at the 2001 World Championships in Fukuoka. On page 186, Don notes: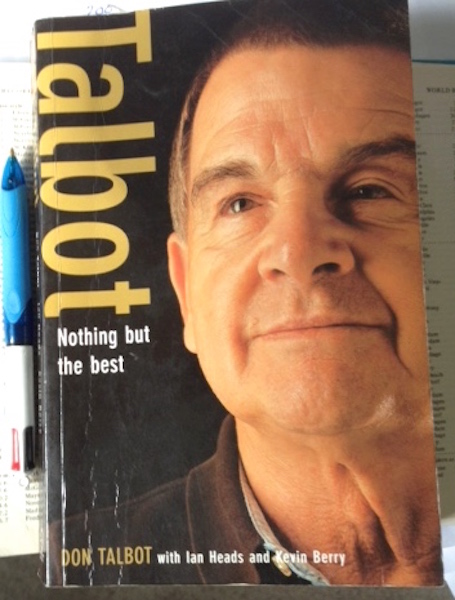 "I thank the good people who work hard at their craft, and there are a few of those. I think Nicole Jeffery of The Australian has done a great job, and Newes Limited's Wayne Smith, although not always consistent, most of the time writes things that I don't disagree with. He is open to listening and taking on board if he has written something that someone doesn't like."

Don Talbot – image: Talbot – Nothing But The Best – Don Talbot's autobiography with Ian Heads and Kevin Berry
From Talbot, fine praise indeed. He and the teams he led excelled at a time when swimming was on the up, when the press stands overflowed with reporters who knew their art, had a keen eye and understanding of what they were looking at and whose words were awash with the passion and flow of the outstanding present in our upstanding presence. The action that unfolded before our eyes flowed onto the page not as a remote string of words that are no more instructive than a result sheet and scream the sad mantra of the digital age: 'I'm not a writer, I'm not there and have never met the people I'm writing about as though we were best mates'.
Fukuoka 2001? You had to be there. I (along with many others at a time when swimming has sunk into the ranks of sports covered for the most part remotely in between Olympics) won't be in Fukuoka this summer when the Worlds return to the Japanese city (more on that in a coming series for our new SOS newsletter). Neither will Wayne but as the action gets underway, those of us who remember him and a bygone time will recall the man, his work, the company and laughter he graced us with.
Wayne Smith is survived by his wife Robyn and two children from an earlier marriage.
RIP Wayne Smith.