Australia Offers Wild Cards To McKeon & Chalmers In Bid To Get Them On The Blocks At Commonwealths Without Racing At Trials; They & Titmus To Bypass World Titles

Australia is offering wild cards to Emma McKeon and Kyle Chalmers in a move that breaks what is described by the Telegraph Down Under as "one of its oldest and most sacrosanct traditions" in an attempt to get its biggest hitters on the blocks in major championship waters this Northern summer.
The move comes at a time when Australia will race at the World Championships in Budapest in June without six of its big medal winners from the Tokyo Olympic Games last year, including McKeon, Chalmers and 200 and 400m freestyle champion Ariarne Titmus, their absence depriving the showcase in Hungary of several of what would have been the keenest clashes at the meet.
In 2022, there will be no revisiting of the Ariarne Titmus Vs Katie Ledecky and Caeleb Dressel Vs Kyle Chalmers highlights of 2019 World Championships and 2020ne Olympic Games.
The Budapest 2022 championship was added to the calendar only this year in a series of decisions that ensured the United States would have a major international to attend this summer but also served to further shred what remains of the relevance of historic comparisons in the sport.
Since 1973, the World Championships have been held either every four years or, since 2001, every two years. Between 2022 and 2025, a schedule that emerged from a Covid-cancellation catch-up and pressure of contracts in place has a World long-course championship on the calendar every year, including the season of the Paris 2024 Olympic Games.
Against that backdrop, Australia swimmers and coaches are charting their own course to Paris 2024.
McKeon, the most decorated athlete at the Tokyo 2020ne Olympic Games with seven medals, and Chalmers are reported by the Telegraph to have taken up the 'once-in-a-lifetime' offer of automatic spots in the Dolphins' team for this year's Commonwealth Games in Birmingham without having to race for a place at trials next month in Adelaide.
It is believed that the same unprecedented deal was offered to each of the nine Australian swimmers who won individual medals at last year's Tokyo Olympics after the majority notified national selectors they would not be available for the 2022 World Championships in Budapest this June.
News Corp reveals today that only three Aussie swimmers who won individual medals in Tokyo are considering attending this year's world titles: 100 and 200m backstroke champion Kaylee McKeown, 200m breaststroke champion Zac Stubblety-Cook and 400IM bronze medallist Brendon Smith.
Of the other six, Cate Campbell, Emily Seebohm and Jack McLoughlin are all taking a sabbatical to recharge their batteries before starting their Paris 2024 Olympic campaigns. McKeon, Chalmers and Titmus are skipping the worlds to focus all their energy on the less competitive Commonwealth Games, starting in Birmingham in July.
Why The Wild Card Is Not A Wild Idea…
Titmus will not defend the World 400m freestyle title she claimed in an upset win over American living legend Katie Ledecky in 2019. However, the Australian ace will race at trials in Adelaide next month. McKeon and Chalmers opted to bypass trials, sparking a need for selectors to provide them with an incentive top help Australia out at the Commonwealth Games in Birmingham.
Australia expects a debate about the wild-card decision "because," as Julian Linden puts it in the Aussie Telegraph: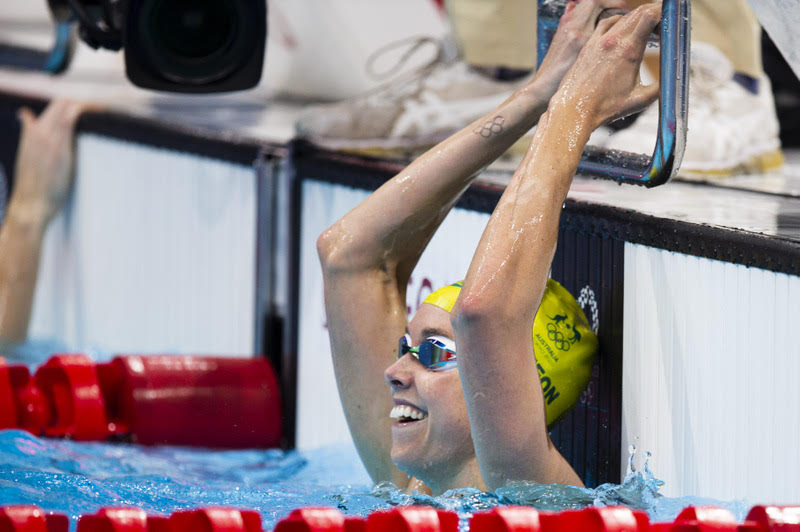 "… it goes against Australia's long egalitarian approach to national team selection. Rightly or wrongly, Swimming Australia has always prided itself on its ruthless selection policy, where the only way to get a spot on the team is by getting up on the blocks and racing at the trials. That same cutthroat rule has been applied to Australian swimming's greatest legends without fear or favour, including Ian Thorpe and Dawn Fraser, but the disruptions caused by the global pandemic have convinced selectors to make an exception – for this year only."

Emma McKeon can barely believe the scoreboard – 100m free Olympic Gold in 51.96! – By Patrick B. Kraemer
Australia's head coach Rohan Taylor agreed to make an exception to the tradition of 'earn your place at trials" and award a handful automatic places for the Commonwealth Games only, in recognition of prevailing abnormalities on the swimming calendar and timing of events.
He tells News Corp: "We've created a mechanism within the selection criteria that if you're an individual medallist then we can select you into your events. It's a one off. It's something we're doing just to try to keep the longevity. So we can put Kyle and Emma in without going to trials but I definitely need them to be committed."
The Commonwealth Games sits in the middle of Olympic Games and World Championships (2 per nation in each event) and European Championships (4 per nation in each event, 2 through to finals), with three swimmers allowed per nation, in both heats and finals. Podium sweeps are rare in top-flight swimming these days but can still happen at the Commonwealth Games.
The European rules were updated to four per nation in response to a request to provide more opportunities for the very best athletes from the best countries by Bill Sweetenham, the Australian mentor, at a time when he was the head of British Swimming and turning the GBR tanker around after the national team retired from Sydney 2000 without any medals for the first time at an Olympic Games since post-WWII London 1948.