Australia Dominate Gold Count As Dolphins, Eagles & Dragons Take Lion's Share Of Medals
The 20th World Aquatics Championships came to a thrilling conclusion at the Marine Messe in Fukuoka, Japan, on Sunday night, with the Dolphins dominant force with 13 gold medals, to 7 for the USA and 5 for China.
In the podium depth, Dolphins, Eagles and Dragons took the lion's share of all prizes, their combined 79 medals representing 62% of all 127 medals.
The meet ended with the USA collecting what was described as the second biggest haul in their history, at 38. With no intent to downplay the likes of 20 silvers and 11 bronzes – a fantastic result for all swimmers and coaches concerned – such historic-haul comparisons, for all teams, are relative: there are now two mixed relays in the mix that were not there for most of the past 20 years and there are six 50m stroke events, an 800 for men and a 1500 for women that were not there for almost three decades of world-championship history.
So, a touch of Caveat Emptor required on the stats and claims of "best-ever" and "greatest" in a sport that has invited asterisks to its party and shredded the red thread to its own history when it comes to measuring the might of the then and now.
The Top 12 On The Medals Table Led By Dolphins Over Eagles & Dragons
Rank
Nation
Gold
Silver
Bronze
Total
1
AUS
13
7
5
25
2
USA
7
20
11
38
3
CHN
5
3
8
16
4
FRA
4
0
2
6
5
GBR
2
2
4
8
6
CAN
2
2
2
6
7
TUN
2
1
0
3
8
LTU
2
0
0
2
SWE
2
0
0
2
10
ITA
1
4
1
6
11
RSA
1
1
0
2
12
HUN
1
0
0
1
The table and podiums in full – The Book of Results in Full at Omega
Since the championships came to an end, we've had the following development in the sport:
Cate Campbell Fires Broadside At USA With "Sore Losers" Jibe After Broadcaster's Bellyflop On Medals
My thoughts on that here:
Why Australia Did Not Only Win On Gold Count But Was The Best Team At World Championships
Below are the World records, 10 of them, and the links to my coverage of all 42 finals, and articles from pool heats and the open water 10km battles.
The 10 World Records In The Pool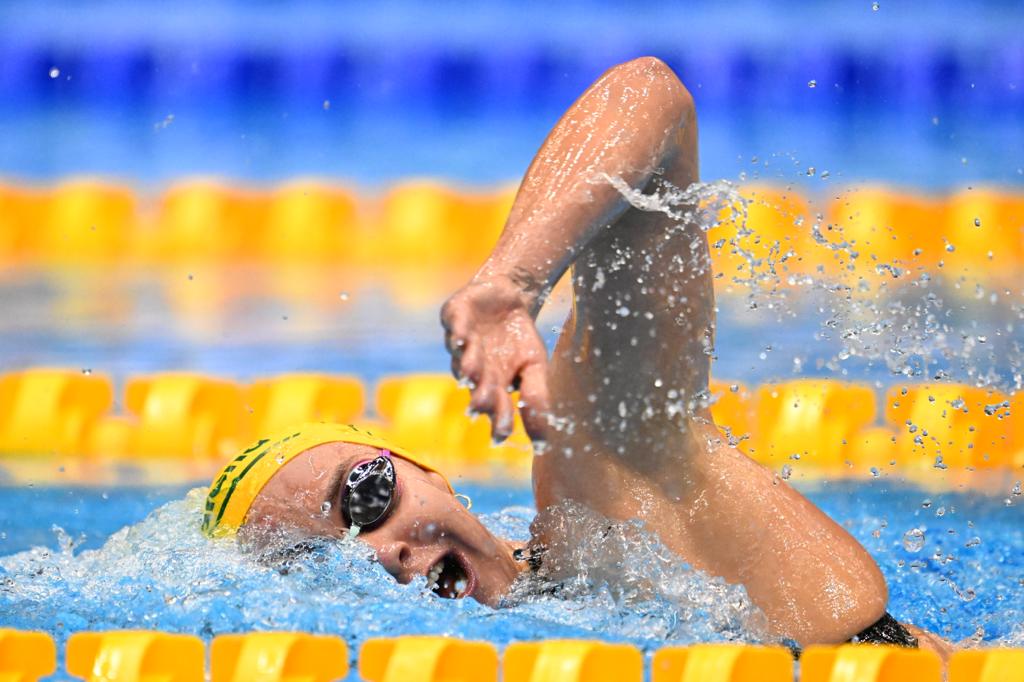 Women:
50m freestyle: Sarah Sjostrom Sweden 23.61
200m freestyle: Mollie O'Callaghan Australia 1:52.85
400m freestyle: Ariarne Titmus Australia 3:55.38
50m breaststroke X 2: Ruta Meilutyte Lithuania =29.30 and then 29.16
4×100 freestyle: Mollie O'Callaghan (52.08) Shayna Jack (51.69) Meg Harris (52.29) Emma McKeon (51.90) Australia 3:27.96
4×200 freestyle: Mollie O'Callaghan (1:53.66) Shayna Jack (1:55.63) Brianna Throssell (1:55.80) Ariarne Titmus (1:52.41) Australia 7:37.50
Men:
400 medley: Léon Marchand France 4:02.50 (race video)
200 breaststroke: Qin Haiyang China 2:05.48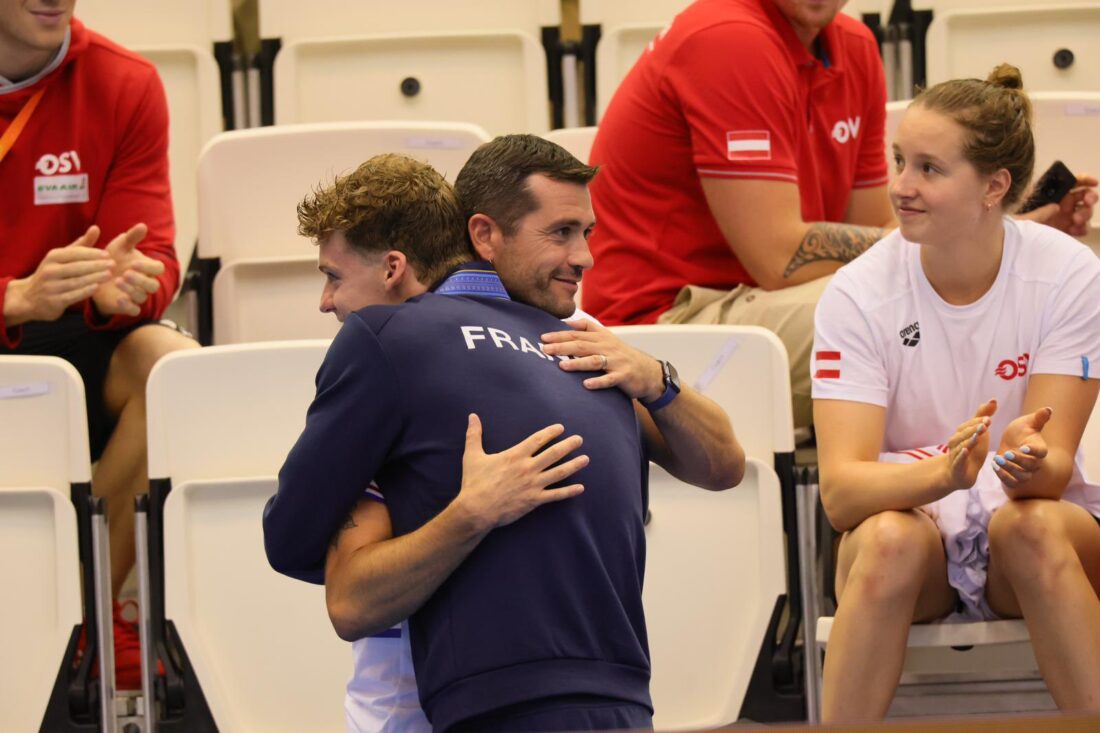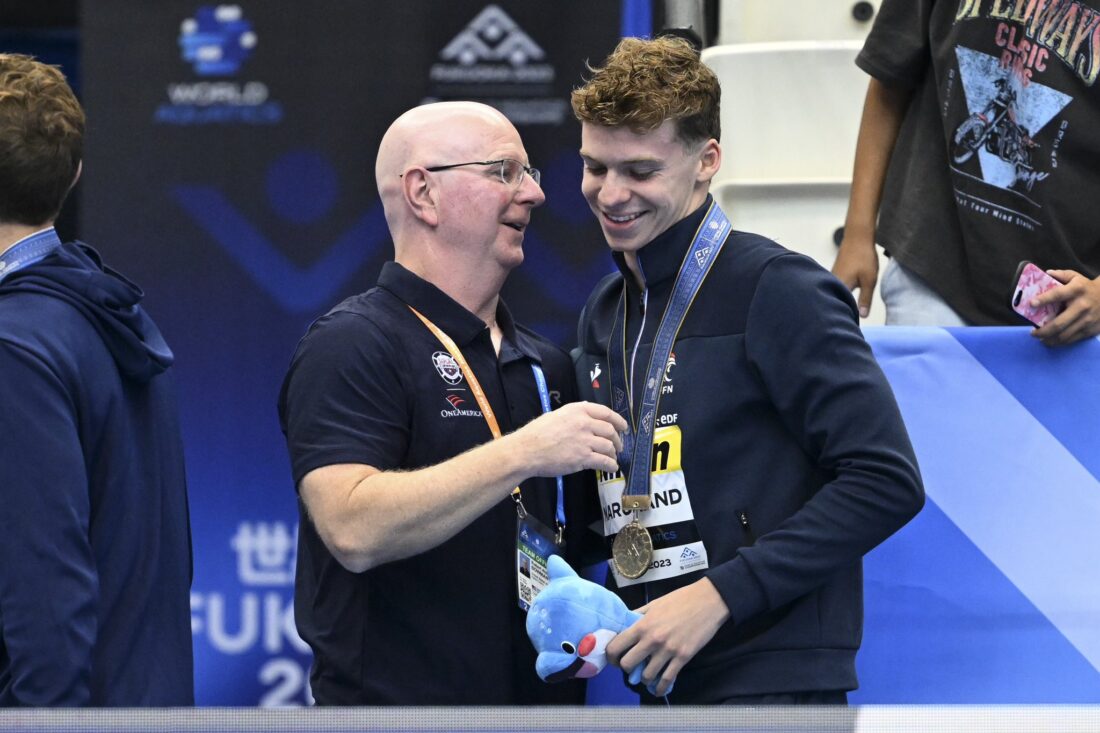 Mixed:
4×100 freestyle – Jack Cartwright (48.14) Kyle Chalmers (47.25) Shayna Jack (51.73) Mollie O'Callaghan (51.71) Australia 3:18.83
SOS Coverage Of Swimming At The 20th World Aquatics Championships, the Damage of Dolphins Noted
WOMEN:
Freestyle
Dolphins 3/6
Sarah Sjostrom Sizzles On 23.62 To Keep 50 Free Crown 0.01sec Shy Of Her Day-Old WR – Now Has More Solo Medals Than Phelps & Ledecky
Sjostrom The Dashing Queen Of Sprint Swimming: 5th 50 Fly Title Followed By 23.61 World Record 50 Free 12 Minutes Later
O'Callaghan Retains Crown in 52.16 As First In History To Take 100-200 Free Double At Worlds
O'Callaghan Pops Pellegrini 2009 World 200 Free Record With 1:52.85 Blast Past Aussie Olympic Champ Teammate Titmus For Dolphin 1-2
Ariarne Titmus Turns Three-Way Fight Into A Left-Right Knockout With 3:55.38 World Record
Ledecky A Legend In Lights Of An 8:08 Record 6th 800 Free World Title, Li & Titmus On 8:13 Asia/Oceania Marks
Katie Ledecky Makes It A High-Five Splash of 1500 World Titles In A Decade Of Dominance
Open water: Germany's Leonie Beck Takes First Gold Of Fukuoka 2023 World Titles In 10km Opener
Backstroke
Dolphins 3/3
McKeown 1st To Win 50-100 Back Worlds Double On Way To Shot At Triple
Kaylee McKeown Roars To 100 Back Gold On Fuel Of 200IM DQ
Kaylee McKeown Take Trailblazing Treble On Backstroke With 2:03.8 Victory
Breaststroke
Ruta Meilutyte 29.16 WR Turns Back The Clock For Breaststroke Double 10 Years On After Debut World Title
Ruta Meilutyte Equals WR 29.30 In 50m Breaststroke Semi Final … 10 Years On – Video
Ruta Meilutyte Makes 1:04.6 Return To Top Of World After 10 Years
Ruta Meilutyte Back Down To 1:04 In 100 Heats At Worlds A Decade On, Past & Present In The Wash
Schoenmaker Takes 200 Breast Title in 2:20.80 As Douglass & Shouten Lock Defender King Off Podium
Butterfly
Sjostrom The Dashing Queen Of Sprint Swimming: 5th 50 Fly Title Followed By 23.61 World Record 50 Free 12 Minutes Later
Zhang Yufei Leads A Refshuffle Of Tokyo Olympic Podium For The Crown At Last
Summer McIntosh Bounces Back With 2:04.06 Americas & World Junior Record To Retain 200 'Fly Title
Medley
Douglass Leads USA 1-2 With Walsh On 2:07s In 200IM Fuelling DQ'd McKeown's Hunger
Summer McIntosh Ends Fukuoka Test On A High With 4:27.11 CR Victory – Second Fastest Ever – & Two Titles Retained
Relays
Dolphins 2/3
Australia Gathers Unstoppable Momentum On Decade-Long Bull Run With Timewarp 3:27.96 World-Record
Dolphins Open Worlds Account With Day Of Dominance in Fukuoka: 4 Golds & 2 World Records, for Ariarne Titmus & Women's 4×100 Free
Dolphins Destroy 4x200m Free WR – 7:37.50 From O'Callaghan, Jack, Throssell & Titmus
USA Brings Challenging Fukuoka Campaign To Golden Crescendo In Medley Relays
MEN
Freestyle
Dolphins 3/6
McEvoy Magical 21.06 Wins 50 Free World Crown In Majestic 21.06 By Ahead Of Alexy & Proud
Chalmers 47.15 Stubs Out Alexy's Outside Smoker With Blast Back From 7th At Turn
Matt Richards Leads Another GBR 1-2 Punch With Tom Dean 0.02 Shy As David Popovici Misses 1:44s 200 Free Podium
Short Margin Of Victory 0.02sec Over Hafnaoui With 3:40.68 To Get Dolphins Rolling
Hafnaoui Tops Historic 800 With 7:37.00 African Textile Mark Ahead Of Oceania, American & European Records By Short, Finke & Wiffen
Finke & Wiffen Lead the Way With Hafnaoui & Short Poised For Furious 1500 Curtain Closer
Hafnaoui Fends Off Finke By 0.05sec For 1500 Victory & Distance Double A Slither Shy Of WR
Open water: Wellbrock Big In Japan – Tokyo Olympic Champion Leads Germany 1-3 For World 10km Title In Fukuoka
Backstroke:
Hunter Armstrong Bags World 50 Back Crown in 24.05 in A USA 1-2 With Defender Justin Ress
Murphy Takes Ceccon By 0.05 To Complete Set Of 100/200 Golds At Olympics & Worlds
Kos Cites The Sun Devil In The Details Of 200 Back Win Over Murphy – 'Bob Bowman Effect'
Breaststroke:
Qin Dreams Of Peaty's Pioneering Pace After 26.29 Dash Win For Breaststroke Double
Qin Haiyang 57.69 Asian Mark A First For Self & China Ahead Of Triple Silver
Qin Haiyang's Road Unparalleled To World Supremacy on Breaststroke: WR 2:05.48 Makes Him 1st Ever 50-100-200 Treble Champion
Butterfly:
Ceccon Books Lane 4 For 100 Back Defence Then Dashes Off To Win 50 'Fly Crown
Grousset Gold In 50.14 Puts Frenchman In All-Time Top 5 Year Out From Paris Olympics
Marchand Keeps Marching With 1:52 Victory In 200 'Fly & Lane 4 Ticket To Next Medley Final
Medley:
Marchand Sings Les Bleus – A Song Of Providence For Paris After Third Gold In 1:54.82 200 Medley ER
Marchand 4:02.50 WR: Race Video & What He Said After Confining Phelps' 4:03.84 Epic To History
Relays:
Dolphins 1/3
M4x100m Free – Kyle Chalmers 46.56 Delivers Gold No4 For Australia
Great Britain Keep USA & AUS At Bay As Scott, Richards, Guy & Dean Reclaim World 4x200m Crown: 6:59.08, Paris Powder Dry
USA Brings Challenging Fukuoka Campaign To Golden Crescendo In Medley Relays
MIXED:
Dolphins 1/2
Australia 4×100 Mixed Free Quartet Go WR 3:18.83 Ahead Of USA & Great Britain ER