Australia 4×100 Mixed Free Quartet Go WR 3:18.83 Ahead Of USA & Great Britain ER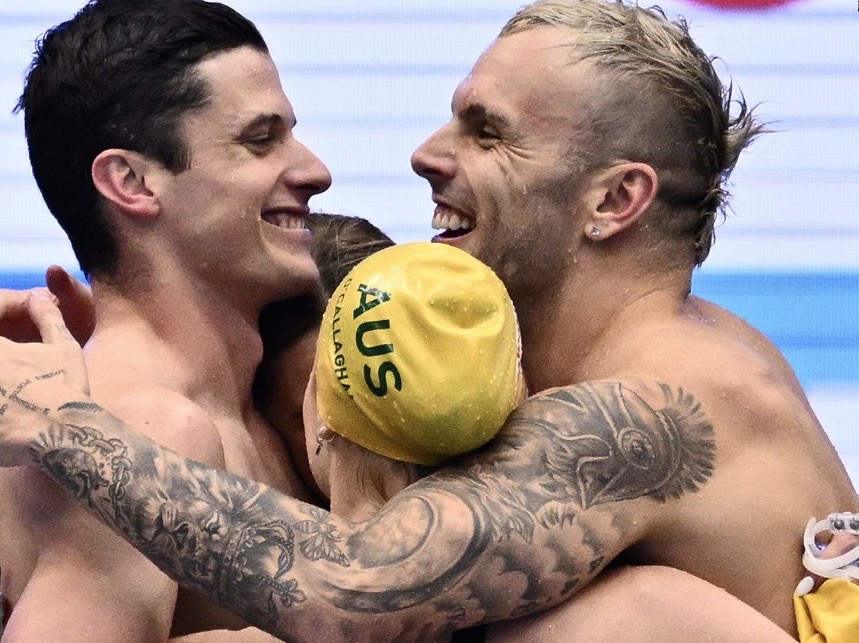 Australia, the golden nation in the pool at the 20th World Championships, did not rest win the seventh day and after titles for Cameron McEvoy in the 50m free and Kaylee McKeown in the 200m back, added a third crown by taking down the Mixed 4x100m freestyle World record at the Marine Messe Hall.
Jack Cartwright (48.14) Kyle Chalmers (47.25) Shayna Jack (51.73) and Mollie O'Callaghan (51.71) added up to 3:18.83, inside the 3:19.38 the Australia Dolphins claimed the title in last year in Budapest and wiping out the USA by some 2 seconds.
With Chalmers and O'Callaghan 100m title winners this week and propped up by the two Jacks in the squad, the rest stood little chance of halting the Australia bull run at the championships, victory delivering a 13th gold.
That tally matches the best of Australia at any World Championships, Fukuoka 2001 having taken the Dolphins to the top of the medals table in the time of Don Talbot and then Montreal 2005 having matched the record.
There's one day to go and its highly likely that a new standard of Dolphins dominance will be in place by this time tomorrow.
Cartwright got the relay started in fourth place not far off the lead pace, Chalmers moved the team up to second and then Jack and O'Callaghan thumped everyone into submission.
Callaghan, with victories in the 100, 200m free, the 4x100m free and 4x200m free and three world record in the latter three on that list, celebrated a fifth gold. Sensational stuff. She emerged to say: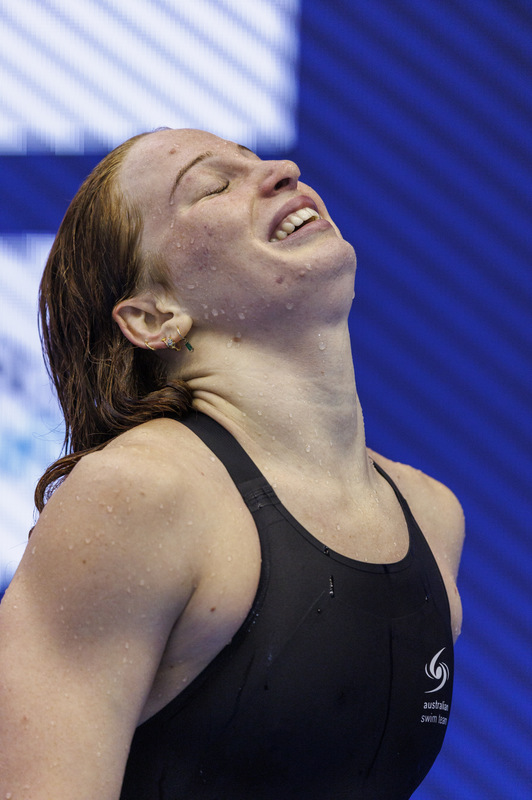 "It's just been an amazing week. We are on fire at the moment. It's amazing to see everyone thrive in this environment and do so well and pick each other up. It's just amazing to top it off with another world record."

Mollie O'Callaghan – Photo by Patrick B. Kraemer
The United States quarter of Jack Alexy, Matt King, Abbey Weitzeil and Kate Douglass took silver in 3:20.82, ahead of Great Britain, in a European record of 3:21.68, courtesy of Matt Richards, Duncan Scott, Anna Hopkin and Freya Anderson.
The Race:
The Result in full: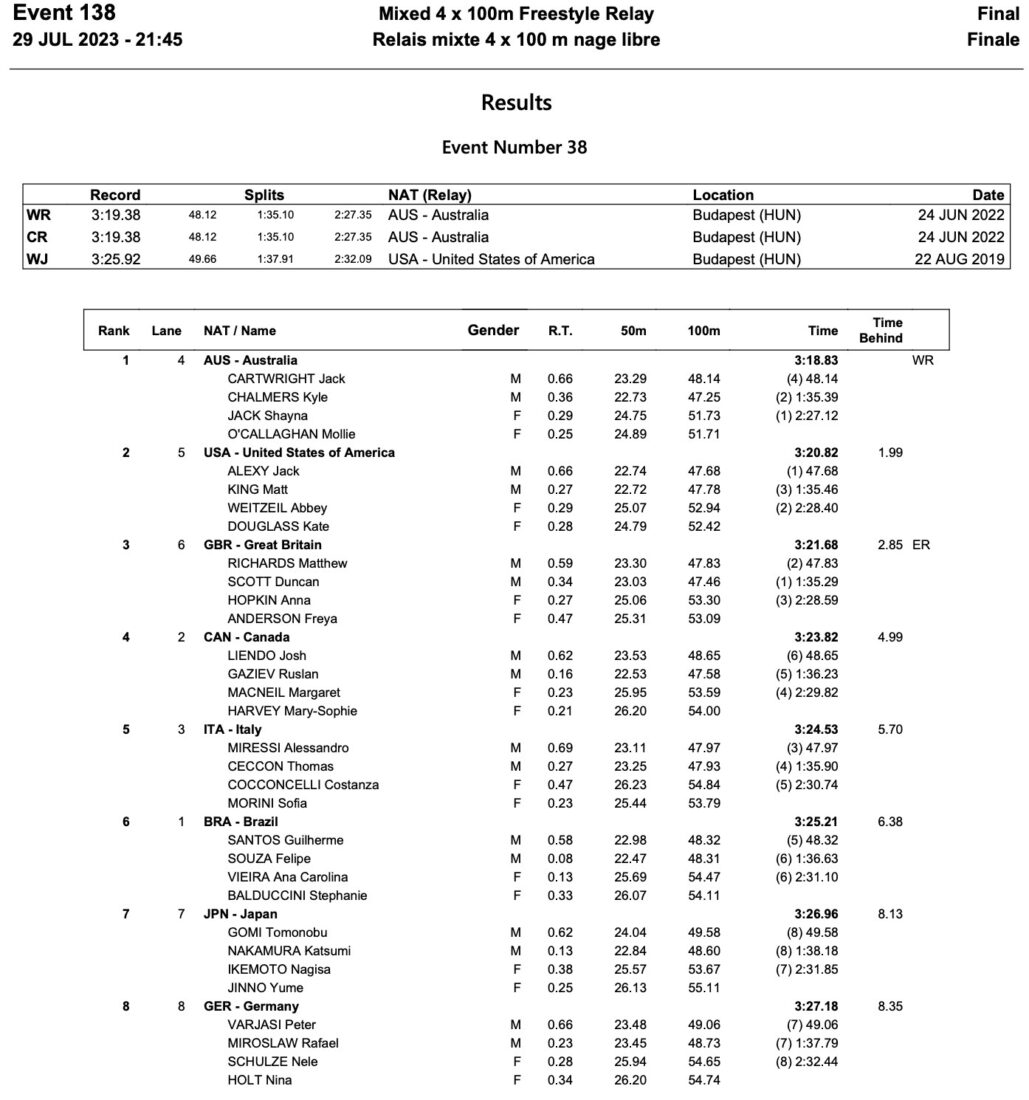 Beyond Australia & USA, Britain Celebrate 7 Relay Medals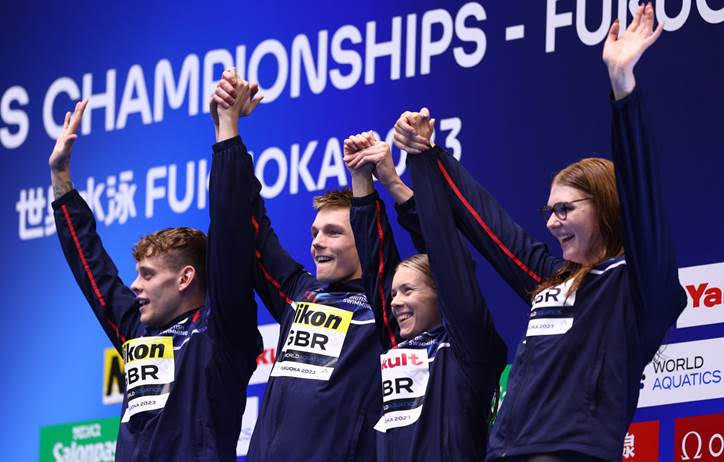 Britain's time set a European record, while Jacob Whittle, Tom Dean and Lucy Hope also landed medals after swimming the heats.
Anderson said: "It's really nice. We've had two fourth places in the women's freestyle relays, and I was anchoring them both. That has been on my mind, what I could've done differently, so it's been about forgetting about that, refocusing for these guys and getting the job done, which we all did. So yeah, I'm pretty happy!"
The 200m free and 4x200m free World champion this week, Matt Richards said: "It was a great race and I think we all put together a really good swim there for what has been a busy meet for all four of us. It's great to come away with a medal in that, and Duncan was saying that that's the first time we've ever medalled in that as a country, so it's a great performance for the team and gives us plenty of momentum going into the final day tomorrow."
Fair his part, Scott, World 4x200m champion and 200IM silver medallist this week, added: "This isn't an event that GB or many countries focus on much really, to be honest, as it's not an Olympic event, it's not the top of our focuses – but every time we come round to Worlds, it's about putting in the best performances. We've got good freestyle depth on the men's and women's side, so bringing a team together is quite easy, it's just going off form and who's the freshest or have got different programmes. Now we've medalled in it, how consistent can be at this level in this event?"
And Hopkin noted the endurance needed for relay swimmers these days: "I think we've all done quite a few 100m freestyles this week, so it's just learning from each one, working on the details and the technical side of it and putting it all together when it matters. We all put together a really consistent race and it worked out in the end, we came out with the bronze."