Aussie Gold In 3:29.69 4×100 Free World Record For Bronte & Cate Campbell, Meg Harris & Emma McKeon (51.35)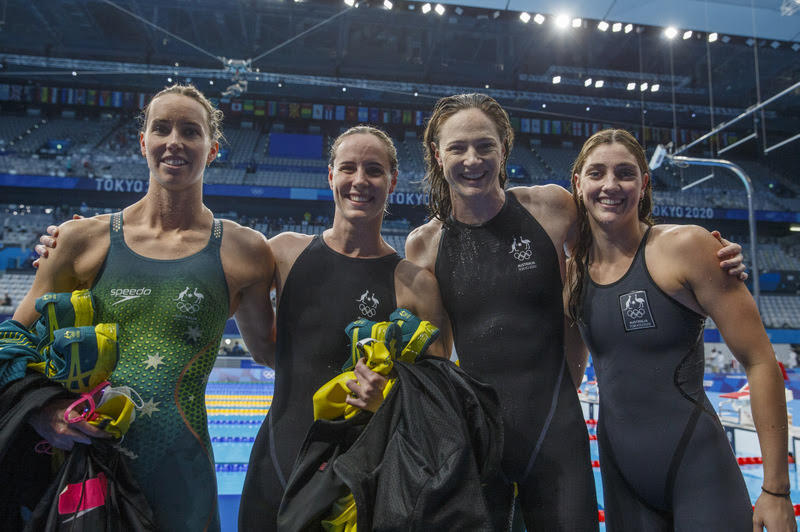 Tokyo, July 25, Day 1 Finals & Semi finals – Gold and a title retained in a stunning World-record victory for the Australian women's 4x100m freestyle quartet of Bronte Campbell, Meg Harris, Emma Mckeon and Cate Campbell topped the bill in the opening session of morning finals at the Tokyo Olympic Games after Japan and Tunisia had celebrated historic wins but the pall of the pandemic rolled through almost every other result.
The Campbell sisters Bronte and Cate served as the bookends, Meg Harris and Emma McKeon in the middle, to the first sub-3mins 30sec women's sprint freestyle quartet 51 years after men first broke that barrier.
A fourth straight global standard for the Australians since 2014, the Dolphins' 3:29.69 high bar came off splits of 53.01 from Bronte Campbell, 53.09 from Harris, 51.35 from McKeon, for the second swiftest split ever, and 52.24 from Cate Campbell (who boasts the swiftest split ever at 51.00, from 2018 Commonwealth Games).
At that crushing pace, the Australians reigned supreme from the half-way mark to home as McKeon and Campbell senior.
Canadians Kayla Sanchez (53.42), Maggie MacNeil (53.47), Rebecca Smith (53.63) and Penny Oleksiak (52.26) blocked the Americans for silver in 3:32.78 ahead of a 3:32.81 from Erika Brown (54.02), Abbey Weitzeil (52.68) Natalie Hinds (53.15) and Simone Manuel (52.96), the anchor bringing the Canadian and American back in the hunt together again for the first time since their snap for 100m solo gold at Rio 2016.
That locked the Dutch and Brits out in respective times of 3:33.70 ands 3:33.96, the latter a British record.
In other circumstances, with a crowd, with evening finals and other performance-key factors denied to swimmers at these Games by the bug and an American rights holder insisting on priority for its domestic audience wishing to see swimming finals in their prime time, not those of athletes or Japan, the Australians could have been significantly faster still, by more than a second in fact, if you place all their career-best relay splits together.
Only another couple of seconds to go before an Australian women's team travels at the speed of men's quartet that helped deliver one of Mark Spitz's seven golds at Munich 1972.
Campbell Explainer:
"Competition in Australia is fierce for this relay"
First in, Bronte Campbell said: "Breaking a world record is incredible. We're all just going out there to do our job and see what we could do. To go under 3.30 with this team is pretty incredible so I couldn't have asked for a better team. The competition in Australia is fierce for this relay and that's what makes us so competitive on the international stage." 
Cate Campbell said the secret to the team's success was "depth and high standards":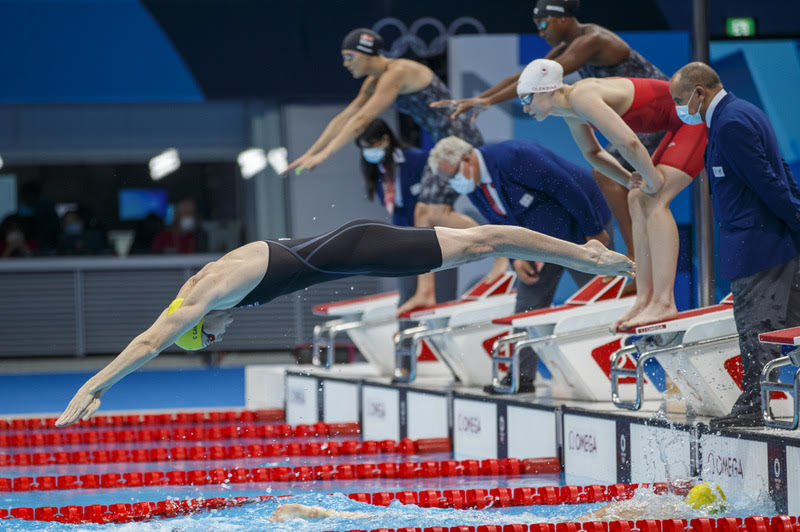 "We've really all had to step up year in and year out. We push each other and we challenge each other but we do that in a really supportive way. This is the third Olympics in a row that Australia has won this event and that in itself really needs to be celebrated because to do that for nearly 12 years is incredible."

Cate Campbell of Australia sets off on her way to delivering gold for Australia – by Patrick B. Kraemer
With a sizzling split in the bag, Emma McKeon said: "I'm feeling pretty good, you'd hope i'd be ready to go after a year away. It's all worked out well and then to come out with these girls the adrenaline is always high and feeling that support you've got you're always going to get in and give it your best. 
Insane, was how Meg Harris described her first Olympic gold: "I was so happy last night just swimming in the heats with these girls and the other two and the opportunity to do it again is insane. I'm just happy to be here."
Historic Wins & Each Solo Final With A "Slowest Since…" Line
But for the Australian relay, all other finals threw up a "slowest win and podium since …" line. The men's 400m freestyle final was a case in point: the winning time, 3:43.36, was the slowest since 1996, though that did not dent the drama when 18-year-old Ayoub Ahmed Hafanaoui made history for Tunisia.
In the women's 400m medley, Yui Ohashi clocked 4:32.08 to become the first Olympic champion of these Games for the hosts and the first Japanese swimmer ever to claim the long medley crown. Her time would not have made gold or silver at any of the past three Games but she made history ahead of defending champion Katinka Hosszu, the triple champion of Rio 2016 who finished fifth in 4:35.98, almost 10sec shy of her World record.
The picture of a sport struggling to keep the conveyor belt of never-ending progress on the clock going was even starker in the men's 400m medley. In 2017, it took a 4:05.90 for Chase Kalisz, of the United States, to lift the World title. Today, he claimed Olympic gold in 4:09.42, four years after Rio 2016 silver in 4:06.75. The 2021 pace would not have made the podium at the 2008 and 2012 Games, while you have to trawl back to Sydney 2000 to find a slower gold.
All the finals today were over 400m, a distance being treated differently to all other events in Tokyo: sprints go to semis and then final on a third day; 800 and 1500m also get a skipped-day rest. Not so for 400m events – and that told today.
Though much has shifted on the way to these Games of thumbs up and thumbs down, some things never change: the superpowers of the pool hit the ground running, opening their accounts with a gold apiece, the United States hauling 6 medals, half off all available, and Australian taking on e of each colour. That left room for history makers Hafanaoui and Ohashi and Canada's relay silver.
Semi-finals
W100m butterfly: China's Zhang Yufei produced the only sub-56 in the semis, on 55.89 in the second line-up, off a 26.02 at the turn. Closest to her was Marie Wattel, at the helm off the first field on a French record of 56.16, her home length a 29.81, 0.06sec inside the pace of Zhang and ahead of Australian Emma McKeon, on 56.33.
That wasn't the swiftest last length: defending champion Sarah Sjostrom was 0.83sec slower than Zhang and 0.5 behind Wattel's pace at the turn, on 26.85 at the turn before she sailed home in the fastest return split of all, 29.55. If the World record holder (55.48) can get closer to the 26.01 first-length speed she mustered for Rio gold five years ago, she will be a threat to those tilting at her title in a season of injury and rehabilitation.
The other qualifiers: Torri Huske (USA), Maggie MacNeil, World champion (CAN), Louise Hansson (SWE) – all under 57 – and Anastasiya Shkurdai (BLR).
M100 breaststroke: Arno Kamminga (NED) followed up his 57.80 Dutch record in heats yesterday evening with a 58.19 at the helm of the first line-up a touch ahead of Nicolo Martinenghi, of Italy, on 58.28, and Britain's Worlds silver medallist James Wilby, on 59.00.
Defending champion Adam Peaty (GBR) then produced a close match of his heats effort, 57.56, of yesterday, with a 57.63, this time putting a touch more pressure on his first-length speed, at 27.20.
Asked if he was "holding back a little", Peaty said:
"I had a little peripheral vision there, I knew what I needed to do. There's 58-lows, I knew I could do that, so it really is about swimming in the semi-final. It's not really about proving anything, putting any little markers down because I know a lot of energy for tomorrow. We'll see what we've got tomorrow."
What would that be? "I have no idea," said Peaty with a smile. "Every day brings new challenges, new victories. As long as the sun rises and my eyes are both open anything can happen. But obviously Olympic finals are Olympic finals and I'm looking forward to it."
Kamminga has closed the gap and has talked about being able to "launch" in the Peaty slipstream when he has the Brit in the next lane and in his sights.
"I've always said if you've got a lane, you've got a chance," said Peaty. "It's showing that respect. For me as a competitor I want to put my best foot forward and focus on my own race but I know tomorrow it could go either way. It could be a 57.6 or a 56.6, you don't know. But I'm going to see what we've got tomorrow, it's a morning final so we'll see what the challenges bring with that as well."
Kamminga, citing his second length as his forte, says the fight will be close and is fired up by Peaty. Says Peaty: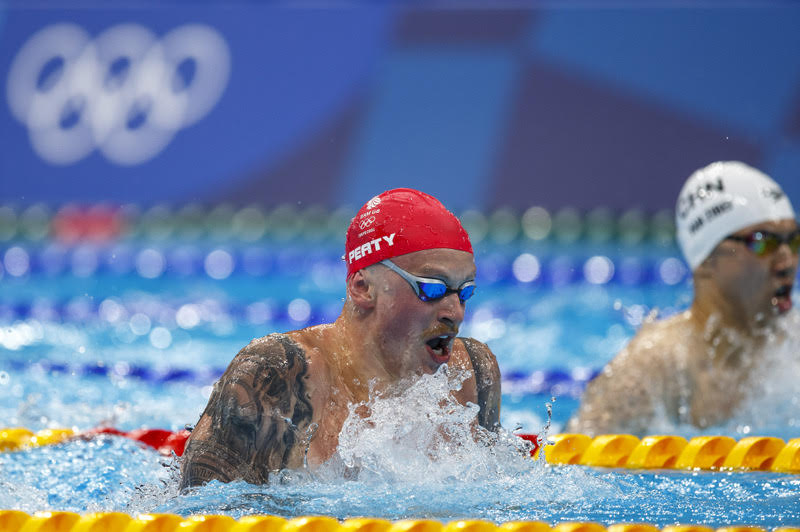 "I'd be worried if it didn't. You want to chase the world record holder. I love to race, I'm a scrapper and I know when it comes down to the last 15 I've got something no one else has got. It's just seeing how that replicates tomorrow, do I need to be out faster, do I need to be out at the same time, but I'll obviously go through the strategy with Mel [Marshall, his coach] after this."

Adam Peaty – by Patrick B. Kraemer
For Kamminga, his qualification for the Olympic final was a huge step for him and Holland: "It's my first international final at worlds and Olympics. That (making the final) was certainly the goal for this race. At the Olympics it's not about time, it's about place and when you finish first (in your heat) you know you're in the final. Really happy about that and I've set myself up for a good race tomorrow.
Asked what he meant by saying Peaty helped to "launch me", Kamminga explained: "If he is close you feel you're catching up. He has so much power, so much extra power, compared to being all alone and just feeling the water and how it feels. So when someone is next to you or you feel like you're catching up, it gives you so much more strength than you can ever imagine and you can really push yourself to newer levels."