Athletes On The Front Line – Anastasia Davydova, Synchro Star & Secretary General Of Russia Olympic Committee Flees Putin & ROC's War Cry – State Media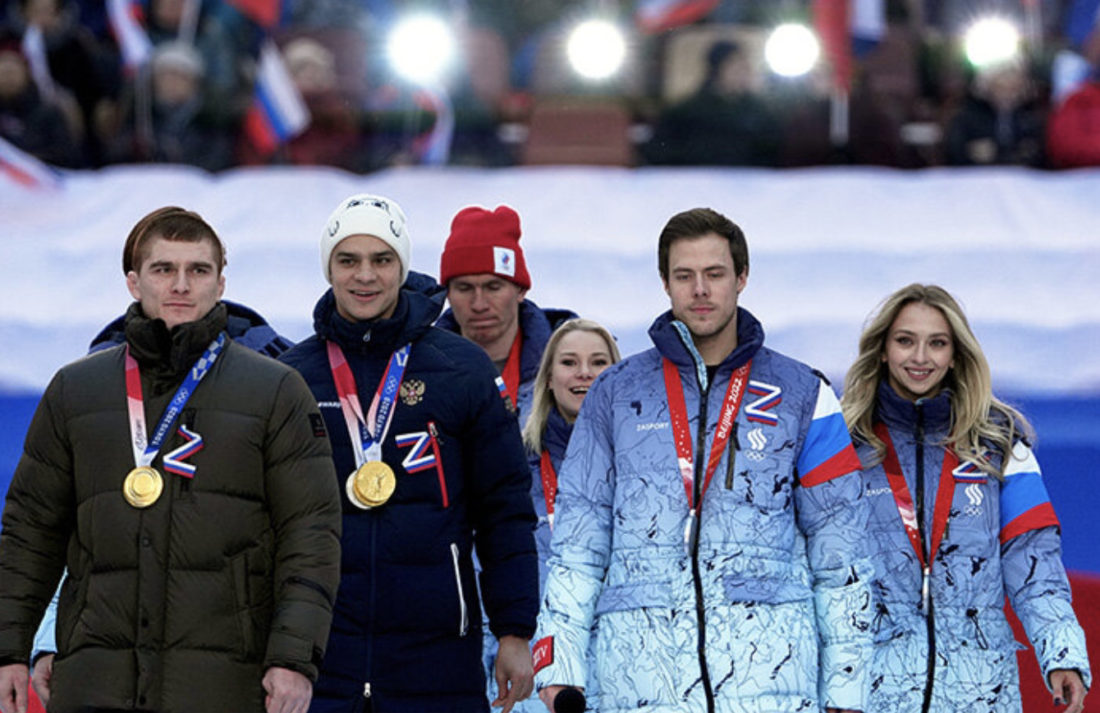 Anastasia Davydova, the five-times Olympic champion in synchronised swimming and since her retirement after the London 2012 Olympic Games the secretary general of the Russian Olympic Committee (ROC), has fled the country, according to the state news agency TASS.
The reports follow the ROC's backing for Putin's war and a rallying cry to athletes to feel honoured if they get their call-up papers to fight for Russia in its illegal war on Ukraine.
Davydova's reported departure follows a partial mobilisation of military reserves to fight in the war in Ukraine and the Ministry of Sports ordering national governing bodies to suspend training camps outside the country.
Russian and Belarusian athletes are barred from competing in a wide range of sports, including the aquatics discipline in which Davydova, now 39, excelled.
TASS has reported that Davydova notified staff at the Moscow swimming centre where she works as a coach that she has no plans to return to Russia.
Many athletes in Russia work in the public sector, some, like double Olympic backstroke champion Evgeny Rylov, in police, medicine and related services. Rylov is currently serving two suspensions concurrently: all Russians in aquatics are banned from global and European competition this year, while Rylov was served a sanction by FINA, the global regulator, after appearing at a Putin rally in Moscow with the "Z" symbol of the Russian war on Ukraine on his jacket. It is unknown if he was simply among those public-sector workers bussed in to play 'crowd' and following orders.
Davydova claimed her five Olympic gold medals at Athens 2004, Beijing 2008 and London 2012, her tally the second-best ever in the history of her sport after teammate Svetlana Romashina.
Tatiana Danchenko (one of her last interviews before the invasion of Ukraine), Davydova's mentor and Russia's head synchronised swimming coach, is quoted by TASS as confirming that her former pupil had left the country. The ROC stated that Davydova has not resigned as secretary general.
ROC President Stanislav Pozdnyakov has been a staunch supporter of the Russian invasion of Ukraine. Only last week, he was quoted as saying that any athlete called up for military duty ought to be "honoured" to serve Russia.
While the IOC is happy for its affiliates to sanction athletes who appear to back the war on Ukraine, it has yet to act on Pozdnyakov's intervention, which would appear to have crossed what the IOC constitution and mantra paint as a fat red line: no politics.
Despite a ban on Russian athletes and clear political and chain-of-command links between the ROC, Vladimir Putin, the Russian president, and the Kremlin, the International Olympic Committee has not suspended the domestic Olympic Committee.
Putin's conscription exercise has been followed by reports of long queues of Russians at borders with Finland, Georgia, Kazakhstan and Mongolia, while demand for flights out of Russia is also reported to be high as speculation grows that men of fighting age will be barred from leaving the country.