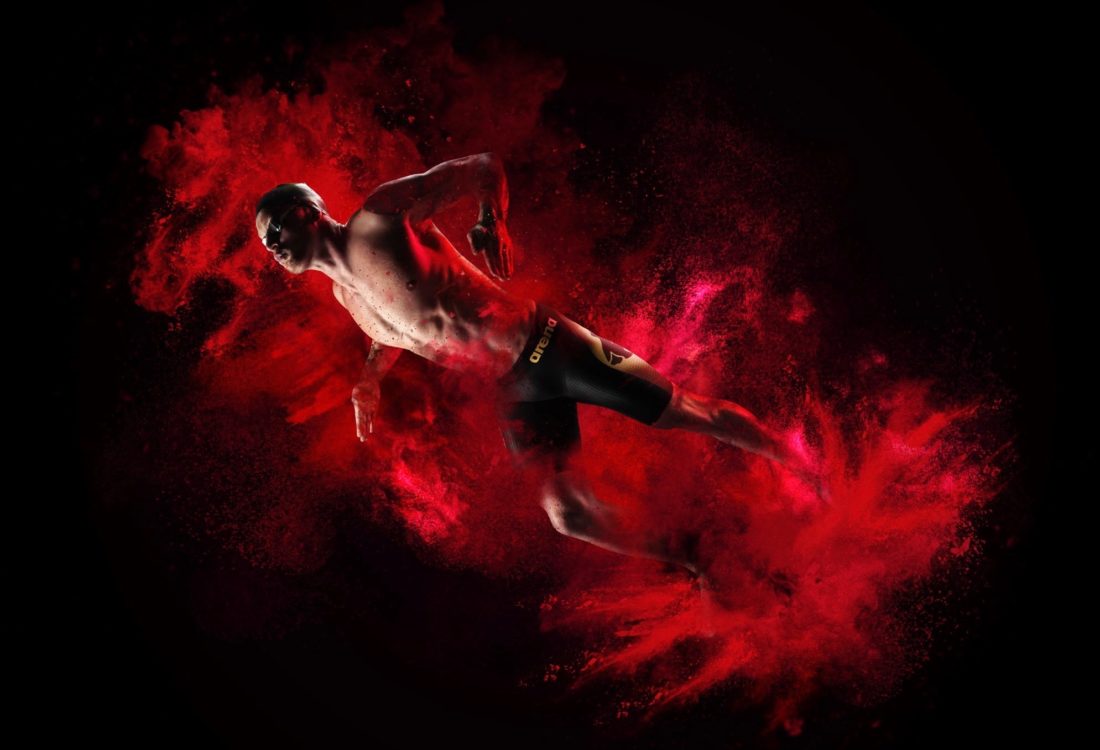 Editorial
In a column in the Washington Post this week, Sally Jenkins writes: "An organization that couldn't bring itself to move against child molester Larry Nassar for allegations of abusing gymnasts suddenly wants to sanction athletes for acts of conscience? It's laughable – deserving only of a derisive snort. Henceforth, every single American athlete should take a knee on every medal podium to protest the U.S. Olympic and Paralympic Committee [USOPC], that corrupt, bloated organization with its shell-game finances, which even today refuses to fully answer questions and continues to specialize in strategic coverup rather than self-reform."
Beyond her explanation as to why she – and vast waves of others, including athletes, coaches, parents, media, fans, silent federation officials and, yes, sponsors – feels as she does, Jenkins concludes:
"Kneel until the USOPC is completely obliterated and rebuilt. Kneel in protest of the fact that our greatest athletes are still being used, even today, as mere servicers of power brokers seeking to cash in on their skin. Kneel until the entire audience understands there is a word for the current USOPC reward structure — pimping. Kneel until every USOPC official is shamed into understanding that raking in disproportionate sums skimmed off young people's bodies, while failing to enact reform that would protect those bodies from crimes, does not make you a mere bystander. It makes you just another abuser."
Let's be clear: within such organisations as USOPC, FINA, the IOC, and all their related bodies below them there are good people doing tremendous work and when we use the title of the organisation we tend to taint all connected and associated. For the avoidance of doubt, the criticism of the kind Jenkins, other journalists and commentators, coaches, parents and fans sharpen quill and tweet for and athletes have started to sharpen their protests for, are the leadership figures lacking leadership qualities and the silent and inactive who have influence but rarely (some never) use it to ensure that the athletes they serve, often for large financial rewards and lush lifestyles, ALWAYS come first.
In the mix are the committee and commission folk, some experts, many not, who say they wish to remain to get things changed – but never do; never feel they can raise the red flag that needs raising lest they lose the free ride.
And here is the kind of red flag they ought to be raising – or at least the kind of question they must raise if they want us to believe their own publicity: that they're just in it for the betterment of athletes and the sport.
How Can You Condemn Silent Protest But Not The Doper & The Duplicitous?
In Gwangju during the World Championships last month, silent podium protests by Australia's Mack Horton, after the 400m freestyle final, and Britain's Duncan Scott, after the 200m freestyle final, led to both receiving warnings from FINA. A third warning was handed to China's Sun Yang* for his angry response to Scott's decision to stand down and away from posing for podium-placer photos. "You loser, me a winner," shouted Sun at Scott, after having screamed at the British swimmer ahead of accepting the gold medal for touching first.
Even as that was going down underneath giant championship banners declaring the meet mantra "Dive into Peace", FINA bosses were meeting to rush through a hastily cobbled-together, emergency addition to the Code of Conduct demanding that athletes "strictly avoid any offensive or improper behaviour towards the officials, the other competitors, the team members and/or spectators during the entire conduct of the competition".
There is, of course, provision in the FINA rule book for rushing through emergency measures. Such things are justifiable – but they better be used in measured manner and appropriately, too.
Did, for example, FINA bosses reach for emergency measures or even bother to apply applicable rules in the following circumstances:
When Lauren Boyle of New Zealand set a world short-course record of 15:22.68 over 1500m freestyle, on August 9, 2014, in Wellington at Winter Championships, her national federation had allowed the pool to be set up in a way that meant the dive end was too shallow to meet FINA Standard Pool limits of the international federation's Facilities Rules.
Under the circumstances, including the fact that the referee must sign to confirm on the World Record Application Form that "All FINA Rules" had been complied with, the record should not have been ratified without further inquiry and action. FINA simply overlooked and overrode its own rules, even sending to this author a statement that the technical committee had agree that "Facilities Rules do not apply for World Records". In other words, the length of the pool, the size of blocks and all other dimensions of standardisations of competition pools are irrelevant – or perhaps not. Had Lauren swum in a 10-yard pool 30cms deep, would that have been alright – and which rules would we have turned to for such circumstances to be ruled out of order? Ah, yes, the Facilities Rules which, apparently, are irrelevant when a world record is set.
In the case of the Wellington Pool, there is an added reason why both FINA and its national-federation member should have exercised caution and care: complaints at the pool have included those from parents whose children lost teeth and sustained head injuries while diving into a pool too shallow to meet standard FINA safety rules.
The sensible course for FINA was clear: they should have called a Disciplinary Panel hearing, called on Swimming New Zealand to justify its breaking of international rules, fined said federation for breaking such rules, noting that those rules are designed to preserve the health and safety of swimmers (prime asset; raison d'être) and then taken a view on whether Lauren Boyle was at fault in any way.
The sensible view would then have been to allow Boyle's standard to stand, on grounds that she did not benefit from her federation's fault. Notice of such a decision would then have been sent to all member federations with notification of the fine and warning handed down to the NZL federation as a clear signal to others not to take the same path.
2. Creating new code of conduct clauses during the World Championships and issuing very public warnings and reprimands to Horton, Scott and even Sun contrasts starkly with the treatment of FINA Bureau members who fall foul of the law, receive criminal convictions and/or are the subject of investigations for fraud, corruption and other alleged crimes in direct relation to their roles in sport.
If the above descriptions cover seven members of the FINA Bureau since 2013, three of them have actually been convicted of their crimes – and all three are recipients of FINA honours for services to the sport.
So, among obvious questions:
where are the public statements of condemnation that we saw levelled at Horton and Scott?
where are the referrals to the FINA Ethics Panel so that a decision can be taken that stretches to removing those 'honours for services to aquatic sports'?
where are the statements outlining why official X, Y, Z, former members of the Bureau, have been banned for a month, a year, life?
One answer fits all: nowhere to be seen, for there has been no action on events stretching back at least 5 years and convictions stretching back more than two years. Horton, Scott and Sun: instant action. The criminally convicted: no action – and no intention to act.
3. The latter is a conclusion that comes easily, after all, it was during the 1998-2000 German doping trials that Dr. Lothar Kipke was among those handed criminal convictions for abuse of minors. He was a member of FINA's Medical Commission, tub-thumped for anti-doping while this side of the Berlin Wall, rammed syringes full of steroids into the backsides of 13, 14 and 15-year-old girls that side of the Wall in the German Democratic Republic – State Plan 14:25 his creed. He went about his work with such brutality, official documents show, that his Stasi (state police) watcher reported him up the chain and he was instructed to go easy on his victims.
Dr. Kipke has his FINA Silver Pin to this day, for services to the sport of swimming. Among his victims are not only the young swimmers whose health he ruined but the disabled children they gave birth to. In 2014, FINA's top table was asked to consider a reconciliation process that would include the likes of Kipke being stripped of his honour. To this day, a unanimous vote of the Media Commission in favour of that process, has illicited no reply from the top table, Kipke kept his pin and his victims, including generations of swimmers and coaches robbed of true status, were left to nurse their frustrations. Some have taken that to their graves with them.
And so we come back to Jenkins and our headline and why many feel that the leadership in sport does not have a moral leg to stand on; why we find athletes kicking back – and this time refusing to stand down, whatever additions may be made to Codes of Conduct used as a weapon against the athlete but set aside with Ethics Rules when inconvenient to the folk who write the rules.
In Gwangju, Adam Peaty hit back at FINA's "meaningless" imposition of an emergency Code of Conduct rule designed "to gag swimmers and make them toe the line", as one coach put it, in the face of those silent podium protests from Horton and Scott.
Peaty said that any threats from FINA no longer had any power over athletes: threats to ban them all if they raced in the International Swimming League (an organisations locked in legal challenge with FINA) had backfired and so would any other threats, he suggested. Athletes, he said, had "a right to freedom of speech" and were in the process of forming a union-style body that would "bring checkmate" to swim bosses if they refused to act on doping, clean sport and other matters that affect athlete welfare.
He would rather focus on the pool, said Peaty, but he would not shy away from giving his views on FINA's twists and turns to prevent athlete protest, while failing to deal with "the real injustices in the sport".
"That's why athletes need representatives because we're here to swim and we're not going to get involved in a [discussion on a] code of conduct. It ain't gonna change anything. Athletes are always entitled to freedom of speech and when we detect that something is wrong and there's cheating, then why shouldn't we have a voice?"

Adam Peaty
Last year, Peaty was one of more than 20 Olympic and world champions to defy the threat of a FINA ban that could have put them out of the Olympic Games if they signed up for action in the new Pro-Team series being staged from October by the ISL.
Asked what more athletes could do in the face of FINA bringing on emergency Code of Conduct measures, he replied: "Come together, get leverage for us."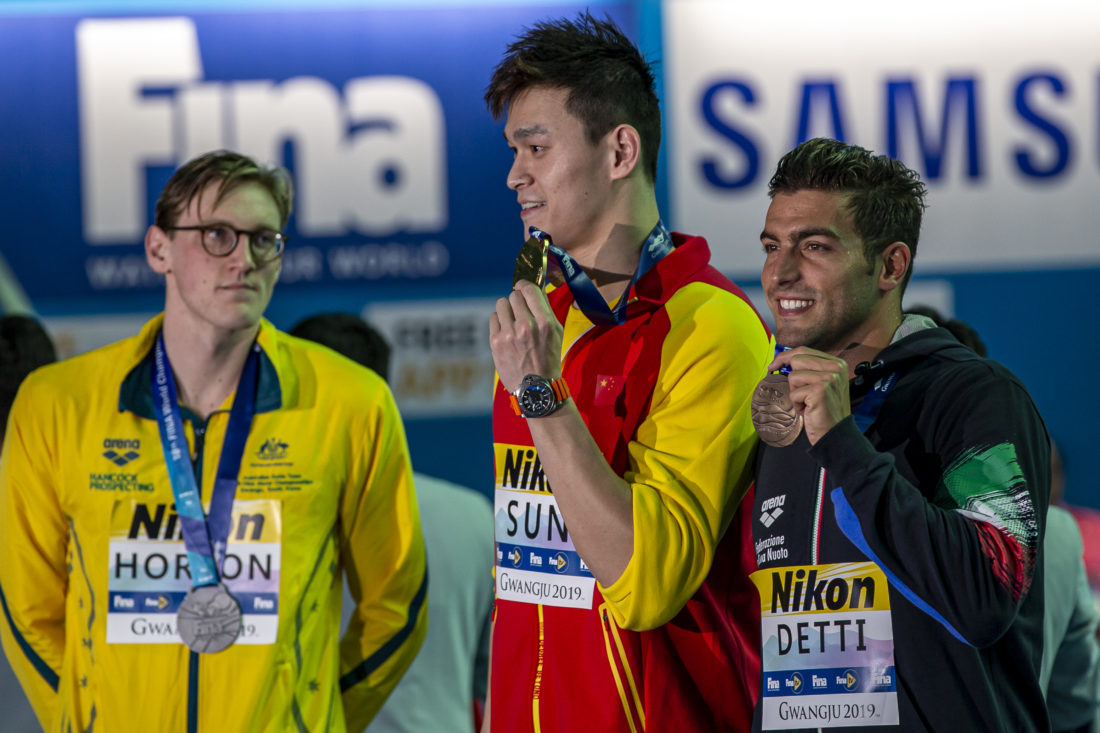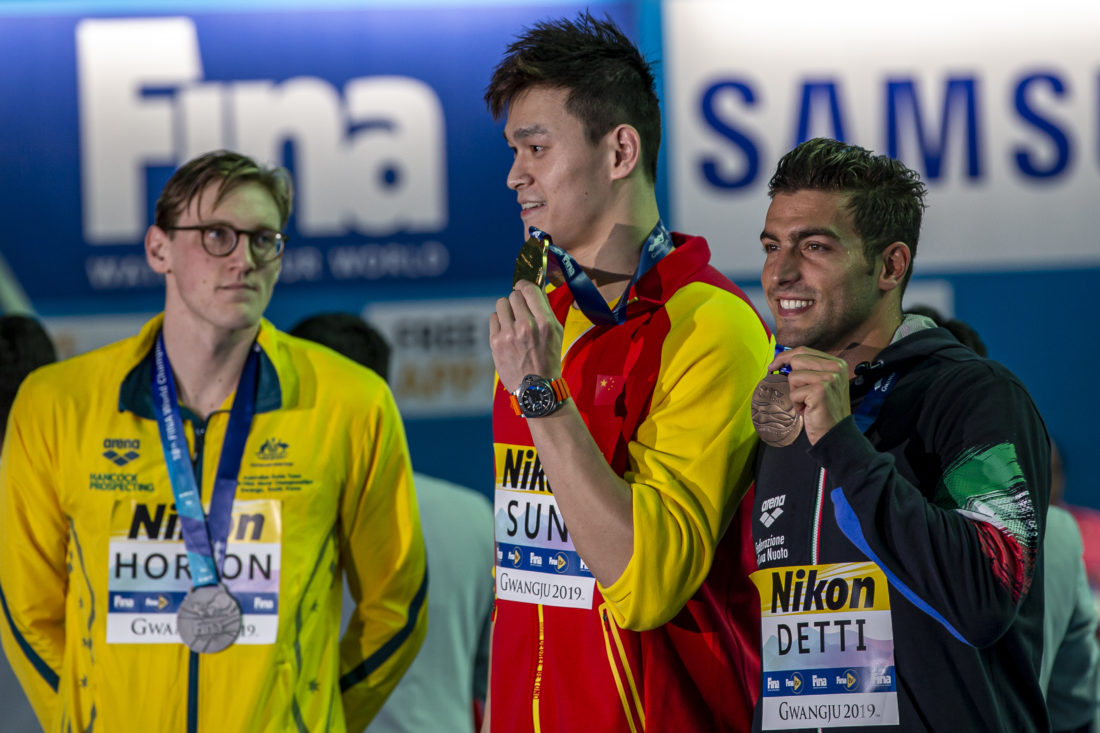 Horton received death threats from social media trolls in China after his protest against Sun, while Peaty noted the challenge beyond "my job of swimming" when he revealed that he had been bombarded by "a million Chinese BOTS saying your mum's a horrible word … it really doesn't affect me at all."
Such things are among consequences of leaderships failing – in the eyes of their major stakeholders – to deal with the unacceptable in their midst, while dealing instantly with protest about the the unacceptable.
Since March, Sun had faced a World Anti-Doping Agency (WADA) challenge at the Court of Arbitration for Sport (CAS) into a FINA decision to let him off with a warning after an altercation with testing officials last year that ended in no urine being collected and a vial of Sun's blood being smashed with a hammer by a security guard under instruction from the swimmer's mother. Sun and his entourage objected to identification papers and qualifications of testers on the night in question but chose not to follow the protocol of the athlete supplying samples, urine and blood, under protest recorded on the official test documentation. Instead, more than four hours of argument ensued, including protests from a twice Wada-Code-penalised doctor in the control room.
No expedited CAS process was requested by any of the parities and therefore Sun was free to race in Gwangju, against the wishes of many of his competitors. No date has yet been set for a CAS hearing, a tentative September date not yet confirmed.
The process for FINA executives issuing a new "Article 3", headed "Rules of Conduct During the Competition", was much faster.
Peaty shrugged the measures off, saying: "It's free speech. I don't think anyone should get a warning for exercising their right to free speech. Any doping in the sport is a straight no from me."
Peaty pointed to the case of Gabriel Santos, a Brazilian sprinter who tested positive for a steroid earlier this year, was suspended and sent home from Gwangju and was unable to race at the championships pending an appeal.
"That's how it should be," said Peaty. "That's the hard line we have. There shouldn't even be a question of breaking vials or anything like it. He [Sun Yang] should have been out straight away."
A union-style athletes' body is being formed for the future fight, Peaty noted.
"That is coming in next few months if not next year because we're in the process of setting it up. We're going to take our time with it and get it right and then we can start to put our checkmate on the board."

Adam Peaty
That message is not just for FINA but for the federations sitting on fences yet, instead of coming down, uncompromisingly, on the side of the athletes they represent. Jenkins mentions Nassar, the doctor who will spend the rest of his life behind bars as a result of his sexual abuse crimes at the highest levels of USA Gymnastics. Other sports have their problems, too, USA Swimming having faced damning criticism of its own handling of sexual abuse allegations dating back many years. In the mix in many cases across various sports are non-disclosure agreements that are coming to the end of their days.
When asked about the tweak to the Code of Conduct to gag athletes and stop protests, Peaty said in Gwangju: "I'd like to see how that works out. If Sun Yang is still there in two years from now, people are still going to do it (protest); what are they gonna do? I won't be shaking hands with anyone who's doped."
But a protest of that kind at the Olympics could cost an athlete their medal, couldn't it? Peaty stared back and smiled:
"I just don't see that holding up. The people are more powerful than some rule no-one ever read. Its freedom of speech; why can't an athlete have a say on something they believe in. You can't put a rule on that. It's like when people take a knee during the national anthem in the NFL: you can't put a rule in there saying its disruption."

Adam Peaty
Effectively, athletes are saying: if you, sports blazers, governors and officials, many earning and/or receiving far more than the athletes and off the back of the show generated by athletes, can play at politics and not apply your rules, codes of ethics and conduct to self, then don't expect us to suck it up in silence any longer.
Olympic athletes are growing up.
In such circumstances, all the more important for rule-setters, legislators and judges to make sure they have the strong moral legs of upstanding adults and then think twice about reserving punishments such as conduct warnings almost exclusively for the likes of Scott while letting the unethical and even the criminal in their midst get off scot-free.