Athlete A Presents Strong Case For Independent Oversight Of Olympic Governance & Safe Sport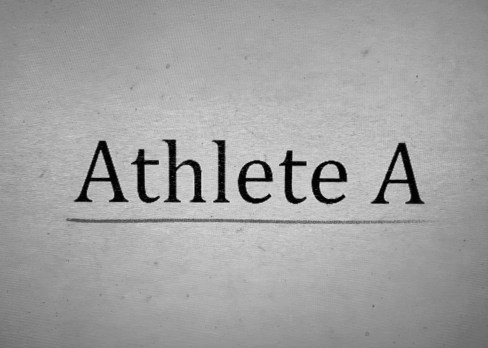 Commentary – Athlete A – including a review of the Netflix documentary of the Indianapolis Star Investigation in sexual abuse in USA Gymnastics that rocked Olympic sport to its core. A must watch for any with children in sport; and all governors and guardians of sport. Our 2020s Vision series tackles some of the subjects that will present challenges and opportunities for swimming in the coming decade  
There's a warning up front and so you enter the film wary of what's to follow. It's less than two minutes in before the tension dissolves into smiles: the old homemade movie flickers on the screen, a large group of little girls gather at the end of the run; one of the gymnasts sets off, beaming from ear to ear as she flies.
At the end of the runway, she flips over and lands vertically on the soft mats stacked to catch her fall. Safe. Or so it seems.
Athlete A, from Netflix, is a documentary that every parent sending their child into sport – any sport – should watch, digest and never forget. Athlete A also has its own website.
After gaining confidence in a safe landing, the small child may have noticed the cheers from the stands packed with families but all she wants is to rush back to her friends for a group 'wow'. Prompted, she then turns back to the judging bench and takes a formal bow. All part of the learning process.
The sheer thrill, the joy, the boundless energy of it all, the bubble and ripple of laughter, the fun of sport is captured right there.
Which child among you can remember that? Which parent among you can remember that? Which grandparent among you can remember that? Which good teacher and coach can remember that?
Just about all of us can. We must also be aware that there could be a rogue in the room. Vigilance counts – but for far less than it ought in the absence of robust processes of reporting and follow-through.
Maggie Nichols, Gymnast, reads the caption: she's a grown woman, smiling at the memory of those early days. The clasped hands speak of tension.
She started gymnastics when three years old: "… my parents put me in to be in a safer environment, where there's mats and coaches and stuff like that…". Cue laughter so brimming with nervousness that it teeters on the edge of a balance beam, never a toe grip away from tears.
Ahead of us is the horrid tale of Larry Nasser's criminality, the blind eye of bureaucracy and failed guardianship and how such things enable abuse. There's an absence of anything like sufficient duty of care, decency, protection, trust, checks, balances, human rights in much of what follows in pursuit of "the Olympic Dream".
The film is brilliantly sequenced, skipping and running from the smiling girl loving her time in the gym straight into the arms and words of Gina Nichols, Maggie's mom.
At 10, Maggie made nationals as the only one of her age, says mom, nodding proudly. The Olympic road stretched out before a special talent in a line of youngsters with a long journey ahead in a sport, like swimming, where global success is fairly common among underage girls and young women.
John Nichols, Maggie's dad, provides a little insight of the life as a parent of a child loving their sport. It's something many thousands of swimming parents the world over will recognise: the 45-minute commutes to training, the same on the way home, the altered meal times, weekday schedules adjusted to fit the sports timetable, weekends dedicated to the same pursuit … "that was every day, for years and years and years".
Says Maggie:
"If you wanted to take the next step to make the national team, you needed to be very strong because gymnastics is going to be, like, almost your whole life … you give up almost everything."
Gina Nichols says "U.S. Gymnastics took Maggie's Olympic Dream away from her: "hopefully justice," is what John Nichols is looking for.
Athlete A – The Trailer – On The Abuse Of Athletes
Athlete A – The Story Starts
We begin in Indianapolis, a strong hub of sport in the United States. That the story picks up in the newsroom of The Indianapolis Star is both encouraging (yes, the media is out there doing a good job – and thank heavens for that) and disheartening, in terms of it all too often taking media investigation to trigger inquiry into …
Steve Berta, the Investigations Editor of the Indianapolis Star, says with some sadness that USA Gymnastics was "an organisation in this town but I really didn't know a lot about what was going on behind the scenes. What that culture was like was new to me …"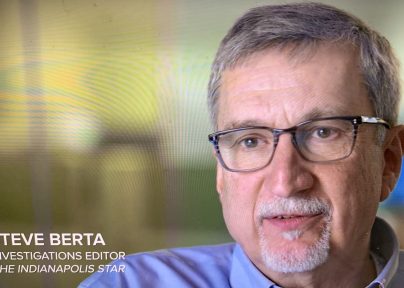 That 'culture' has two faces, Athlete A shows. Rio 2016 Olympic Games: in walks the USA women's gymnastics team, Simone Biles at the heart of an all-smiling squad of medal hopes.
Back home, The Indy Star's presses start to roll: the headlines will not be golden. A sexual-abuse scandal is about to overtake the sport in the race for worldwide attention.
Marisa Kwiatkowski, one of the reporters on the Star's investigations team, had wondered why abuse in sport was not being reported as you would expect it to be. A source pointed at USA Gymnastics and what would turn out to be a trail of tears.
Kwiatkowski, Mark Alesia and Tim Evans gets to work with Berta on claims of abuse reported that ended in "USA Gymnastics did nothing".
Steve Penny is the president of USA Gymnastics at the time. After a clip showing him confirming that "No", the organisation did not turn over complaints about sexual abuse to police authorities, a document states"… he inherited an executive policy of dismissing complaints as hearsay unless they were signed by a victim or a victim's parent."
In that sentence we see a culture and approach that has not been confined to Gymnastics and has been one of the issues sexual abuse survivors in swimming have complained about. Only cases where the complaint is signed by the victim. or the parents of the victim will be investigated at USA Gyn, we are told. Any other, a whistleblower on a team, for example, would only be believed if they were an "eyewitness to the abuse".
So, what's the problem with asking for signed statements, some may ask. The Indy Star team and Athlete A answer the question: The Star found that USA Gymnastics had complains on 54 coaches over a 10-year period but, as Steve Berta notes:
"…if there was no signed statement by the victim or the victim's parents, they just tucked it in a folder and stuffed it in Steve Penny's filing cabinet and then those coaches went on to molest other children."
Quick recap:
In March 2017, Penny was forced to resign from USAG following mounting pressure from survivors and, later, from the United States Olympic and Paralympic Committee (USOPC). He received a severance package of approximately $1 million. He was subpoenaed to appear before the Senate in the summer of 2018; he was questioned on the nature of USAG's knowledge of sexual abuse allegations; he refused to answer any of the Senate's questions, invoking his Fifth Amendment right against self-incrimination.
In October 2018, Penny was apprehended by US Marshals and was returned to Texas on felony charges of tampering with evidence related to the Nassar case. The indictment alleges that Penny had several key documents removed from the Karolyi Ranch, the former US team training site in Texas, where Nassar preyed on athletes. Penny pleaded not guilty and was released after posting bond.
Under the terms of a proposed settlement to survivors discovered in bankruptcy filings in February 2020, USA Gym has requested that Penny, the USOPC, and others implicated in the organisation's mishandling of the allegations be removed from all legal claims. Penny is currently listed on USAG's permanently ineligible list, meaning he can never have any contact with the sport again.
Whether Penny will be sentenced for the crimes for which he was indicted remains among unanswered questions.
Athlete A – Chain Reaction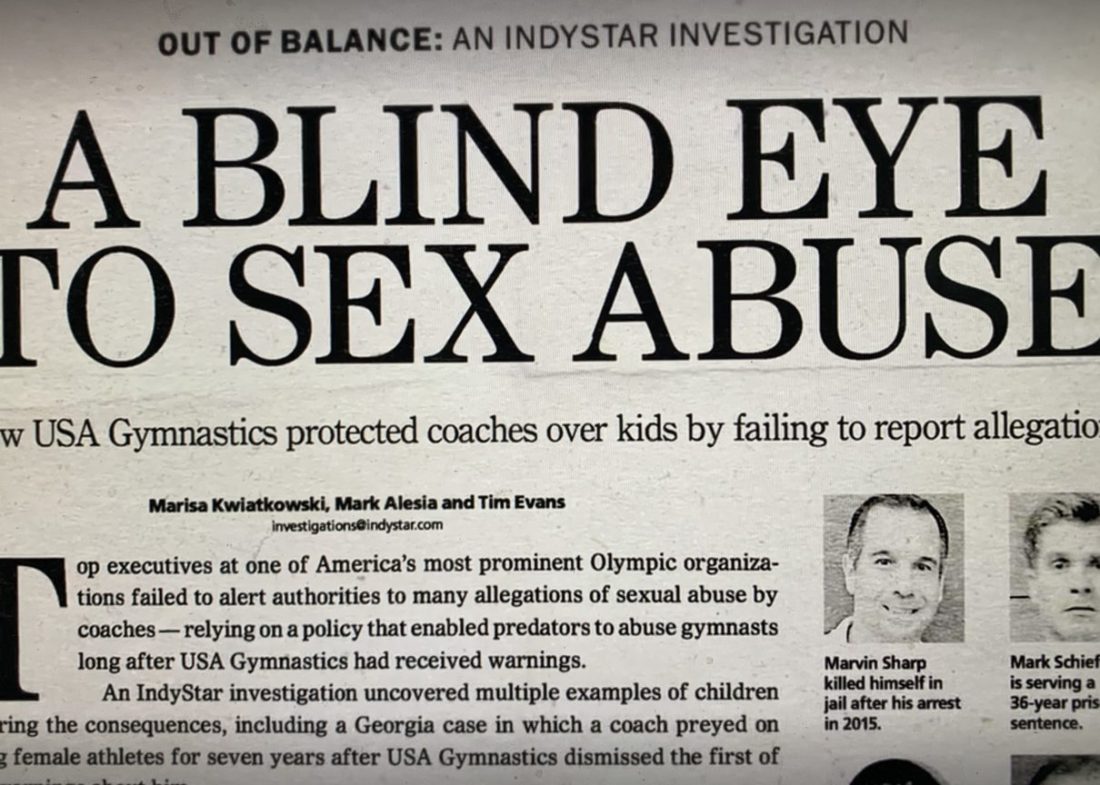 The Indianapolis Star's Investigations triggered a chain reaction. News that USA Gymnastics appeared to have been burying allegations of sexual abuse the motivation many gymnasts needed to tell themselves "enough!"
On the morning of publication, an email from former gymnast Rachael Denhollander landed in the inbox of the Star investigations team. It would be the beginning of the end for Nassar and the start of inquiry for those at USA Gymnastics who, on a wider scale, failed to act on warnings of sexual abuse in the sport they governed and/or played major roles in.
Denhollander's email came down to 'it happened to me… not by a coach but by Dr. Larry Nassar … and if they've covered up for the coaches, I think they'll be covering it up for him".
So began a flood of complaints and the courage of many women who had felt powerless to act in the face of institutional barriers to tackling sexual abuse and protecting girls and women in gymnastics.
It soon became clear, through conversations victims had had with reporters and lawyers and then between lawyers and journalists at the Indy Star that Nassar was being identified multiple times by women from different generations of gymnastics who didn't even know each other beyond, perhaps, their names.
Denhollander's interview with the Star in 2016 is significant. Her testimony as a mother in her thirties, includes:
"I didn't know a lot when I was 15 but one thing I did know was that abuse victims aren't treated well. They are mocked, they are questioned, they are blamed, they are shamed … I wish I could have dealt with it 16 years ago but I don't think I could have."
Athlete A moves on to the punishing psychological and related physical challenges endured by young gymnasts, some in their mid teens forced to pursue harmful habits in order to keep their weight down, others forced to train and compete with injuries that extended to broken toes and even a fractured back.
Such things led the girls into the probing hands of Larry Nassar. We know the story but here before us are the real people and we hear gymnast and survivor Jamie Dantzscher say:
"I look forward to treatment because … Larry was the only nice adult, he's the only really nice adult I could remember, being a part of USA Gymnastics".
Athlete A follows that up with a scene in which Nassar escorts a young gymnast, hand on her back, down a corridor and round a corner out of view. Creepy. Important, too, to state that that same scene is one many in many sports will have been familiar down the years and will find no reason to raise questions, sport also being full of good folk.
It just takes one, however, to do a huge amount of damage. In Athlete A, it is clear that those responsible for harm, contributing to harm, enabling harm, number many more than 1.
The training centre, the eponymous Karolyi Ranch run by Marta and Bela Karolyi comes into focus. It's a place of tough regimes and disciplines and practices, some of which may cause gasps in the wider world but will not raise an eyebrow in performance sport in many places.
As John Nichols, dad of Maggie, notes: "That's where Olympic athletes come from …".
Trust is strong. It was also broken by those who relied on trust for the 'privacy', not 'secrecy' of their operation. As Gina Nichols notes: no parents are allowed at the ranch and hardly any contact either. John Nichols notes: "We have to trust and believe in their system … you'd think they would be able to keep people safe, especially when we're not allowed to set foot on the property."
He never even thought to ask about Nassar "because I didn't even know he was there".
The lessons are legion. The reward, the promise: Olympic success for the United States.
Here is what the Karolyi's had to say about the scandal in 2018:
Reporting From The Crime
Coach Sarah Jantzi called Gina Nichols to tell her that her daughter had mentioned that "Nassar was touching her private parts ….".
What happened next extends the criminality of the actions Mrs. Nichols was told about to senior management at USA Gymnastics. Police would be called in. Turns out they weren't.
We hear from gymnast Jennifer Sey, who co-produced the documentary, tell the Star Investigations team that the level of obedience drummed into the young athletes was such that even though the presence of abusers was known about, the athletes "would never say anything … we felt powerless."
There are many such moments of deeper understanding being explained by the gymnasts in a way that makes this documentary required viewing for all in sport, with kids in sport or intending to take their kids to sport.
Trust, vigilance and robust, professional and independent reporting procedures are key. This much, history is showing us time and again. Beyond the realm of sport, last week brought the latest revelations from the Independent Inquiry into Child Sexual Abuse (IICSA) in England. In the mix of woeful events at the council-run Shirley Oaks campus in Croydon in the 1970s and 80s.
In our time, on our watch. And that's the point. The question is: how?
Athlete A provides many answers and leaves no room for doubt about the need for a thorough overhaul of the Olympic structures of governance, even if the best answer the guardians had was "we just didn't know". It's an answer that simply does not wash, says survivors, their advocates, commentaries far and wide, from the media that broke the stories and many who followed it as an issue that cannot be ignored and will not go away.
The backdrop to the abuse is deeply troubling, from closed-door facilities through to what 1986 U.S. Gymnastics all-round champion Sey says was "cruelty" accepted as normal culture if the results flowed.
The film goes back into the history of the Karolyis in Romania, their coaching of Nadia Comaneci and during the period of communist rule of totalitarian leader Nicolae Ceaușescu (who was executed with his wife by firing squad on Christmas Day 1989 after a short state trial that charged him with many crimes committed during his repressive regime).
A Realm Of Child-Like Stars
The Karolyis coached Comaneci to Olympic gold as a 14-year-old at Montreal 1976. Sey points that era out as the turning point for gymnastics to become not a sport of women but a sport of young girls. "The aesthetic was very young … childlike", Sey notes as she recalls the history of her sport and concludes that that trend had created:
"… a really dangerous environment because eating disorders became very prevalent … delaying menstruation and delaying maturation but I think people really believed that for you to be able to perform the more difficult skills you had to be tiny."
That history relates in some regards to diving, though after China's Fu Mingxia stunned the world of diving by taking the World 10m title at 12 to become the youngest champion in history, there were enough knowing voices inside FINA to have the age bar raised to 14 before global participation was allowed.
Sey notes that the younger the athlete, the greater the control of the coach. Geza Pozsar, the man who was Karolyis' choreographer from 1974 to 2002 and defected with them, talks of the repression of young gymnasts who were called "fat cow", "pig" and humiliated in similar ways to those raised by Australian Olympic breaststroke champion Leisel Jones and others in swimming in relation to their own careers as young girls who grew into young women during the peaks of their careers.
Pozsar has much else to say. He says 'sure' when asked if he reported the methods of the Karolyis but adds, in words that might be used as a slogan for the culture at work in some places in sport down many decades: "… you have to understand that no-one ever took any measures to stop them".
Image Vs Reality
As in so many abuse stories from many sports around the world, bad things were happening in USA Gymnastics at times of great success and celebration. Sports history shows clearly how, in various circumstances, gold medals and the outer appearance of healthy environments ("they must be healthy otherwise how could the athletes be successful" among false questions put tautologically) have blinded the unwitting, as well as the knowing, bad behaviour and even, at times, criminal activity.
Penny arrived at USA Gymnastics through marketing. Of course, selling a sport on its successes is bound to end badly if those successes are not matched by good governance and guardianship and if complaints of sexual abuse are filed in cabinets and not handed immediately to police authorities with active case files opened and investigations pursued with the robustness of any who hold dear the safety and welfare and health of athletes.
By 1991, USA Gymnastics was a seven-figure business, its brand build on the back of a home 1984 Olympics with no Soviet block athletes to worry about and a great deal of success. Penny became president in the years after that but his priority, Athlete A suggests, was always marketing.
As Berta puts it after the viewer sees images of children playing with a USA Gymnastics Barbie, complete with gold medal round her neck, "they used that Child's dream… and they were so busy selling that brand [USA Gymnastics] that they didn't have time for those girls."
Images of the USA Team selection announcement for the Sydney 2000 Olympic Games flicker on the screen, Jamie Dantzscher moved to tears as fireworks greet the names of those who made the cut. The voice-over is Dantzscher 20 years on. She says she wondered back them whether it was worth it after all, so thrilling the moment of confirmation that you made it through and will represent your country at the Olympic Games.
Dantzscher was abused by Nassar at Sydney 2000. Her testimony raises serious questions for USOC (now USOPC) and, indeed, an International Olympic Committee and officials at the top level of governance in International sport and anti-doping, who fail to answer questions about the environment athletes find themselves in at a Games.
In swimming, only two Olympics back, a female, minor on the way to two Olympic gold medals was observed (and caught on film) entering a toilet just outside the call room with a male member of staff shortly before each of her races. When that question was raised, Olympic authorities – and later an anti-doping official, too – criticised the question, the journalist, the media following through. The entire response was "unreasonable questions that question the trust we place in all to be doing the right thing".
As Athlete A shows, trust is simply not enough. Vigilance demands better, calls for robustness of inquiry and a welcoming of questions that ask "is the Olympic environment at a Games fit for purpose when it comes to athlete safety and welfare, anti-doping, Fair Play and related issues highly relevant to the topic".
Dantzscher, hands wringing, has tears in her eyes as she recalls the back troubles that meant that she had to be a regular in Nassar's room. He would sneak the girls "food and candy and leave stuff on our pillows".
Tragic and criminal what followed; tragic, too, to hear a member of any Team USA selection utter the words:
"I wasn't proud to be an Olympian."
Half of the film is yet to go. There's footage of Nassar being questioned in a police room, including a bizarre interaction in which he seems unable to explain why he might have got an erection while treating a gymnast; the reminder given by a lawyer acting for Nassar to the Indy Star team that they might ruin the doctor's reputation; the hearings, including woeful testimony from leadership figures at USA Gymnastics.
The film is compelling; whatever awards may be out there for such work as that of the Star Investigations Team and the Netflix production that relates that in excellent fashion, may several go their way.
In the mix is a dereliction of duty of care that stretches to malevolence resulting in physical and psychological damage that will never leave those affected.
This has all happened in an Olympic system that insists it must retain its autonomous status and self-rule, that the structures that prop that up, including universal voting structures built to resist any reform barring those faced by the protests and insistence of members. In the constitutions of Olympic sports federations sanctions are threatened against any who express their support for an alternative to any decision taken by the top table, even when that decision may de considered by athletes to be harmful to them, even when a decision may be deemed by many stakeholders to bring a sport into disrepute and sink it into politics even as the Olympic Charter forbids such things for the athlete.
Athlete A ends where it began, with a very young Maggie Nichols running enthusiastically, smile on face, towards a flip and a safe landing. Then. we hear Martha Karolyi confirm to a hearing that she was told by Penny in 2015 that there had been a report of abuse naming Nasser and the Ranch (which was closed down in January 2018). Texan law required her to call the police or child protection services, immediately. She did not, we hear the lawyer on the case say. Nor did several other key USA Gymnastics officials, Penny included.
The sobering penultimate line line in Athlete A notes that Maggie Nichols reported her abuse by Nassar in June 2015. It would be 15 months before the Indy Star published its first expose of the scandal. In the intervening time "Nassar … continued to see patients and abused dozens of girls. Over 500 survivors have now come forward, including 9 Olympians."
Gina Nichols delivers her daughter's statement in 2018:
The last line in Athlete A is even more disturbing in context. Berta is addressing the Star's investigations team and notes that USA Gym once wrote to an athlete to tell her that if she complained about her coach she would be removed from the national team. Says Berta:
"That system is still in place today. They're clinging to a selection process used in the past to silence dissent."
The U.S. Department of Justice investigation into the handling of allegations into the sexual abuse of athletes continues.