Ariarne Titmus & Kyle Chalmers Claim Australian 200 Free Crowns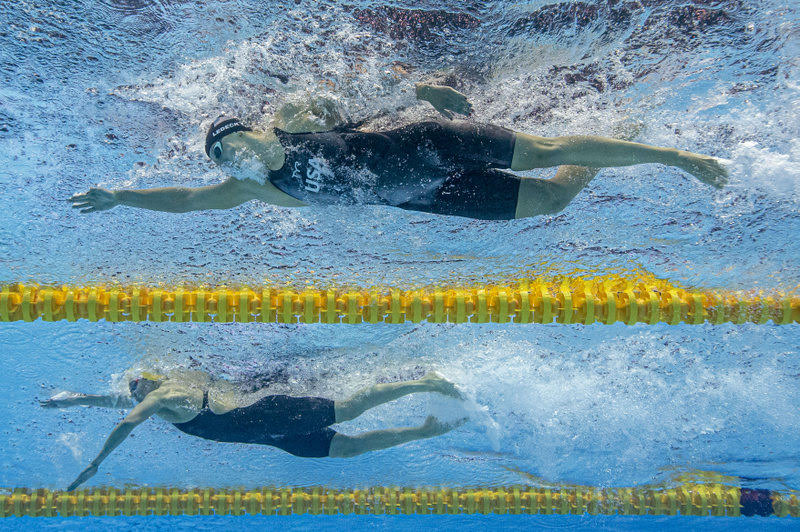 Australian Championships are a test along the way this year, Olympic Trials set for June, so Emma McKeon, happy with her 1:55 clocking in day 1 evening heats, left it there, Ariarne Titmus the new target for the best of the rest.
A 1:55.43 did the trick and provided further evidence, after a 1:56 in heats, that the setback of shoulder injury over the Australian summer is not going to stand in the way of the World 400m freestyle champion arriving in Tokyo a highly competitive force, if she and those providing guidance and care have anything to do with it.
Coached by dean Boxall at St Peters Western, Ariarne Titmus was out in pace-setting style on 27.29, had the edge on Madison Wilson 56.55 to 56.81 at half-way, had the same close company at the last turn, 1:26.40 to 1:26.80 before benefitting form her 400-800 work, a last length of 29.03 extending her lead over Madison (29.46) for a 1:55.43 to 1:56.26 victory. Bronze went to Brianna Throssell in 1:57.29.
Ariarne Titmus emerged form the race to tell Australian reporters:
"It's a good place to start with that time; it is good to get it out of the way… I was very nervous .yesterday and I felt like I had a lot of expectation on me; people were even wondering, even myself, wondering where I would be. I've been training quite solidly for a month now … but to come here to put a race together; you can be training well but you don't know how well you are going until you race … I haven't had much racing practice; something I was getting a bit worried about but (I think) it turned out pretty good."

Ariarne Titmus
Chalmers had his latest shoulder surgery last December. Today he told reporters at the Gold Coast nationals:
"I've had very little racing since the operation ….it's only my second competition back and only my second 200m freestyle. For me it's all about building the confidence back up and belief in my body…to tick another heat and final off, it's fantastic. The 200m is an event I've always had to work harder for; in training I train like a 200m freestyler but in the back of my mind I just want to do the 100m … I've got a fair way to go shave wise and taper wise; swimming a time like that.. 'in season' is really good for me and when I need to I'll be that little bit faster again…"

Kyle Chalmers
In other finals, there were titles for:
Chelsea Hodges in the 100m breaststroke, on 1:07.14, after 1:06.90 in evening heats.
Zac Stubblety-Cook in the 100m breaststroke, a 59.87 granting him a debut national title in the event as sole sub-minute man in the race, the pace of 100m being set elsewhere, by Adam Peaty.
Kaylee McKeown on 27.45 in the 50m backstroke, close to her 27.38 best and Emily Seebohm's national record of 27.37, Seebohm on 27.94 today, 200m free runner-up Madison Wilson 28.13.
Mitch Larkin on 24.75 in the 50m backstroke.
Jenna Forrester in the 400m medley, on 4:39.46, an Australian 17 years age record), ahead of Meg Bailey, on 4:39.59 after a tight tussle throughout.
Brendon Smith in the 400m medley, on in 4:15.48 for a debut national crown.