Another Summer Scorcher Building As McIntosh Versatility Shines With a 2:06.89 WJR Over 200IM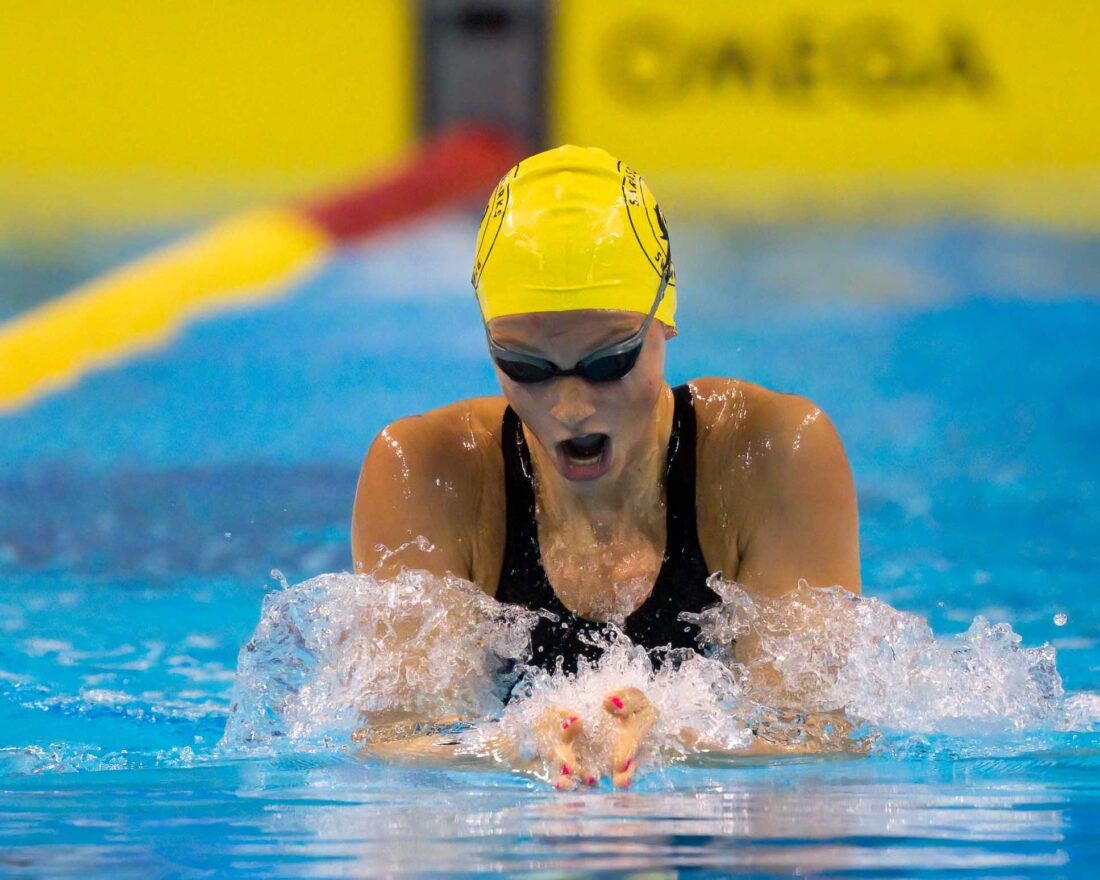 One Summer scorcher (3:56.08) does not a trials make, it seems: on the third day of the Canadian selection meet in Toronto, young McIntosh continued to hurtle towards the season of her name with a thumping 2:06.89 World Junior Record over 200m medley.
Letting the 2:06.12 World senior mark of Hungary's Katinka Hosszu feel the breeze of future storms, the 16-year-old, coached by Brent Arckey at the Sarasota Sharks in Florida, entered the realm of swimmers who approach Olympic campaigns with multiple missions in prospect, if not mind.
Summer McIntosh's time was just 0.01sec shy of the Commonwealth record held by England's Siobhan-Marie O'Connor and makes the Canadian fourth-fastest performer in history and third fastest in a textile suit, only the Hungarian and Brit, Olympic silver and gold in a thrilling finish at Rio 2016, ahead of her.
The fastest ebb and flow compared:
27.30; 58.94; 1:35.64; 2:06.12 Katinka Hosszu, WR, World Title, Kazan 2015
27.23; 58.89; 1:35.72; 2:06.58 Katinka Hosszu Rio 2016 gold OR
27.31; 59.61; 1:36.49; 2:06.88 Siobhan-Marie O'Connor Rio 2016 silver
26.80; 58.63; 1:37.26; 2:06.89 Summer McIntosh Toronto Trials 2023
Summer McIntosh, Commonwealth champion over 200m medley last year in Birmingham, had given warning of progress in the 200m when she lowered her own previous world junior and Canadian record to 2:08.08 earlier this month at the Pro Swim Series in Florida.
Now, she has biggest-podium prospects in at least three freestyle events, both medleys and the 200m butterfly. Big choices ahead.
Asked if she had targeted the World record, McIntosh replied: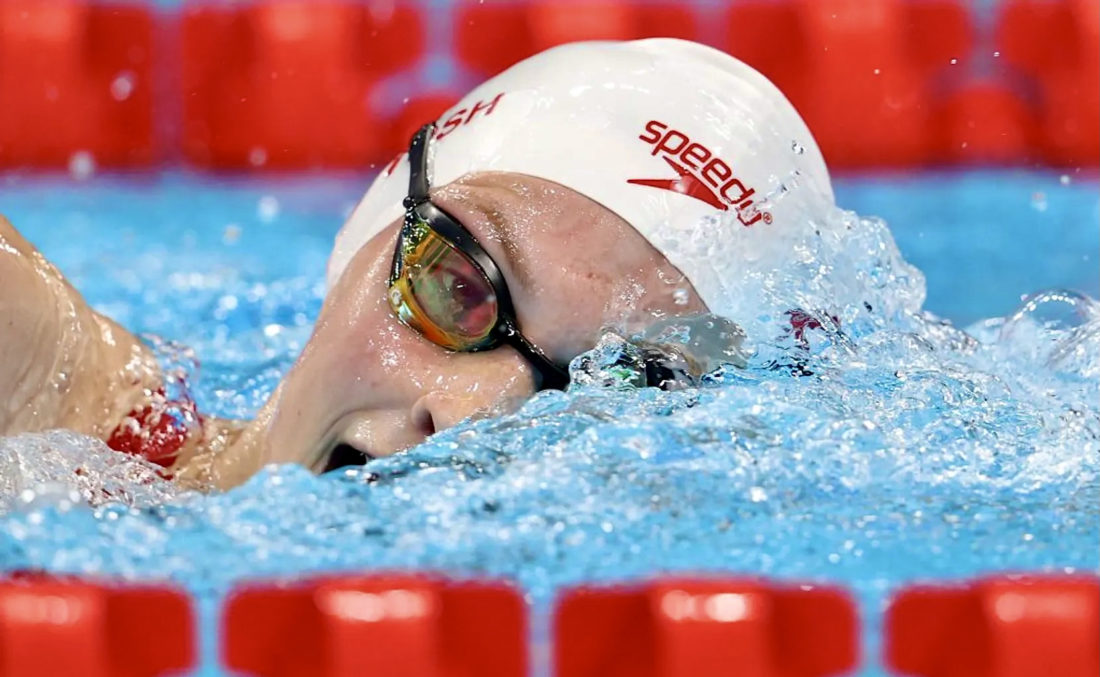 "No, not at all. I've never really focused on records. It's nice to know that I'm getting closer to it. But as long as I just kind of keep chipping away and keep improving, technically and time wise, that's what's really important to me.

"I think the 200 IM is a race that I still have a lot to learn because I don't have too much race experience at the world stage. So I need to still learn a lot and there's lot of room for improvement."

Summer McIntosh – Photo by Patrick B. Kraemer
Summer Says WR Was "A Very Big Shock To My System"
Felling records and rattling the form guide has become par for the course for the Etobicoke Swim Club member since childhood. Describing her epic 400m freestyle swim on the opening day in Toronto as "a very big shock to my system", Summer added: "I think that something that I'm really starting to learn is how to kind of shut my mind off away from the pool and try to calm myself down because I still had at the time four more races to go. I'm just kind of learning to wind down has much as possible when I'm home and away from the pool."
Also meeting the qualifying standard for the World Championships in Fukuoka thus summer, Sydney Pickrem equalled her personal best of 2:08.61 for second place.
Swimming Canada On The Rest Of The Action:
In other action, Finlay Knox of Okotoks, Alta., broke his own Canadian record in the men's 200 IM with a qualifying time of 1:57.26. The 24-year-old had won last year's Trials in 1:57.50.
"Obviously, Trials, we'd like to swim fast but the point is to make the team. Once we're on the team then it's focused on the summer," said the Tokyo Olympian, who trains at the High Performance Centre – Ontario. "I was maybe a little nervous going in, just making sure we put a swim down that will put us on the team and then go from there.
"I've been focusing a lot on other events and how to help my IM. I just feel like I wasn't quite connected today but every time we dive in we learn something and hopefully we can build off this."
Meanwhile, Olympians Josh Liendo and Maggie Mac Neil both met a World Aquatics standard for the second straight night, prevailing in the 50 freestyle finals after winning the 100 butterfly titles on Wednesday.
Liendo, a 20-year-old from Markham, Ont., won the men's race in 21.80, the fastest time in the world this year. He had also clocked a world's season best 24 hours earlier in the 100 fly.
"I'm just trying to go fast. I mean, that's pretty much what it boils down to," said Liendo, who set the Canadian record of 21.61 at the 2022 worlds, where he finished fifth. "I'm just racing and obviously getting prepared for the summer. I'm feeling good and feeling fast."
Mac Neil of London, Ont., took the women's race in 24.79, shaving off almost half a second from her previous best of 25.21.
"The goal was definitely to go under 25 tonight and I'm really happy with that," said the 23-year-old. "The 50 free is still a fun event for me. I'm really happy to see that time."
In the women's 100 breaststroke, Sophie Angus repeated as Trials champion in 1:07.68. The 24-year-old made her world championships debut last June in Budapest and, a few weeks later, claimed a Commonwealth Games silver medal as part of the medley relay in Birmingham.
"The goal has been to get back on the team and I'm really happy I got my hand on the wall first," said Angus, who joined HPC-Ontario to continue swimming after her NCAA career. "I'm not totally thrilled with the time, but at the end of the day, it's all about racing and getting there first, so I got that job done today.
"I think moving up to the centre here I've been working on a lot of power and changing my technique a bit. I'm just really embracing racing and I think that little switch in mentality has really helped."
In the men's 100 breast, James Dergousoff of Christina Lake, B.C., was also crowned for the second straight year but fell short of the individual qualifying standard. He will have to wait until Sunday's team announcement to find out if he earns a spot as part of the medley relay.
"Scott Talbot, my new coach, really put me in a good mindset coming in today," said Dergousoff, who trains at HPC-Vancouver. "We were listening to some symphony music on the way over. I'm a big Pink Floyd fan so it helped me stay a little bit relaxed. After I got out of warmup I'm like, 'Scott, I'm pretty nervous here.' He was like, 'That's a good thing, control it, use it on that last five metres.' And that's what I did."
In Para races, Danielle Dorris of Moncton, N.B., won the women's multi-class 50 butterfly in 34.38 seconds. Her time was below the qualifying standard needed for this summer's Para World Championships but well off the S7 world record of 32.99 she swam at the Tokyo Paralympics.
"I was hoping for a little bit better but overall I'm not upset," said Dorris, who trains with the Club de natation Bleu er Or and also claimed gold in the 50 fly S7 at last summer's worlds in Madeira, Portugal. "I'm on track to where I want to be."
Aurélie Rivard, who trains for CNQ in Quebec City, prevailed in the women's multi-class 100 free in a qualifying time of 1:02.04.
"This is only my second meet of the season since Commonwealth Games," said Rivard, the Paralympic and world champion who set the S10 world record of 58.14 in Tokyo. "I'm still working things out and seeing where I'm at and what I need to work on."
Paralympian Shelby Newkirk of the Saskatoon Lasers took second place in 1:14.52, breaking her own S6 100 free Canadian record to meet the qualifying standard.
Multi-class winners who did not swim below the required qualifying time included Tyson Jacob, an S5 athlete from Granby Que., in the men's 50 fly (54.52), and Philippe Vachon, an S8 swimmer from Trois-Rivières, Que., in the men's 100 free (1:02.22).
Also in the men's 100 free multi-class, Edmonton's Reid Maxwell set an S9 national record of 1:01.19 to finish fifth.