Adam Peaty's 55.49 A Cracking World Record That Proves The Clock Matters – He & Duncan Scott Also Roar To Two Other British Marks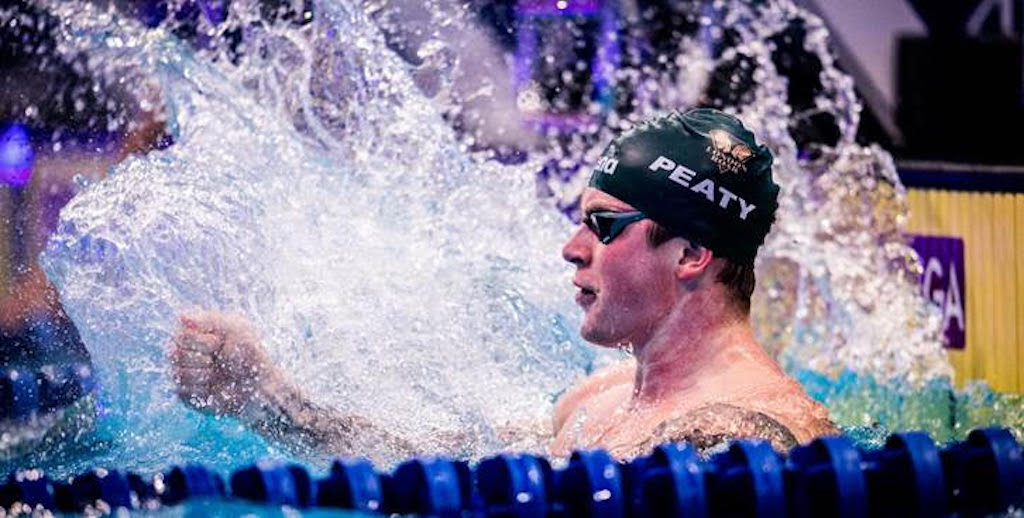 Adam Peaty's 55.49 100m breaststroke World short-course record showed International Swimming League bosses why time matters as a measure of swimming excellence today on the second day of the first semi-final of a 2020 season that turned tables on COVID-19's bid to halt humanity in its tracks.
Peaty, the Olympic 100m champion and six times World champion over 50m and 100m in the long-course pool of championship ambitions, turned on the burners down the last of four laps at Budapest Duna Arena, scene of two of his world titles back in 2017, to overhaul Ilya Shymanovich and take down the 55.61 mark that had stood to Cameron van Der Burgh and a shiny suit since 2009.
A European, Commonwealth and British record, Adam Peaty's 55.49 followed a swift win over 50m for London Roar on the first day of racing at the last stage of qualifying for the League final in the Budapest Bubble on Solidarity Camp.
Adam Peaty's 55.49 took down the European record held at 55.89 by Shymanovich since European s/c Championships a year ago and the Brit's own national record of 55.94 set at the 2017 European s/c showcase.
Coached by Mel Marshall, a delighted Peaty said:
"That's my first short course world record – obviously I struggle with short course! Ilya took so much out of me on those turns but in that last length I just thought right, no one works harder. That's what we've been doing for 10 years, for moments like that.

But it's all about a learning process – that isn't my best swim – it's a world record but I know I can be faster. That was for my family tonight.

When you've got a great team here and back home, analysing the data, it makes it all worth it; it's my victory but it's as much there's as well."
Peaty, now arguably the greatest pioneer of breaststroke sprint speed in swimming history, celebrated by throwing down the gauntlet a warrior of his calibre had been expected to chuck: he named breaststroke as the stroke for the Men's 50m Skins to close out the semis with a bang to follow his boom.
There was no felling him: a British record of 25.48, speed and win good enough for jackpot points. A whopping 35 points were added to London Roar's score, Peaty mauling his opponents and sweeping the League's Green Team into the final a year after they finished runner-up to Energy Standard at the inaugural League showdown.
Adam Peaty's 55.49 & 25.48 Joined By A 1:40.7 Roar From Duncan Scott
Adam Peaty's 55.49 and 25.48 were not the only British records on the day. National teammate Duncan Scott also thundered to a national-standard victory over: 200m Freestyle, his 1:40.76 win by a body length provided hefty confirmation that despite the challenges of this oddest of seasons, his work with coach Steve Tigg is on song for a crack at the podium come the Tokyo 202One Olympic Games next year.
Scott's time took down the 1:40.92 he clocked at the European s/c Championships a year ago.
[image – Adam Peaty (top) and Duncan Scott of Great Britain celebrate after helping Great Britain to gold ahead of the United States in the 4x100m Medley at the Gwangju 2019 World Championships – by Patrick B. Kraemer]
University of Stirling ace Scott said:
"I'm a little surprised, given how far off I was at the start of the week, but I had a bit of rest and shaved down and it shows what a difference that can make. It's also about mentality and trying to build through the meet; the semi-finals were the first time where we had to perform, whereas the rest of the time it has just been about getting the points that we need to get through to this stage. I'm delighted to be able to PB in both of those races and you can't complain about a PB at all!

"It was a big day for the Roar and there were some outrageous swims – to secure the final place is the cherry on top. This is just another building block and as Mel said it's about fine tuning the little things, as we have a big challenge ahead."
Energy Standard and London Roar are the two teams advanced to the ISL Final on November 21-22. Today and tomorrow will deliver the results of the second semi-final in the 2020 League that will tell us the names of the two teams that Energy and Roar will face.
Review Of First Semi-Final, ISL Season 2, 2020
Peaty's win allowed London to finish second with 517.5 points, not far off the pace set by reigning champions Energy Standard, who scored 580. The two teams will meet again in the Grand Final on November 21 and 22.

ISL debutants the Tokyo Frog Kings finished third with 380.5 points, while the NY Breakers came in fourth on 239, marking an end to both teams' time in Budapest.

No stopping Energy Standard

After Day 1 when Energy Standard won nine races, Siobhan Haughey opened Day 2 with another victory and her second 100m freestyle win of Season 2020. She led from the front to win in 51.12, ahead of London's Freya Anderson.

Her time was a new Asian record, the second continental record the Hong Kong swimmer has set in Season 2020 following the continental best she recorded in the 200m freestyle in Match 9.

Florent Manaudou matched Haughey's performance in the men's 100m freestyle to give Energy Standard the perfect start. The Frenchman showed his class to lead at each turn and win in 45.92.

Chad le Clos added the 200m butterfly to his 100m butterfly win on Day 1. The South African had the lead by the first turn and he did not let it go despite pressure from Tokyo's Tomoru Honda to finish in 1:50.64.

"I'm very happy with that," le Clos said. "It was quite hard. I was quite tired at the end. I know London had to make a statement, so it was good to see [coach James Gibson] and the guys cheering at the end."

Kliment Kolesnikov pipped London's Guilherme Guido to victory in the men's 100m backstroke with 49.38. He trailed the Brazilian from the start but produced a strong final 25m to overtake him and touch home first.

Haughey returned to the pool to win the 200m freestyle in 1:51.36, and lead home a one-two finish with Femke Heemskerk.

In the women's 50m skins, Sarah Sjostrom and Madeline Banic pushed each other hard in the butterfly over the three races. In the final 25m of the third and final race, Banic was in the lead off the turn, but Sjostrom found her rhythm to win in 25.91, her third skins victory of Season 2020.

"It's building. The guys were much better than they were in the last couple of matches," Energy Standard head coach Gibson said. "London really stepped up their game, but we've raced them three times and beaten them every time.

"We've got to go back for a little bit more work and make sure they're refreshed. We'll be a little bit more rested and then we'll see our guys step it up to the next level."

Peaty puts in captain's shift

London ended Day 1 with six victories and Melanie Marshall's team claimed its first win of Day 2 when Kira Toussaint followed up her world record in the 50m backstroke on Saturday by outlasting Energy Standard's Emily Seebohm in the 100m backstroke.

The Dutch swimmer grabbed the lead from the start and despite Seebohm closing in over the final 25m, she was strong enough to finish first in 55.90.

Duncan Scott set a new British and ISL record to win the 200m freestyle. He finished in 1:40.76 after keeping the fast-finishing Danas Rapsys and Katsuhiro Matsumoto at bay over the final 25m.

Alia Atkinson won her third 100m breaststroke race of Season 2020. The Jamaican stretched her lead over the three turns and finished in a new ISL record of 1:02.66. Energy Standard's Benedetta Pilato finished second in a reversal of the first two places from the 50m breaststroke on Day 1.

Scott showed he is in good form when he teamed up with Mikhail Vekovishchev, Anna Hopkin and Freya Anderson to win the 4x100m mixed freestyle relay with 3:15.17.

Peaty returned to the pool for the 50m skins 45 minutes after his 100m breaststroke world record. He set a new British record of 25.48 for the 50m butterfly, then defeated Energy Standard's Shymanovich in the third race with a time of 25.70.

Tokyo shows potential for future seasons

Tokyo captain Ryosuke Irie, Yui Ohashi and Leah Smith impressed on Day 1 with victories, and Suzuka Hasegawa added Tokyo's first of Day 2 when she stretched her run of wins in the women's 200m butterfly to five in Season 2020.

She powered away from the start and held her form throughout to win in 2:03.95.

Runa Imai dominated from the front to win her third 100m individual medley. She opened up an early lead and finished in 57.77 ahead of Sjostrom.

Takeshi Kawamoto pushed le Clos into second to win the 50m butterfly in 22.50, before Ohashi completed a sweep of five wins from five in the women's 100m individual medley with a finish of 4:23.25.

Kosuke Hagino matched Ohashi's sweep in the men's 100m individual medley. He had opened a big lead by the freestyle leg, and while Energy Standard's Max Litchfield began to close in, it was not enough to stop Hagino winning in 4:02.40 to give Tokyo another reason to celebrate after an impressive debut ISL season.

Andrew, Surkova give NY last hurrah

Emily Escobedo enjoyed NY Breakers only win of Day 1. She touched the wall first in the women's 200m breaststroke in 2:16.71 for her first victory of Season 2020.

On Day 2, Michael Andrew became the second Breakers swimmer to earn their first ISL scalp. The 21-year-old held off the fast-finishing Vladimir Morozov of the Frog Kings in the men's 100m individual medley to finish in 51.66.

Arina Surkova added a second when she held off Standard's Banic on the second 25m to win the women's 50m butterfly in 24.87. The pair was close at the turn and while Banic kicked hard it was Surkova who held her nerve to hold on and win.

"I think everyone was a little bit rusty at the beginning, but we've excelled over the meets and everyone has continued to set personal best times and swim faster," Escobedo said. "Next season we'll have some core swimmers, and we'll get a lot faster."

Match results
Women
100 Butterfly – Sarah Sjostrom, Energy Standard – 55.44
200 Backstroke – Emily Seebohm, Energy Standard – 2:01.04
200m Breaststroke – Emily Escobedo, NY Breakers – 2:16.71
4 x 100m Freestyle – Energy Standard (Haughey, Blume, Heemskerk, Sjostrom) – 3:25.82
50m Freestyle – Sarah Sjostrom, Energy Standard – 23.43
200m Individual Medley – Yui Ohashi, Tokyo Frog Kings – 2:03.93
50m Breaststroke – Benedetta Pilato, Energy Standard – 28.86
50m Backstroke – Kira Toussaint, London Roar – 25.60
400m Freestyle – Leah Smith, Tokyo Frog Kings – 3:58.26
4 x 100m Medley – Energy Standard (Seebohm, Pilato, Banic, Sjostrom) – 3:45.58
100m Freestyle – Siobhan Haughey, Energy Standard – 51.12
200m Butterfly – Suzuka Hasegawa, Tokyo Frog Kings – 2:03.95
100m Backstroke – Kira Toussaint, London Roar – 55.90
100m Individual Medley – Runa Imai, Tokyo Frog Kings – 57.77
200m Freestyle – Siobhan Haughey, Energy Standard – 1:51.36
50m Butterfly – Arina Surkova, NY Breakers – 24.87
100m Breaststroke – Alia Atkinson, London Roar – 1:02.66
4 x 100m Mixed Freestyle – London Roar (Vekovishchev, Scott, Hopkin, Anderson) – 3:15.17
400m Individual Medley – Yui Ohashi, Tokyo Frog Kings – 4:23.25
50m Skins – Sarah Sjostrom, Energy Standard beat Madeline Banic, Energy Standard – 25.91

Men
100 Butterfly – Chad le Clos, Energy Standard – 49.14
200 Backstroke – Irie Ryosuke, Tokyo Frog Kings – 1:49.02
200m Breaststroke – Kirill Prigoda, London Roar – 2:01.20
50m Freestyle – Florent Manaudou, Energy Standard – 20.63
200m Individual Medley – Duncan Scott, London Roar – 1:51.66
50m Breaststroke – Adam Peaty, London Roar – 25.50
4 x 100m Freestyle – Energy Standard (Rylov, le Clos, Kolesnikov, Manaudou) – 3:05.72
50m Backstroke – Guilherme Guido, London Roar, 22.89
400m Freestyle – Tom Dean, London Roar – 3:37.87
4 x 100m Medley – London Roar (Guido, Peaty, Kusch, Scott) – 3:19.50
100m Freestyle – Florent Manaudou, Energy Standard – 45.92
200m Butterfly – Chad le Clos, Energy Standard – 1:50.64
100m Backstroke – Kliment Kolesnikov, Energy Standard – 49.38
100m Individual Medley – Michael Andrew, NY Breakers – 51.66
200m Freestyle – Duncan Scott, London Roar – 1:40.76
50m Butterfly – Takeshi Kawamoto, Tokyo Frog Kings – 22.50
100m Breaststroke – Adam Peaty, London Roar – 55.49
4 x 100m Mixed Freestyle – London Roar (Vekovishchev, Scott, Hopkin, Anderson) – 3:15.17
400m Individual Medley – Kosuke Hagino, Tokyo Frog Kings – 4:02.40
50m Skins – Adam Peaty, London Roar beat Ilya Shymanovich, Energy Standard – 25.70.


Match Standings
1 Energy Standard – 580 (qualified for the Final)
2 London Roar – 517.5 (qualified for the Final)
3 Tokyo Frog Kings – 380.5
4 NY Breakers – 239

MVP Standings
1 Sarah Sjostrom, Energy Standard – 65.0
2 Adam Peaty, London Roar – 52.5
3 Siobhan Haughey, Energy Standard – 42