Molly Renshaw Matches British Record, Abbie Wood A Touch Away; Greenbank & Peaty Powerful As Brits Return To L/C Racing At Manchester International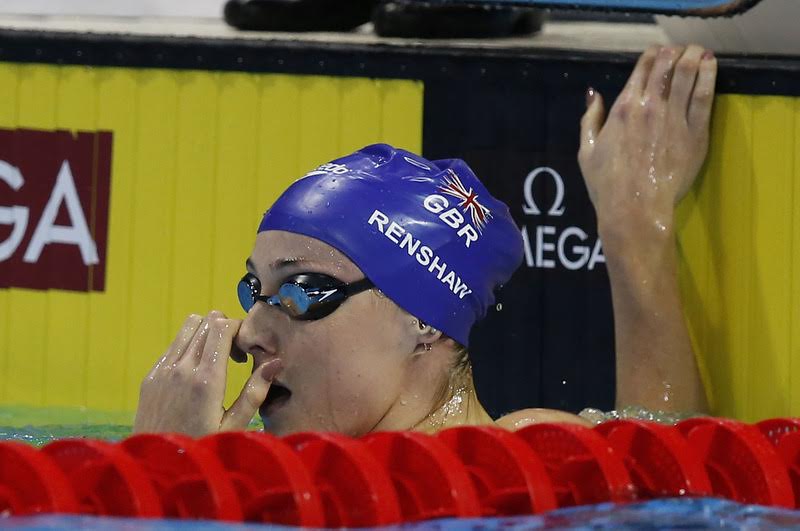 The first day of the Manchester International Swim Meet, a moment of relief and race-pace test for the best of Britain swimmers who have not experienced much action of late, produced some sterling efforts, Molly Renshaw topping the bill with a matched British record in the 200m breaststroke, on 2:22.08, Abbie Wood a stroke away on 2:22.77, both efforts personal bests. Third place went to Jocelyn Ullyett, on 2:25.26, by which time her 2017 British record of 2:22.08 had been matched.
Earlier in the first session of finals, Luke Greenbank set pulses racing with a very solid 1:56.33 win over 200m backstroke, while the Adam Peaty Vs James Wilby showdown in the 100m breaststroke ended on 58.82 for the Olympic champion (after 58.87 in heats) and 1:00.15 for the man who followed Peaty home for silver at Worlds titles in 2019 for a 1-2 Brit celebration.
Not bad given that hardly any racing has been possible at all, and none at all of late in the Olympic long-course pool on the way to the rescheduled Games set for July this year.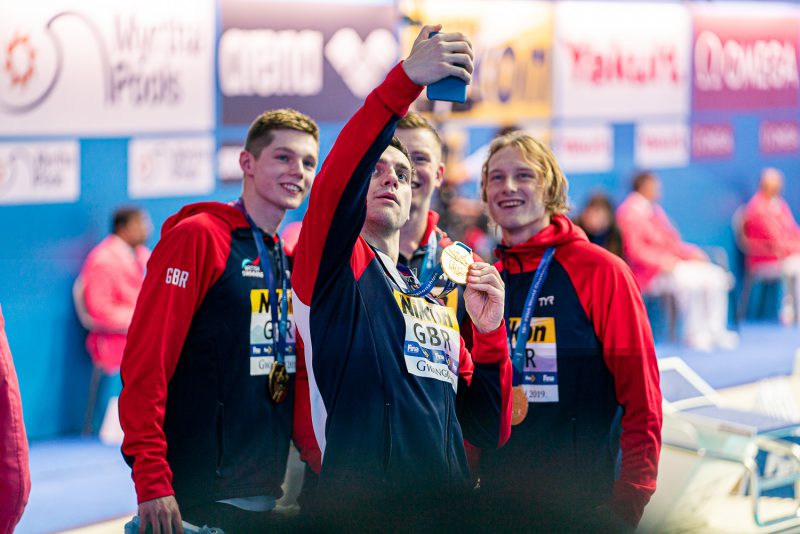 Greenbank, one of the World champions 4x100m medley quartet in 2019, stood out in the first part of the finals session, the Worlds 200 backstroke bronze medallist clocking 1:56.33 in his best event. In a league of his own out front and just shy of his 1:55.85 best, Greenbank was followed by Brodie Williams and Charlie Brown, on 1:59.93 and 2:00.19 respectively.
A 1:56.3 at this point of a season like no other on return to long-course racing augurs well for Greenbank, who had never broken 1:58 in minor race tests before. Indeed his 1:58.84 in heats was an arm swing away from his best-ever pace in non-championship waters.
In the second part of finals, Molly Renshaw and Abbie Wood produced two more outstanding women ts with personal bests of 2:22.08 and 2:22.77 respectively in the 200m breaststroke. Renshaw, swifter than her effort in the Olympic final at Rio 2016, led at the 100m mark on 1:08.36, 0.48sec ahead of Wood. Renshaw, European Champion, was delighted with her first test at the Manchester International, saying: "Training has been going really and I've been swimming faster than I ever have in training, so it's nice to reassure myself that I can do it in a race as well.
"Our whole group has been training really well and Abbie has been PBing in training too, so for the whole group, it's a chance to come here and prove we can replicate the times we've been doing in Loughborough. Abbie did amazing, and it's always good to have her to train with and see her doing well.

"It's a bit strange as this is definitely not your normal kind of competition. This morning was a nice chance to blow away the cobwebs and then refocus in for tonight and try to get a time out of myself. Hopefully we'll have spectators back on some scale soon

"At the minute, we are just having to take every opportunity we get and we're really grateful for that. I'm almost going into it feeling like a training swim so that I'm not putting too much pressure on myself and I'm not relying on that crowd to create an atmosphere."
Renshaw's coach Dave Hemmings gave the swimming community a glimpse of the attention to detail that goes into the progress being made by Renshaw, among others, when he Tweeted:
In other action, Holly Hibbott put in two solid 400m freestyle swims on day 1, a 4:10.13 ahead of 4:12.54 for Abbie Wood in heats followed by a win for Hibbott on 4:11.97 in the final, Leah Crisp and open-water ace Alice Dearing on 4:16 and 4:17.
The men's 400m freestyle witnessed a strong swim from Austrian visitor Felix Auböck, his 3:48.04 ahead of efforts of 3:50.20 and 3:50.21 from Daniel Jervis and Max Litchfield.
Another of Britain's 4x100m medley heroes of Gwangju, James Guy, took the 100m butterfly in 52.46, off 24.37 at the turn, leading from go to first home. Ed Mildred, on 52.91 was closest, Jacob Peters third in 53.08. The women's 50m freestyle also witnessed good speed, France's Marie Wattel on 24.75, Anna Hopkin closest on 25.19, after 24.99 in heats, Freya Anderson third in 25.22.
This morning witnessed a 58.87 (the first 900-point-plus swim of the meet) from Olympic champion Adam Peaty in 100m breaststroke heats in the pool that hosted the 2002 Commonwealth Games graced by Peaty's coach Mel Marshall in her own days as a GB and England International. Her charge was out this morning more than 1.5sec faster than James Wilby, the GB teammate coached by Hemmings who took silver when Peaty retained 100m gold at the World Championships in Gwangju in 2019.
Wilby came home as fast as Peaty did and the two then met in a race with a different dynamic in the final, Peaty out in 27.32, Wilby 0.73sec away, the man at the helm evoking memories of Mel Marshall's own swim career at a time when then head of program Bill Sweetenham insisted on fast heats swims within a tight percentage of best in minor moments so that come the big one, qualification rounds might be more of a breeze than otherwise.
Manchester International – Day 1
Go to the end of the reel above and listen to 10-year-old Daisy, the brightness and resilience and empathy and understanding in her and many other children at a challenging time of pandemic. Her words spoke volumes to a swimming community largely locked out of pools, not only in Britain but far and wide beyond. As did those who spoke after her.
Only athletes on the British-government approved Elite Athlete Return to Training lists are permitted to compete at the Manchester International organised by British Swimming, Manchester SC and local authorities under relevant Department for Digital, Culture, Media & Sport  (DCMS) guidelines. The event is being held behind closed doors, in compliance with pandemic 'Bubble Compliance' but the action will be live-streamed for fans and other wishing to tune in.
George Keeps 'Em Busy…
Adam Peaty and his partner Eiri Munro appeared on BBC Breakfast TV this morning, the focus "a day in the life" of a champ at a time of COVID-19 restrictions. Here's the family as dad gets ready for the Manchester International with a glimpse of the strict training controls in place, young George sporting a much better baldy than his dad and keeping both mum and dad as busy as a bouncing lad can: