Adam Peaty & Tom Dean Lead First 10 Swimmers Onto Team England For Home Commonwealth Games in Birmingham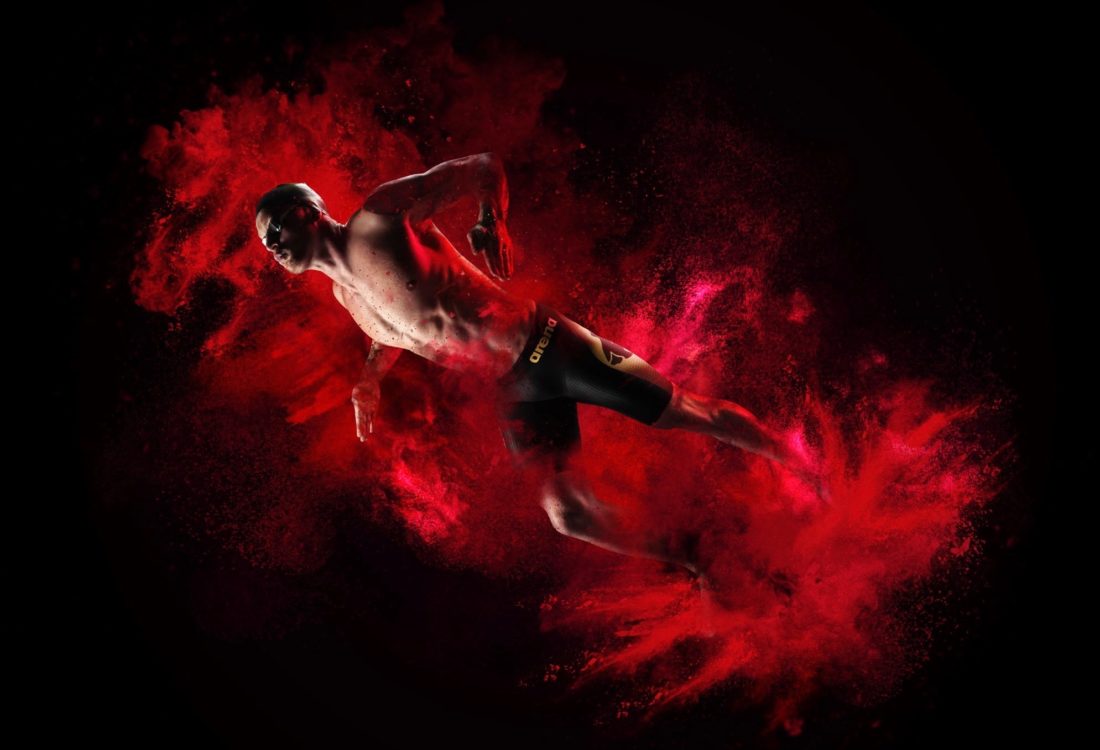 Adam Peaty and Tom Dean, double Olympic champions at Tokyo 2020ne, and fellow medallists at the Games in Japan last July and August, Anna Hopkin and Luke Greenbank are joined by six Britain teammates as the first 10 to be named to swim for England at the Commonwealth Games in Birmingham this August.
Abbie Wood and Max Litchfield, both fourth by a frustrating fraction in their respective best events in Tokyo, are joined by James Wilby, Ben Proud, Molly Renshaw and Alicia Wilson to complete the first list of swimmers selected to represent the host nation in the pool.
Team England will send a team of more than 400 athletes to compete at Birmingham 2022 and "capitalise on the once-in-a-lifetime opportunity to bring home success in their own country – with England's swimmers eyeing the chance to win medals and make memories in the new Sandwell Aquatics Centre", the hosts noted.
Speaking about the prospect of competing at his third Commonwealth Games, three-time Commonwealth champion Peaty, who in Tokyo became the first British swimmer ever to retain an Olympic swimming title when he claimed gold in the 100m breaststroke, said: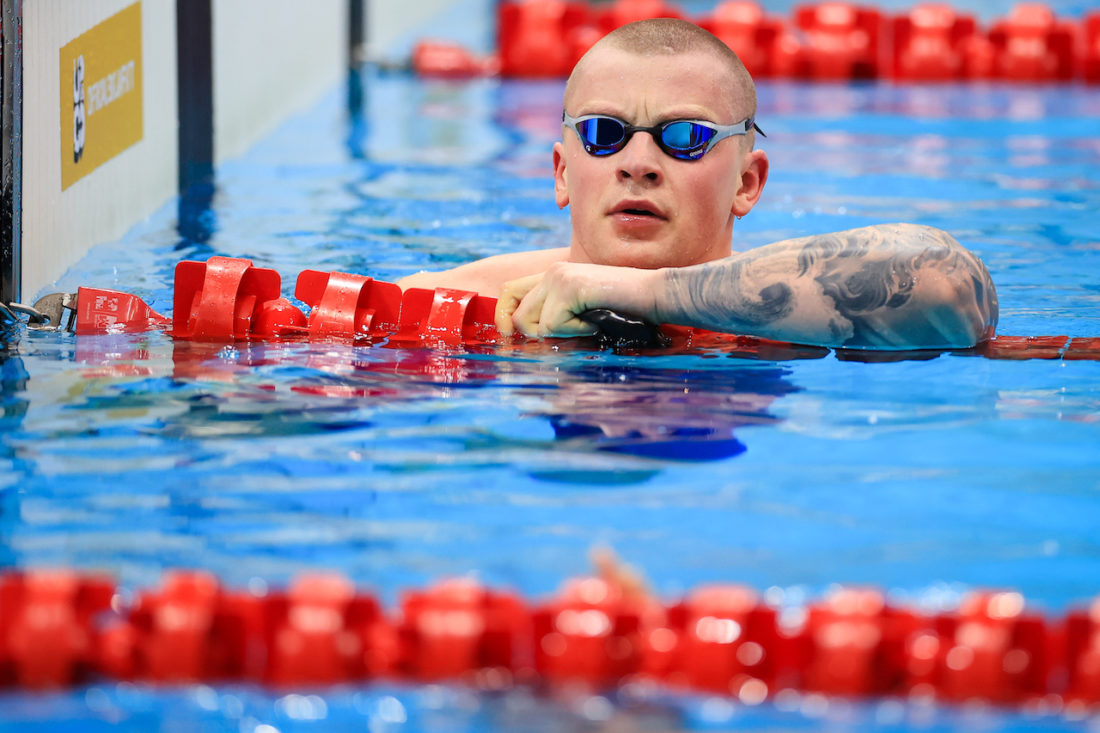 "It's always a privilege to be selected to represent my country and I'm so excited about a home Commonwealth Games, especially one that is so close to the area I grew up in. Having the home crowd in the stands supporting us gives me even more motivation to perform my best and inspire those people watching. I can't wait to represent Team England again!"

Adam Peaty – by Georgie Kerr, courtesy of British Swimming
Peaty's coach at the Loughborough University Performance Centre, Mel Marshall will serve as head coach to Team England a year after she guided three of her athletes – Peaty, Hopkin and Greenbank – to the Olympic podium. Of that latest honour, Marshall said: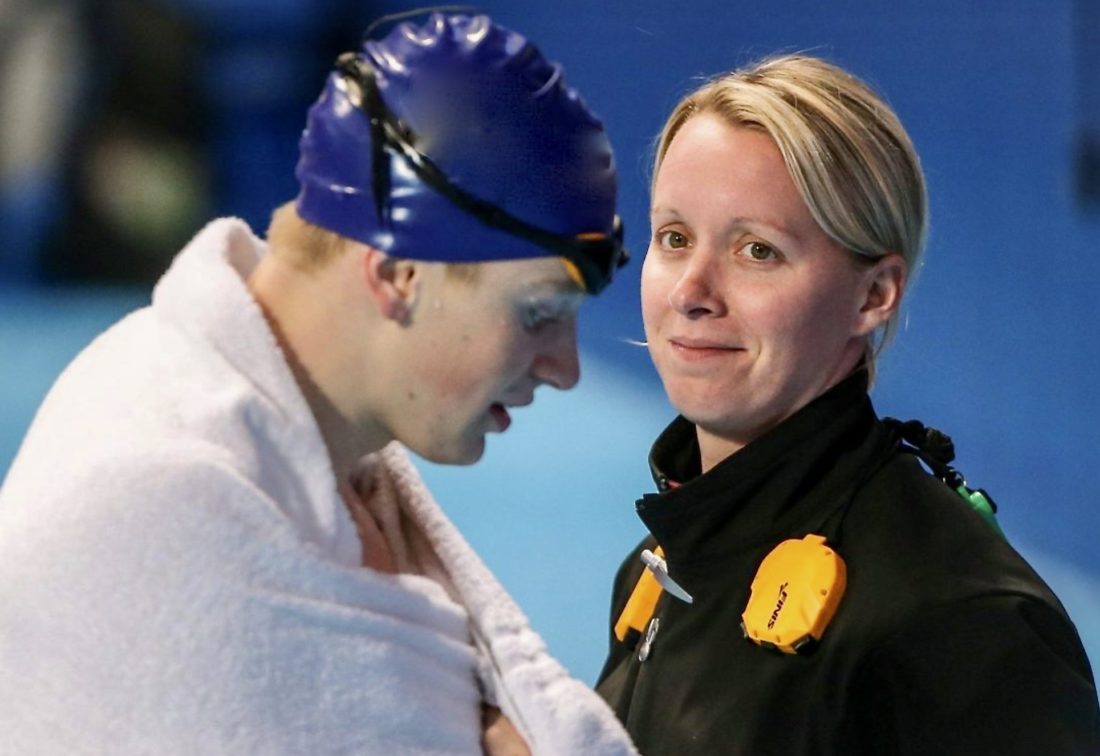 "To be leading out the CWG England Team at a home Commonwealth Games is an incredible privilege, particularly off the back of an incredibly challenging two years for the nation. While it's been the NHS's job to take care of health over these last few years, its sports job to take care of hope.

"I hope to support and illuminate the people I am lucky enough to work with to shine some light for the Nation in what promises to be a fantastic games. To those who have given me this opportunity I thank you and it's my promise to do you, this nation and its people proud."

Mel Marshall with her charge Adam Peaty – courtesy of Mel Marshall
Later in the day: more from the athletes selected lafter a round of interviews throughout Wednesday.
The England team will grow on the way to summer, the first wave of selections including those who have titles to defend in Birmingham.
First 10 Swimmers Named Form Team England at Birmingham 2022: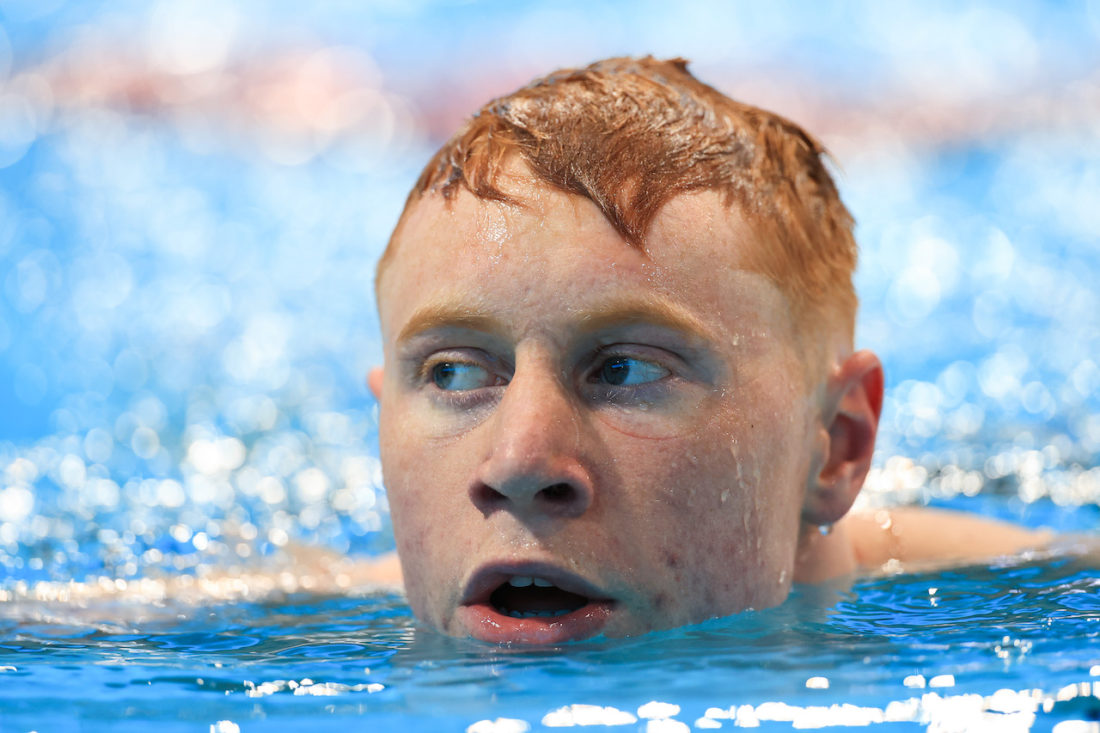 Tom Dean MBE, London – Tokyo 2020 Olympic champion in both the 200m Freestyle – in a British record time – and the Men's 4x200m Freestyle Relay. Also competed at the 2020 European Championships, where he won three gold and two silver medals in the team events and one individual bronze in the 200m Freestyle. Set for his Team England debut in Birmingham. Coach: Dave McNulty, Bath
Luke Greenbank, Cheshire – Silver medallist at 2018 Gold Coast Commonwealth Games and gold medallist at 2020 Budapest European Championships in Men's 4x100m Medley Relay, Greenbank became a double Olympic medallist across individual and relay races last summer. He swam to bronze in the Men's 200m Backstroke, before contributing to that Men's 4x100m Medley Relay silver. Coach: Mel Marshall, Loughborough
Anna Hopkin MBE, Lancashire – Won gold as part of the British team at the Tokyo 2020 Olympic Games in the Mixed 4x100m Medley Relay, setting a new world record time and bringing the silverware home with a brilliant anchor leg of freestyle. Bronze medallist in the Women's 4x100m Freestyle Relay at the Gold Coast 2018 Commonwealth Games. Coach: Mel Marshall, Loughborough
Max Litchfield, Yorkshire – Four-time European Championship medallist, as well as a European Short Course champion in the Men's 400m Individual Medley. Litchfield is a two-time finalist in the Olympic Men's 400m Individual Medley and is preparing for his second Team England appearance, following on from Glasgow 2014 – he missed Gold Coast 2018 after selection with a shoulder injury. Coach: David Hemmings, Loughborough
Adam Peaty OBE, Staffordshire – Three-time Commonwealth champion. Won gold in the 100m Breaststroke at the Rio 2016 Olympic Games, the first by a male British swimmer in 24 years. He retained the title at Tokyo 2020, becoming the first British swimmer ever to defend an Olympic crown, before laying down eye-catching efforts as Britain claimed Mixed 4x100m Medley Relay gold and silver in the Men's 4x100m Medley Relay. Coach: Mel Marshall, Loughborough
Ben Proud, London – Three-time Commonwealth champion. Won double gold at the Glasgow 2014 Commonwealth Games in the 50m Freestyle and 50m Butterfly, as well as 50m Freestyle at Gold Coast 2018. A two-time Olympic finalist in the blue riband 50m Freestyle event. Coach: Mark Skimming, Bath
Molly Renshaw, Nottinghamshire – Double European champion from Budapest 2020 (2021), including a memorable victory in the Women's 200m Breaststroke. Renshaw – a two-time Olympian – has three Commonwealth medals to her name including 200m Breaststroke bronze and silvers from Glasgow 2014 and Gold Coast 2018 respectively. Coach: Dave Hemmings, Loughborough
James Wilby, Yorkshire – Double Commonwealth champion. Won gold at the Glasgow 2014 Commonwealth Games in the Men's 4x100m Medley Relay and at the 2018 Gold Commonwealth Games, thanks to a stunning individual swim in the Men's 200m Breaststroke. He claimed his maiden Olympic medal in helping Britain to Tokyo 2020 silver in the Men's 4x100m Medley Relay. Coach: Dave Hemmings, Loughborough
Alicia Wilson, Surrey – Gold medallist at the 2017 Nassau Commonwealth Youth Games and the 2019 Naples World University Games in 200m medley, Wilson secured her Olympic debut as part of Britain's Tokyo 2020 team – and she made the Women's 200m Individual Medley final, alongside Team England compatriot Abbie Wood. Set for her Commonwealth debut in Birmingham. Coach: Teri McKeever, Cal Berkeley (England: Lewis Dunford, Guildford SC; Dave McNulty, Bath)
Abbie Wood, Derbyshire – Double gold medallist at the 2020 European Championships in the Women's 4x100m freestyle and Mixed 4x200m freestyle, Wood also earned individual honours with a fine Women's 200m Individual Medley silver. She made her Olympic debut at Tokyo 2020, breaking her personal best in the Olympic final. Made two Commonwealth finals in 2018. Coach: Dave Hemmings, Loughborough
Peaty leads Team England as the keeper of the biggest pantheon of titles in British Swimming history, including a record run of World titles over 50m and 100m breaststroke 2015, 2017 and 2019 and a perfect record of 16 golds in 16 races at European Championships long-course championships. Never beaten. In Commonwealth waters, he was pipped by defending champion Cameron Van der Burgh, of South Africa, for the dash crown, and in Birmingham in front of a home crowd wants to make up for that by adding the 50m title to the 100m crowns he won in 2014 at Glasgow and 2018 at the Gold Coast Games Down Under.
Peaty looked back on his 50m loss in 2018 and said: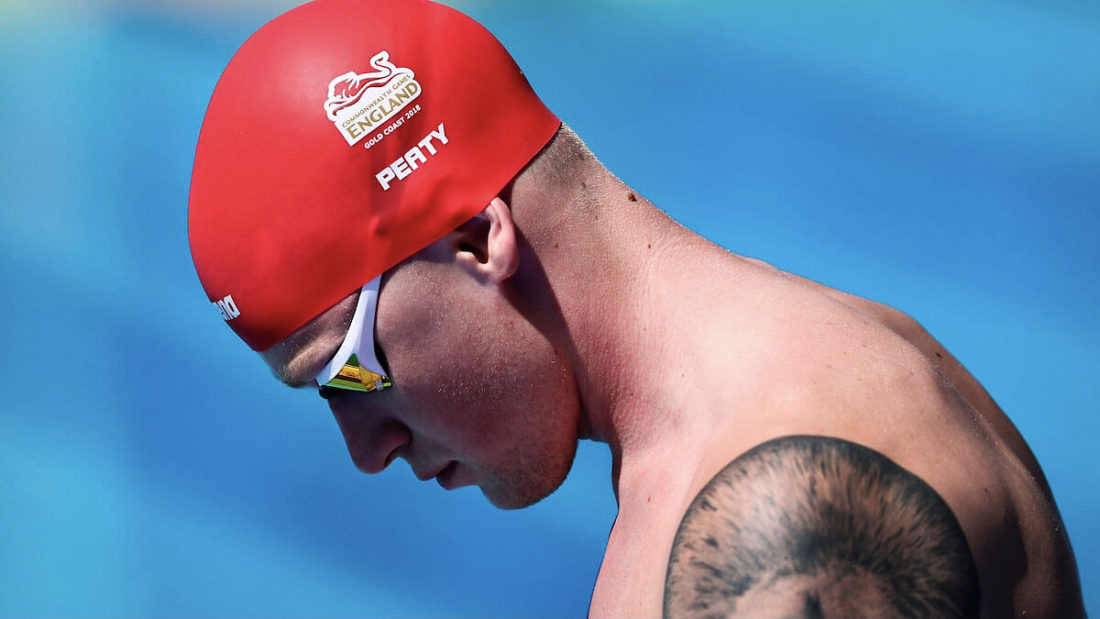 "I remember one of the interviews at Gold Coast I said if I carry on like this I'm not going to win the Olympics. My body wasn't in the right shape, my mind wasn't in the right shape back then but I did fix that in 2019. I actually broke the (100) world record a few months later and I am glad we could fix that but no-one knew what covid was going to throw at us, did they?"

Adam Peaty – Team England
Peaty approaches a a home Games this year from a different angle, having taken a few months off after Tokyo202One. 'Off' is relative: he was a contestant on the dance show "Strictly" and kept fit, though water fit, he noted, was another matter when he took the plunge back into training in December.
In the midst of a heavy block of winter prep that will stretch to spring, Peaty spoke to British journalists from camp in Florida. His drive back to top shape will include the endurance work needs to take on the 200m come Britain trials (the World Championships look set not for May 2022 now but June or July 2023, pending official confirmation) in Sheffield in April that will also count towards selection for the European Championships in Rome that precede the Birmingham multi-sport showcase. On the 200m, which would be one of five targets in Birmingham, with the 50, 100 breast and the 4x100m medley relays, men and mixed), Peaty noted: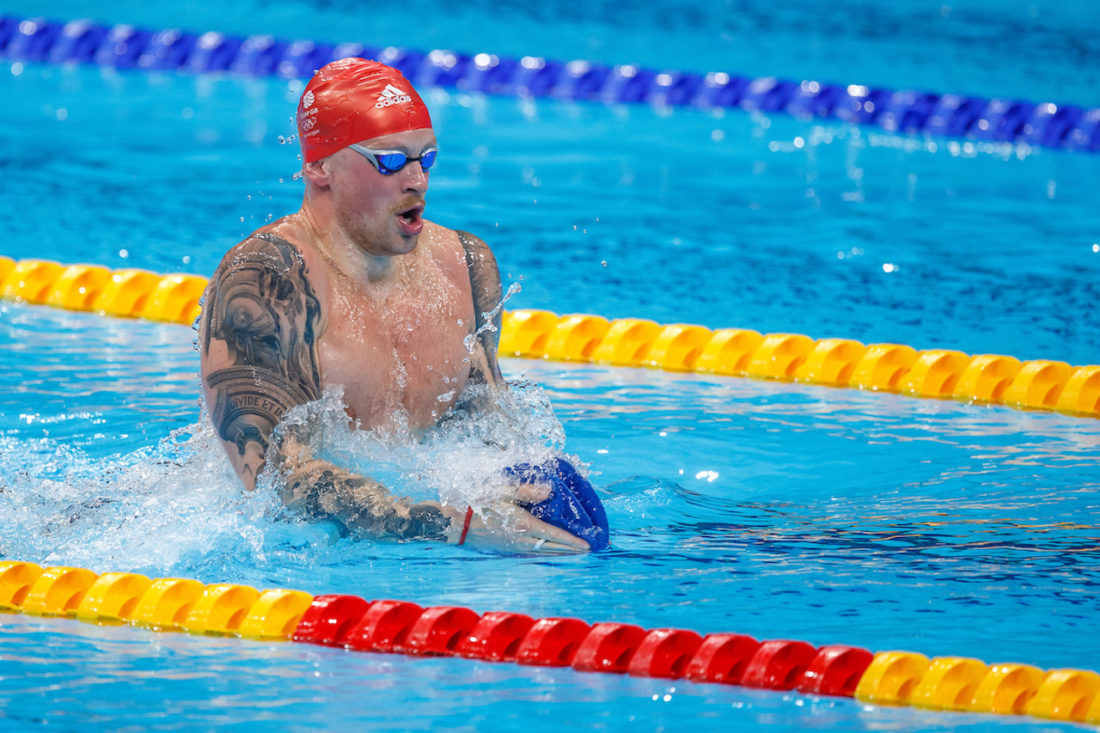 "That'll be an expedition race I guess – I have no idea what time I'll do. I've not done a 200 rested since – I want to say 2016 (Olympic trials) – when I went out in a 59 and came back in a coffin. I don't really want to go against Zac (Aussie Olympic champion Zac Stubblety-Cook) who does a 2:06 – potentially a 2:05 – and me coming in on a 2:09 [laughter] especially with a home crowd so I'll see how it goes."

Adam Peaty – by Patrick B. Kraemer

Peaty was raised about 40 miles from Birmingham in the market town of Uttoxeter, Staffordshire, in the English midlands. He says he'll need about 50 tickets for family and friends, including baby son George, but understands the swimming at the Commonwealth Games is sold out. Let negotiations begin. One thing is certain: he'll be making a show of it for a home crowd: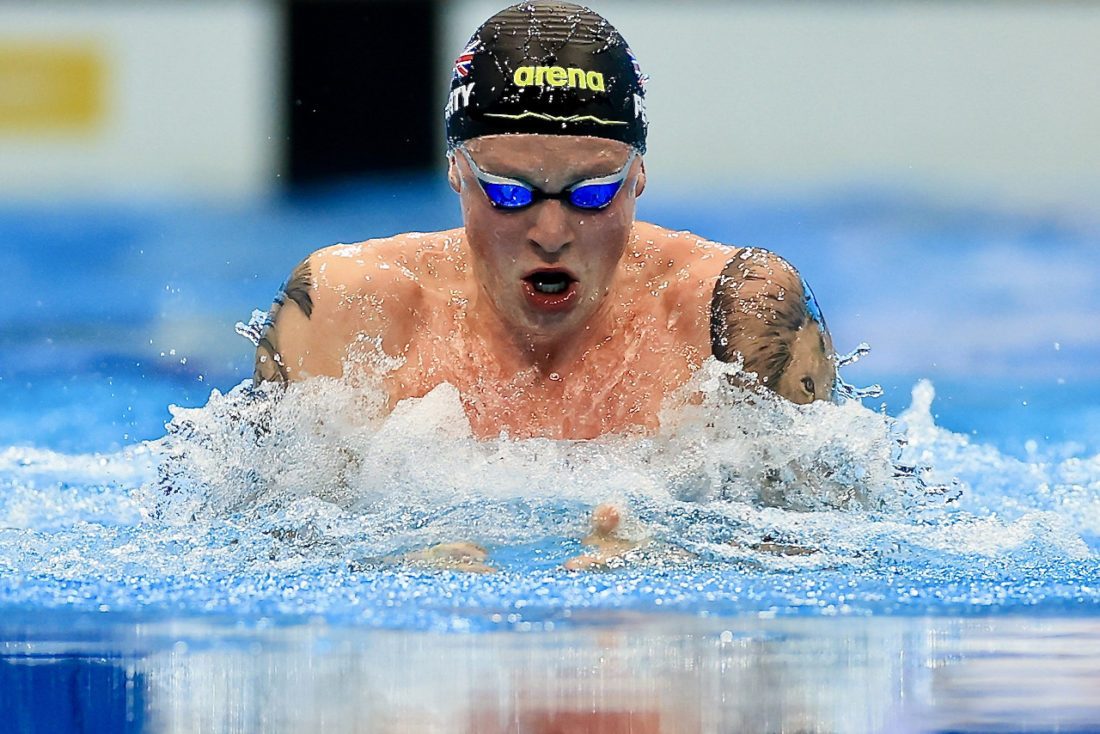 "I love Birmingham, the Midlands, England and here I get to have all three things … its a once-in-a-lifetime opportunity and I'm really excited about it."

Adam Peaty – by Georgie Kerr for British Swimming
While Birmingham will be the highlight of the year in terms of the thrill of racing in front of a home crowd, the more serious swimming challenge in his signature 100m breaststroke will come at the European Championships. The Olympic podium at Tokyo 2020ne was all-European, Dutchman Arno Kamminga and Italy's Niccolo Martinghengi on the rostrum with him. Peaty acknowledged the Rome Rematch as the one that would represent the sharper blade, even if he takes "nothing for granted" at any of the majors.
A hint that all roads to best speed lead to Rome for Peaty could be found in his confirmation that son George will be making the trip with his mum and Adam's partner Eiri Munro: "He's never seen me race … he'll be going to Rome."
Like Peaty, his Team England mates see Birmingham as the next stroke in their development and progress as athletes, and that with the promise of live audiences returned, the faces in the crowd to include the families forced by the pandemic to miss the Olympics last year.
Second-time Team England athlete Abbie Wood noted: "Before, with the Gold Coast I was just very happy to be selected for the team. I am this time too, of course, but in 2022, I feel like I'm ready to race and get among all the racing, rather than just being there for the ride.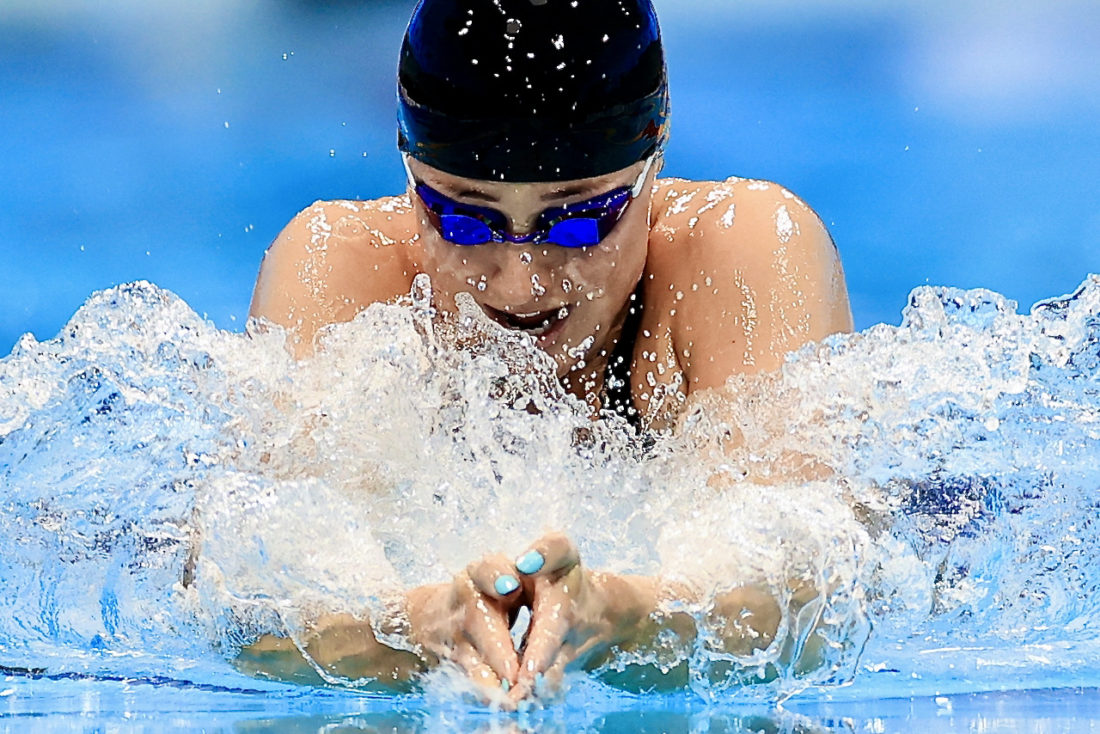 "I'm in the middle of it now, I'm in the mix and I want to perform as well as I can in front of a home crowd, in front of my parents, who haven't seen me race since I have stepped it up. It's been a couple of years – maybe the last major meet they saw me at was the Commies, so it'll be nice for them to be a part of it and for me to show them how far I've come."

Abbey Wood – by Georgie Kerr, courtesy of British Swimming
Team England's Chef de Mission, Mark England, welcomed the athletes to the team: "This is an exceptional Swimming team selected to represent Team England in Birmingham this summer. It contains World, Olympic, and Commonwealth Champions and medal winners and I'm confident they will perform with distinction at what will undoubtedly be a very competitive swim meet. I'm really looking forward to the whole Swimming Team building in the coming months, and of course excited to see them compete in the spectacular new competition pool in Sandwell."