Adam Peaty Makes It 15 Golds In 15 European-Championship Finals Since 2014 On 26.21 In Dash For Budapest Gold No3 & 50m Crown No4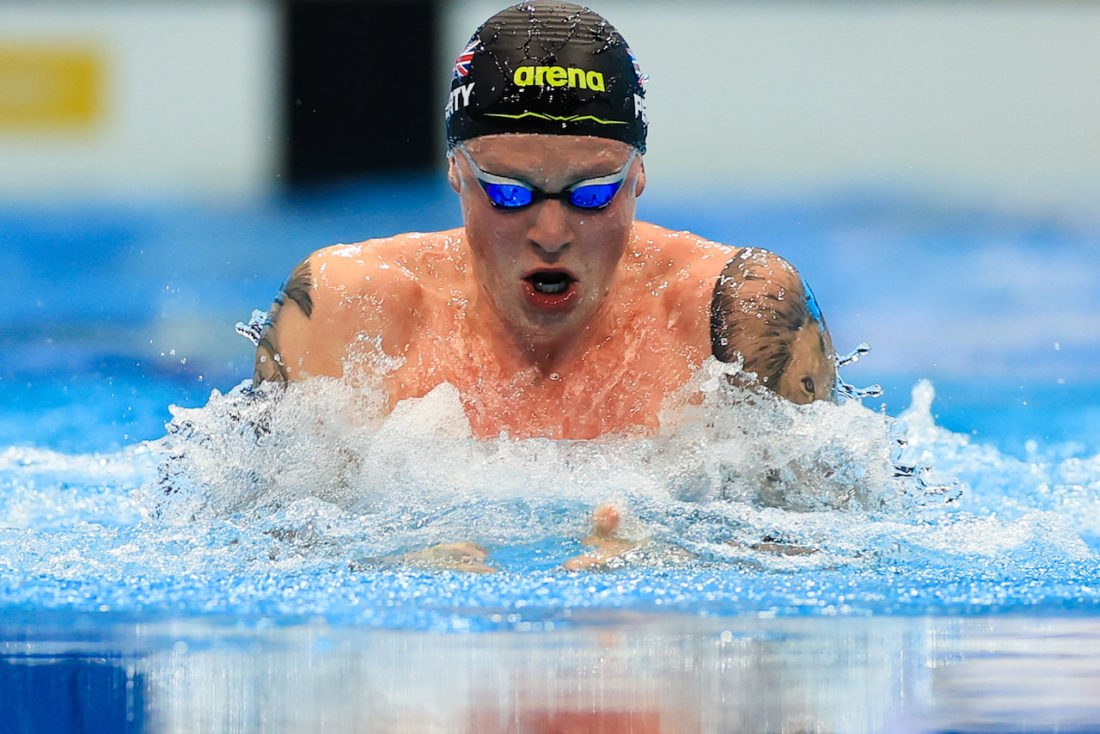 Adam Peaty will seek a 16th gold in what Britain's 4x100m medley boys intend to make his 16th European Championship title since 2014 tomorrow ad the Budapest showcase of 2021 draws to a close after he claimed career gold No 15 with a 26.21 blast to retain the 50m breaststroke crown this evening.
Victory meant a third gold this week, after wins in the 100m breaststroke and the 4x100m medley mixed with mates. Peaty's perfect record would be complete across four Championships spanning seven years tomorrow if Britain take the medley relay.
After setting personal bests that went largely unnoticed at the 2013 European Short Course Championships because he was not in the mix for the medals, Peaty made his international breakthrough in 2014.
Since claiming the 100m breaststroke titles at the Commonwealth Games for England and European Championships for Britain, he has remained unbeaten over two lengths, his honours including the Olympic crown at Rio 2016 and the World titles of 2015, 2017 and 2019. The latter was matched by wins over 50m for a unique double triple 50-100m in all events on the World-Championship program, while the Covid-19 delayed Olympics in Tokyo will bring on what peaty calls the "further attack" (defence feels too pale for him) on the crown.
The dash in Budapest saw Peaty do what Alex Popov did on so many occasions over 50m freestyle: though closeness of battle was ever there, it never felt as though anyone else would get their hand to the wall ahead of him.
The 26-year-old coaches by Mel Marshall at Loughborough alchemised that feeling with a wall-shaking lunge into the pad and a 26.21 that kept at bay Belarus challenger Ilya Shymanovich, on 26.55 for silver and Nicolo' Martinenghi, the Italian charge, on 26.68 as the last man home inside 27.
Peaty's 26.21 if the seventh fastest of his career and pushed Brazil's Felipe Lima down to all-time No 9 on the performances ranking, all eight times swifter than that of the second-fastest man ever now owned by the British champion.
Peaty emerged to say: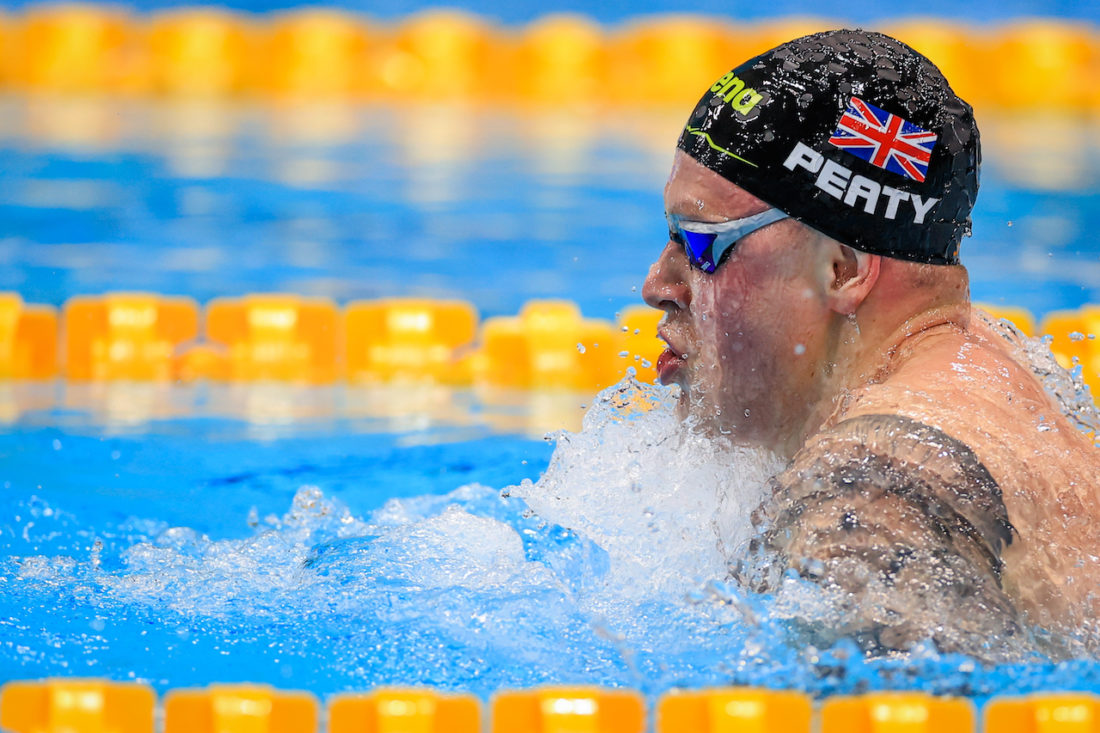 "It was almost perfect execution there. It's looking very promising if I can do that in a 50m with where I'm at right now. I really just wanted that win and that's what it's all about – finding a win when you can't get your best – it was just about getting my hand on the wall first. It's a great feeling and I'm born to race."

Adam Peaty – by Georgie Kerr, courtesy of British Swimming
Men's 100m breaststroke – Gold For Peaty
P
L
Nation
Swimmer / DoB
R.T.
Time
Gap
1
4
GBR
PEATY Adam
(28 DEC 1994)
0.62
26.21
2
5
BLR
SHYMANOVICH Ilya
(02 AUG 1994)
0.63
26.55
0.34
3
3
ITA
MARTINENGHI Nicolo'
(01 AUG 1999)
0.63
26.68
0.47
4
6
POL
KOZAKIEWICZ Jan
(24 FEB 1996)
0.71
27.10
0.89
5
7
NED
KAMMINGA Arno
(22 OCT 1995)
0.61
27.13
0.92
5
1
GER
MATZERATH Lucas
(03 MAY 2000)
0.67
27.13
0.92
7
8
RUS
PRIGODA Kirill
(29 DEC 1995)
0.65
27.30
1.09
8
2
ITA
PINZUTI Alessandro
(10 MAY 1999)
0.69
27.54
1.33
Women's 100m freestyle: Gold For Heemskerk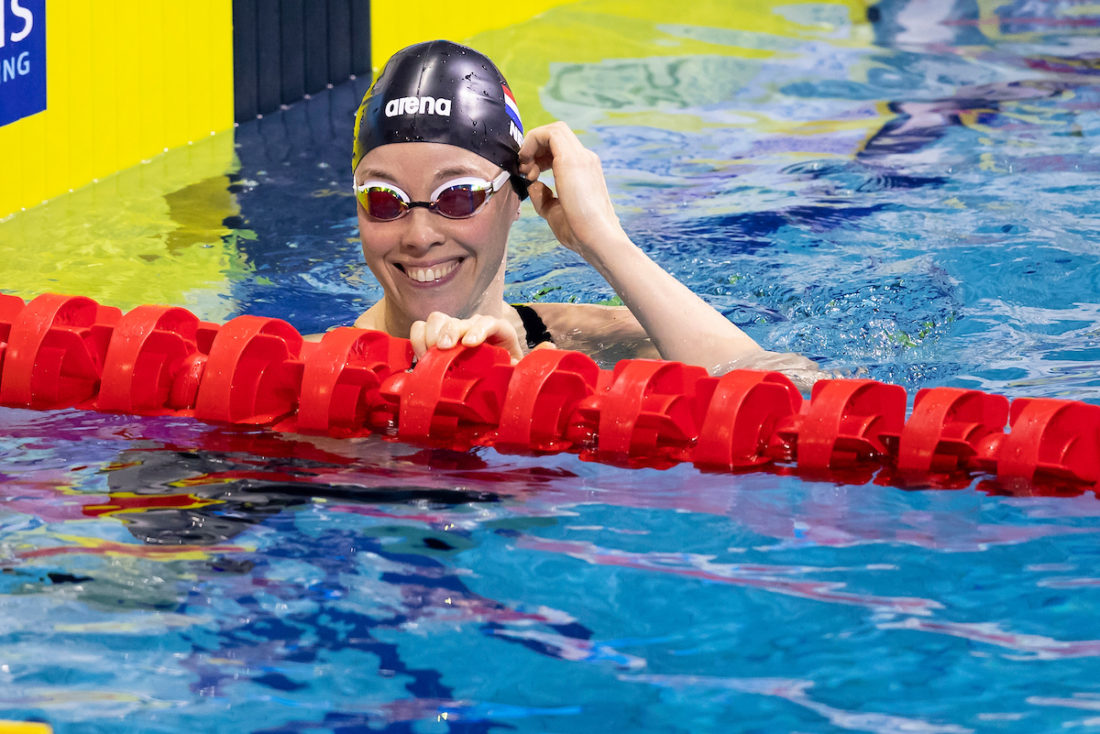 Femke Heemskerk has spent most, though not all, taking silver and bronze medals behind Ranomi Kromowidjojo on sprint freestyle. Not this day. Gold was her's in 53.07 off a 25.67 split.
The silver went to Marie Wattel, of France, on 53.32 (27.34) and bronze to Britain's Anna Hopkin, on 53.43, off 27.87 in sixth at half-way, and closing in all the way home. Kromowidjojo was locked out ion the medals by 0.01sec after turning in 27.67.
P
L
Nation
Swimmer / DoB
R.T.
50m
Time
Gap
1
5
NED
HEEMSKERK Femke
(21 SEP 1987)
0.72
25.67
53.05
27.38
2
4
FRA
WATTEL Marie
(02 JUN 1997)
0.69
25.98
53.32
27.34
0.27
3
7
GBR
HOPKIN Anna
(24 APR 1996)
0.67
25.56
53.43
27.87
0.38
4
3
NED
KROMOWIDJOJO Ranomi
(20 AUG 1990)
0.68
25.75
53.44
27.69
0.39
5
1
GBR
ANDERSON Freya
(04 MAR 2001)
0.72
25.83
53.56
27.73
0.51
6
2
DEN
BRO Signe
(05 MAR 1999)
0.72
26.14
53.69
27.55
0.64
7
6
CZE
SEEMANOVA Barbora
(01 APR 2000)
0.62
25.72
53.74
28.02
0.69
8
8
SWE
COLEMAN Michelle
(31 OCT 1993)
0.68
25.89
54.15
28.26
1.10
Men's 800m free: Romanchuk At The Double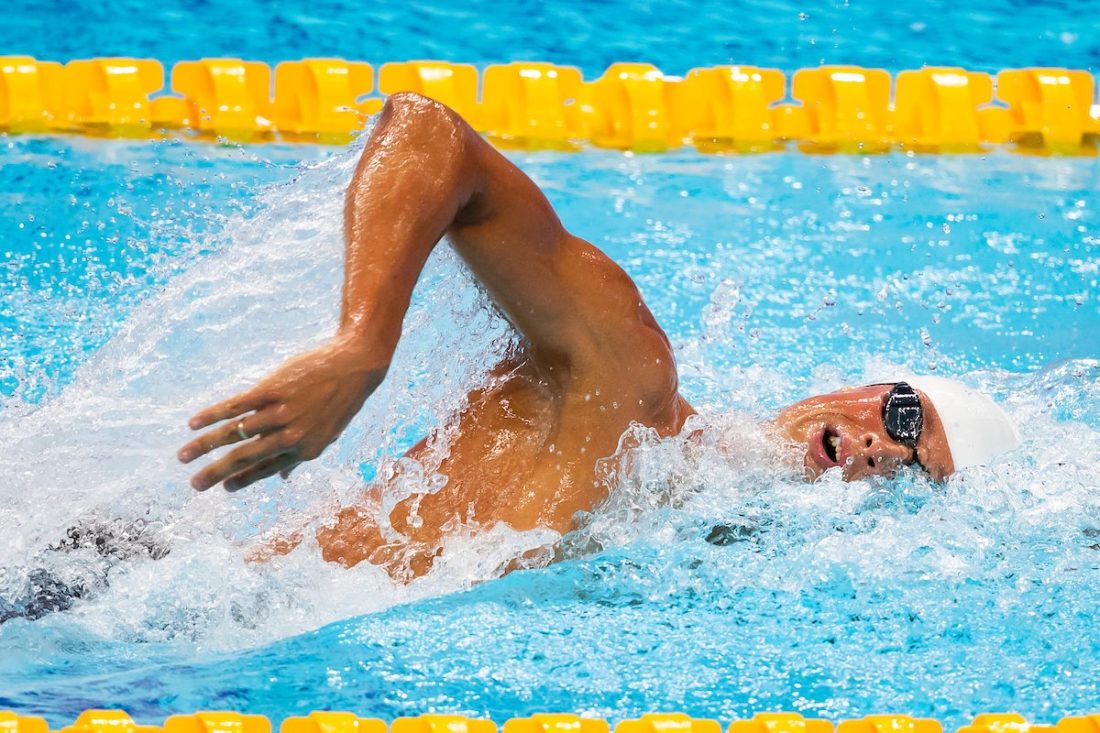 Mykhailo Romanchuk claimed the distance double with a 7:42.61 victory over 800m freestyle to add to his 1500m victory earlier in the week and his triumph over 800m at World titles in 2019.
The European titleholder Gregorio Paltrinieri led an Italian 2-3 podium finish on 7:43.62, to Gabriele Detti's 7:46.10, Norwegian charge Henrik Christiansen close on 7:47.99.
Paltrinieri set the pace all the way until the approach to the last turn, when Romanchuk, two lanes over in 4, to then Italian's 6, with Detti in 3 and Christiansen in 5, took the lead for the first time.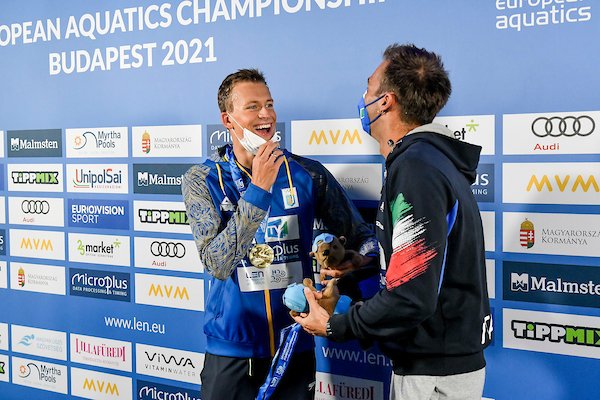 Romanchuk will now head to the Tokyo Olympics as a favourite for the inaugural men's 800m title and a contender for the 1500m title that Paltrinieri will defend without having swum 16,250m of open water battles the week before. In Budapest, Paltrinieri claimed gold in the 5km, 10km and 5km team event with Italian mates. In Tokyo, the marathon will be held in the week after the pool battles are done.
The rest of the Budapest 800 final today:
Anton Ipsen DEN 7:52.07
Jose Paulo Lopes POR 7:52.68
Joris Bouchaut FRA 7:52.85
Sergiy Frolov UKR 7:56.12
Tokyo Olympic Qualification Times