Adam Peaty & Kristof Milak Prepare To Make Their Way Back From Mental-Health Lows In World-Cup Race Tests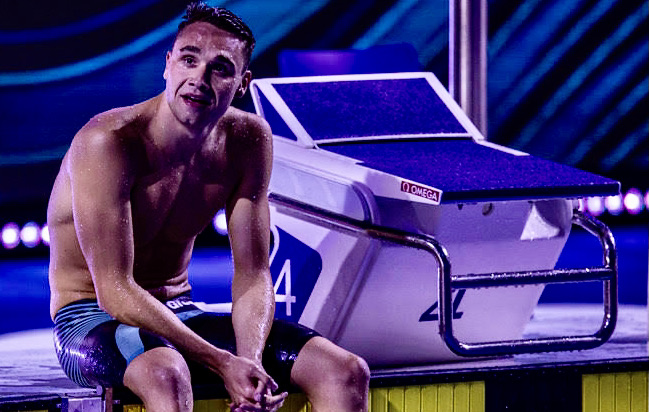 Olympic champions and World record holders Adam Peaty and Kristof Milak are set to make their return to international racing at the World Cup series in Europe this autumn after they, along with American ace Caeleb Dressel, bypassed the 2023 World Championships in Fukuoka in favour of time out for recovery and rehabilitation from mental-health stress.
The World Aquatics announcement on the upcoming World Cups
Peaty, the British 100m breaststroke giant, is confirmed for the series of three-day short-course meets in Berlin, Athens and Budapest from October, while sources close to Milak have told SOS that the Hungarian butterfly king will speak to his coach in the coming week to make a final decision on whether to race on the Cup and if so what events to restrict himself to. There is a chance he will race the 50m dash events but leave his key Olympic events in the training pool for now.
Contracts for Cup participation were signed back in spring. Circumstances change and who is actually in shape to show up comes down to the day.
"Adam Peaty: I've been on a self-destructive spiral"
Peaty revealed in an exclusive in The Times in April how he had been on a "self-destruct" spriral for a while in 2022 and early in 2023. The journals he's been writing, along with other healing practices, have helped lead him back to the better pathway the swimmer said was essential to him arriving at Paris 2024 in fighting form, physical and mental.
Peaty, Olympic 100m champion in 2016 and 2020ne, triple World champion in both the 50 and 100m breaststroke and a man who's 56.88sec World 100m record represents the most dominant 100m global standard on the record books, told this author for The Times that he intended to have fun in the 15 months leading up to Paris…
"… because I don't want to get to a place where I regret or hate where I'm at — or even worse. The physical preparation goes on so my body will be ready to fight again when my heart and mind have caught up. I'll be ready when I need to be ready. What the future looks like, I don't know, but I have a smile on my face at last. I'm courageous and resilient and will face the challenge that I need to face."

Adam Peaty – Photo: screenshot of The Times exclusive in March
Peaty effectively withdrew from the World Championships in that Times interview but a formal announcement came later, not long before Milak let it be known that he, too, would not be in Fukuoka because he had reached a mental "rock-bottom", saying: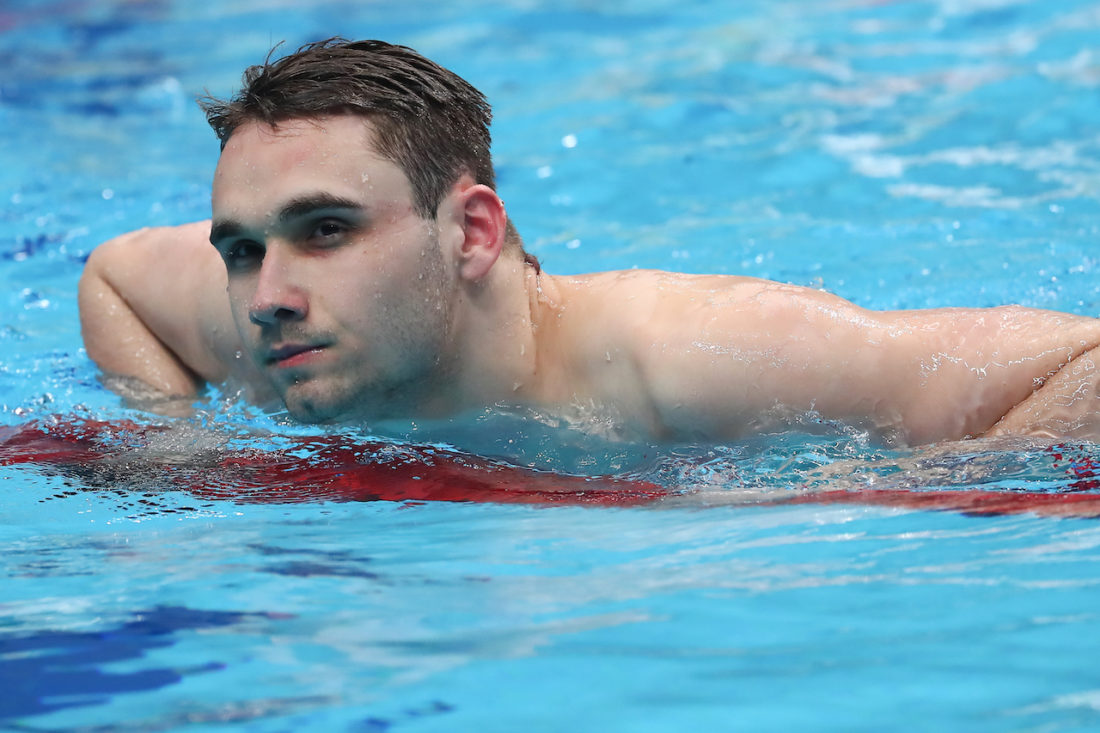 Now I've hit the rock-bottom, but I have to emphasise that this does not come with any worries from my side. I've accepted this, and I honestly hope that everyone else can also do that. To see that any athlete can face a period like this in his career, when you need to step back, recharge the batteries in order to be ready for the next challenges.

Kristóf Milak racing in Budapest at nationals (Courtesy – Hungarian Swimming Federation)
Now, Peaty and Milak, Olympic gold medallists and prospects for more soaring success yet, are making their way back to the racing lanes of their trade. Some of our coverage of the down-side of high-performance sport and the pressures it brings to bear:
Adam Peaty – "I've Been On Self-Destructive Spiral … By Saying It, I Can Start To Find The Answers"
Kristóf Milak Out Of Fukuoka World Titles To "Recharge Batteries At Rockbottom" A Year To The Day Since Budapest WR
Dressel 49.4 & Out Of 100 Free Contention As Latest Big-Name Blues Marks Start Of U.S. Nationals
Sjostrom & Le Clos, Ceccon In A Line-Up Of Stars Heading For Cup Racing
Olympic and World Champions Sarah Sjostrom, Chad Le Clos and Thomas Ceccon, are also along athletes racing for a total prize purse of US$1.2 million, before factoring in for bonuses, on the World Cup tour.