Adam Peaty, His Partner, Her Pregnancy, The Equilibrium & Racial Equality They Expect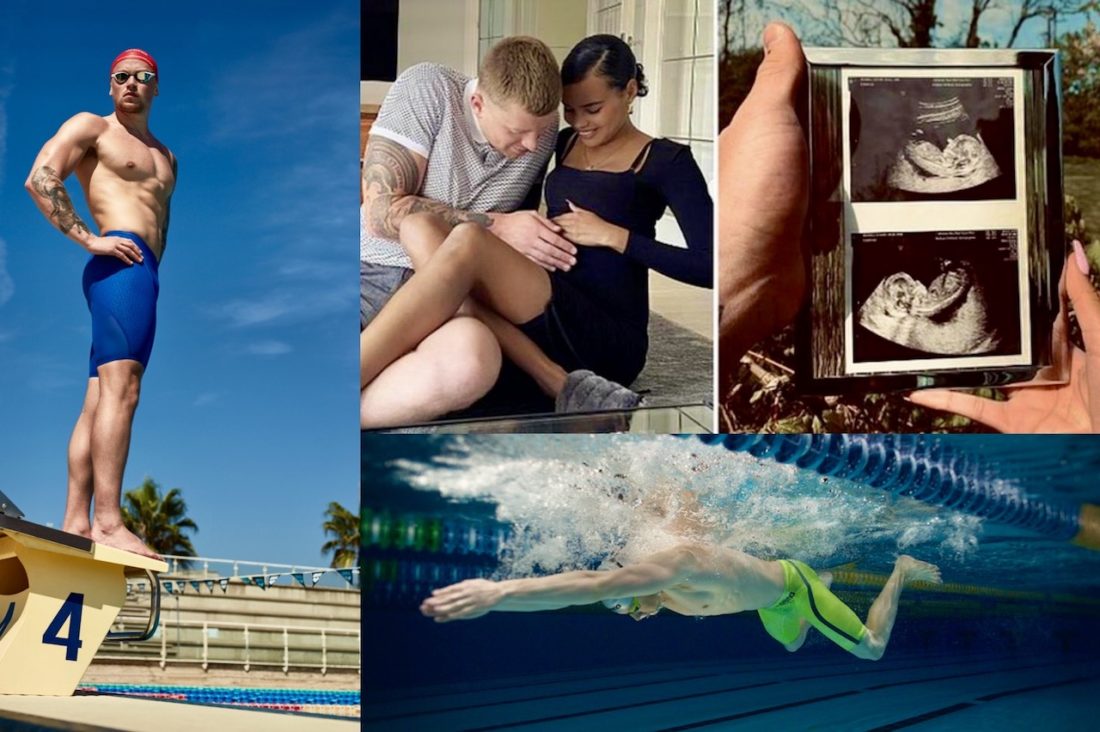 Some of the best humour relies on timing and flying closest to the truth. In that sense, coach Mel Marshall hit the jackpot when Adam Peaty asked if he could have a chat on training camp in Australia back in January and she replied: "You've not gone and got someone pregnant have you?"
"No!," said Peaty, followed by the truth, he tells Swimming World:
"Well, yes, I was gonna tell you in about 10 minutes but you've got there before me."
They'd just set out on a walk at Peaty's behest. Marshall isn't known for messing about and having nailed the reason for her charge's concerned demeanour, she was already working out a plan in her own mind: in no way was the happy news going to spoil the other happy news they'd been working so hard on for so long: his prospects at Tokyo 2020.
Having clocked a World record of 56.88sec last year to achieve the 'Project 56' goal Peaty pinned to his mast on the very day he claimed Olympic gold over 100m breaststroke at Rio 2016, the goal at Tokyo 2020 was set: he aimed to become the first British swimmer in history to retain a solo Olympic swimming title in a four-year cycle. Part of a longer-term "Project Immortality".
That four-year cycle distinction was required because Henry Taylor retained the 1500m freestyle title at London 1908 if you count – which the International Olympic Committee (IOC) does not – the 'Intercalated Games' of Athens 1906. The postponement of Tokyo 2020 will require further adjustment to the tweak of descriptions.
Marshall was concerned by the happy news but it was a case of steady as she goes, she and Peaty revealed. After all, the baby who Peaty, 25, are due to welcome to the world with his partner Eiri (Eirianedd) Munro, 22, in September, would be something to celebrate after the job of the pioneering pacesetter was done and dusted in Tokyo.
COVID-19 and an Olympic delayed by a year was news ahead of them, along with plans to avert sleepless nights, nappies, feeding bottles, burps and daytime nodding to catch up shut-eye. There was other news to come, too: the death of George Floyd under the knee of a policeman now on a murder charge in events that sparked protests in the United States and well beyond it across the world.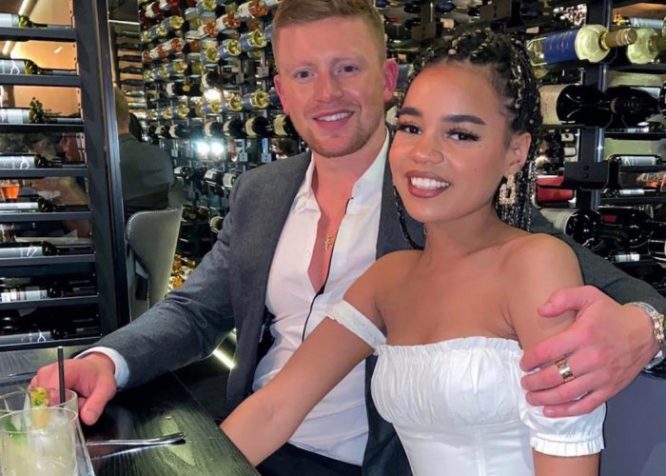 The message behind the Black Lives Matter Movement matters to Peaty. Eiri is of Nigerian descent, their baby boy will have white British and black Nigerian grandparents. Peaty told BBC breakfast television today:
"My son will be mixed race. I want him to be judged on his achievements, not his skin colour. Swimming is a very white-based sport because culturally we don't really reach out to those communities to get them involved. I want to start to create that positive environment for people where no matter what race, what age or background they can be part of it."
It was that painting that Caroline Peaty, the swimmer's mother, had wanted to paint when she tweeted "All Lives Matter", no slight on BLM intended, just a wish for equality for all.
Peaty understands the BLM campaign and asks in the context of the sport in which he excels: "How many black swimmers can you think of?"
Good question, one the media in Britain consistently get wrong, despite the extremely low numbers to choose from. Two mainstream outlets in the past two weeks have described Alice Dearing, one of Britain's open water team and currently the only funded black swimmer in the elite program, as a hopeful aiming to become the first black swimmer to race at the Olympic Games for Britain.
If Dearing makes the cut for Tokyo 2020 in 2021, she would become the third black swimmer, after Kevin Burns (1976) and the late Paul Marshall (1980, bronze medallist in the 4x100m medley relay before a career serving his country in the RAF), to race for Britain at the Games. Dearing would be the first black woman in the pool for Britain at the Games and the second woman to race for Britain at any senior event after Achieng Ajulu-Bushell, of Kenyan and British heritage.
Ajulu-Bushell raced for Kenya at the 2008 World Junior Championships in Mexico and the senior 2009 World Championships in Rome before switching to Britain in early 2010, news of that move broken in The Times by this author in April 2010.
That year, she raced at the European Championships as the first black woman to wear Great Britain colours and the Commonwealth Games for England.
Ajulu-Bushell was coached by Jon Rudd, mentor to Olympic 100m breaststroke champion Ruta Meilutyte, of Lithuania, at the multinational Plymouth College and associated Leander Swimming Club. Come 2012, Ajulu-Bushell opted out of swimming, missed Olympic trials and set her sights on academic achievement. In October 2012, she took up a place to read Fine Art and Philosophy at Brasenose College, Oxford.
Given that she was the first, the media, among others, might have remembered. Says Peaty: "That needs to change". Dearing, as a founder member of the Black Swimming Association, is working to that end with 'Ed Accura', maker of "A Film Called Blacks Can't Swim", out on general release last Friday, and others.
The world is 44 years beyond the moment Enith Brigitha, of The Netherlands, claimed bronze in the 100m freestyle at the 1976 Olympic Games in Montreal. There was a second bronze, over 200m freestyle but the achievement might well have been far more pronounced and significant to swimming history still, had it not been for the presence of East Germany swimmers racing as underage victims of abuse by doctors and coaches who had fed them steroids since they were 13 and 14 years old under the State Plan 14:25 systematic doping program.
The moment when swimming might have had its first black Olympic champion was put off until 1988, when Anthony Nesty of Surinam claimed the 100m butterfly crown in Seoul. Twenty eight years later, at Rio 2016, Simone Manuel's tie for gold with Canadian Penny Oleksiak in the 100m freestyle made her the first black Olympic swimming champion among women.
One of Adam Peaty's swim mates if Michael Gunning, who raced for Great Britain before switching to Jamaica. Gunning is based in Britain and, as Peaty notes, is often mistaken for a runner because, says Peaty "athletics is full of black stars".
Swimming, says Peaty today, needs to "identify a way to reach out to more communities, attract the nine-to-12-year-olds and give them the opportunity to progress. Then it'll be a level playing field for everyone and it'll really be down to who's the fastest will make it."
The New Normal For Adam Peaty & Eiri Munro
Going back to that chat with Marshall, Adam Peaty tells me: "Well, we're in Australia at training camp, and I go to her and say 'can we have a chat?' And she goes 'oh, you never asked me that in such a serious way before … I'm always open and honest with Mel but I knew we had to just get away, go for a walk and just chat about it. Anyway she turns to me and says like a joke …". Nervous laughter ripples from Peaty before he makes the memory complete: "You've not got someone pregnant have you? I go, 'no!'."
"I wasn't ready but I had to tell her and said 'I was going to tell you ten minutes later … but yes. She was obviously kind of worried and I knew that straight away because we've been together for a long time, as you know. She was worried like anyone would be. My mum, my parents were worried. Her [Eiri's] parents were worried. I'd been phoning her every couple of days and then she said she wasn't feeling too well. She took a pregnancy test and said 'I'll call you back'. The result changed everything but it's been amazing, really special."
Peaty was unhappy with the happy new being run by a national newspaper without the couple even having been approached for comment. He was ruffled, too, by suggestions that the pregnancy, so soon after the couple had met last November, had been an accident. Last month, he said: "That just wasn't the case. It's one of the most beautiful things that could have happened to us."
He adds: "I'm 25 years old and I'm more than capable of making my own decisions and knowing my own mind. We were happy. Mel was happy for us and happy to see me grow.
"Once you have that potential, once you know you're going to be a father, it changes everything. I think to me everything I do now will be something that my son or child or children will look up for, look up to me as a role model. So I don't want to be doing anything that's well … sometimes I've done stuff that I don't really care about but now it is a case of do I want my daughter or my son to see me doing this, am I being a good role model.

"Even though I've been aware that thousands of kids out there may be looking at me, it doesn't really hit home as strong until it's your own and you're the role model for them."
Peaty and Munro started their life together on the cusp of COVID-19 lockdown. The weirdest start to a relationship and living together, perhaps, though possibly a helpful start, too, in that you have to get on with it? Says Peaty:
"Yeah. It's inevitable. It's been a terrible time for a lot of people, for those who died and their families and the hard times for those working at the health emergency every single day. But for us, it's been a great time to kind to get to properly know each other better. You can date people once or twice a week for two years and not really know who they are because you both put up your barriers a bit but being in a house together non-stop for seven weeks, you haven't got time for yourself really; you haven't got those places to hide. It's great really and it's shown us that we are a very good team."
Marshall's Home Team Mission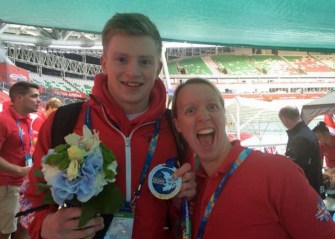 This morning he told the BBC that the nursery is already "sorted".
Other plans were in place even earlier: Coach Marshall was thinking on her feet the moment her joke proved to be the best guess of the day back in Australia. "Home Team" was the result. Asked about the risk of sleepless nights, Marshall said:
"We're going to be working on building a 'Home Team' and building patches of time into the schedule for the next year that makes sure Adam gets what he needs, including sleep, and the baby and the girlfriend are supported with their needs too. I think we could make this very special for everyone. We need to be the best we've ever been in a new and challenging landscape. Emotionally, this is going to be the best thing that ever happened to Adam."
Yes, there would be some sleepless nights, says Adam Peaty but he's ready for the next leg of a journey of growth and maturity, armed with an understanding of the importance of equilibrium:
"Being a dad will make me stronger and it'll be amazing to stand on those blocks at the Olympics knowing every time I race have [my son and family] behind me. We've spoken about the equilibrium I've been working on. This extends that in a way."
Nine world records, titles Olympic, World, European and Commonwealth in the pantheon of one of the most outstanding pace pioneers of the pool in history, Adam Peaty felt like a man in need of motivation in 2018. Focus on Project 56 and the "pursuit of perfection" swept him deeper into the history books as a pioneer of pace and record title counts on the slowest of strokes he has now made faster than Weissmuller on freestyle and as fast as Matthes on backstroke.
To Tokyo next year he will carry a new motivational weapon – fatherhood – without dropping all those he collected along the way before that. Adam Peaty appreciates that his challenge presents another for his partner and mother-to-be. Eiri Munro:
"I'm trying to target something spectacular and in that sense, you can't expect those goals and what I have to do to achieve them to be compatible with anything others are doing – but she understands: I want to be great. I need to be great to keep me happy and, you know, this is not about striving for perfection but striving every single day for a common goal. I think that kind of binds people together and I know that's what we're doing in our routine right now."
Fatherhood has brought the edge Peaty was looking for. With a nod to the trophies and tallies in his Pantheon, he says: "Sometimes when I race, I don't really have a true motivation in a sense. Before Olympic gold, I was truly motivated to become Olympic champion. If the Olympics had been this summer, I would have gone in with a true motivation of becoming the first British person to defend a (solo swimming) title." He pauses, reflects and reaches for instinct and nature as a purer form of motivating:
"I think the most real kind of motivation is something that you don't even have to think about. It's something that's always there, deep in you. Knowing a child is there will help me train hard, work harder than ever. I think that would be a blessing for them and be a blessing for me."
Some social media comments have suggested Peaty's new circumstance will be a weakness, a distraction. Peaty thinks – nay, knows – otherwise:
"Look at some of the greatest sports people in the world. They always perform better, you know, when the families are there watching. Look at the Pro tennis players: they have a family and the family travels around the world with them. So, we'll make it work in our favour and, you know, me and my mindset is about 'I can do anything I put my mind to'."
He acknowledges that it may not be all plain sailing and there will be tough challenges along the way. That's life. "Yes, it will be hard, sometimes, but that's our job now not just my job. It's her job, obviously. You know, we'll probably need some help, too. Part of my job is to sleep really well and recover. It's about understanding the common goal in that sense."
I ask him to describe what Adam Peaty was like as a little boy. He smiles, the inner child shining through for a moment, and says:
"I think it's quite a nice kid, 'cos my mum always goes 'where did that nice lad go?"
The laughter is not child-like. Peaty asks the next question of himself. "I'm a bit ruthless sometimes. Especially in my teenage years, I was a little bit adolescent and didn't really like doing what I was told. I kind of learned my discipline through Mel, from swimming. Sport was a good thing for me."
Adam Peaty learned his own lessons in that sense. Will that be how he approaches being a dad? he looks to a moment where there's more than the one on the way and says:
"I want them to grow up themselves but I want to bring some wisdom, too. I want to be there for them but at the same time I want them to kind of learn about the world and not kind of bubble wrap them."
For a number of reasons, you imagine at that point his parents and his coach nodding sagely behind the curtains.