Adam Peaty, From Crisis To Quest: Into The Light Of Self-Discovery, No Need To Prove His Worth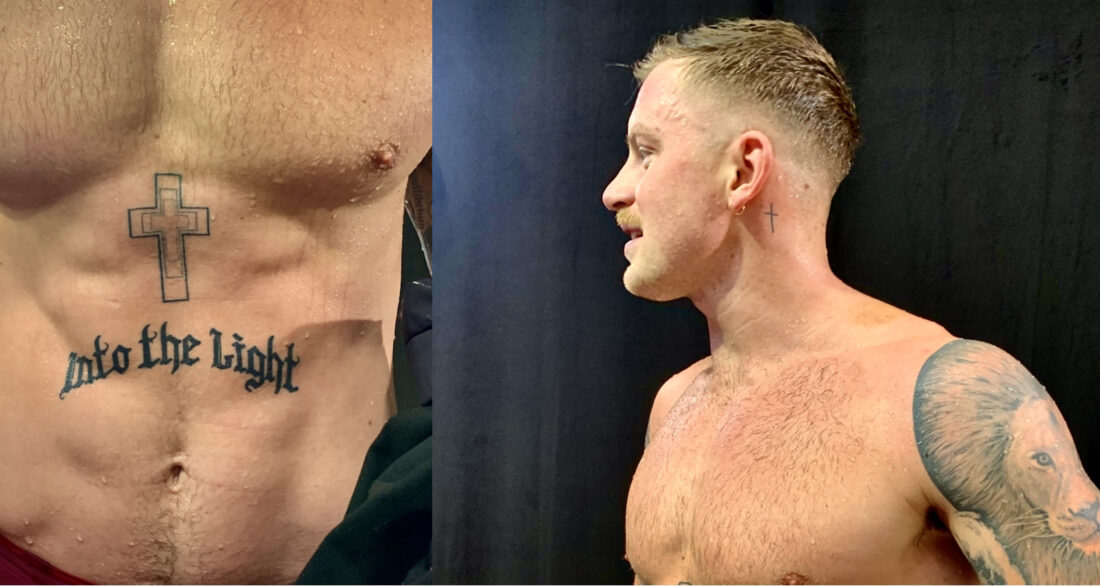 Crisis To Quest: Part 2 – Adam Peaty bares his soul on his torso. A cross and the words "Into The Light" are tattooed on his midriff to mark a new mission, a personal Road to Damascus in search of salvation from dark days, in swimming and life.
In Part 1 of SOS's two-part feature "Adam Peaty, Crisis to Quest", we marked World Mental Health Day by recalling The Times exclusive in April this year, when the Olympic champion of 2016 and 2020ne talked to me about about the events that had led him on a "self-destructive spiral". Six months on and Peaty's world is looking brighter, he tells The Times today.
Part 2 of the SOS special dives into what went wrong and what is going right when it comes to the British ace's voyage of self-discovery and the nature of the quest he's signed up to with coach Mel Marshall and the fellowship of experts helping Peaty be the best version of a great swimmer he can possible be come the Paris 2024 Olympic Games.
Part 2: Adam Peaty – Into The Light
Adam Peaty bares his soul on his torso. A cross and the words "Into The Light" are tattooed on his midriff to mark a new mission, a personal Road to Damascus in search of salvation from dark days, in swimming and life.
It's something of a miracle that Britain's greatest swimmer made his return to racing at the World Cup last weekend. Just eight months ago, he suffered a breakdown and withdrew from his squad at Loughborough and the World Championships.
Peaty's passion had driven him to drink and the depths of despair. After winning three Olympic, eight world and 15 European titles over eight years, the losses came pouring in throughout 2022: his feel for water was washed away in a long post-Olympic break from the pool, a broken foot ruled him out of the World Championships, led to defeat at a home Commonwealths and a loss of confidence. And then his partnership and home life fell apart.
The 28-year-old told The Times in April that he'd been "on a self-destructive spiral" to escape the "incredibly lonely journey" at the top of his sport. He had a "devil on his shoulder telling him 'I'm missing out on life'". He had come to "hate the thing I love", swimming.
By then, Peaty had had an epiphany. Taking a now-treasured tip from Australian sprint freestyle king Kyle Chalmers, he contacted Dr. Ashley Null. Not long afterm the Olympic champion walked into his local church for the first time with the Olympic chaplain who's mission includes the pastoral care of athletes.
"In my youth, I didn't have a sense of needing a guide, a higher voice, but I started to go to church in February because it felt like the missing part of the puzzle," says Peaty in a Berlin bar on the 14th floor of a hotel as the sun sets to the sound of chill beats and the chink of cocktail shakers.
You could be forgiven for not knowing Peaty from Adam. Back in February, when he couldn't complete a length of the pool without sobbing and feeling "stretched in every direction", he'd have been only too happy to drown his sorrows in a Dry Martini, shaken not stirred, while overlooking the 11km Landsberger Allee, Berlin's longest road.
It's the longest climb Peaty has in mind: back to Olympic Heights by July next year but this time using a radically different mind map for what would be his third Games at the age of 29. If the body is a cage, it is not just the mind that holds the key but the spirit, says Peaty.
"I see it as a triangle. You have your spiritual up top, your mental and your physical side. I've been working down here for a long time: physically, mentally. I never acknowledged the spiritual side."
He's been attending church on Sunday "since February, when I walked into my first service with Ashley". Peaty pauses, fills his vast lungs before the relief billows from him as he says: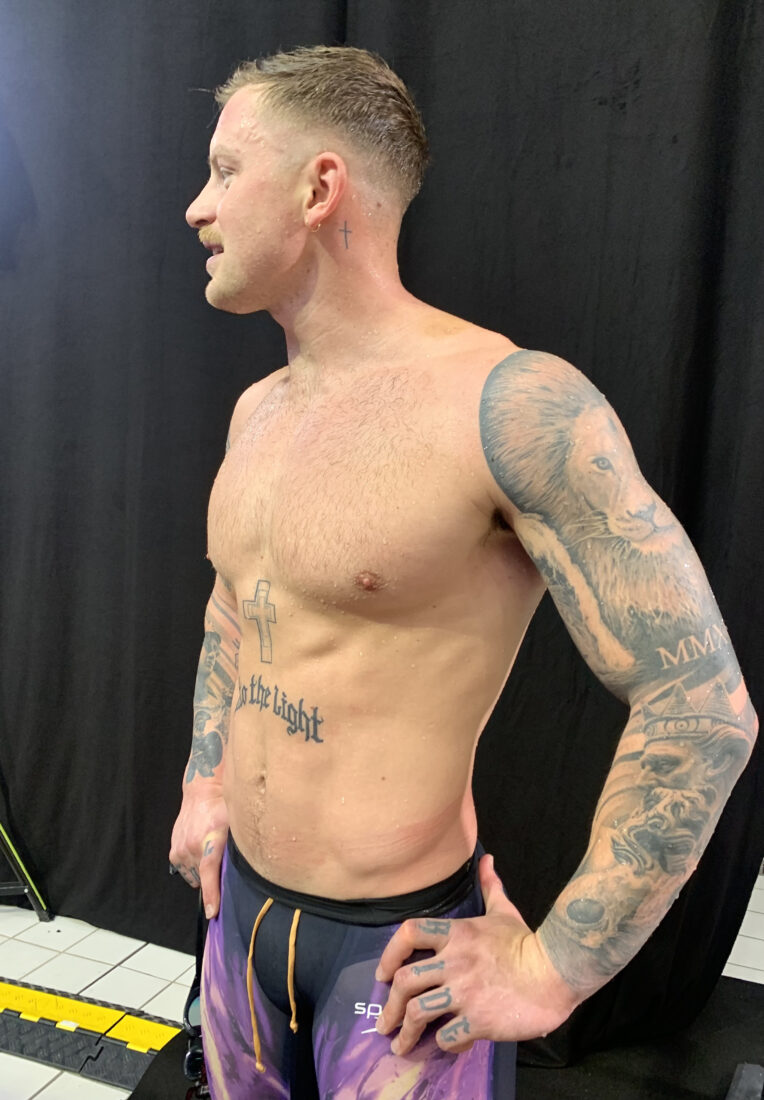 "… It gives me goosebumps just thinking about it because I went in there and the sermon was all about the Olympic torch passing the building [in 2012] and about athletes and percentages of how they work.

"I'd gone in there pretty much with my hood up, it was all pretty scary to me, but then that happened and the community was just so welcoming. I felt a huge sense of peace, calmness, grounding and perspective, belonging even. It felt like I was home, in a place where people understand there's a higher level to this very superficial world".

Adam Peaty – photo, in Berlin, October 2023, by Craig Lord
In the infancy of his theological journey, Peaty wonders about what's been lost and gained on humanity's spiritual journey dating back thousands of years. "People will talk about 'God and religion' in very specific ways but exploring my spiritual side is much wider than that."
The big church of meaning and purpose in life is what Peaty's talking about. He realises spirituality means a great many things to many people. When wondering where Peaty is going on his spiritual journey, think less of the white-bearded man on a cloud and more of whispers from the universe.
As Albert Einstein put when declaring his belief in Spinoza's God: "We see a universe marvellously arranged, obeying certain laws, but we understand the laws only dimly. Our limited minds cannot grasp the mysterious force that sways the constellations. I am fascinated by Spinoza's Pantheism. I admire even more his contributions to modern thought. Spinoza is the greatest of modern philosophers, because he is the first philosopher who deals with the soul and the body as one, not as two separate things." (From an interview published in George Sylvester Viereck's book Glimpses of the Great – 1930).
In prayer with Null that dark day in February, Peaty had simpler things than dark matter on his mind. He had no idea how to fall back in love with swimming, how to find meaning and purpose in a stacked pantheon that can always have another shelf awaiting a trophy if you really want it. What happens when motivation wanes after a decade as No1 and 18 years of daily training to get there and stay there?
In his work with the Fullbright theologian, Peaty came across words spoken by Bob Marley two days after he'd been shot during political tensions in Jamaica in 1976: "The people who are trying to make this world worse aren't taking a day off. How can I?"
Which is how Peaty came to answer the question Mel Marshall, his coach at Loughborough, had posed with a simple: "I'm in – all in!".
"I told him that it can't be about whether or not he was going to swim at an Olympics again," says Marshall. "It was about 'what do you want?' And if you don't want to do this, it's not a problem, but if you do, we're also all still here for you, either way."
She reminded Peaty of the stirring note she sent to him after his first Olympic golds at the Rio 2016 Games. It read: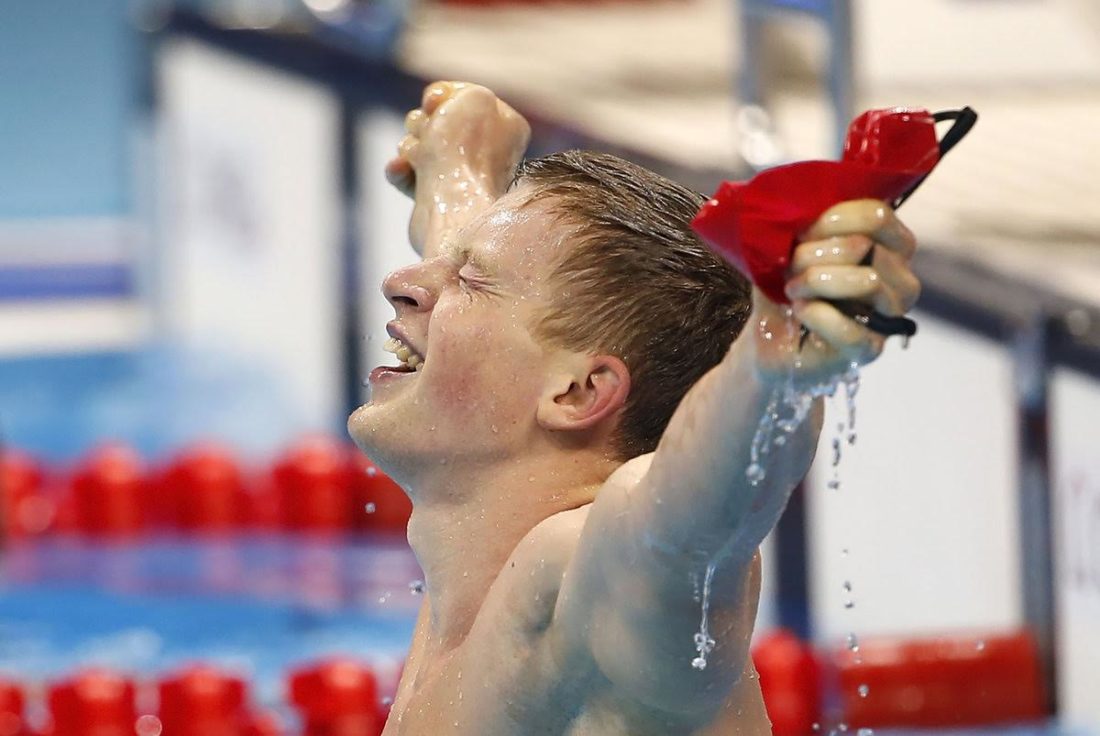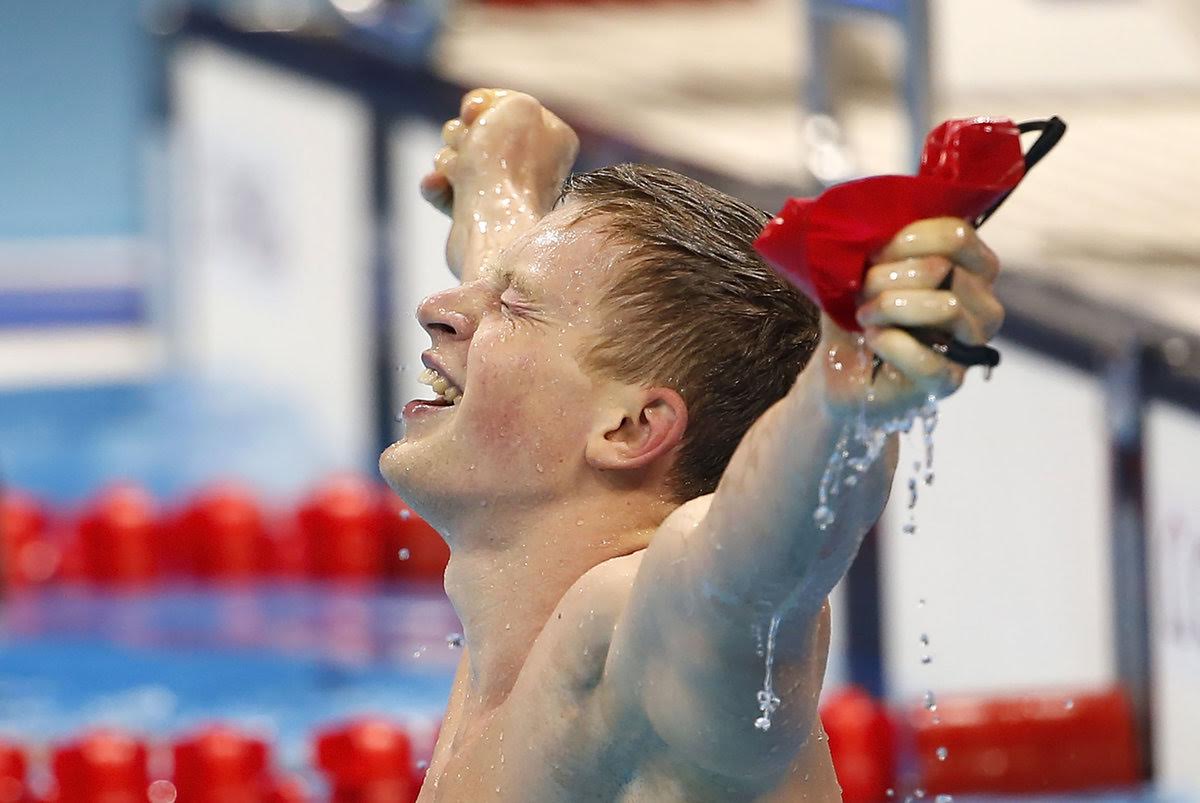 "As the sun sets on the history you have made, enjoy every second. Breath it in and know it's yours forever. I have seen many from this point loose sight of who they are through success. Promise me one thing … Stay true to who you are… Continue to be a son your mum will be proud of, a friend your friends can rely on and a role model for the sport we are lucky to work at the highest level in. You have the potential to do great things in this world beyond the norm and you can potentially shape great change. I am so proud of all you have achieved. This moment will live with me as one of the most special moments of my life. I thank you for being all that I ask and doing the challenges set with your greatest effort. It's been an honour! Well done, Olympic champ."

Mel Marshall to Adam Peaty after Rio 2016 Olympic Gold in the 100m breaststroke – image: Peaty celebrates in Rio, by Patrick B. Kraemer/Magic PBK
Peaty had only just accepted the truth of "know it's yours forever" when he spoke to The Times in April, and was working on ridding himself of what Dr. Null described as a "profoundly unhealthy" feeling of having 'to prove my worth and value'.
"If your value is determined by performance you never know whether today you can like yourself or hate yourself and shame yourself to try to get back to a safe place of winning" – Dr. Ashley Null
A Yale scholar who took his doctorate at Cambridge University and is now based at Berlin's Humboldt University and a regular visitor to his mission in London, Dr. Null has won awards for his work on Thomas Cranmer, a leader of the English Reformation and Archbishop of Canterbury during the reigns of Henry VIII, Edward VI and Mary I.
An "Olympic Chaplain" at the past five Olympic Games offering ministry and perspective through theology, Dr. Null summed up one of his key messages in a chat with Christians in Sport when he said: "The first thing you do is to recognise there are two reasons to compete. One is healthy, the other profoundly unhealthy. The healthy way is to recognise that competition is a really great way of self-discovery …".
The dark side of that moon is "when an athlete sets out 'to prove my worth and value'.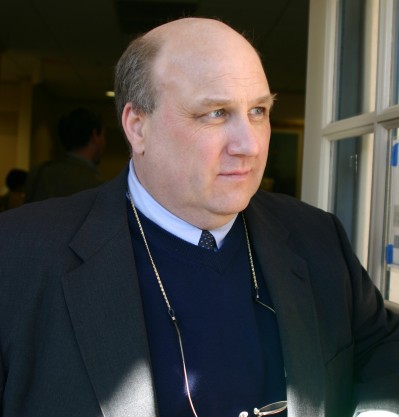 "That's profoundly unhealthy because if you get on the hamster wheel of having to prove you're worth being loved, you're worth being invested in, you're worth having a relationship work, then you never get off that wheel … you're constantly putting your performance on the line and if your value is determined by performance you never know whether today you can like yourself or hate yourself and shame yourself to try to get back to a safe place of winning."

Dr. Ashley Null
Peaty, who met the theologian in Berlin last Sunday as the rest of the Cup touring teams raced up and down the pool on the final day of action, said: "So much of what he says brings great perspective and answers to a lot of my problems. I don't think anything can match the peace and calmness I've got from it and the way he interacts with people. I've found a lot more balance in my life, more calmness, more peace and more joy every day."
"I've been given a new opportunity," says Peaty. "As I said to Mel, I'm not too fussed about gold, silver, bronze, world record. I've done all that, I've achieved all that but this is more of a personal journey, more of a vendetta against my old self."
Marshall is not a church-goer but believes in the power of Null's words of wisdom. "The key messages … are really educational and centring for him." Meanwhile, her role is the physical and mental.
As an interim measure back in February, she sent Peaty back to his roots at Repton School pool, where he cut his swimming teeth at Derby Swimming Club in his youth, and other "places where he could be in a little ball, just him because he wanted a bit of peace and quiet away from the high-performance hub, go more slowly, go for lots of walks, decompress."
Rehabilitation continued In Spain working with Ben Titley, the man who coached Marshall during her international career.
Team Peaty & Project Re-Contracting
When Peaty sent back word that he was "all in", Marshall set about building Project Re-Contracting. There had been no moment where Peaty and his entourage had sat down as a unit and asked: what next? Says Marshall: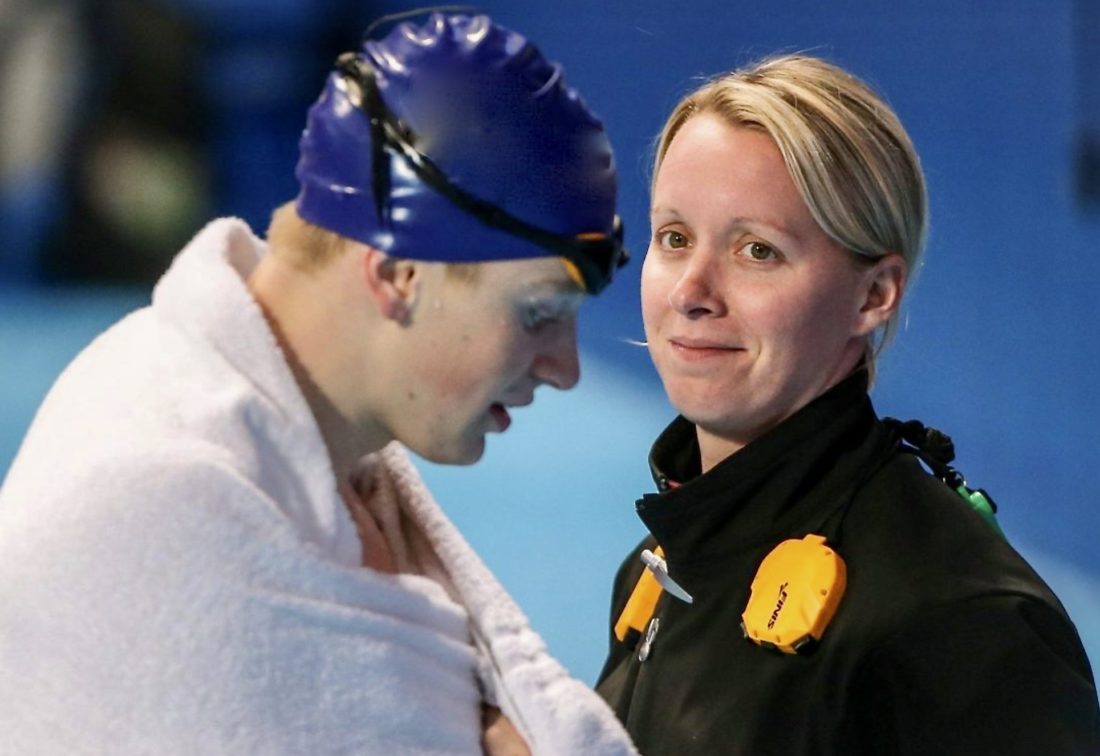 "Looking back, Adam hadn't been himself and then jumped back on the wheel too quickly before he'd filled his emotional cup after the Covid pandemic. Moving into a new house, a partner, a baby — at a time of lockdown. Then the Olympics, then the book he wrote, then Strictly Come Dancing, then straight back into training. A spiral of events that just filled his psychological and physical cup to overflow. There was no re-contracting. No, 'Do you want to do it again?'? It was all just a bit too much … people forget but he and his partner (Eiri Munro] had a baby in lockdown? He had an Olympics to win. They had a new house. They were locked in the house the whole time and I think it was all too much stress all at once.

"He has a good heart, and he almost had to live through all this because he's his own man and he's growing up. I think that it just came to a head and that that re-contracting moment had never happened: do I or don't I want to do what I'm doing? There had never been any space beyond Tokyo to ask that question: do I want to suffer again, try again. And that's what happened in February. He had no answer."

Mel Marshall – Image Mel Marshall with her charge Adam Peaty – courtesy of MM
The coach adds: "Of course, he's got his faults, we all have, but I will always defend him, knowing him for as long as I have and knowing where he's come from. He's a good guy and people don't realise what comes with the success he's had. I'm not going to defend every thing he's done and decisions he's taken. That's not for me to do. He's a very competitive being and things can be difficult at times but in terms of what comes with that, it's very lonely, and way more lonely than the way up is staying up, that's the loneliest place."
She cites the AP Plus program in which he and a dedicated, expert team of work provide guidance and inspiration to young developers on their swimming, nutrition, strength and conditioning, parent support and, yes, psychology. "He doesn't just show his face, he spends time with them and is there from start to finish at those clinics and competitions," notes Marshall.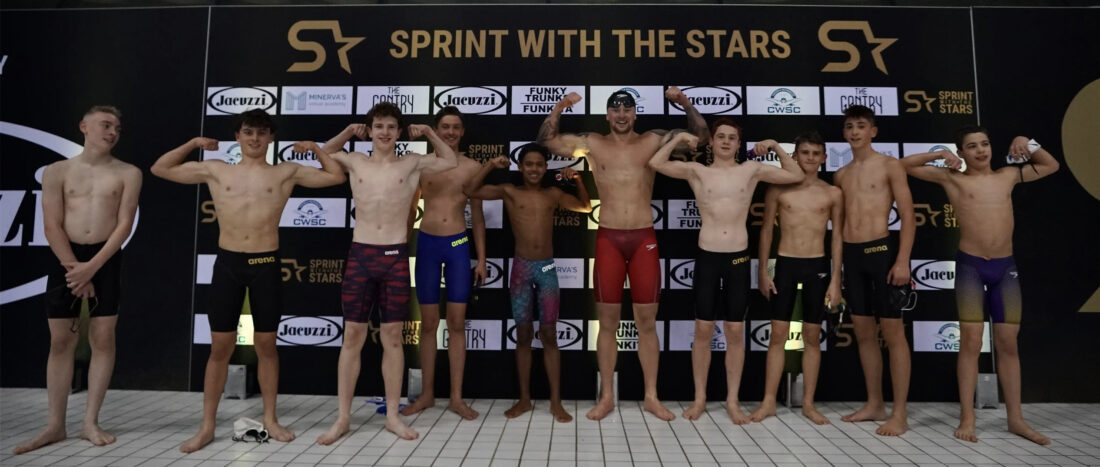 A related event Sprint With The Stars brings national teammates together with young children in handicap races where the kids get a head start and the superstars have to catch them up. The look on the faces of the children who get to the wall first – and even those who don't – is worth any gold medal. Inspiration for the next wave holds hands with the education underpinning the program and the Stars event.
And much of the preparation for those activities coincided with Covid and worlds colliding on several levels. Marshall notes that the five-year Olympic cycle dictated by the Covid pandemic "was very, very fatiguing … when I look at everything that's gone on for everybody, worldwide, that was in that bubble of five years of preparation and then that was twisted into the next, shortened three-year cycle, with a large amount of uncertainty around the calendar (where there would be a showcase World Championships twice in between Olympics, tone was scheduled every year between 2022 and 2025 as organisers catch up on lost contracts). I think everybody hit that wall."
Marshall has only just come to the point of "re-contracting" herself. She says: "I feel it myself … [in 2022] we went straight to World Championships, Commonwealth Games, European championships. It's only now that I feel like Covid is actually over. And secondly I've only just got to the point of re-contracting myself. Adam won't mind me saying this but in February he was in the showers in tears, saying 'I just don't know where I'm at'."
The Fellowship Of Peaty Power
Marshall describes the first baby steps on the road to recovery: "So, there were a lot of walks, a lot of talks, a lot of people to support him, and everybody supported him really well in terms of within British Swimming. I think we should be really proud of the package we put around him, the who's the how's, the everybody who brought care and a particular skill to the table. The doctor was fantastic, the head of sports science was fantastic, his family, friends, his team were fantastic.
It was never about whether or not he was going to swim at a Games again. It was about 'what do you want?' And if you don't want to do this, it's not a problem, but if you if you do, we're also all still here for you, either way."
Project Re-Contracting brought Peaty's entourage – including agent Rob Woodhouse, Dr Kate Jordan, Matt Ashman and member of the AP Plus team Richard Chessor, both of British Swimming's Sports Science and Sports Medicine unit – together at Marshall's house for a barbecue and "a beautiful new map" of Peaty's pathway to the Paris 2024 Olympics emerged.
Steve Peters, the author of the mind management book The Chimp Paradox and a psychiatrist who has worked with other swimmers, cyclist Bradley Wiggins and the England football team, joined the line-up.
"We agreed to completely change it all," says Marshall. "We changed the camps, the competitions, the venues we'd visit; we re-contracted and we're going to give it a good go. We should all be proud of what we're working on. That's where it's at and it will be hard, It will be very difficult."
How Steep The Climb?
Berlin last weekend and more World Cup rounds in Athens and Budapest in the coming two weekends against an Olympic line-up of rivals, are early markers on the new map: the tour is an "information-gathering" exercise to judge how steep the climb will be and what can be achieved.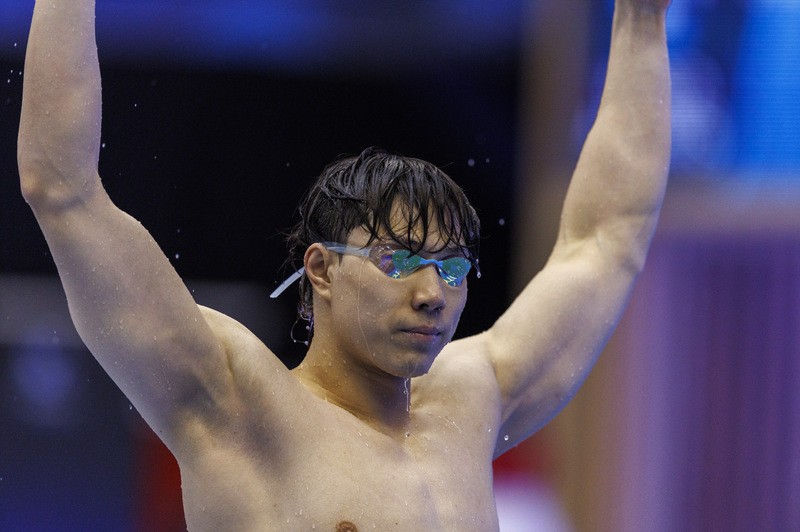 At his race comeback in Berlin, Peaty was up with the pace of all the best barring China's late bloomer and triple World champion this year, 24-year-old Qin Haiyang, who, on an Asian record of 57.69, is 0.81sec shy of- but the closest anyone has ever come to – Peaty's 56.88sec World 100m record from 2019.
After watching Qin set a Cup record in dash heats, Peaty tells me: "The more racing we do, the sharper I'll get, the easier it will feel … I'll start to feel like I'm doing breaststroke instead of 'spin-stroke'." At the same time, there's something much deeper, more profound, to it than that. Says the champion: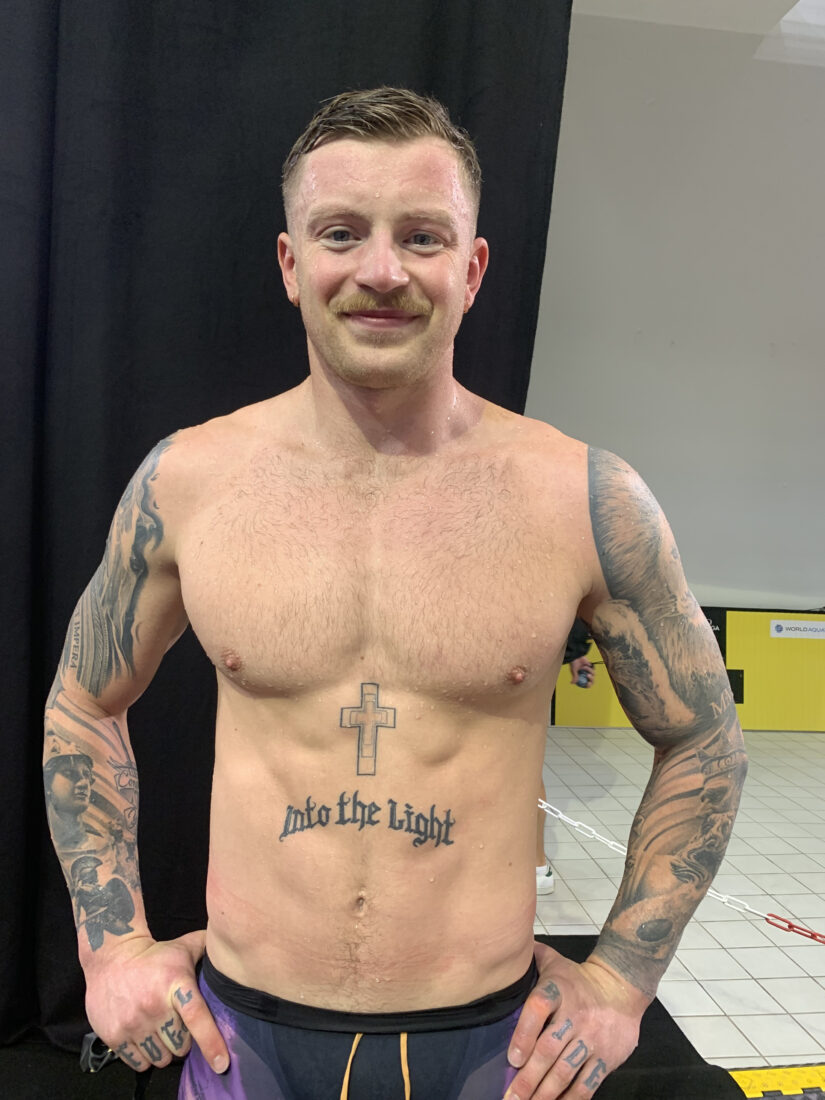 "I want to learn. I want to be a better person. I want to give more to the grassroots and provide more. It's liberating: this is the first time I've said to myself that if I go to the [next] Olympics and if I quantify my whole journey, my whole career – If I go another four years, [to Los Angeles 2028], who knows – this whole year of learning on a medal or a time, it doesn't matter what I achieve, I'd always see it as a defeat in my head."

Adam Peaty – photo by Craig Lord
With a nod to Qin, Marshall says she takes "an interest in everything that's going on out there" but adds that her focus is "all about Adam" on the eve of a third Olympic season: "This competition has surfaced and it means Adam now has the underdog status. That's that's a powerful place to be.
"We've reconstructed and I have to be 110% focused and determined to get Adam to be the best he can be. That also means that I plan to find the very best version of myself, too, so that I can be who I need to be.
"With the info from the Cup, we'll then be really aggressive going back into preparation in terms of what's needed. We're aware that it's all time critical to get back to a really well-prepared Adam. It's on. Credit to him for getting here. He didn't have to. He's really committed to the process .The quest for fun, the best prepared version of himself, has begun."
A fresh start down a new road, then. What's changed in her charge? Says Marshall, a former International and multiple medallist for Britain and England who lived through her own career roller-coaster: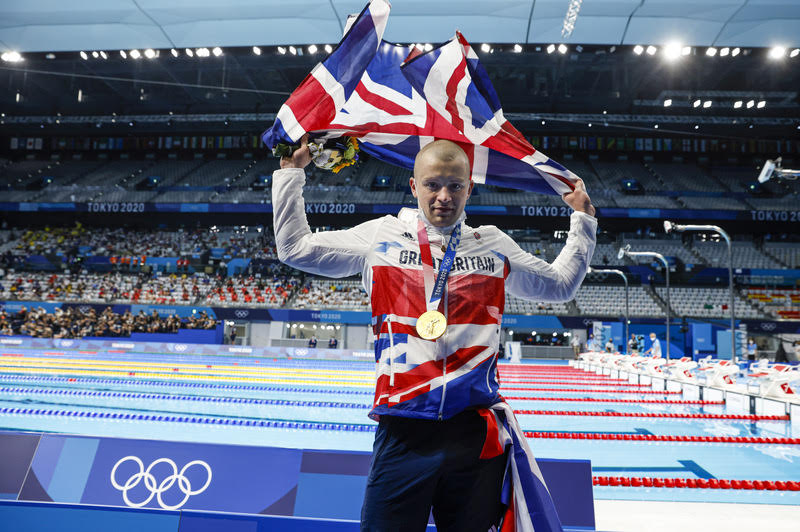 "He's still Adam Peaty but I see someone with a fresh look on it, someone who's been through something pretty significant, someone with new feet on the ground; I see someone who's thirsty to get better, who's keen and eager and thirsty to explore more about his performance, his technicalities, his training. I see a team of experts around him who are very, very passionate about every detail. That team is wicked and some very clever things are happening. We're in a tunnel to a new place."

Adam Peaty flies the flag – by Patrick B. Kraemer
Into the light.
Footnote:
I do not give permission for any other website to steal my work, as they did when The Times ran its exclusive in April. Citing the work of others in small measure is a welcome part of the work we do. Ripping off almost every quote and detail of an interview and feature is unethical, lacks integrity and breaks copyright law.
When It's "Increasingly Difficult For Serious Journalists To Cover" Sports
When It's "Increasingly Difficult For Serious Journalists" To Cover … Part II: Swimming
When It's "Increasingly Difficult For Serious Journalists" To Cover Sport … Part III: Trust