Adam Peaty, Crisis To Quest – Part 1 – Winter 2022 To Spring 2023: My Self-Destructive Spiral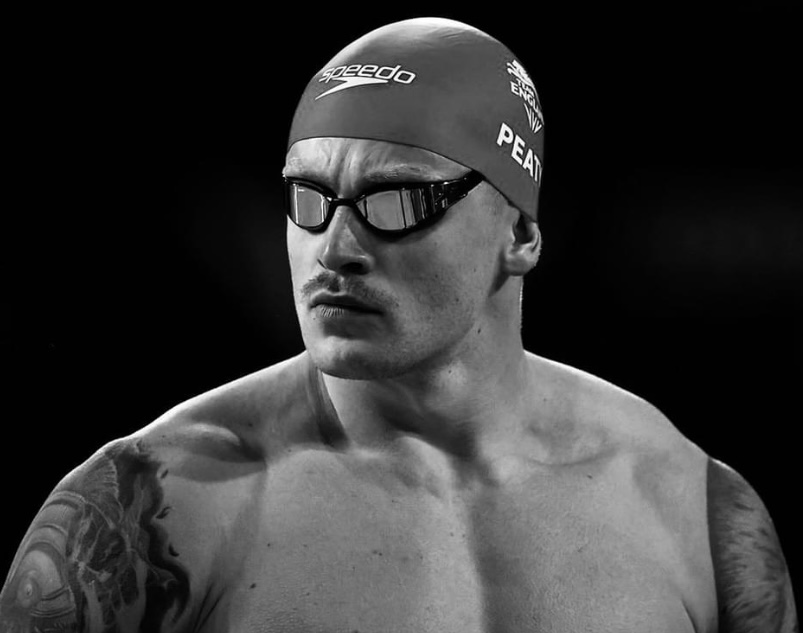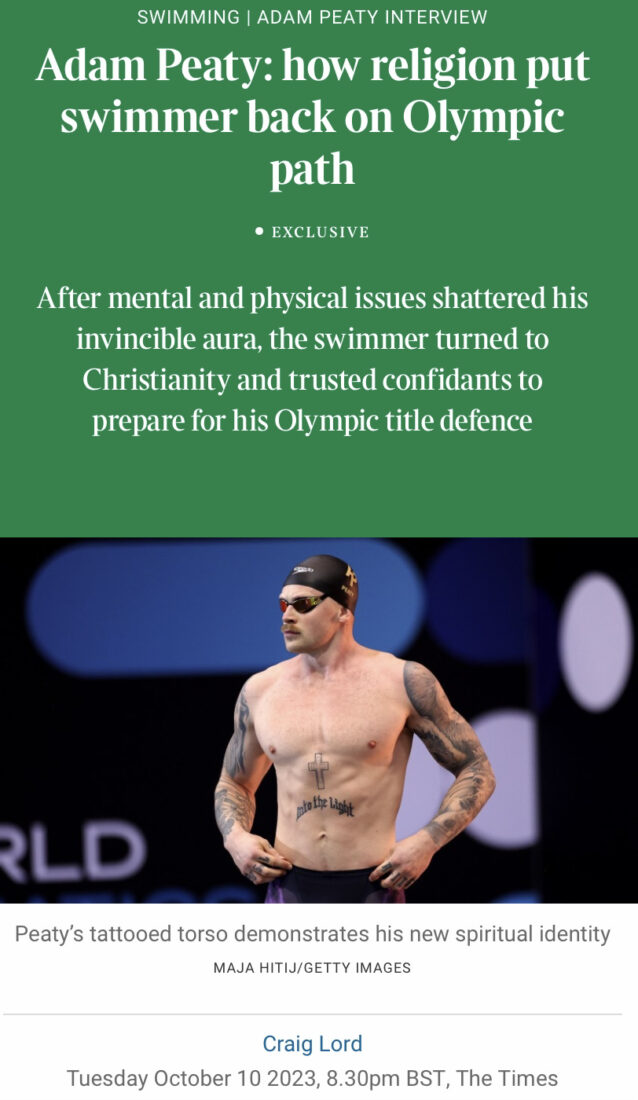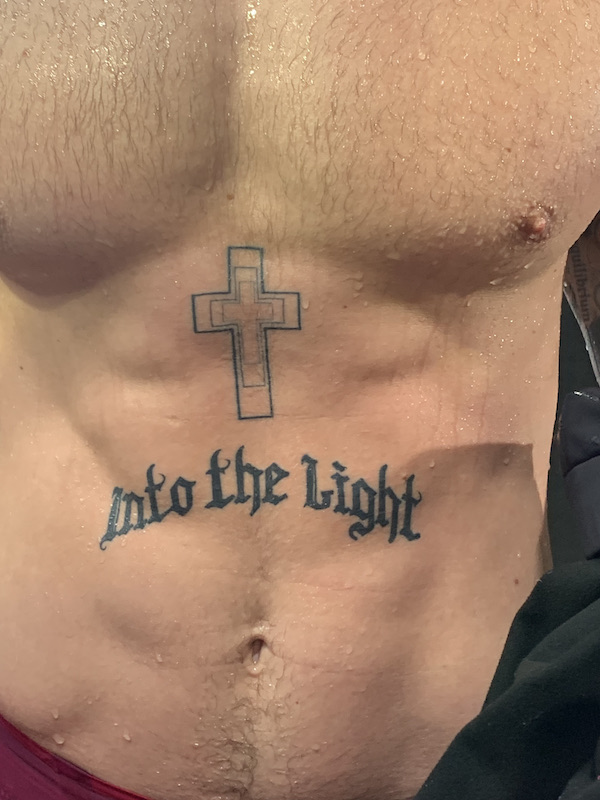 Adam Peaty spoke exclusively to The Times in April this year about the events that had led him on a "self-destructive spiral". To mark World Mental Health Day, we start a two-part feature by recalling his interview back in spring in an SOS Long Read ahead of an update on his progress: the 2016 and 2020ne Olympic 100m breaststroke champion is in a much brighter place. On his return to racing at the World Cup in Berlin last weekend, the British ace wore his soul on his torso in the shape of a tattoo of a cross and the words "Into The Light".
In The Times today, Peaty describes his epiphany, explains how adding the spiritual to the physical and mental has helped give him a healthy new perspective and discusses the work of the award-winning theologian who provides guidance to athletes. On the physical and mental sides of the triangle, coach Mel Marshall talks about Project Re-Contracting now underway as an entourage of experts work on helping Peaty deliver the best-possible version of himself at the Paris Olympics next July. We'll look more deeply at that in Part 2.
Part 1
April 2023 – Adam Peaty: "I've Been On A Self-Destructive Spiral"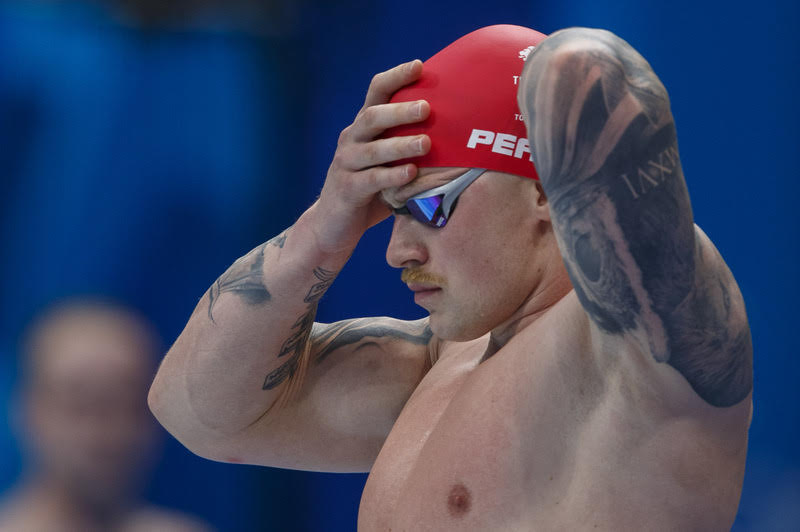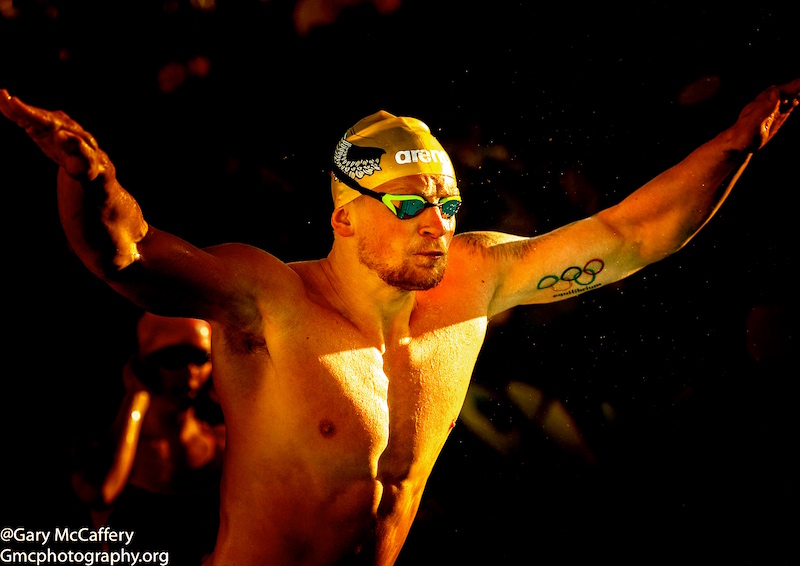 Adam Peaty twirls an AirPod case between his fingers relentlessly as he talks about the demons and doubts that have enveloped him.
He is Britain's greatest swimmer, a global superstar of the pool who won Olympic gold in 2016 and two more in 2021, recording times for the 100m breaststroke that seemed outrageous to anyone else.
But at 28, with Paris 2024 on the horizon, there have been times over the past two years when Peaty has given in to what he calls the devil on his shoulder. Last month he withdrew from racing, citing mental health struggles.
"It's been an incredibly lonely journey," he says, speaking from Spain, where he is at a training camp designed with his mood in mind as much as his physical condition.
"The devil on my shoulder [says], 'You're missing out on life, you're not good enough, you need a drink, you can't have what you want, you can't be happy.' "
That is why distractions are important for Peaty, who wants to avoid another alcoholic binge of the kind he confessed to in March, when he said that he needed a break from the intense, monastic demands of being one of the world's most successful athletes.
Drinking is his weakness, he says, and that episode is what persuaded him to withdraw from the British Championships and focus on his mental health. Peaty has had ADHD diagnosed ("my brain was running at a thousand miles an hour"), as did Michael Phelps in his youth on the way to the greatest Olympic career of them all, topped by 23 golds. Peaty says his specific demons point him in the direction of alcohol. Says Peaty: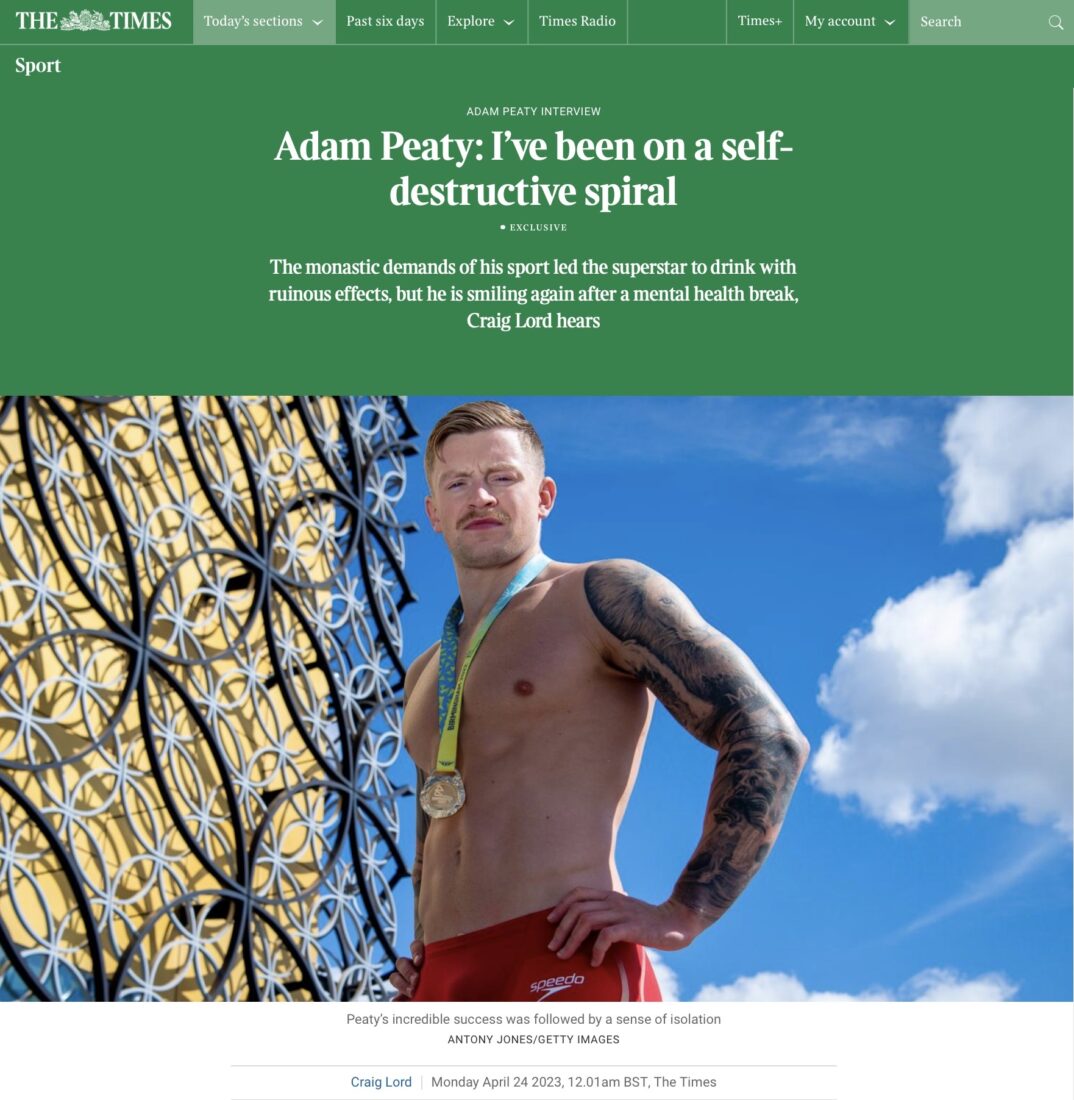 "Honestly, I've been on a self-destructive spiral, which I don't mind saying because I'm human. By saying it, I can start to find the answers. I have to do all this on my own, really, and it's an incredibly, incredibly lonely journey."

Adam Peaty – image: screenshot from The Times – Adam Peaty talks to Craig Lord about his mental-health struggles on the way to Paris 2024 in an exclusive interview with The Times
His weakness for drink hardly makes him exceptional among the wider public, but for a man who has only ever known total dedication to his sport, the impact has been devastating. I ask Peaty about the term bandied about a lot these days but used for a very wide spectrum of experience. He smiles and replies: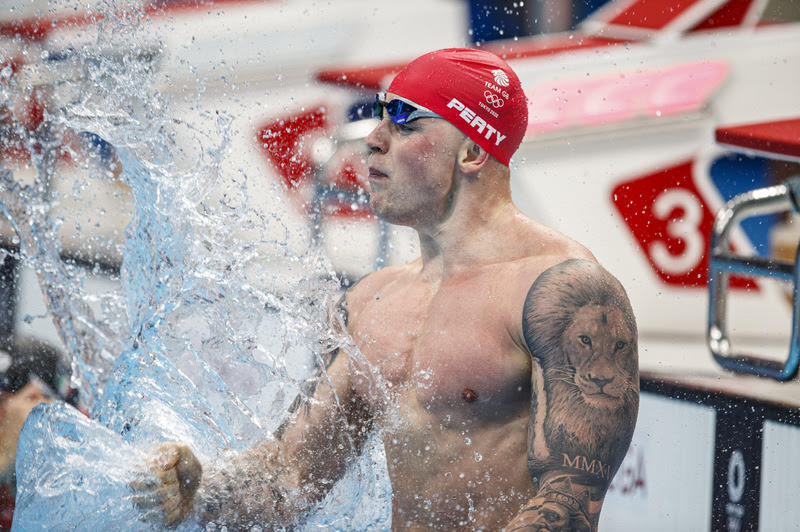 " 'Mental health' has become a very loose term. I meant that I got to a point in my career where I didn't feel like myself, I didn't feel happy swimming, I didn't feel happy racing, my biggest love in the sport. I've had my hand hovering over a self-destruct button because if I don't get the result that I want, I self-destruct. Sometimes that can be good because I use that as a long-term motivation. It's why the rise [to world No 1] was so quick at first . . . frankly, it pisses me off to lose."

Adam Peaty – Photo: Adam Peaty of Great Britain celebrates becoming the first British swimmer in history to retain an Olympic crown – by Patrick B. Kraemer
When he took the 100m breaststroke world record down to 56.88sec in 2019, no other man had got inside 58 seconds. Yet Peaty's brain told his brawn: "That's not good enough."
"That's how my brain works. Or worked," he says. "The outcome is very different. When you're not in a good space in your mind, and you've given everything."
"When Home Life Falls Apart" it's an incredibly, incredibly lonely journey"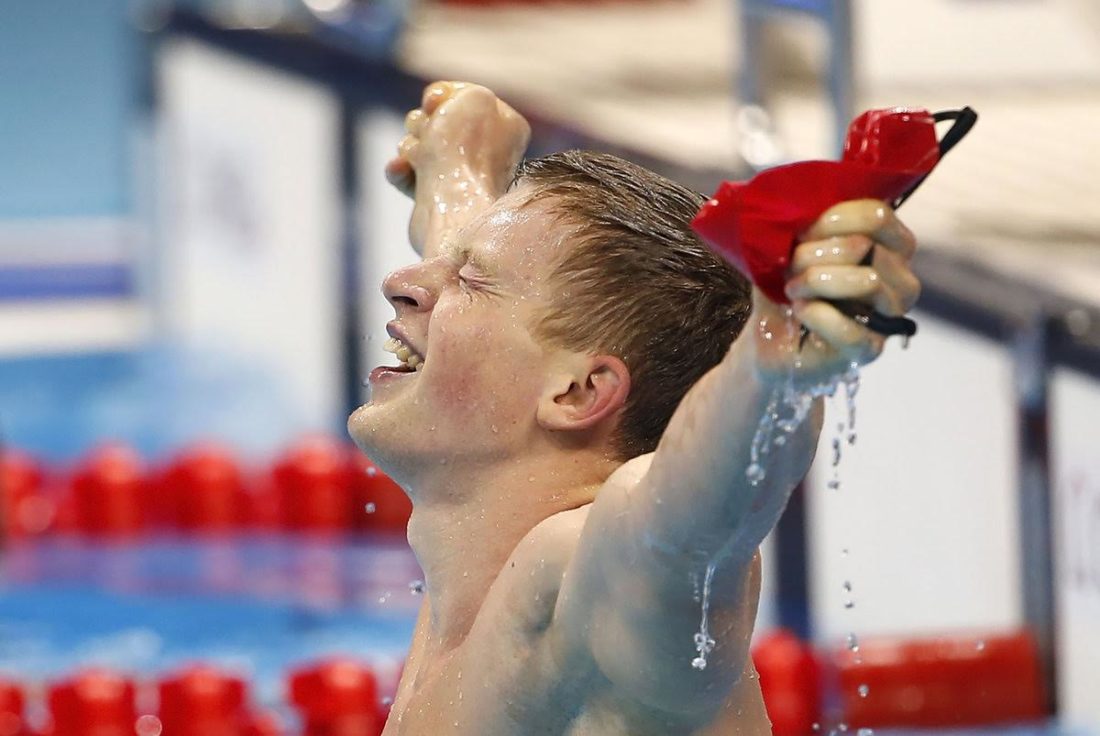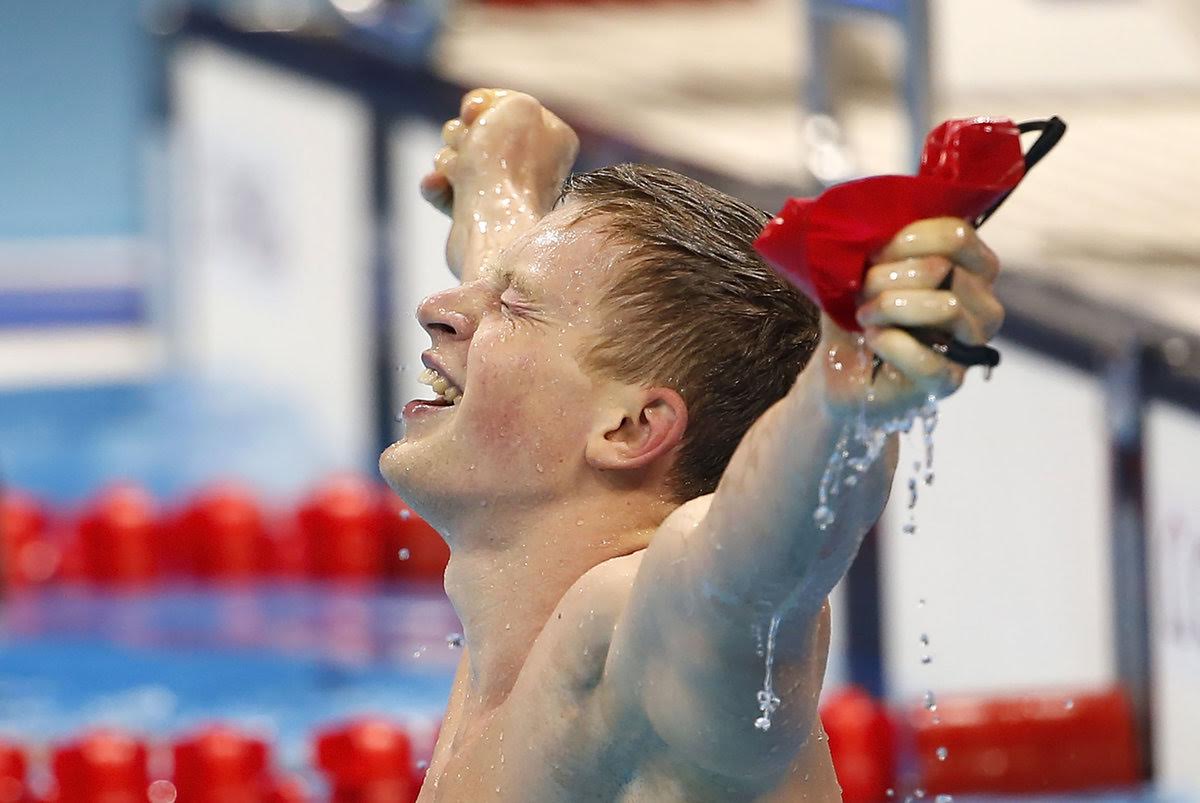 A sense of isolation followed, exacerbated by the end of his relationship with Eiri Munro, the mother of his two-year-old son, George. Peaty and Eiri remain friends but their lives are incompatible. "It's not like a team sport where I can rely on the rest to carry me through or another person to get the goals," he says. "I have to do all this on my own, really, and it's an incredibly, incredibly lonely journey. No one will ever understand how lonely it is to be at the top of the sport and continually be there because you've got to say no to so many things, including many things that make you happy.
"That even means my son sometimes because he doesn't live with me now and I haven't got the energy to spend the time driving down . . . to see him, then spending the weekend between there and getting back for racing and training. I've got to make this decision, but I feel bad about it."
Peaty has also been ground down by the need for discipline, dedication and determination — the creed by which you win and lose. He cites chocolate as an example of the "simple things in life you don't buy because you don't want a distraction in the house".
He's wolfed down 5,000 calories a day and burnt it for most of his career, but his more mature body is bigger and needs periods of 3,000 calories a day to keep his weight right.
Weight has become a dirty word in sport of late, for a variety of legitimate and illegitimate reasons. The truth is that weight and angle of buoyancy count a lot in water, which is 800 times denser than air. Peaty explains diet discipline and its effects:
"From 4500-5000 to 3000 may not seem like a lot of difference but over a week that has a big effect, more so over two weeks and three weeks and that's when it starts to affect your hormones. It starts to affect how the body works, how the brain works. Sometimes you only want to be in there (3000 a day) for an aggressive three weeks because that's enough. And then you can start to build back up when you want to race, sometimes you're in a less aggressive approach for 10 weeks. So, instead of like this, it's more of an easier curve. But it's still hard on yourself."
He works with a nutritionist but notes: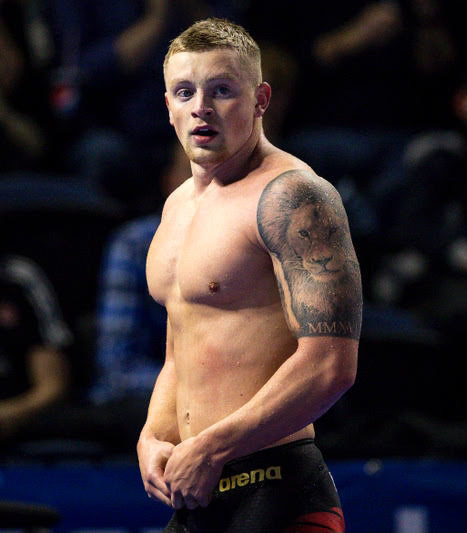 "No-one can help you with the decisions that you have to make every single day. That's incredibly hard because it affects your mood. Food is life, one of our biggest drives, our biggest instincts. When we're deprived, we think we're starving, the body and mind think 'we're not going to find that food'." 

"Spending time with people is a distraction, because it takes away from what you're trying to do, takes away from your energy that you're trying to have for the next session. It is an incredibly difficult and lonely place and not many people understand that. My family still don't understand that. They don't have to do what I have to do. I tell them, 'It's OK, you don't understand.' People get offended by that but I don't understand their jobs either, so I don't get into it."

"Unless you've been in my shoes, you don't know what it takes. And I guess that's the hardest thing, especially when you're alone all the time. And yes, it does make it harder in relationships."

Adam Peaty – (Photo by Patrick B. Kraemer / MAGICPBK)
By the end of last year a season of injury and unfamiliar defeat spilt beyond the pool to his private life when his relationship with Munro broke down in the autumn.
Peaty started regular training at ten. "Any sane person knows that 18 years doing the same thing is pretty much crazy," he says. "Trying to find tiny margins year after year, trying to find 0.1 per cent. The dedication and sacrifice — weekends and all your time are spent chasing that goal for this one opportunity of Olympic glory. Once made sense, twice was a big ask, and was bigger last time round because that extra Covid year was really hard on all of us.
"A third one? It's very bizarre that we do it, but I'm still here. The only reason that I took a step away from it for now, competitively, is because I don't know why I'm still doing it, to be honest. I don't know why I'm still fighting.
"The positive thing is that I noticed a 'why' there. I'm looking for the answer."
Peaty says training has become like Groundhog Day.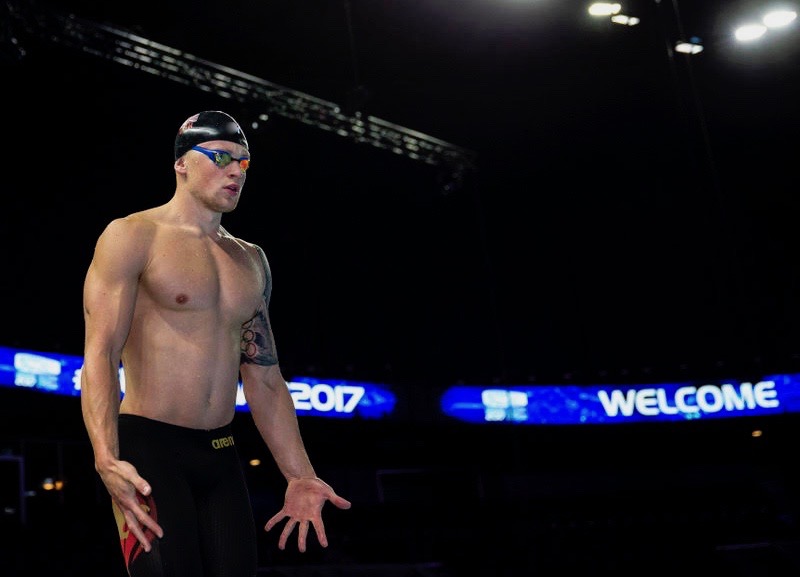 "As soon as you wake up, the only thing that matters is how you're going to get the best out of yourself. I'm up around 6-6.30; you start to roll it up mentally in the car on the way to training. And that's when the voices start, like a devil on my shoulder. Some days you feel good and you don't have to talk back; some days you feel horrendous, so you have to talk back and get through it."

"The difference between now and 2015 [when he broke the first of his 14 world records] is that you had a lot more energy and you had a lot more to prove. The difficult thing now is that when I talk back to the voice that says, 'You're not feeling good today,' I'm like, 'Yeah, I don't feel good today and I've done everything in this sport I've ever wanted to do, so why am I still fighting?' That's the reason I took the break."

Adam Peaty – (Photo by Patrick B. Kraemer / MAGICPBK)
Had that mental turmoil and daily struggle led him to think: 'That's it, I quit'?
"I kind of persuaded myself out of thinking like that. I don't want to end on these terms. I'm trying to quieten that voice, which is alcohol. I like a glass of wine or a beer but when I haven't got a stimulus, nothing to focus on, I really struggle with the noise."
Peaty's ability to turn both the positive and negative into fuel for the next battle has been a key part of his success story. He thrived on the highs, fed on the lows.
No longer. Yet he is focused on going for a third 100m breaststroke Olympic title in Paris next year. "I think I can do that, otherwise I wouldn't be here, but it's going to take a very different journey to get down to that," he says.
Off the back of his worst professional season, having been beaten by his compatriot James Wilby at the Commonwealth Games, Peaty found himself on the blocks at the short-course World Championships in Melbourne last December with an unfamiliar voice in his head. "I just thought, I just don't feel like fighting. That's a clear indication for any athlete that you're burnt out."
Roaring success drowned out the noise of a storm gathering throughout eight of the most impressive years of any career in swimming history. Between 2014 and 2021 he won three golds and two silvers at the Olympic Games, eight world titles and 16 European titles for Britain and four golds and three silvers for England at the Commonwealth Games. His 50m and 100m breaststroke world records are generations ahead of their time.
But last year changed everything. Peaty broke a bone that he cracked at a training camp in Tenerife in the spring. He pulled out of the World Championships and then opted back in for the home Commonwealth Games, but two months with his broken foot in a protective boot, discarded only three weeks before race day, left him well shy of his usual dominant self.
His injury was particularly bad for breaststroke. "You work for months and months on getting the feel and flow of breaststroke right," he says. "It's a fine line and the foot just didn't feel right. It was too soon." Wilby took the crown as Peaty finished an unthinkable fourth. With hindsight he wishes he had taken the rest then that he is taking now.
Parallels with Phelps abound. Should he win in Paris, Peaty would be only the second man to claim the same swimming title at three successive Games after the American, a winner of 23 Olympic titles, who achieved the feat in both the 100m butterfly and 200m medley at London 2012.
Phelps, who as a child refused to take pills to treat his ADHD in favour of hard slog in the pool, spoke openly about his own demons — the two drink-drive charges he faced, the gambling, the loneliness and other cries for help after life in a bubble of towering discipline. At the height of his own mental-health crisis, one he only revealed after retiring, he locked himself in a bedroom for four days and contemplated suicide. Looking back, he reflected on the end of an Olympic cycle and said: "You work so hard for four years to get to that point, and then it's like . . . what the hell am I supposed to do? Where am I supposed to go? Who am I?"
Peaty is in a similar place now. "I've had a lot of support that I'm grateful for, but that doesn't change the reality: you're doing a lot of all of it on your own," he says.
Phelps's story is instructive for Peaty, who spoke of "Project Immortal" as a goal when in fact he had already achieved it. His demons have long told him he will lose everything if he doesn't win the next big race. Peaty explains:
"That's something I've come to terms with only recently.I was like, 'Hold on a minute, I've achieved all this,' but I always think I'm going to lose it if I don't win my next one. It's like you're playing all in on red. I've realised that no one can take any of it away from me. And yes, I may have immortality. No one knows how fast 'special' is going to get but my time is going to be up there for a long time to come."

Adam Peaty – (Photo by Patrick B. Kraemer / MAGICPBK)
While in Spain, he is writing a journal and taking 15-minute "time to think" walks to and from training, where he is under the guidance of Ben Titley, a mentor to British swimmers, who guided Peaty's coach, Mel Marshall, to international success as an athlete 20 years ago.
"I'll write down pros and cons of a situation if I need to or even just write for writing's sake," says Peaty. ". "That's really helped with sorting out things that sit right or don't sit right with me and what the future plan is starting to look like. I'm letting my soul breathe and truly relax. It's only when you give your mind and body that kind of break that you can work out where your head is and look back and truly appreciate what you've achieved.
"A little example, which might help others too, in writing things down I realised that I don't actually hate swimming, I actually love swimming. I love all this. I think I just struggled to live with my own brain which is a very hard thing to understand and admit to because you don't want to admit that you're not the best version of yourself. There's a façade … I know I'm not the best version of me because I can't quieten certain things in my head. A lot of people struggle with that especially in this day and age with social media and expectations and what we're going through as a country now." He adds: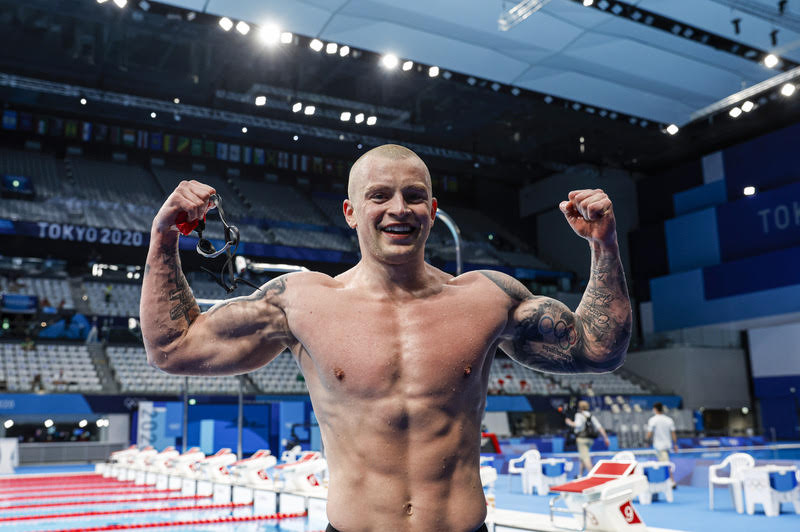 "For the first time in my career, I've been able to see that I've gone the whole way and I couldn't have given more. Now, it's about how we continue the journey without having that self-destructive mindset or the mindset of not enjoying it. I do love swimming, I do love racing, I do love it all and it's somewhere in there, but sometimes you lose sight of it because you get so caught up in absolutely everything, distractions, stuff that's not even important, your own ego, whatever it is. Just to realise what I've achieved and appreciate it put a smile on my face for the first time in a very long time. So, it's looking good."

Adam Peaty – by Patrick B. Kraemer
As are his prospects on paper. Peaty's loneliness extends to the clock: his 56.88sec world 100m record from 2019 is 0.92sec faster than the second-swiftest man ever, the Dutchman Arno Kamminga, and 1.12sec up on the national record of last year's world and European champion in Peaty's absence, Italy's Nicolo Martinenghi.
Kamminga, second in Tokyo, is the only other man to have raced inside 58sec in the 100m breaststroke, while Peaty has done that 20 times since setting the first of his five world 100m records in 2015. Paris may be decided on how close Peaty can get to his best rather than how close the rest can get to the best of Peaty. He is grateful to the psychologists he works with but notes, again, that "only I can make it happen".
Whatever plan he settles on, Peaty intends to have fun in the 15 months leading up to Paris "because I don't want to get to a place where I regret or hate where I'm at — or even worse".
He is working on his body while his head heals. "The physical preparation goes on so my body will be ready to fight again when my heart and mind have caught up," he says. "I'll be ready when I need to be ready.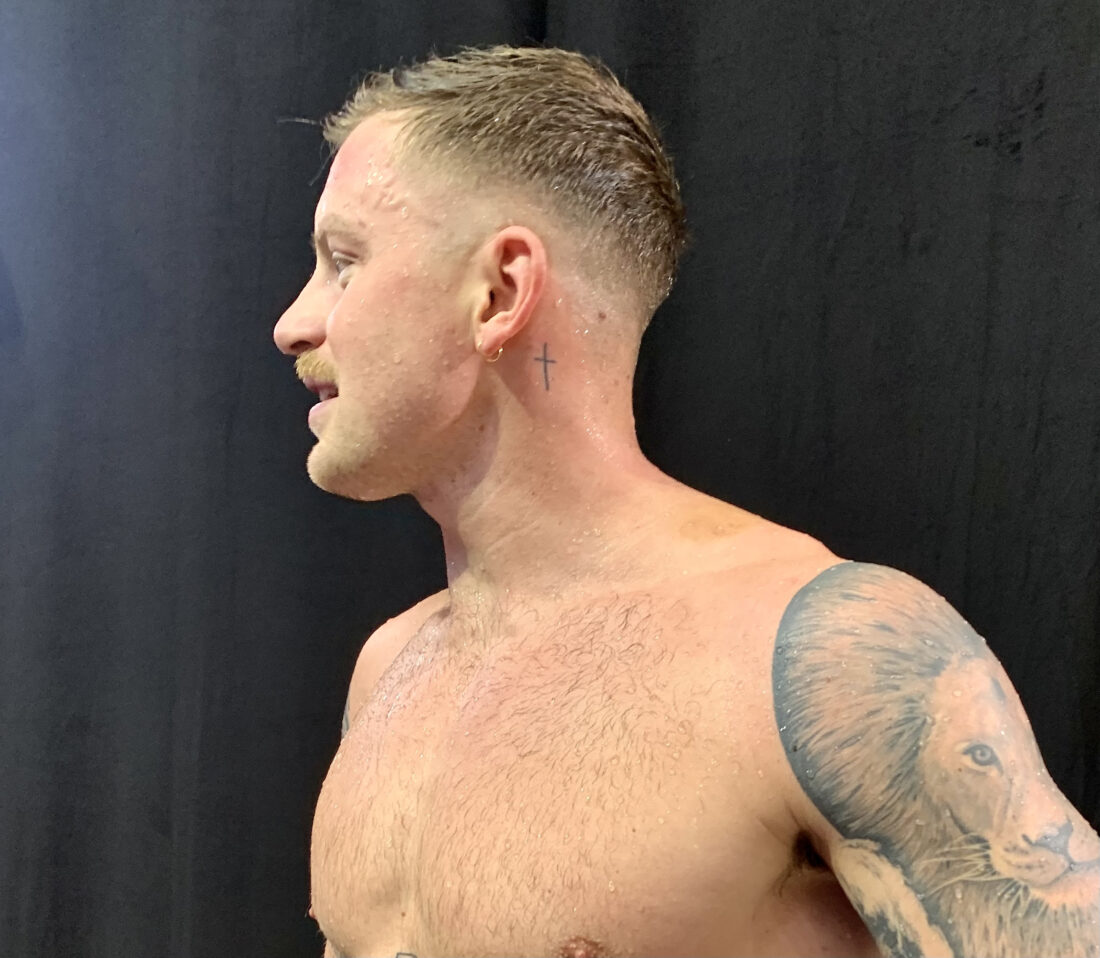 "What the future looks like, I don't know, but I have a smile on my face at last. I'm courageous and resilient and will face the challenge that I need to face."

Adam Peaty – by Craig Lord