Adam Peaty Calls On Swimmers' Alliance To Break Silence As ISL Launches Six-Month Season 4 Dates Over Top Of Major International Championships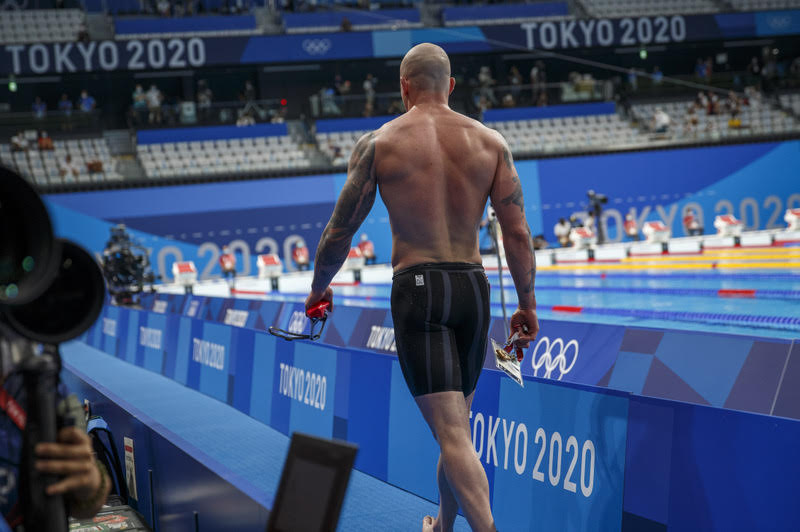 Adam Peaty, the 2016 and 2020ne Olympic 100m breaststroke champion, has called on the International Swimmers' Alliance and fellow racers to "show they've got a spine" at a time when their race calendar is tearing their sport apart, the International Swimming League having announced its Season 4 dates over the top of major championship racing that will inevitably lead to poor attendance in League racing.
Looking back to the biggest transformative moment in swimming for decades – the 2019 gathering in London of more than 30 Olympic and World champions and medallists to launch a new professional swimming era and back the League in its fight for space in the pool regulated by FINA, the global aquatics regulator, Peaty urged swimmers to end their silence and added: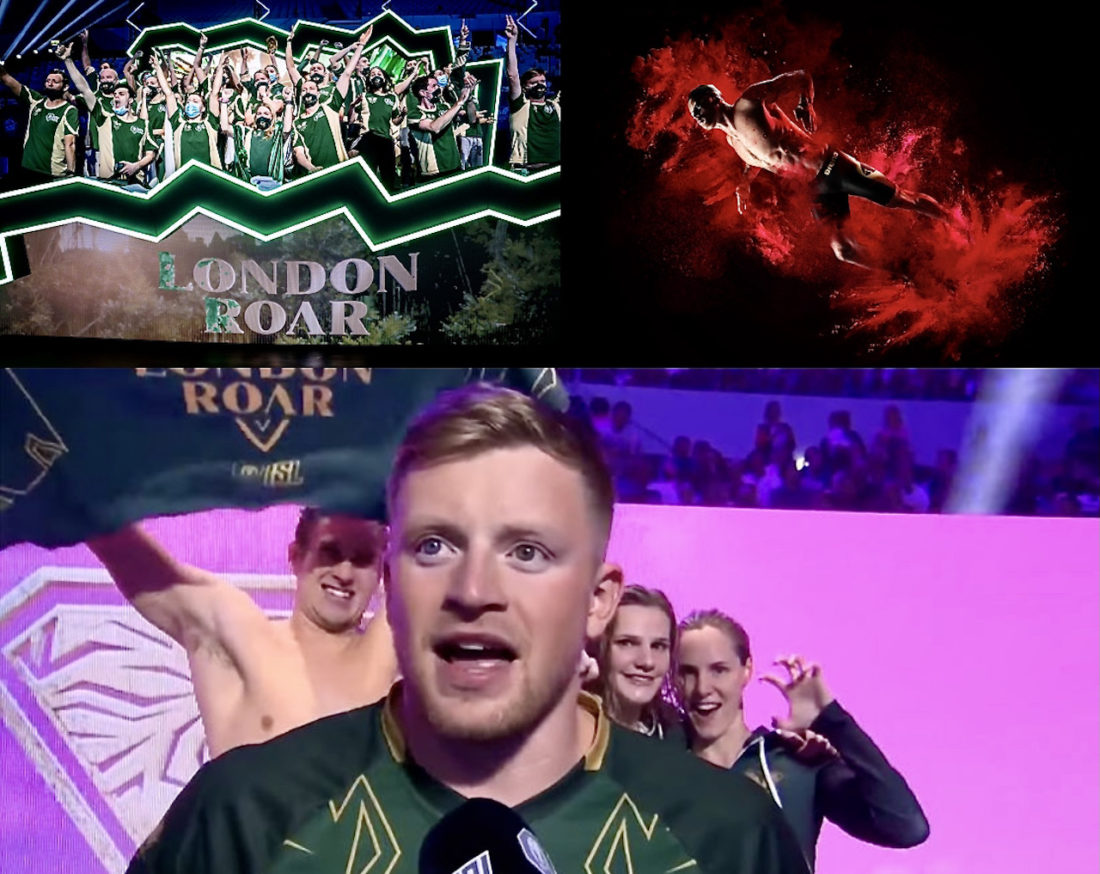 "It's integrity – there's not much integrity – and making sure those swimmers who went down to London in 2019 stick by their word and it is just not happening. That is a disappointing thing."

Adam Peaty – image, London Roar, courtesy of London Roar and ISL; and Peaty, the Team England Red Lion, courtesy of Arena
The ISL's announcement of a six-month season running from June 3 to December 22 this year coincides with speculation that FINA will soon make its own altered plans known, including shunting the May 2022 World Championships scheduled for Fukuoka, Japan, into summer 2023 and filling the void in late spring with its World Cup series.
In effect, the international swimming calendar is an alien world not only to the sport's potential audience beyond its athletes, coaches, major stakeholders and fandom, but the community that works on excellence in aquatics on a constant basis generation after generation.
The ISL concept will face its biggest test this year because of the new choice of dates and a decision to plough ahead with a plan to make the League season stretch to six months in an effort to change swimming tradition and match the kind of seasons see in some big pro-sports in which leagues are the key competition on their calendars.
The trouble for the International Swimmers' Alliance is their silence on the decisions of organisations running their sport that have a direct and sometime negative impact on athletes, says Peaty.
The trouble for the League cane be found in two competitions alone this summer, the European Championships in Romeand the Commonwealth Games in Birmingham in August: none of the world's best swimmers who hail from Europe and Commonwealth countries will be able to take on a full League season, may be missing for most of the League season and, while some may show up for their pro-teams for end-season highlights, the bulk of the season-long action in a ling season will feature swimmers who are not making headlines in mainstream media, nor even much in niche media. Among many questions is this: why would big sponsors sign up for that; and how will that attract the wider audience to swimming required for the sport to grow?
At a time when leading swimmers, some of them still owed money from previous seasons, talk of setting the League aside because of concerns over payments and because the 2022 dates simply do not coincide with their plans and schedules for major international selections and competitions at which they race for their countries with national teammates, Peaty has made clear that he wants swimmers to step up and use their Athlete Voice.
The Swimmers' Alliance is there to help set their sport on the right track to a brighter future beyond infighting and a culture of "every man and woman for themselves" but so far it has been silent on substantive issues affecting athletes.
Speaking of late to Liz Byrnes, colleague and life member of the SwimVortex club of journalists, Peaty said: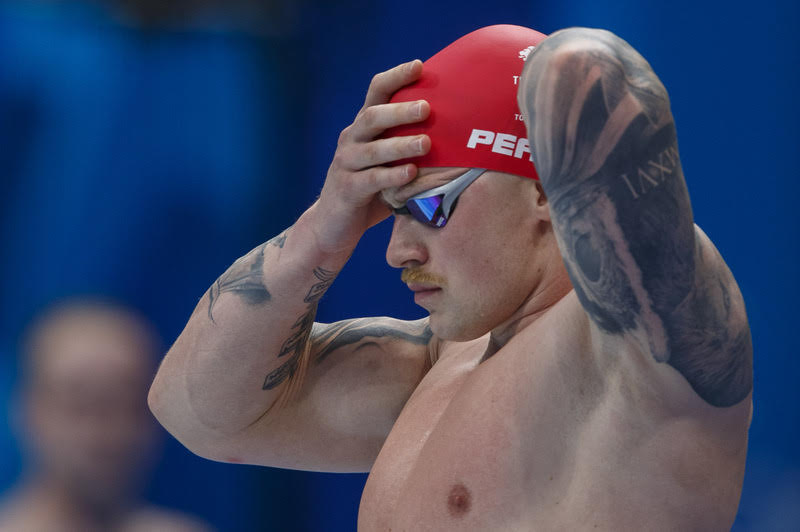 "I think athletes more than ever need to show they've got a spine: we have got power, we have got control and we hold all the cards. Yes, you are going abroad and you're going to race and yes, you're getting paid but the athletes have a strong position and I feel like at the moment they are treating it like they're not in the position of power – the governing bodies and the leagues are – when it's really, really not.

"And that needs to be shown and I am not sure what is being done about that either so I am not really too bothered about what I say or what I do. know it's from my heart, I am not just saying it to rattle cages or rattle people, I am doing it because stuff needs to change because I am fed up of swimming always being on the back burner when it really doesn't deserve to be."

Adam Peaty – image by Patrick B. Kraemer
Peaty was supportive of the ISL from go and moves that forced the leadership of FINA, the global aquatics regulator, to rethink its relationship with and responsibilities to athletes. The ISL challenge extended to legal challenges in the United States that are still underway.
Season 3 of the League, however, was bypassed by Peaty, Katie Ledecky and, largely, by a sizeable shoal of others among the best swimmers in the world who backed the League big time in its first two seasons. All the while, the Swimmers' Alliance issued no statement on the direction of travel at the League; all the while, the Swimmers' Alliance offered no view on the missing payments owed to swimmers and others working on the League.
Peaty believes that the International Swimmers' Alliance, created to raise substantive issues affecting athletes, led by Matt Biondi and including a board with the likes of Ranomi Kromowidjojo and Katinka Hosszu, has yet to wake up. It should, he suggests, be making its voice heard and asking serious questions about the organisation and direction of swimming. Peaty told Byrnes:
"You have got the athletes' union – I'm on the WhatsApp group – but it doesn't really do anything. So everything needs to be better and why is it not? I think there needs to be a few more athletes who are willing to speak up about that and say 'look, I know it's a new league, I know it's in its infancy, I know everyone makes mistakes and stuff like that.'

"But that communication needs to be as good as it was in 2019 and I don't feel it is right n

"So, it's not about FINA against the ISL or vice-versa: it's about the athletes' best interests and making sure those athletes hear that and not just doing it because they have to because every athlete has a voice, every athlete has an opportunity.

"So I know shoulda, woulda, coulda – could you do a better job, could I do a better job – but you reflect on these experiences and hopefully they improve.

"It's integrity – there's not much integrity – and making sure those swimmers who went down to London in 2019 stick by their word and it is just not happening. That is a disappointing thing."
The ISL Statement That Peaty Urges The Swimmer's Alliance To Take A View On, Along With Other Issues In The Sport:
The ISL announced today its preliminary 24-match schedule for Season 4, 2022, planned to kick off on June 3rd, 2022 in North America.
The ISL Season 4, 2022 schedule features a regular season consisting of 15 matches from June 3rd to October 2nd, followed by a "wild card" match shortly thereafter. The regular season will see 10 ISL teams competing in North America and Europe, with the exact locations to be announced shortly.
Season 4's Play-offs will consist of 6 matches and a "wild card" match, with the top 8 ISL teams vying for the four places in the ISL Season 4 Final. The matches will take place in North America and the Asia Pacific region.
The ISL Season 4 Final is currently planned for the last week of December, at a location still to be confirmed.
Following a very successful Season 3, held once again in extremely challenging circumstances due to the ongoing global pandemic, the ISL aims to bring even more thrilling competitions to its fans this year. True to its reputation as a trailblazer in competitive swimming, the ISL will introduce new, exciting changes to its team-based competition format in Season 4.
Konstantin Grigorishin, the founder and President of the International Swimming League, said: "Last year we introduced ISL's, and swimming's, first ever Draft. This season we are preparing some very exciting innovations to our format, which will make ISL's matches even more unpredictable. We also plan to expand our geographic reach and bring the ISL competitions to Asia for the first time. Our fans should stay tuned!".
ISL's CEO, Konstantin Koudriaev, said: "We are delighted to announce our Season 4 schedule, and will focus on ensuring that the quality of ISL's production matches the extraordinary performance of the ISL swimmers. We thank our broadcasting partners, sponsors and production partners, and of course, our loyal fans, for their continued support."